Lady of the House: Mitzi Lim
Young and unassuming, Mitzi Laguda Lim stylishly devotes her time to her family and friends, all in a simple yet elegant lifestyle that proves she's no desperate housewife.
Young and unassuming, Mitzi Laguda Lim stylishly devotes her time to her family and friends, all in a simple yet elegant lifestyle that proves she's no desperate housewife.
Mitzi Lim is fresh-faced and ten minutes early when we decide to meet for coffee on a particularly scorching summer afternoon. I find her poring over her iPad amidst the rest of the post-lunch crowd at Café Georg, quietly enjoying a slice of cake with her caffeine fix, and dressed in a simple white dress with her hair neatly tucked in a ponytail. It's an image that seems at odds with the usual public persona she has, one of the designer darling who's photographed at events on the arm of her husband Charles, who works in the family business of trucks and heavy equipment, and dressed in creations by Jun Escario and Cary Santiago. With a slim figure and a bright youthful demeanor, it's easy to see why designers enjoy dressing her up. "It's so easy to work with her," says Jun. "She's always smiling, and she's always open to new possibilities and new ideas. But at the same time, she's not afraid of wearing anything very simple."
In truth, Mitzi likes to be a little more inconspicuoumy favorite white with black diamond dangling earrings." But then, she insists that simple doesn't mean sloppy. "I like to dress up, even if I'm just at the house, because you never know when you have to suddenly go somewhere."The on-the-go attitude probably stems from being the only woman in a household of six, which includes her husband and four sons—eight-year-old Charles Jr., six- year-old Clyde, four-year-old Carl, and Chris, who she'd just given birth to in October last year. She laughs shyly when I tell her she doesn't have a single trace of baby weight at all. "I just do yoga with my husband, about three times a week."
She later reveals that she does a lot of things with her husband, who she met at a cousin's wedding in Camiguin for what seems like a chance encounter. "His father was a principal sponsor but he couldn't make it, so Charles was the proxy. He said the first time he saw me, it was love at first sight," she laughs. "After that, because cellphones weren't common yet then, we would communicate through pager. He would page me to ask 'can I call you?' and then we would talk."Of course, she does admit that she'd always found him good- looking. "I like Chinese guys, so for me he was very good-looking. He's also down-to-earth and very serious, but he can also be funny. He likes making jokes." Those early beginnings have resulted in now nine years of happy marriage. For Charles, the attraction went beyond Mitzi's beauty and obvious charms. "I like that she's simple, responsible and kind," he says. "She's the best mom and wife, and my best friend."
After the wedding, Mitzi moved to Cebu from San Carlos, Negros, where she grew up as the youngest and only daughter in a family of three children, and granddaughter of Norberta P. Laguda, a former Miss San Carlos City and now president of the family business. She would travel back and forth to help out with the Guilnor Lending Corporation and the Palau Beach Resort, the family's businesses in their hometown. Probably unbeknownst to many, Mitzi had in fact already lived in Cebu when she was younger, right after she graduated from La Consolacion College Bacolod at 19. "I used to work in UCPB Mandaue for four years before my parents decided to give me a business in San Carlos so I can go back to my hometown," she says, talking about the pharmacy she now owns there. With the new baby though, visits home are a lot less frequent. "It's usually just when there's birthdays and special occasions." In the meantime, the role of doting wife and mother is something that Mitzi takes on happily, finding fulfillment in taking care of her family. Mornings are spent preparing breakfast for everyone before they head to work or school, and then having a few hours to do her own thing. These days, the summer vacation means bringing the kids around to junior golf at Cebu Country Club before they all have lunch together. "I really enjoy being a full-time mom, seeing and watching the kids grow." The hardest part of the job? "I think if you're doing it for love, then it's not hard. I love doing anything for my children, and providing them with a good education." It's the reason why she enrolled the boys at Gymboree when they turn three months old. The three older boys now attend the Singapore School Cebu, an international school that adapts the Singaporean curriculum, which is known for its strengths in math and science.
Spending time with the family is a top priority during the week, and some days are especially reserved for dining out. "Wednesdays are just for me and Charles, and we choose where we want to go. On Fridays, we go out for dinner with the kids and they take turns picking the restaurant. It's always different, like the eldest one likes to go to Ginza, the other one likes shabu-shabu while the youngest would rather eat at Orange Brutus or Sunburst."
During the summer, their outings go a little further, such as an annual getaway to Hong Kong with Charles' family. "After Holy Week, like in May, we travel as just a family." The Lims have been to Australia, the US and Boracay, which remains one of Mitzi's favorite destinations. But one of the most memorable trips the family had taken was in Florida, where they rented out a house after taking the Disney Cruise in the Caribbean. "It was just the five of us, because I was still pregnant at the time. We didn't have a yaya with us, so I would cook and everyone would help do the laundry, do groceries and clean. The kids slept in their own room alone, and we even rented a car. It was a lot of fun," she recalls.
Traveling with young boys may seem like a challenge, but Mitzi does it with techniques she's perfected over the years. "You have to keep them happy. It's hard to travel with kids when they're fighting. Also, I make sure everything is ready when I pack for them. I put it in a bag per day, so for day one there's everything they need to wear, or sometimes I take a picture of the kids' outfits and they follow it throughout the trip," she recalls. "If you travel with kids, your priority should be the kids. You have to forget about shopping for yourself." Of course, every year Mitzi and Charles set aside some dates to travel as just a couple. "I want to go to Santorini," she says as the dream romantic destination, which could very well follow the family trip to Europe later this summer.
It's clear that Mitzi likes entertaining from the comforts of her own home, especially in the stylishly modern interiors designed by Simon Miles, an Australian interior designer. "My husband wanted a modern house but both of us didn't know how exactly to do it, so we asked Simon to do the design, with our approval."
The result is a contemporary home with clean lines and surfaces, and accented with large pieces of artwork, textured rugs and furniture that feature bright patterns. Often, the family has guests over. "I love hosting parties in my house, setting up the table and preparing the food," she shares, saying she usually has them in the lanai or formal dining room. But on days when she needs a little moment of peace, she retreats into her office or dressing room. "I wanted a quiet place away from the kids sometimes, something I really needed considering I spend most of my time alone with my four boys."
The stress is something that she keeps in stride though, always motivated by the fact that she's happy with what she has and she's filled with an enormous love for her family. "My plans for the future? It's really for my kids and not for myself; I'm contented with where I am now. What will make me happy in the future is seeing my kids become successful and make a name of their own." It's a simple wish and what she insists is really a simple life, but one thing's for sure: hers is one that makes being a housewife and full-time mother look chic enough to aspire for.
by Shari Quimbo
sittings editor Melo Esguerra
photography Jan Gonzales
make up Gari Son
LONDON IN FULL BLOOM: An Exclusive Look at the recent Chelsea Flower Show
The Chelsea Flower Show in London, one of the most prestigious horticultural events in the world, returned in full glory in May 2023, captivating visitors with its stunning displays and landscape designs. Held annually on the grounds of the Royal Hospital Chelsea in London, this year's show proved to be a true feast for the senses, showcasing an array of breathtaking gardens, vibrant floral arrangements, and innovative landscaping. The 3-day event showcased 36 outdoor gardens, including four balcony gardens for small spaces. Inside the giant pavilion, blooms compete with each other, exotic flowers, roses, and many more.
The 2023 Chelsea Flower Show embraced a Nature's Harmony theme, with a strong focus on sustainability and mental health. The show's organizers emphasized the importance of sustainable gardening practices and biodiversity conservation, inspiring attendees to create beautiful outdoor spaces while preserving and protecting the environment.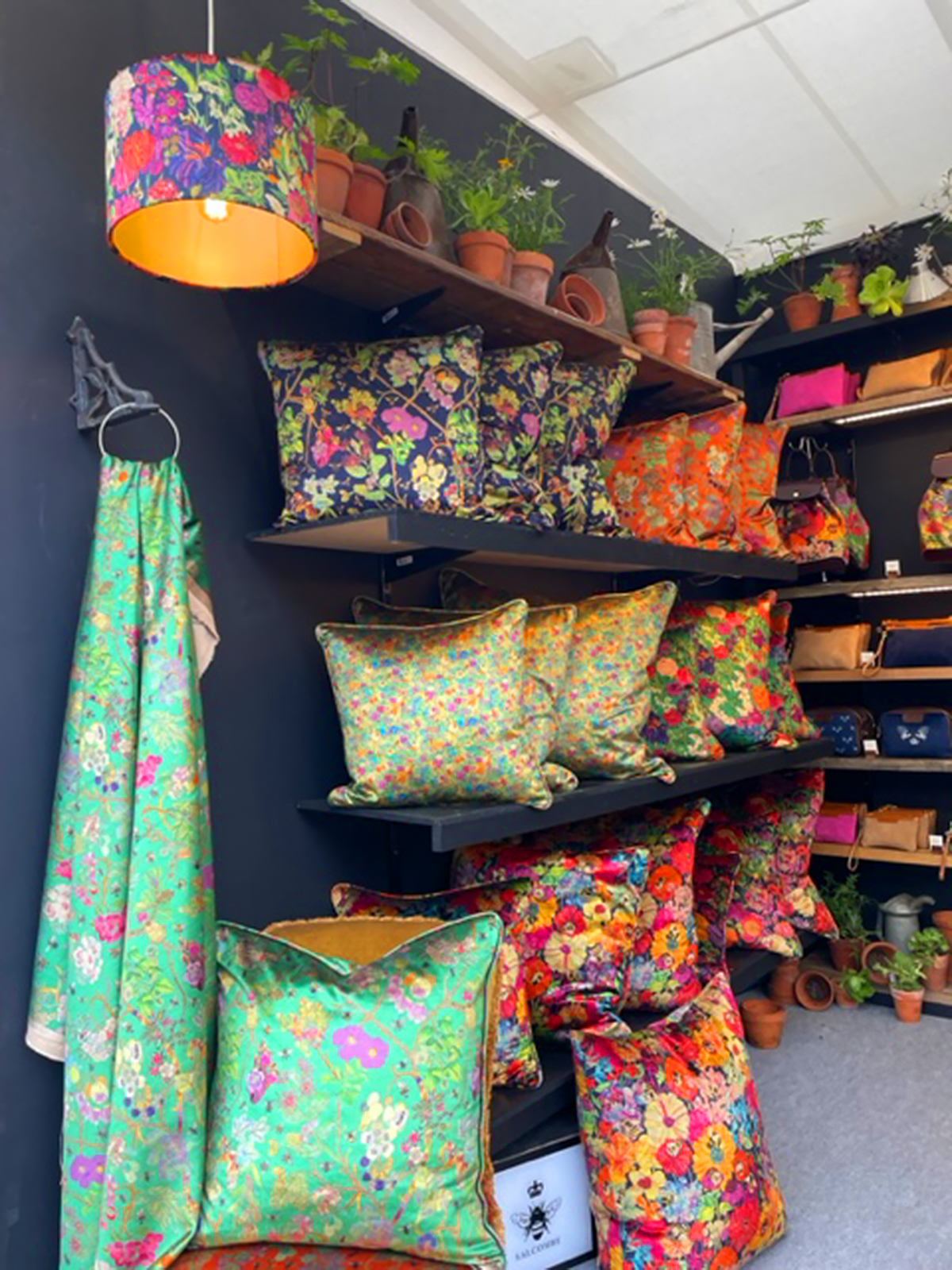 What's Cebu got to do with the Chelsea Flower Show in London? One person. James Doran Webb (https://www.jamesdoranwebb.co.uk), an Englishman working with driftwood, has been displaying his artworks for several years. James collects cast-off driftwood and shapes them into beautiful animal shapes that find places in some of the most iconic gardens. Leaping horses, owls, reindeer, and the occasional dragon, James Webb's creations are avidly collected by landscapers to add accent to gardens in all sizes, using cast-off wood, fitting perfectly with the sustainable element—something Mr. Webb has done quite well for the last decade.
***
The Philippine International Flower Festival will be held at the PICC in Manila from January 14 to 18, 2024. Watch out for more info from our website!