The Weekender
With a constant need for mobility, Paco Rodriguez takes a weekend off from the urban jungle that is Manila and gives us a tour of his home.
With a constant need for mobility, Paco Rodriguez takes a weekend off from the urban jungle that is Manila and gives us a tour of his home.
I was introduced Rodriguez a while back at one of the hotspots of the Cebuano nightlife, and like most introductions, there's not much that comes after you learn someone's name. Presumptions and youth stereotypes usually fill in the gaps–privileged kid that dresses casually to draw little attention to himself, living in one of the gated communities of the community, attended high school at a Chinese Catholic institution, and takes a business course in one of the country's better universities. And yes, Paco does like cars and sports, and hangs out with the same circle of friends he grew up with, but a brief chat over brunch revealed there's so much more to him.
Paco admits that he can't stay put. "I always need to find something to do. I'm not the type of person who can just sit down and do nothing." An attitude most likely developed from an early start at go-karting when he was just three. "I asked my dad to get me a motorbike for my birthday. When I turned four, I joined my first motorcross competition. After a couple of years, my dad decided to let me race go-karts instead of motorbikes because they're safer. I joined my first go-kart race when I was six years old."
In turn, Paco spent this time in the company of an older crowd of enthusiasts, including local TV star and Cebu native Matteo Guidicelli, and one of Zee Lifestyle's go-to photographers Jan Gonzales. Acquaintances are one thing, but Paco grew close enough to be a test subject for Jan at his studio. The photo, done in Jan's signature style, rests on his nightstand in his Cebu bedroom, next to catalogs of luxury watches that Paco hopes to build a collection of when he gets older. With hardwood floors and white walls, the bedroom is minimal but cozy and, unlike most guys his age, clean. "I get a little obsessive about it, so things are always kept in order." On the opposite side of the room, the TV console displays various items with the underlying motif of motion: boats, planes and cars collected throughout his childhood. The fluorescent helmet is what he used when he was racing. "Since I was little, me and my dad always went to the beach to go sailing, jet skiing and island hopping," hence the large sailboat, a present from his  father that takes up most of the surface.
"I need to be out of my house  at least once during the day to really function, even just to drive around. Sometimes I drive for leisure. I find that it relaxes me." Considering the size of his house, he really could just drive around it. You would think  the sheer massiveness of a place this big might cause anyone to get a little lonely, but that isn't the case at all. Paco's bedroom is in the same wing as those of his cousins, who are constantly popping in and out of the different rooms.
When he is being a homebody, Paco spends his time inside the coral room, watching movies and playing video games, or by the pool with his friends. At times, he indulges in his hidden passion, cooking and baking. How could he not, with a kitchen like this? Marble countertops, state-of- the-art equipment and a collection of enough cutlery, fine china and other dining accessories to fit any theme. Of course, a great kitchen belongs in a house built for entertaining. This one definitely is, with two dining rooms,  a formal one used for large family dinners during the holidays and one for everyday use, and a balcony with a large iron table where brunch was served. From there, you can appreciate the scenic view of the city set against a clear blue sky and framed by tall coconut  trees in front of the lush garden.
With a life and home as  luxurious as this, it poses the question of how Paco stays so humble. "I  never thought that material things  are something to be proud of. Ever since I was a kid, my parents brought me up to always remember to keep myself grounded no matter what." As Paco returns to Manila to continue  his studies, rest assured the Cebuano youth is well represented by him.
by David Jones Cua
photography by Homer Medici


Hilarious Series ramps up with Season 2
These two comedy series are now airing their season 2 programs.  Highly acclaimed and are must-watch rib ticklers in our opinion.
Resident Alien 2: starring Allan Tudyk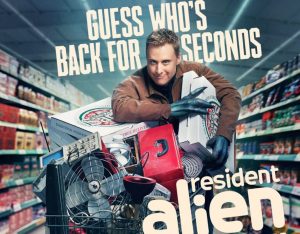 Space Force 2: starring Steve Carell