Chaine des Rotisseurs: A Night of Spanish Cuisine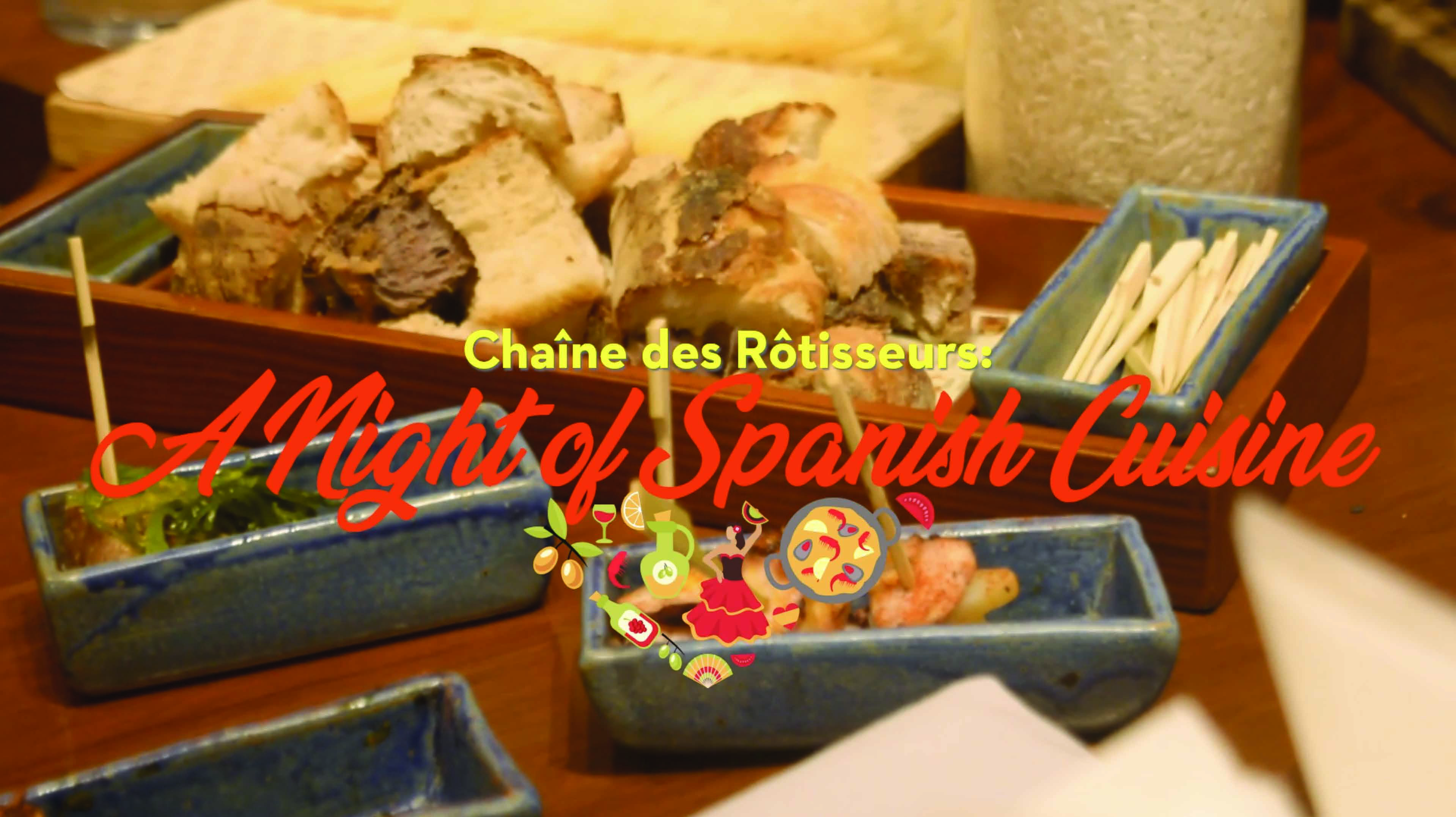 On this episode of Kate Anzani's dinner series, we celebrate a night filled with delectable Spanish cuisine, meaningful talks, and good times all around. This dinner is prepared by Enye's eccentric chef, Chele Gonzales. He explains how the concept of the dinner came to life and the preparations that have been done to make this dinner one for the books.
Five Breakfast Ideas to Power You Up Through the Week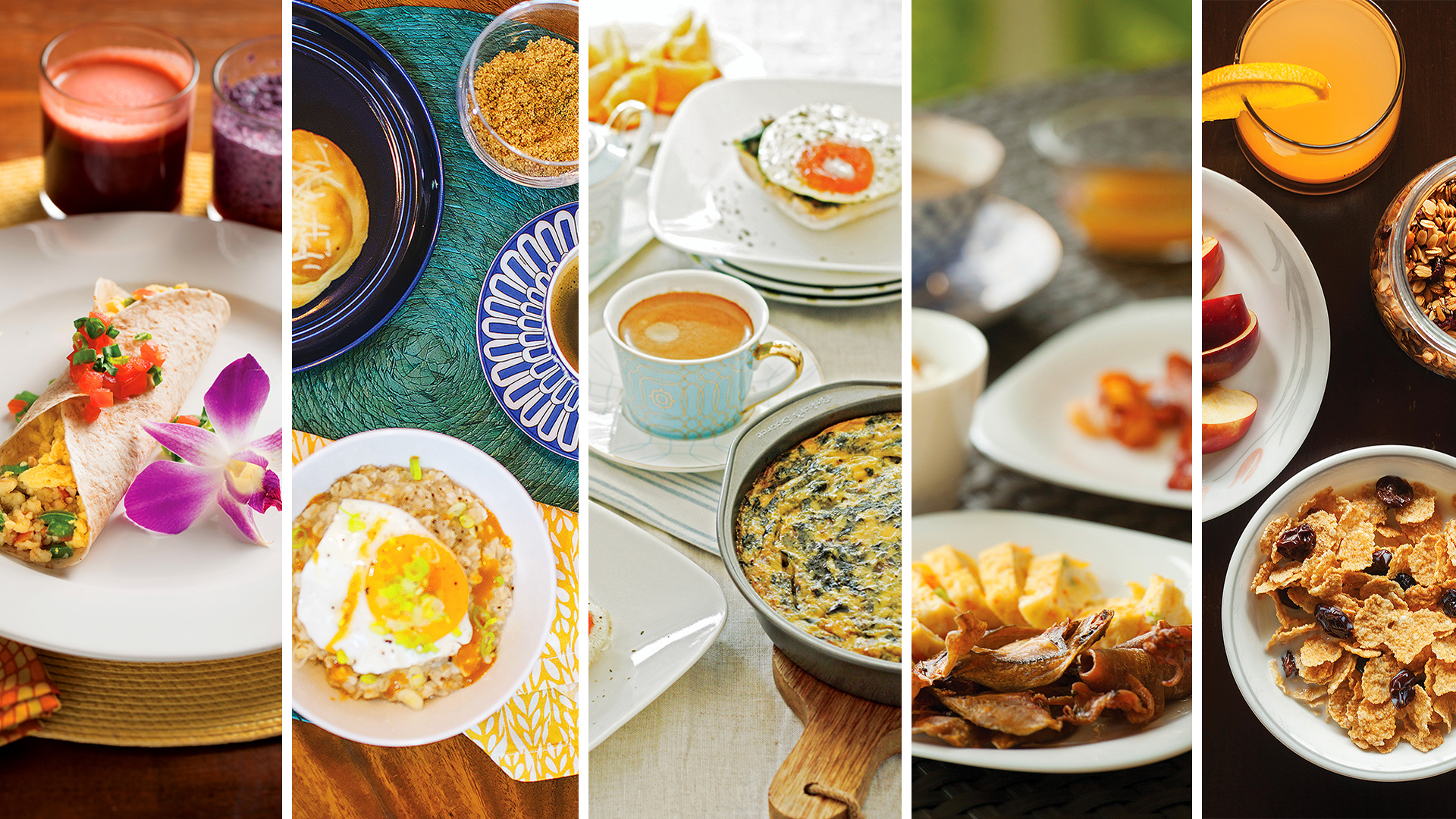 Breakfast Club
It's definitely the most important meal of the day, but the way we break our fasts is completely up to preference. Zee Lifestyle joins some ladies for the early meal to see the different dishes women have for breakfast.
Deborah Hayes, 46
Entrepreneur, Real Estate Broker,
Real Estate Franchise Owner
A typical morning for you?
I like to wake up before everyone else in my household so I can have some me time to enjoy my first cup of coffee, reflecting on my day's activities and journal. I cherish my peace in the morning before the chaos begins.
And the rest of the day?
My days are never the same, which is what I love. Sometimes I get up and go volunteer. Other days, I have conference calls with my business partners in the US. My favorite is having the freedom to do nothing, but I've been so busy since we moved to Cebu six years ago.
Do you eat breakfast everyday?
I must be honest and say no. I do not wake up hungry as most people do. I have to push myself to eat something because I know it is the most important meal of the day.
Why do you like this particular dish for breakfast? I chose this meal because it reminds me of home. Being from Texas, anything and everything can be wrapped in a tortilla with spices and be called a meal. Plus it's so easy to make, and it's light and healthy.
What would you never have for breakfast? I would never eat something high in sugar and fat, as it will bring your energy levels down in just a few hours. A healthy high protein breakfast will keep you fuller longer.
Your favorite food? Mexican food is my ultimate favorite. It can be really hard to find here, so we cook a lot at home for ourselves or with friends.
Your favorite restaurants in the city?
That's a hard one. We have many—Gorliz for their pork chops, Wok'd for pad Thai and Tymad for the quiche Lorraine.
Gretchen Choa-Uy, 35
Businesswoman
A typical morning for you?
I like my mornings early and full. I seem to accomplish more in the mornings that I do in the afternoons.
And the rest of the day? I bring my kids to school, then go to work afterwards. I allot one afternoon in a week to do my personal errands like getting groceries. On late afternoons, I attend spin class three to four times a week. I try to cook twice a week as the kids have special requests.
Do you eat breakfast everyday?
Almost everyday, but quite light
Why do you like this particular dish for breakfast? I like savory dishes more than sweet, and this oatmeal dish has the same flavor and texture that I would want in my congee in Hong Kong, without the required number of hours cooking. With simple ingredients, it has a lot of flavor, plus it makes me happy. It's my comfort food.
What would you never have for breakfast? Sushi, liver and durian. Sushi, because I find it odd. Liver, because it doesn't belong to my list of happy food. Durian, because I just don't like durian.
Your favorite food? My all-time favorite food is eel—you can have it fried, steamed or teppan style. Second to that would be pig's ears, but it has to be the way my dad cooks it.
Your favorite restaurants in the city?
I enjoy eating at Tavolata, Gorliz, and Bollywood Tandoor
Krystle Dianne Syiaco Tiu, 33
Entrepreneur
A typical morning for you?
I wake up when my daughter wakes up. I play with her for a bit then I let her wake up her dad so he can play with her too. That gives me a chance to bum around in bed for maybe 30 minutes, checking stuff online, before I go out for breakfast.
And the rest of the day?
I spend time with my daughter until she naps at around 11 or 12, then I leave for my store Cabana in BTC to work on all my businesses. I honestly can't work at home because I end up playing with my daughter and not finishing any work! Twice a week, I also do prenatal yoga at around 10:30AM. When I wasn't pregnant though, I used to join spin classes at 5:00PM, twice a week. If there are no spin classes, I usually make sure I'm home by 5:00 PM, when my daughter is awake from her afternoon nap.
Do you eat breakfast everyday? Yes!
Why do you like this particular dish for breakfast?
I like that these dishes are easy to make, and you can even make it ahead, store it inside the fridge and have it for days. Everyone in the family likes it too, even my daughter. I love how there's protein and veggies in it already. It's my go-to breakfast dish also when I have guests staying with us.
What would you never have for breakfast? Maybe pasta? I can't explain it—I think pastas are great for lunch or dinner, but not for breakfast.
Your favorite restaurants in the city?
My no-brainer, go-to place is Abaca Baking Company. I sometimes stay there for hours to work, and enjoy a latte and a sandwich. I also love their brunch menu! I love the tapas at Gorliz, too. I'm still looking for a good restaurant in Cebu that serves creative cuisine, and not just the typical dishes you can get in other restaurants. I don't want another pizza or pasta or steak place—we need something new and different, a place where unexpected ingredients are married together to make a sumptuous dish. For now, I get that craving fix from The Pig & Palm, Anzani and The Abaca Group.
Mikaela Yoloque Pacubas, 21
Chemistry Student
A typical morning for you?
While getting ready, I listen to calm music as I plan my day. Drinking coffee and reading is also a big part of my morning as it keeps me alert and focused.
And the rest of the day?
The mornings are spent in the office, and I'm in the lab late afternoons experimenting on my thesis. It varies from day to day though.
Do you eat breakfast everyday?
I try my best not to skip, so on most days I eat breakfast.
Why do you like this particular dish for breakfast? Because dried fish and squid (buwad) with coconut vinegar (tuba) highlights Filipino cuisine. It represents our culture, and I learned to appreciate it more because of that. I like the taste combination of salty and sour—it's my ideal first dish of the day.
What would you never have for breakfast? Juices, fruits and anything sweet.
Your favorite food? I'm always drawn to the unhealthy somehow—lechon and puso (hanging rice)!
Your favorite restaurants in the city?
For ambiance and taste, Anzani and Morals in Tinderbox.
Juanita Romualdez, 20
Singer, Songwriter, Project Coordinator of a Cebu-based literary organization
A typical morning for you?
Mornings for me now either go by in a rush or don't exist at all. By that I mean I'm always busy—either I have to work or have errands to run during mornings. I live quite far from the city so I need to pace myself and give myself some allowance time for travel, so typically mornings go by with me running around the house to get ready. On slow days, mornings don't exist because I would normally stay in bed for as long as I can and would head down at noon to grab brunch.
Do you eat breakfast everyday?
Eating breakfast is a constant argument between my parents and I. Since I'm mostly in a rush, I hardly ever eat breakfast. My mom would always insist that I eat a full meal, but I just think it takes too much of my time.
Why do you like this particular dish for breakfast? I hate having to eat full meals because not only does it take up time, it also makes me feel heavy and sleepy. I chose quick meals like cereal and sliced fruit because they're enough to fill my stomach without making me too full. They're also easy to prepare, the no-cook kind of breakfast.
What would you never have for breakfast? I can't really think of anything specific but I guess I would never eat spicy food in the morning, that would probably just mess my stomach up.
Your favorite food? My comfort food is and always will be sinigang. I absolutely love fast food, pizza and burgers. I could last months just eating pizza or burgers, but I won't because I know it would probably kill me. I also really love Asian food—Japanese, Korean and Thai. My palette and heart will always have room for some Italian food.
Your favorite restaurants in the city?
I hardly ever eat out, and when I do it's mostly at common fast food places. However, I used to frequent and enjoy Hola Espana when I still lived in Mactan—they have a great ox tongue dish and panna cotta. Nowadays, I would say that I love going to Topokki Man for some really good Korean food with reasonable prices. I'm sad that Choi City closed—I used to enjoy their hakao so much. I would also go to Kublai Khan for their check-a-bowls, good Japanese food at Nonki, S&R Pizza, Delice for good food and a good view. I'm just gonna have to put it out there that Edd's Ngohiongan across USC-TC is definitely one of the places I love going to for ngohiong and stuffed egg paired with a special sauce you mix up using their mango sauce, chili sauce and soy sauce.
(This article has already been published in Zee Lifestyle's November 2016 Entertaining Issue, "Breakfast Club" on pages 61-71.)
The Best Food-Stopovers When Biking Uphill at the Transcentral Highway in Cebu

Wellness and Wheels with a View
by Allain Dumon Fonte
If there is one important lesson that this pandemic has taught us, it is that "health is wealth".  Many of us have realized that keeping a healthful diet, active lifestyle, and a sound mind free from stress will help boost our immune system.  Thus, making us less vulnerable to sickness.  Because of this, Cebuanos turned to biking as a fun-filled hobby to discover new places in Cebu, release tension, and improve physical and mental wellness.  Moreover, biking has become more popular this year because local government units support and promote biking as a sustainable means of transportation by lessening carbon emissions and limiting the contact with people when travelling to and from work.
As Cebu slowly re-opens, new businesses are springing up like mushrooms.  Who would have thought that the once quiet Transcentral Highway is now a bustling route for bikers, riders, and local tourists?  As much as I would love to bike uphill, my legs are better on the runway than on the highway; so, I asked Alain Ralph, a foodie and a seasoned biker who has traversed the ins and outs of Cebu's hills for the best food-stopover.  Alain Ralph mentions that there are many interesting places to stop by and rest when you are biking uphill.  He suggests these places are a-must-visit when you are biking up Cebu's highlands.  So, I put on my gear and got on to my ute to drive up to these places that Alain Ralph recommended. 
1. MAK'S VIEW
Mak's view is the home of Humba Heaven and Maharlicup.  The two-storey open-air dining area provides guests with a panoramic view of the lush hills of Busay and offers remarkable Cebuano cuisine.  The 'humba' in Humba Heaven figuratively brings you to heaven once you tasted it.  The pork is marinated with flavors to tickle your taste buds and it is so soft that it melts in your mouth.  Maharlicup serves different kinds of 'sikwate' (a hot chocolate drink made from home-grown cacao).  Paired with sticky rice, your 'sikwate' will be perfect with the hill's cool breeze and an endless sight of greens.  The fog late in the afternoon, the sunset painting the clouds and sky in hues of orange, plus the rustic ambiance of Mak's view, makes this place a romantic site to dine with someone special.
Ambiance

–

★★★

View

–

★★★

Food

–

★★★★
2. MATANA CAFÉ 
Still enroute to Balamban on Transcentral Highway is Matana Café that offers guests a refreshing view on the hills of Busay.  However, what makes Matana Café's view unique from the rest of the stopovers is the sunset.  The sunset view of Matana Café is like looking at a sunset painting of Thomas Moran in the Louvre.  If you will dine here, the chorizo Cebuano should be on top of your list to order.
Ambiance

–

★★

View

-★★★★

Food

–

★★
3. 21 KILOMETERS CAFÉ
21 Kilometers Café is small coffee shop that offers a romantically homey ambiance with its white walls and art murals.  It also gives guests a wide view of greens facing the hills of Cantipla.  The view deck where you can enjoy a slice of cake or a beverage that is specially concocted by the cute barista gives you a sense of tranquility.  There is not much to talk about food in this venue, but the beverages are a must try, and my favorite is the avocado-banana shake.  In fact, I am writing this article while sipping my creamy avocado-banana shake and getting inspired by the view.
Ambiance

–

★★★★

View

–

★★★

Food/Drinks

–

★★★★
4. CHARLIE'S CUP
Charlie's cup is probably the most visited coffee shop and stop over on the Transcentral Highway.  It is a pet-friendly café since it is named after the owner's favorite pet, a corgi.  The sight here is breathtaking and the ambiance is perfect for an afternoon tea and chit-chat with your friends or family.  The architecture is remarkably interesting and accentuates the view of the lake, which was an old mining site in Toledo City.    Just like any other coffee shop, it offers a wide range of hot and cold beverages; but you must try their hearty breakfast meal.  Charlie's Cup should not be missed when you are driving up to Balamban.
Ambiance

–

★★★★★

View

–

★★★★

Food

–

★★★
These are the stopovers and coffee shops highly recommended by Alain Ralph, and I could not disagree.  Every stopover is something new to the eyes, and makes you want to stay longer.  I shall be back to enjoy another bite of 'humba', or a sip of 'sikwate', or to relax with the view of the sunset.  I may still be driving my ute on my way back, but who knows?  I might surprise myself and grab a bike.  For more tips on biking trails and bikers' stopovers, you may check the youtube videos of Alain Ralph at alainralphTV.
ECQ EATS: The Ultimate Biko
The enthusiastic host Christine Pelaez gives the traditional Filipino dish an indulgent twist—a thicker, richer latik.
photography Philip Lapinid IV
With her collection of cookbooks, plates and cutlery, it's clear that Christine Pelaez is someone who loves to entertain. From intimate sit-down dinners on their long dining table to larger occasions with buffet tables and catering, she enjoys welcoming people into her home and sharing the tastes she enjoys.
"It depends on the guests really, but if it's foreign guests, I always serve Filipino food," she says when asked on what's usually on her menu. "I usually make chicken binakol (chicken in coconut broth). Foreigners love it, especially when I serve it in a coconut shell!" And like any Cebuano, Christine agrees that no celebration is quite the same without lechon—Cang's Lechon in Lahug being her roasted pig of choice.
Her biko, though, was the star of the afternoon. "The secret is the latik," Christine reveals with a smile. The thick and rich topping makes her version a more indulgent take on the Filipino favorite, and it's something we can't wait to recreate in our own kitchens.
***
THE TRADITIONAL RECIPE
2 cups glutinous rice
2 cups water
2 cups brown sugar
4 cups coconut milk
1/2 teaspoon salt
.
Combine the sticky rice and water in a pot, and cook. If the water dries out and the rice isn't cooked, add small amounts of water until rice is completely cooked.
To make the latik, combine the coconut milk with brown sugar and salt in a separate pot, and cook in low heat. Stir constantly, until the texture becomes thick. Set aside part of the latik.
Combine the rice and the latik, making sure to mix them well. Scoop the biko onto a baking tray, and top with the remaining latik.
***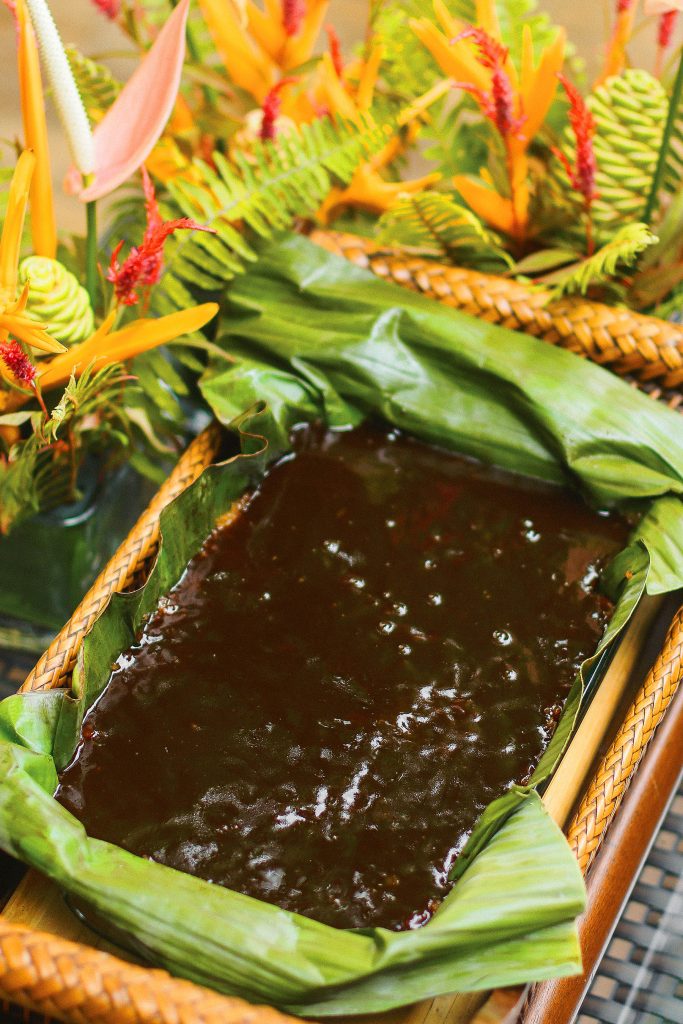 CHRISTINE'S VERSION
Once the latik starts to thicken, set aside half of the mixture.
Mix one half with the cooked rice, and keep the other in the pot and continue to let it thicken. You can add more coconut milk, if you want to give it a richer taste. Keep cooking until the latik reaches an extra thick consistency.
Scoop the biko onto a baling tray, and top with the extra thick latik.
(This article had already been published in Zee Lifestyle's October 2017 Entertaining Issue, "Christine Pelaez: The Ultimate Biko" on pages 26-27.)