Sugbo Mercado Proprietor Michael Karlo Lim Recommends the Best Cebuano Dishes You Should Try
Cebu food is more than just lechon. As a food writer and one of Sugbo Mercado's proprietors, Michael Karlo Lim shares the dishes you have to try in the city, and some helpful tips on how to best enjoy them.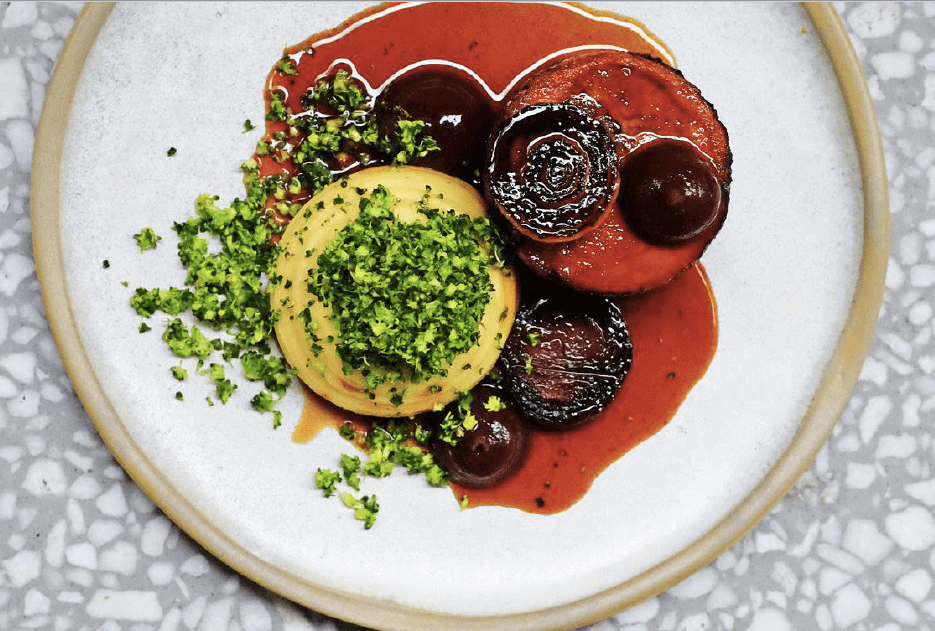 Cebu food is more than just lechon. As a food writer and one of Sugbo Mercado's proprietors, Michael Karlo Lim shares the dishes you have to try in the city, and some helpful tips on how to best enjoy them.
Originally published in Zee Digital Vol. 1
I'd imagine someone to mention a trip to Cebu, and all in attendance who know of this island or have been to it would excitedly exclaim, 'Lechon!' That or the classic tourist buzzwords: Larsian, dried mangoes, ngohiong and danggit. The past few years have contributed several additions, extending that listing to mostly items held to the extreme or the unconventional, like Tuslob Buwa, but these haven't really taken those from the outside looking in away from making a beeline for 'the best pig ever'.
Food is at the heart of Cebuano culture. with eateries everywhere, as this city becomes more progressive, so does our cuisine. The island's resources and the fact that it is a hub city in the South have given the people more than enough room and reason to explore cooking. Over the past decades, they have gone the distance, beyond perfecting roast pork to world renown. There are now a lot more local restaurants serving up items that I'd daresay would be quite competitive on the international culinary stage. From traditional recipes to exciting newfangled items, and from veritable kitchen science experiments to home-cooked simplicity, the breadth encapsulates Cebu's diversity, tossing in what's local with some global influence to simmer tradition and fusion in a big pot of delicious.
The Cebuano is notoriously hard to please, fickle, either always on the lookout for what's new or extremely devout to their inclinations. we're constantly shifting through the new kids on the block, hopefully seeing beyond distracting thematics, and zoning in on what's damn good. There is always a handful of must-try food items anywhere that both represent the essence of the city and gives you a taste of its times. Here are five of my personal favorites that anyone visiting Cebu must try.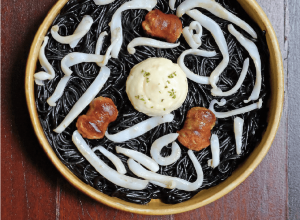 FIDEO NEGRO AT NO. 9
photography GIA MAYOLA
From the Latin-Mediterranean menu lineup done with creative avant-garde cookery, the unanimous crowd favorite is their Fideo Negro. Broken noodles are tinted silky black and pleasantly savory with a rich profusion of aromatic squid ink. Strips of the firm, ever so slightly sweet and almost nutty squid meat take it further into seafood territory, with a hint of the sea in its brininess. Chunks of intensely smoky, spicy and tangy homemade Spanish-style chorizo anchor it to shore. A creamy and smooth garlic aioli rounds out the rest of the flavors with its slight pungency.
Epic a dish as it already is, it still wouldn't be a bad idea to add on the existing elements with an order of Calamares—fried squid, aioli, charred pickled Espada—and the chorizo above served with sourdough. The dark and different take on surf 'n' turf proves striking in both appearance and flavor, and is definitely one to impress with. I'd recommend pulling this card only on the second date or in comfortable company as it is, like the most delicious of dishes, rather enjoyably messy.
Excellent cocktails complete a significant lineup from their bar, of which their eponymous No. 9, a mix of light rum and calamansi, best pairs with this dish.
No. 9 E. Benedicto Street, Cebu City
Open from 5:00 PM to 1:00 AM every day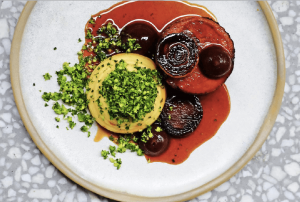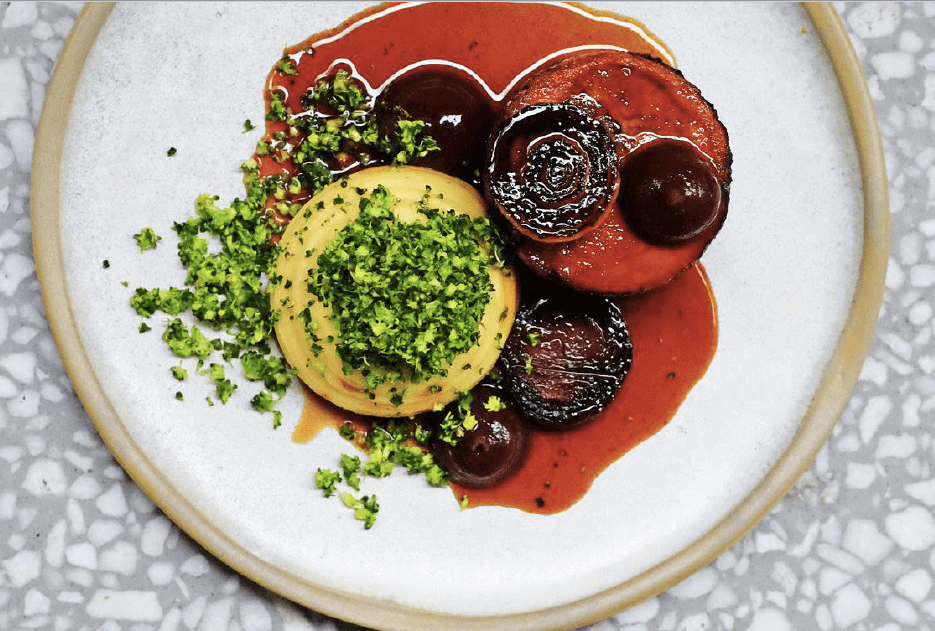 CONFIT PORK BELLY AT THE PIG & PALM
photography GIA MAYOLA
With three single-Michelin Starred restaurants among his many other spots across the world, Cebu first seemed an off choice for the celebrated Jason Atherton to open one at. He confesses that The Pig & Palm is a love letter a long time coming to his Cebuana wife Irha. The titular pig is a reference to our local predilection for pork, and the palm an even more obvious one for our tropical island.
Another ode to Cebu would be their Confit Pork Belly. This roulade sliced beautifully displays the layers of goodness: a crackling mahogany crust, a savory layer of fat and, in contrast to the crunch, near fall-apart texture in moist meat loaded with great garlic and herb flavors to ooze a rich and unctuous taste. Apple caramel pushes the sweetness of the meat in a classical pairing that is utterly delicious. Broccoli holds the fruity flavors back and reinforces that herbal earthiness, while silken mashed potatoes hold the dish down with a velvety finish.
The cocktails do not disappoint, with formulations potent both in alcohol, flavor and a whole lot of cheeky thrown in. Taking a cue from early MTV references, the inventive play on ingredients and presentations are matched with clever wordplay for an engaging experience. Their Notorious P.I.G. complements the confit with its maple syrup and sea salt in bacon butter bourbon for an almost seamless, spiked extension of the dish.
MSY Tower, Pescador Road, Cebu
Business Park, Cebu City
Open from 11:00 AM to 12:00 AM on
Sundays, Tuesdays to Thursdays, and 11:00 AM to 2:00 AM on Fridays and Saturdays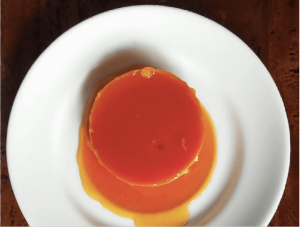 FLAN AL CARAMELO AT IPAR'S RISTORANTE Y BAR DE TAPAS
One other story about how this island's name came to be was that a Spanish contingent came across a pre-colonial barangay, and asked a native for the name of the area. Thinking that the Spaniards were asking about the smell of pork fat wafting from the cookery in the nearby huts, the native replied, 'Sebu.'
This unassuming mestiza served plainly, and all of just about five generous spoonfuls is an ultra-smooth and creamy all-egg yolk flan. Perhaps a wink to our famed lechon and his admitted love for that other white meat, Chef Ipar Miranda takes an Emeril Lagasse quote to heart and serves up hedonism in this most decadent leche flan with the phantom bacon on the palate.
Best enjoyed with coffee, have it with a cup of black or go all the way olé with a Café BombÛnóespresso with sweetened condensed milk. An even more adult treat to go with it would be a shot of Moscato off the menu.
Drop in for this alone, but as it is one of their posteres or desserts, you might as well enjoy their award-winning paellas and other authentic Spanish dishes before getting this, too.
F. Ramos Street, Cebu City
Open from 10:00 AM to 2:00 PM and 6:00 PM to 10:00 PM every day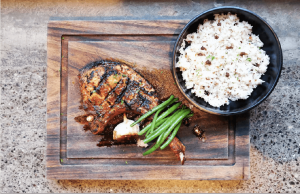 FAT BASTARD AT THE WEEKEND
photography GIA MAYOLA
Three-day marinated, dry-rubbed, panseared and oven-finished French-cut Pork Chop, served with French beans and roasted garlic. If all that wasn't a mouthful to you yet, the inch-thick 450-gram slab would be. Done to a medium well, much of the juices and the natural porcine sweetness is retained and only punctuated by the seasoning. The slow roasting of the garlic tempers its bite and leaves a deep, rich, sweet flavor and creamy, silky texture. Pop the cloves out of the skins, mash and slather onto the chop for a savory boost. A pinch of himalayan pink salt is served alongside for more palatability to the diner's taste.
Those with the New Year's resolution to eat less or drop white rice from their diets entirely can fall off that wagon and start the habit of eating Dirty Rice instead. Garlic and rice are sautéed in Angus beef tallow, and is liberally peppered with confit of Angus beef trimmings for this accompanying starch which may very well be a standalone dish.
Indulgent as that all already is, I found that their Faux Gras starter spread on each forkful of the chop pushes it further into decadent, even borderline unholy, bliss. Bacon fat and pureed bacon are emulsified into a chicken liver pate, topped with Applewood and hickory smoked bacon marmalade. here the regular chicken liver bursts with the richness of the bacon fat and the savory-sweetness in the marmalade cutting through.
GF The Greenery, Pope John Paul II
Avenue, Cebu City
Open from 11:00 AM to 11:30 PM on
Sundays to Thursdays, and 11:00 AM to 1:00 AM on Fridays and Saturdays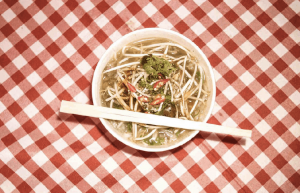 PHO AT SAIGON OI
photography NATH YBANEZ
Missing home, Vietnamese ESL student Xavier started selling Pho as a way to connect with his roots and support his education in a carinderia collective across Mabolo parish. Presenting flavors that were strange to his proximal demographic and at prices four times his neighbors' more familiar batchoy, he folded up to incredible losses but only to be determined to try again; this time at Cebuís first and biggest weekend food market, Sugbo Mercado.
It begins with a bone broth slowly rendered for hours on end from knuckles and shanks packed with gelatin-giving body and richness to the robust, intensely savory, subtly spicy and heady base. Charred onion and ginger add a smoky flavor with that of black cardamom. A generally sweetish profile definitive of the Saigon-style come in from cinnamon and anise. Generous coriander brings in herbal zest, chased by a latent menthol note from the cloves before that final touch of umami from Nu?c m?m, a Vietnamese fish sauce. Blanched rice noodles are topped with thin strips of raw beef brisket that cooks as the steaming hot broth is poured into the bowl. A heaping of crunchy bean sprouts and cilantro is piled on top with white and green onions and finely chopped birds-eye chilies. Local lime, hoisin sauce and Sriracha are added to the diner's preference.
True foodies and some notable local society personalities have been making their way to the market specifically for this find. Until recently, the city recognized only a single brand chain purveyor of Ph?. Decent as that is, you'll have to give it to the real McKong to imbibe to the dish a non-native can never capture—the authenticity of a Vietnamese home kitchen.
Sugbo Mercado, Garden Bloc, Cebu IT Park, Lahug, Cebu City
Open 5:00 PM to 1:00 AM on Thursdays to Sundays
Seashore Seclusion: A Beachside Abode in San Remigio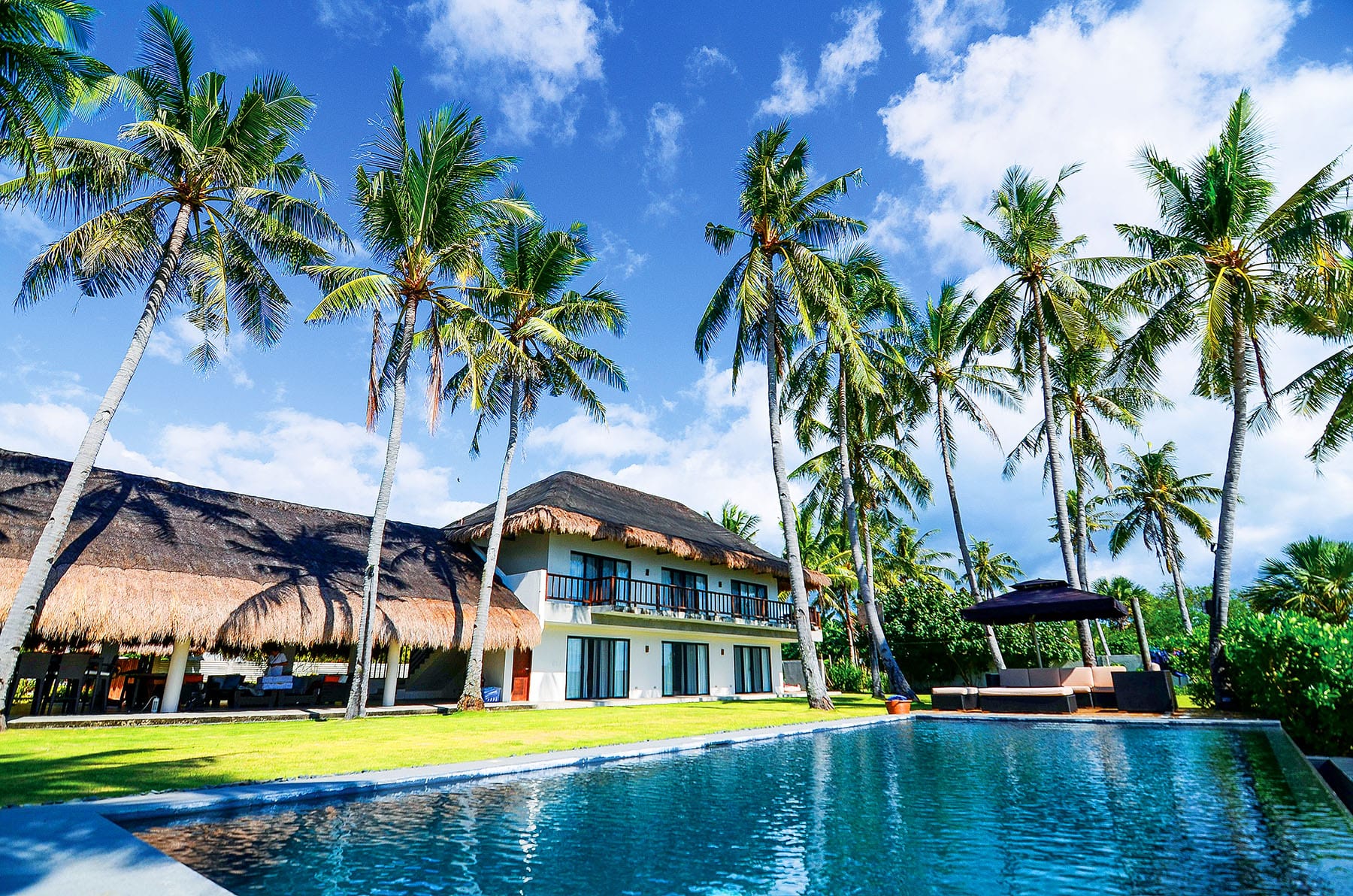 A cozy family getaway in San Remigio epitomizes the charm and simplicity of living by the sea.
by Shari Quimbo
photography Ezekiel Sullano
Admittedly, there are some challenges that come with living in Cebu; but having pockets of paradise being only a few hours' away is an upside that's hard to beat. One such paradise is San Remigio, a town that sits on the northwest side of the island, which means its serene shores are kissed daily by an amazing view of the sunset. Sure, you'll run into some traffic while driving out of the city, but what awaits you makes the drive up north an easy challenge to live with.
When a chance to visit one family's beachside getaway landed on our laps, we couldn't pass it up. After a brief struggle with Mandaue City traffic, we were soon cruising through the towns of the north while the crystalline blue waters of the ocean peeked through every few kilometers.
It wasn't long after when we found ourselves going up a pebbled driveway where a bamboo gate opened up to a footpath that led to the house. "We wanted to keep it simple," the owner explains, sharing that he came up with the design while going through photos of houses online. With a thatched roof, rounded columns and a grooved concrete fence, the space is cozy and informal—a place that definitely exuded a laid-back beachside feel.
The living areas integrate into each other, with casual dining set-ups arranged around the open space, while oversized couches surround a solid wood coffee table. There's a communal vibe that's slightly deliberate. "We have a lot of friends and family that come in during the weekends, so we created a space that's ready for that," says the owner. "We didn't want anything too formal. Some beach houses make you feel embarrassed to come in with your wet, sandy feet. We want a place where everyone would be comfortable moving around."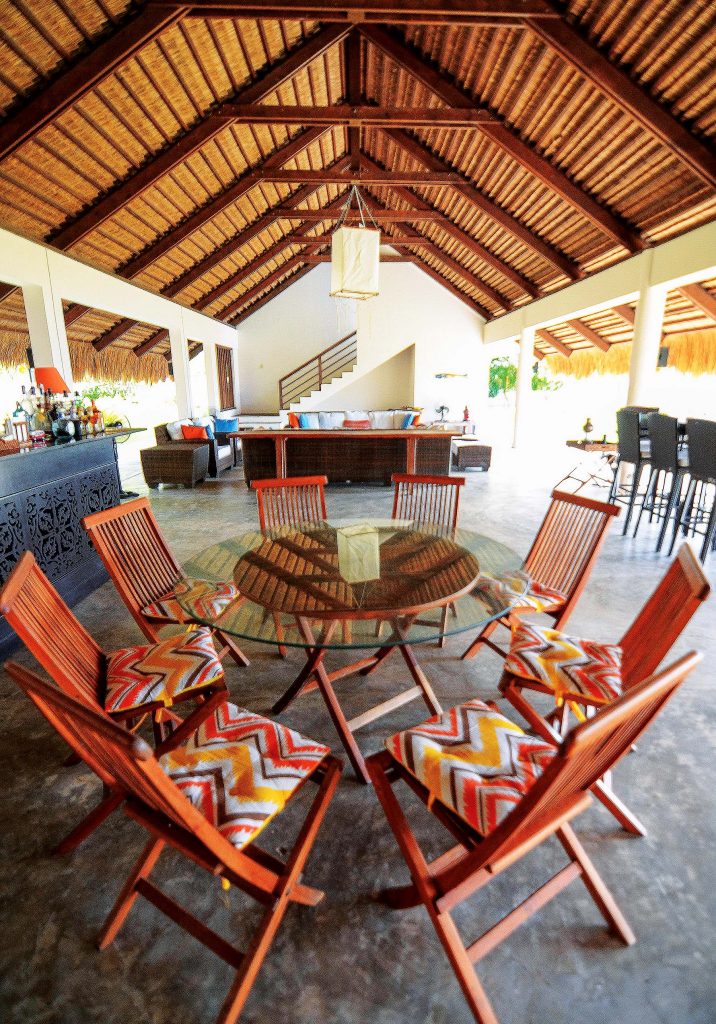 That said, the concrete floors, made for walking around barefoot, lead to the manicured grass where the infinity pool looks like its about to spill out into the beach below. The blues of the sea and sky complement the more natural tones of the house's wooden furniture pieces and painted white walls. Pops of color come in with the throw pillows, hammock and matching bright orange lounge chairs that are around the pool.
As if keeping with the house's casual vibe, the owner's trio of dogs roams freely around the property, curiously coming up to us for attention. "They just showed up one day," he laughs when I ask where he'd gotten the dogs, named Beer, Tequila and Scotch—perhaps giving proof of how fun weekends here can be. A bar sits by one of the dining tables and further cements this theory, as does the homemade lamp made from a bottle of Patron.
Off to the side of the house are the bedrooms, which are simple but spacious. "It's so there's space on the floor to bring in cushions for when we have a lot of people over."
The beach house took just two months to construct about two years ago. "Weirdly enough, we built this house while I was still living in Malaysia," shares the owner. "My sister manages a construction company, and I would just email them instructions and photos of what I wanted. Surprisingly, it was pretty easy."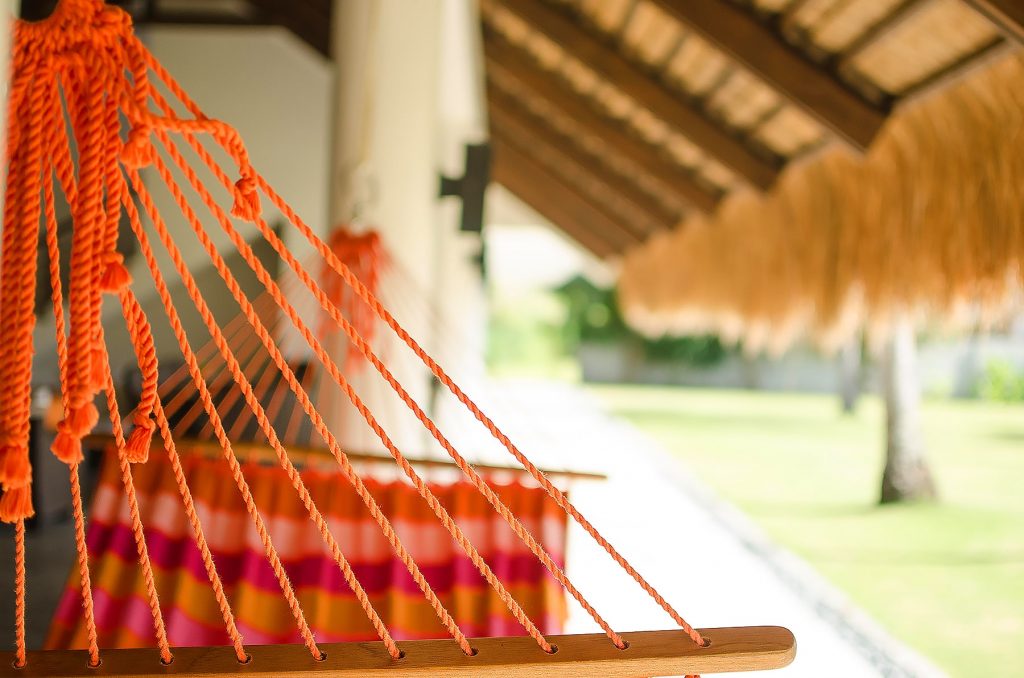 Of course, when typhoon Yolanda hit northern Cebu, the house saw considerable damage. A quick browse through his photo gallery showed the roof completely ripped off the structure. "I came back the weekend after Yolanda. It took me almost a whole day to get here because we had to clear the road as we went," he recalled.
Repairs to the house took a backseat as the family helped residents around the area before they moved to reconstruct their own house. "It took a month or so to fix the roof and everything else that was broken," he says.
Now, the house is as inviting as ever. We spent the minutes leading up to sunset drinking beer by the pool. A few fishing boats float off the shore, with many locals walking through the beach. "I like the idea of having no fences and having people passing through," the owner shares. "I like that it's open. It makes the house feel more alive."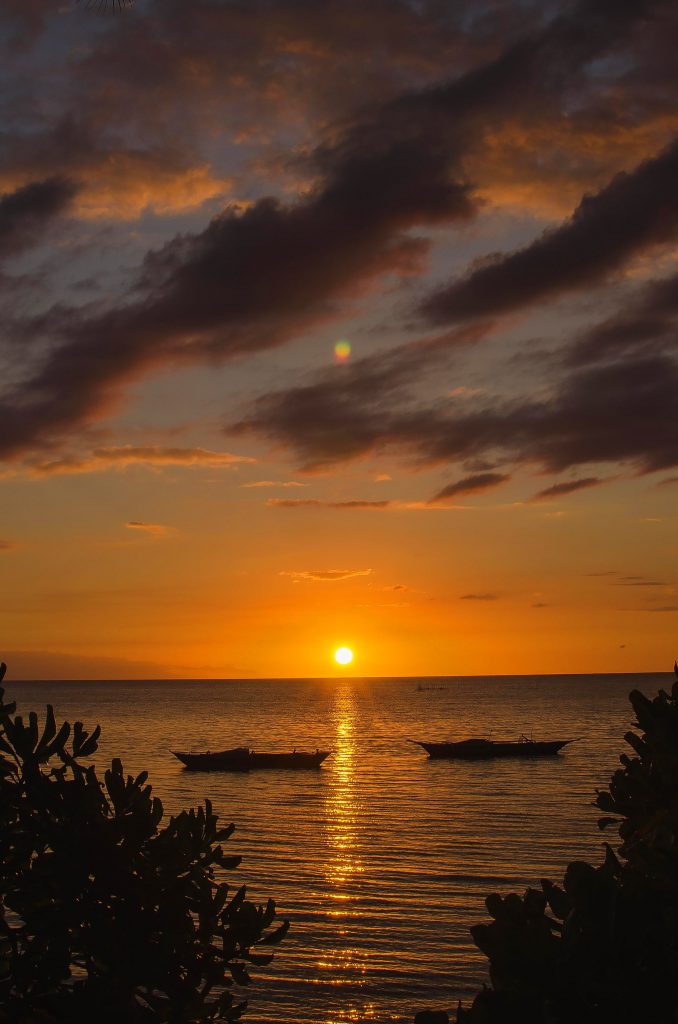 That, in a nutshell, describes the beach house. With its cheerful, casual corners, it surely feels lived in—as if remnants of the happy moments people have spent there still hang in the air and even add to its personality. It's not hard to understand why the owners look forward to the two-hour drive up on the weekends—if we had a space like this, we'd be heading north more often too.
(This article had already been published in Zee Lifestyle's April 2016 Travel Issue, "Beach, Please" on pages 98-101.)
Idyllic Isolation: The La Mer Veille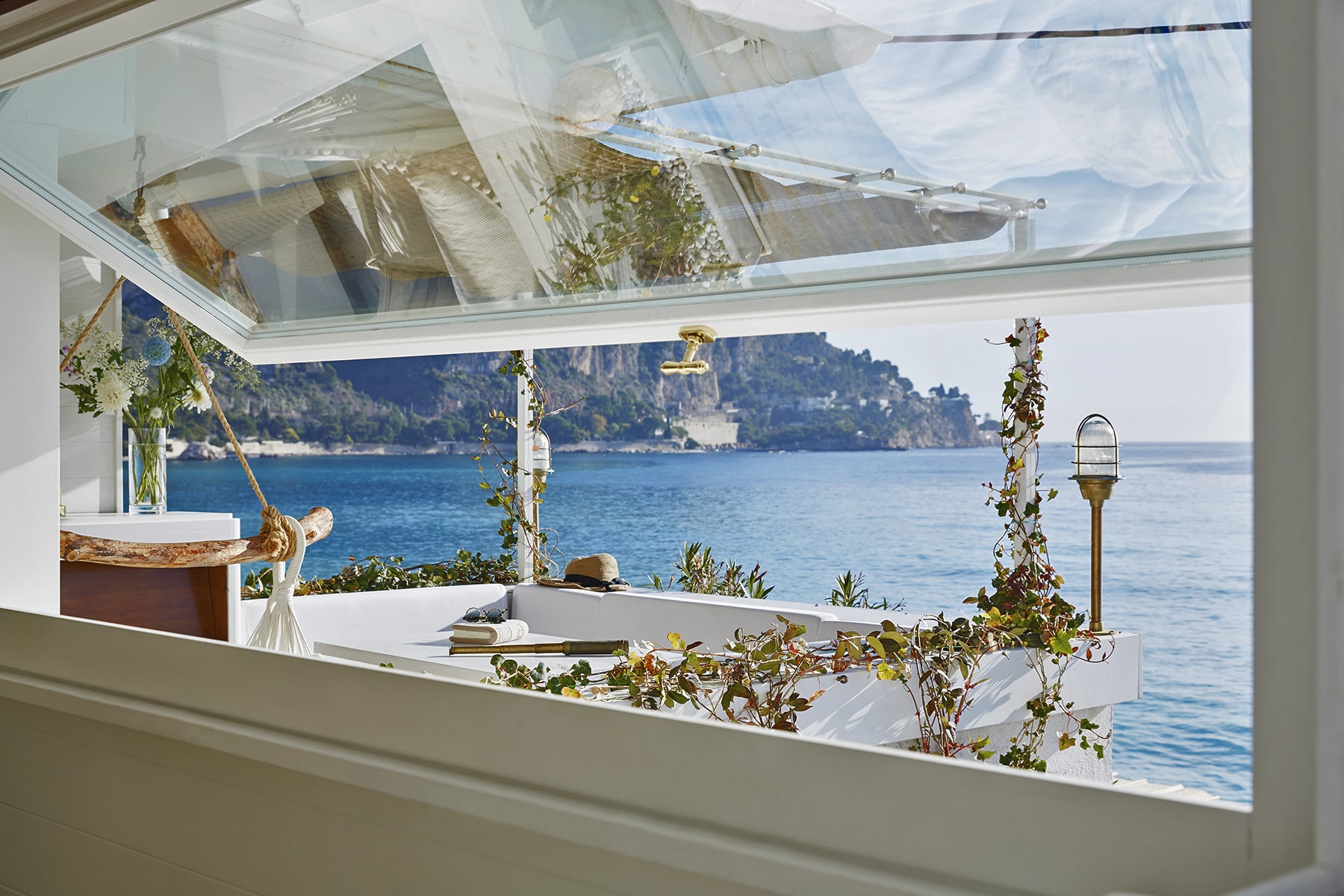 French architectural duo Humbert & Poyet create La Mer Veille in the Italian Riviera, a seaside cabin that has its fair share of charm.
by Shari Quimbo
photos courtesy of Alexandra Public Relations
With the azure sea on one side, the verdant mountains on the other and picturesque towns in between, the Italian Riviera is certainly a dream destination. More than its natural beauty, the region seems frozen in another time—a simpler one, when the days seemed long and the people keen to enjoy the moments.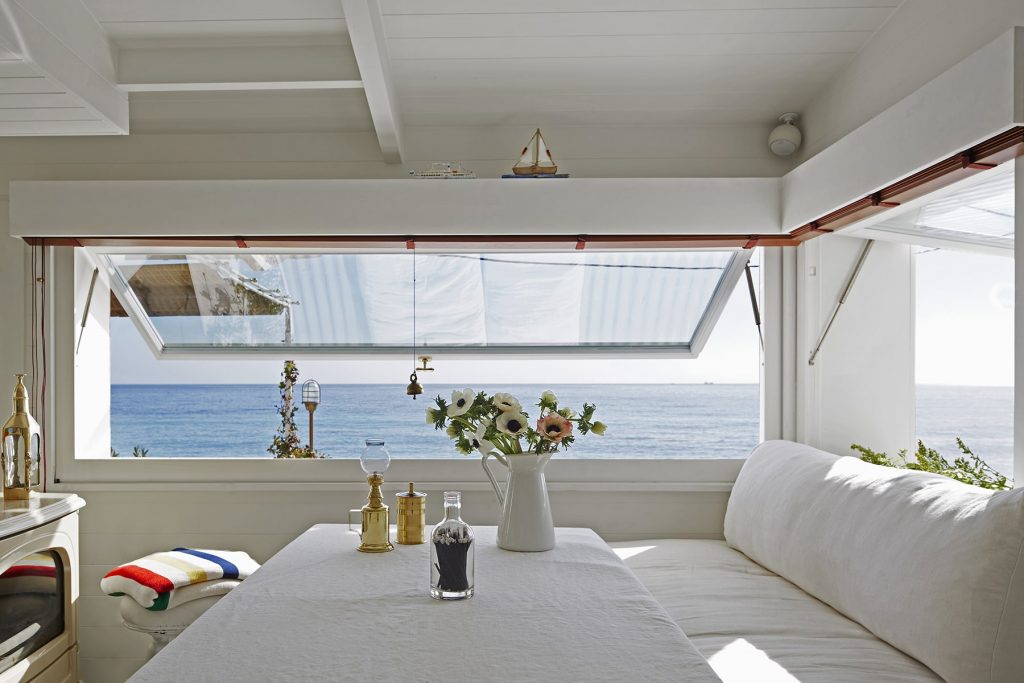 It is here that La Mer Veille sits, a beachfront cabin that epitomizes the simple summer escape. Nestled between Bordighera and San Remo, its stunning views of the Mediterranean Sea are complemented by its predominantly white palette, down-to-earth décor and delicate materials.
The house is the creation of French architects Emil Humbert and Christophe Poyet, the personalities behind the firm Humbert & Poyet. Since they decided to collaborate in 2007, the firm has worked on various projects around the world—the Wine Palace at the Monaco Yacht Club, the curated fashion store 55 Croisette in Cannes, and fashion designer Alexis Mabille's first shop in Paris are just some of the projects the two have worked on together.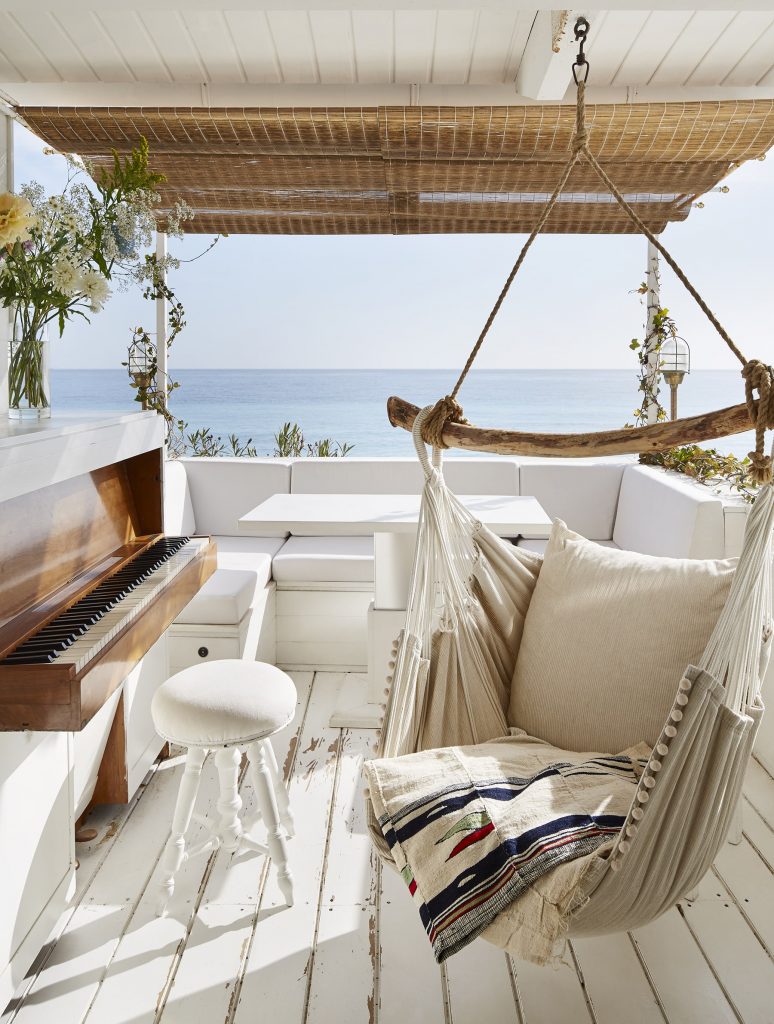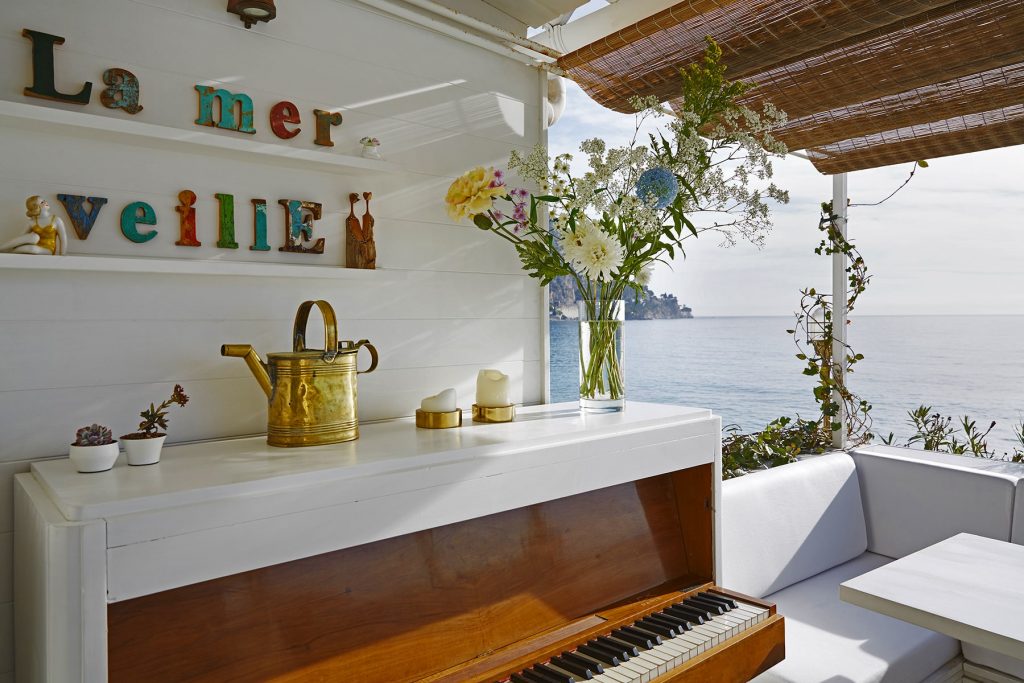 "We communicate constantly throughout a project," Christophe explains. "Our symbiosis forms the foundations of our projects and ensures the space that we've imagined works."
The result is elegant and timeless spaces that meticulously bring together various design elements—the choice of materials and lighting, for example, are carefully thought out to make the most of a space and to ensure the client's needs and personality is reflected in the final design.
It's understandable then why La Mer Veille sits at a perfect vantage point where it surroundings can be admired. The seaside cabin is simple and relatively small, but is put together to exude an unassuming luxury that dares not to compete with the views outside.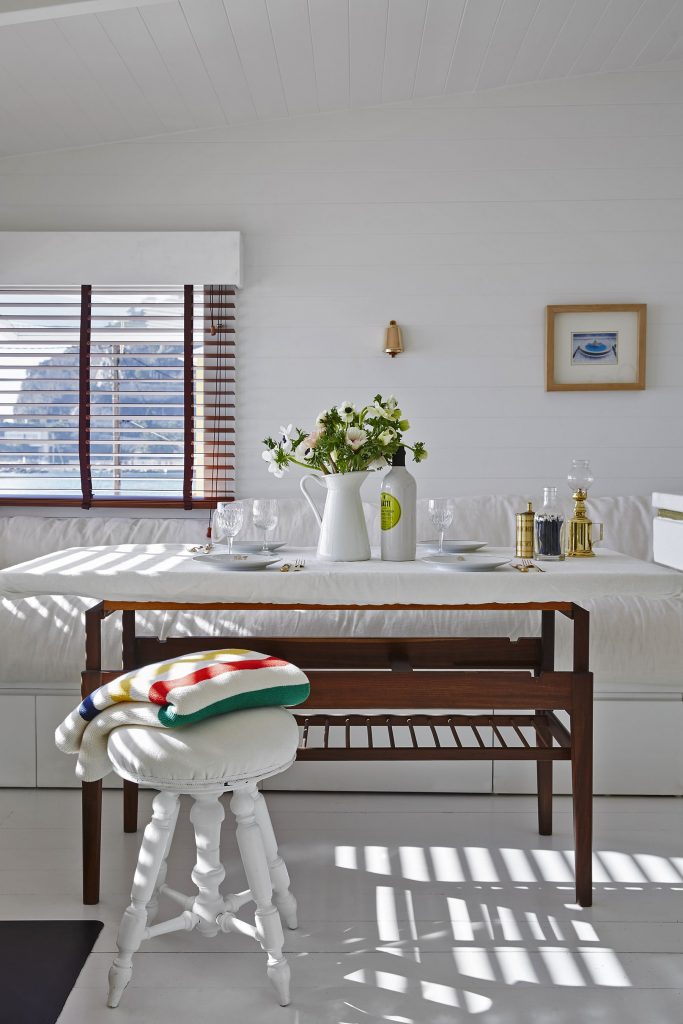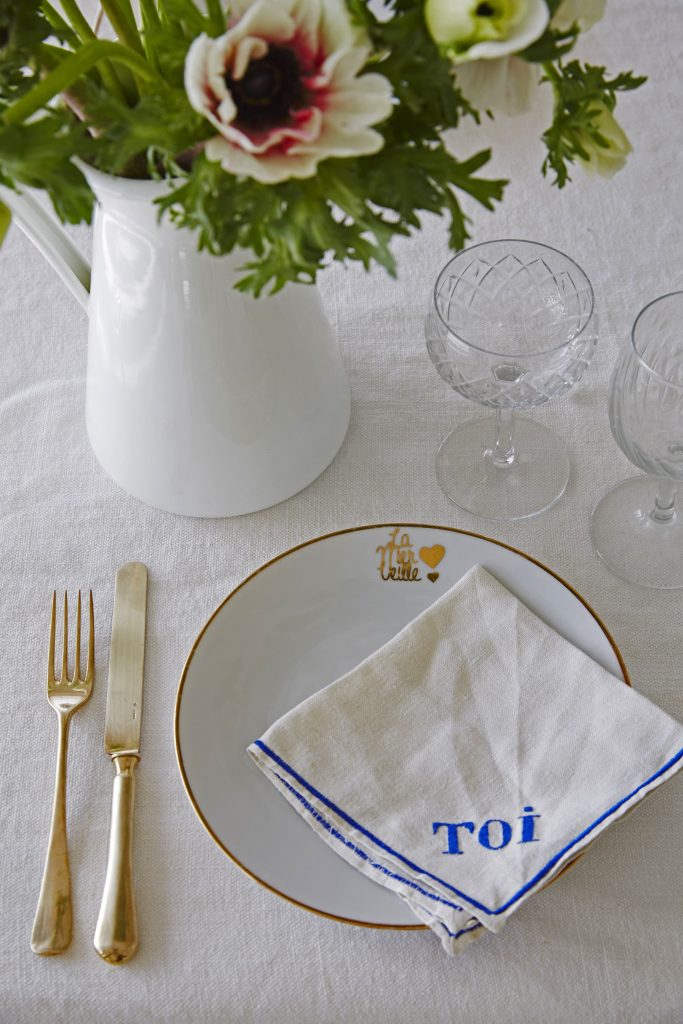 The living area, shared with the dining room and kitchen, is done in shades of white with earthy tone accents. The Carrara marble counters are complemented with brass fixtures, including a brass sink that was custom-made by Humbert & Poyet. The firm also specially constructed the sofa that sits opposite the wooden table, a find from a market in England. Straw-wrapped lighting, an old-fashioned fireplace and a brass backsplash for the stove just add to the overall rustic appeal.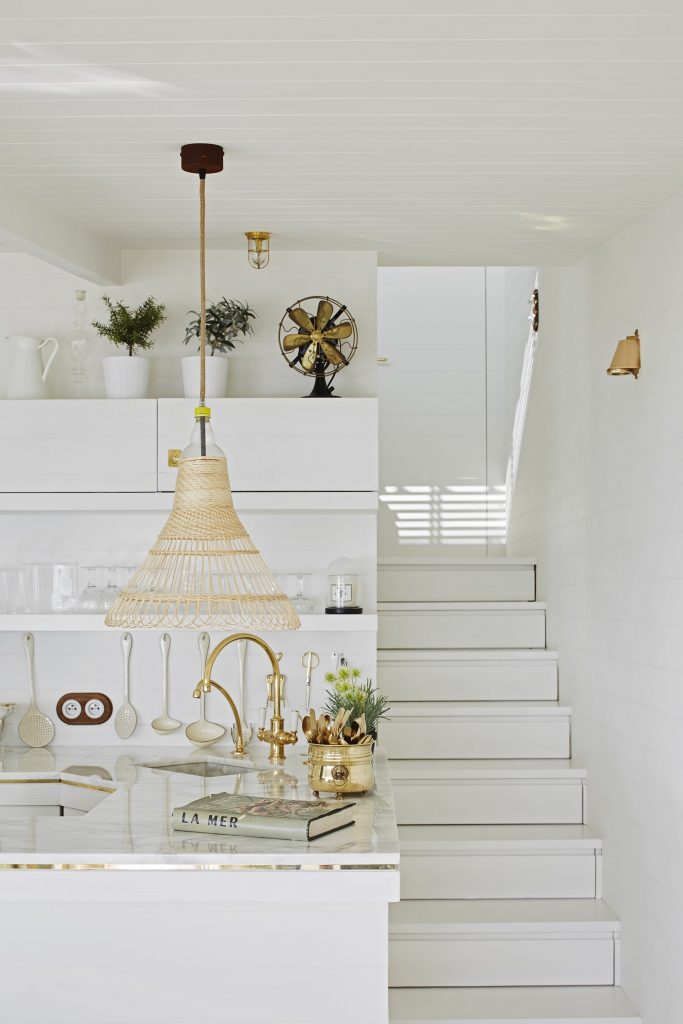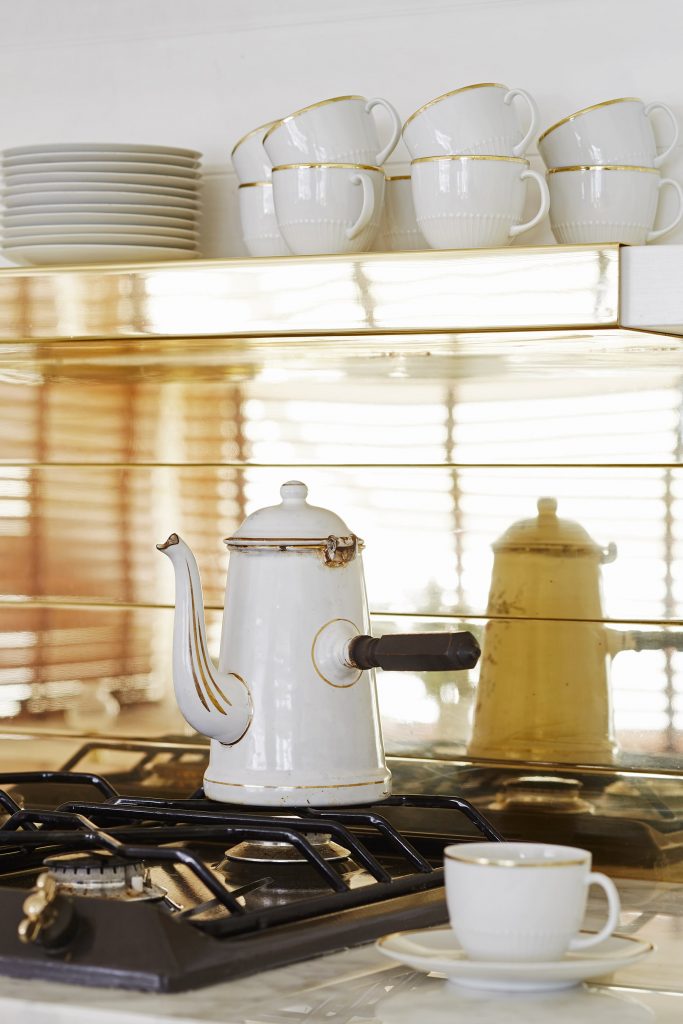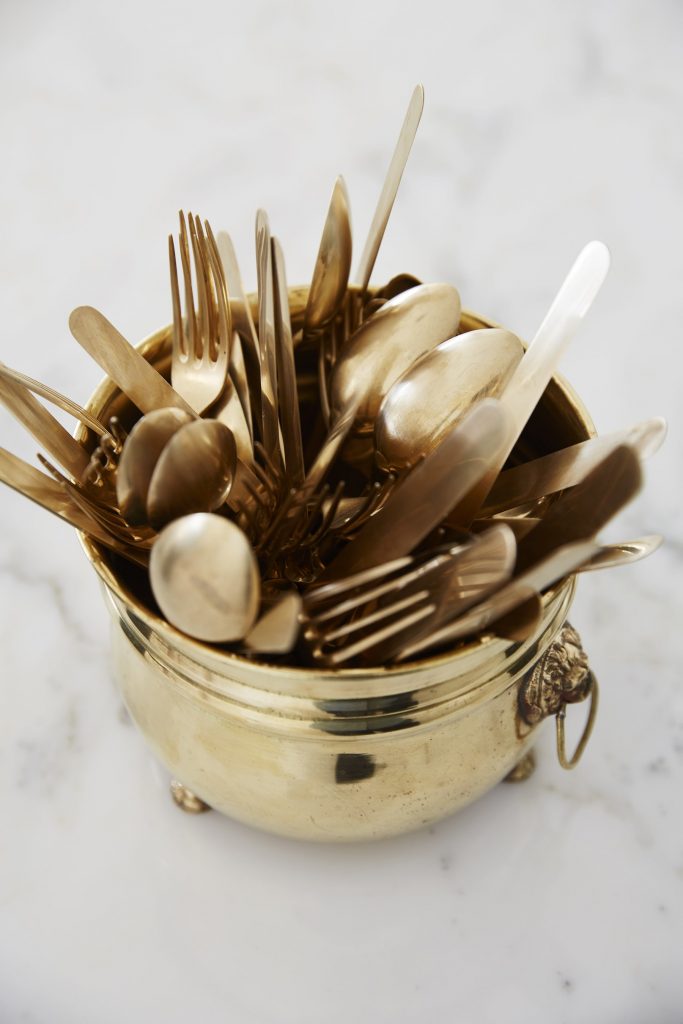 The bedrooms also have that effortless charm, with various nautical details to remind its occupants they are by the sea—just in case they forget the views beyond the picture windows. The master bedroom features a mattress sitting on an elevated wooden platform, topped with an Ancient African throw purchased from an antique shop.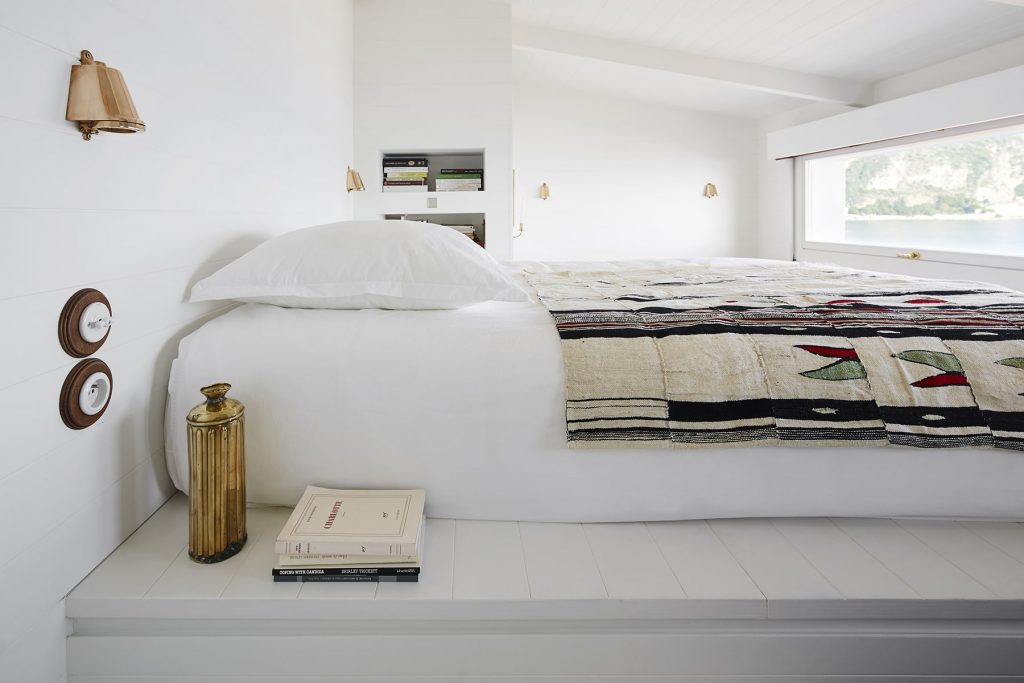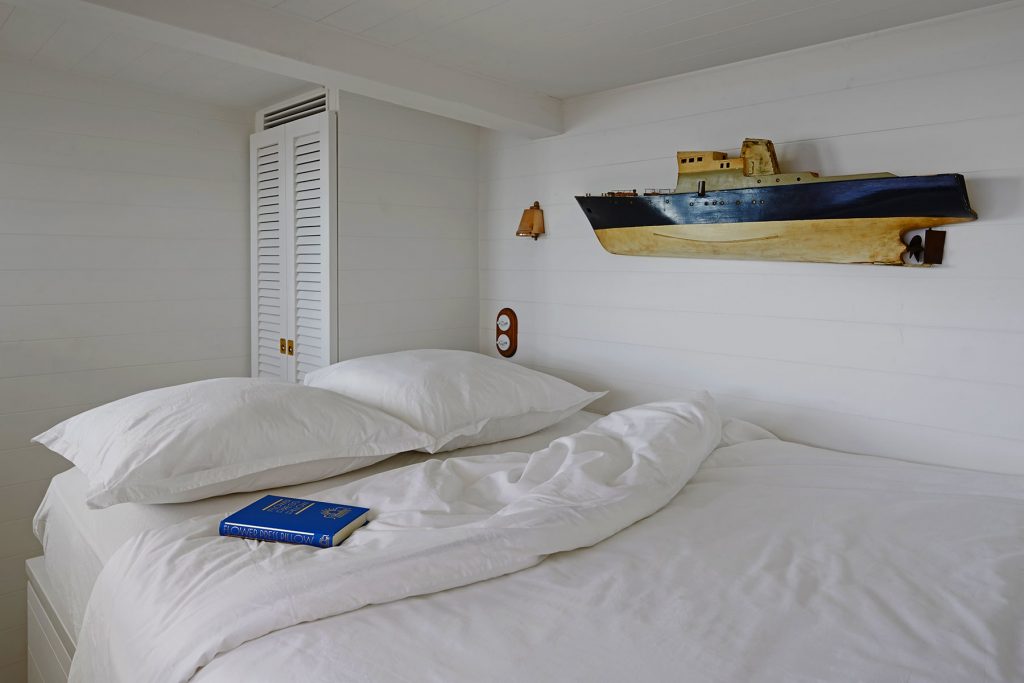 "We communicate constantly throughout a project," Christophe explains. "Our symbiosis forms the foundations of our projects and ensures the space that we've imagined works."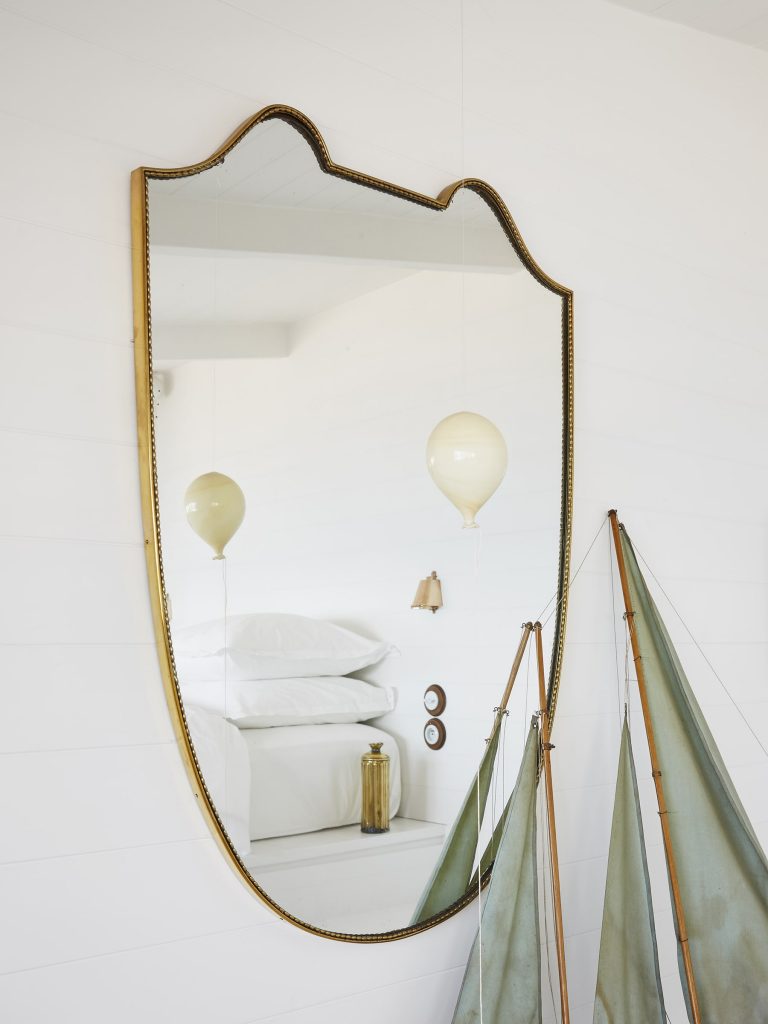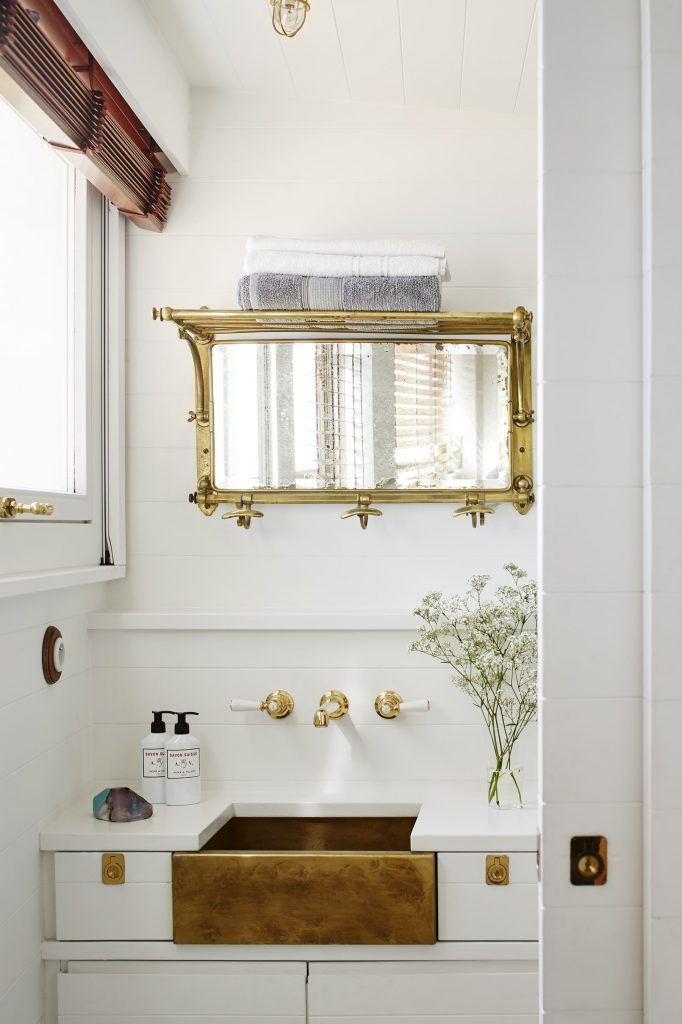 La Mer Veille is a space that celebrates its location, and its location is best enjoyed from the terrace. The creamy white palette is carried over to this outdoor space where distressed wooden floorboards and a cushioned seating area invite you to put up your feet and settle in. The mood is set even further with a hammock chair from Etsy hanging easily from the ceiling and some relaxing music from the piano.
Beyond its architectural details, it is the finishing touches that give this dreamy cabin its character—bunches of baby's breath and other flowers tucked into pitchers and vases in various niches around the house, wooden stools with rounded seats, antique-inspired knickknacks like an old fan sitting on a shelf and a swinging love seat. These details make the house come to life in an interesting way; and with a view such as this, what a life it is.
(This article had already been published in Zee Lifestyle's May 2016 Home Issue, "By the Sea" on pages 72-77.)
Hottest Summer Destinations to Visit in Cebu This 2020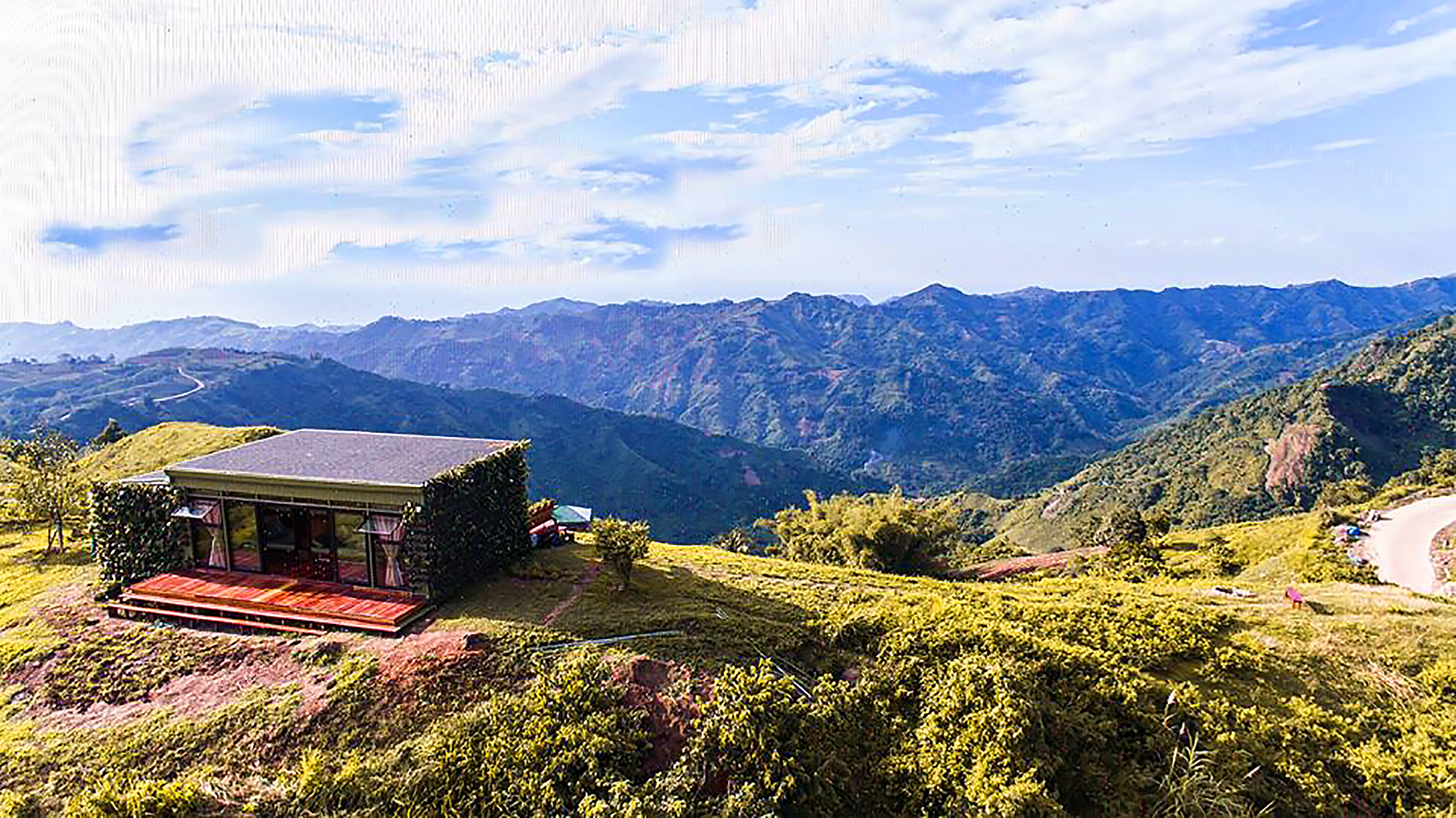 by Chrissy Grey Resaba
Discovering unique travel destinations is getting more challenging every year. Modern-day travelers are seeking new experiences far from the hackneyed summer destinations we always see like the usual snapshots of beaches and bikinis that flood our social media feeds. However, living in Cebu as a local has always been a privilege as we have easy access to these newly-explored places. For our foreign friends though, the city offers countless adventures to experience, new hip activities to enjoy and places to bask or meditate. After all, travel should always be a therapeutic experience.
A few months closer and we can finally say, "It's officially summer!". Of course, as early as now, some are already tapping and scrolling their mobile phones for new and one-of-a-kind destinations and getaways. Sometimes, choosing where to go is quite a dilemma. To make it easier for you, here's our list of the hottest travel destinations in Cebu this summer of 2020 that deserve to be explored by adventurers and thrill-seekers: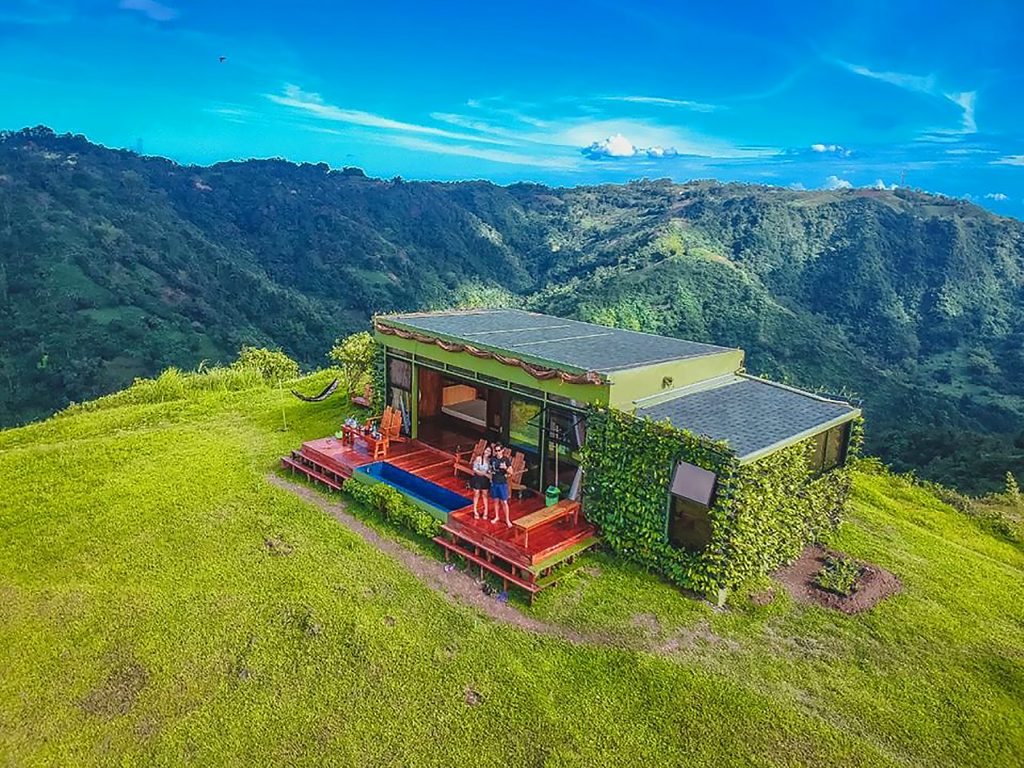 La Vue Cabine – Toledo City, Cebu
Experience luxury in nature. This cabin is atop the mountains of Toledo, overlooking the cerulean Tañon Strait. At the far horizon, in clear and sunny weather is the view of the majestic Mt. Kanlaon. One can truly feel paradise in this haven of relaxation and comfort. Aside from the scenic landscape, the fresh air will surely rejuvenate your senses!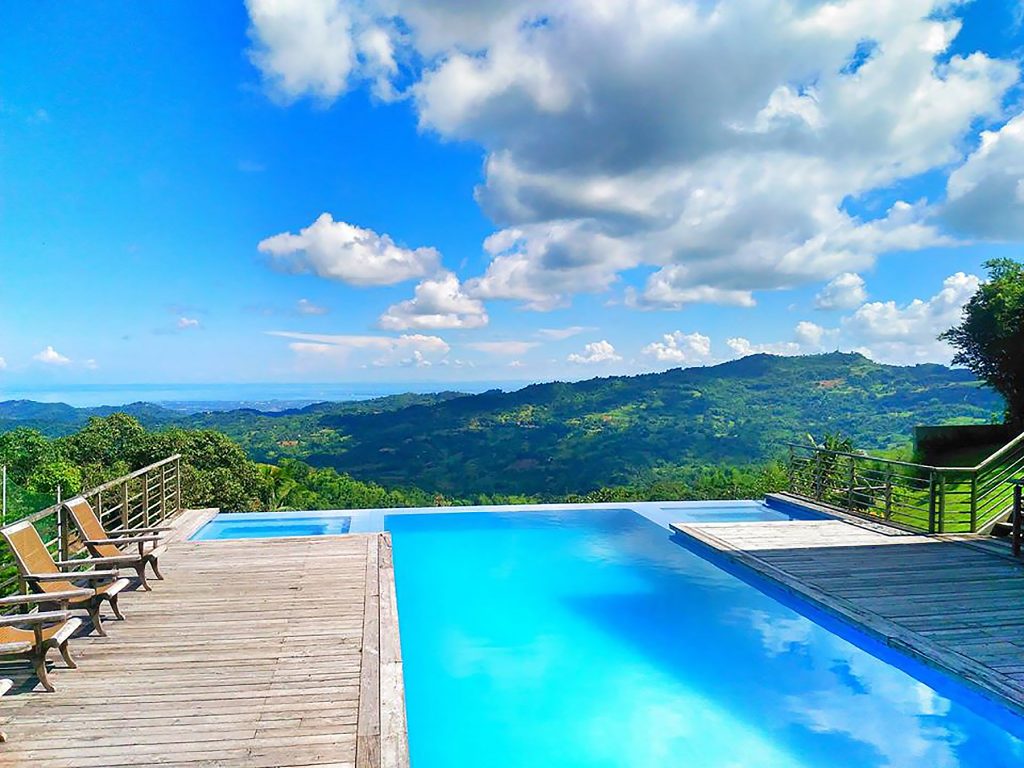 Rancho Cancio – Brgy. Adlaon, Cebu City
For a while now, this place is making rounds on social media. This rest house is located at Brgy. Adlaon in Cebu City, a few kilometers away from Brgy. Busay. Be ready to get mesmerized with what's in store for you at this picturesque destination.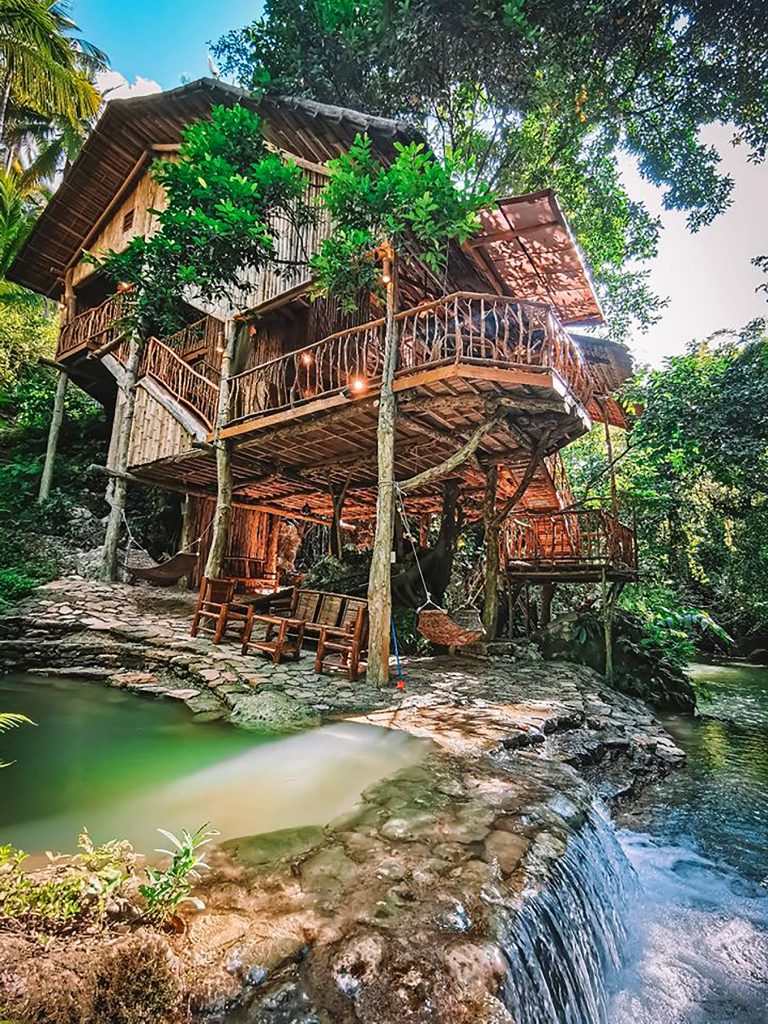 Treehouse De Valentine – Balamban, Cebu
Treehouse De Valentine is best described as nature and rustic luxury in one self-contained space. Unconventional for the right reasons, this dream house is the perfect nest away from the hustle and bustle of the city. What could be an excuse not to list this perfect nook as your next stop for this year's summer adventure?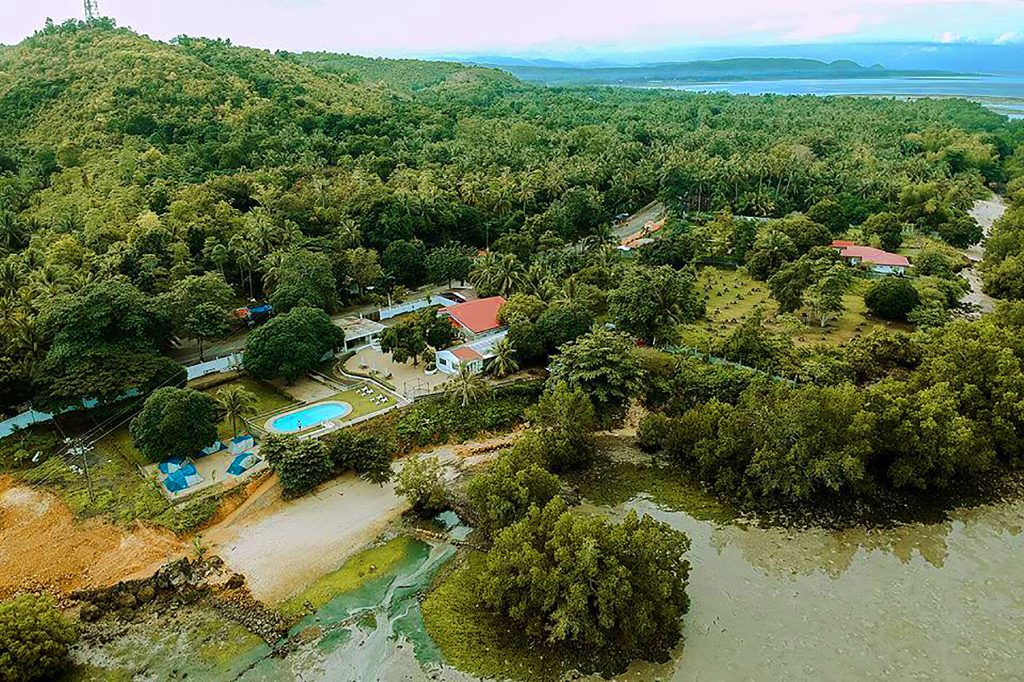 Formosa Camp Resort – Bagasawe, Tuburan, Cebu
Glamping has been the name of the game this season. A term that resulted from combining the words"glamorous" and "camping", glamping  includes outdoor overnight stays in glamorized tents with hotel-like amenities. The experience will surely be a different kind of bliss.