Sugbo Mercado Proprietor Michael Karlo Lim Recommends the Best Cebuano Dishes You Should Try
Cebu food is more than just lechon. As a food writer and one of Sugbo Mercado's proprietors, Michael Karlo Lim shares the dishes you have to try in the city, and some helpful tips on how to best enjoy them.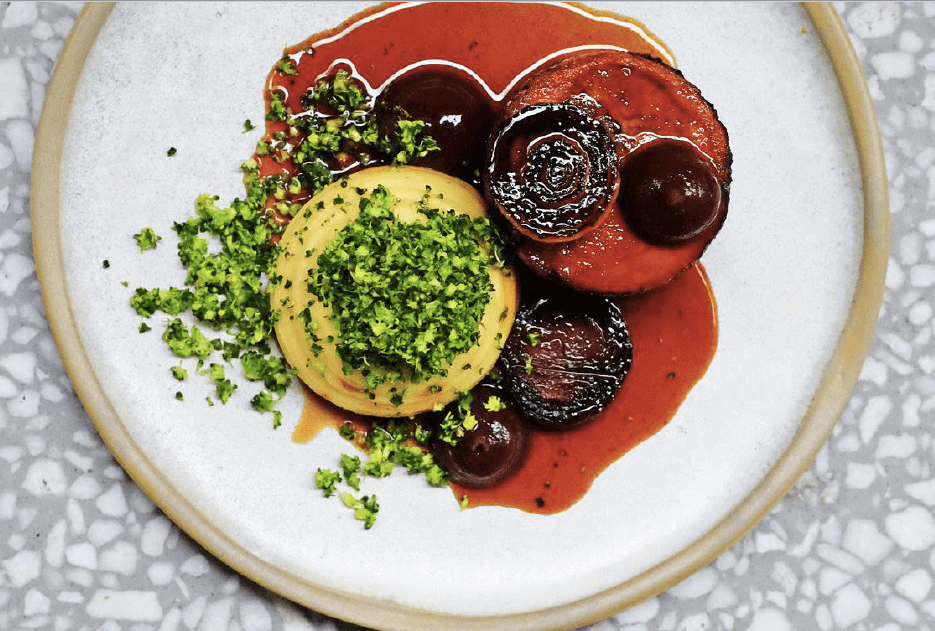 Cebu food is more than just lechon. As a food writer and one of Sugbo Mercado's proprietors, Michael Karlo Lim shares the dishes you have to try in the city, and some helpful tips on how to best enjoy them.
Originally published in Zee Digital Vol. 1
I'd imagine someone to mention a trip to Cebu, and all in attendance who know of this island or have been to it would excitedly exclaim, 'Lechon!' That or the classic tourist buzzwords: Larsian, dried mangoes, ngohiong and danggit. The past few years have contributed several additions, extending that listing to mostly items held to the extreme or the unconventional, like Tuslob Buwa, but these haven't really taken those from the outside looking in away from making a beeline for 'the best pig ever'.
Food is at the heart of Cebuano culture. with eateries everywhere, as this city becomes more progressive, so does our cuisine. The island's resources and the fact that it is a hub city in the South have given the people more than enough room and reason to explore cooking. Over the past decades, they have gone the distance, beyond perfecting roast pork to world renown. There are now a lot more local restaurants serving up items that I'd daresay would be quite competitive on the international culinary stage. From traditional recipes to exciting newfangled items, and from veritable kitchen science experiments to home-cooked simplicity, the breadth encapsulates Cebu's diversity, tossing in what's local with some global influence to simmer tradition and fusion in a big pot of delicious.
The Cebuano is notoriously hard to please, fickle, either always on the lookout for what's new or extremely devout to their inclinations. we're constantly shifting through the new kids on the block, hopefully seeing beyond distracting thematics, and zoning in on what's damn good. There is always a handful of must-try food items anywhere that both represent the essence of the city and gives you a taste of its times. Here are five of my personal favorites that anyone visiting Cebu must try.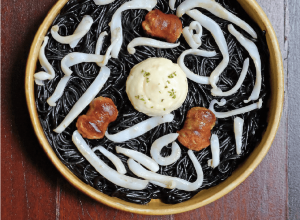 FIDEO NEGRO AT NO. 9
photography GIA MAYOLA
From the Latin-Mediterranean menu lineup done with creative avant-garde cookery, the unanimous crowd favorite is their Fideo Negro. Broken noodles are tinted silky black and pleasantly savory with a rich profusion of aromatic squid ink. Strips of the firm, ever so slightly sweet and almost nutty squid meat take it further into seafood territory, with a hint of the sea in its brininess. Chunks of intensely smoky, spicy and tangy homemade Spanish-style chorizo anchor it to shore. A creamy and smooth garlic aioli rounds out the rest of the flavors with its slight pungency.
Epic a dish as it already is, it still wouldn't be a bad idea to add on the existing elements with an order of Calamares—fried squid, aioli, charred pickled Espada—and the chorizo above served with sourdough. The dark and different take on surf 'n' turf proves striking in both appearance and flavor, and is definitely one to impress with. I'd recommend pulling this card only on the second date or in comfortable company as it is, like the most delicious of dishes, rather enjoyably messy.
Excellent cocktails complete a significant lineup from their bar, of which their eponymous No. 9, a mix of light rum and calamansi, best pairs with this dish.
No. 9 E. Benedicto Street, Cebu City
Open from 5:00 PM to 1:00 AM every day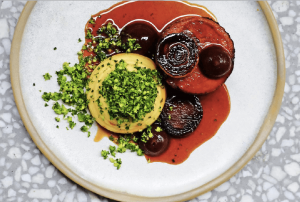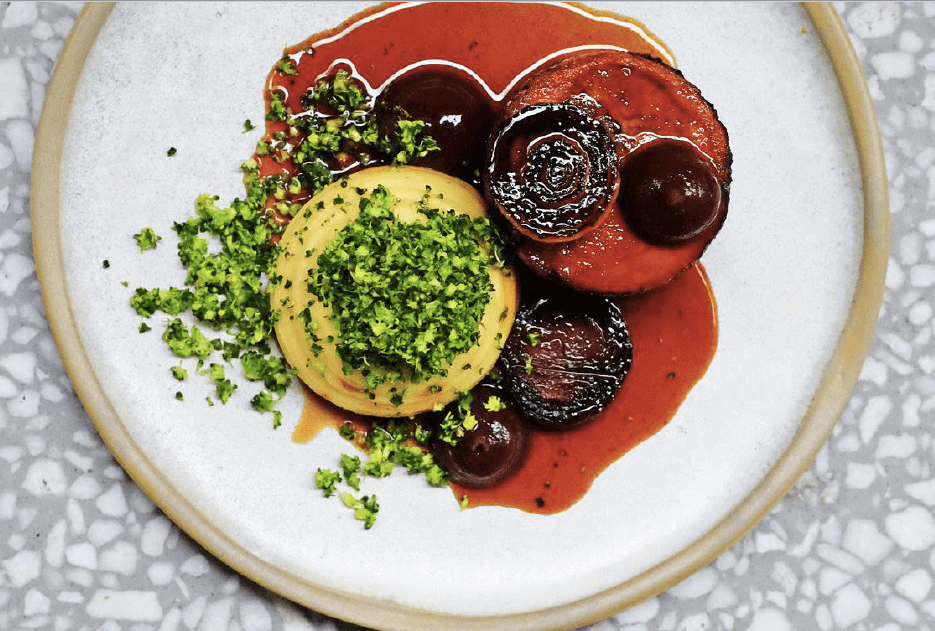 CONFIT PORK BELLY AT THE PIG & PALM
photography GIA MAYOLA
With three single-Michelin Starred restaurants among his many other spots across the world, Cebu first seemed an off choice for the celebrated Jason Atherton to open one at. He confesses that The Pig & Palm is a love letter a long time coming to his Cebuana wife Irha. The titular pig is a reference to our local predilection for pork, and the palm an even more obvious one for our tropical island.
Another ode to Cebu would be their Confit Pork Belly. This roulade sliced beautifully displays the layers of goodness: a crackling mahogany crust, a savory layer of fat and, in contrast to the crunch, near fall-apart texture in moist meat loaded with great garlic and herb flavors to ooze a rich and unctuous taste. Apple caramel pushes the sweetness of the meat in a classical pairing that is utterly delicious. Broccoli holds the fruity flavors back and reinforces that herbal earthiness, while silken mashed potatoes hold the dish down with a velvety finish.
The cocktails do not disappoint, with formulations potent both in alcohol, flavor and a whole lot of cheeky thrown in. Taking a cue from early MTV references, the inventive play on ingredients and presentations are matched with clever wordplay for an engaging experience. Their Notorious P.I.G. complements the confit with its maple syrup and sea salt in bacon butter bourbon for an almost seamless, spiked extension of the dish.
MSY Tower, Pescador Road, Cebu
Business Park, Cebu City
Open from 11:00 AM to 12:00 AM on
Sundays, Tuesdays to Thursdays, and 11:00 AM to 2:00 AM on Fridays and Saturdays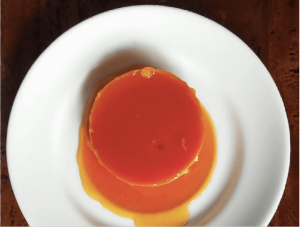 FLAN AL CARAMELO AT IPAR'S RISTORANTE Y BAR DE TAPAS
One other story about how this island's name came to be was that a Spanish contingent came across a pre-colonial barangay, and asked a native for the name of the area. Thinking that the Spaniards were asking about the smell of pork fat wafting from the cookery in the nearby huts, the native replied, 'Sebu.'
This unassuming mestiza served plainly, and all of just about five generous spoonfuls is an ultra-smooth and creamy all-egg yolk flan. Perhaps a wink to our famed lechon and his admitted love for that other white meat, Chef Ipar Miranda takes an Emeril Lagasse quote to heart and serves up hedonism in this most decadent leche flan with the phantom bacon on the palate.
Best enjoyed with coffee, have it with a cup of black or go all the way olé with a Café BombÛnóespresso with sweetened condensed milk. An even more adult treat to go with it would be a shot of Moscato off the menu.
Drop in for this alone, but as it is one of their posteres or desserts, you might as well enjoy their award-winning paellas and other authentic Spanish dishes before getting this, too.
F. Ramos Street, Cebu City
Open from 10:00 AM to 2:00 PM and 6:00 PM to 10:00 PM every day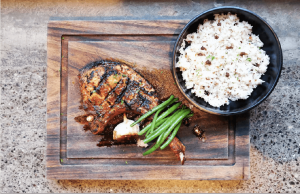 FAT BASTARD AT THE WEEKEND
photography GIA MAYOLA
Three-day marinated, dry-rubbed, panseared and oven-finished French-cut Pork Chop, served with French beans and roasted garlic. If all that wasn't a mouthful to you yet, the inch-thick 450-gram slab would be. Done to a medium well, much of the juices and the natural porcine sweetness is retained and only punctuated by the seasoning. The slow roasting of the garlic tempers its bite and leaves a deep, rich, sweet flavor and creamy, silky texture. Pop the cloves out of the skins, mash and slather onto the chop for a savory boost. A pinch of himalayan pink salt is served alongside for more palatability to the diner's taste.
Those with the New Year's resolution to eat less or drop white rice from their diets entirely can fall off that wagon and start the habit of eating Dirty Rice instead. Garlic and rice are sautéed in Angus beef tallow, and is liberally peppered with confit of Angus beef trimmings for this accompanying starch which may very well be a standalone dish.
Indulgent as that all already is, I found that their Faux Gras starter spread on each forkful of the chop pushes it further into decadent, even borderline unholy, bliss. Bacon fat and pureed bacon are emulsified into a chicken liver pate, topped with Applewood and hickory smoked bacon marmalade. here the regular chicken liver bursts with the richness of the bacon fat and the savory-sweetness in the marmalade cutting through.
GF The Greenery, Pope John Paul II
Avenue, Cebu City
Open from 11:00 AM to 11:30 PM on
Sundays to Thursdays, and 11:00 AM to 1:00 AM on Fridays and Saturdays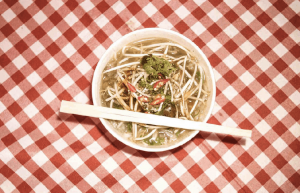 PHO AT SAIGON OI
photography NATH YBANEZ
Missing home, Vietnamese ESL student Xavier started selling Pho as a way to connect with his roots and support his education in a carinderia collective across Mabolo parish. Presenting flavors that were strange to his proximal demographic and at prices four times his neighbors' more familiar batchoy, he folded up to incredible losses but only to be determined to try again; this time at Cebuís first and biggest weekend food market, Sugbo Mercado.
It begins with a bone broth slowly rendered for hours on end from knuckles and shanks packed with gelatin-giving body and richness to the robust, intensely savory, subtly spicy and heady base. Charred onion and ginger add a smoky flavor with that of black cardamom. A generally sweetish profile definitive of the Saigon-style come in from cinnamon and anise. Generous coriander brings in herbal zest, chased by a latent menthol note from the cloves before that final touch of umami from Nu?c m?m, a Vietnamese fish sauce. Blanched rice noodles are topped with thin strips of raw beef brisket that cooks as the steaming hot broth is poured into the bowl. A heaping of crunchy bean sprouts and cilantro is piled on top with white and green onions and finely chopped birds-eye chilies. Local lime, hoisin sauce and Sriracha are added to the diner's preference.
True foodies and some notable local society personalities have been making their way to the market specifically for this find. Until recently, the city recognized only a single brand chain purveyor of Ph?. Decent as that is, you'll have to give it to the real McKong to imbibe to the dish a non-native can never capture—the authenticity of a Vietnamese home kitchen.
Sugbo Mercado, Garden Bloc, Cebu IT Park, Lahug, Cebu City
Open 5:00 PM to 1:00 AM on Thursdays to Sundays
Bunny Pages' Classic Modernist Home is a Beauty
Cebuano businessman Bunny Pages has a lot of food brands under his belt. His hectic schedule had him wishing for a peaceful and uncomplicated home.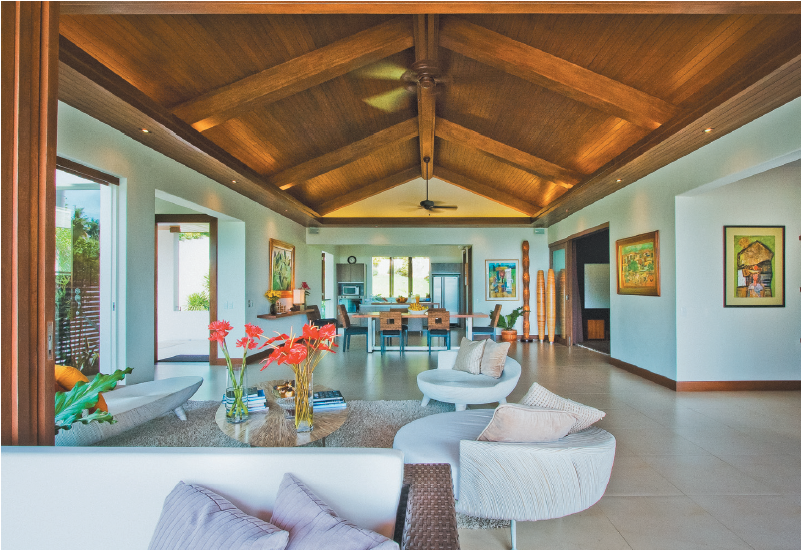 Living life on a full and hectic schedule, the owner of the house, restaurateur Bunny Pages, wanted to create an oasis where he can relax and pursue his love for cars. The outcome was an uncomplicated and compact house in collaboration with architect Ed Gallego.
On a steep slope in Maria Luisa Estate Park, the four-level home was cantilevered to conform to the contours of the terrain. Ceilings and doors were built tall, perhaps as the homeowner himself is on the towering side, and an open design was used to maximize open space, much to his liking.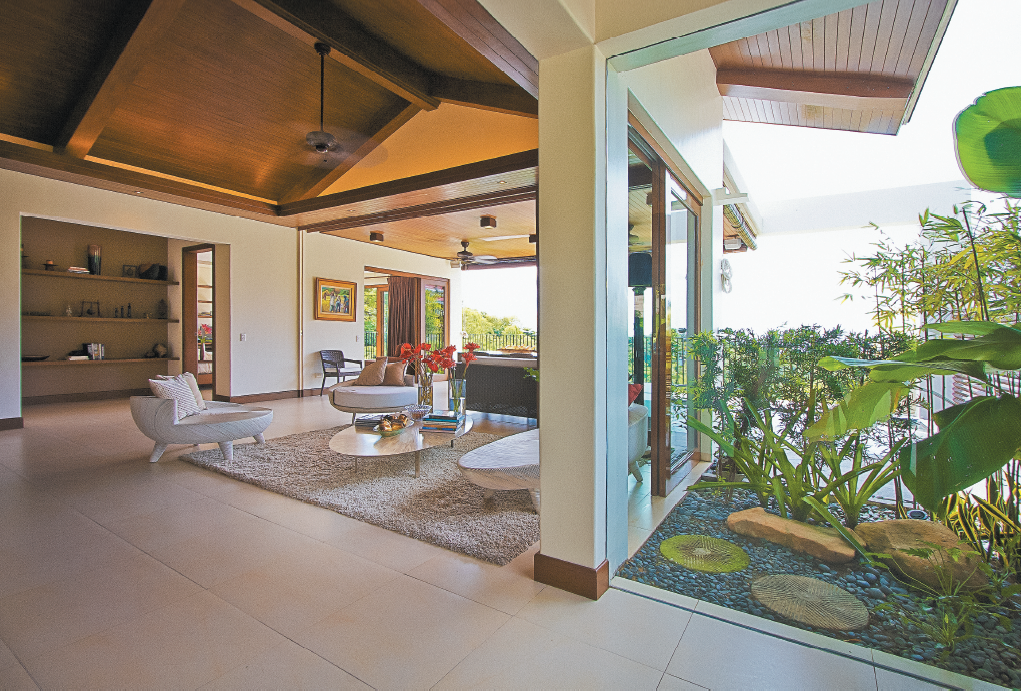 The architecture of the house is classic modernist with touches of industrial. The view from the windows of the house, the ample ventilation, and a healthy dose of monochromatic colors make it breathe. Sliding glass panels blur the line between the interior and exterior.
The living room spills out into the dining area and the kitchen on one side. At the opposite end, the master's bedroom directly adjoins the lanai and a den with a most advanced movie projector. The home theater system in here can actually rival a hi-tech movie house in terms of audio-visual equipment and acoustics. The lower levels contain the guest rooms for Bunny's visiting children, as well as extensive area to house his growing car collection.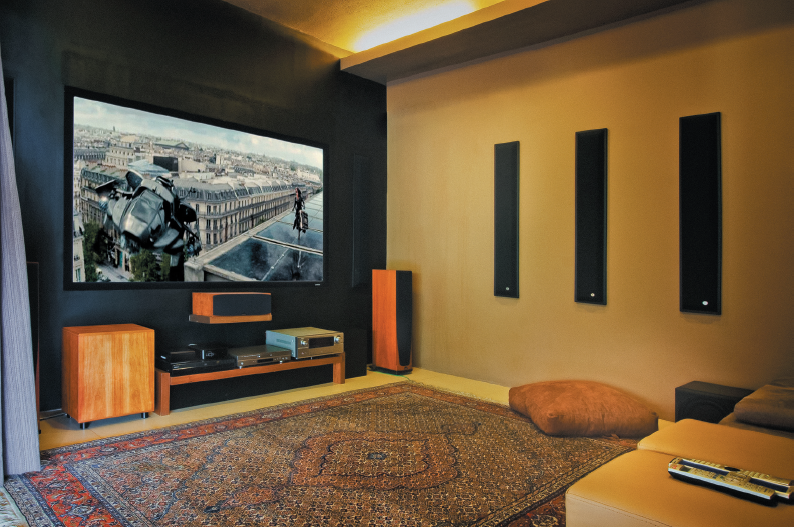 At the west end of the property, a soaking pool was built for one to enjoy the view of the city. It also overlooks the nearby island of Mactan. "This is where I have coffee in the morning," enthuses Bunny. "And when the sun is down and the lights of the city come out, the view looks great."
"The most interesting aspect of the house," says Architect Ed Gallego, "is the garage located in the lower level to indulge the owner's obsession with cars." Indeed, Bunny Pages also often plays host to fellow car buffs in a comfortable lounge, which opens to the garage. On the same level, a huge room connects to a gym complete with state-of-the-art fitness equipment.
An Exclusive Look at 856 G Gallery Founder Annie Chen's Artsy, Indochine-Inspired Home
In designing her home in Cebu, 856 G Gallery Founder Annie Chen wanted to create something that would give her comfort with a bit of pared-down luxury.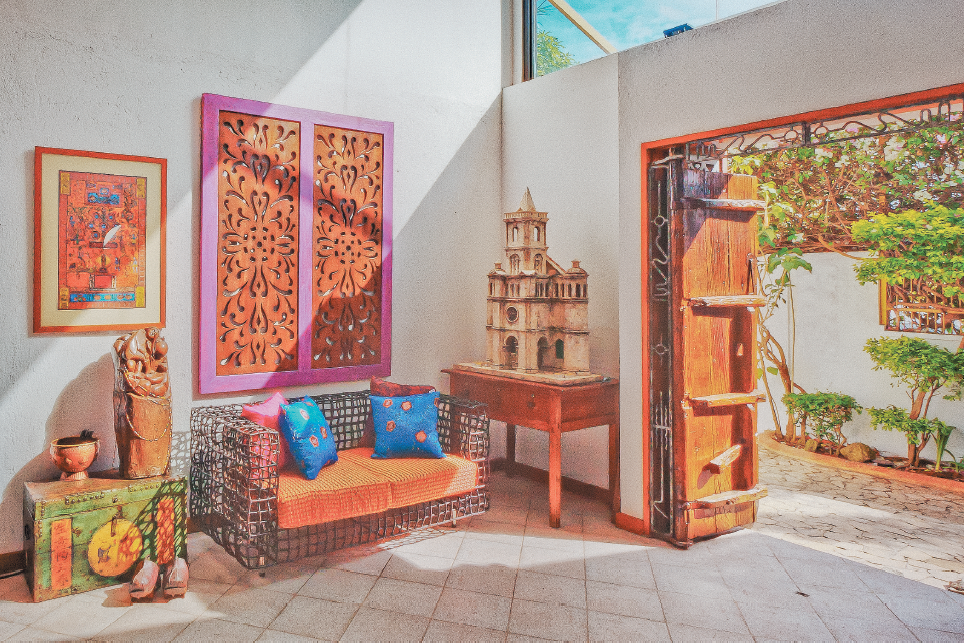 This story is taken from our archives. Originally published in Inside Cebu.
By profession Annie Chen is a jewelry designer as well as an art gallery owner in Cebu. She divides her time between her home in Singapore where she lives with her three children, and this home in her native city of Cebu. In designing her home here, Annie, wanted to create something that would give her comfort with a bit of pared-down luxury.
When the owner of this house decided to renovate the interiors, she specified to the architect that she wanted to bring the Indochine theme, which captivated her during a trip to Hanoi; there that cultural hybrid is quite evident. The entrance to the house is a barely perceptible gate in a cul-de-sac dominated by tall fences and breathtaking views of the Alta Vista Estate. Inside, however, the house speaks loudly of its owner's artistic sense. She has had her house built as nothing more than walls to display art, thus, the interiors are pointedly stark, with bursts of color coming mainly from framed paintings, wall décors, vibrant-color fabrics, and rare antique pieces displayed quite imaginatively.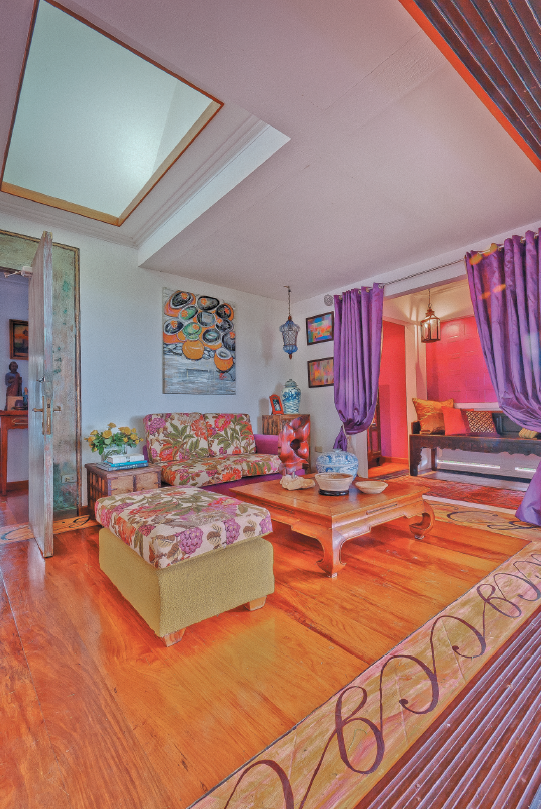 An avid collector of what could only be described as art exotique, Annie Chen has taken advantage of her many trips abroad to amass a wonderfully unique and diverse art collection. A pair of eclectic montages flanks the entrance door, radiating texture and immediately capturing the visitor's interest. There are unglazed terra cotta jars and wood sculptures by Jet Florendo.
Many of the paintings are by Nepalese and Filipino artists. Complementing the gallery feel of the house, designer furniture is used in functional precision, as revealed by interior windows and thick-lattice wood-screens. A massive wooden table dominates the dining room as well as a Kenneth Cobonpue two-seater upholstered in bright silk. Most passages are discreet and set in playful floor patterns, but a wrought-iron spiral staircase with solid wooden steps leads down to the more private spaces— three bedrooms, particularly—all furnished and accessorized with natural vibrancy.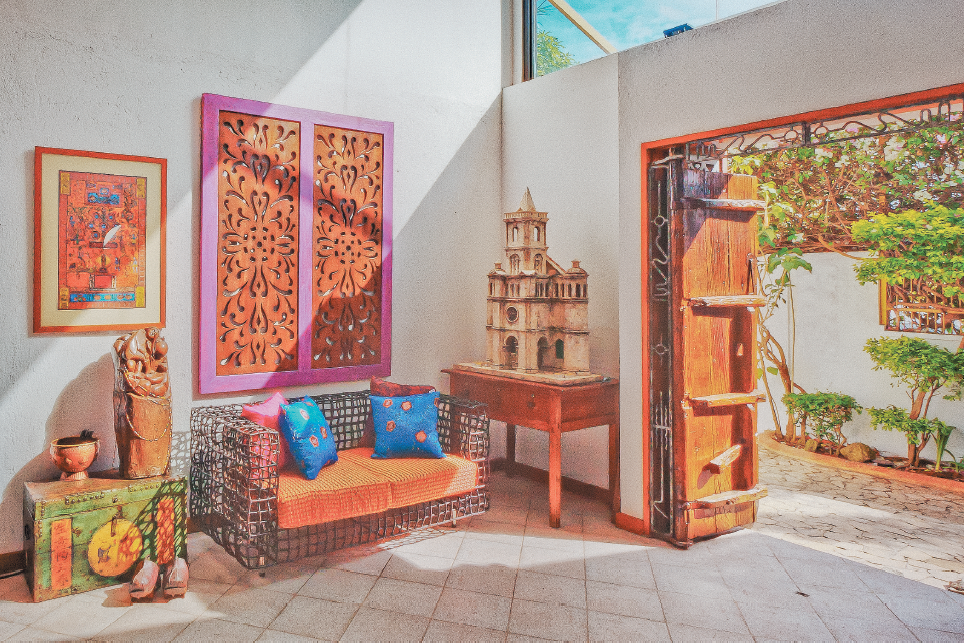 "I required romance in the interiors, but I was not also afraid of simplicity," says Annie. The classic modernist architecture was designed to maximize open space. Says Architect Arsenio D. Abella, "A renovation is an update on an existing building. The architect's duty is to link his discipline with the client's dream, passion, and love of life." And this he has done with remarkable results.
Quick and Healthy Back-to-School Lunch Ideas Your Kids Will Love
Going back-to-school means excitement for kids but can be stressful for busy moms. Make life easier with these quick and healthy school lunch ideas.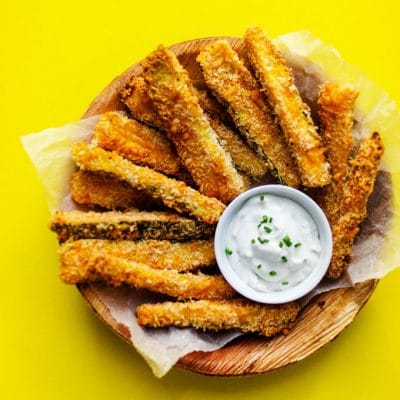 School season is here! Going back-to-school means excitement for kids but can be stressful for busy moms as meal planning comes into play. Preparing baon for your kids can be a struggle considering both their picky tastes and the nutritional content they need to grow strong and healthy.
Check out these recipes from the Electrolux Life App to help spark ideas for healthy and delicious baon for your kids.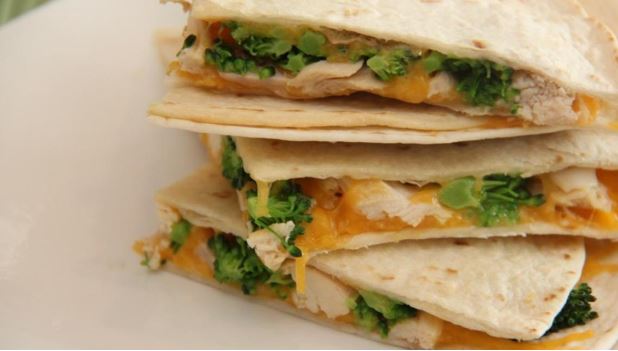 Cheese it up!
Since a lot of kids are not fond of eating vegetables, this Kid-Friendly Chicken & Broccoli Quesadilla recipe is a great way to add veggies in a way kids will enjoy. Start by placing Flour Tortillas on a plate, top it with cheddar cheese, add chicken and broccoli florets. Top it with another layer of Flour Tortillas then place it in a toaster oven at 350ºF and cook for 8-10 minutes or until golden brown. Cut the quesadilla using a pizza cutter, wait for it to cool and it's ready to be packed!
Potatoes are usually a crowd pleaser so why not make the most of your leftover mashed potatoes by making Spinach and Cheddar Potato Cakes.
Simply mix together the egg, frozen spinach, seasoned salt, onion powder and ground black pepper in a medium bowl. Add the mashed potatoes, cheddar cheese, breadcrumbs, and fresh chives. Mix it well until breadcrumbs have been absorbed. Form a scoop of the potato mixture into patties and fry the patties in a non-stick frying pan until golden brown. For the sauce, stir together sour cream and fresh dill and season with salt and pepper to taste. Serve the dip alongside the cakes!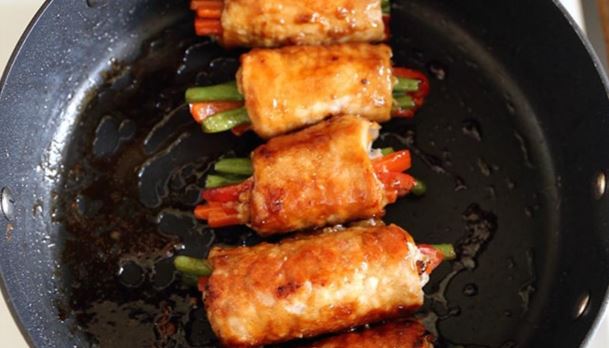 Turning Japanese
Bring a Japanese flavor to your kid's lunch with Teriyaki Pork Rolls with strips of green beans and carrots. In a pot of salted water, bring to a boil the thin strips of green beans, sliced carrot, and bell pepper for 2 mins. Once cooked, strain and dry with paper towel then set aside.
To make the sauce, mix soy sauce, white granulated sugar, and water in a small bowl and set aside. Take one of the thin pork cutlets and dust it with all-purpose flour on both sides. Add three of each of the green beans, carrot slices, and red bell pepper slices on the cutlet, season it with salt and pepper to taste. Then roll the pork and close it with toothpicks. Fry the pork until golden brown and remove toothpicks. Add the sauce, continue cooking for another 1-2 minutes until sauce thickened and all sides of the pork are coated.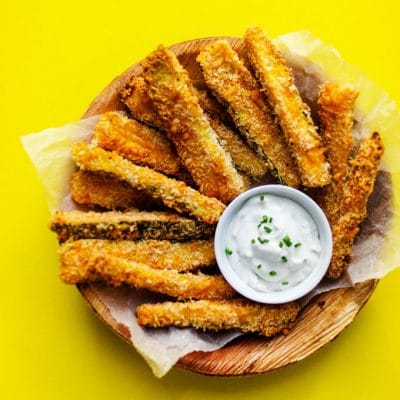 Healthy Sides
Put a new and healthier spin on your kid's snack time with this recipe of Baked Zucchini Fries!
First, preheat the oven to 425 degrees F. Cut zucchini into fries-like size, no need to peel them. In a medium bowl, combine panko, parmesan, salt, paprika, and pepper. Place whisked eggs in a separate medium bowl, and the flour in a third medium bowl. Dip zucchini pieces into the flour, then the egg, then the panko. Dip zucchini pieces into the flour, then egg, then the panko. Once all zucchini are breaded, bake it for 15 to 20 minutes, or until golden and crispy. For the sauce, just combine the yogurt, cheese, mayonnaise, and chives to a food processor and blitz until smooth.
Preparing your kids' healthy and tasty baon is easy with Electrolux kitchen appliances, like the Electrolux NutriFresh™ Inverter Refrigerators, which come with new features to keep produce fresh for longer. The new Electrolux NutriFresh™ Inverter French Door Refrigerator (EHE6879A-BPH) allows you to go from chilling the food to cooking them in minutes. With its special UltraChill -2ºC feature, it preserves the texture and nutrients of meat and fish for longer without having to defrost it.
Different food types require unique storage conditions to stay fresh and the new NutriFresh™ refrigerator comes with a FlexFresh drawer, an optimal storage compartment with five temperature settings (-23°C to +7°C). This enables you to store all types of food – from cheese and wine, meat and seafood, to cold drinks and frozen items – at the temperature they need to remain fresh.
To help retain the juiciness of produce, the NutriFresh™  Inverter French Door Refrigerator also comes with a TasteLock Crisper with AutoHumidity Control which automatically adjusts humidity levels depending on the contents of the drawer. The AutoHumidity Control releases excess moisture from the compartment to help keep fruits and vegetables fresh for up to 7 days. It also has a TwinTech Cooling System that cools the fridge and freezer compartments separately, so food stays fresher and odors don't mix.
If you are looking for a cooking range, check out the Electrolux Cooking Range with Induction Cooktop & Electric Oven (EKI64500OX). It not only comes with a spacious layout to help you prepare multiple dishes at once, but also has powerful induction zones for speedy cooking and precision heat control that allows you to accurately set your desired flame for perfectly cooked dishes.
To get the full recipes of these dishes, download the Electrolux Life app on the App Store or Google Play store and click the 'Recipe Finder Powered by SideChef' within the app to access thousands of global recipes from SideChef's database.
For more information on Electrolux and its products, please visit www.electrolux.com.ph and follow @ElectroluxPhilippines on Facebook and Instagram.