The Return of the Best-Tasting Lechon in Cebu, Rico's Lechon
Cebuanos, rejoice! Rico's Lechon makes a comeback in the city.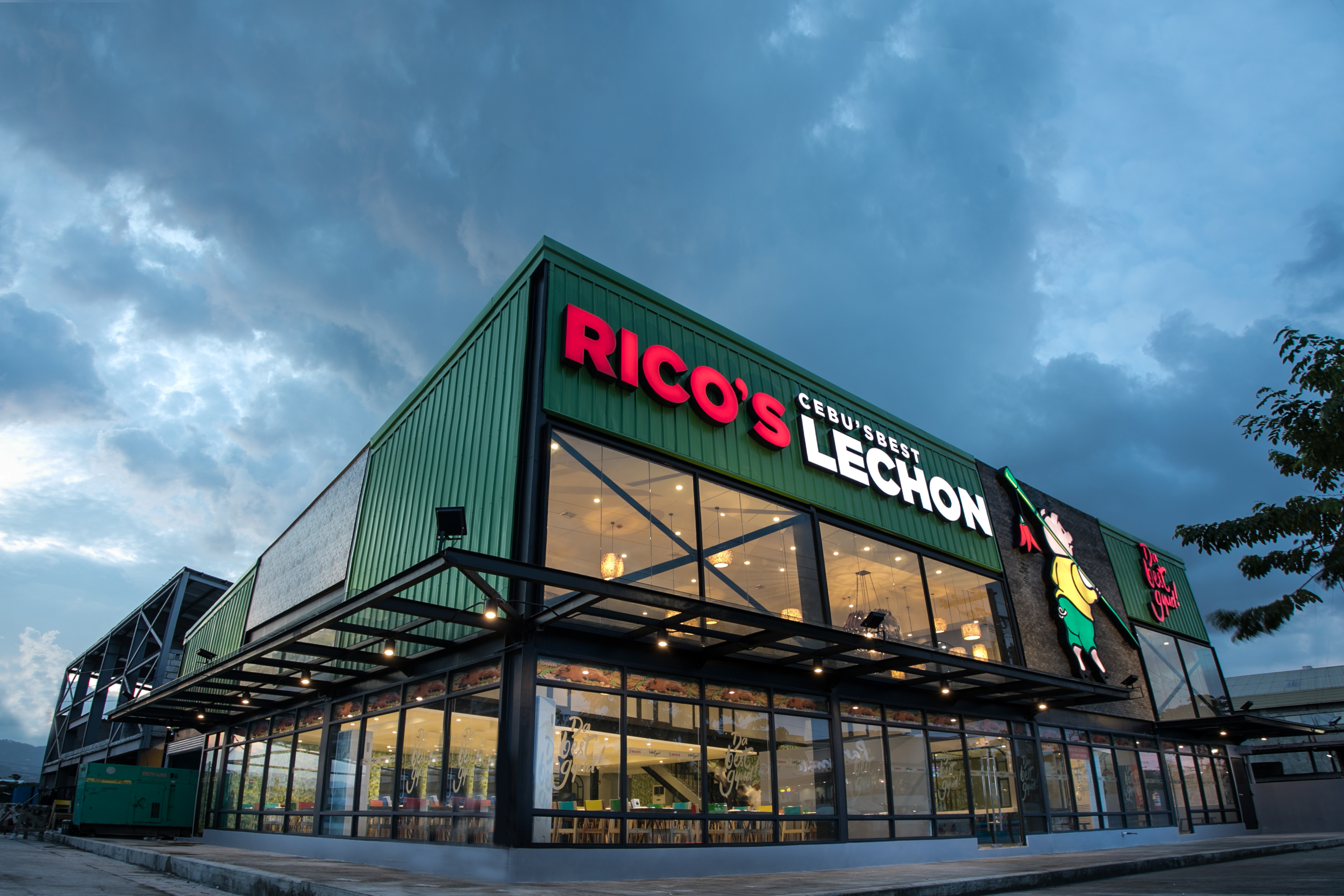 Several minutes to 11:00 on a cloudy Friday morning, a man clad in a pineapple print polo shirt stood in a tight circle of eager faces. His neutral-colored top contrasted with the boldness of their red uniforms. The man wore a serious look occasionally interrupted by a smile as he addressed his small crowd. He meant business. His hand gestures displayed a purposefulness that did not cause distraction but drew attention. The team huddle ended on a positive note as everyone placed their hands atop each other's in the middle of the circle and recited their chant for the day, smiling all the while. The man's smile was among the brightest, and it stayed that way for as long as he was in the room, welcoming people—young and old, foreign and local—to a restaurant that came back to serve the best tasting lechon in the city.
The man was Mr. George Pua, president of Meat Concepts Corporation and new owner of Rico's Lechon. And the restaurant was the biggest one in the chain, which started officially serving the public on June 28, 2019. George had his hands full even before the restaurant opened, but he seemed to have drunk from the well of never-ending energy and enthusiasm as he tirelessly talked with and offered friends and guests a smile. My colleague and I were two of its many recipients. In an exclusive interview in one of the restaurant's function rooms on the second floor, I learned that George's enthusiasm went beyond the successful opening of another business. He was happy to not only be eating Cebu's best lechon but also sharing it with his fellow and potential "lechon fanatics."
A Long-Time Love for Lechon
"Lechon fanatic," was what George called himself when he told us how his young self fell in love with the dish. "I lived in Baclaran, and every time I opened my window, it's all lechon. It's all lechon being paraded. Every time I opened my window I would see lechon and I would ask the maid to buy me ¼ kilo. Every time I opened my window." The repetition in his response left no room for doubt; he was—is—indeed a real lechon fan.
It was this love that brought him on a 5-day trip in the Queen City of the South six years ago, eating nothing else for lunch and dinner but lechon. He was on a mission: to taste the best lechon. He tried all brands he could get his hands on, even when it meant going as far as Talisay and Carcar. One store in the former, which was his host friend's favorite, secured the second spot in George's brief list of best lechon brands. Rico's Lechon came first.
George's list was no surprise. I'm not the biggest lechon fan—I don't crave it when I'm overseas—but I appreciate a great dish when I taste one, Rico's Lechon included. I liked how tender and flavorful the meat was that I didn't even have to dip it in sauce. The skin was not fatty and had just the right crispness, which saved me from feeling jaw pain because of excessive chewing. There was an added sense of gastronomic satisfaction from seeing how the lechon was chopped before it arrived at our table. I might have eaten more than what I intended to.
A Determined Man
George liked the tenderness of the lechon he tasted in Talisay, but the brand only offered the original variant whereas Rico's Lechon offered both original and spicy. "If you are a good businessman, or if you have a business acumen, you would want the original and the spicy," he said.
He soon met Enrico "Rico" Dionson, founder of Rico's Lechon. At that time, George only wanted to know the man who perfected the recipe to the best tasting lechon; he had no intentions of buying or franchising the brand. But he did ask him of potential plans to open a store in Manila, to which the latter responded with a firm no. Since then, George made it a point to eat at Rico's Lechon and chat with Rico every time he visited Cebu. The question of opening a branch in Manila would sometimes come up in these conversations. The third time it did, George took a different approach and asked whether he could instead franchise the brand. Rico was steadfast in his initial response.
Things started to take shape when a common friend reintroduced George to Rico in 2015. This connection solidified the former's love for lechon to the latter, who finally saw George as more than just a businessman eyeing a new venture. And in 2017, amid a busy night of setting up one of his restaurants and preparing for a flight to Japan the next day, George received an unexpected call from Rico. The call caught him off guard that he momentarily forgot who Rico Dionson was. "I should know him because he's in my phonebook," he said with a laugh. He picked up the call, and it was then that thoughts of eating Cebu's best tasting lechon in Manila became reality—Rico offered to sell the entire brand. George had no hesitation in saying yes.
Before the official contract signing in February 2018, George's Feng Shui master came to Manila to "read" him for the next year. George, who then wanted to know his compatibility with Rico as a business partner, asked his ninong to also do a quick reading of Rico. Rico consented. Then the reading happened. "You have a good heart, but you talk too much," George quoted.
Nevertheless, the Feng Shui master gave them his blessings and they soon signed a contract. By May of the same year, Meat Concepts Corp. took over the entire operations. In August, they opened their first Manila store in Bonifacio Global City; in September, Glorietta 1; October, Tiendesitas; November, UP Town Center; and in February 2019, SM Mall of Asia. It was a productive year for George.
"Old Cebu with a Twist"
The success of the great RICOmeback seemed to suggest that this year will be as busy, if not more, as the last. The brand's flagship outlet can accommodate 300 people and has four function rooms, whose names refer to the places where Rico's Lechon used to stand. "We wanted to be reminded of our roots," George explained.
George chose the location because it fits his criteria—not in Cebu City but near it. His friends' opinion, that the area is a new segment of progress in Mandaue, made decision making easier for him.
He was also very much involved in the conceptualization of the restaurant's interior design. He wanted to showcase the "Old Cebu with a Twist," so he incorporated elements of Sinulog into the restaurant. Instead of hanging buntings like people do during fiestas, which can look messy inside a confined space, George asked his Cebuano chair manufacturer to paint the backrests of chairs in bright yellow, green, apple blue, and red. "So, when you lay out the seating arrangement, you all see the different colors. It's like a bunting," he said.
Other Cebuano-made items included tables and hanging lamps. What I found most interesting about the restaurant's interior, however, was the lechon plate chandelier. George revealed that it was the last fixture added and its creation materialized mostly out of a desire to avoid wasting resource. George ordered these plates with the intent of using them for what they really were, but the vendor shipped them to him in the wrong size. Instead of complaining about what went wrong, George focused on the positive and asked his manufacturer to make a chandelier using his oversized lechon plates.
A Foodie's Menu
Rico's Lechon's expansion is evident not only in the restaurant's space but also in its menu. Other than their renowned lechon, they now serve more Filipino favorites like Special Boneless Bangus, Sizzling Lechon Sisig, Monggos, and Bicol Express. New additions to the list include Grilled Pork Belly, Sinigang na Baka at Baboy, Sisig Fried Rice, and Buttered Mixed Seafoods.
The new management may have tweaked the menu, but George promised that they did not and will never change the original lechon recipe. "There's no ego here. I always say [that] it's not who runs it or who owns it. It's just the way that you present it to be the best and only the best, and make people smile and happy. That's the most important thing. It doesn't matter who owns it anymore," he explained.
As a foodie, George understands the feeling of going to one's favorite restaurant and finding out—a true foodie will, almost always immediately—that the management changed their recipe. He does not want his food to be "bastardized," and he assured me that it will never happen in his restaurant.
George shared that he can be adventurous and instinctive when it comes to food. When he goes to a restaurant, he orders a lot and eats them all (food waste is a no-deal). He cited his recent solo travel to Spain as an example, where he ordered about 12 plates of Spanish food for lunch. All for himself. The look on his face as he was narrating this story told me that he still could not believe what he did. And on the 4th day, to change things a bit, he had lunch at KFC.
After sharing a good laugh, I decided to bring the interview to a close. I wished George sincere congratulations and expressed my anticipation for brighter days ahead. With his familiar smile, he thanked me then said: "I promise with all my heart, with all my mind, with all my power, [that] we will maintain the same taste of lechon."
Visit Rico's Lechon Mandaue at Unit F1 Jamestown, Mantawi International Drive, Mandaue City. They are open daily from 10:00 AM to 10:00 PM.
Cebuano Pride: The National Museum of Cebu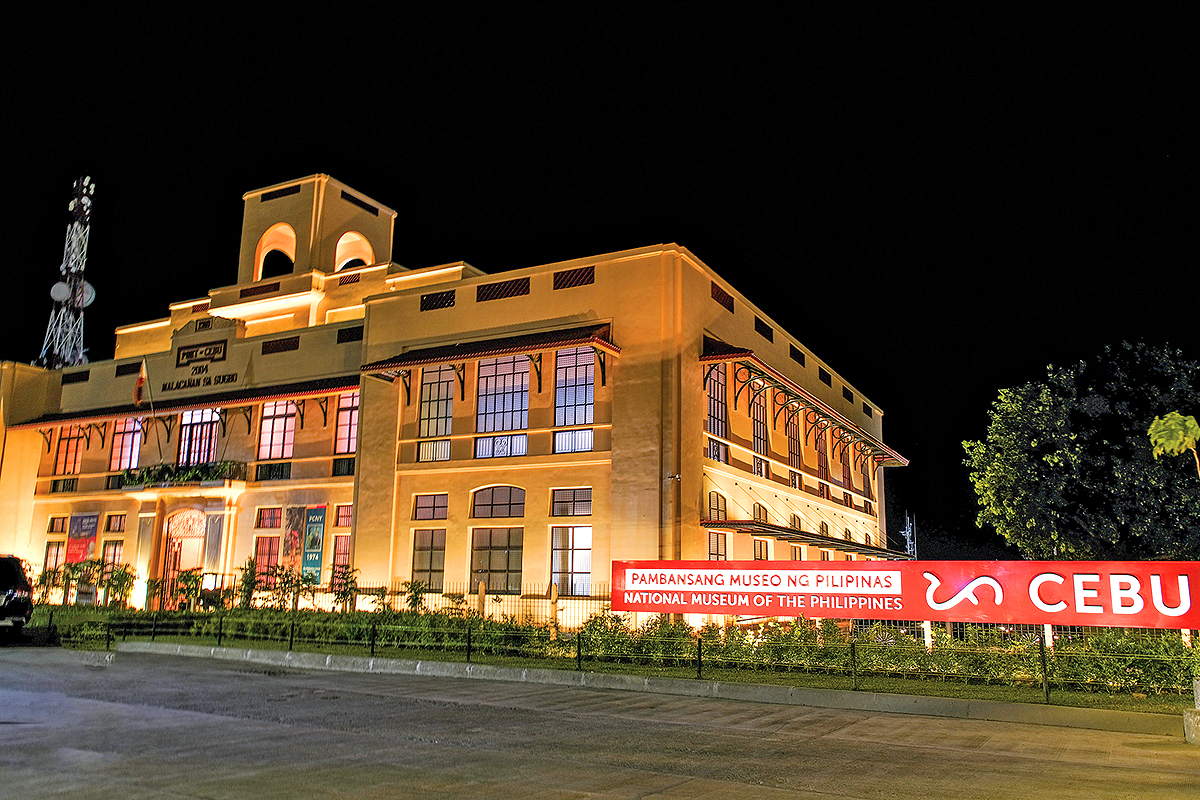 Pride of Cebu
By Eva Gullas 
photos courtesy of DOT
"With the National Museum of Cebu, the cradle of Christianity in the country, we open the doors to a temple in history and culture, inviting tourists and locals to witness our archaeological and natural treasures. The NMP-Cebu is not just a museum but a bridge to our past and a window into our future," declares Christina Frasco, our Secretary of Tourism, at the ceremonial opening last July 28.
Located at the heart of the city's historic port area, the former colonial Customs House, built in 1910, was transformed into an elegant edifice worthy of the city's place in history. It was in Cebu where the Spanish conquistadors first landed in 1521 and where Magellan met his end at the hands of the local chieftain Lapu-Lapu. Starting August 1, the National Museum of Cebu will open its doors daily from 9 am to 5 pm except Monday.
Worth checking is the first floor, where a few art pieces from national artists like Cebu's own Martino Abellana, Fernando Amorsolo, and Jose Joya take pride of place. On the right wing are finds from archeological digs found all over the islands. Called Ang Karaang Sugbo or Old Cebu, they include a gold death mask and ancient vases from China. There's also Kinaiyahan: Cebu's Natural Wonders, which features an impressive wall containing the different layers underneath our soil. There is also a display case that interactively showcases the various elements around the area, like gold, copper, and gypsum. Another wing is Paglawig: Cultural Movember Across the Seas, showcasing the islands' maritime history and sea bounty, including rare shells.
It is on the second floor, though, where the museum shines. Up the grand staircase, guests are greeted by Elmer Borlongan's massive Battle of Mactan, facing a facsimile of the Sta Maria galleon, Magellan's flagship. Then on to a limited-time exhibit on loan from the Philippine Center New York Core Collection of 1974, a treasure trove of almost 90 paintings collected by former First Lady Imelda Marcos, including Ang Kioks, Sanso, Manuel Rodrigues, and many more representing both avant-garde and classic Filipino masters. The New York collection is only available until March 2024 and is not to be missed.
The National Museum Cebu has been years in the making, and this cultural milestone has finally been made possible under the new administration of President Ferdinand Marcos Jr., who famously said during the inauguration, "I am a museum fan, and I can stay in art museums for hours and hours." He added, " museums are considered valuable natural assets to a nation as they build a sense of community, document history, inspire creativity, promote tourism, and unite people through a shared heritage." Kudos to the National Museum Board of Trustees, chaired by Andoni Aboitiz and Museum Director Jeremy Barnes, for this cultural gift to Cebu!
The Uncommon Traditions that Mexicans and Filipinos share when celebrating the Day of the Dead.
Dia de los Muertos
By Allain Dumon Fonte
The 2nd of November is All Soul's Day, a holiday that is very important to many Filipinos to remember our loved ones who passed on. This is also widely celebrated in Mexico as "Dia De los Muertos" or in English, "The Day of the Dead". And Mexicans celebrate the 2nd of November grander than they celebrate Christmas. Well, you can witness it from the Disney movie, "Coco".
As All Soul's Day or Dia de los Muertos is about to end, here are some interesting traditions and superstitions that Filipinos and Mexicans share:
1. IT IS NOT ON THE 31st OF OCTOBER
Dia de los Muertos or All Soul's Day is not practiced on October 31st or on the Hallow's Eve as many other western cultures practice; but we celebrate it on the 2nd of November. We celebrate November 1st as All Saint's Day or the Day of the Holy, while in Mexico they call it Dia de los Innocentes or Dia de los Angelitos to commemorate the children who died too early in life.
2. THE RITUAL
Both in Mexico and in the Philippines, we visit the grave of our loved ones and we clean it well. This is a ritual to honour their resting places and to let them know that they are never forgotten.
3. FLOWERS INVITE SPIRITS
In Mexico, they believe that the scent of flowers attract spirits. So the flower offerings are invitation to their dead loved ones to visit the living families. While in the Philippines, we believe that flowers offered to the dead exalt the souls and somehow fill in the sadness that we feel when missing our dead loved ones.
Most of the time, Filipinos choose all-white flowers to offer because white is the absence of colour, which means the absence of Joy and happiness. White also symbolises purity of soul which we hope our dead loved ones will attain as they journey to heaven. While in Mexico, they have the yellow Mexican marigolds as the official flowers of the dead that will guide them in their journey to the afterlife.
4. THE LEGEND OF THE MONARCH BUTTERFLIES
Both cultures believe that monarch butterflies are dead loved ones who visit us and show their appreciation that we have not forgotten them. A presence of monarch butterflies also means that our dead loved ones are always there guiding us and looking after us.
5. A PICNIC IN THE GRAVEYARD
Spending a night at the graveyard and picnicking with the rest of the family may sound very creepy to many; but to both Filipino and Mexican cultures, picnicking and spending a night at the cemetery is a must to show our love to our dearly departed. It is the only time in the year that families gather and tell stories of the dead loved ones and how colourful or how great their lives were.
6. FOOD FOR THE DEAD
In Mexico, they have what they call "ofrendas" or an altar where the pictures of their dead loved ones are displayed and offered with flowers, candles, and their favourite food. Very similar to the Filipino culture of cooking the favourite food of our dead loved ones and everyone in the family enjoys the food for dinner.
My family tradition involves me driving all the way to Colon street and buy that famous Snow Sheen's "pancit canton". This is my granddad's favourite snack. Sadly, the old Visayan Restaurant is no longer there. My late uncle and my late grandpa love their sweet ad and sour fish. We also set up an "ofrenda" on their graveyard and eat their favourite food while picnicking in the cemetery. We do not spend a night in the cemetery; but while we are picnicking there, we usually play the songs of Pilita Corrales and Susan Fuentes that my late grandpa used to listen every afternoon while enjoying his coffee, pan de sal, and pancit canton.
What about your family traditions? Share your thoughts by commenting to this article.
MODEL: Michael Joseph Mortola Enriquez & Alexis Wingfield
PHOTOGRAPHER: Gianne Paolo Anciano
HMUA/DESIGNER: Hazel Ocaba
STYLING: GPA Lifestyle + Clothing
Catch Ted Lasso the Emmy Award Winning Comedy Series on Apple TV+
Rating: *****/ *****
The multi award–winning comedy series airing on Apple TV+ is one of my favorite shows.  Ted Lasso starring Jason Sudeikis is about a fun good-natured American football coached hired by a British soccer club (AFC Richmond in London) to become their new coach.  In spite of the fact that Ted has no experience or knowledge about British football/soccer, his positive demeanor and charm helps him overcome the animosity of the team's players, staff and fans.  Eventually Ted wins over the team and the locals as they fight for position in the English Premier League.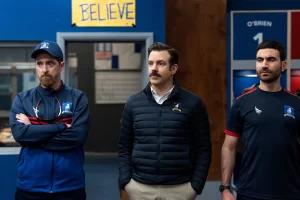 The show won the 2021 Primetime Emmy Award for Outstanding Comedy Series and 7 Emmy Awards in its 2 seasons and Season 3 is just around the corner.  You can catch Seasons 1 & 2 of Ted Lasso on Apple TV+