On A Natural High
There may be lots of things to do in the city, but sky's the limit for fun and adventure atop a mountain, and that's where we find this weekend home.
There may be lots of things to do in the city, but sky's the limit for fun and adventure atop a mountain, and that's where we find this weekend home.
The temperament is noticeably different once you hit the heights of Busay Hills, the mountainous range that lines the vista of Cebu island. The air is cleaner and the weather is much cooler at over 1,000 meters above sea level, and it's easy to drift into a cloud of tranquility and watch the bustle below disappear.
Buying a house up in the Busay Hills was a dream to businesswoman and mother, Coy, but was made a reality by her husband, Wilson, who said, that if they were going to get away from the city, they might as well go all the way up the mountains. He surprised her with a 7,500 square-meter property located in the Balamban vicinity.
Driving closer to the structure, the exteriors give off an "industrial" impression, from the amount of polished concrete, steel bar railings, and tall glass windows used. But the exacting elements are broken by the tugas hardwood double-door, and upon entering, the organic feel of the wood-plank ceiling. The use of many tall- and corner-windows and multiple open spaces give a sense of the outdoors wherever you are in this house.
Taking note of the homes around the area, Architect Ed Gallego drew plans for a structure that would be welcoming and homely, and require low maintenance but at the same time take full advantage of the surrounding nature. The result is a symmetrical, four-level, eight-bedroom house that stands on a little over a thousand square meters of floor space. It uses corner glass windows to take full advantage of daylight; glossy coating to finish the insulated concrete; and high ceilings for natural ventilation.
The main level has the living area, the dining room and the kitchen all within easy reach of each other. One set of wood stairs lead to the master bedroom and two bedrooms on the second level, while another set of stairs, enclosed in sliding glass walls, leads to the highest level, where the daughter's library is located.
All the planning was done with the primary consideration of the children's needs, Coy admitted, which were mostly privacy, and a place to chill and entertain. Daughter Diandra wanted her own place to read and have her quiet-time, so the library was built for her collection of books.
"We sourced as much of our furniture locally," said Coy. "The interiors are still a work in progress, but it has already been enjoyed by friends since September of last year."
"My favorite part of the house would be the masters bedroom," says Fatima, one of Coy's best friends, "when you open the curtains, you get a postcard view of the mountains." Wesley, the second of the two boys, loves the basement the most, where he and his friends gather. This lowest level of the house has an entertainment area with a fully-stocked bar and two spacious guest bedrooms. A second kitchen is also being worked on for this level.
That's the great thing about the multi-tiering of this house—a party can go on at different levels, and without interrupting each other.
The possibility of a landslide does not bother the homeowners because the land was shaped and matted with steel before any beams were constructed. "Stilts are dangerous because the land shifts," said Coy, and although Wilson wasn't very particular with the design, he was quite adamant about maximum safety. Having the grounds landscaped by family friend Prudence Salutillo added sentiment to this home. He worked with Coy on her other business, including designs for her Catholic book store Kerygma, the stalls of her House of Praise franchises, and other private projects like residential and church renovations. The homeowners entrusted most of the interior decorating to Prudence while Coy brought in more of her décor, especially inspiring quotes framed and hung on the wall, which she collects from her travels around the globe.
Now that the children are grown—with the youngest having turned fifteen recently—Coy chose to close her small bookstores and gospel music stalls, and go into a semi-retirement. "The kids think they don't need you anymore once they reach a certain age but believe me, they will always need their parents' guidance. I just want them to know I am always here for them, and this weekend house will always be a special place for us to spend time together."
by Ian E. Baol
photography Adrian Yu producer David Jones Cua
sittings editor Katsy Borromeo
additional interior styling Rizelle Ostrea, PIID (Philippine Institute of Interior Designers)
LADY CYCLISTS HIT THE ROADS AND SLOPES OF CEBU.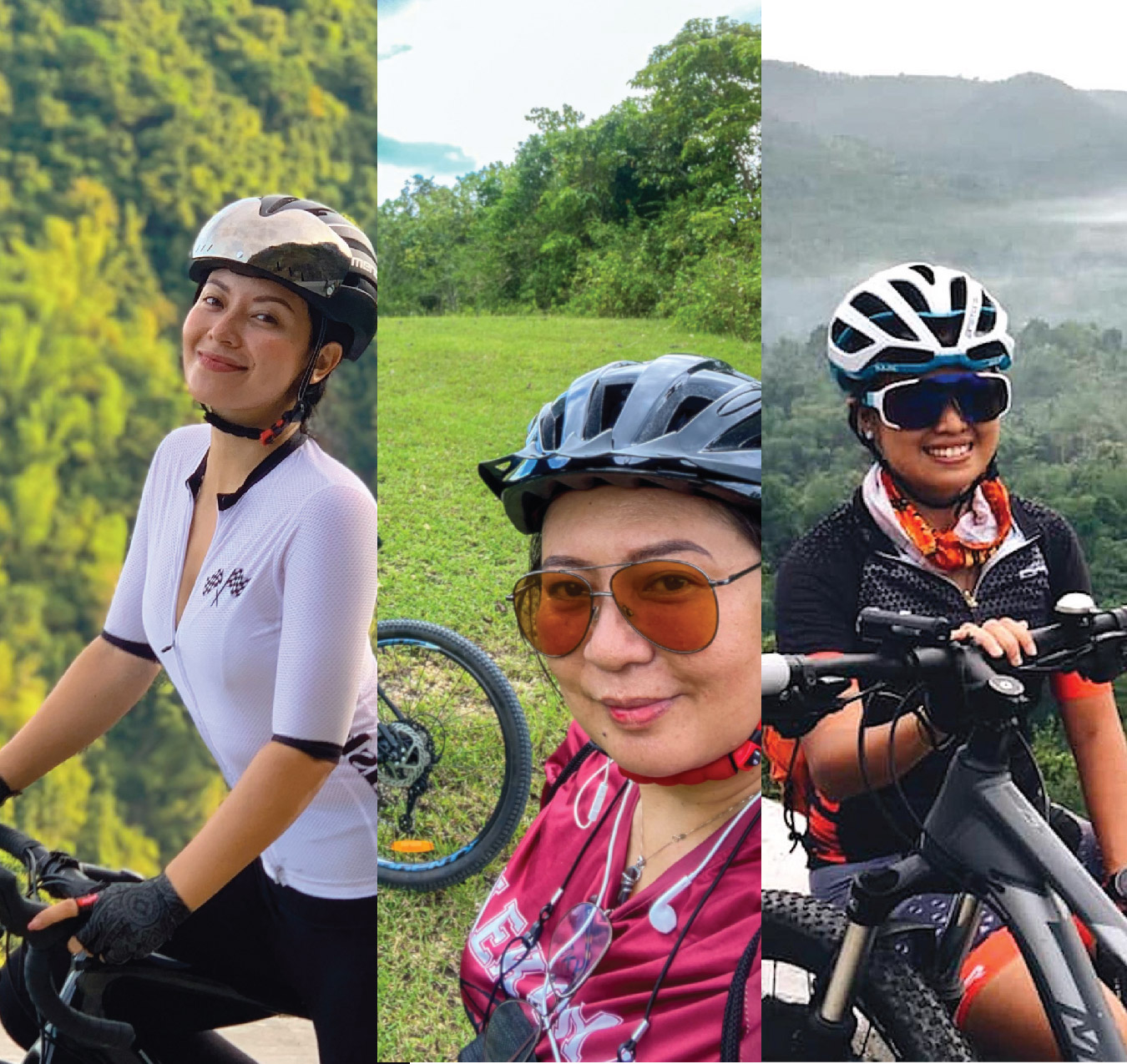 Cycling has been a growing sport and hobby for many years but it's popularity has erupted since the Covid pandemic.  People biking to work and for recreation is an everyday sight in Cebu.  More and more are joining the ride.  Many are quite serious about cycling.  I know three ladies who are among those who've gone long distances across Cebu.
How did you get into serious cycling?  What was your motivation?
Blinky de Leon.  Event Host, Product Endorser & Influencer
" I've been into cycling since I was a kid. A little backstory, I was around 10 years old when my dad surprised me with my first custom-made mountain bike. I still keep it until now, in fact I had it refurbished. It's the most sentimental thing I ever received since it was his way/gesture to catch up with me after not seeing each other for almost 6 yrs. My dad is based in Germany and he also loves cycling and makes his own bamboo bike."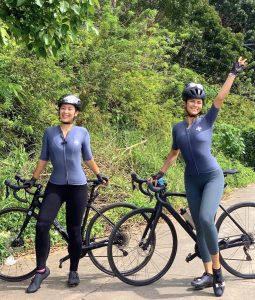 "Just a year ago though, my friend Gazini randomly, out of nowhere, picked me up from home to bike with her to the South of Cebu. I felt really excited and motivated to get back on track because it's very nostalgic and brings back so many great memories. And since then, the rest was history. We've been joining different groups, tried different routes and conquered different heights. I've met so many cyclists with very inspiring stories in the bike community who kept me feeling motivated too. I also look forward to the sights and the adventure that comes along with it."
Yumz Mariot. Branding & Marketing Consultant
"I used to bike along with rock and wall climbing. I am lousy with ballgames which is why. Our usual route were Talamban and Mactan but one time, managed to ship gears all the way to Dumaguete for a quick ride to Valencia, the next town located at a higher elevation. Those were days when I did it for fun and what bike I was using did not matter."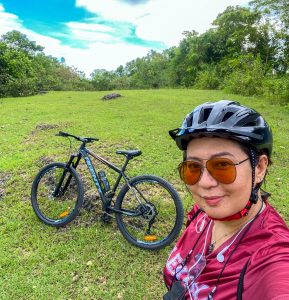 "Fast forward to 2021, a year after the pandemic lockdown began, I realized I have been lazy to do any fitness routine. Too caught up on juggling between house chores and Work from Home deliverables (I work as a Branding and Marketing Consultant), I started to feel my body needs to move as much as my brain does. A hysical fitness routine is as important as what I eat, or what I read or watch. So I decided to invest on a decent MTB, just very recently and got myself a much necessary restart. What motivates me even more is the area where I currently reside at. It is vast, fresh, green and safe for solo bikers like me."
Prime Sarino. Digital Media Creative
"I started biking as a young teenager and I got the idea to start it as an adult hobby 3 years ago. I was already into running and I thought it would be great to venture into another outdoor activity to keep me occupied after work hours and weekends. I was set to travel for a year so I had to put aside the idea first but came pandemic. We were all forced to stay put and everything was put on hold. Cycling became my diversion. My cyclists friends invited me to quick and short rides. I enjoyed my first 50km ride and the sceneries and routes most of all. It also helped channel a positive mindset during the hard hit season of the pandemic. Not to mention it's also another way to stay fit when we were forced into inactivity during the quarantine."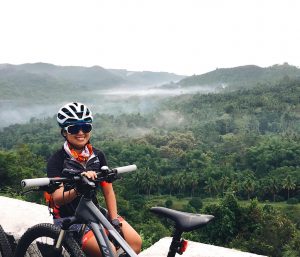 Next in Part 2, we ask the ladies about their cycling experiences and memorable moments…
by: Zen
Netflix Original Releases We're Excited for This August 2021. Part 3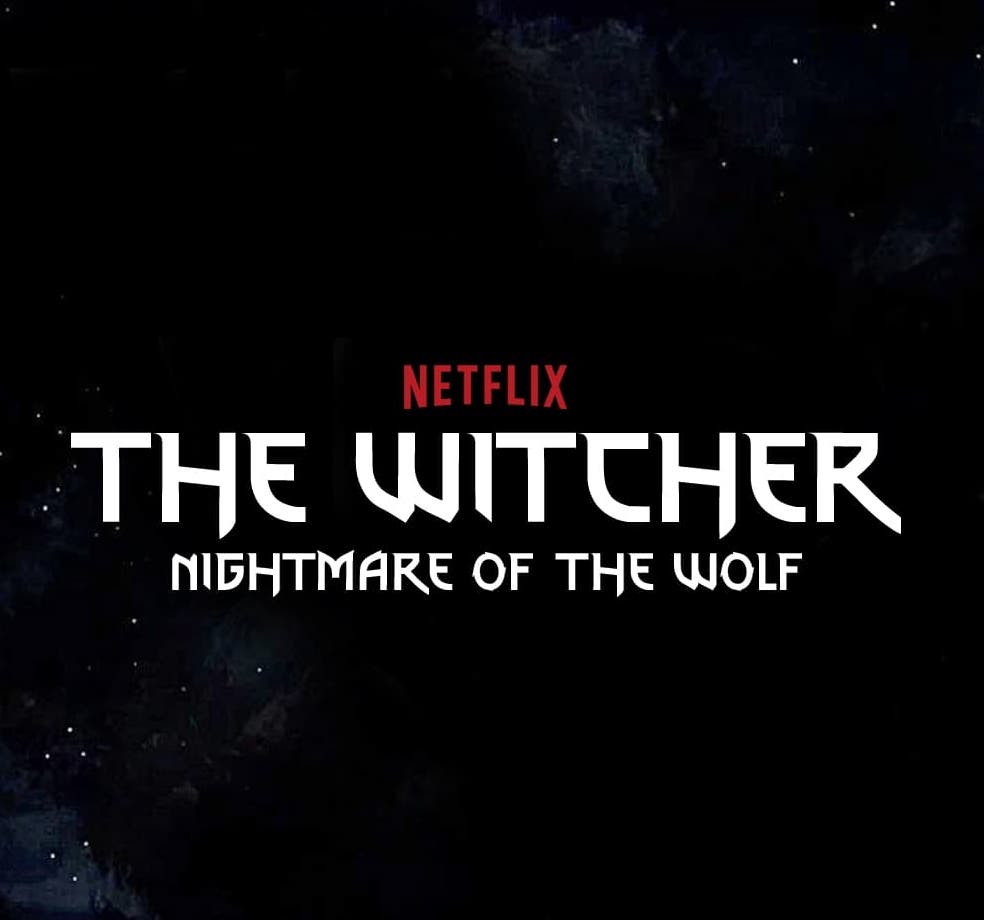 The Witcher: Nightmare of the Wolf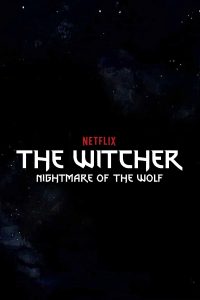 Coming to Netflix: August 23
Netflix's The Witcher series gets an anime prequel film focusing on the origin story of Geralt's mentor and fellow witcher Vesemir. While we're still waiting for the second season of the series, we're sure this film will be more than enough to tide us over.
He's All That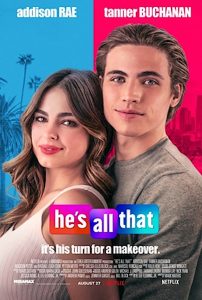 Coming to Netflix: August 27
From the director of Mean Girls comes another teen comedy starring TikTok star Addison Rae. He's All That is a remake of the 1999 film She's All That, proving Taylor Swift right in her theory of the 90's coming back stronger than ever.
Sparking Joy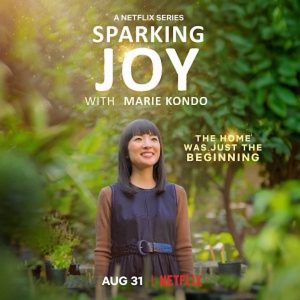 Coming to Netflix: August 31
We all remember when Marie Kondo helped us declutter our houses and better our lives with her hit show, Tidying Up With Marie Kondo. This August, she's back with another show called Sparking Joy which follows her helping people struggling to balance work and home life.
by: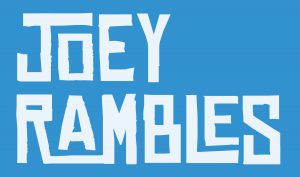 Netflix Original Releases We're Excited for This August 2021. Part 2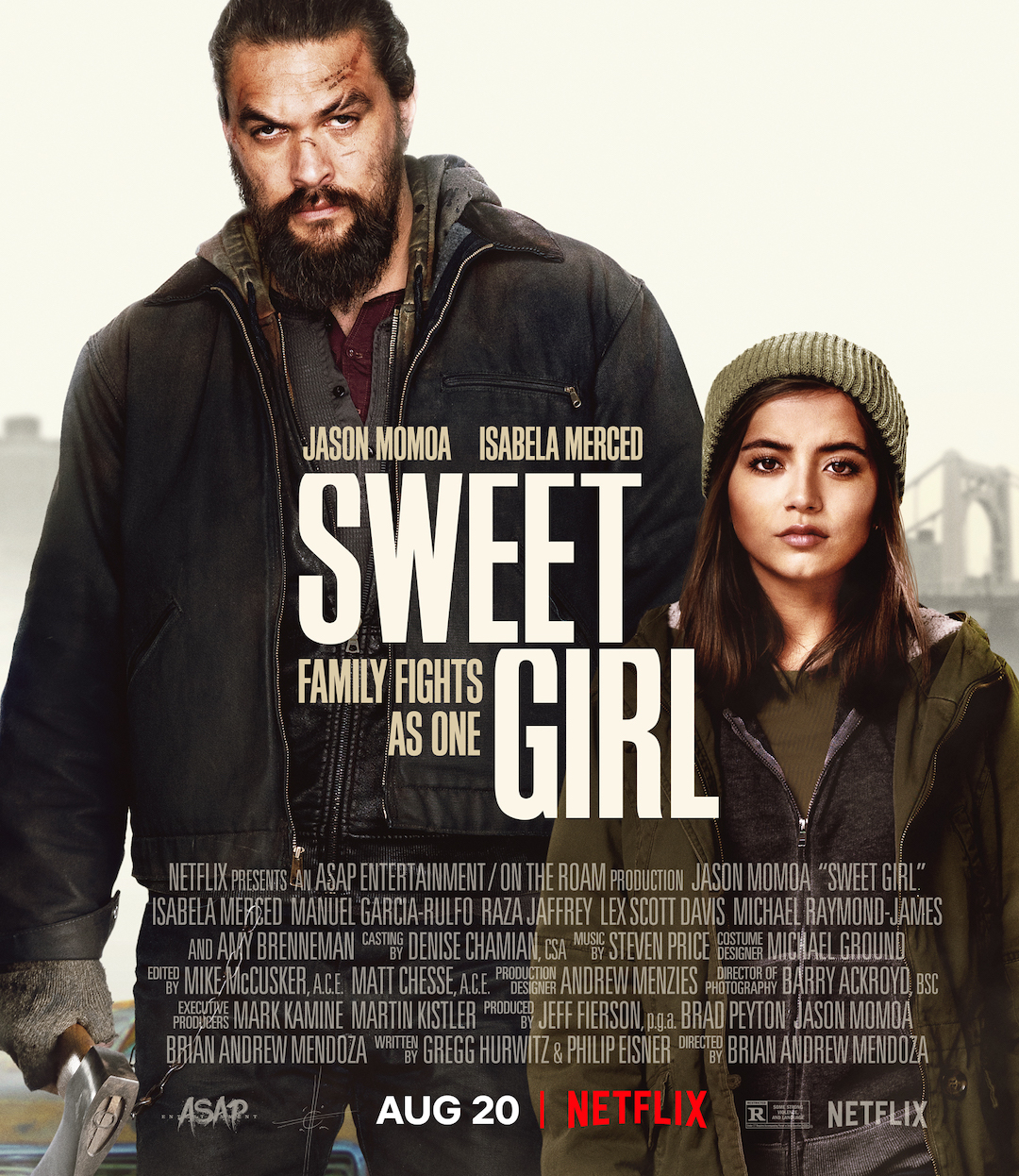 Here's the upcoming Netflix Originals we like for mid-August.  Great fun, exciting, and binge-worthy Netflix original releases.
Sweet Girl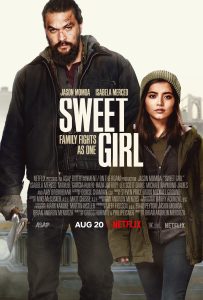 Coming to Netflix: August 20
This is another Netflix action thriller film we're excited for. This film stars Jason Momoa as a devastated husband determined to avenge his wife's death while protecting his daughter and is sure to put us on the edges of our seats the whole way through.
The Chair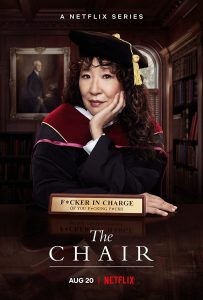 Coming to Netflix: August 20
Sandra Oh stars in this upcoming comedy-drama miniseries as the new chair of the English department at a major university, struggling to meet the demands and expectations of her new position. We're sure this is another great binge-watch from Netflix.
The Loud House Movie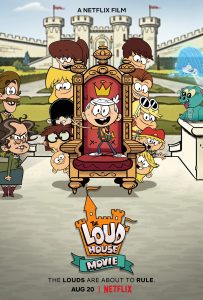 Coming to Netflix: August 20
The popular Nickelodeon animated series gets a film which features the characters of the series on a holiday trip to Scotland. This film is perfect if you're a fan of the series or you've got kids who are.
by: