Sugbo Mercado Proprietor Michael Karlo Lim Recommends the Best Cebuano Dishes You Should Try
Cebu food is more than just lechon. As a food writer and one of Sugbo Mercado's proprietors, Michael Karlo Lim shares the dishes you have to try in the city, and some helpful tips on how to best enjoy them.
Cebu food is more than just lechon. As a food writer and one of Sugbo Mercado's proprietors, Michael Karlo Lim shares the dishes you have to try in the city, and some helpful tips on how to best enjoy them.
Originally published in Zee Digital Vol. 1
I'd imagine someone to mention a trip to Cebu, and all in attendance who know of this island or have been to it would excitedly exclaim, 'Lechon!' That or the classic tourist buzzwords: Larsian, dried mangoes, ngohiong and danggit. The past few years have contributed several additions, extending that listing to mostly items held to the extreme or the unconventional, like Tuslob Buwa, but these haven't really taken those from the outside looking in away from making a beeline for 'the best pig ever'.
Food is at the heart of Cebuano culture. with eateries everywhere, as this city becomes more progressive, so does our cuisine. The island's resources and the fact that it is a hub city in the South have given the people more than enough room and reason to explore cooking. Over the past decades, they have gone the distance, beyond perfecting roast pork to world renown. There are now a lot more local restaurants serving up items that I'd daresay would be quite competitive on the international culinary stage. From traditional recipes to exciting newfangled items, and from veritable kitchen science experiments to home-cooked simplicity, the breadth encapsulates Cebu's diversity, tossing in what's local with some global influence to simmer tradition and fusion in a big pot of delicious.
The Cebuano is notoriously hard to please, fickle, either always on the lookout for what's new or extremely devout to their inclinations. we're constantly shifting through the new kids on the block, hopefully seeing beyond distracting thematics, and zoning in on what's damn good. There is always a handful of must-try food items anywhere that both represent the essence of the city and gives you a taste of its times. Here are five of my personal favorites that anyone visiting Cebu must try.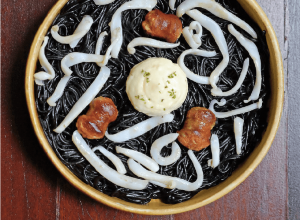 FIDEO NEGRO AT NO. 9
photography GIA MAYOLA
From the Latin-Mediterranean menu lineup done with creative avant-garde cookery, the unanimous crowd favorite is their Fideo Negro. Broken noodles are tinted silky black and pleasantly savory with a rich profusion of aromatic squid ink. Strips of the firm, ever so slightly sweet and almost nutty squid meat take it further into seafood territory, with a hint of the sea in its brininess. Chunks of intensely smoky, spicy and tangy homemade Spanish-style chorizo anchor it to shore. A creamy and smooth garlic aioli rounds out the rest of the flavors with its slight pungency.
Epic a dish as it already is, it still wouldn't be a bad idea to add on the existing elements with an order of Calamares—fried squid, aioli, charred pickled Espada—and the chorizo above served with sourdough. The dark and different take on surf 'n' turf proves striking in both appearance and flavor, and is definitely one to impress with. I'd recommend pulling this card only on the second date or in comfortable company as it is, like the most delicious of dishes, rather enjoyably messy.
Excellent cocktails complete a significant lineup from their bar, of which their eponymous No. 9, a mix of light rum and calamansi, best pairs with this dish.
No. 9 E. Benedicto Street, Cebu City
Open from 5:00 PM to 1:00 AM every day
CONFIT PORK BELLY AT THE PIG & PALM
photography GIA MAYOLA
With three single-Michelin Starred restaurants among his many other spots across the world, Cebu first seemed an off choice for the celebrated Jason Atherton to open one at. He confesses that The Pig & Palm is a love letter a long time coming to his Cebuana wife Irha. The titular pig is a reference to our local predilection for pork, and the palm an even more obvious one for our tropical island.
Another ode to Cebu would be their Confit Pork Belly. This roulade sliced beautifully displays the layers of goodness: a crackling mahogany crust, a savory layer of fat and, in contrast to the crunch, near fall-apart texture in moist meat loaded with great garlic and herb flavors to ooze a rich and unctuous taste. Apple caramel pushes the sweetness of the meat in a classical pairing that is utterly delicious. Broccoli holds the fruity flavors back and reinforces that herbal earthiness, while silken mashed potatoes hold the dish down with a velvety finish.
The cocktails do not disappoint, with formulations potent both in alcohol, flavor and a whole lot of cheeky thrown in. Taking a cue from early MTV references, the inventive play on ingredients and presentations are matched with clever wordplay for an engaging experience. Their Notorious P.I.G. complements the confit with its maple syrup and sea salt in bacon butter bourbon for an almost seamless, spiked extension of the dish.
MSY Tower, Pescador Road, Cebu
Business Park, Cebu City
Open from 11:00 AM to 12:00 AM on
Sundays, Tuesdays to Thursdays, and 11:00 AM to 2:00 AM on Fridays and Saturdays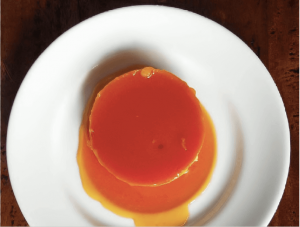 FLAN AL CARAMELO AT IPAR'S RISTORANTE Y BAR DE TAPAS
One other story about how this island's name came to be was that a Spanish contingent came across a pre-colonial barangay, and asked a native for the name of the area. Thinking that the Spaniards were asking about the smell of pork fat wafting from the cookery in the nearby huts, the native replied, 'Sebu.'
This unassuming mestiza served plainly, and all of just about five generous spoonfuls is an ultra-smooth and creamy all-egg yolk flan. Perhaps a wink to our famed lechon and his admitted love for that other white meat, Chef Ipar Miranda takes an Emeril Lagasse quote to heart and serves up hedonism in this most decadent leche flan with the phantom bacon on the palate.
Best enjoyed with coffee, have it with a cup of black or go all the way olé with a Café BombÛnóespresso with sweetened condensed milk. An even more adult treat to go with it would be a shot of Moscato off the menu.
Drop in for this alone, but as it is one of their posteres or desserts, you might as well enjoy their award-winning paellas and other authentic Spanish dishes before getting this, too.
F. Ramos Street, Cebu City
Open from 10:00 AM to 2:00 PM and 6:00 PM to 10:00 PM every day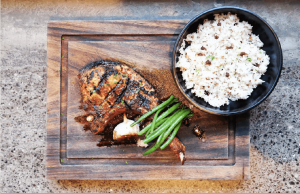 FAT BASTARD AT THE WEEKEND
photography GIA MAYOLA
Three-day marinated, dry-rubbed, panseared and oven-finished French-cut Pork Chop, served with French beans and roasted garlic. If all that wasn't a mouthful to you yet, the inch-thick 450-gram slab would be. Done to a medium well, much of the juices and the natural porcine sweetness is retained and only punctuated by the seasoning. The slow roasting of the garlic tempers its bite and leaves a deep, rich, sweet flavor and creamy, silky texture. Pop the cloves out of the skins, mash and slather onto the chop for a savory boost. A pinch of himalayan pink salt is served alongside for more palatability to the diner's taste.
Those with the New Year's resolution to eat less or drop white rice from their diets entirely can fall off that wagon and start the habit of eating Dirty Rice instead. Garlic and rice are sautéed in Angus beef tallow, and is liberally peppered with confit of Angus beef trimmings for this accompanying starch which may very well be a standalone dish.
Indulgent as that all already is, I found that their Faux Gras starter spread on each forkful of the chop pushes it further into decadent, even borderline unholy, bliss. Bacon fat and pureed bacon are emulsified into a chicken liver pate, topped with Applewood and hickory smoked bacon marmalade. here the regular chicken liver bursts with the richness of the bacon fat and the savory-sweetness in the marmalade cutting through.
GF The Greenery, Pope John Paul II
Avenue, Cebu City
Open from 11:00 AM to 11:30 PM on
Sundays to Thursdays, and 11:00 AM to 1:00 AM on Fridays and Saturdays
PHO AT SAIGON OI
photography NATH YBANEZ
Missing home, Vietnamese ESL student Xavier started selling Pho as a way to connect with his roots and support his education in a carinderia collective across Mabolo parish. Presenting flavors that were strange to his proximal demographic and at prices four times his neighbors' more familiar batchoy, he folded up to incredible losses but only to be determined to try again; this time at Cebuís first and biggest weekend food market, Sugbo Mercado.
It begins with a bone broth slowly rendered for hours on end from knuckles and shanks packed with gelatin-giving body and richness to the robust, intensely savory, subtly spicy and heady base. Charred onion and ginger add a smoky flavor with that of black cardamom. A generally sweetish profile definitive of the Saigon-style come in from cinnamon and anise. Generous coriander brings in herbal zest, chased by a latent menthol note from the cloves before that final touch of umami from Nu?c m?m, a Vietnamese fish sauce. Blanched rice noodles are topped with thin strips of raw beef brisket that cooks as the steaming hot broth is poured into the bowl. A heaping of crunchy bean sprouts and cilantro is piled on top with white and green onions and finely chopped birds-eye chilies. Local lime, hoisin sauce and Sriracha are added to the diner's preference.
True foodies and some notable local society personalities have been making their way to the market specifically for this find. Until recently, the city recognized only a single brand chain purveyor of Ph?. Decent as that is, you'll have to give it to the real McKong to imbibe to the dish a non-native can never capture—the authenticity of a Vietnamese home kitchen.
Sugbo Mercado, Garden Bloc, Cebu IT Park, Lahug, Cebu City
Open 5:00 PM to 1:00 AM on Thursdays to Sundays
Trendy Renovation Ideas for the Home or Condo. Part 4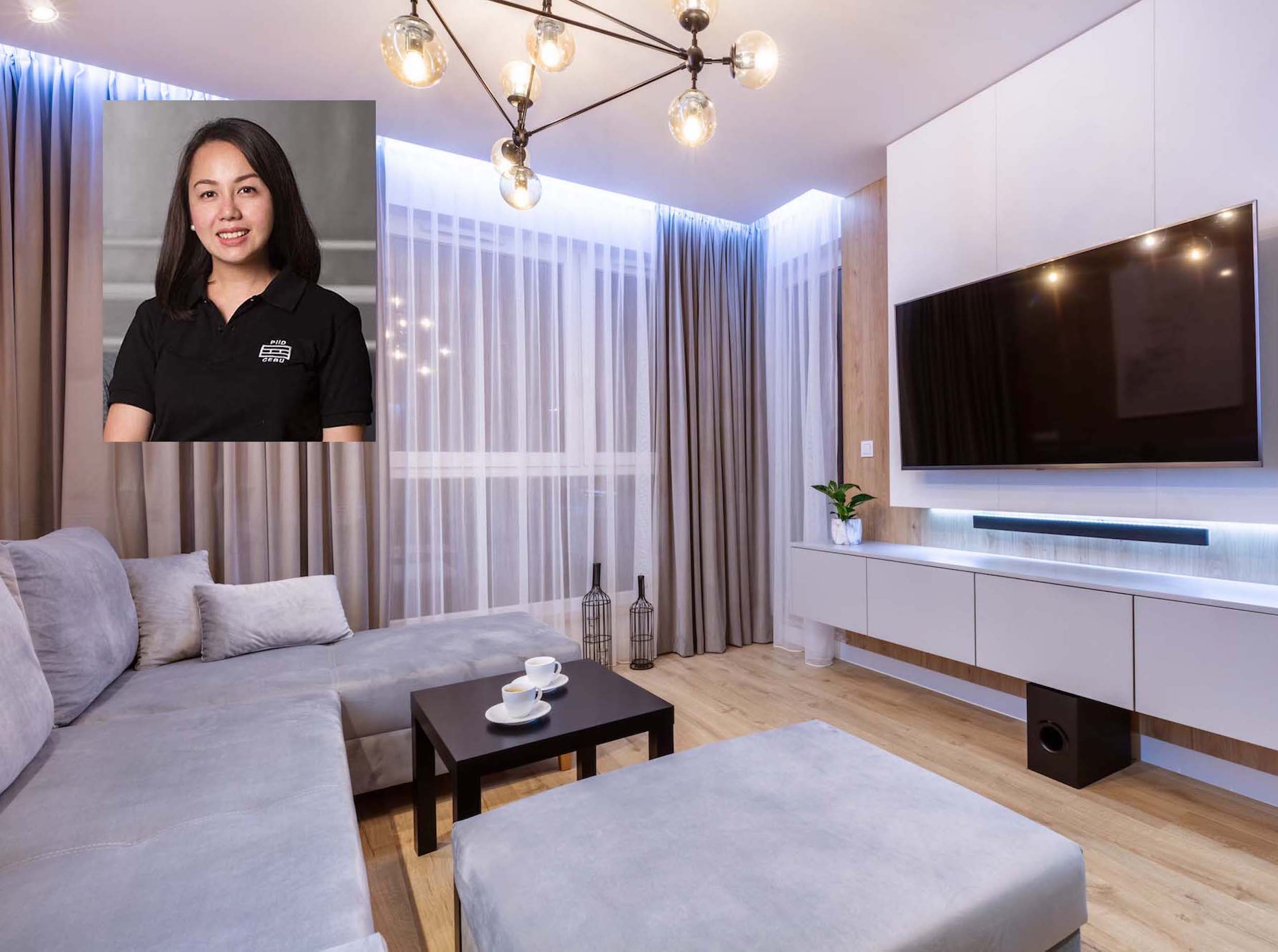 by Christa M. Cañizares IDr.
Part 4:  Upgrade your Choices
A.  Create different moods with lighting. The use of warm colored indirect lighting such as lamps, colored LED back lights, or even string lights can create a cozy and relaxing vibe after a day's work.
B.)  Convert to smart home systems. From door locks, CCTV cameras, you'll also be able to control and turn on lights, appliances even if you're away from home. All you need is a wifi connection and the applications on your mobile phone.
C.) Hire a professional interior designer. We always get an impression that hiring a professional would be expensive, but they actually help you make the best choices and save you from making bad purchases.
Trendy Renovation Ideas for the Home or Condo. Part 3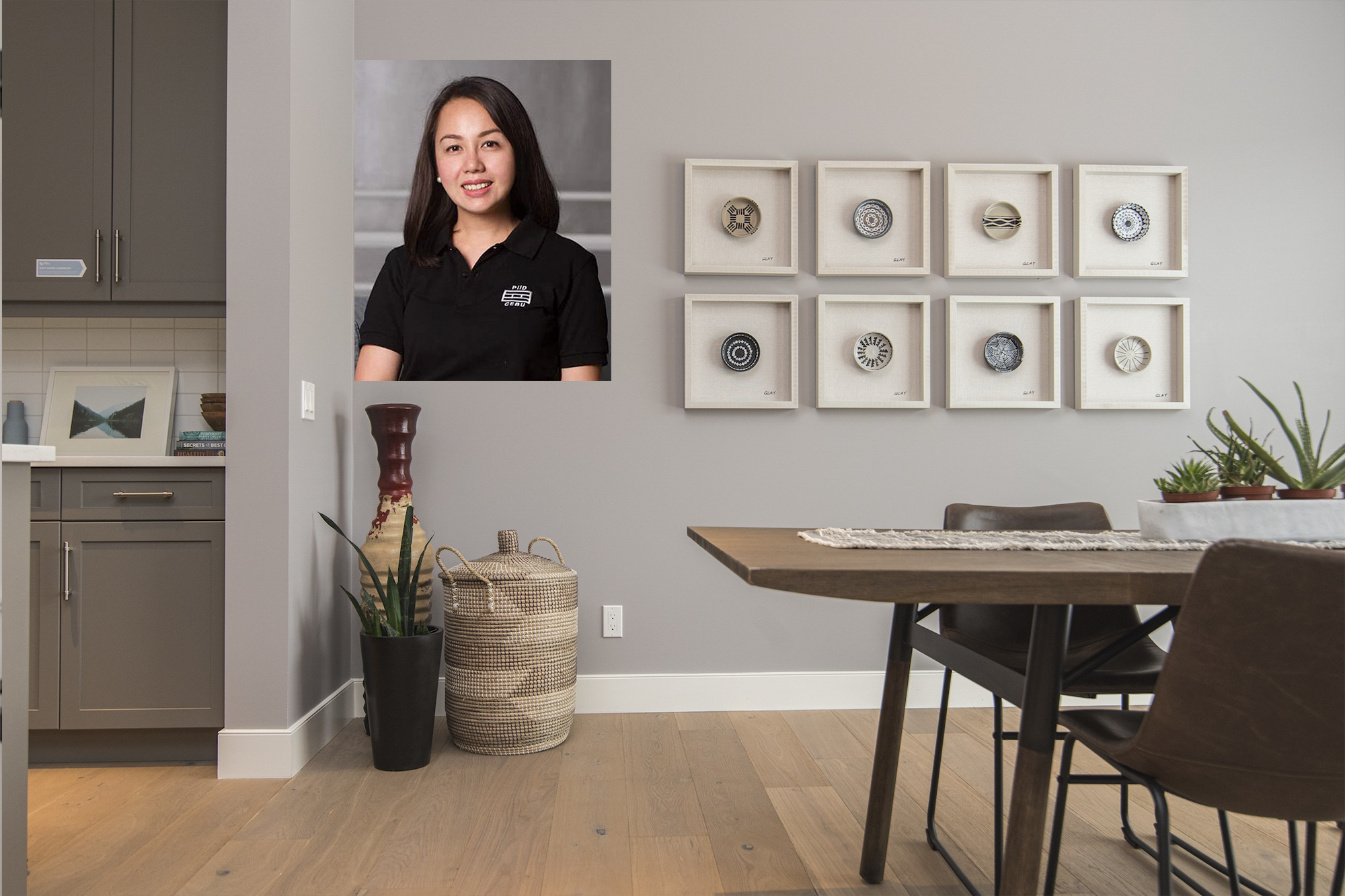 by Christa M. Cañizares IDr.
Part 3: Maximize Impact of Small Spaces
A.)  Storage spaces. You can go with concealed storage systems such as built-in cabinets on walls, under the bed or seating. Keep the items that you use often more reachable than the occasional ones. Choose what works best for your space and for your convenience.
B.)  Showcase your collection of interesting conversation pieces, like items you acquire from past travels, an artwork, an heirloom, coffee table books or a collector's item. Make sure to save a special place for them in your home.
C.)  Move things around to attract renewed energy into your space. May it be moving a sofa to the adjacent wall, creating a dining nook near a window, shuffling your accessories on to a different shelf? Little efforts go a long way.
Trendy Renovation Ideas for the Home or Condo. Part 2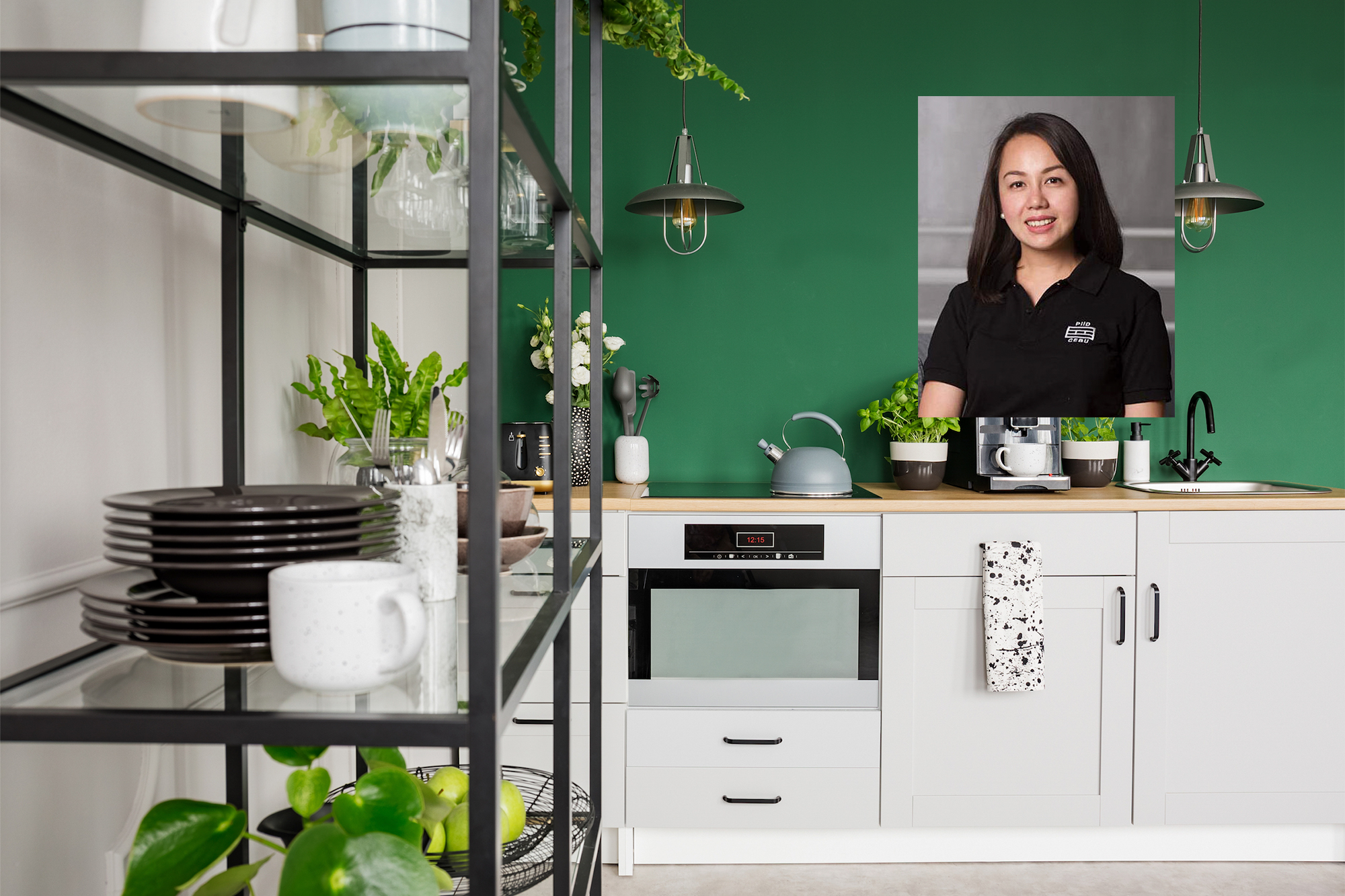 by Christa M. Cañizares IDr.
Part 2:  Create Visual Interest
A.)  Update your space with a fresh coat of paint. Some would love the white / minimalist theme, but one must also not be afraid to make a bold statement and have an accent wall, or even a wall mural.
B.)  Mix materials and textures to create depth and contrast. Wallpaper is an amazing decorative material that you can use for an instant upgrade. Another inexpensive approach is to use patterns and texture on soft furnishings such as curtains, pillows and sheets.
C.)  Setting up a coffee station, bar carts, vinyl corner, or workstation seems to be a trend to the young professionals nowadays.  Add functional pieces that serve as décor at the same time.