Students Tell Us Their Spookiest School Tales
Walking white figures, strange foot steps in the dark…some of us may have experienced these from our alma mater or heard stories from our batchmates way back. In these series, we get to talk to some students about their spooky experiences in school, as a way to end our November to commemorate our dearly departed.
Spirits are luminous beings, either they are entities far from human or lost souls seeking for help or answers. But what if souls of the departed visit your school and bother people or even possess them? This was an experience remembered by Mary Anne on her sophomore year and indeed, it was a test of faith and belief.
Mary Anne Christine C. Varona
University of Cebu
BSHRM
"2012 on my catholic academy way back 3rd year high school 3 students got possessed by spirits and I am not the type to believe on those or the school being haunted for that matter until I saw this, it was a phenomena on my childhood. One of my classmates told me who had a strong 3rd eye that our vicinity on that day was full of spirit entities at the brink of the afternoon both "good and bad" ones. He explained to me that these entities usually don't bother but now that he have seen the bad ones, they were responsible for possessing the students and the "good" ones just being idle or seeking help or prayers. The 3 possessed students who were siblings got it wild screaming and suddenly changing their voices and each student were held down by 4 men but managed to take them elsewhere outside the classroom. The room was weirdly cold on the afternoon and I wasn't really sure where they were taken out but I believed our school priest exorcized them. Our teacher who was a nun told us the rest who remained in the classroom to pray the rosary that day and never disclose to anyone what happened inside the school."
Working for your school's tuition is no easy task especially after class, and if its goes on into late hours of the night. Something like being alone while you're working in the classroom is no strange thing to most people, but what if there was something strange after all? Jenny will never forget as she experienced multiple contacts of the supernatural reminding her that we are never "alone" in this world.
Jenny C. Amaquin
Cebu Institute of Technology University
BS-IT
"With so many experiences I remembered when I was paper checker for my teachers and admins because I was a working student for the HRD and I usually go home at the wee hours of the night. First experience that I will never forget, my ex boyfriend was a paper checker too and we were at the 3rd floor in the new acad building sitting on a vacant room waiting for the teacher to arrive, while waiting, we were teasing and joking around, laughing boisterously, after so we suddenly heard a laugh but more of a squeaking small voice. My ex bf thought that was my ringtone because it was a trend way back with all those sound effect ringtones but I said no and we realized we weren't only the people in the room. 2nd when I was again a paper checker on the main building this time, as usual. I was at the study area beside the clinic waiting for the instructors at the engineering building across, because the area of the education office is dim going to the guidance office, I notice there were dark human-like figures lining up and passing by the guidance office and the last figure I saw was a white one, I cried in fear hoping never to see those again. That's what I can remember so far."
Souls sends messages on their own, just in a different way. Commonly, they use the environment to manipulate what they want to convey. Fleur thought her experience to be a common thing around animals, until she realized she was being followed around by other entities.
Fleur Therese Puao
Cebu Doctors University
BS-PT
"On a humid Thursday morning I was on a jeep that passed by the Mandaue cemetery, which also happened to be my stop. I got off the jeep and walked by the road just beside the cemetery, alone. I was about to cross the road when I felt someone, or something, whistle directly to my right ear. It was very odd, because there was no breeze, and there weren't any other people on the scene. I didn't believe in ghosts or any supernatural stories, so I shrugged it off and proceeded to my classmate's house where my groupmates were waiting for me. Upon arriving there, my classmate's dogs were barking at me very aggressively. I thought these were just his pet's nature, but my groupmates explained that they were so friendly before I came. I had initially assumed the dogs didn't like me, until I was told a few days later that dogs could be indicators of the presence of ghosts, and that ghosts or unrested souls tend to roam with the living that
crosses their paths."
School buildings have their own origins and stories from the past; we often hear that some schools used to be a convent or a cemetery. Most of us are aware that these places have their own hauntings, but we're often very doubtful of these unless proven. Axel on the other hand thought of it was just for fun until he realized that messing with entities would be otherwise.
Axel Pierce Gadinez
University of San Carlos
BS-TM
"In almost all the buildings in San Carlos Talamban Campus there are a lot stories about what haunts each building examples like the SMED building or the science building in the basement area. I also was a thrill seeker if these "ghosts" are true and a bit crazy to do so. On my sophomore year, I was walking down the stairs with my classmates when I borrowed my friend's Iphone to play around with snapchat because apparently they can be seen with facial recognition and I was talking to it like "Is someone here say hi to the camera" while doing a selfie video and when I was moving around the camera it showed a dog filter on top of the staircase that was 6 feet up while we were below it, at first we didn't think it was true until I started talking to it and said could you open your mouth to show the tongue out feature and it did, it slowly got closer. Until it was next to us then we started rushing to the hallway because we were scared being followed by "it"."

Another victim of a haunting that he would never forget when he was just doing his daily tasks, Mark sensed that it was not really his day. A working students, Mark was tasked to open up the facilities of the school building early in the morning. His experience has proven that sometimes, something or someone enters corridors or rooms and wait to be noticed.
"I guess this is worth sharing, I had the most unforgettable experience recently early in the morning. 5:52am I was in the library and I guess I was the only person in there for the university maintenance who opens the 7th floor of the building so that we can get access of the keys of the offices since I was a working scholar and the rest of the security guards were at the upper ground floor. The canteen was empty because they did not open that day and the guards were still prepping so no one can assist the elevator so I have to push buttons on my own. Arrived at the 5th floor and feeling positive and the 5th floor might be the most not so lively floors in the building since it only contains the auditorium and the library. Normally after opening up the library, lights, computers and functions I would hum but I didn't, I also was wondering why I felt not and shrugged but kept silent while doing my first hand tasks maybe because I was anticipating for someone to arrive. Then the morning got a bit bright but the restroom of the 5th floor was still dark and washed plates there. There it started feeling weird, I was overthinking already why did I proceed on a dark restroom bringing the plates and of course it's hard to run with it in and out. Suddenly, my feet went chilly like the ground had a gush of wind but still kept my cool. Started humming already for distraction so that I would feel good and while doing so, someone interrupted my humming and heard a metal belt inside the cubicle. It wasn't that loud but since the whole floor was empty you can hear it clearly. I was thinking there was a person already before me in the restroom but if so, why didn't he turn on the lights? I doubled my time finished cleaning the plates and rushed back to the library with fright."
With these students sharing their experiences, have you ever encountered the same things they have?
Cebuano Pride: The National Museum of Cebu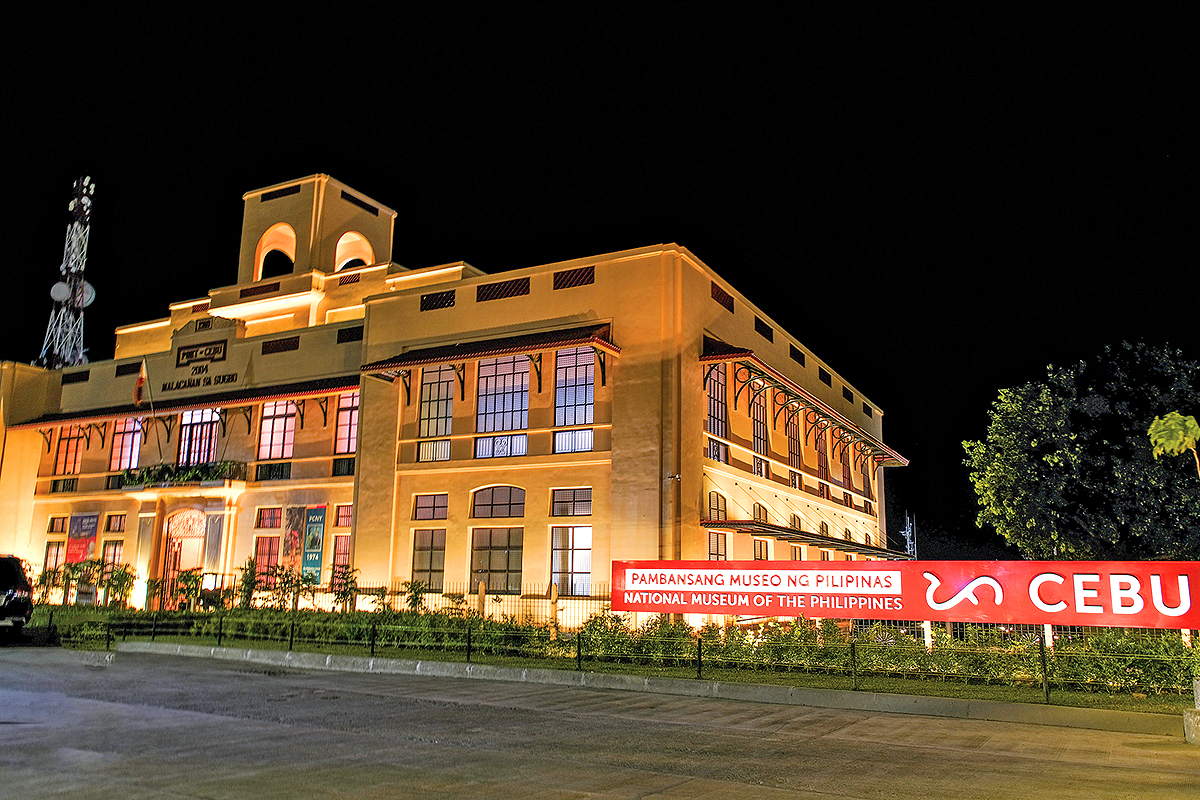 Pride of Cebu
By Eva Gullas 
photos courtesy of DOT
"With the National Museum of Cebu, the cradle of Christianity in the country, we open the doors to a temple in history and culture, inviting tourists and locals to witness our archaeological and natural treasures. The NMP-Cebu is not just a museum but a bridge to our past and a window into our future," declares Christina Frasco, our Secretary of Tourism, at the ceremonial opening last July 28.
Located at the heart of the city's historic port area, the former colonial Customs House, built in 1910, was transformed into an elegant edifice worthy of the city's place in history. It was in Cebu where the Spanish conquistadors first landed in 1521 and where Magellan met his end at the hands of the local chieftain Lapu-Lapu. Starting August 1, the National Museum of Cebu will open its doors daily from 9 am to 5 pm except Monday.
Worth checking is the first floor, where a few art pieces from national artists like Cebu's own Martino Abellana, Fernando Amorsolo, and Jose Joya take pride of place. On the right wing are finds from archeological digs found all over the islands. Called Ang Karaang Sugbo or Old Cebu, they include a gold death mask and ancient vases from China. There's also Kinaiyahan: Cebu's Natural Wonders, which features an impressive wall containing the different layers underneath our soil. There is also a display case that interactively showcases the various elements around the area, like gold, copper, and gypsum. Another wing is Paglawig: Cultural Movember Across the Seas, showcasing the islands' maritime history and sea bounty, including rare shells.
It is on the second floor, though, where the museum shines. Up the grand staircase, guests are greeted by Elmer Borlongan's massive Battle of Mactan, facing a facsimile of the Sta Maria galleon, Magellan's flagship. Then on to a limited-time exhibit on loan from the Philippine Center New York Core Collection of 1974, a treasure trove of almost 90 paintings collected by former First Lady Imelda Marcos, including Ang Kioks, Sanso, Manuel Rodrigues, and many more representing both avant-garde and classic Filipino masters. The New York collection is only available until March 2024 and is not to be missed.
The National Museum Cebu has been years in the making, and this cultural milestone has finally been made possible under the new administration of President Ferdinand Marcos Jr., who famously said during the inauguration, "I am a museum fan, and I can stay in art museums for hours and hours." He added, " museums are considered valuable natural assets to a nation as they build a sense of community, document history, inspire creativity, promote tourism, and unite people through a shared heritage." Kudos to the National Museum Board of Trustees, chaired by Andoni Aboitiz and Museum Director Jeremy Barnes, for this cultural gift to Cebu!
The Uncommon Traditions that Mexicans and Filipinos share when celebrating the Day of the Dead.
Dia de los Muertos
By Allain Dumon Fonte
The 2nd of November is All Soul's Day, a holiday that is very important to many Filipinos to remember our loved ones who passed on. This is also widely celebrated in Mexico as "Dia De los Muertos" or in English, "The Day of the Dead". And Mexicans celebrate the 2nd of November grander than they celebrate Christmas. Well, you can witness it from the Disney movie, "Coco".
As All Soul's Day or Dia de los Muertos is about to end, here are some interesting traditions and superstitions that Filipinos and Mexicans share:
1. IT IS NOT ON THE 31st OF OCTOBER
Dia de los Muertos or All Soul's Day is not practiced on October 31st or on the Hallow's Eve as many other western cultures practice; but we celebrate it on the 2nd of November. We celebrate November 1st as All Saint's Day or the Day of the Holy, while in Mexico they call it Dia de los Innocentes or Dia de los Angelitos to commemorate the children who died too early in life.
2. THE RITUAL
Both in Mexico and in the Philippines, we visit the grave of our loved ones and we clean it well. This is a ritual to honour their resting places and to let them know that they are never forgotten.
3. FLOWERS INVITE SPIRITS
In Mexico, they believe that the scent of flowers attract spirits. So the flower offerings are invitation to their dead loved ones to visit the living families. While in the Philippines, we believe that flowers offered to the dead exalt the souls and somehow fill in the sadness that we feel when missing our dead loved ones.
Most of the time, Filipinos choose all-white flowers to offer because white is the absence of colour, which means the absence of Joy and happiness. White also symbolises purity of soul which we hope our dead loved ones will attain as they journey to heaven. While in Mexico, they have the yellow Mexican marigolds as the official flowers of the dead that will guide them in their journey to the afterlife.
4. THE LEGEND OF THE MONARCH BUTTERFLIES
Both cultures believe that monarch butterflies are dead loved ones who visit us and show their appreciation that we have not forgotten them. A presence of monarch butterflies also means that our dead loved ones are always there guiding us and looking after us.
5. A PICNIC IN THE GRAVEYARD
Spending a night at the graveyard and picnicking with the rest of the family may sound very creepy to many; but to both Filipino and Mexican cultures, picnicking and spending a night at the cemetery is a must to show our love to our dearly departed. It is the only time in the year that families gather and tell stories of the dead loved ones and how colourful or how great their lives were.
6. FOOD FOR THE DEAD
In Mexico, they have what they call "ofrendas" or an altar where the pictures of their dead loved ones are displayed and offered with flowers, candles, and their favourite food. Very similar to the Filipino culture of cooking the favourite food of our dead loved ones and everyone in the family enjoys the food for dinner.
My family tradition involves me driving all the way to Colon street and buy that famous Snow Sheen's "pancit canton". This is my granddad's favourite snack. Sadly, the old Visayan Restaurant is no longer there. My late uncle and my late grandpa love their sweet ad and sour fish. We also set up an "ofrenda" on their graveyard and eat their favourite food while picnicking in the cemetery. We do not spend a night in the cemetery; but while we are picnicking there, we usually play the songs of Pilita Corrales and Susan Fuentes that my late grandpa used to listen every afternoon while enjoying his coffee, pan de sal, and pancit canton.
What about your family traditions? Share your thoughts by commenting to this article.
MODEL: Michael Joseph Mortola Enriquez & Alexis Wingfield
PHOTOGRAPHER: Gianne Paolo Anciano
HMUA/DESIGNER: Hazel Ocaba
STYLING: GPA Lifestyle + Clothing
Catch Ted Lasso the Emmy Award Winning Comedy Series on Apple TV+
Rating: *****/ *****
The multi award–winning comedy series airing on Apple TV+ is one of my favorite shows.  Ted Lasso starring Jason Sudeikis is about a fun good-natured American football coached hired by a British soccer club (AFC Richmond in London) to become their new coach.  In spite of the fact that Ted has no experience or knowledge about British football/soccer, his positive demeanor and charm helps him overcome the animosity of the team's players, staff and fans.  Eventually Ted wins over the team and the locals as they fight for position in the English Premier League.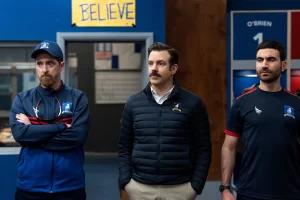 The show won the 2021 Primetime Emmy Award for Outstanding Comedy Series and 7 Emmy Awards in its 2 seasons and Season 3 is just around the corner.  You can catch Seasons 1 & 2 of Ted Lasso on Apple TV+