The best of both worlds converge at Serulyan Seascapes Mactan
The Cebuano lifestyle is the perfect mix of city and island life. Embodying this unique quality that Cebu is known for is Serulyan Seascapes Mactan, a 2-hectare expanse of chic living spaces and lavish greenery by the sea.
Serulyan is located in the island of Mactan, a top tourist destination that boasts of a diverse collection of tourist spots and attractions. Being a coral island, Mactan is well-known for having the best spots for diving, snorkeling, island hopping, jet ski, sailing, and cultural activities. Aside from being considered a paradise, the island is a major trade center in the south for both domestic and international traffic as the main entryway to Cebu and the rest of the Visayan region.
With its ideal location, Serulyan is a comfortable 15-minute drive to and from Mactan Doctor's Hospital and Mactan Cebu International Airport. The Cebu-Mactan Ferry Terminal is about 25 minutes away, while Cebu City proper is approximately 30 minutes away. Serulyan is a community where business and pleasure coexist. Various export industries thrive in the progressive economy while being surrounded by historic landmarks such as the Lapu-Lapu Shrine, premium resorts, white sand beaches, and marine sanctuaries like Pandanon and Nalusuan. Moreover, with the imminent opening of a separate international airport, Mactan will no doubt continue to be a growing business landscape that will open all kinds of opportunities and possibilities for everyone.

Located in Seascapes Resort Town, home to Filinvest's esteemed Crimson Resort and Spa Mactan, Serulyan is designed to be your very own retreat, dedicating almost half of the property to open spaces with lush greenery for meditation and that much needed break from the humdrum of daily routine back in the concrete jungle. With a complete array of features fulfilling its promise of garden resort-like living, amenities are categorized into three zones: a zone to celebrate, to recharge, and to play. The first phase will house Tower 1 and the zone to celebrate, which includes al fresco dining, infinity and kiddie pools, and function halls, to make life's most important milestones even more unforgettable.
The serviced apartments at Tower 1 are the first to be offered at Serulyan and will be managed by Filarchipelago Hospitality, Inc., the same group behind the Crimson brand. Well-planned and fully furnished, Tower 1 accommodates life's basic and other necessities with the added panache of stylish interiors. Each unit's generous size, which starts at 68 sq. m., ensures guests the space and privacy they need.
Have your very own private sanctuary in the middle of a growing economy and relish in a lifestyle that you deserve. Far enough to escape the pressures of work and the fast-paced environment, but near enough to enjoy the convenience of the urban lifestyle, Serulyan Seascapes Mactan is your ideal vacation home.
SERULYAN SEASCAPES MACTAN
Seascapes Resort Town, Mactan Island
www.serulyan.com


Hilarious Series ramps up with Season 2
These two comedy series are now airing their season 2 programs.  Highly acclaimed and are must-watch rib ticklers in our opinion.
Resident Alien 2: starring Allan Tudyk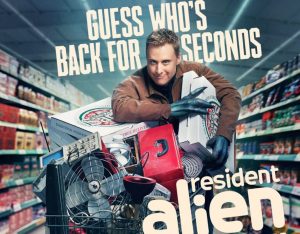 Space Force 2: starring Steve Carell