Why Mactan is the perfect choice for property investment
Mactan Island has been endowed with a unique island lifestyle that serves as a driving force to be one of the most visited tourist destinations in the country today.
Its rich history, picturesque landmarks, beautiful beaches, as well as the warm friendly-smiles of the people are buoyed by continuous world-class developments that made the island a booming place to live, work, play, and learn in Central Visayas.
Moreover, here are the following reasons why people choose Mactan Island as the perfect choice to settle or even invest in Cebu.
Mactan Island is Cebu's resort island with close proximity to the Mactan Cebu International Airport. As home of several first-class resorts and hotels, Mactan Island is a tourist-friendly destination that offers easy access to various historical spots in Cebu such as the famous Mactan Shrine and Lapu-Lapu Shrine. It is also surrounded by fine sand beaches and fresh mangroves, producing a rustic and sunny island ambiance.
Lapu-Lapu City in Mactan Island is the country's fastest growing, highly urbanized city today. Lapu-Lapu City is a very strategic location that boasts with different world-class developments. The city also offers picturesque beaches that surround the island. The Marcelo Fernan Bridge, a known landmark in Mactan, is also within reach providing ready access to top commercial hubs on the main island of Cebu. It is also for this reason that the fastest growing highly-urbanized city is where Megaworld, the country's leading real estate developer, brings its pioneering LIVE-WORK-PLAY-LEARN lifestyle township formula to develop The Mactan Newtown, which is a 28.8-hectare township with a beach.
Prices for residential condominiums are expected to jump due to massive development projects in the island. Now is the time to invest in Mactan. Urban development has led the growth of tourism, export-oriented manufacturing companies, and BPO offices in Cebu. This fueled the expected rise in the value of residential condominiums in the next three to five years by 15 to 20 percent. This growth reflects the fast-paced economic development that is happening in Lapu-Lapu City.
No congestion; population density is way lower than Cebu and Mandaue cities. According to 2010 census of the National Statistic Office, Cebu has the highest population in Central Visayas region with 2,377,588. But among the three highly-urbanized cities, Lapu-Lapu City has less density compared to Cebu and Mandaue cities. Thus, Lapu-Lapu City is still the most admirable location to live in the province.
Major developers like Megaworld are already poised to transform Mactan Island into Cebu's next lifestyle and business hubs. Megaworld boosts the island's transformation by introducing The Mactan Newtown as the country's first township development by the beach. This 28.8-hectare township combines top-grade office sites, first-class commercial strips, upscale hotels and a reputable academic institution in one premier beach setting. The township also features a cyberpark, which is home to several office and business process and outsourcing (BPO) buildings. Soon to rise in the township are five hotels and an exclusive beach club, as well as sports and leisure facilities.
WHERE TO LIVE IN MACTAN
Megaworld, the country's leading real estate developer, brings a redefined living experience in Mactan Island through its latest residential condominium cluster that will soon rise inside the 28.8-hectare The Mactan Newtown in Lapu Lapu City.
One Manchester Place has a sophisticated vibe that characterizes the famous Megaworld stamp of modern living within an urban township masterpiece. It exudes living innovations modeled after the 'LIVE-WORK-PLAY-LEARN' lifestyle township concept pioneered by the company in the Philippines.
One Manchester Place is a three-tower condominium cluster which will have a direct access to a Plaza Magellan mall that will soon rise inside the township.
Within the newly acquired half-hectare area in Punta Engano road, Megaworld will be constructing a three-level lifestyle mall, which is poised to become a major landmark of The Mactan Newtown. The mall will have an iconic entrance plaza facing the famous Lapu-Lapu Shrine, the site where the historic Battle of Mactan between Lapu-Lapu and Ferdinand Magellan happened on April 27, 1521.
Available units are executive studio, one-bedroom, two-bedroom, and three-bedroom. Every unit will have a spectacular view of the historic Mactan Shrine, Magellan Bay, or the Hilutungan Channel.
Future residents will also have exclusive access to the second-level amenities floor which will have a 25-meter lap pool with sunbathing deck, in-water pool lounge and pool spa, children's pool, pavilion, reflexology path, indoor spa, fitness and taichi area, state-of-the-art fitness gym, jogging path, dry zen garden, flower garden, children's playground, reading nook, daycare center, business center, a function room, and ultra-modern game room.
The township will soon be home to the Newtown School of Excellence, a new school supervised by Lasallian Schools Supervision Office (LASSO).
The company is also building the Hawkers' Gazebo, which will open this year. It is a covered food strip similar to the famous hawkers of Singapore. This will be strategically located near the main entrance of the township.
The Mactan Newtown is Megaworld's first master planned mixed-use development in Central Visayas inspired by the company's pioneering 'LIVE-WORK-PLAY-LEARN' concept. The company has been known for its successful township developments in Metro Manila such as Eastwood City, McKinley Hill, Forbes Town Center and Newport City. In the Visayas, the real estate giant is also building Region 6's biggest business district, the P35-billion Iloilo Business Park located at the site of the old Iloilo Airport in Mandurriao, Iloilo City.
THE MACTAN NEWTOWN
LONDON IN FULL BLOOM: An Exclusive Look at the recent Chelsea Flower Show
The Chelsea Flower Show in London, one of the most prestigious horticultural events in the world, returned in full glory in May 2023, captivating visitors with its stunning displays and landscape designs. Held annually on the grounds of the Royal Hospital Chelsea in London, this year's show proved to be a true feast for the senses, showcasing an array of breathtaking gardens, vibrant floral arrangements, and innovative landscaping. The 3-day event showcased 36 outdoor gardens, including four balcony gardens for small spaces. Inside the giant pavilion, blooms compete with each other, exotic flowers, roses, and many more.
The 2023 Chelsea Flower Show embraced a Nature's Harmony theme, with a strong focus on sustainability and mental health. The show's organizers emphasized the importance of sustainable gardening practices and biodiversity conservation, inspiring attendees to create beautiful outdoor spaces while preserving and protecting the environment.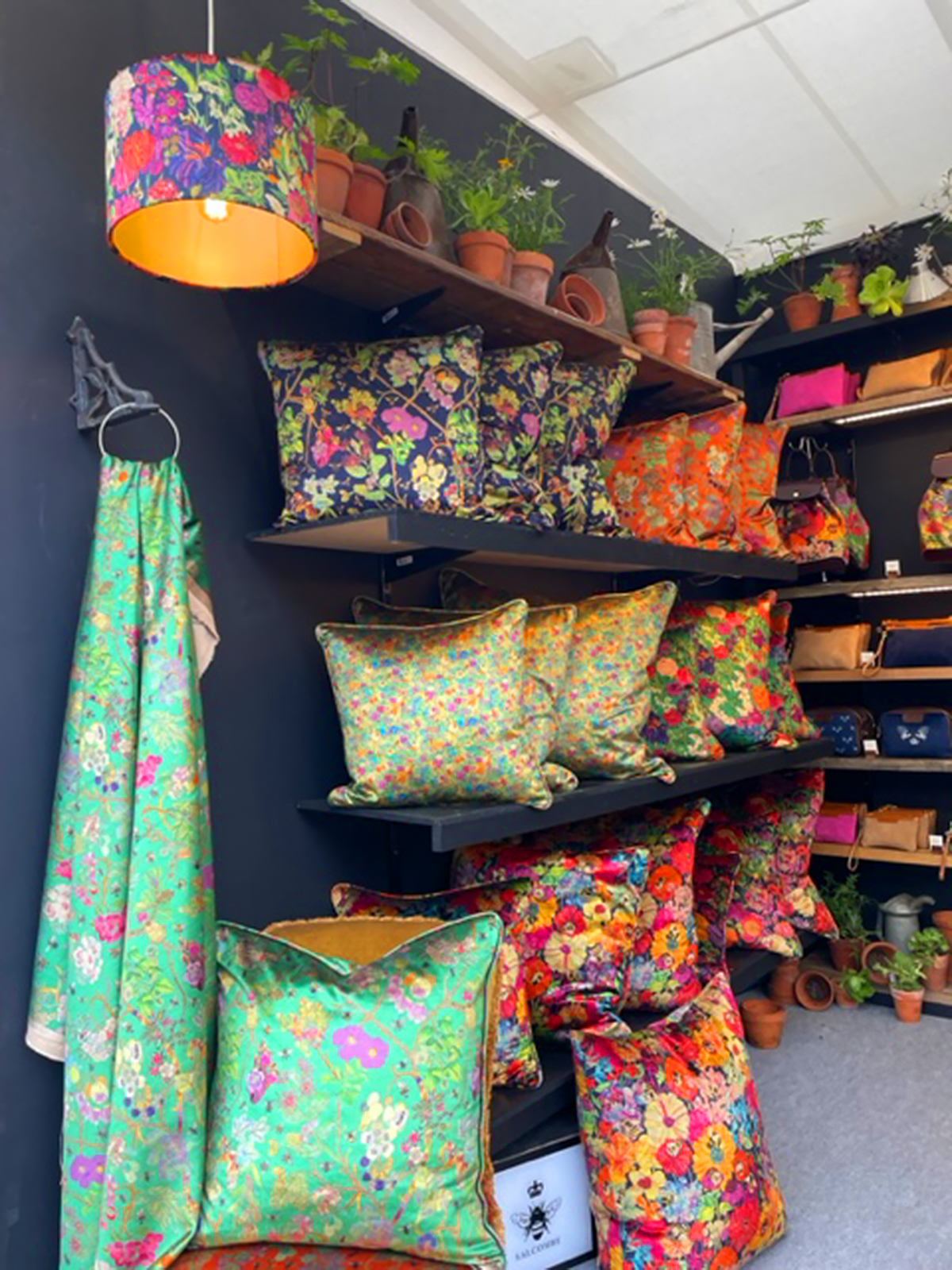 What's Cebu got to do with the Chelsea Flower Show in London? One person. James Doran Webb (https://www.jamesdoranwebb.co.uk), an Englishman working with driftwood, has been displaying his artworks for several years. James collects cast-off driftwood and shapes them into beautiful animal shapes that find places in some of the most iconic gardens. Leaping horses, owls, reindeer, and the occasional dragon, James Webb's creations are avidly collected by landscapers to add accent to gardens in all sizes, using cast-off wood, fitting perfectly with the sustainable element—something Mr. Webb has done quite well for the last decade.
***
The Philippine International Flower Festival will be held at the PICC in Manila from January 14 to 18, 2024. Watch out for more info from our website!