Nostalgia: Moving Forward from Yolanda
When the monster typhoon Haiyan, locally known as Yolanda, hit Central Philippines, it left in its wake unimaginable destruction of property and human life—as well as an admirable outpouring of generosity and solidarity from all walks of life that proves that, through the devastation, the human spirit is battered but not broken.
At 6:30am, Wednesday, 12 November 2013. It is a typical beautiful warm sunny day in the Philippines. The light is spectacular and the skies are a brilliant blue with wisps of clouds across its expanse. There is a cool, refreshing breeze. It seems like another perfect day, but it isn't. Less that 60km north of where I sit at my desk at home is devastation. On Friday, 8 November, with winds of over 335kph, Typhoon Haiyan, known locally as Typhoon Yolanda left a wide swath of destruction across the Central Philippines including Northern Cebu. In too many areas, towns and cities were ravaged and 80% of all homes were destroyed. People are desperate. They've lost their homes, their families, their friends and their livelihoods. Where were you on Friday, 8 December 2013?
7:10am, 8 November 2013. Metro Cebu is quiet. I was up early. I tried to stay in bed to get as much rest as possible before the storm but couldn't. I was restless. In three hours or so, "Yolanda" was supposed to be at its closest to the City. At home everything was battened down and protected to the best of our abilities. We hopefully had enough water, batteries and food to weather any storm. A couple of days before at the supermarkets, it was funny to see shopping carts laden with water, canned goods, batteries and then funnily, piled with chips, cookies and junk food. People were obviously hunkering down for the long haul. But junk food? I had to ask myself if these guys knew something I didn't.
By 10:00am, the wind began to blow and the familiar feeling of unease began to set in. Cebu had just been through a terrible earthquake that left Bohol seriously damaged and everyone collectively anxious after thousands of aftershocks. A few short weeks later we sat waiting for another monster to hit Cebu: "Yolanda", the strongest typhoon in human history. I tried to convince myself that there was no point worrying. According to the latest weather reports, Metro Cebu was going to be spared and we were protected, and our larders were stocked.
Little did we in the City know that, as we sat nervous but dry, vast areas of our country where the monster typhoon had passed and was passing, the relentless wind literally screamed like a horde of banshees, forming the rain into unending, painful horizontal sheets of needle-like spikes. It was effortlessly destroying homes and buildings, toppling trees, and sending debris flying and careening dangerously. Little did we know that a storm surge five to seven meters high was wreaking havoc and misery across wide areas of the Central Philippines killing thousands of people and destroying even more homes and peoples lives. On the morning of 8 November we were naturally worried about ourselves, but completely clueless to the epic human tragedy that was quickly unfolding.
Today, it is still unimaginable and near impossible to understand what it was like to live through the worst day of fear in the lives of millions, and millions of Filipinos. Till today, it is still very difficult to imagine and comprehend the tragedy that followed in the desperate hours and days immediately after super-typhoon "Yolanda". And unless it has happened to you, it is still impossible to appreciate what it is to be a homeless refugee sleeping on the streets, sitting in the sun, bereft of family, food and water, surrounded by the ruins of your home.
My heart breaks every time I see the news. The tales of suffering are endless.
5:12pm, Saturday, 16 November 2013. I received a text from my friend, economist and professor, Perry Fajardo. It read, "I am very disturbed these days by these people that have done nothing but criticize the relief operation. It hurts the thousands who are sacrificing everything to help."
Perry's sentiment is correct. There is a fine line between expressing frustration, as many of us did, and unending criticism for political opportunism. While there is a yawning chasm between sincerity and the 'pretension of assistance for political gain,' the time for action is now. "Eastern Samar is gone" read a recent headline of The Philippine Star, underlining the urgent need to coalesce, to link our arms in support of millions of Filipinos instead of indulging in shallow political games.
11:06pm, 16 November 2013. From a Facebook friend Ronna Mae O'Connell: "Hi Dondi, I was informed that Bantayan Island needs relief badly. Please ask info from Alex Badayos and Felipe Tariman."
I am sure everyone is getting calls, messages and texts like these constantly. The need is great. My first reaction was to jump and start hollering for help but after a moment of reflection, I decided to try to find out who was organizing to help Bantayan – to see if they were already in action. They were. Bantayan Island was wrecked and is one of dozens in dire need of assistance. All across Visayas, South Luzon and Northern Palawan are islands, islets, villages and settlements that need urgent assistance. Even the one-time leper colony of Culion is in dire need of relief and medical care. We all need to keep this kind of information flowing so we can help make sure no one gets left behind.
While I have never in my life seen this sheer scale of suffering in the Philippines, I have also never seen this sheer scale of profound outpouring of generosity, and the willingness and determination to help in whatever way possible. I shouldn't be surprised. It is the heart of the Filipino and in the hearts of the friends of Filipinos.
Today, on social media and on the local and foreign news, there are expressions and stories of personal initiatives of concern and care even as inspiring tales of individual and civic heroism are emerging. All over Cebu, all over the Philippines, pockets of friends, employees, foreign residents, neighbors, classmates, government and social workers, businessmen, and even tourists are working hand in hand to help in whichever way they can. Foreign-based Filipinos are organizing, and ordinary people in many countries are donating what they can to help, even those with little or no particular affinity for the Philippines. In most cases, these generous souls weren't asked to help. They just asked how they could help – and they did and they are helping – just as so many Filipinos are helping, even at the sacrifice of their finances, family, school and work time, and even their businesses.
Make no mistake. It may take only weeks or months to rebuild homes, but it will take years to replace lost livelihoods and to heal hearts torn apart by loss. Our relief work will not end in a few weeks, or even in a few months. We will have to stay focused and continue helping our brothers and sisters rebuild their lives, even as the sense of urgency wanes, and even when the next hot news story hits the headlines. We must never forget Yolanda – not only for the sake of those who suffered, but for the sake of those who survived and still live in the peril of more catastrophes – as we all do.
Nor can we neglect the Boholanos who are still rebuilding their lives after the terrible earthquake. They still need you.
Yolanda has left her profound footprint on the Philippines. In all likelihood she will not be the last super-storm to bludgeon its way through our country. I shudder to think of what will happen if another angry typhoon follows on heels of Yolanda. In today's world of mutated weather, as certain as an angry woman's slap, another Yolanda, Ruping, Dading, Ondoy or Pepang will come. We can no longer be ill-prepared and we only have to look at how many other countries prepare for and respond to disasters: the USA, Fukushima in Japan, and even in India in 2012, where 800,000 people were forcibly evacuated following a major typhoon warning. The storm hit and only a handful of lives were lost. Seventeen years earlier a similar typhoon hit the same area of India and 10,000 people died. They learned. They prepared. They lived.
Time is short, and the waters may rise again.
Professor Perry, I have been guilty of being critical, constructively I hope, because like many others I can't help but think, in the clarity of hindsight, that more could have been done before the typhoon, when the red light warnings were flashing, and immediately after when it became crystal clear that Yolanda wreaked immeasurable havoc. We can and should do the post-mortems later – after this growing human catastrophe is averted. And hopefully, just hopefully, this painful lesson will help our country leapfrog from spastic adolescence to deeper political and social maturity as we put aside petty political differences in the interest of the common good of all Filipinos – once and for all. This was a humanly expensive and painful lesson that must never, ever happen again.
If anyone would like to assist, there are three ways to help: the first is to volunteer time. There are many companies, organizations, and private initiatives that collect, organize and distribute relief goods. If you live abroad, come to Cebu in the Philippines and help in these relief operations. Or send your kids. We will look after them. It will be a great human experience and we can point people in the right direction and put them in contact with the right organizations, formal or informal. The second is to donate funds. The expenses are enormous. The third is to hope and keep the Philippines and those who were affected close to your hearts, in your thoughts and if you pray, in your prayers.
The Filipino is a wonderful resilient person and I have no doubt that even now as I sit at my desk, in the face of immense hardship and suffering, the Filipinos affected by this disaster will once again begin to smile and hope – and sing – as they always do. Bangon Pilipinas!
The Uncommon Traditions that Mexicans and Filipinos share when celebrating the Day of the Dead.
Dia de los Muertos
By Allain Dumon Fonte
The 2nd of November is All Soul's Day, a holiday that is very important to many Filipinos to remember our loved ones who passed on. This is also widely celebrated in Mexico as "Dia De los Muertos" or in English, "The Day of the Dead". And Mexicans celebrate the 2nd of November grander than they celebrate Christmas. Well, you can witness it from the Disney movie, "Coco".
As All Soul's Day or Dia de los Muertos is about to end, here are some interesting traditions and superstitions that Filipinos and Mexicans share:
1. IT IS NOT ON THE 31st OF OCTOBER
Dia de los Muertos or All Soul's Day is not practiced on October 31st or on the Hallow's Eve as many other western cultures practice; but we celebrate it on the 2nd of November. We celebrate November 1st as All Saint's Day or the Day of the Holy, while in Mexico they call it Dia de los Innocentes or Dia de los Angelitos to commemorate the children who died too early in life.
2. THE RITUAL
Both in Mexico and in the Philippines, we visit the grave of our loved ones and we clean it well. This is a ritual to honour their resting places and to let them know that they are never forgotten.
3. FLOWERS INVITE SPIRITS
In Mexico, they believe that the scent of flowers attract spirits. So the flower offerings are invitation to their dead loved ones to visit the living families. While in the Philippines, we believe that flowers offered to the dead exalt the souls and somehow fill in the sadness that we feel when missing our dead loved ones.
Most of the time, Filipinos choose all-white flowers to offer because white is the absence of colour, which means the absence of Joy and happiness. White also symbolises purity of soul which we hope our dead loved ones will attain as they journey to heaven. While in Mexico, they have the yellow Mexican marigolds as the official flowers of the dead that will guide them in their journey to the afterlife.
4. THE LEGEND OF THE MONARCH BUTTERFLIES
Both cultures believe that monarch butterflies are dead loved ones who visit us and show their appreciation that we have not forgotten them. A presence of monarch butterflies also means that our dead loved ones are always there guiding us and looking after us.
5. A PICNIC IN THE GRAVEYARD
Spending a night at the graveyard and picnicking with the rest of the family may sound very creepy to many; but to both Filipino and Mexican cultures, picnicking and spending a night at the cemetery is a must to show our love to our dearly departed. It is the only time in the year that families gather and tell stories of the dead loved ones and how colourful or how great their lives were.
6. FOOD FOR THE DEAD
In Mexico, they have what they call "ofrendas" or an altar where the pictures of their dead loved ones are displayed and offered with flowers, candles, and their favourite food. Very similar to the Filipino culture of cooking the favourite food of our dead loved ones and everyone in the family enjoys the food for dinner.
My family tradition involves me driving all the way to Colon street and buy that famous Snow Sheen's "pancit canton". This is my granddad's favourite snack. Sadly, the old Visayan Restaurant is no longer there. My late uncle and my late grandpa love their sweet ad and sour fish. We also set up an "ofrenda" on their graveyard and eat their favourite food while picnicking in the cemetery. We do not spend a night in the cemetery; but while we are picnicking there, we usually play the songs of Pilita Corrales and Susan Fuentes that my late grandpa used to listen every afternoon while enjoying his coffee, pan de sal, and pancit canton.
What about your family traditions? Share your thoughts by commenting to this article.
MODEL: Michael Joseph Mortola Enriquez & Alexis Wingfield
PHOTOGRAPHER: Gianne Paolo Anciano
HMUA/DESIGNER: Hazel Ocaba
STYLING: GPA Lifestyle + Clothing
Catch Ted Lasso the Emmy Award Winning Comedy Series on Apple TV+
Rating: *****/ *****
The multi award–winning comedy series airing on Apple TV+ is one of my favorite shows.  Ted Lasso starring Jason Sudeikis is about a fun good-natured American football coached hired by a British soccer club (AFC Richmond in London) to become their new coach.  In spite of the fact that Ted has no experience or knowledge about British football/soccer, his positive demeanor and charm helps him overcome the animosity of the team's players, staff and fans.  Eventually Ted wins over the team and the locals as they fight for position in the English Premier League.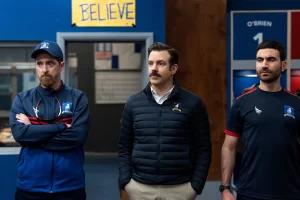 The show won the 2021 Primetime Emmy Award for Outstanding Comedy Series and 7 Emmy Awards in its 2 seasons and Season 3 is just around the corner.  You can catch Seasons 1 & 2 of Ted Lasso on Apple TV+
PANDEMIC DIARIES: Twelve Months Later
Photos taken by Pablo Quiza around Cebu City during the months of March, April and May 202
AS WE APPROACH ONE YEAR under pandemic times, we look back at March 2020 with fascination. And awe. We had 12 months of lockdown and survived the so called new normal. We lived with masks and alcohol even today. Carless roads and dark malls. Those were the early days of March, April and May.
It stretched to October and past Christmas. No Sinulog. Virtual parties on Zoom and virtual mass on You Tube and FB Live. We debated on the best meds to take if we get sick and whether to wear masks (please do!). We scampered for face shields and anti-viral sprays. Vitamins C and D and zinc. Later, we survived being swabbed and we learned the difference between a PCR and an anti-gene test. The latter cost less.
We dreaded the declarations of IATF mandated from Manila. And we got mad at the police chief who had a birthday party while his people were busy locking up everyone violating the lockdown. Most horrifying of all, we needed to produce IDs! Are you a resident of Barangay Lahug or Banilad? Are you employed and why are you still working? Everyone suffered thru endless checkpoints. Most sad of all are those using motorbikes, they seem to get the raw end of the deal since those with cars are not as scrutinized. We managed to trick the system by putting a big handwritten note in front of the car: COMPANY CAR, and zipped tru the police desks in the middle of the road. Don't even think of travelling, by plane, boat or bus. The collection of the required documents is enough for one to get exposed to Covid.
We learned to shop online, order groceries and necessities thru delivery. We slowly moved towards cashless payments. Gcash and banks like Union Bank and China Bank with friendly apps are heroes for making life easy for most of us to spend what little cash we have to spend on Lazada or pay the VECO bill. Oh and we binged on K dramas on Netflix and You Tube, kamsaminada.
As 2021 enters, there are some good news. For those obsessed with news, you already know that 7,000 vaccines arrived last March 2 in Cebu, with more expected in the next few weeks. The death rate is not as high among those who caught this pesky virus, which tells us that doctors in the hospitals have some proven expertise in dealing with Covid. More cures should be in the horizon.
Meanwhile, lets continue dreaming of the day when we can cross borders again, even if its just Bohol or Boracay, Bangkok or Hong Kong. Ready those luggages and bags bought during the 3/3 sale in Shopee in preparation for the day when we can take the ferry or the plane for new adventures.