Lessons Learned: The Legacy of Haiyan
On the morning of November 8, 2013 in Tacloban, Kent Nemenzo managed one last Facebook status update about how the winds of Typhoon Haiyan (local name: Yolanda) broke the chain holding the gates of his home together. A bit later, he noticed brackish water seeping into the sealed windows and glanced outside: The flood was chest-high, and his car was slowly floating away. "I ran over to where my family was and told them how high the water is, and how it's still rising," he recalls. "My mom had barely gotten out of bed when my younger sister started screaming. The door near our kitchen could no longer hold the water and the debris; it cracked open, and our house started becoming a death trap."
Everyone made it through the front door and out of the house, standing on the windowsill and holding on for dear life as the water levels continued to rise. His girlfriend lost hold of their three-year-old daughter, and he lunged after them despite not knowing how to swim, pushing them near a concrete railing where they could get a foothold. Meanwhile, his mom was swept away; she held on to one of the drainage pipes a bit further behind. Eventually, the water started going down and brought them down to ground level. "Reality started to creep in, and it wasn't looking good," Kent narrates. "We had nothing but the clothes on our back. Everything in the house was gone. One of our dogs went missing. But we were alive."
As the entire world knows by now, other people weren't as lucky. "Typhoons are a normal occurrence, and they almost always first make landfall in the Samar and Leyte area," Kent explains. "I treated Haiyan like everyone else treated it: like a normal typhoon passing by. We never accounted for wind speed. No one knew exactly what a storm surge meant."
One year later, yet another storm made its way to the Philippine Area of Responsibility (PAR). Typhoon Hagupit (local name: Ruby) was touted to be as devastating as Haiyan, and more worryingly so, it was also on the same path as the aforementioned super storm. Although it intensified into a Category 5 super typhoon in early December, it weakened into a Category 3 typhoon before making landfall in Eastern Samar. It progressed slowly throughout the country, with landfalls in Masbate, Marinduque and Batangas before finally exiting the PAR on December 10.
The impact wasn't as bad as Haiyan last year. While property damages stood no chance against Mother Nature, with the National Disaster Risk Reduction and Management Council (NDRRMC) reporting a total of three billion pesos' worth of damages in infrastructure and agriculture as of December 12, the casualties have been kept to an extreme minimum. According to NDRRMC, 19 people died—a far cry from the more than 6,000 people post-Haiyan. While the lower figures could be attributed to Hagupit weakening, a significant factor lies in the fact that people were more prepared: Classes were suspended, people fled to evacuation centers, and the Philippine government prepared rescue boats for food packs, medicines, and doctors. This time around, everyone learned their lessons.
"Yolanda has left her profound footprint on the Philippines. In all likelihood she will not be the last super-storm to bludgeon its way through our country. I shudder to think of what will happen if another angry typhoon follows on heels of Yolanda. In today's world of mutated weather, as certain as an angry woman's slap, another Yolanda, Ruping, Dading, Ondoy or Pepang will come. We can no longer be ill-prepared and we only have to look at how many other countries prepare for and respond to disasters: the USA, Fukushima in Japan, and even in India in 2012, where 800,000 people were forcibly evacuated following a major typhoon warning. The storm hit and only a handful of lives were lost. Seventeen years earlier, a similar typhoon hit the same area of India and 10,000 people died. They learned. They prepared. They lived. Time is short, and the waters may rise again."

Joseph, Dondi. "Moving Forward." Zee Lifestyle. Dec.-Jan. 2014: 80-88
According to Margareta Wahlström, Chief of the United Nations Office for Disaster Risk Reduction (UNIDSR), the Philippine government has done an excellent job of putting into action the lessons learned from Haiyan. "All arms of government, including PAGASA and the NDRRMC, and municipalities like Tacloban have pulled together to save lives and minimize the damage being inflicted by this disaster event."
"Filipinos have learned to take this climate change seriously, and that it is best to take caution to leave their homes and evacuate to safer structures," says LA-born designer Renée Patron. Although she survived the destructive effects of Haiyan when she was in her hometown of Guiuan, Eastern Samar, it took a while for her business to get back on the ground. A profile on Renée in Zee Lifestyle's Dec.-Jan. 2015 issue details how Haiyan destroyed the entire production of her business, Banago, a collection of bags and home accessories hand-woven from the banig by women from Samar. "In the blink of an eye, our homes, our towns, our natural materials, our production facility—close to half a million dollars in production—were all taken by the storm surge and typhoon," she reminisces.
In September this year, a Kickstarter campaign by Banago and Livelihood United raised $20,000 to help restore the livelihoods of over 400 women in Samar. In the light of Hagupit, Renée shared that the typhoon did not cause that much damage this time around. "We made sure all the finished products and machines were kept in a safe place this time," she shares. "We made sure all the supplies—gadgets, first aid kits and food—were at hand and in a place where it would be kept dry." Her experience with Haiyan taught her which kinds of structures were safe, in case of strong winds or flooding. "We went the extra mile to make sure we could survive another super typhoon."
Following Haiyan, Kent moved to Manila, yet the ghosts of the storm continued to haunt him. "I didn't get enough sleep when Hagupit was making its way to the Visayas," he admits. "Thankfully, no storm surge—just a bit of damage on the outside of the house, but we still had a roof."
"Everyone was better prepared, but mostly because everyone experienced the worst and didn't want to go through the whole thing again," Kent says. He believes that Filipinos now have a better idea about storm categories, speed, storm surges, and the importance of climate change. While typhoons before averaged 160-180 KPH; now it looks like typhoons above 200 KPH are the norm.
"We've learned to heed calls for evacuation—to take the information they see on weather bulletins seriously," he adds.
Haiyan was a shadow that loomed over Hagupit, especially with such a short span of time between these two storms. "Make no mistake. It may take only weeks or months to rebuild homes, but it will take years to replace lost livelihoods and to heal hearts torn apart by loss," Dondi Joseph writes in 'Moving Forward', the cover story for Zee Lifestyle's Dec.-Jan. 2014 issue post-Haiyan. "We must never forget Yolanda—not only for the sake of those who suffered, but for the sake of those who survived and still live in the peril of more catastrophes—as we all do," his article continues.
Haiyan and Hagupit weren't the first, nor will they certainly be the last. As Dondi states in his article, "Through the devastation, the human spirit is battered but not broken." All the more, while the world praised the resiliency of the Filipinos, the lessons brought forth by Haiyan are ultimately its legacy to our countrymen.
by Patty Taboada
This story is an update on Typhoon Hagupit, as well as a follow-up to Dondi Joseph's 'Moving Forward', the cover story for Zee Lifestyle's December 2013-January 2014 issue.
LONDON IN FULL BLOOM: An Exclusive Look at the recent Chelsea Flower Show
The Chelsea Flower Show in London, one of the most prestigious horticultural events in the world, returned in full glory in May 2023, captivating visitors with its stunning displays and landscape designs. Held annually on the grounds of the Royal Hospital Chelsea in London, this year's show proved to be a true feast for the senses, showcasing an array of breathtaking gardens, vibrant floral arrangements, and innovative landscaping. The 3-day event showcased 36 outdoor gardens, including four balcony gardens for small spaces. Inside the giant pavilion, blooms compete with each other, exotic flowers, roses, and many more.
The 2023 Chelsea Flower Show embraced a Nature's Harmony theme, with a strong focus on sustainability and mental health. The show's organizers emphasized the importance of sustainable gardening practices and biodiversity conservation, inspiring attendees to create beautiful outdoor spaces while preserving and protecting the environment.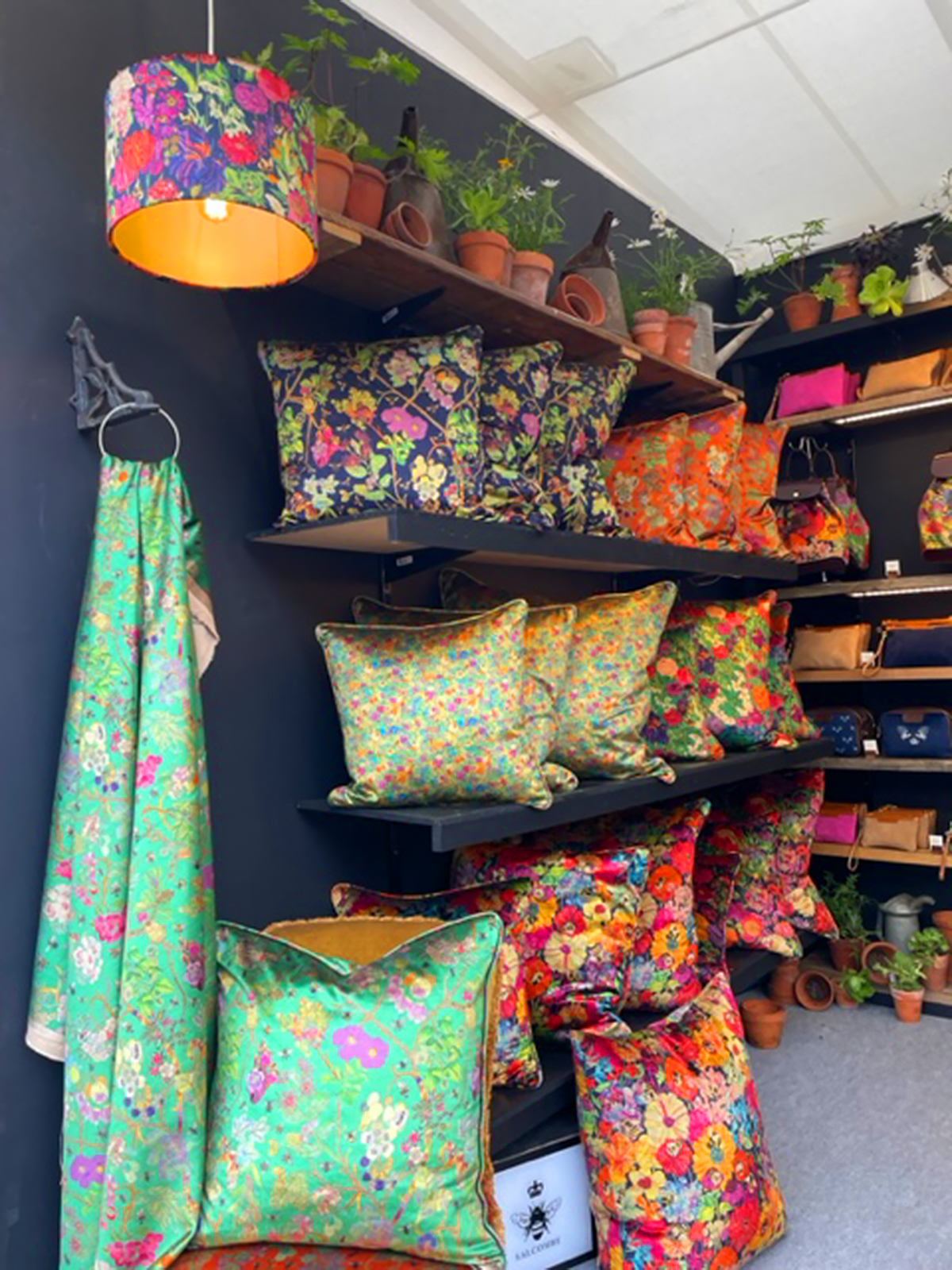 What's Cebu got to do with the Chelsea Flower Show in London? One person. James Doran Webb (https://www.jamesdoranwebb.co.uk), an Englishman working with driftwood, has been displaying his artworks for several years. James collects cast-off driftwood and shapes them into beautiful animal shapes that find places in some of the most iconic gardens. Leaping horses, owls, reindeer, and the occasional dragon, James Webb's creations are avidly collected by landscapers to add accent to gardens in all sizes, using cast-off wood, fitting perfectly with the sustainable element—something Mr. Webb has done quite well for the last decade.
***
The Philippine International Flower Festival will be held at the PICC in Manila from January 14 to 18, 2024. Watch out for more info from our website!