How to survive Sinulog like a boss
Five days to go before Sinulog, and the excitement sweeping throughout Cebu is reaching a fever pitch. It's going to be one hell of a party, so before you hit the streets for the Mardi Gras this Sunday, make sure you'll live to tell the tale. Take it from Cebuanos and Cebuanos-at-heart—they know best.
MANNA ALCARAZ, PR Officer, Marco Polo Plaza Hotel
Pace your drinking. You don't want to be puking and feeling hungover at 3:00 P.M.
Charge your phone and bring a power bank. Since networks might go crazy, try to communicate via mobile data through Viber or FB Messenger.
Be ready to get wet. There's going to be a lot of "beer showers" and actual rain showers. Wear swimwear underneath your Sinulog shirt.
Anticipate that prices will be jacked up because it's Sinulog so bring enough cash but be careful in storing them.
Assign a friend in the group who is not allowed to get super wasted so that they will be in charge of making sure nobody ends up having a naked photo on Facebook or nobody goes too crazy.
REI SARMIENTO-NIÑAL, PR, Events & Accounts Manager, Bigseed Public Relations and Events
'Ziplock' your mobile phones, tab, or any non-waterproof/non-dustproof device you have, especially if you want to see the photos you took during Sinulog the following day, haha.
Plan with your friends and agree on particular meet-up points and time schedules as the network can be very weak during the grand parade.
Dress for comfort. Be in light clothing, wear rubber shoes if possible, and bring some protection from the sun like shades or hats.
Keep yourself hydrated. Don't forget to bring water, or beer, whatever.
The buddy system also helps, just in case one of you passed out.
MAY JIMENEA, PR Assistant, Radisson Blu Hotel Cebu
Dress for the occasion. Sinulog is the mother of all festivities in the Philippines, it's colorful and fun. But it's also the most crowded. So dress properly. Wear your most comfortable t-shirt, shorts and put some sneakers on, because Sinulog means walking, a lot.
Bring the essentials, Carry a small bag or purse with you where you can keep the most important things such as water, a cap or an umbrella (Sinulog weather is unpredictable, it is either really warm or it's rainy), some meds like paracetamol or pain reliever because you just never know. Maybe bring some crackers too, to fill your stomach when you can't find food. You definitely need these things to battle exhaustion from all the festivities.
Study your route. There are many roads closed for Sinulog so you need to know ahead of time where you're going to avoid wasting time. Get on the official Sinulog website and check the routes and alternate routes. Learn where the best place is to wait for a cab or jeepney. This means, planning ahead of time.
Watch the fireworks in a cozy restaurant. For those locals who have been through enough Sinulog but don't want to miss out on the gorgeous fireworks, have dinner in places with roof decks in the city. Find a restaurant that is strategically located to get the best view of the fireworks. This way, you don't have to be in the crowd to enjoy the feel of the festivity.
Rest. Last but definitely not the least; take a deep breath and rest. Take a good night sleep before Sinulog (if you're not partying) because you will need it. The crowd, the weather, the dancing, all of this will make your body scream, so take care of it.
RED DUTERTE, Graphic Design and Entrepreneur, 726 Printing and Design
Hydrate. You're going to be walking a lot in Sinulog. Make sure to replenish your thirst before it's too late.
Comfort is key. In Sinulog, it's better to be under than overdressed (take high importance in your choice of footwear. I laugh at those who wear heels and slippers. Just… don't)
Protect your belongings. Whether it's a waterproof case for your phone or by not brining a wallet, it's always better to be safe than sorry.
Use social media to know where the best events are. Research ahead of time. It helps, trust me.
Leave the drama at home. Flash your biggest smile and shout PIT SENYOR to even your worst enemy (it's only once a year. You can continue hating after)
MICAH ALMAZAN, Assistant Director of Possibilities, A~List Events, PR & Advertising
Don't go.
CHARLENE VIRLOUVET, Instructor, Alliance Française de Cebu
Good shoes. And by good, I mean reliable and durable. It helps that it's cute and fashionable, but keep in mind that your gonna be in those things the entire day and night, and their gonna take a beating. With good shoes, you've got one less thing to worry about and more time to have fun and enjoy the festivities.
If you're with a group of friends with whom you plan on spending the day with, have a designated spot and time in case anyone gets lost. It's gonna be crazy getting from one place to another. Our phones aren't going to be very reliable on Sinulog day. Signal is going to be horrible! At least with a place and time, you're sure to reunite with your friends.
Always keep loose change in your bag or pockets. Having a Php 1,000 bill probably won't get you anything. Have your bills changed the day before. It'll be useful to buy water, go to bathrooms, buy whistles and hats, and food.
Like good shoes, a good bag will get you a long way. Don't bring anything too big. It keeps you from dancing around! Bring a bag that stays glued to your body. Maybe a satchel, a small backpack that you can wear on your stomach, or a fanny pack! Those are cute! Fill your bag with whatever you think you'll need; towelette, alcohol, pain meds, hand mirror, bandaids, etc. Have a bag where you can fit a bottle of water. That way, you'll have no reason for being dehydrated. Nobody likes a party pooper.
Lastly, bring your festive spirit! Sinulog isn't just a day to go out and get so drunk you pass out before the real party starts. Remember to appreciate all the bright colors, the hospitable people (everyone is friendly on Sinulog day!), the parade, the dances, the costumes, etc. It's all quite beautiful if you take the time to look.
Featured image courtesy of LifeDance.
LONDON IN FULL BLOOM: An Exclusive Look at the recent Chelsea Flower Show
The Chelsea Flower Show in London, one of the most prestigious horticultural events in the world, returned in full glory in May 2023, captivating visitors with its stunning displays and landscape designs. Held annually on the grounds of the Royal Hospital Chelsea in London, this year's show proved to be a true feast for the senses, showcasing an array of breathtaking gardens, vibrant floral arrangements, and innovative landscaping. The 3-day event showcased 36 outdoor gardens, including four balcony gardens for small spaces. Inside the giant pavilion, blooms compete with each other, exotic flowers, roses, and many more.
The 2023 Chelsea Flower Show embraced a Nature's Harmony theme, with a strong focus on sustainability and mental health. The show's organizers emphasized the importance of sustainable gardening practices and biodiversity conservation, inspiring attendees to create beautiful outdoor spaces while preserving and protecting the environment.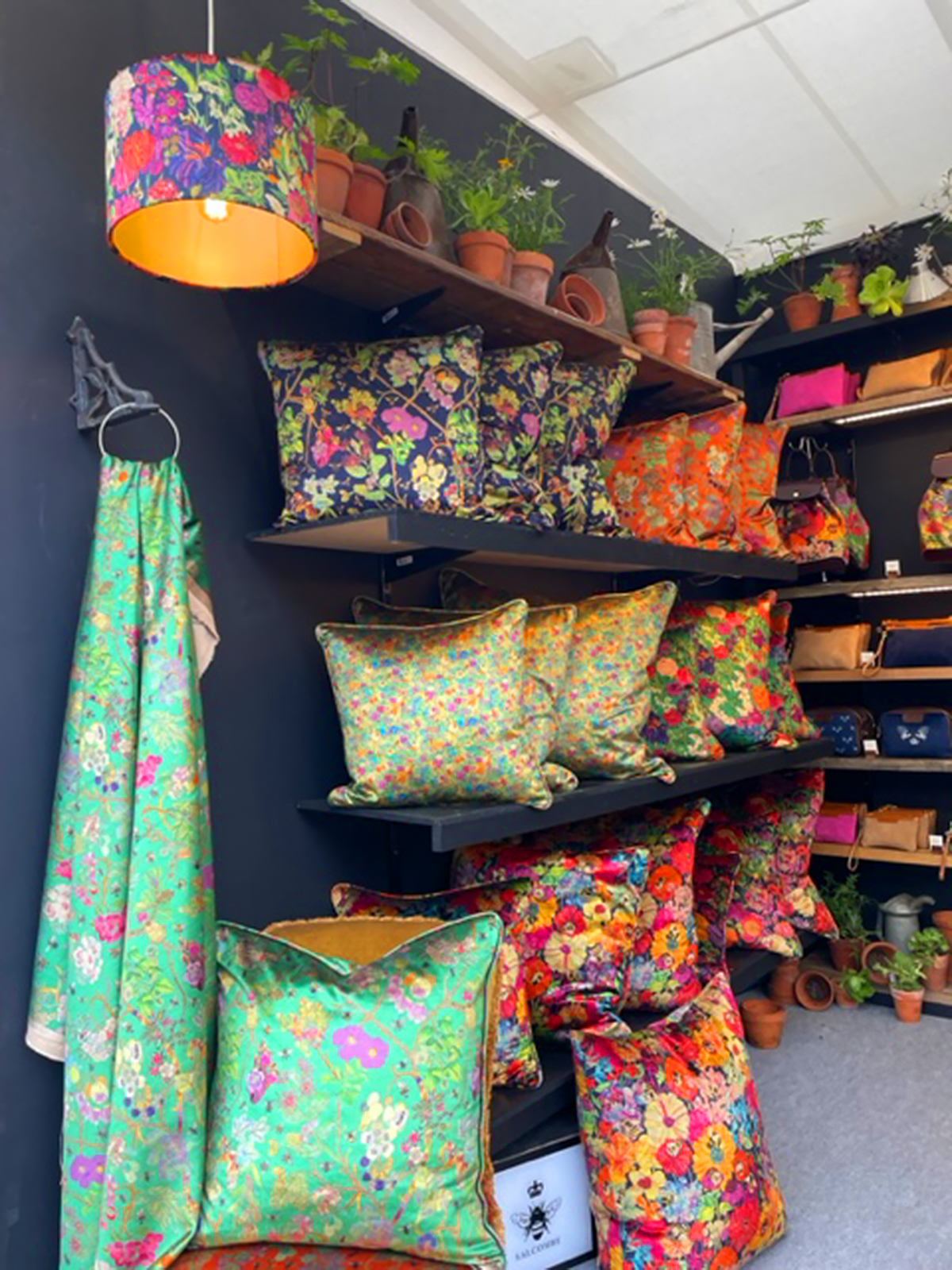 What's Cebu got to do with the Chelsea Flower Show in London? One person. James Doran Webb (https://www.jamesdoranwebb.co.uk), an Englishman working with driftwood, has been displaying his artworks for several years. James collects cast-off driftwood and shapes them into beautiful animal shapes that find places in some of the most iconic gardens. Leaping horses, owls, reindeer, and the occasional dragon, James Webb's creations are avidly collected by landscapers to add accent to gardens in all sizes, using cast-off wood, fitting perfectly with the sustainable element—something Mr. Webb has done quite well for the last decade.
***
The Philippine International Flower Festival will be held at the PICC in Manila from January 14 to 18, 2024. Watch out for more info from our website!