Eats in Cebu: Ralfe Gourmet and The Chocolate Chamber
A few years ago, a quaint house in the quiet neighborhood of Casals Village in Mabolo opened its doors to offer a decadent buffet that showcased surprising creations with chocolate.
Since then, Ralfe Gourmet Chocolate Boutique paved the way for the company's retail arm, The Chocolate Chamber. A charming addition to Cebu's dining landscape, the café elevates the concept of chocolate beyond the usual sikwate and champorado concept, and does so with a little bit of flair.
All their offerings have a touch of chocolate in one way or another. Ralfe Gourmet Inc. produces the local tablea from cacao beans, which they use for their dishes—from the chocolate-infused bread for the sandwiches, to the mole sauce used to cook the sausage for the pizza. Of course, the more conventional ways of eating chocolate, such as cookies and by itself, are also available on the menu.
The Chocolate Chamber made Ralfe Gourmet Inc.'s sinful creations accessible to more people, yet as fans of the early chocolate buffet could attest, the experience was unlike any other. Following a series of private events offering the chocolate buffet, proprietor and Chocolate Queen of Cebu Raquel T. Choa decided to bring back the chocolate buffet this year. "I realized I needed to do this so I can relax," Raquel says. "Imagine, I get stressed and I throw a chocolate buffet!" she adds with a laugh.
Certainly no complaints there. For the moment, the chocolate buffet will happen on a monthly basis with dates yet to be announced, yet for those who can't wait, The Chocolate Chamber is the golden ticket to this chocolate factory.
RALFE GOURMET CHOCOLATE BOUTIQUE
3349 Topaz St., Casals Village
Mabolo, Cebu City
http://www.ralfegourmet.com/
THE CHOCOLATE CHAMBER
President Quirino cor. Magsaysay St.
Barangay Kasambagan, Mabolo, Cebu City
(+63) 917 628 7661
by Patty Taboada
Read more about The Chocolate Chamber in Zee Lifestyle's July 2014 issue.


Hilarious Series ramps up with Season 2
These two comedy series are now airing their season 2 programs.  Highly acclaimed and are must-watch rib ticklers in our opinion.
Resident Alien 2: starring Allan Tudyk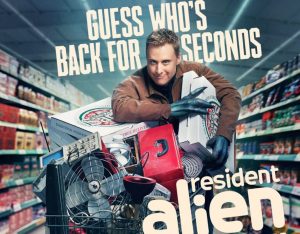 Space Force 2: starring Steve Carell