Doughnut Do-over
With doughnuts that are loved throughout the world, Krispy Kreme goes glo-cal and collaborates with internationally-trained Cebuano managing director and corporate chef of the Laguna Group of Restaurants, Raki Urbina.
With doughnuts that are loved throughout the world, Krispy Kreme goes glo-cal and collaborates with internationally-trained Cebuano managing director and corporate chef of the Laguna Group of Restaurants, Raki Urbina. Always pushing for native ingredients like ube jalaya and fresh macapuno, he had as much fun coming up with the recipes as we did trying them.

Take the lead from Cebu's trusted chef and put a creative spin on your favorite Krispy Kreme doughnut, it's fun to make and so good to eat any time, any day.
Champorado-glazed Doughnut
11 AM Brunch bonanza
Why choose one when you can combine two of your favorite comfort food? The champorado is a childhood favorite of many Filipinos and smearing it over the oldie-but-goodie KK Original Glazed is a stroke of genius. Chef Raki tops it off with kesong puti from Laguna. The fresh and surprisingly light bite of the carabao's cheese goes incredibly well with the sweetness of the tempered chocolate. This, the softness of the dough and the crunch of the pinipig in the champorado make it a winner in taste and texture.
Dougnut Sorbetero
3 PM for merienda
When it's hot outIt was most challenging for Chef Raki to find flavors that countered the sweet goodness and distinct taste of Krispy Kreme doughnuts but he found that the mild flavor of buko evens this out. He cooked coconut meat in coconut juice and draped slices atop the KK Original Glazed doughnut. He then added a scoop of fresh homemade buko sorbet, similar to the kind the friendly Manong Sorbetero would push around in his colorful ice cream cart. He sprinkled toasted pinipig and latik syrup to further enhance the local taste.
Savory Salad with a Beef and Cheese Pull-apart
Early dinner, 7PM
Besides their 'sweet-tooth' selection, Krispy Kreme also offers savory Pull- Aparts that are easy to pair with any meal. Chef Raki chose the Beef and Cheese Pull-apart to go in the salad he creates using the freshest salad greens, feta cheese, walnuts, pears and tomatoes. For his dressing, he opts for a sharp tasting port-raspberry plus fresh strawberry pureé with a little fresh honey to add some kick to the beef.
Doughnut ala Halo-Halo
After dinner dessert, 7PM
Halo-halo is the benchmark for all Filipino desserts. It has everything so why not throw in a KK Original Glazed doughnut for good measure? Chef Raki thoughtfully incorporates the doughnut and adds richness to the dessert. Using a nipped pastry bag, Chef Raki dresses the doughnut with a generous amount of ube jalaya. He then carefully places a slice of leche flan and a ball of fresh macapuno (available in bottles for sale in U Kitchen) on top.
U Kitchen is located at the Laguna Culinary Center Bldg., Veterans Drive corner Torralba Sts., Lahug.
Ampao, Manga at Tsokolate
10 PM, Midnight Snack
Revamping the trifecta of Suman, Manga at Tsokolate, Chef Raki wraps ampao in fresh mango slices, the Filipinos' version of rice crispies. He rests it on the doughnut hole and sprinkles chocolate syrup over the KK Original Glazed doughnut. Every bite is packed with sweet (doughnut), tangy (mango) and nutty (ampao) flavors and is worth investing 200 calories in.
by Katsy Borromeo
photography Dan Douglas Ong
Hilarious Series ramps up with Season 2
These two comedy series are now airing their season 2 programs.  Highly acclaimed and are must-watch rib ticklers in our opinion.
Resident Alien 2: starring Allan Tudyk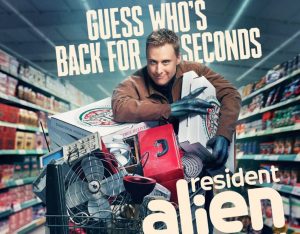 Space Force 2: starring Steve Carell
The Batman… now showing in theaters.
The Batman starring Robert Pattinson and Zoe Kravitz is now showing in selected local cinemas.  Critics' reviews have been good and it's a fresh intense take on the Batman story. They says it's a thinking man's version and I can't  disagree.  Catch The Batman now showing at Ayala Center Cebu and  SM City Cebu cinemas.
Imagene Bar Opens, Overlooking the City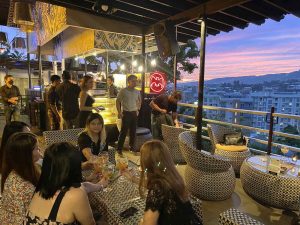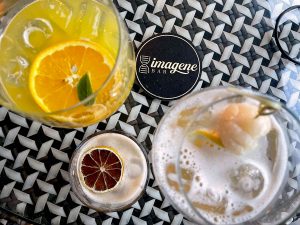 Enjoying some down time with a cocktail drink in hand among friends and a great view of the cityscape doesn't get any better at the newly opened Imagene Bar. If you've been meaning to find the right after-hours place, then head no further than Imagene Bar – a cozy enclave tucked along the hill-side of Nivel Hills on Cebu Veterans Drive.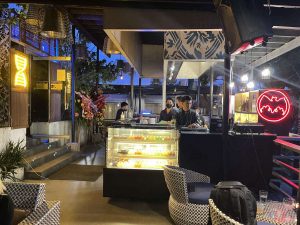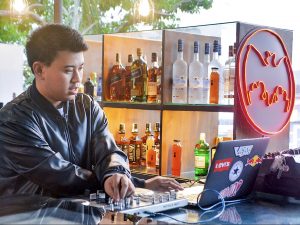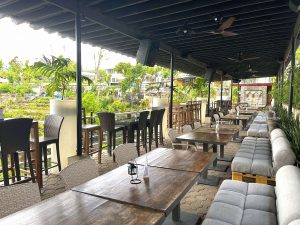 On the menu you'll find over 60 drinks and cocktails as well as some delectable Bar Chow put together by Imagene Bar founder Eugene Dy who's been serving up bottled cocktails online with a mobile event bar after a stint at the Spago in Marina Bay Sands Singapore.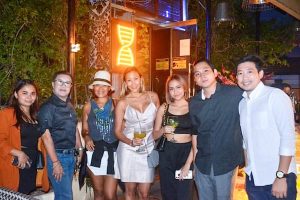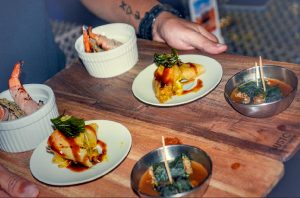 Imagene Bar accommodates up to 80 guests and is open Tuesdays to Sundays. Bar hours are from 5pm to 2am but it's best to make reservations on weekends.