The Pink House
The Pink House, with a vast garden, sitting in the heart of the city at the gateways between the North, South, and West, is an ultimatum of function and form mixing the old with the new.
Cebu is a city that bridges the past and the present. The Queen City of the South, with its strong pre-Hispanic heritage and colonial history is at present the most progressive city in the country. Amidst the fast growing development and changing architectural landscape of Cebu, one iconic house belonging to an old Cebuano family has withstood the proverbial test of time. A witness to the changing of guards of Cebu society, "The Pink House," as known to many, has transcended from a family home into a cultural hub and haven for both local and international Cebu residents called "La Maison Rose."
William Morris tells us in the Hopes and Fears for Art, "If you want a golden rule that will fit everybody, this is it: Have nothing in your houses that you do not know to be useful, or believe to be beautiful." The Pink House, with a vast garden, sitting in the heart of the city at the gateways between the North, South, and West, is an ultimatum of function and form mixing the old with the new.
Completed in 1939, the art deco abode was the home of young couple Jose Velez and Juanita Velhagen. Jose's mother, Doña Esperanza Velez y Paulin gifted them with the Lahug property, while Juanita's German relatives contributed funds for the construction. It had been host to occasions of all sorts; intimate dinners, birthday celebrations and anniversaries. "When I visited, it looked like the house was frozen in time; as if it hadn't moved. It seemed like it had history and a past, and that is what I loved instantly about the house," says Louis Thevenin, the Director of Alliance Française de Cebu (AFC), and the new tenant of the house. Founded in Paris in 1883, the Alliance Française was the first and now the largest collection of non-profit French teaching associations with local committees interdependent to each other, springing up around the world, with the Cebu branch instigated in by Michel Lhuiller, the honorary consul of France to the Philippines.
COMING UP ROSES We wanted to keep the fixtures of the house, from the windows to the flooring. I think that's what made the owners of the house decide on giving us the lease." The house was occupied by its heirs until 2006 and had stood empty until 2012.
Most visibly, they kept its color. "To be honest, we thought about changing the color, but when someone would ask me where is it, I always say it's the pink house beside the Mormon temple and everybody would know where it is. Why would you change it when everyone knows about it? I think it's as simple as that."
Aptly called La Maison Rose, the new AFC center holds three main functions and Louis tells us it is futile to try to compartmentalize them. "All of the things Alliance Française encompasses should be taken in as a whole." The Pink House serves as a French cultural center where art exhibits, film screenings, and shows are held. Most recently, an art exhibit entitled Liberte held on Bastille Day, featured artists from the Cebu Artists Incorporated, including Cebu-based Parisian artist, Remy Rault. It is also the headquarters for their French language school with 2000 enrollees spread through out the city at the center and at different universities.
But most exciting to curious connoisseurs and oenophiles is the La Maison Rose' restaurant headed by two young chefs from France. The restaurant promises to be a culinary fête, with the belief that the best way to get to know a culture is through the stomach, serving classic dishes like quenelles using local fish and French lechon religiously cooked for eight hours with San Miguel beer. Prices also promise to keep your wallet in tact; a stereotype they wish to address on the price of French cuisine.
"The French are not heavily engrossed in the consumerist culture," say Delphine de Lorme, the woman behind the interiors of La Maison Rose. "We like our antiques; and when something is broken, we fix them; we don't just throw them away and get a new one." Delphine's pop art paintings were exhibited in Singapore, Hong Kong, Seoul and London. She recently collaborated with designer Lani Pasquet on the interiors of GILT artisan lounge in Cebu. Looking for inspiration, the team behind Alliance Française wanted to embody its mission of introducing French culture. In this case, a theme best represented by Indo-chine (French Indochina, an imperial age territory spanning from what is now known as Vietnam, Laos, and Myanmar) and Shanghai in the 30's.
The team behind La Maison Rose had outright said, "The entire renovation focused on keeping intact the 'soul' of the house and to accentuate its 1930's ambiance. The idea was never to remodel the house but to return it to its original." Nothing in the house is brand new with most being old and forgotten pieces that were given "a second life." Guests enter into the house through French doors with lion head knockers painted red. The original tiles carried over after the renovation spread throughout the floor, while the eye-catching walls in Tiffany blue set the room's calm ambience without forgoing it's vibrancy. Spread throughout the restaurant, vintage posters from Shanghai adorn the walls in tangerine, red, and black frames. Lampshades made out of zoetrope of La Tour Eifel and other symbols of French and French-Asian culture light up the corners of the room, whilst paper lanterns set the lounge aglow. Once belonging to Michel Lhuillier, the piano, painted white, sits by the main entrance. The high chairs reupholstered with fabrics from Vietnam bring the room back to its roots. A glance towards the ceiling exposes the house's quirks with vividly colored parasols used as lamps, hand carried from Vietnam by Delphine herself. The sliding doors, bought in an old shop downtown and restyled, lead to the private dining room adorned with a Brigitte Bardot collage in Delphine's signature art nuovo and Sakura flower wallpaper in blush.
The color pink has always been significant to the French. "Pink is the color of love. To live La Vie En Rose means to look at life in a happy way," says Louis. With its novel concept, quirky interiors and excellent French food, you're sure to leave the pink house with a smile.
by David Jones Cua
photos courtesy of Alliance Francaise de Cebu
Photography by Romain Rivierre

EATZ Cebu Quarterly Magazine is available as a room amenity in most major hotels, resorts and restaurants in Cebu. With a food-centric editorial voice, EATZ Cebu is the first publication to introduce readers to the current dining scene in the island of Cebu. Advertisers will appreciate its wide audience reach of printed copies, a digital edition as well as social media posts. Click or tap the cover below to view the copy:
All the Best Romantic Deals and Offers in Town this Hearts Season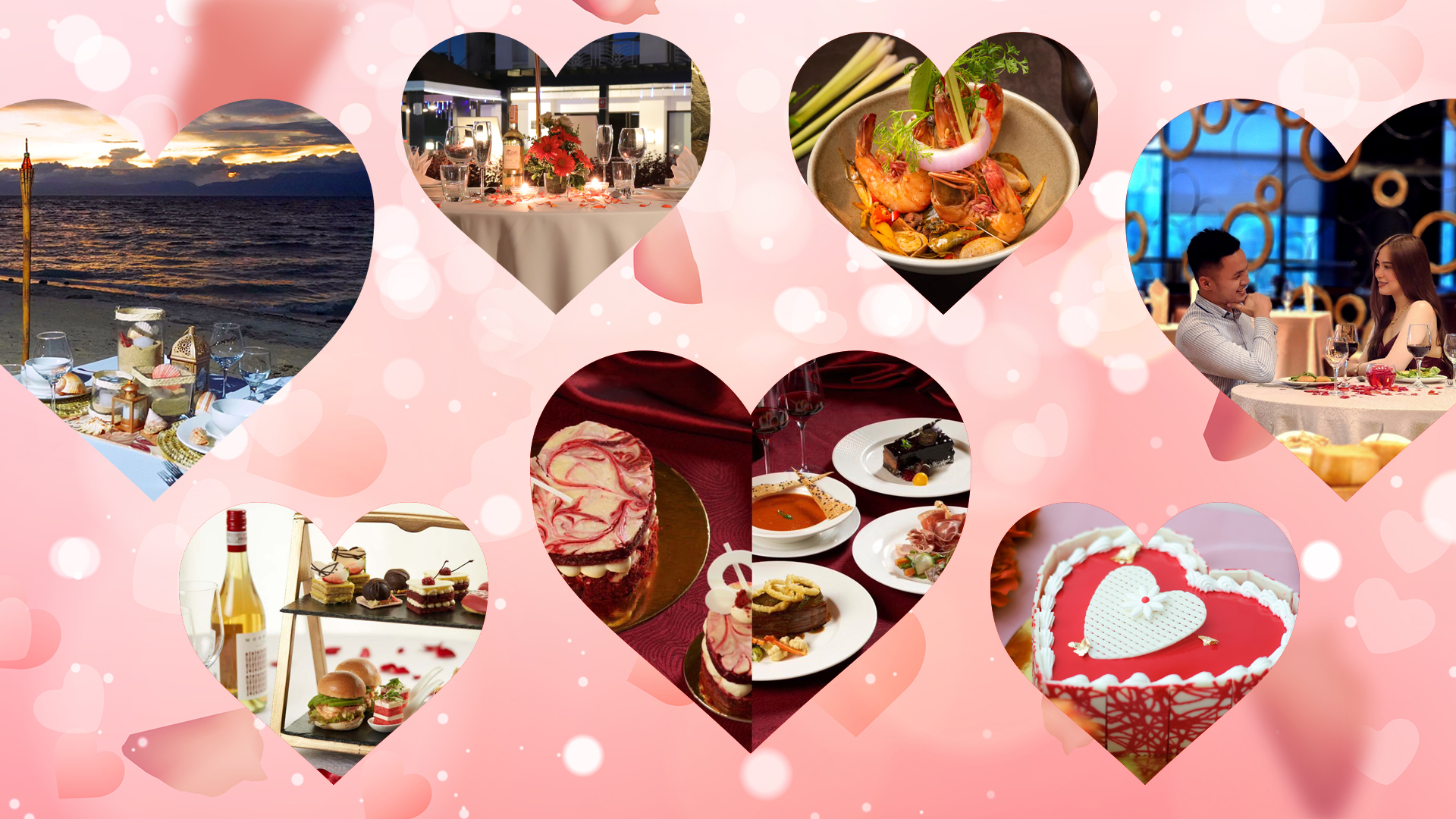 We compiled the best romantic deals and promos for those who want to make this year's Valentine's Day extra special.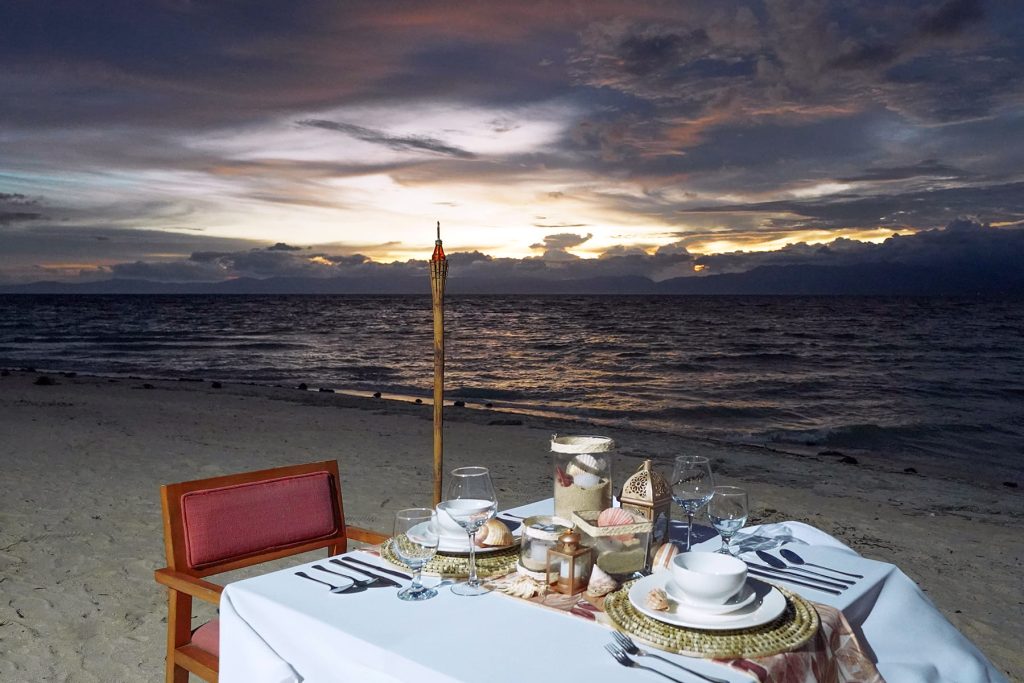 1. Make it a Valentines to stir your heart and soul at Club Serena Resort. This Valentines, paint a beautiful love story in Club Serena Resort in Moalboal, Cebu. Delight in discounted room rates when you pair your stay with a five course romantic dinner by the splendid Tañon Strait. Your stay includes turndown service with a romantic set-up, while dinner includes Angus steak, a glass of wine, and a long stemmed rose for the lady.
ROOM SALE. Book 2 room nights for the price of 1, or 3 room nights for just a little over. This offer, and more, are available today until Sunday at the Cebu Travel Catalogue International 2023.
Get luxurious savings on your bespoke resort getaway!
See Club Serena Resort at booth 48 of the Cebu Travel Catalogue International 2023 in the Activity Area of Ayala Center Cebu on February 10-12.
To find out more, send a private message on their Facebook page or call 0917-872-6367.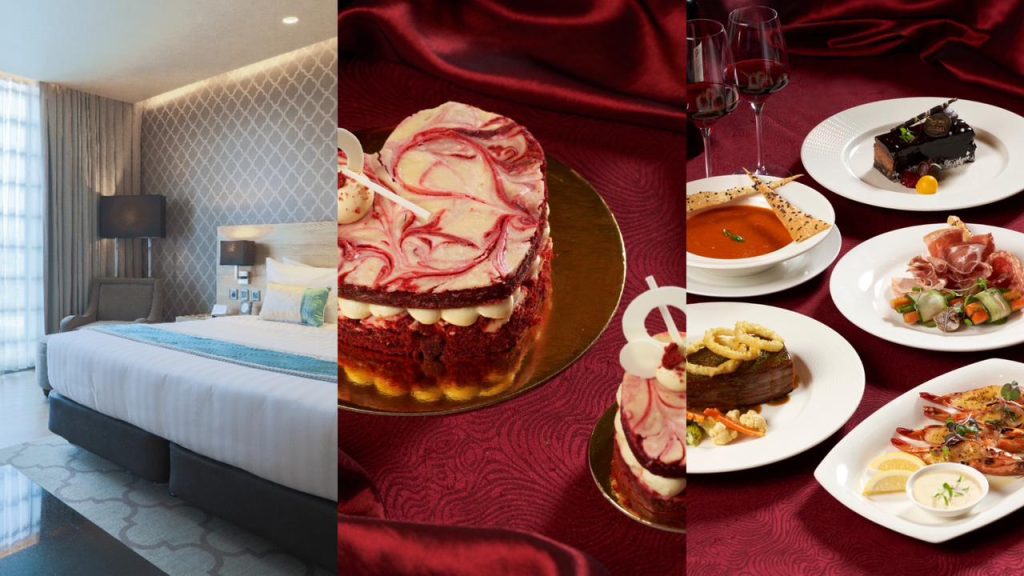 2. Hearts Season at bai Hotel Cebu
Celebrate Love in style with our Valentine's Day feasts and staycation promos at bai Hotel Cebu. Indulge in a romantic evening with your loved one with our delicious and carefully curated romantic-themed set menus, available exclusively on 14 th of February. Our chefs have crafted a selection of the finest dishes to make your intimate moments unforgettable. Get ready to fall in love all over again this Valentine's Day with our romantic room special. Treat your significant other to a night of luxury and relaxation in one of our spacious and well-appointed rooms. Happy Valentine's Day from bai Hotel Cebu!

Room-antic Special Home is wherever I'm with you. Express this season of love the definition of home with your favorite person. Create staycation memories of romance and lush in our well-appointed rooms this 01 to 28 February 2023. Promo period starts 25 January 2023 to 28 February 2023.

The Deluxe Room is priced at Php 4,888 nett per night, Premier Room is priced at Php 5,888 nett per night, and the One-Bedroom Suite is priced at Php 6,888 nett with the following inclusions: breakfast for two (2), Php 500 worth of F & B credit – can be used in any outlet(stay-in), unlimited WiFi access, complimentary use of the outdoor infinity lap pool and free use of the fitness gym. Terms and conditions apply.

Seasons of Love: Valentine's Day Set Menu and Feast offers on 14 February 2023
Get struck by Cupid's Concoction. Elevate your romantic gestures with five course set menu of fine dining, stylish, and upscale steakhouse that serves the finest custom-aged USDA prime beef and other meats alongside an exquisite selection of wine. Marble + Grain will be serving its Valentines set menu on 14 February 2023 at Php 2,500 nett per person. This will include one (1) glass of house red wine or white wine.
Lounge in Romance and Zest this Season of Love at our Lobby Lounge where perfectly curated five-course set menu brings you gastronomic wonders from elegant meat arrangements to zesty seafood classic. Paired with two (2) glasses of red or white wine at Php 4,200 nett sharing for two(2). The Lobby Lounge will be serving the set menu on 14 February 2023.
Finally, you put my Love on Top! Take the fleeting moments 23-storeys high with our Valentine's Day Set menu at Twilight Roofdeck Lounge + Bar. A four-course set menu and Alfresco lounge and bar for your dreamy skyline date with a 360-view of the city, all retailing for Php 2,100 nett per person. Twilight Roofdeck Lounge + Bar will be serving the set menu on 14 February 2023.
LOVE FEASTS. Make your Valentine's Day feast a memorable one with our signature gourmet dishes from Marble + Grain Steakhouse in bento-style closer and more accessible to you. Share precious memories with loved ones and friends with these hot meals that can be enjoyed anytime, anywhere! A 24-hour prior reservation is required.
Fall in love with flavors from around the world at Café bai this Valentine's Day. Indulge to our heart's day themed buffet of gastronomic wonders whether for lunch or for dinner. Lunch hours is 12 NN to 2:30 PM at Php 1,288 nett per person and Dinner is on 6 PM to 10 PM at Php 1,499 nett per person.
DRINK OF THE MONTH: SEASALT CREAM LATTE/BERRY COOKIES MILK TEA
This season of love, experience coffee mixed with decadent cream cheese and sea salt. Intrigue your palette with sweet specialty of berry and cookies blended to satisfy every Milk Tea lover. Taste the complex flavor of sweet with a hint to salt of Seasalt Cream Latte at Php 250 nett, and berry sweet delight of Berry Cookies Milk Tea at Php 200 nett. This Drink of the Month is available from 6 AM to 10 PM daily at Wallstreet Café + Bar.
COCKTAIL OF THE MONTH: GARDEN OF LOVE
Experience a walk in the Garden of Love with every sip of this perfectly curated cocktail with your lover. Perfect notes of agave bouquet, essence of rose, delicate aroma soft elderflower, citrus notes from Hibiscus tea, a hint of bitterness and fragrance from our homemade lavender bitters. You'll be wanting for more of this drink at Php 320 nett available at Marble + Grain Steakhouse, Ume Japanese Cuisine, Lobby Lounge, Twilight Roofdeck, and Pool Bar this 14 February 2023.
CAKE OF THE MONTH: RED VELVET CHEESECAKE BROWNIE
You can never go wrong with Red Velvets on Valentines Season. The queen cake of velvety texture, sweet vanilla, and tanginess from buttermilk now in chewy brownie and cream cheese layers to keep it simply sweet this Valentines Day. Have your Red Velvet Cheesecake Brownie this Season of Love whether for sharing or for one at Php 600 nett for 6-inch-wide cake and Php 250 nett for small cake. This Cake of the Month is available from 6 AM to 10 PM daily at Wallstreet Café + Bar.
For table reservations, orders, and further information, you can call bai Hotel Cebu at (032) 342 8888 or (032) 355 8888 or (032) 888 2500 or message them on Facebook at bai Hotel Cebu.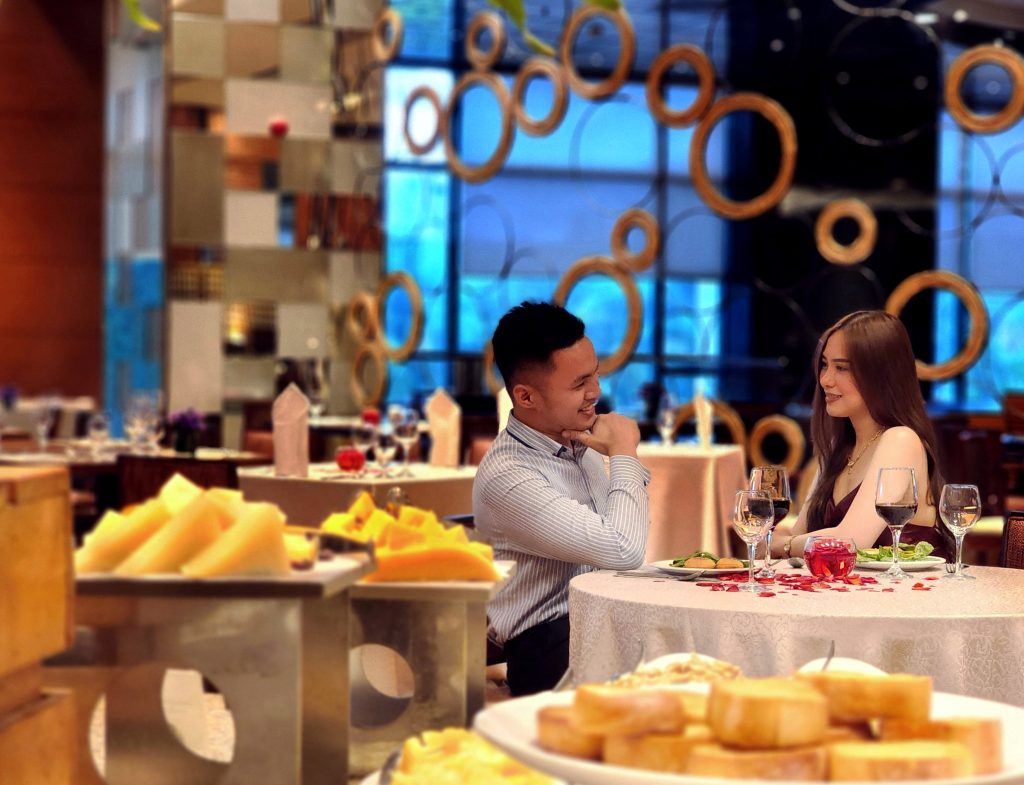 3. There's a Lot to Love at Radisson Blu Cebu.
Radisson Blu Hotel Cebu embraces the month of love with a full program of indulgent and themed offers from the Lobby Bar and Feria restaurant all the way to room service.
Spill the tea over Dilmah Arana teas and refreshingly-filling bites with Afternoon Tea at the Lobby Bar. Served from 1:00 PM to 5:00 PM this month for only PHP 999 net for 2 persons, it's a relaxing way to enjoy your favorite person's company to highlight your day.
For daytime drinking, and well into the night, a series of limited-edition beverages are ready to pique your interest: a coconut-rum-based cocktail, to a strawberry puree mocktail, and a dark chocolate frappe, available all month in the Lobby Bar and the Pool Bar, sweeten any toast to more beautiful memories.
For buffet lovers, Feria restaurant embraces Parisian highlights for Valentine's day, in an ode to the city of love. Beef bourguignonne, duck confit, and ratatouille in the European station join the Japanese, Filipino, Indian, Mediterranean, and Chinese stations featuring Feria's beloved international fare, together with signature paella, whole lechon, and roast US beef. Finish off with crepes as we bring back the crepe station for one night only. Valentine's day dinner buffet on February 14 includes 1 glass of red or white wine and free flowing beer, for just PHP 2,500 net per person.
For a more private experience, the garden welcomes couples to dine under the stars from 6:00 PM to 10:00 PM. Carefully prepared by the hotel's award-winning kitchen team, a 4-course dinner with wine-pairing is the true answer to romance. Asian tuna tartare with mango and miso tahini dressing paired with a chardonnay to start; porcini mushroom soup followed by US braised rib of beef with red wine, fondant potatoes and asparagus, is paired with a cabernet sauvignon; and white and milk chocolate entremets with fresh strawberries is complemented by a lambrusco dessert wine. Dinner under the stars is PHP 3,500 net per person, while live acoustic music serenades guests and ladies receive a special gift.
Romantic rooms service is brought to a whole new level, this month, with a plethora of breakfast favorites including freshly-baked pastries, sliced fruits, waffles or pancakes, fresh salmon, and eggs made how you like it can be arranged at PHP 1,999 net. Level up the romance with a bouquet of roses and a bottle of sparkling wine, sold separately.
Each day can be Valentine's Day, all February, at Radisson Blu Hotel Cebu.

For reservations and other inquiries, please call 032 402 9900 or e-mail rhi_rdce@radisson.com.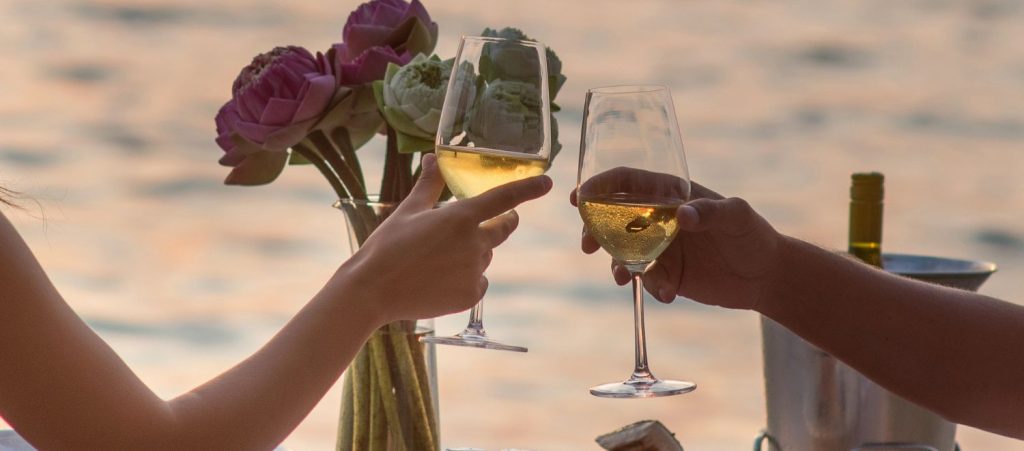 4. A Seaside Rendezvous in Shangri-La Mactan, Cebu
This Valentine's, go on a sweet escape at Shangri-La Mactan, Cebu with your loved ones and have your fill of delightful culinary creations and blissful experiences in any of the 5-star resort's sought-after restaurant outlets.
A Private Seascape Romance
Take pleasure in a dreamy experience overlooking the cerulean blues at the Observatory. This February 14, dine with flair in a scenic and private space, while you feast on an exquisite 6-course menu for two complemented by a bottle of sparkling wine and romantic tunes.
A Coastal Seafood Date at Cowrie Cove
Enjoy the cool breeze, ambient lighting and piquant specialties by the sea with your beau, as you revel in Cowrie Cove's Cupid Surf & Turf Platter from February 10 – 14. Delight in lobsters, prawns, groupers and more— for a truly filling date night!
A Romantic Sojourn in Acqua
This Season of Love, spoil your Mi Amore with blissful selections and taste your way through a romantic tropical evening in an indoor or Al Fresco setting. Revel in Acqua's well-loved Tomahawk Platter, Smoked Salmon, and more with their set menus for two persons.
All for Love: A Valentine's Day Buffet
The real way to someone's heart is through their stomachs! This Valentine' Day — love well, dine well and go on a gastronomic feast with Tides' hearty dinner buffet selections, featuring the Canadian Lobster, Wagyu Rump and decadent, themed desserts priced at Php3,500++ per person.
A Starlit Date by the Beach
See love in the stars and feel it through the coastal breeze, as you dine with your significant other under Mactan's tropical starlit skies. Delight in Breeze Bar's grilled local BBQ specials, perfect for casual conversations by the beach. The grilled set is priced at Php5,000++ for 2 persons.
Sweet Treats for Two
Who doesn't love calm afternoons, with a dash of romance?
This February 10 – 14, spoil your loved ones with exquisite afternoon delights, while whispering sweet nothings amid the golden hour. An intimate setting perfectly paired with delightful treats like French Macaroons and Cherry Scones. The Afternoon Set is priced at Php 1,488++ inclusive of sweets, savories and a pot of coffee or tea.
For table reservations, contact (032) 2310288. You may also follow them on Facebook and Instagram or visit https://www.shangri-la.com/en/landing/mactan-seasonal/
5. Romantic Offerings at Seda Ayala Center Cebu
For those planning to celebrate ahead of the crowd, Seda Ayala Center Cebu's Stay Two-Gether promotion is the best deal—leave the romantic Valentine's room setup to them. They're also throwing in a complimentary bottle of wine, chocolates, and a red rose for the lady. Rates begin at Php6,000 net for a Deluxe Room.
On Valentine's Day, indulge in Love Bites, a gastronomic four-course dinner that is sure to delight your tastebuds. For Php4,000 net for two (2) persons, the dinner includes an appetizer, soup, main course, and dessert trio. Welcome drinks and glasses of wine await!
Their Romantic Rendezvous is the ultimate package beginning at Php9,000 net—aside from being able to lounge in the comfiest accommodation with a beautiful Valentine's room setup, you also get to enjoy their four-course dinner, Love Bites.
Can you feel the love in the air already? We're just as excited as you are.
For inquiries or reservations, please feel free to contact them through their trunkline at (032) 411 5800.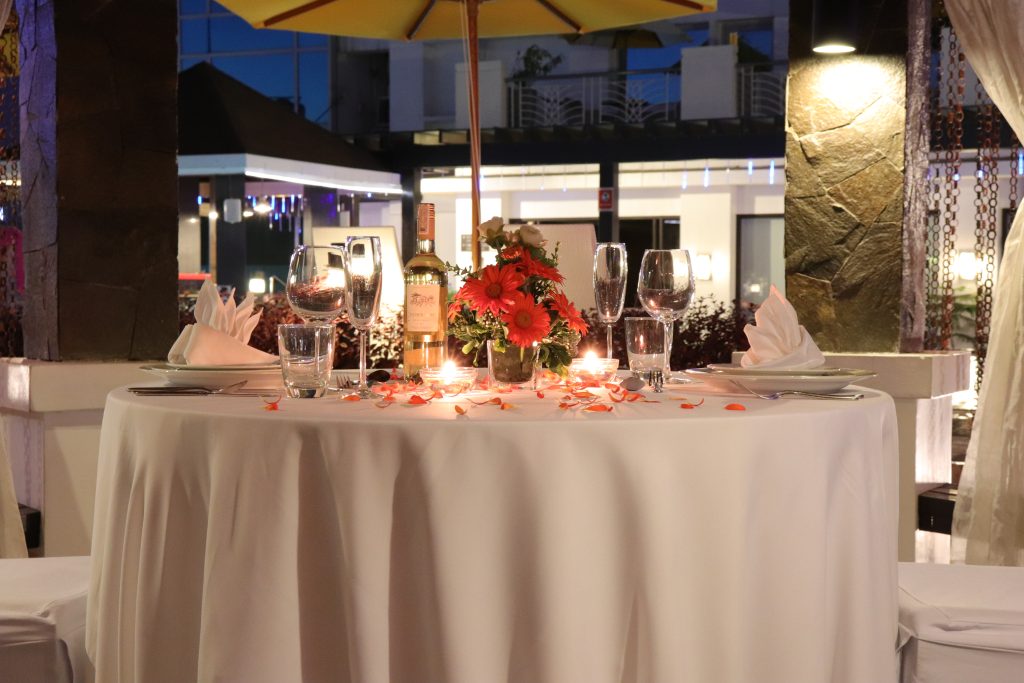 6. Love is in the air at Quest Hotel Cebu and Conference Center
Avail of the Power of Two romantic room promotion for some much-needed down time with the one you love. Make this Valentine's Day doubly special with accommodation for two, a five-course dinner for two in the room, and two glasses of red wine. Choose to have a romantic dinner on the balcony when booking a Premiere Room, and have a romantic setup in the Executive Suite complete with a bath strewn with rose petals. Couples have the option to linger over their five-course dinner by the pool, serenaded by live music. Power of Two room packages begin at Php10,000 nett and include a beautiful rose for the lady, breakfast in the room, or buffet breakfast at Puso Bistro.

Celebrate all types of love, including self love. Pamper yourself with the Indulgent Comfort room package, inclusive of a two-hour in-room massage, movie library with popcorn, and Kir Royales at the Pool Bar for the ultimate solo staycation. Indulgent Comfort rates begin at Php4,900 nett inclusive of breakfast in the room or buffet breakfast at Puso Bistro. For a romantic evening, choose Made for Two, a romantic dinner by the poolside with 5-course dinner.
If celebrating with family, there's no better way than spend it at Puso Bistro and Bar for a feast of all-time favorite Filipino and International specialties.
To reserve a table call Puso Bistro at 09989615734. Valentine room packages are valid for stays during the whole month of February on book and buy basis and subject to availability. Reserve through questhotelsandresorts.com/cebu or walk in at the hotel on Archbishop Reyes Avenue. Follow them on Facebook.com/CebuQuestHotel and on Instagram @questhotelcebu for the latest updates.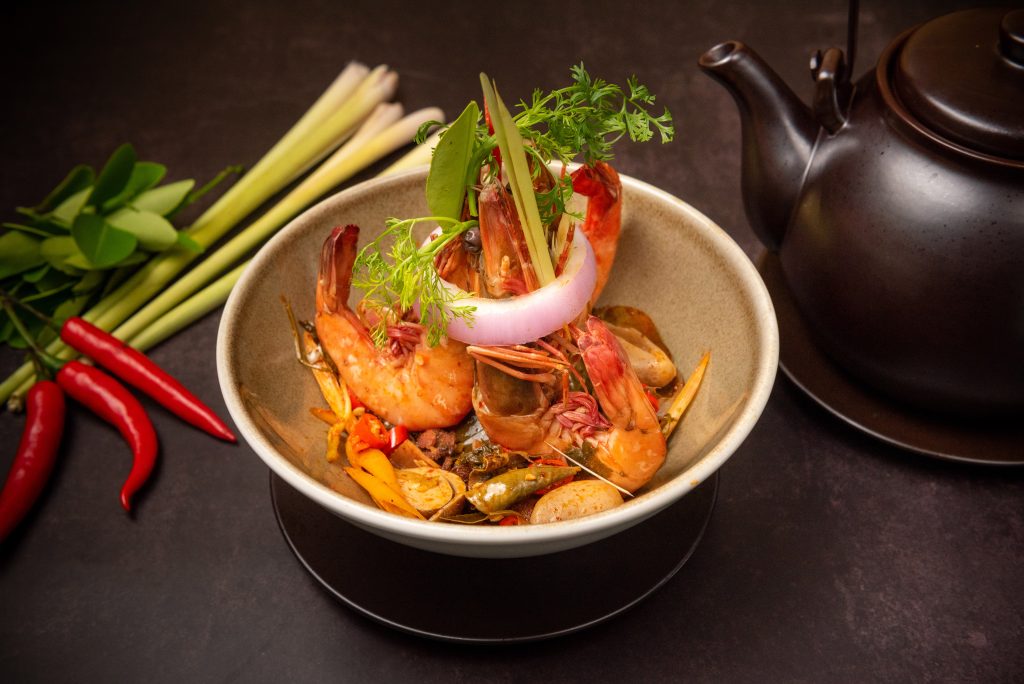 7. A Special Valentine's at Benjarong in Dusit Thani Mactan Cebu
Relish a special authentic Thai seven-course set dinner for Php 5,000 net per couple with a glass of sparkling wine and a live music performance on Valentine's Day.
For table reservations, please call them at (+63) 32 888 1388 or email at benjarong.dtmc@dusit.com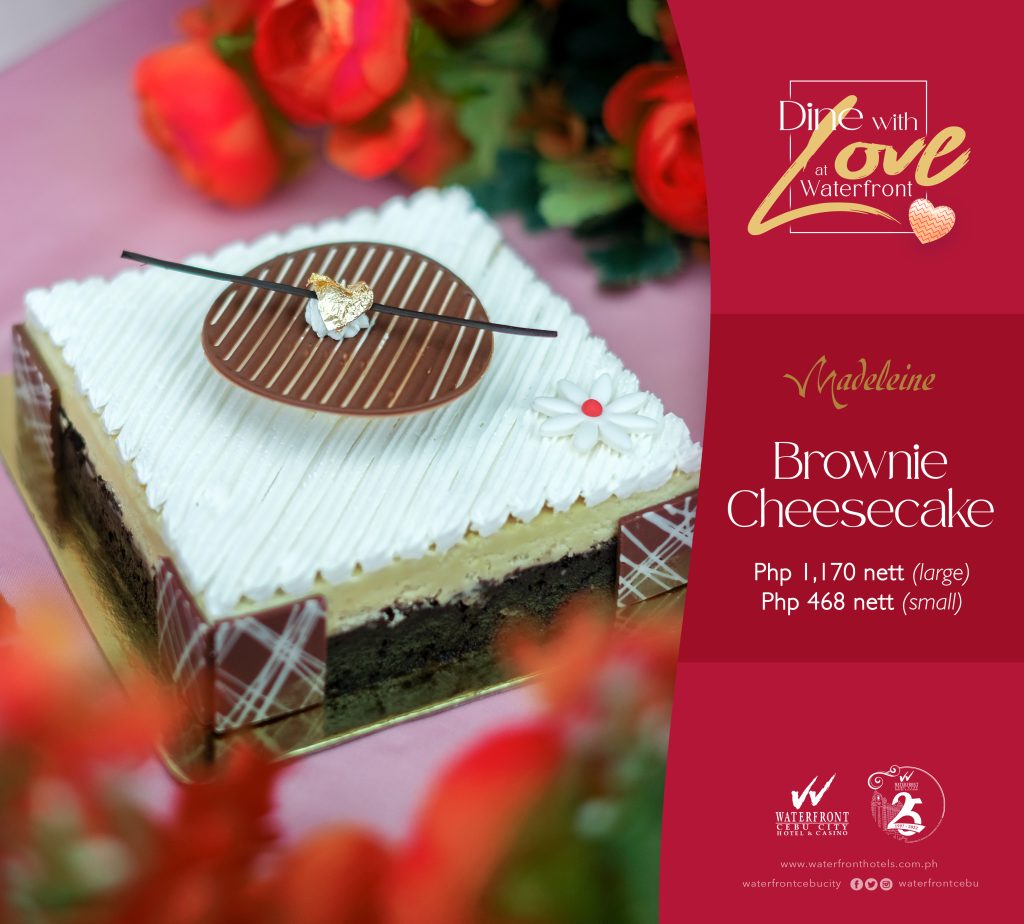 8. Stay & Dine with Love at Waterfront Cebu City Hotel & Casino
Take your partner's hand and stay in love with Waterfront's stunning room rates inclusive of a honeymoon set up, buffet breakfast for 2 and assorted pralines. Get this charming deal starting at a rate of Php 4,000 valid from February 14 – March 15, 2023.
Fall in love all over again as you stroll along Waterfront's gourmet walk for a variety of intimate dining offers.
And to make your Valentine's more romantic, our wine offers are here to create the perfect pair with our lovely dining offers. You may choose between a bottle of Cabernet Sauvignon and Sauvignon Blanc or have a glass to yourself.
Bring home the sweetness of a creamy mousse cake with a vanilla pistachio sponge in between, covered in red glaze and topped with white chocolate for Php 1,200 nett. If you're craving cheesecake, then we got you! You can avail the large Brownie Cheesecake for only Php 1,170 nett and small for Php 468 nett. It's the perfect gift idea to complete your Valentine's experience by treating the people you cherish most.
To know more details and to book our room and F&B promotions, click on the links below:
https://bit.ly/WCCH-RoomPromos
https://bit.ly/WCCH-Dining-Offers.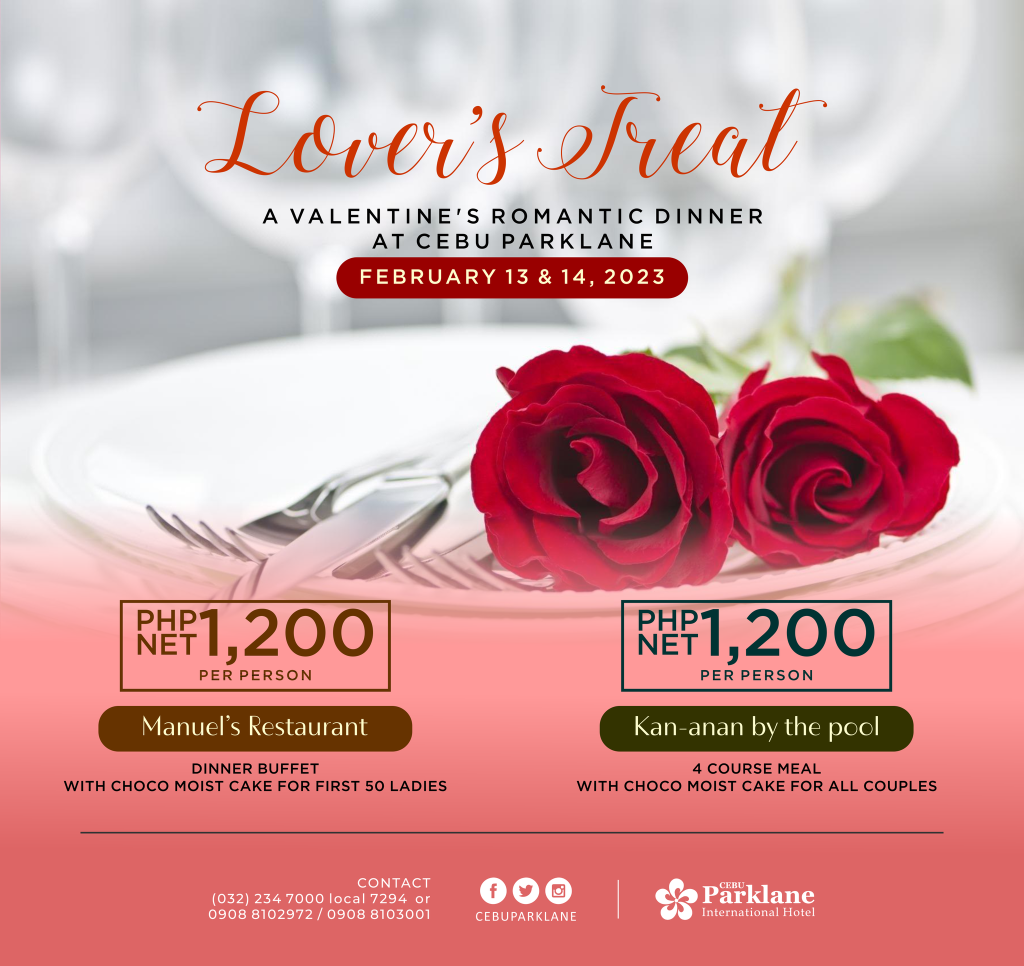 9. Love struck at the Cebu Parklane International Hotel
Cebu Parklane is all about love! And we're not just talking about the romantic kind. We're also big fans of the love you show for your family, friends, loved ones and even your coworkers—which is why we're offering some great deals on Valentine's Day.
We're celebrating by offering these special promotions on February 13 and 14, 2023:
Manuel's Restaurant Dinner Buffet – 𝐏𝟏,𝟐𝟎𝟎 w/ Choco Moist Cake for all couples
Kan-anan 4-course Meal – 𝐏𝟏,𝟐𝟎𝟎 w/ Choco Moist Cake for the first 50 ladies
For inquiries and table reservations, contact us thru these numbers: (032) 234-7000 local 7294 or 0908 810 2972 / 0908 810 3001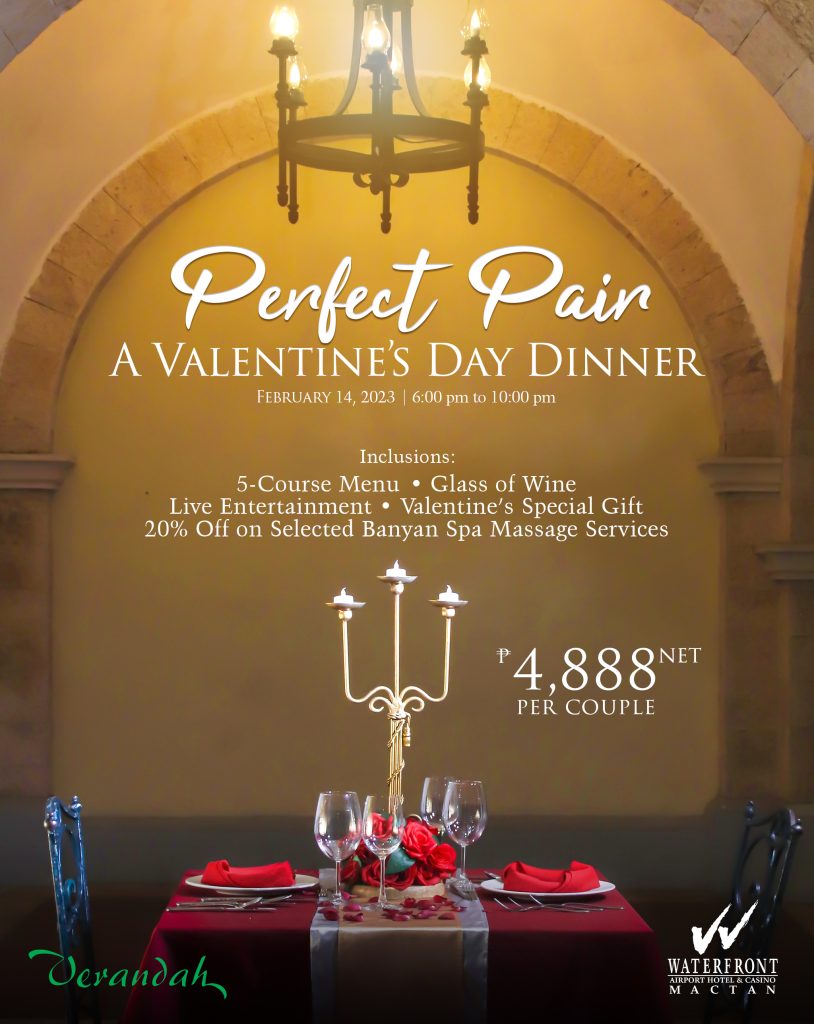 10. A Perfect Pair at Waterfront Airport Hotel & Casino Mactan
Savor the warm feeling of love at Waterfront Mactan's Perfect Pair Valentine's Day Dinner! For only Php4,888 net per couple, enjoy a 5-course menu, glass of wine, live entertainment, a Valentine's Special Gift and 20% off on selected Banyan Spa Massage services! What's not to love?