Constellation Prize: 'Miss Bulalacao' to premiere at this month's Cinema One Originals Festival
With his face suffused in shadows by the dim lighting, he stood nervously on the stage that evening, in a dress. It was Biliran's town fiesta and amassed before him—or her, as he would prefer—was a crowd of uninterested men and women and giggly children. Dodong knew this final question was pivotal to the pageant's Q&A, one that could possibility hold the key to dreams coming true.
"Motherhood," he replied, without realizing that his answer to what makes a woman had birthed a bundle of extraordinary events for the new Miss Bulalacao.
Directed by Ara Chawdhury, winner of the grand prize at the Sinulog Short Film Festival for her Operation Prutas earlier this year, Miss Bulalacao is a finalist—and the only entry from Cebu—for the 2015 Cinema One Originals Film Festival.
Teaming up on this project are award-winning cinematographer Christian Linaban and producers Jill Anoba-Yap and Bianca Balbuena through Cinema One Originals, Panumduman Pictures, Above the Line Productions and Epic Media. Ara wrote and directed Miss Bulalacao with inspirations from several indie films, the popular video God-game The Sims, and her own childhood experiences in her hometown in Naval, Biliran, where the movie was shot.
Pregnant and bored, the young filmmaker was looking around her mom's village for something to shoot. "Our helper's family was living with us; and an addition to the household was the maid's stepson, a flamboyant and proud boy," Ara recalls. "I was aware that the husband beat up his wife time and again. It wasn't hard to imagine then why the boy had stopped singing à la Regine Velasquez every morning, knowing his father had a short temper and heavy hand. I thought to myself, maybe if he were the pregnant one, his dad would go easy on him."
Miss Bulalacao is a black comedy featuring a young drag queen (Dodong) who joins a barangay gay pageant with the hope of gaining acceptance in his father's eyes and in his community. When he does win, Dodong's dad remains hostile and the nod of approval he had anticipated never came. Instead the father runs after Dodong, who flees to a jungle where he cries his heart out to a single shining star. Instantly, there's a flash of white light. What follows are the strangest nine months of his life as Dodong finds himself pregnant. The whole barangay, now abuzz with rumors of a miraculous encounter or an alien abduction, ridicules him.
Ara says the satire intends to send a message of respect—for all people, their individuality and their roles in society. The film depicts the effects of community sentiment (whether positive or not) on an individual, as well as the culture and attitudes of the people of Region VIII. "Regional stories are important fibers in Philippine cinema because of the little stories that we don't hear in the cities we live in," says Bianca, one of the producers. Ara adds that Region VIII is one of the poorest in the country, even before typhoon Haiyan. "I am hoping this film sheds some light on the culture and attitudes of people who have to survive on family bonds and community spirit, and how the individual suffers for this imbalance."
The film stars Cebuano performer Russ Ligtas in his first lead role in a film. Russ says of the experience, "Even as someone who is part of the LGBT, shooting the film revealed so many things about my own prejudices. I am humbled to be part of it." The cast includes Chai Fonacier, Ferdinand Mesias, Tessie Tomas, Nanette Inventor, Mon Confiado, Jeff Ogario, Nikki dela Paz, Ronyel Compra, Paz Tabueldan and Tita Cris. Tomas, who is a native Waray speaker, says it was a chance to reconnect with her heritage. "Miss Bulalacao is a cleverly wacky story that challenges our beliefs on faith. I am proud to be a part of it," she says.
Miss Bulalacao will premiere at the Cinema One Originals Film Festival on November 9-17, 2015. See screening dates below:
Wednesday, November 11, 2015 (gala premiere)
7:40 p.m., Trinoma
Thursday, November 12, 2015
12:30 p.m., Glorietta
10:00 p.m., SM Megamall
Saturday, November 14, 2015
1:10 p.m., Resorts World Manila
2:45 p.m., SM Megamall
4:50 p.m., Glorietta
Monday, November 16, 2015
12:30 p.m., SM Megamall
Tuesday, November 17, 2015
12:30 p.m., Glorietta
3:30 p.m., Trinoma
by Rusel Apa-ap sittings editor Patty Taboada photography Mark Philip Dales
makeup Romero Vergara hair Jessie Egos locale Qube Gallery
Originally published in Zee Lifestyle, October 2015


Hilarious Series ramps up with Season 2
These two comedy series are now airing their season 2 programs.  Highly acclaimed and are must-watch rib ticklers in our opinion.
Resident Alien 2: starring Allan Tudyk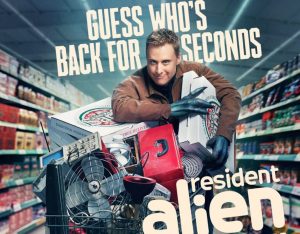 Space Force 2: starring Steve Carell