7 Modern Filipino Movies to Add to Your Bucket List
The Filipino movie is worth dying to watch for and the future is bright for Philippine cinema! The Philippine movie industry has proved itself to be a promising feat, especially with the rise of new and talented filmmakers.
With the likes of Antoinette Jadaone (That Thing Called Tadhana and Love You To the Stars and Back) and Sigrid Bernardo (Kita Kita), these filmmakers have created themselves players of a "new game" in the Philippine movie industry, experimenting with uncommon storylines and techniques, and screening them to public theaters in areas where masses usually gather.
Although the much-loved rom-com is still a popular genre, several Filipino movies involving action and thrill proved it could create stimuli among the perceptive Filipino audience.
Since June is the month to wave the Philippine flag with honor, what better way to complete this month-long celebration than to add these to-die-for flicks that will make your #ProudlyPinoy heart skip a beat? So treat yourself to a break, invite some company and pop in these movies that will no doubt give you a great time.
Going on a movie marathon by yourself or with friends and family is not only a fun way to bond, but also a way to support locally produced films and to truly appreciate the Filipino mind.
We listed down some movies recommended by family and friends. Some films on this list may be something you may have watched already (Tick them off to your list, then!) So pop that corn, get a large drink and sit down because these movies are going to blow your mind, while simultaneously poking that proud Filipino heart of yours.
100 Tula Para kay Stella
Directed by Paul Laxamana
100 poems = 100 reasons why the stuttering boy loves the girl in the black lipstick.
Psychology freshman and poet, Fidel, meets and falls in love with fellow freshman Stella, a rocker who prefers her band than her studies. Having difficulty to express his affection due to his stuttering, Fidel secretly writes her 100 poems in a fleeting course of four years.
Meanwhile, Stella goes through a rough patch in her life. The only thing she wants to achieve in her life is to score a record label and be the most famous rock star in the country. Along the way, she struggles to find love and her true self, oblivious to the fact that one person has set his heart for her.
This heart-wrenching film is one unforgettable story. And since everyone loves a heart-breaking story, it's no wonder that this was the most suggested one of the bunch. The film depicts love in its most sincerest and silent forms, and how it could turn things around in the most unexpected ways.
Heneral Luna
Directed by Jerold Tarog
The ultimate decision between self and country.
The year is 1898, and the Philippines has just been declared independent from the Spanish colony. Yet, a new problem arises our revolutionary leaders– the Americans. General Antonio Luna, with his great love of country than of himself, fights tremendously to save the Philippines from yet another foreign colonizer, and sees beyond the Americans' sweet advances that entices his fellow leaders.
Heneral Luna takes us way beyond what we've learned from our History classes. It's one of the most brilliant historical films produced in the Philippines. If you have seen this film, then you must agree on me on that note. If you haven't, then I've got three words for you: Watch. It. Now.
That Thing Called Tadhana
Directed by Antoinette Jadaone
Where do broken hearts go? It takes you where you were meant to be.
Anthony and Mace meet at a rather unpleasant situation; Mace cries over which of her belongings to let go while relating everything to her recent breakup, while Anthony finds himself lending a hand to the poor lady at the airport in Rome. Upon arriving in the Philippines, they go on an unexpected journey to find a way to mend their broken hearts
On their journey, they help each other forget their own disappointment and heartbreaks in recent and previous events, while developing a closeness that deepens as they get to know each other more.
With its quirky statements and cheesy "hugot" lines, That Thing Called Tadhana will make you believe in love again. The film stirs from the usual Filipino love story format seen in commercial films with its simplicity and realistic vibes, the reason why audiences were captivated by this unlikely story. It catapulted to the success and recognition of Jadaone as a fierce and upcoming director of Philippine cinema.
Love You to the Stars and Back
Directed by Antoinette Jadaone
Their love goes where the road takes them; part of it involves getting captured by aliens.
Mika, an eccentric and awkward girl, set out for a road trip after feeling out of place at home. She decides to go to Mt. Milagros, a place her mother used to talk to her about, to get captured by aliens. Along the way, she accidentally meets Caloy, a good-humored boy and decides to give him a free ride until he reaches his destination.
Mika is surprised when she learns that Caloy has cancer. Despite his condition, he accepts this and remains positive and joyful. They both embark on a series of adventures and misadventures that unexpectedly leads them to a memorable romance even at such a young age. They eventually arrive at their destination, learning an important lesson on love and life.
This movie is another setback for Barreto and Garcia, this being their second movie as a tandem. They have really spiced up audiences with their charm and chemistry, even with the simplicity of the storyline. Jadaone has yet again turned herself away from the usual rom-com and delivered.
Patay Na Si Hesus
Directed by Victor Villanueva
This is not a road trip movie; this is a funeral.
Iyay informs her three adult kids that their estranged father, Hesus, has passed away. Despite the reluctance of her children, she pushes them and her sister Lucy to join her on a road trip from Cebu to Dumaguete to attend the funeral
This Cebuano dark comedy was one of the crowd favorites during last year's Pista ng Pelikulang Pilipino film festival. Jaclyn Jose, having won the Best Actress award at the 2016 Cannes Film festival, takes a different take from her usual dramatic roles. In this film she proves that she can also do the comedic role. So put on your seatbelts, and take the dreary but funny road to Hesus' funeral.
Kita Kita
Director- Sigrid Bernardo
A heartwarming story of an unlikely couple who meets and proves to themselves that love is not blind.
Lea, a Filipina tourist guide who lives in Sapporo, Japan loses her eyesight after seeing her fiancé cheating on her. As she lives her life in temporary blindness, she encounters Tonyo, her neighbor who is also Filipino. Tonyo tries to cheer Lea up by doing her a few favors. Once he gained her trust, the both of them visit Sapporo's tourist destinations.
On the night that Lea finally regains her eyesight, she sees Tonyo happily waving at her from the other end of the street, but he gets hit by a vehicle afterwards. Days after, Lea visits Tonyo's house and discovers a lot more about Tonyo. Later on, she revisits all the places she and Tonyo used to go, carrying with her always a blindfold.
With this unlikely duo, this movie shows you that love is truly unconditional. It knows know condition or circumstances; it is as it is. Be prepared, though, because tears may also be involved when watching this film.
Ang Larawan
Directed by Loy Arcenas
A high-price bidding war of an unlikely masterpiece. In song form!
A throwback to the American colonization of the Philippines, this movie was based on a play titled Larawan by national artist Nick Joaquin. The film circles around two sisters, Candidad and Paula Marasigan, who find themselves in a financial crisis after their father, Don Lorenzo was caught in a recluse and has stopped painting for a long time now. To get some money, they take in a boarder named Tony Javier.
Meanwhile, a self-portrait made by Don Lorenzo sparks the interest of many high-profile personalities. Although the bid price could help them ease their way out of their financial problems, Candidad and Paula fear that they will lose such a precious treasure from their family. From there on, the two sisters shall choose between family and stability.
This is a perfect film to watch with your family, especially that the story surrounds one as well. Aside from that, it also gives a clear picture of the lifestyle of that time, when materialism and consumerism were on the rise. With an original score composed by the iconic Ryan Cayabyab, this Filipino musical will surely captivate you.
Cebuano Pride: The National Museum of Cebu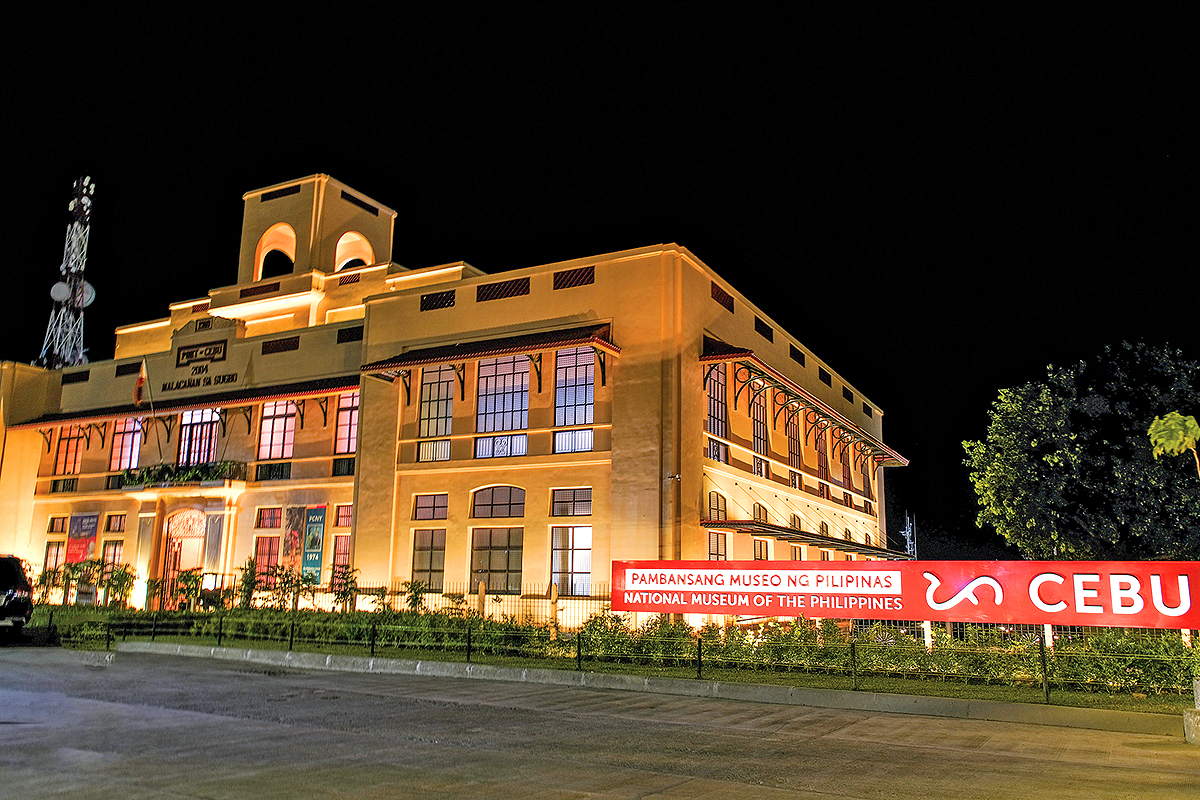 Pride of Cebu
By Eva Gullas 
photos courtesy of DOT
"With the National Museum of Cebu, the cradle of Christianity in the country, we open the doors to a temple in history and culture, inviting tourists and locals to witness our archaeological and natural treasures. The NMP-Cebu is not just a museum but a bridge to our past and a window into our future," declares Christina Frasco, our Secretary of Tourism, at the ceremonial opening last July 28.
Located at the heart of the city's historic port area, the former colonial Customs House, built in 1910, was transformed into an elegant edifice worthy of the city's place in history. It was in Cebu where the Spanish conquistadors first landed in 1521 and where Magellan met his end at the hands of the local chieftain Lapu-Lapu. Starting August 1, the National Museum of Cebu will open its doors daily from 9 am to 5 pm except Monday.
Worth checking is the first floor, where a few art pieces from national artists like Cebu's own Martino Abellana, Fernando Amorsolo, and Jose Joya take pride of place. On the right wing are finds from archeological digs found all over the islands. Called Ang Karaang Sugbo or Old Cebu, they include a gold death mask and ancient vases from China. There's also Kinaiyahan: Cebu's Natural Wonders, which features an impressive wall containing the different layers underneath our soil. There is also a display case that interactively showcases the various elements around the area, like gold, copper, and gypsum. Another wing is Paglawig: Cultural Movember Across the Seas, showcasing the islands' maritime history and sea bounty, including rare shells.
It is on the second floor, though, where the museum shines. Up the grand staircase, guests are greeted by Elmer Borlongan's massive Battle of Mactan, facing a facsimile of the Sta Maria galleon, Magellan's flagship. Then on to a limited-time exhibit on loan from the Philippine Center New York Core Collection of 1974, a treasure trove of almost 90 paintings collected by former First Lady Imelda Marcos, including Ang Kioks, Sanso, Manuel Rodrigues, and many more representing both avant-garde and classic Filipino masters. The New York collection is only available until March 2024 and is not to be missed.
The National Museum Cebu has been years in the making, and this cultural milestone has finally been made possible under the new administration of President Ferdinand Marcos Jr., who famously said during the inauguration, "I am a museum fan, and I can stay in art museums for hours and hours." He added, " museums are considered valuable natural assets to a nation as they build a sense of community, document history, inspire creativity, promote tourism, and unite people through a shared heritage." Kudos to the National Museum Board of Trustees, chaired by Andoni Aboitiz and Museum Director Jeremy Barnes, for this cultural gift to Cebu!
The Uncommon Traditions that Mexicans and Filipinos share when celebrating the Day of the Dead.
Dia de los Muertos
By Allain Dumon Fonte
The 2nd of November is All Soul's Day, a holiday that is very important to many Filipinos to remember our loved ones who passed on. This is also widely celebrated in Mexico as "Dia De los Muertos" or in English, "The Day of the Dead". And Mexicans celebrate the 2nd of November grander than they celebrate Christmas. Well, you can witness it from the Disney movie, "Coco".
As All Soul's Day or Dia de los Muertos is about to end, here are some interesting traditions and superstitions that Filipinos and Mexicans share:
1. IT IS NOT ON THE 31st OF OCTOBER
Dia de los Muertos or All Soul's Day is not practiced on October 31st or on the Hallow's Eve as many other western cultures practice; but we celebrate it on the 2nd of November. We celebrate November 1st as All Saint's Day or the Day of the Holy, while in Mexico they call it Dia de los Innocentes or Dia de los Angelitos to commemorate the children who died too early in life.
2. THE RITUAL
Both in Mexico and in the Philippines, we visit the grave of our loved ones and we clean it well. This is a ritual to honour their resting places and to let them know that they are never forgotten.
3. FLOWERS INVITE SPIRITS
In Mexico, they believe that the scent of flowers attract spirits. So the flower offerings are invitation to their dead loved ones to visit the living families. While in the Philippines, we believe that flowers offered to the dead exalt the souls and somehow fill in the sadness that we feel when missing our dead loved ones.
Most of the time, Filipinos choose all-white flowers to offer because white is the absence of colour, which means the absence of Joy and happiness. White also symbolises purity of soul which we hope our dead loved ones will attain as they journey to heaven. While in Mexico, they have the yellow Mexican marigolds as the official flowers of the dead that will guide them in their journey to the afterlife.
4. THE LEGEND OF THE MONARCH BUTTERFLIES
Both cultures believe that monarch butterflies are dead loved ones who visit us and show their appreciation that we have not forgotten them. A presence of monarch butterflies also means that our dead loved ones are always there guiding us and looking after us.
5. A PICNIC IN THE GRAVEYARD
Spending a night at the graveyard and picnicking with the rest of the family may sound very creepy to many; but to both Filipino and Mexican cultures, picnicking and spending a night at the cemetery is a must to show our love to our dearly departed. It is the only time in the year that families gather and tell stories of the dead loved ones and how colourful or how great their lives were.
6. FOOD FOR THE DEAD
In Mexico, they have what they call "ofrendas" or an altar where the pictures of their dead loved ones are displayed and offered with flowers, candles, and their favourite food. Very similar to the Filipino culture of cooking the favourite food of our dead loved ones and everyone in the family enjoys the food for dinner.
My family tradition involves me driving all the way to Colon street and buy that famous Snow Sheen's "pancit canton". This is my granddad's favourite snack. Sadly, the old Visayan Restaurant is no longer there. My late uncle and my late grandpa love their sweet ad and sour fish. We also set up an "ofrenda" on their graveyard and eat their favourite food while picnicking in the cemetery. We do not spend a night in the cemetery; but while we are picnicking there, we usually play the songs of Pilita Corrales and Susan Fuentes that my late grandpa used to listen every afternoon while enjoying his coffee, pan de sal, and pancit canton.
What about your family traditions? Share your thoughts by commenting to this article.
MODEL: Michael Joseph Mortola Enriquez & Alexis Wingfield
PHOTOGRAPHER: Gianne Paolo Anciano
HMUA/DESIGNER: Hazel Ocaba
STYLING: GPA Lifestyle + Clothing
Catch Ted Lasso the Emmy Award Winning Comedy Series on Apple TV+
Rating: *****/ *****
The multi award–winning comedy series airing on Apple TV+ is one of my favorite shows.  Ted Lasso starring Jason Sudeikis is about a fun good-natured American football coached hired by a British soccer club (AFC Richmond in London) to become their new coach.  In spite of the fact that Ted has no experience or knowledge about British football/soccer, his positive demeanor and charm helps him overcome the animosity of the team's players, staff and fans.  Eventually Ted wins over the team and the locals as they fight for position in the English Premier League.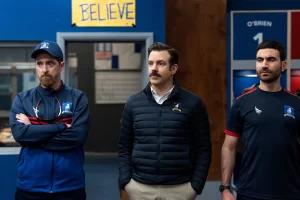 The show won the 2021 Primetime Emmy Award for Outstanding Comedy Series and 7 Emmy Awards in its 2 seasons and Season 3 is just around the corner.  You can catch Seasons 1 & 2 of Ted Lasso on Apple TV+