Cebu Country Club
Nothing exudes exclusivity in this city as the Cebu Country Club where members have to be invited, and non-desirables are blackballed. The roster only allows for 800 members at any one time. Much like how the Polo Club and Manila Golf Club in Forbes Park functions in Makati, the Cebu Country Club serves the same purpose to the chosen few among Cebu's two million residents.
Nothing exudes exclusivity in this city as the Cebu Country Club where members have to be invited, and non-desirables are blackballed. The roster only allows for 800 members at any one time. Much like how the Polo Club and Manila Golf Club in Forbes Park functions in Makati, the Cebu Country Club serves the same purpose to the chosen few among Cebu's two million residents.
Since early last year, change was in the air. A court battle lasting almost twenty years was won and a contentious election for a new set of officers was put behind.
The storied club was started during the American colonial period to serve the needs of the officers and their families. It was known as the United Service Country Club and was incorporated as a non-stock, non-profit organization in 1928, headed by William Palmer, an American who worked for the Philippine Railways. The members were composed mostly of Americans and the British expats, working for companies like Standard Oil, Smith, Bell and Co., Cebu Portland Cement and other foreign interests. A few locals were invited to join, most notably the brothers Ramon and Vidal Aboitiz, Jose Avila and Sergio Osmena Sr. It was expensive to join, the entrance fee was P75, while monthly dues were set at P15 per month at a time when one peso can feed a whole family for a day.
The US Country Club as it was known then, was located in what is now F. Ramos Street and contained a basic 9-hole golf course. When F. Ramos Street was being built, the club had to vacate, and the members relocated to Lahug near the UP area. They built another golf course around a one-room clubhouse with a bar. A piano and a phonograph were installed for its members. By the early 30s the city again decided to build a road to dissect the site, prompting the members to finally decide to buy their own property. A 53 hectares land that was part of the immense tract called the Banilad Friars Land Estate encompassing what is now known as the northern part of the city, from Banilad all the way to Mabolo and Lahug, was found. It was owned by the family of politician Tomas Alonso, who purchased it in 1911 as part of the Friar Lands Act that distributed large tracts of land for sale to the Filipinos. In an insightful newspaper article written by Patricia M. Alvarez in the 60s, the writer interviewed Don Ramon Aboitiz who recalled a Chartered Bank transaction of P25,000 as payment for the sugar land, a transaction that was to become the bone of contention sixty years later.
By 1937, the new clubhouse was finished with nipa roof and a second level. A 9-hole golf course, a badminton court and bowling alley were added, while the dance hall became the center of frequent social gatherings especially during American holidays like the Fourth of July and Thanksgiving. Despite dirt roads leading to that remote part of the city at that time, the area leading to the club was soon turned to residential villages for the members and their families.
The Japanese occupation in 1942 brought a halt to the club's activities, and its facilities were used briefly by the Japanese, and later demolished to supply materials for their barracks.
After the war, Captain CJ Martin, who was then the club president, restored what was left of the club, using his personal resources at times. The remaining red cement floor became the patio for the new clubhouse that was formally opened in 1948 as a 2-storey building with a dance hall in the second level. By then, the officers decided to rename it as the Cebu Country Club, opening its doors to invite more members, including a few Filipinos and some American GIs who had decided to stay in the country. Captain Martin was a Southern gentleman and together with his wife Charlotte, loved to entertain. During the holidays, his household would serve eggnogs to the guests.
Amidst disputes regarding costs and the firm objection of Captain Martin who wanted to keep the club mostly as a gentleman's club, a swimming pool was added in 1958. A professional club manager was hired soon after. In 1968, the golf course was expanded to 18-holes, and a Wednesday evening cocktails became a cherished tradition for the members. More importantly, the 60s ushered the entry of more locals to the club, and in 1965, the first Cebuano, landowner Antonio Paulin became president. He was succeeded by Celing Fernan, Hank Aboitiz, Cheling Garcia and Hugo Streegan during that decade. During the sixties and the seventies, Rosebud, whose husband the former Cheling Sala, was also a one-time president, recalls, "at the time, it was more or less the foreigners' place. We had Casino Espanol and Club Filipino, so it was sort of a divided thing. But then more members were accepted. Our husbands were all very active. They had a group that, after office, they would come here to chat, exchange pleasantries, and the women would play. So it was really more of a socials club, with the children using the pool, while the ladies would play bridge."
With the city's rapid development after the war, the members had again outgrown the postwar clubhouse, and plans were set in motion for a larger one. To finance this, the club finally yielded and agreed to issue 800 proprietary memberships or POCs in 1970. Julius Neri, who was among those that bought the original subscription, remembers the fuss as most members complained at the offering price of P3,000 per share despite being offered at installment terms. The money raised helped build the current clubhouse. The rambling ranch house style with its slab roof was finished in 1981 and done by noted Architect Toto Unson. In one of her trips to the US, Rosebud Sala, who works closely with the architect as an interior decorator, mentioned a clubhouse in Missouri with one side designed for golfers and the other half was for entertaining. From that conversation, the great ballroom, still very much in use to these days, was designed. Thru the years, it had undergone several renovations and additions. Another uniquely sensible design was to situate the clubhouse close enough to the greens, and the club's wide patio was made into an open coffeeshop — the perfect place to people watch with a good viewpoint to where golfers tee off in hole number 1, while others come in from hole number 9 and 18. The Verandah coffee shop is the club's heart beat, where waiters know most anyone by name, and where at the start of the day, the news are discussed more vividly than the radio or TV talk shows.
By the mid 80s, share prices have risen to P42,000 and all 800 memberships were fully subscribed. Still, the club's exclusive 100 voting shares remains an all-male domain and was dominated initially by the mestizo clique, composed of the Aboitiz and Escano clan, later a Filipino group was formed and in recent years the Chinese had their own strong voice. Today, the club is a cauldron of nationalities including a hundred Japanese and expats that reflect the city's progress.
There are a handful of women members in the general membership list who either inherited the share from their husbands, and in one case, the General Manager of a 5-star hotel was, by her position, handed the corporate membership. The women also managed to form their own CCC Ladies Chapter headed by Mrs. Sala and the late Ada Martinez.
To join the club, an aspiring member has to be invited or sponsored by a member, their application posted for 30 days in the club's bulletin board, and their confirmation decided on by a quorum of the seven sitting officers of the club, who work purely without compensation.
THE COURT CASE In 1992, a court case was filed claiming ownership of a sizable parcel of land in the midst of Cebu Country Club's sprawling enclave. The third generation heirs of Tomas Alonso claimed that the title of Lot 727 composed of 36 hectares, had never been part of the transfer of title to the club, and therefore should revert to the original owner. It was a costly lawsuit that bruised both parties financially and emotionally. Club presidents Benito Unchuan, Sabino Dapat and later Douglas Luym, who was elected into office from 1999 to 2011, chose to fight with all the strength of its 800 members. Lawyer Julius Neri who was part of the club's legal team confirmed that the case was first heard at the Regional Trial Court, and when the plaintiff lost, they brought the case to the Court of Appeals and twice to the Supreme Court.
Sometime in 2002, when both the plaintiff and the defendant were deadlocked, an unexpected court decision was handed to revert the property back to the government, a decision that had vast consequences as this would also include neighboring affluent villages all the way to Ayala Business Park, that were originally part of the Banilad Friars Estate. It was also rumored that a wealthy third party was secretly funding the Alonso family in this lengthy battle. But the club officers were confident from day one of legal victory, and the fact that it went on for so long baffled members who were unanimous in the club's strong defense. "There was no contingency plan on the table because we were convinced that we were on the right," Montito Garcia who was then the Golf Chairman, looked back to the trial years. "At the worst possible scenario, the club would have to pay for the parcel in question, or perhaps reduce to a 9- hole golf course," he answered when pressed to answer how the club would have handled it if the case was lost.
In the end, the members of Cebu Country Club, steered by a strong legal team and the leadership of Douglas Luym, were able to affirm ownership by the strength of its argument that there was no attempt by the second generation Alonso to make any claims or pay taxes during the last 50 years, as well as a piece of legislature authored by Congressman Raul del Mar affirming the titles of owners who bought pieces of the Banilad Friars Estate as valid. At the time, titles required the signature of the Secretary of Agriculture and Natural Resources, and most of purchases were missing this. A decisive decision by the Supreme Court in January 2011 put a rest to the matter.
WHAT'S AHEAD
Last year, the current board of officers were elected with Montito Garcia, a secondgeneration president following his father Cheling Garcia in the 60s, as president. Montito is a regular fixture in the golf course, sometimes competing professionally, and is considered a popular president because of his easygoing demeanor. With House Chairman Eddie Alegrado, Edward Go, Antonio Florendo, Jose Suaco, Frederic Chiongbian, Edwin Medalle, and Jeric Hechanova as the club's General Manager, on his team, they have laid out a map for the future. From the start, without any working budget, a committee was formed composed of Eddie, Rosebud Sala and Boy Escano to do some improvements. Working piecemeal, they started with the basics – a leaking roof in several spots was finally fixed after years of neglect, and a repainting job followed. "I selected the paint—the men were very nice to ask me to choose the color of the paint and the curtains. So I think we actually did a pretty good job because the men are very happy about it. You know it's hard to please so many members, but with this, it seemed like a unanimous thing—they all liked it," Rosebud replies when asked how the paint job came about. The minor changes worked on available cash flow had made the club a more welcoming place for members – gone are the dark woods and hallways. More importantly, Eddie Alegrado's meticulous guidance resulted in a state of the art kitchen that is HACCP certified. HACCP is a food safety handling protocol that was originally instituted by NASA to protect the health of the astronauts in space, and is now a standard requirement in the food industry. "Our kitchen has also stopped using transfat, a food shortening material commonly called lard. It is not pork lard but lard or solid white fat made by cooking oil factories. Its process uses metals to solidify the oil and the resulting product is generally referred to as transfat," Eddie points out to a healthy benefit that members can now expect.
According to Eddie the board has been working on the idea of putting Cebu Country Club in the map as a premier golf club in the country that is family oriented. The voting members have positively responded to this call and unanimously approved the proposal to re-design the golf course to championship-course level with a new clubhouse. To this end, the club has already signed an agreement with the Jack Nicklaus Company. Surveyors are currently taking topographies of the golf course while consultations are being made on the funding aspect. The board hopes to see some action by the summer of next year.
Eddie further relates that the club is immensely capable of raising the required financials. "What is now being studied and debated is what funding is most beneficial to the club and its members. Many great ideas, mostly coming from the members themselves, are being closely studied. We have three hectares of high value commercial space right along the Banilad road. Offers from real estate developers to develop it are filtering in and banks have signified their eagerness to back up the project if we decide to undertake the development ourselves. The club can also build and sell condo units or sell additional POCs. It can sell non-golfing memberships and/or ask current POC holders to chip in and so on. The possibilities are there. It is now just a matter of making the best choice as to which way to go as far as funding is concerned."
"The club operates as a non-profit, we don't distribute dividends, so really the only value to the members are for them to enjoy the facilities so that is why we are looking at making the club more family friendly. Also, because of the improvements, we have seen the price of shares rise up," Montito adds. Currently, shares are set at 4.3 million pesos, although it is hard to find sellers. "There are many possibilities, a new clubhouse is a strong option. I'm personally leaning towards going back to our roots – colonial architecture is timeless and a trend among golf courses now. Cebu Country Club can certainly claim to that heritage. We are talking to developers, foreign and local, to do a masterplan, and as far as what has been shown to us, the next three years should be interesting," he concludes.
by Emcee Go
photography Jerald Donal and Adrian Yu

EATZ Cebu Quarterly Magazine is available as a room amenity in most major hotels, resorts and restaurants in Cebu. With a food-centric editorial voice, EATZ Cebu is the first publication to introduce readers to the current dining scene in the island of Cebu. Advertisers will appreciate its wide audience reach of printed copies, a digital edition as well as social media posts. Click or tap the cover below to view the copy:
All the Best Romantic Deals and Offers in Town this Hearts Season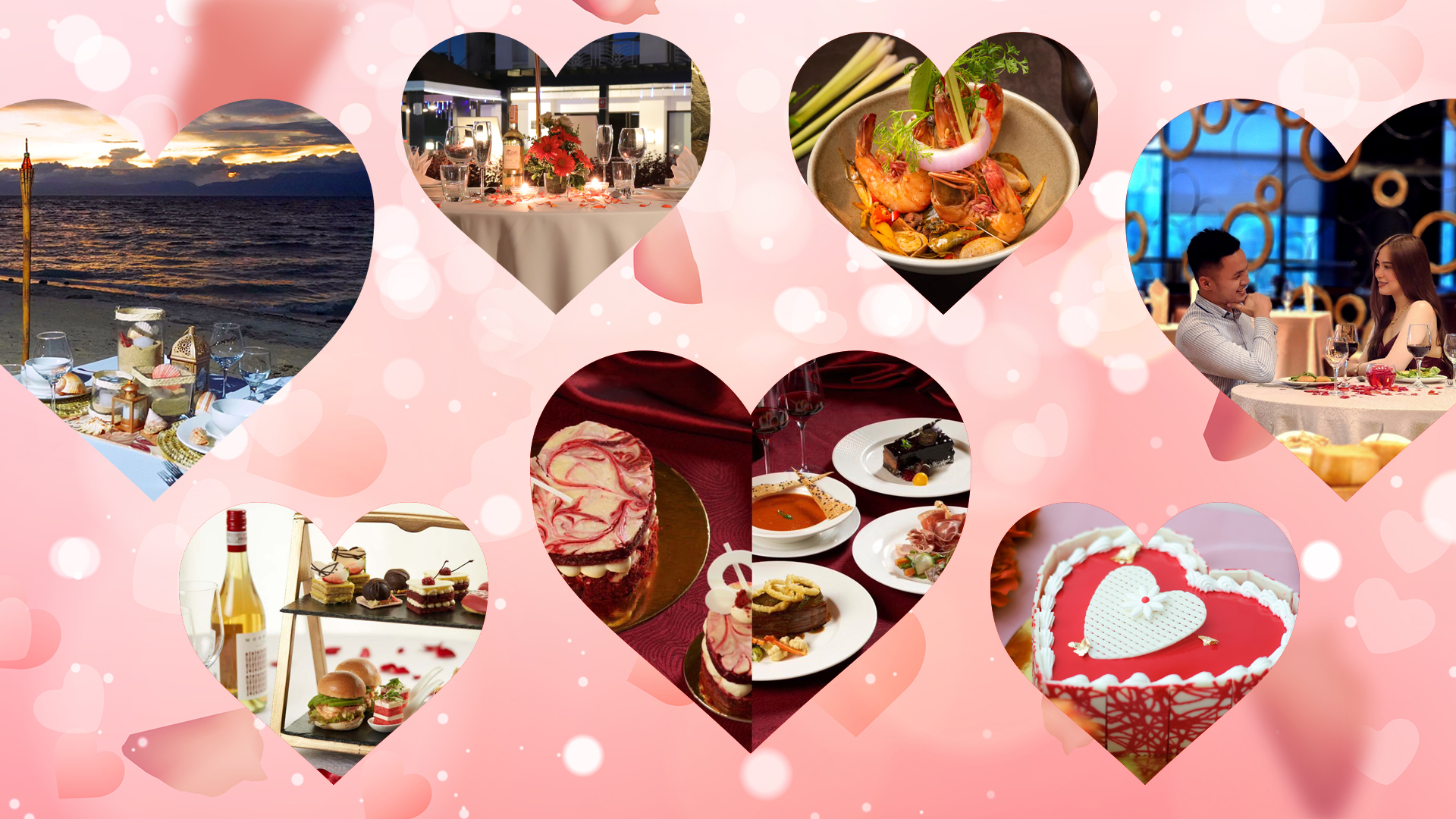 We compiled the best romantic deals and promos for those who want to make this year's Valentine's Day extra special.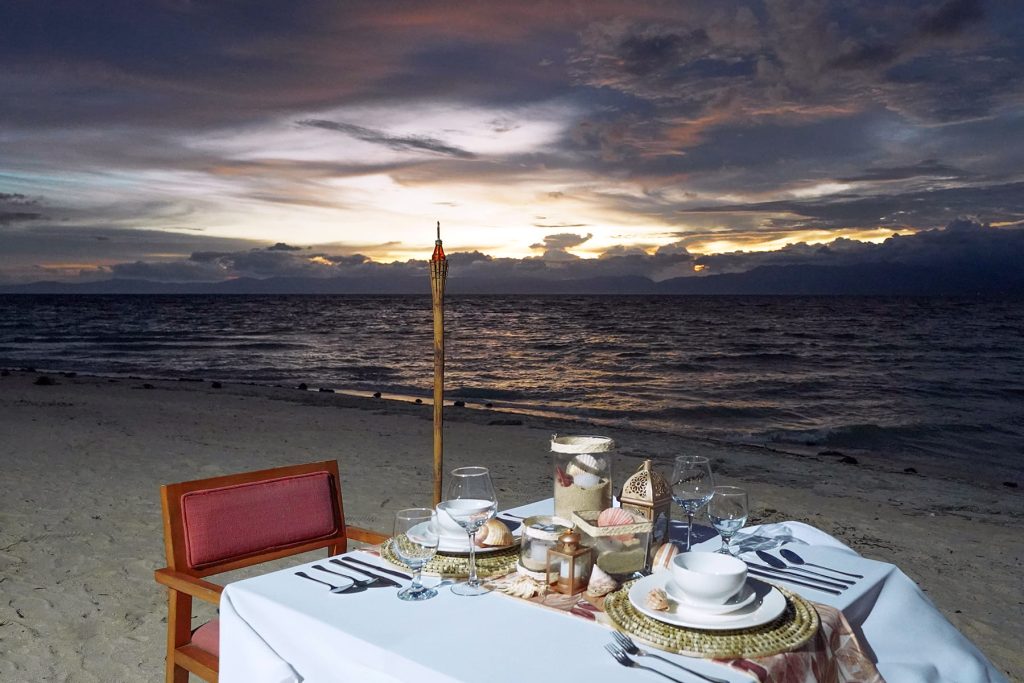 1. Make it a Valentines to stir your heart and soul at Club Serena Resort. This Valentines, paint a beautiful love story in Club Serena Resort in Moalboal, Cebu. Delight in discounted room rates when you pair your stay with a five course romantic dinner by the splendid Tañon Strait. Your stay includes turndown service with a romantic set-up, while dinner includes Angus steak, a glass of wine, and a long stemmed rose for the lady.
ROOM SALE. Book 2 room nights for the price of 1, or 3 room nights for just a little over. This offer, and more, are available today until Sunday at the Cebu Travel Catalogue International 2023.
Get luxurious savings on your bespoke resort getaway!
See Club Serena Resort at booth 48 of the Cebu Travel Catalogue International 2023 in the Activity Area of Ayala Center Cebu on February 10-12.
To find out more, send a private message on their Facebook page or call 0917-872-6367.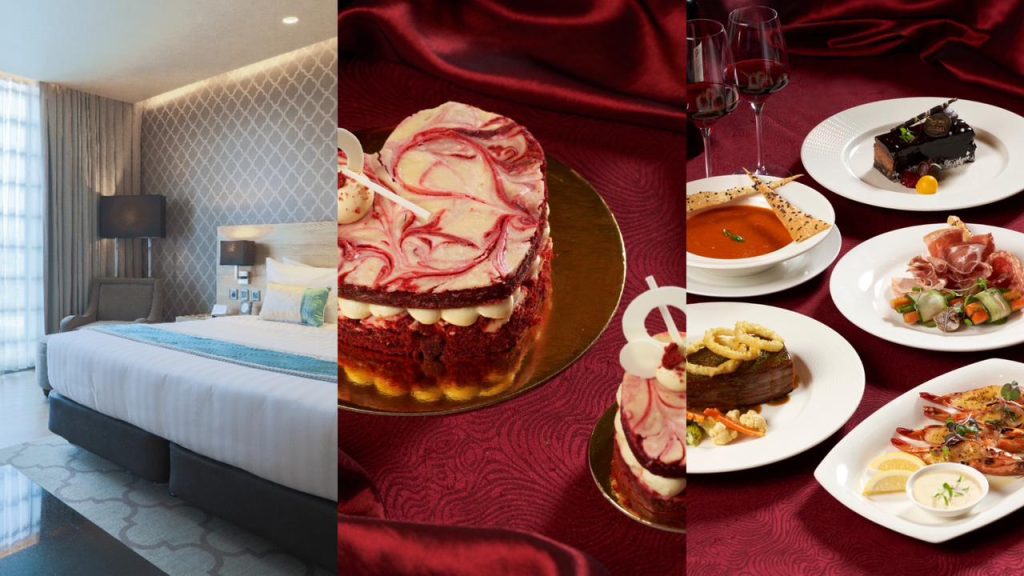 2. Hearts Season at bai Hotel Cebu
Celebrate Love in style with our Valentine's Day feasts and staycation promos at bai Hotel Cebu. Indulge in a romantic evening with your loved one with our delicious and carefully curated romantic-themed set menus, available exclusively on 14 th of February. Our chefs have crafted a selection of the finest dishes to make your intimate moments unforgettable. Get ready to fall in love all over again this Valentine's Day with our romantic room special. Treat your significant other to a night of luxury and relaxation in one of our spacious and well-appointed rooms. Happy Valentine's Day from bai Hotel Cebu!

Room-antic Special Home is wherever I'm with you. Express this season of love the definition of home with your favorite person. Create staycation memories of romance and lush in our well-appointed rooms this 01 to 28 February 2023. Promo period starts 25 January 2023 to 28 February 2023.

The Deluxe Room is priced at Php 4,888 nett per night, Premier Room is priced at Php 5,888 nett per night, and the One-Bedroom Suite is priced at Php 6,888 nett with the following inclusions: breakfast for two (2), Php 500 worth of F & B credit – can be used in any outlet(stay-in), unlimited WiFi access, complimentary use of the outdoor infinity lap pool and free use of the fitness gym. Terms and conditions apply.

Seasons of Love: Valentine's Day Set Menu and Feast offers on 14 February 2023
Get struck by Cupid's Concoction. Elevate your romantic gestures with five course set menu of fine dining, stylish, and upscale steakhouse that serves the finest custom-aged USDA prime beef and other meats alongside an exquisite selection of wine. Marble + Grain will be serving its Valentines set menu on 14 February 2023 at Php 2,500 nett per person. This will include one (1) glass of house red wine or white wine.
Lounge in Romance and Zest this Season of Love at our Lobby Lounge where perfectly curated five-course set menu brings you gastronomic wonders from elegant meat arrangements to zesty seafood classic. Paired with two (2) glasses of red or white wine at Php 4,200 nett sharing for two(2). The Lobby Lounge will be serving the set menu on 14 February 2023.
Finally, you put my Love on Top! Take the fleeting moments 23-storeys high with our Valentine's Day Set menu at Twilight Roofdeck Lounge + Bar. A four-course set menu and Alfresco lounge and bar for your dreamy skyline date with a 360-view of the city, all retailing for Php 2,100 nett per person. Twilight Roofdeck Lounge + Bar will be serving the set menu on 14 February 2023.
LOVE FEASTS. Make your Valentine's Day feast a memorable one with our signature gourmet dishes from Marble + Grain Steakhouse in bento-style closer and more accessible to you. Share precious memories with loved ones and friends with these hot meals that can be enjoyed anytime, anywhere! A 24-hour prior reservation is required.
Fall in love with flavors from around the world at Café bai this Valentine's Day. Indulge to our heart's day themed buffet of gastronomic wonders whether for lunch or for dinner. Lunch hours is 12 NN to 2:30 PM at Php 1,288 nett per person and Dinner is on 6 PM to 10 PM at Php 1,499 nett per person.
DRINK OF THE MONTH: SEASALT CREAM LATTE/BERRY COOKIES MILK TEA
This season of love, experience coffee mixed with decadent cream cheese and sea salt. Intrigue your palette with sweet specialty of berry and cookies blended to satisfy every Milk Tea lover. Taste the complex flavor of sweet with a hint to salt of Seasalt Cream Latte at Php 250 nett, and berry sweet delight of Berry Cookies Milk Tea at Php 200 nett. This Drink of the Month is available from 6 AM to 10 PM daily at Wallstreet Café + Bar.
COCKTAIL OF THE MONTH: GARDEN OF LOVE
Experience a walk in the Garden of Love with every sip of this perfectly curated cocktail with your lover. Perfect notes of agave bouquet, essence of rose, delicate aroma soft elderflower, citrus notes from Hibiscus tea, a hint of bitterness and fragrance from our homemade lavender bitters. You'll be wanting for more of this drink at Php 320 nett available at Marble + Grain Steakhouse, Ume Japanese Cuisine, Lobby Lounge, Twilight Roofdeck, and Pool Bar this 14 February 2023.
CAKE OF THE MONTH: RED VELVET CHEESECAKE BROWNIE
You can never go wrong with Red Velvets on Valentines Season. The queen cake of velvety texture, sweet vanilla, and tanginess from buttermilk now in chewy brownie and cream cheese layers to keep it simply sweet this Valentines Day. Have your Red Velvet Cheesecake Brownie this Season of Love whether for sharing or for one at Php 600 nett for 6-inch-wide cake and Php 250 nett for small cake. This Cake of the Month is available from 6 AM to 10 PM daily at Wallstreet Café + Bar.
For table reservations, orders, and further information, you can call bai Hotel Cebu at (032) 342 8888 or (032) 355 8888 or (032) 888 2500 or message them on Facebook at bai Hotel Cebu.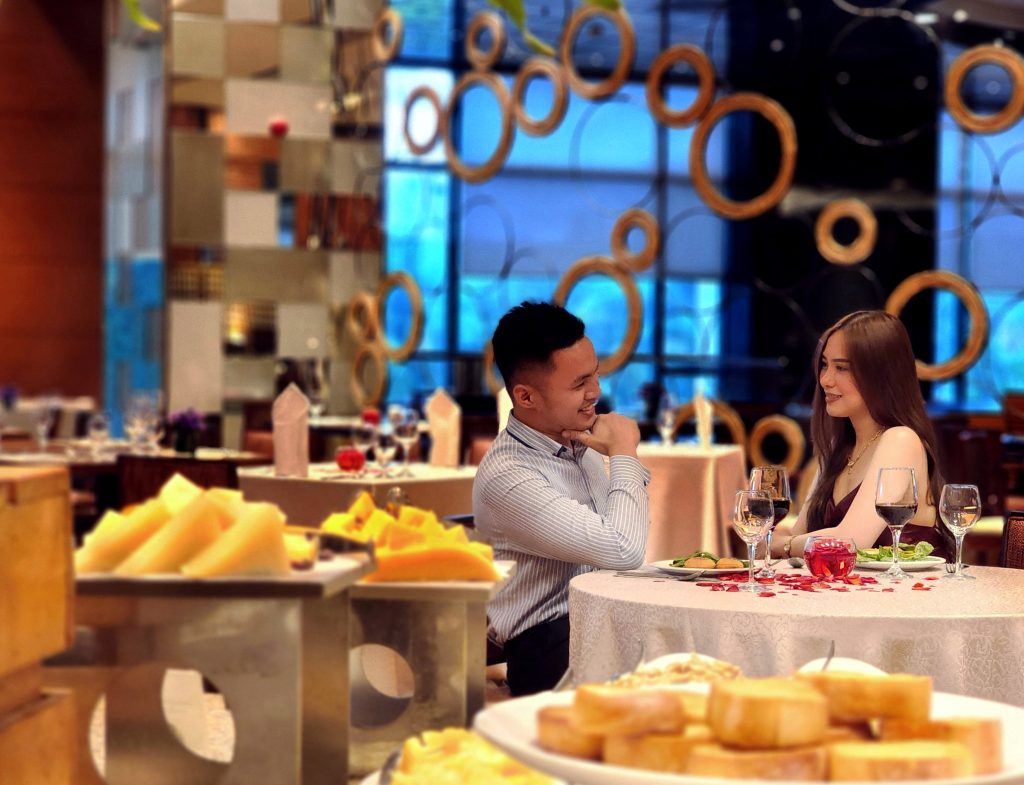 3. There's a Lot to Love at Radisson Blu Cebu.
Radisson Blu Hotel Cebu embraces the month of love with a full program of indulgent and themed offers from the Lobby Bar and Feria restaurant all the way to room service.
Spill the tea over Dilmah Arana teas and refreshingly-filling bites with Afternoon Tea at the Lobby Bar. Served from 1:00 PM to 5:00 PM this month for only PHP 999 net for 2 persons, it's a relaxing way to enjoy your favorite person's company to highlight your day.
For daytime drinking, and well into the night, a series of limited-edition beverages are ready to pique your interest: a coconut-rum-based cocktail, to a strawberry puree mocktail, and a dark chocolate frappe, available all month in the Lobby Bar and the Pool Bar, sweeten any toast to more beautiful memories.
For buffet lovers, Feria restaurant embraces Parisian highlights for Valentine's day, in an ode to the city of love. Beef bourguignonne, duck confit, and ratatouille in the European station join the Japanese, Filipino, Indian, Mediterranean, and Chinese stations featuring Feria's beloved international fare, together with signature paella, whole lechon, and roast US beef. Finish off with crepes as we bring back the crepe station for one night only. Valentine's day dinner buffet on February 14 includes 1 glass of red or white wine and free flowing beer, for just PHP 2,500 net per person.
For a more private experience, the garden welcomes couples to dine under the stars from 6:00 PM to 10:00 PM. Carefully prepared by the hotel's award-winning kitchen team, a 4-course dinner with wine-pairing is the true answer to romance. Asian tuna tartare with mango and miso tahini dressing paired with a chardonnay to start; porcini mushroom soup followed by US braised rib of beef with red wine, fondant potatoes and asparagus, is paired with a cabernet sauvignon; and white and milk chocolate entremets with fresh strawberries is complemented by a lambrusco dessert wine. Dinner under the stars is PHP 3,500 net per person, while live acoustic music serenades guests and ladies receive a special gift.
Romantic rooms service is brought to a whole new level, this month, with a plethora of breakfast favorites including freshly-baked pastries, sliced fruits, waffles or pancakes, fresh salmon, and eggs made how you like it can be arranged at PHP 1,999 net. Level up the romance with a bouquet of roses and a bottle of sparkling wine, sold separately.
Each day can be Valentine's Day, all February, at Radisson Blu Hotel Cebu.

For reservations and other inquiries, please call 032 402 9900 or e-mail rhi_rdce@radisson.com.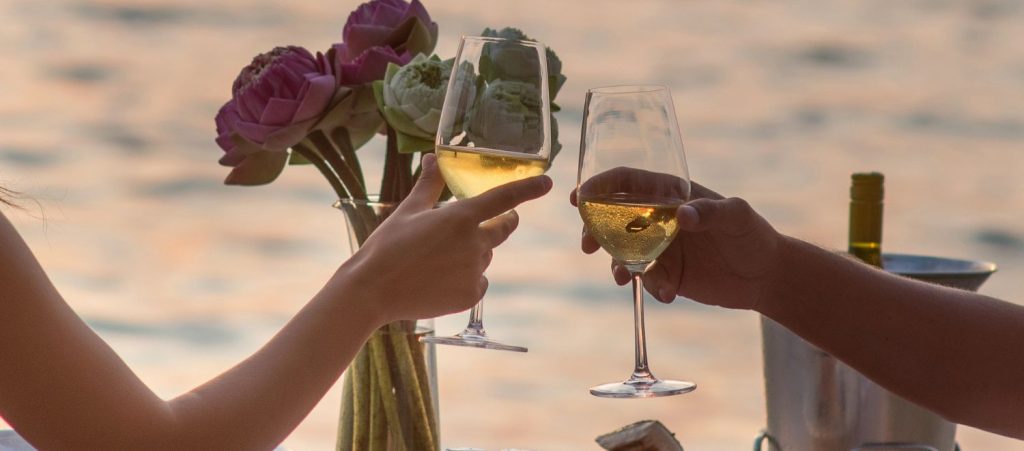 4. A Seaside Rendezvous in Shangri-La Mactan, Cebu
This Valentine's, go on a sweet escape at Shangri-La Mactan, Cebu with your loved ones and have your fill of delightful culinary creations and blissful experiences in any of the 5-star resort's sought-after restaurant outlets.
A Private Seascape Romance
Take pleasure in a dreamy experience overlooking the cerulean blues at the Observatory. This February 14, dine with flair in a scenic and private space, while you feast on an exquisite 6-course menu for two complemented by a bottle of sparkling wine and romantic tunes.
A Coastal Seafood Date at Cowrie Cove
Enjoy the cool breeze, ambient lighting and piquant specialties by the sea with your beau, as you revel in Cowrie Cove's Cupid Surf & Turf Platter from February 10 – 14. Delight in lobsters, prawns, groupers and more— for a truly filling date night!
A Romantic Sojourn in Acqua
This Season of Love, spoil your Mi Amore with blissful selections and taste your way through a romantic tropical evening in an indoor or Al Fresco setting. Revel in Acqua's well-loved Tomahawk Platter, Smoked Salmon, and more with their set menus for two persons.
All for Love: A Valentine's Day Buffet
The real way to someone's heart is through their stomachs! This Valentine' Day — love well, dine well and go on a gastronomic feast with Tides' hearty dinner buffet selections, featuring the Canadian Lobster, Wagyu Rump and decadent, themed desserts priced at Php3,500++ per person.
A Starlit Date by the Beach
See love in the stars and feel it through the coastal breeze, as you dine with your significant other under Mactan's tropical starlit skies. Delight in Breeze Bar's grilled local BBQ specials, perfect for casual conversations by the beach. The grilled set is priced at Php5,000++ for 2 persons.
Sweet Treats for Two
Who doesn't love calm afternoons, with a dash of romance?
This February 10 – 14, spoil your loved ones with exquisite afternoon delights, while whispering sweet nothings amid the golden hour. An intimate setting perfectly paired with delightful treats like French Macaroons and Cherry Scones. The Afternoon Set is priced at Php 1,488++ inclusive of sweets, savories and a pot of coffee or tea.
For table reservations, contact (032) 2310288. You may also follow them on Facebook and Instagram or visit https://www.shangri-la.com/en/landing/mactan-seasonal/
5. Romantic Offerings at Seda Ayala Center Cebu
For those planning to celebrate ahead of the crowd, Seda Ayala Center Cebu's Stay Two-Gether promotion is the best deal—leave the romantic Valentine's room setup to them. They're also throwing in a complimentary bottle of wine, chocolates, and a red rose for the lady. Rates begin at Php6,000 net for a Deluxe Room.
On Valentine's Day, indulge in Love Bites, a gastronomic four-course dinner that is sure to delight your tastebuds. For Php4,000 net for two (2) persons, the dinner includes an appetizer, soup, main course, and dessert trio. Welcome drinks and glasses of wine await!
Their Romantic Rendezvous is the ultimate package beginning at Php9,000 net—aside from being able to lounge in the comfiest accommodation with a beautiful Valentine's room setup, you also get to enjoy their four-course dinner, Love Bites.
Can you feel the love in the air already? We're just as excited as you are.
For inquiries or reservations, please feel free to contact them through their trunkline at (032) 411 5800.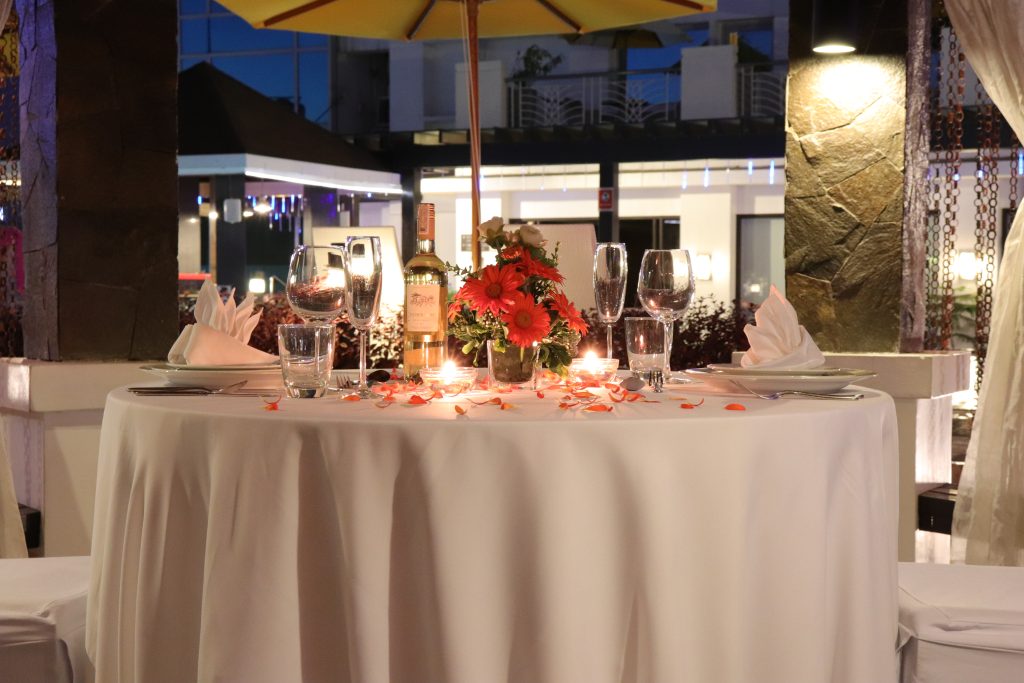 6. Love is in the air at Quest Hotel Cebu and Conference Center
Avail of the Power of Two romantic room promotion for some much-needed down time with the one you love. Make this Valentine's Day doubly special with accommodation for two, a five-course dinner for two in the room, and two glasses of red wine. Choose to have a romantic dinner on the balcony when booking a Premiere Room, and have a romantic setup in the Executive Suite complete with a bath strewn with rose petals. Couples have the option to linger over their five-course dinner by the pool, serenaded by live music. Power of Two room packages begin at Php10,000 nett and include a beautiful rose for the lady, breakfast in the room, or buffet breakfast at Puso Bistro.

Celebrate all types of love, including self love. Pamper yourself with the Indulgent Comfort room package, inclusive of a two-hour in-room massage, movie library with popcorn, and Kir Royales at the Pool Bar for the ultimate solo staycation. Indulgent Comfort rates begin at Php4,900 nett inclusive of breakfast in the room or buffet breakfast at Puso Bistro. For a romantic evening, choose Made for Two, a romantic dinner by the poolside with 5-course dinner.
If celebrating with family, there's no better way than spend it at Puso Bistro and Bar for a feast of all-time favorite Filipino and International specialties.
To reserve a table call Puso Bistro at 09989615734. Valentine room packages are valid for stays during the whole month of February on book and buy basis and subject to availability. Reserve through questhotelsandresorts.com/cebu or walk in at the hotel on Archbishop Reyes Avenue. Follow them on Facebook.com/CebuQuestHotel and on Instagram @questhotelcebu for the latest updates.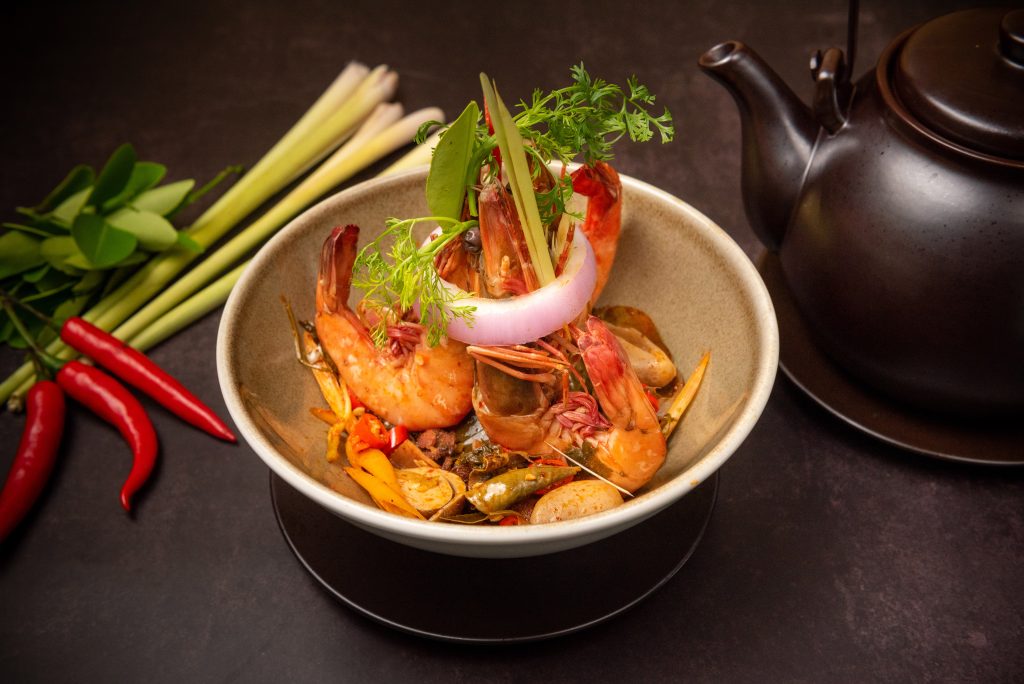 7. A Special Valentine's at Benjarong in Dusit Thani Mactan Cebu
Relish a special authentic Thai seven-course set dinner for Php 5,000 net per couple with a glass of sparkling wine and a live music performance on Valentine's Day.
For table reservations, please call them at (+63) 32 888 1388 or email at benjarong.dtmc@dusit.com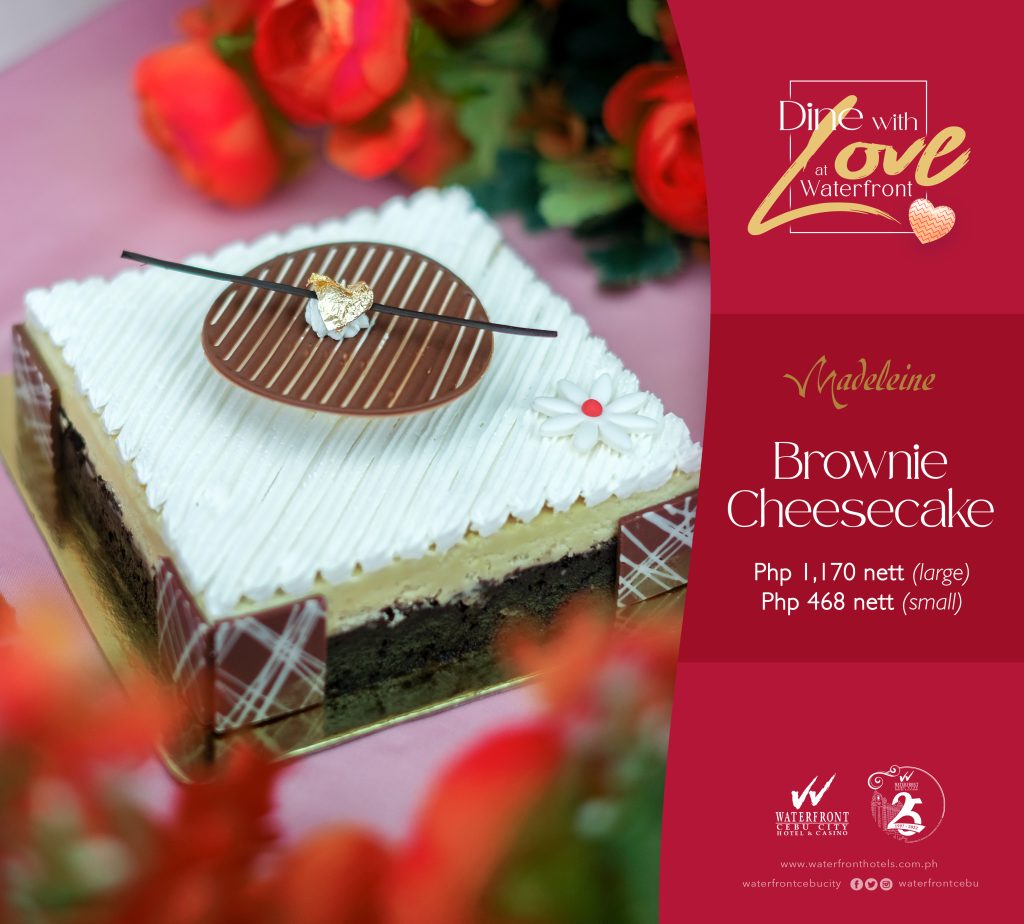 8. Stay & Dine with Love at Waterfront Cebu City Hotel & Casino
Take your partner's hand and stay in love with Waterfront's stunning room rates inclusive of a honeymoon set up, buffet breakfast for 2 and assorted pralines. Get this charming deal starting at a rate of Php 4,000 valid from February 14 – March 15, 2023.
Fall in love all over again as you stroll along Waterfront's gourmet walk for a variety of intimate dining offers.
And to make your Valentine's more romantic, our wine offers are here to create the perfect pair with our lovely dining offers. You may choose between a bottle of Cabernet Sauvignon and Sauvignon Blanc or have a glass to yourself.
Bring home the sweetness of a creamy mousse cake with a vanilla pistachio sponge in between, covered in red glaze and topped with white chocolate for Php 1,200 nett. If you're craving cheesecake, then we got you! You can avail the large Brownie Cheesecake for only Php 1,170 nett and small for Php 468 nett. It's the perfect gift idea to complete your Valentine's experience by treating the people you cherish most.
To know more details and to book our room and F&B promotions, click on the links below:
https://bit.ly/WCCH-RoomPromos
https://bit.ly/WCCH-Dining-Offers.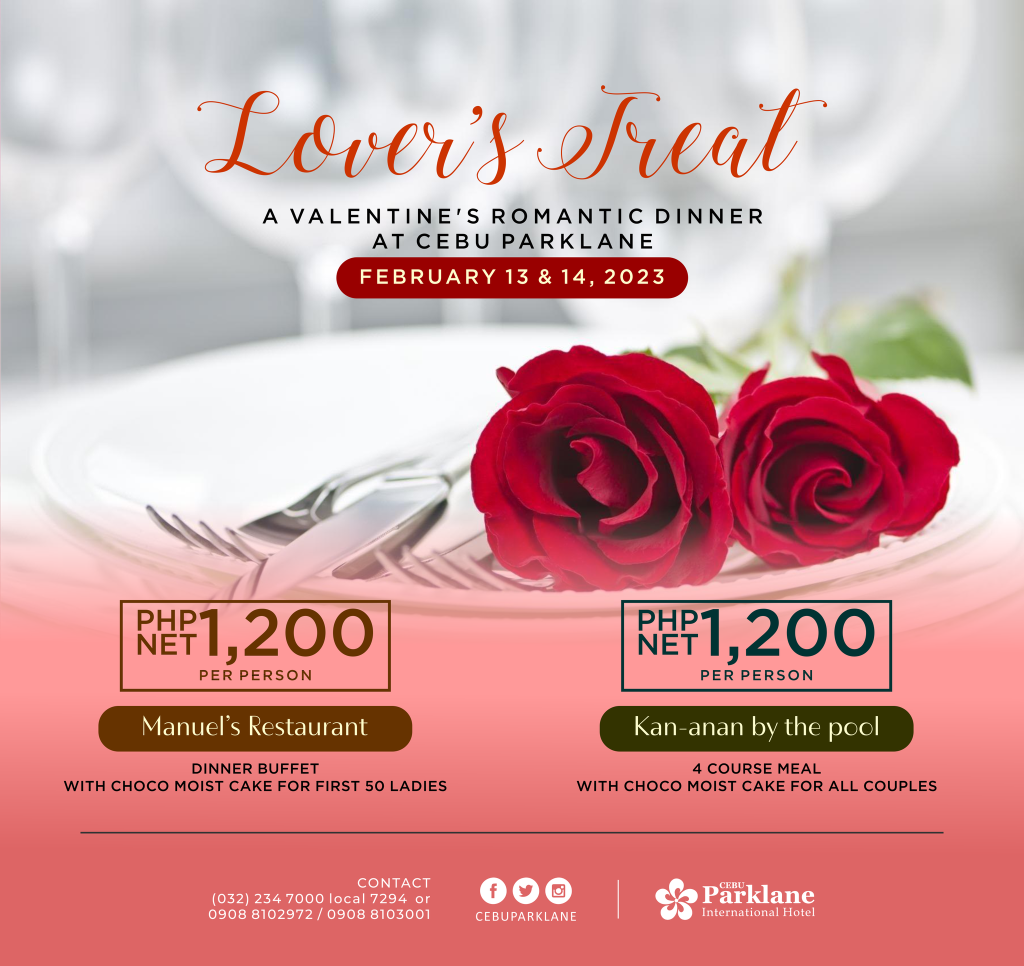 9. Love struck at the Cebu Parklane International Hotel
Cebu Parklane is all about love! And we're not just talking about the romantic kind. We're also big fans of the love you show for your family, friends, loved ones and even your coworkers—which is why we're offering some great deals on Valentine's Day.
We're celebrating by offering these special promotions on February 13 and 14, 2023:
Manuel's Restaurant Dinner Buffet – 𝐏𝟏,𝟐𝟎𝟎 w/ Choco Moist Cake for all couples
Kan-anan 4-course Meal – 𝐏𝟏,𝟐𝟎𝟎 w/ Choco Moist Cake for the first 50 ladies
For inquiries and table reservations, contact us thru these numbers: (032) 234-7000 local 7294 or 0908 810 2972 / 0908 810 3001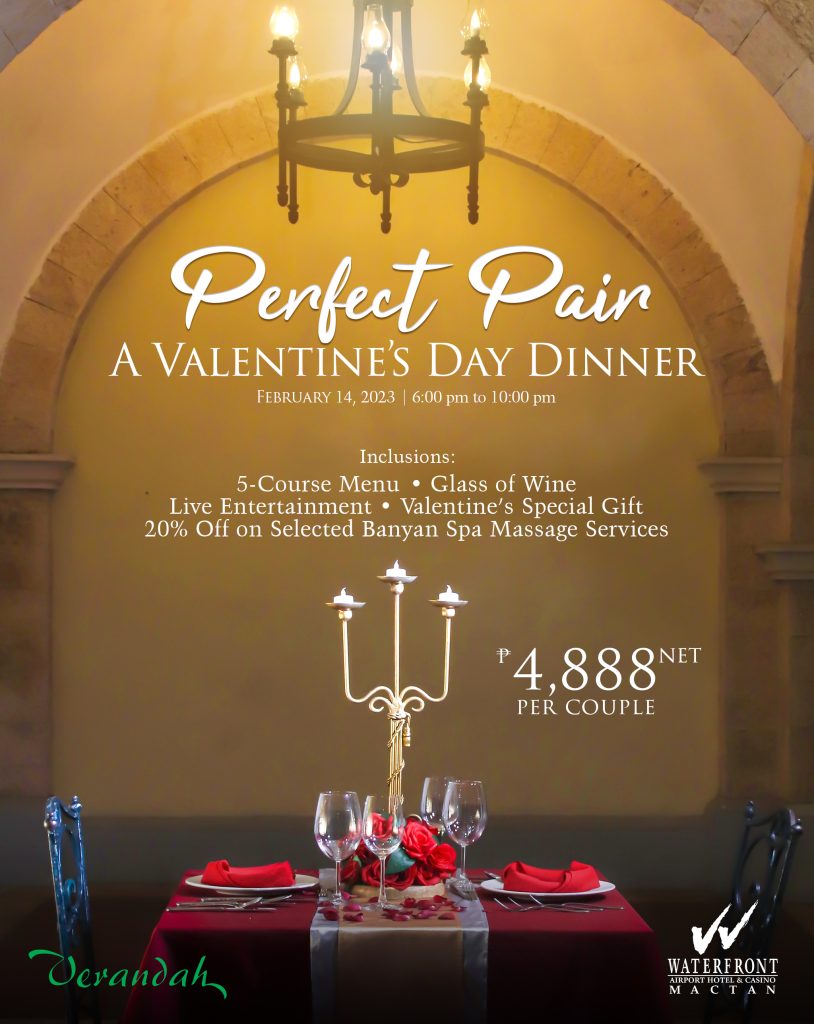 10. A Perfect Pair at Waterfront Airport Hotel & Casino Mactan
Savor the warm feeling of love at Waterfront Mactan's Perfect Pair Valentine's Day Dinner! For only Php4,888 net per couple, enjoy a 5-course menu, glass of wine, live entertainment, a Valentine's Special Gift and 20% off on selected Banyan Spa Massage services! What's not to love?