Beautiful At Every Age
There's no age limit to being beautiful. This month, we celebrate beauty at every age with four stunning Cebuanas—Jennifer Sarmiento, Vanessa Deen, Iris Arcenas and Alice Woolbright, who share their beauty secrets– and products that addresses specific skin care needs to look gorgeous, no matter what year it says on the birth certificate.
There's no age limit to being beautiful. This month, we celebrate beauty at every age with four stunning Cebuanas—Jennifer Sarmiento, Vanessa Deen, Iris Arcenas and Alice Woolbright, who share their beauty secrets– and products that addresses specific skin care needs to look gorgeous, no matter what year it says on the birth certificate.
20s: JENNIFER SARMIENTO Founder and CEO of Beauty and Beyond Philippines
In the midst of a busy schedule, it's important to have a product that serves multiple functions. The CliniqueMoisture Surge CC Cream gives a naturally rosy glow with color-correcting technology that uses light to achieve radiant and healthy-looking skin. It's infused with key hydrating ingredients to combat the effects of humidity, and prevents environmental damage with UVA/UVB protection and antioxidants.
Give your natural look more oomph with the Balm NudeTude Palette, which features shimmery shades that range from the white Shimmer and the bronze Silly to the deep black Serious. Its ultra-cute packaging doesn't hurt either.
Cute packaging is always appealing—what's better than a product that's effective and looks great? The EOS LipBalms come in pretty round shapes with colors that echo its flavors, like Strawberry Sorbet, Lemon Drop, and Sweet Mint. The same goes for the Dose ColorPills, the fun pharmaceutical-like bottles that make manicures a lot more interesting.
A part of a refreshing new take on the brand's classic scented collection, the L'Occitane Mint Verbena BodyIce Gel leaves skin with a minty feeling—spearmint and peppermint are mixed in with citrus fruits, lemon zest and verbena. Use with the Exfoliating Shower Gel for something truly refreshing on those humid tropical days.
BEST BEAUTY ADVICE
"My parents told me to keep yourself hydrated at all times and drink lots of water. Water alone gives you so much benefits: detoxifying hydrating, and makes your skin clearer."
CAN'T LIVE WITHOUT
Rose water. "This is my favorite beauty product, I honestly cannot live without it. You can use it for everything– it's not just a natural toner, it also helps with skin irritation, hair trouble and eye infections, and it's very soothing.
30s:VANESSA DEEN, Managing Partner of Bigseed Public Relations Events
Lips can be very sensitive to the elements, and it's important to pick products with gentle but effective formula. Burt's Bees 100% Natural Lip Glosses add color and sheen while moisturizing lips with botanical oils and beeswax. For a more dramatic look, though, Vanessa turns to MAC Lipsticks. "The have the most versatile and wearable shades, and I love how they are vanilla-scented too."
In homage to the iconic New York City graffiti and visual artist, the DKNY Keith Haring Fresh Blossom Art Eau de Toilette is vibrant and fresh. With a colorful palette of lush flowers and fruits, it's a scent that epitomizes the charismatic and captivating spirit of the Big Apple.
The Bobbi Brown Navy Nude Collection was especially created as its namesake founder's take on a sexy but fresh-faces summer look– a nude face with a hint of color. the two-level Eye Palette features shades that range from creamy white to a deep royal blue, while the Brightening Brick adds a soft, pearlized glow to create a sun-kissed look.
BEST BEAUTY ADVICE
"It's from my mom. She always used to tell me to never touch my face with dirty hands and, most importantly, to get atleast eight hours of sleep every night."
CAN'T LIVE WITHOUT:
Weleda Rose Day Cream. "Since our skin is our largest organ and comprises 70% of our body, I try not to put anything with harmful chemicals on it. I found this line of products called Weleda and I swear by their rose day cream—it's light, nongreasy and the only thing I put on my face."
40s:IRIS ARCENAS, President of Ferimar Import-Export Incorporated
As the season shifts into colder weather, take on darker and more mysterious beauty looks with the Laura MercierDark Spell collection. Start off with the Face Illuminator to highlight with its soft rose gold shimmer, then add some eye drama with the Satin Matte Eye Color and Kohl Liner Extreme.
Twelve weeks of using the Clinique Repairwear Laser Focus Wrinkle UV Damage Corrector is a potent serum that promises visible wrinkle-reducing power that rivals that of a dermatological laser procedure.
Younger-looking skin might just come overnight with the Estee LauderAdvanced Time Zone Night Cream. The brand's revolutionary formula boosts the skin's natural production of hyaluronic acid to fight fine lines and a nightime amino acid complex to optimize collagen replacement—resulting in plumper skin in just three days
Stay fresh with the elegant scent of the Givenchy Dahlia NoirL'Eau. A fuller version of its original composition, the perfume has top notes of citron and neroil, and rose petal middle notes for a subtle but sensual fragrance.
BEST BEAUTY ADVICE
"Drink lots of water, exfoliate, and stay happy."
CAN'T LIVE WITHOUT
"I use Argan Oil for my hair, body and face. It's really a great product, it's natural and has a lot of benefits– from fighting frizzy hair to moisturizing your skin."
50s: ALICE WOOLBRIGHT, Managing Partner of the Beverly Hotel
Signs of aging are more prominent in the eye area so make sure to give some extra TLC. The Benefit Erase Paste instantly brightens the eyes and reduces signs of fatigue with a quick sweep before putting on concealer. Finish off with the Elizabeth Arden CeramideLash Extending Mascara, a special no smudge formula engineered to revitalize and protect lashes to make them fuller and longer.
An inspired blend of artistry and advanced biotechnology, the La Prairie White CaviarIlluminating Système offers lightening and lifting benefits in a luxurious formulation. The three-part system is composed of a cream and two concentrated serums, each offering anti-wrinkle, illuminating and hydrating effects.
Dubbed the age-defying foundation, the Lancome Renergie Lift Makeup SPF 20 blurs lines and wrinkles for up to 12 hours, with Micro-Lift technology that makes skin look flawlessly even, luminous and younger than ever.
Add drama to your look with the ShiseidoLacquer Rouge, inspired by Japanese lacquer artistry to produce intense color and luster.
BEST BEAUTY ADVICE
"Make a habit of cleansing your face every morning and before bedtime. It's important to find the right cleansing cream (never soap), then use a warm washcloth to gently remove. Follow up with icy cold water to close pores then dab on some moisturizer. This gives skin a smooth radiant glow. These are the basic skin care steps I learned in my teens as a beauty consultant."
CAN'T LIVE WITHOUT:
"Mary Kay Timewise 3-in-1 Cleanser and Clinique Dramatically Different Moisturizing Lotion. I have tried so many products in the market, but I always go back to these these favorites, which I have been using since I was 16."
photography Dan Douglas Ong
makeup Jomer Arances and Emi Ayag
Claudia Bezza-Yeung's Santorini Cruise Collection Seaside Debut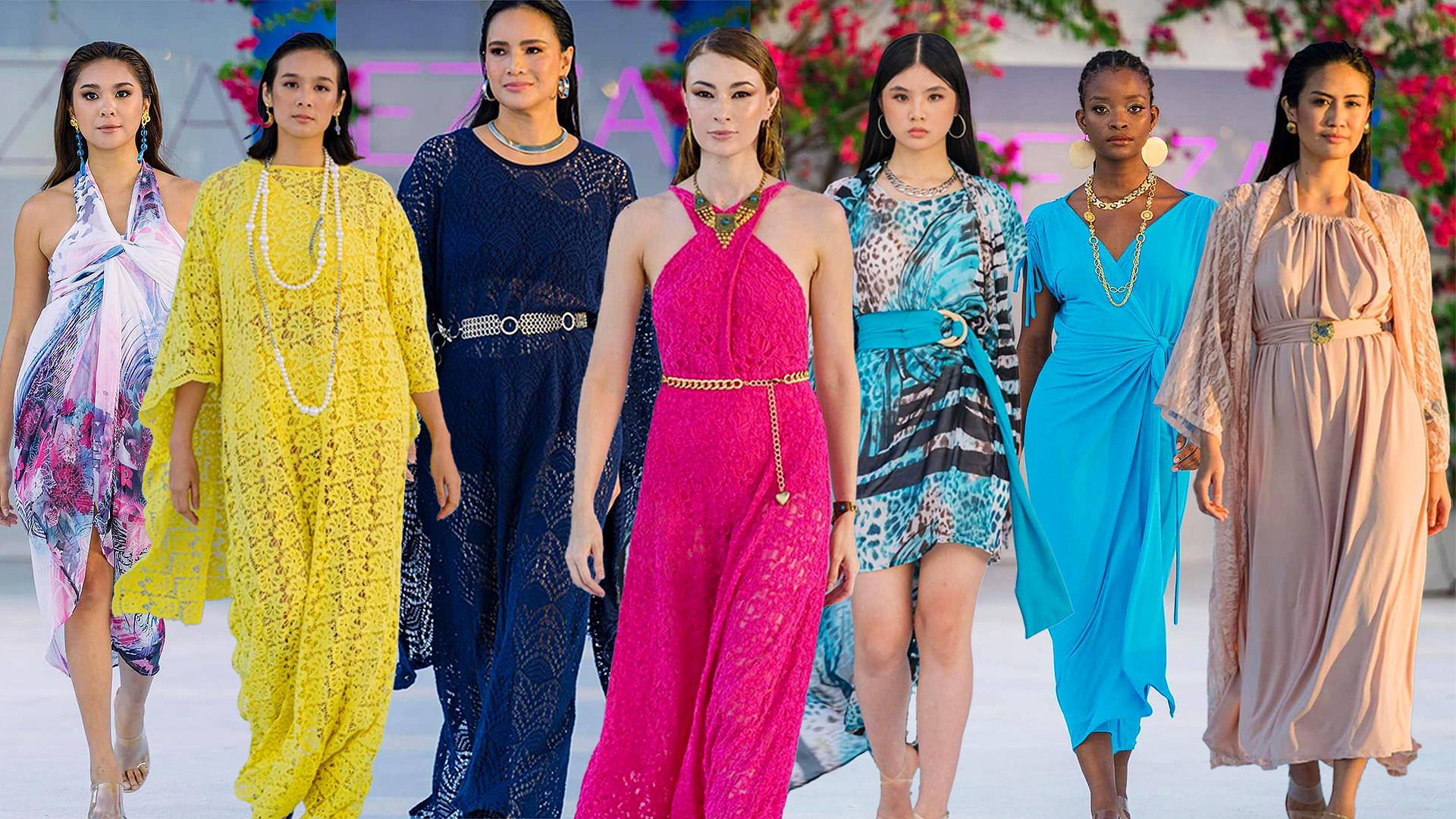 By Kingsley Medalla
The Santorini Cruise Collection launch, Claudia Bezza-Yeung's fifth, held last May in Kandaya Resort in Daanbantayan, was inspired by the Greek island of Santorini. Claudia's designs exude sophistication, and a touch of Mediterranean charm. The collection features flowing maxi dresses in vibrant colors that mirror the azure waters of the Aegean Sea, lightweight fabrics that effortlessly sway with the ocean breeze, and intricate design that adds a touch of opulence to each piece.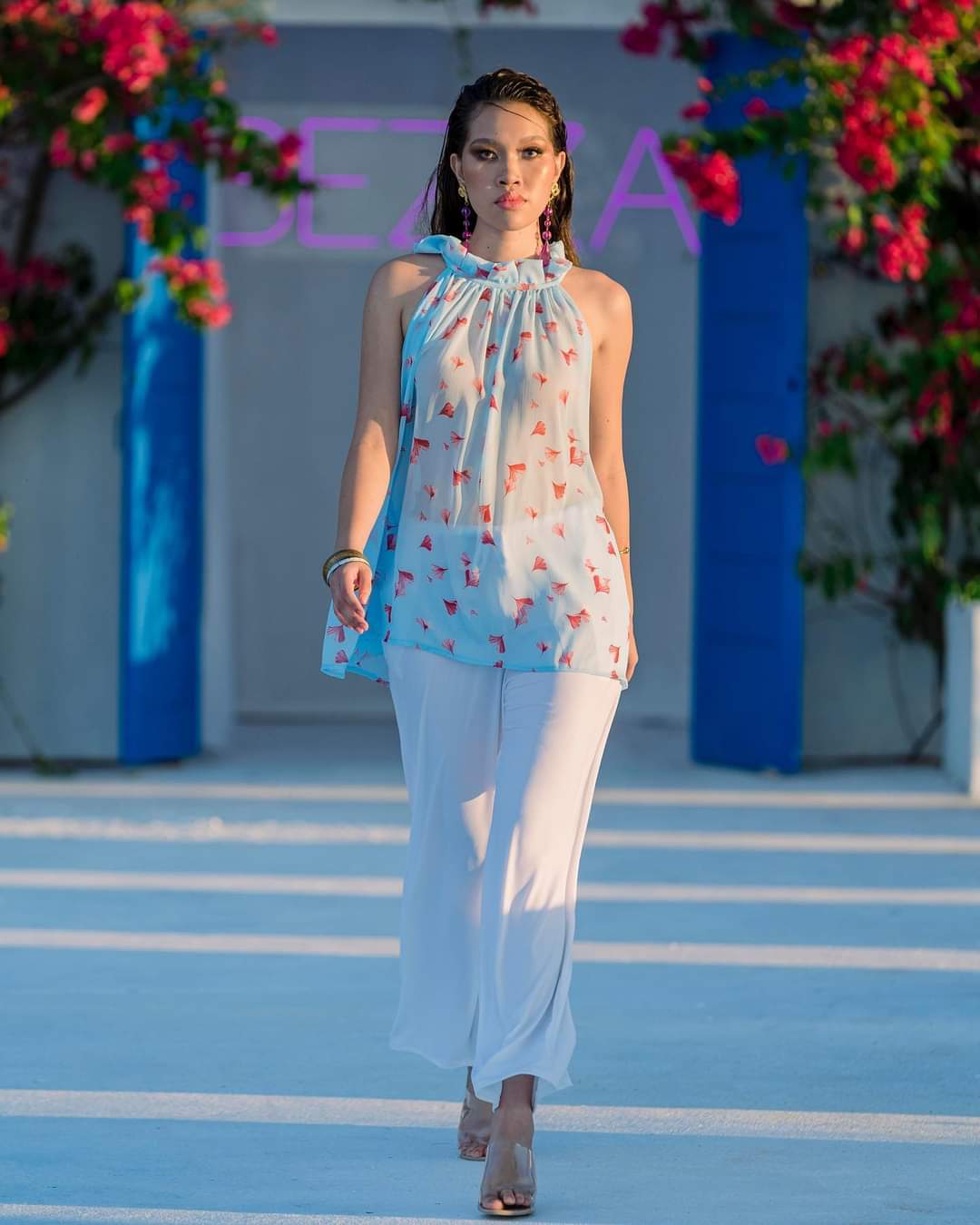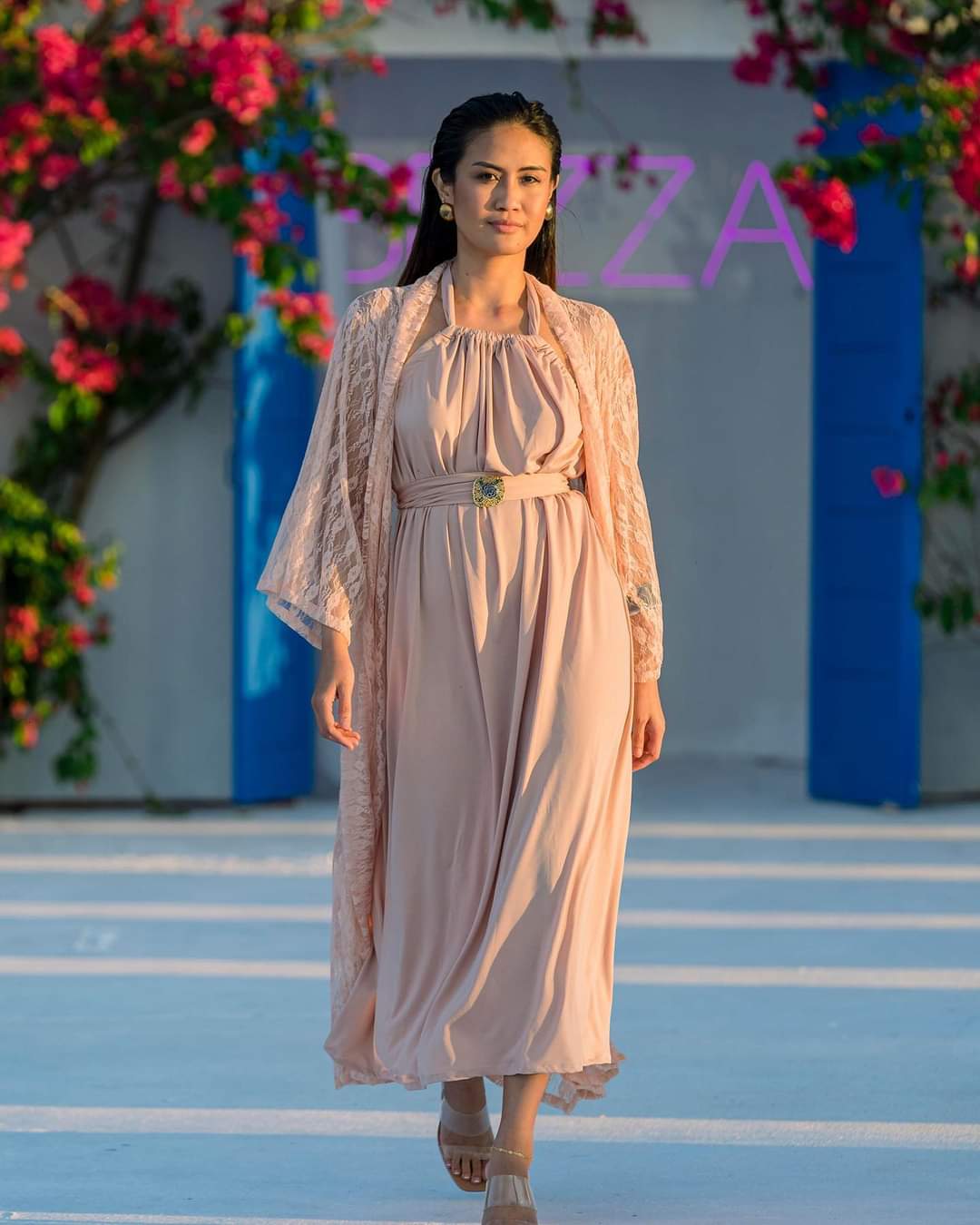 The collection itself is a celebration of summer: mini dresses with headbands and tote bags evoke images of strolls along whitewashed streets. Each piece is carefully crafted to capture the essence of Santorini's charm.
The color palette of soft pastels like pale blues and pinks, are juxtaposed with bold pops of color, like romantic pinks and vibrant yellows. This combination creates a visually striking contrast that adds depth and interest to each look.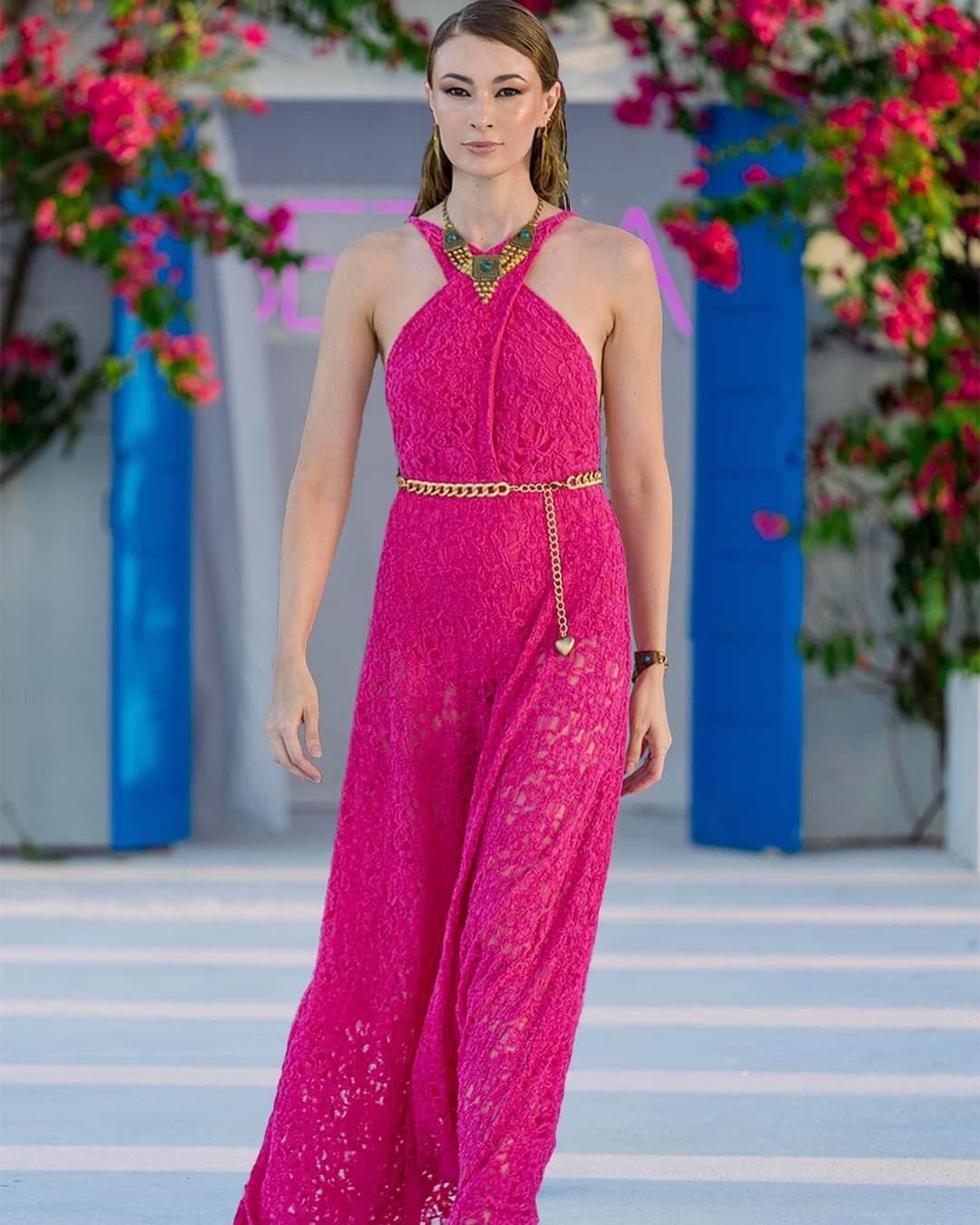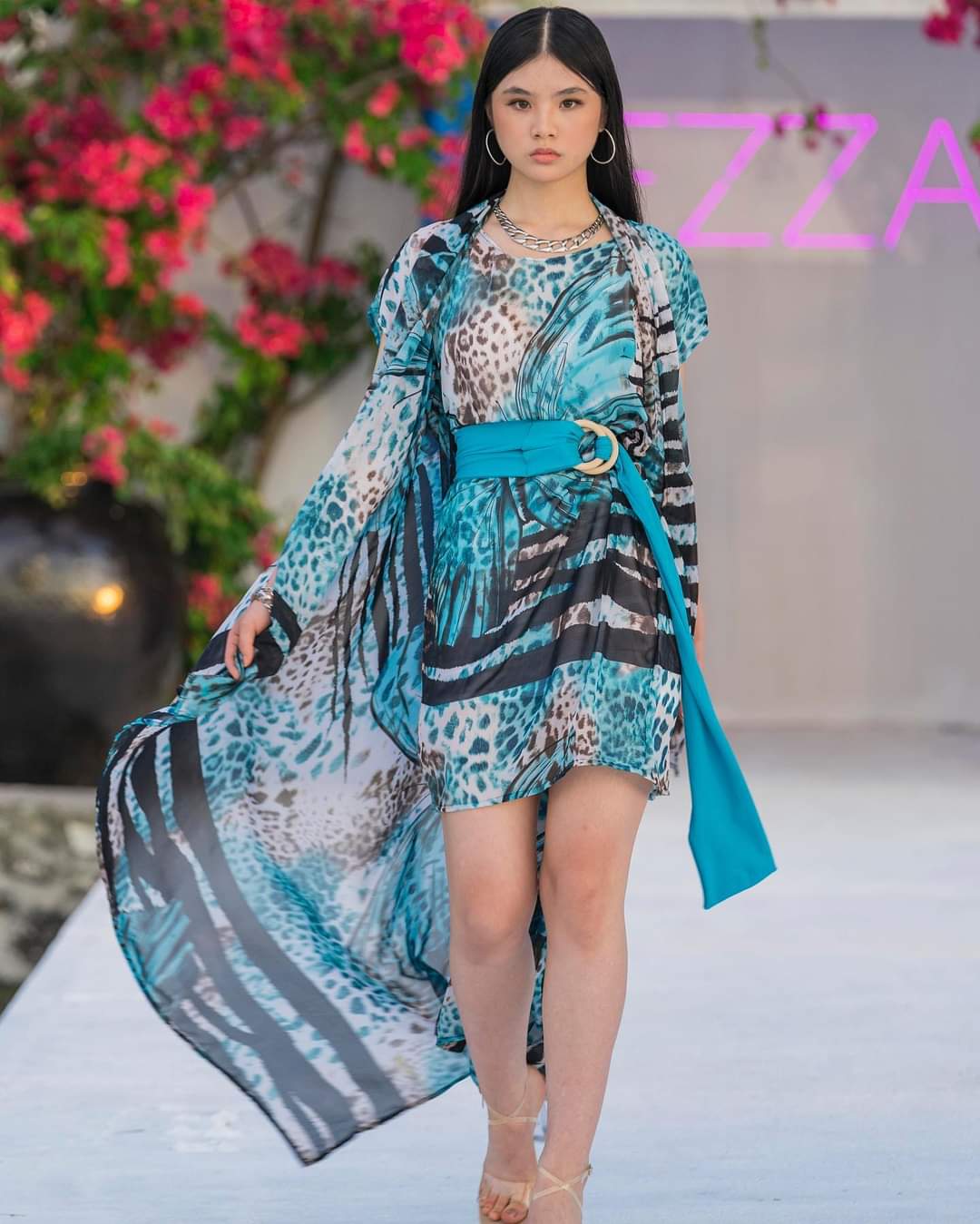 Kandaya Resort, with its breathtaking sunsets and white sand beaches, provides the perfect backdrop for the 55-pieces of beach wear.
"The collection, as with all our pieces, is made from discarded fabric that we source from China and Dubai," shares designer Claudia Bezza Yeung. "The fabrics for this collection were acquired at different times and were kept in storage since the pandemic, and it was only recently that they all came together with this vision: Santorini! "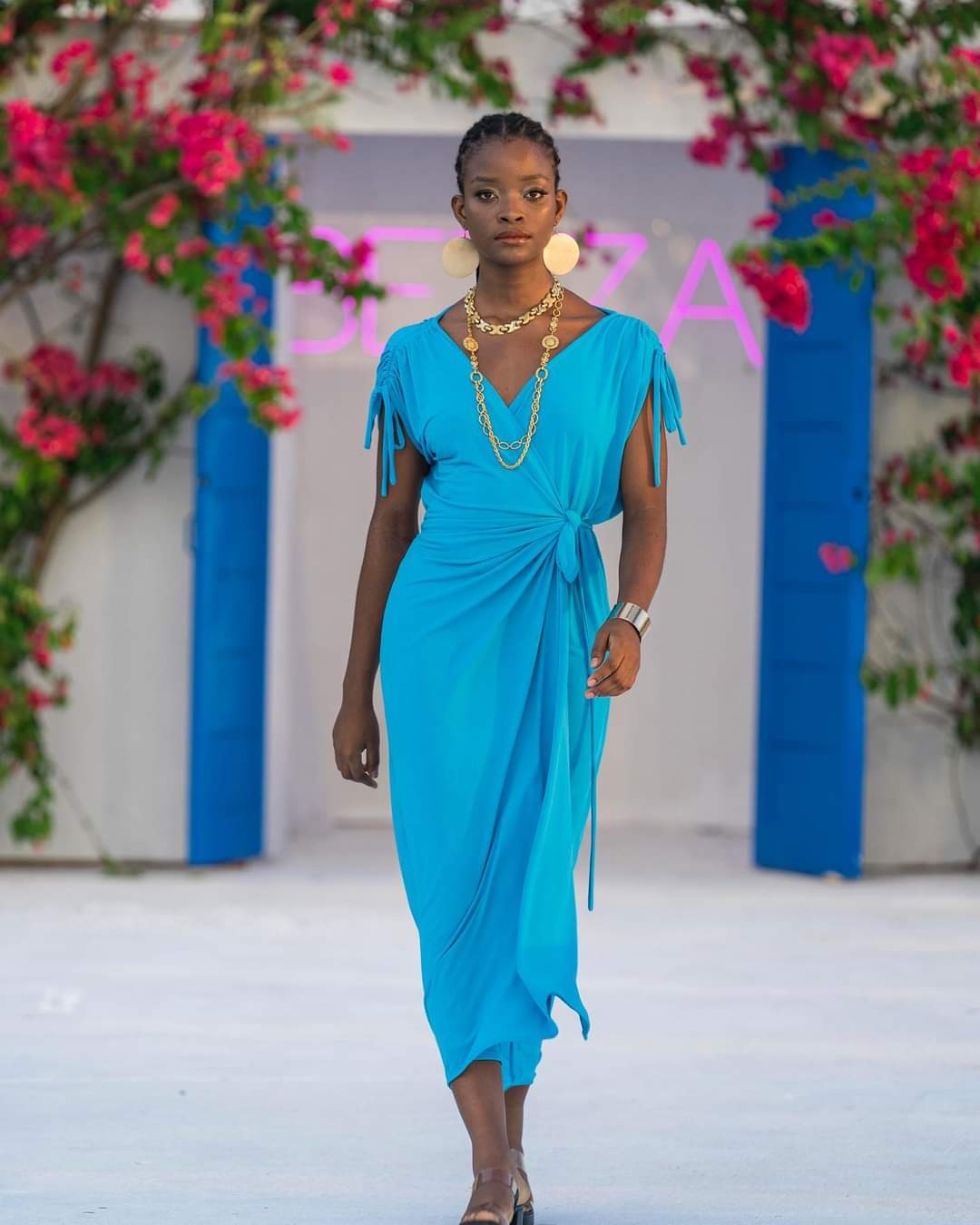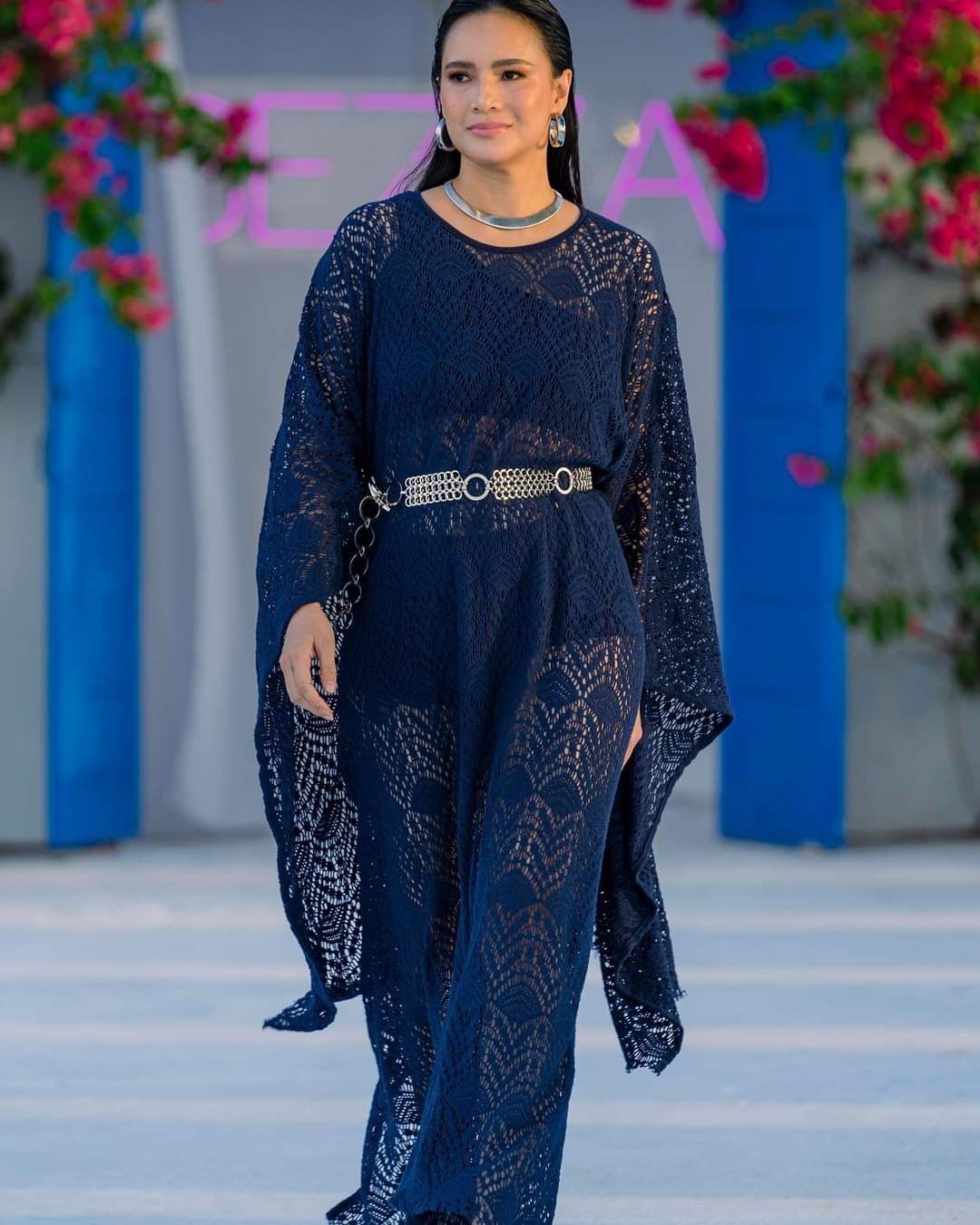 Beyond its aesthetic appeal, this fashion show also serves as an opportunity to showcase Bezza's talent on an international stage. By collaborating with local artisans and incorporating traditional techniques into her designs, this former model-turned-designer pays homage to Santorini's rich cultural heritage.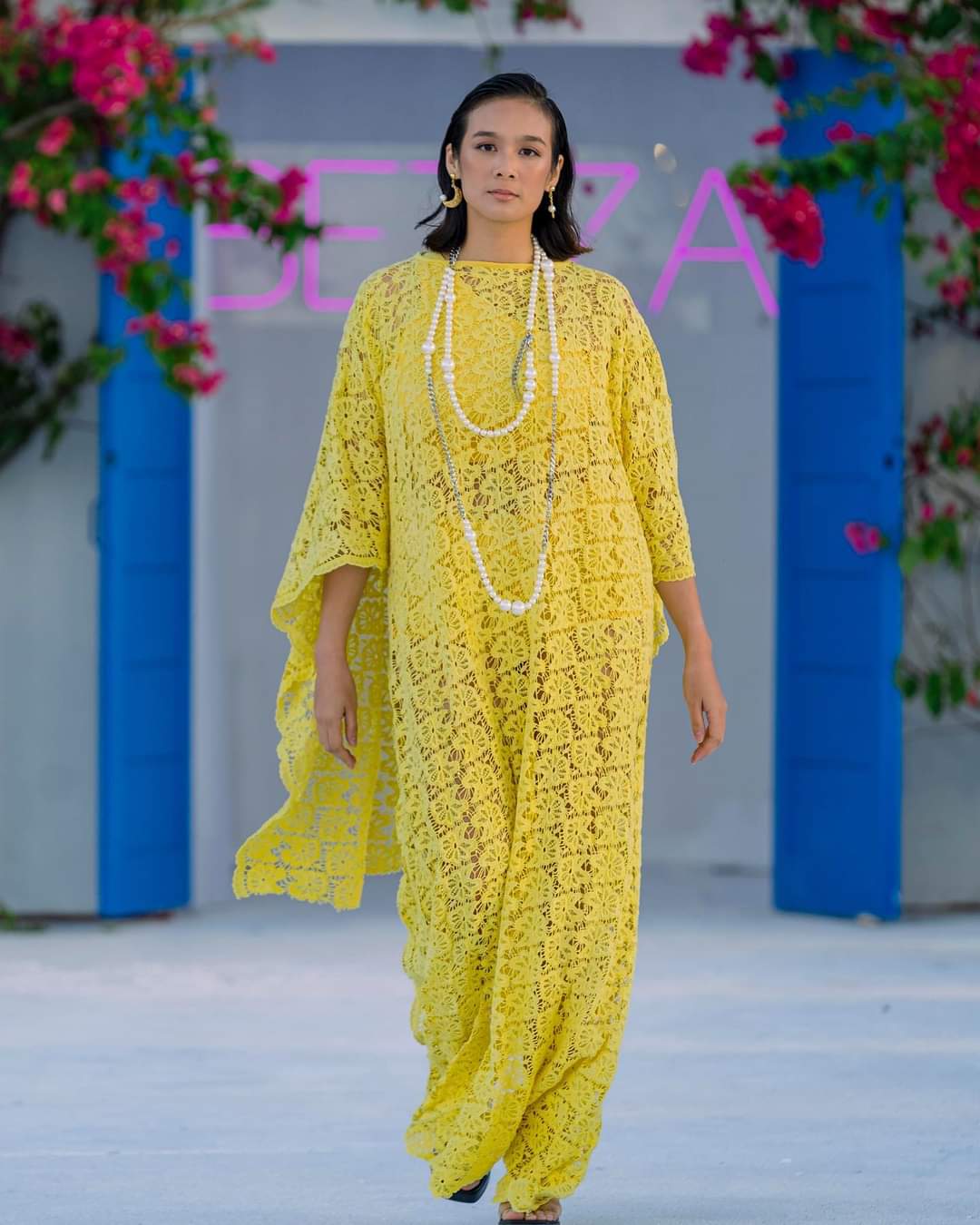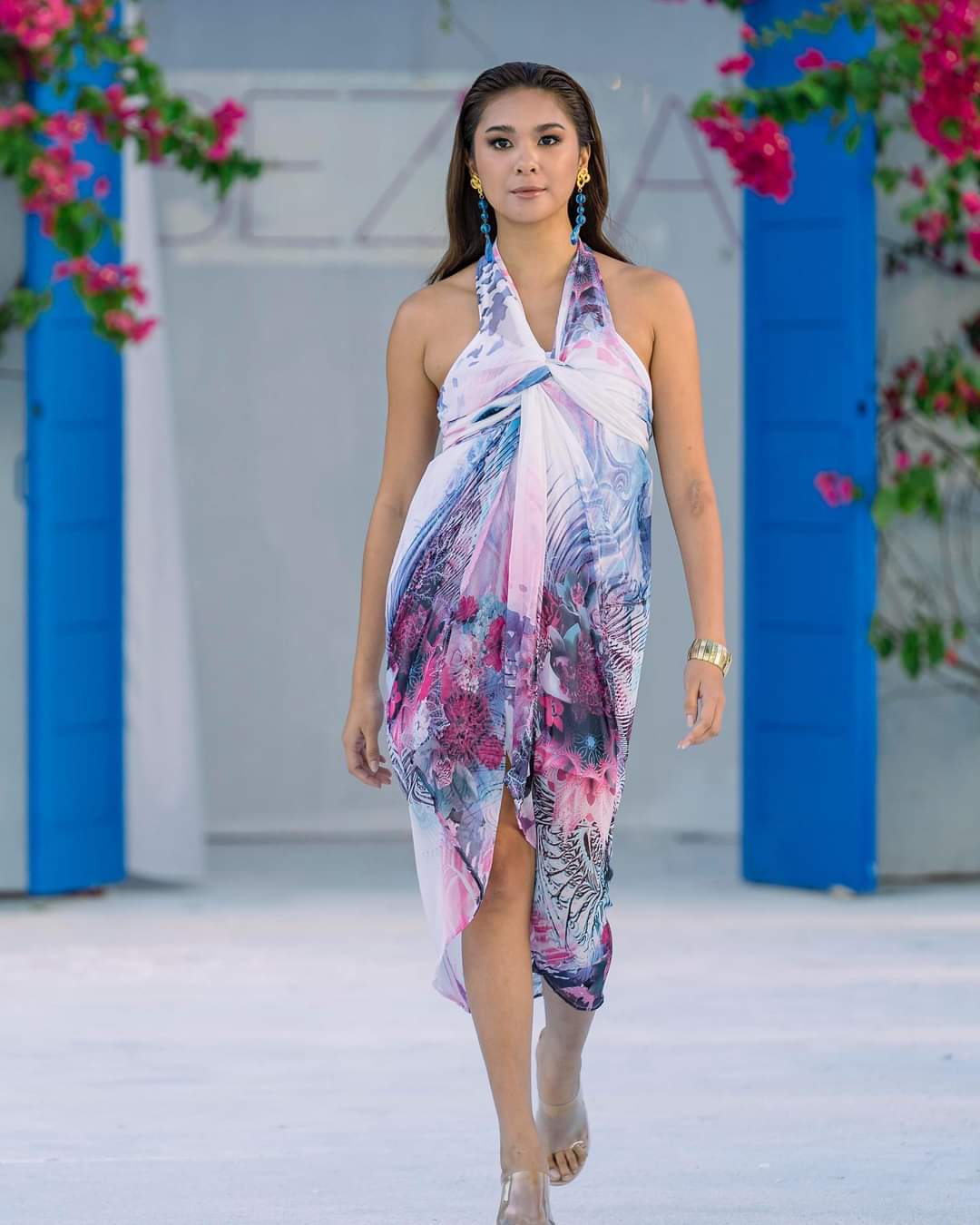 Claudia learned sewing skills from her mother, starting early by dressing up her dolls with fabric scraps. "When I was working and traveling all over the world, I had to decide to carry fewer clothes in my luggage, so I would recycle clothes and customize the ones I already had so they would look different every time." Soon, she began selling her creations to fellow models.
"I do not sketch. I find it better to manipulate fabrics directly on the body," Claudia shares. "I sew and drape directly on my body most of the time, and that's when I get ideas on transforming the dress.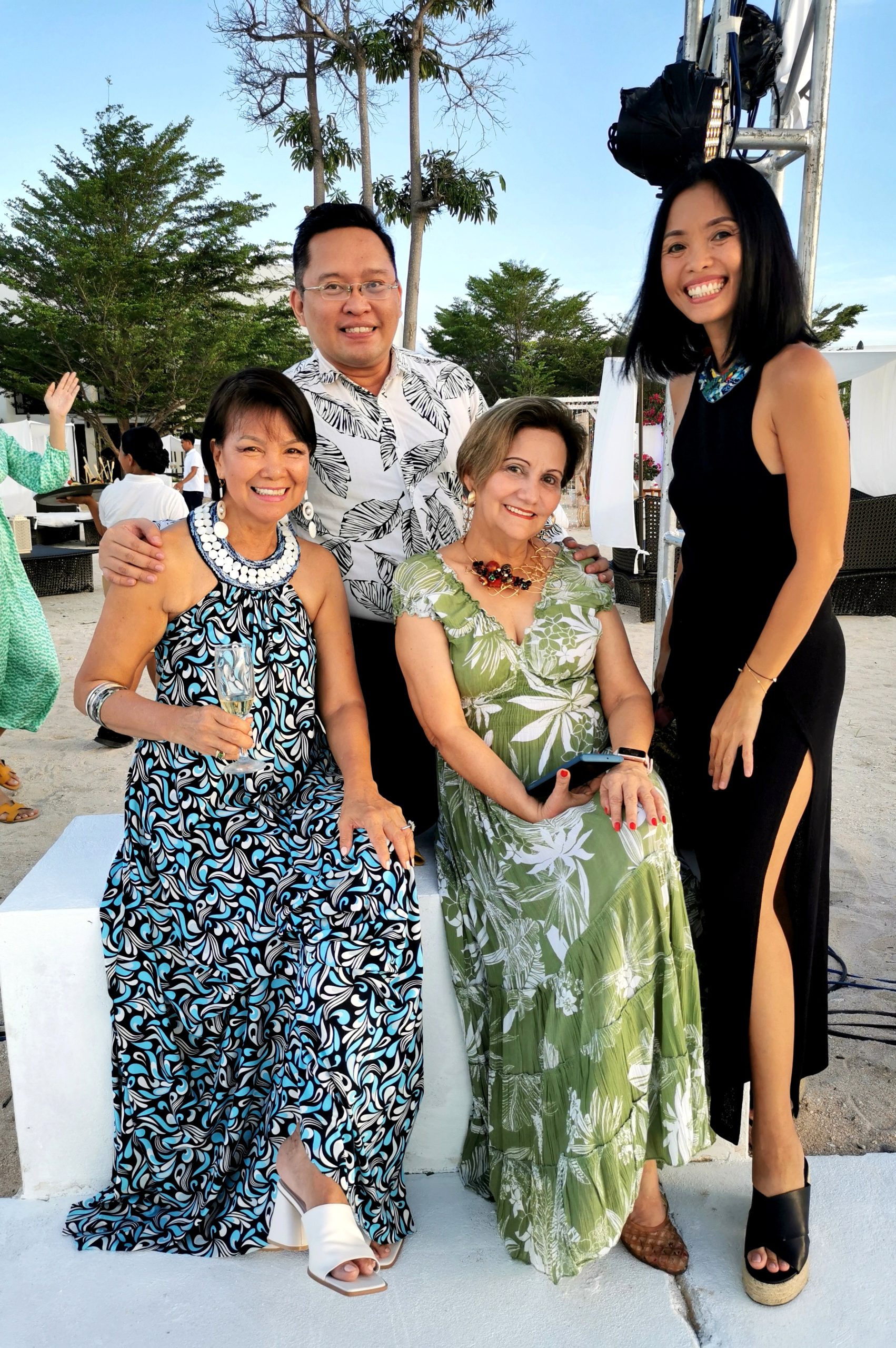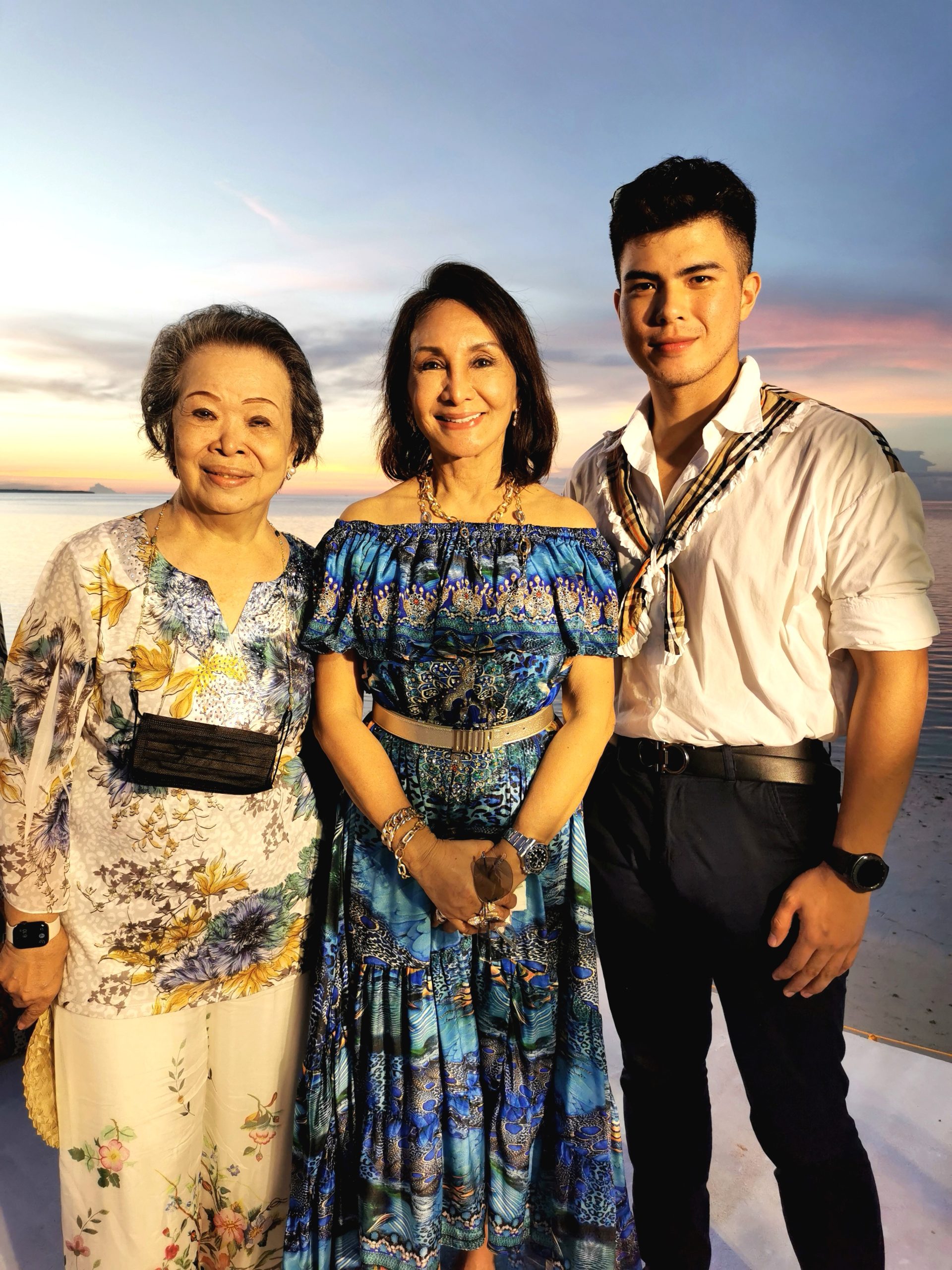 The Santorini Cruise Collection Launch, a Fashion Show on the Beach is not just another runway event but an immersive experience that celebrates both style and culture. Its idyllic setting and stunning designs leave an indelible mark on all fortunate enough to witness it firsthand.
The First Philippine Terno Gala at the Waterfront
On March 10, 2023, important guests and personalities entered the halls of Waterfront Cebu City Hotel & Casino to attend the first Philippine Terno Gala in Cebu brought to you by Cary Santiago.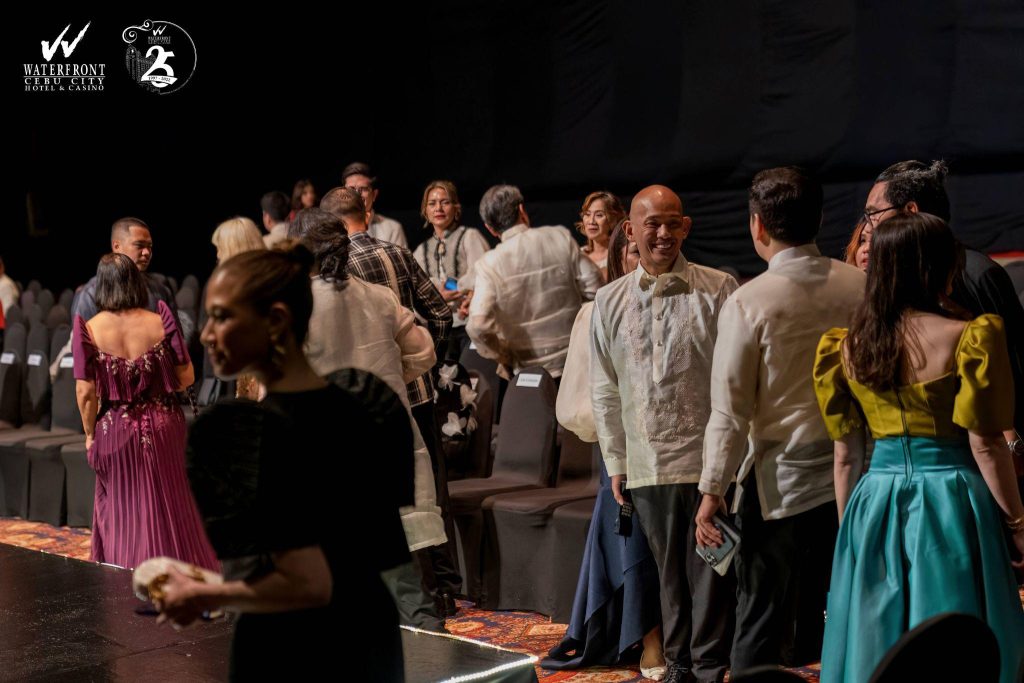 The Philippine Terno Gala's fashion show showcased couture pieces by world class Filipino designers: Rajo Laurel, Mark Bumgarner, Philip Rodriguez, and Cary Santiago.
The event started with Philip Rodriguez' daring designs that left the crowd with the need to see more.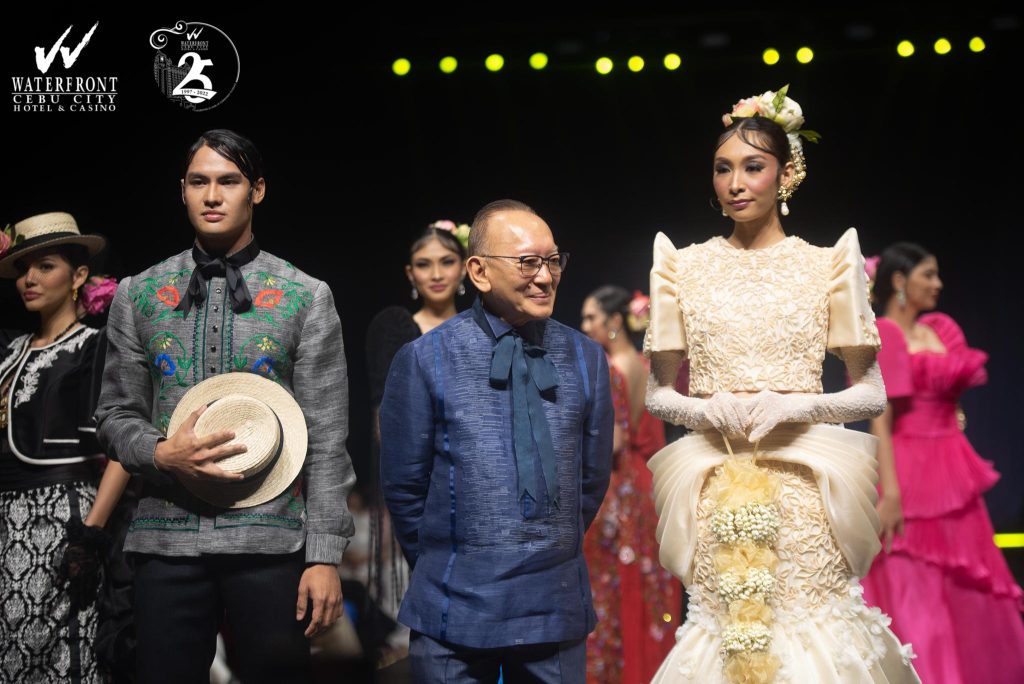 Followed by Rajo Laurel's contemporary pieces, keeping the ongoing gasps and cheers by the crowd alive to fill the ballroom's ambiance.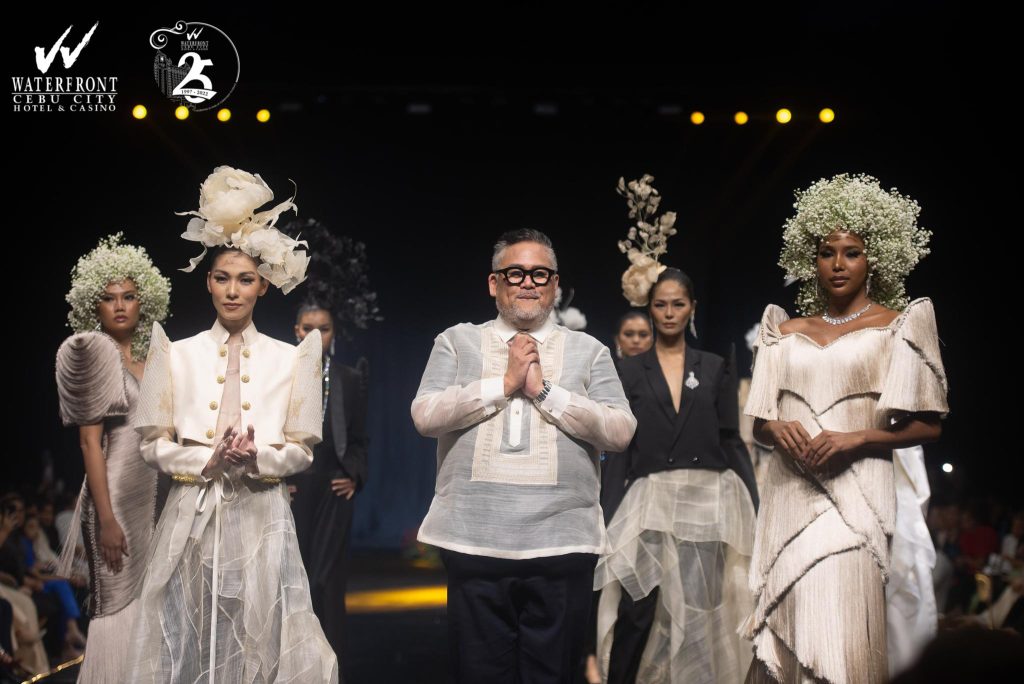 Next to grace the crowd is Mark Bumgarner's elegant designs had everyone raising their cameras to capture the admirable pieces.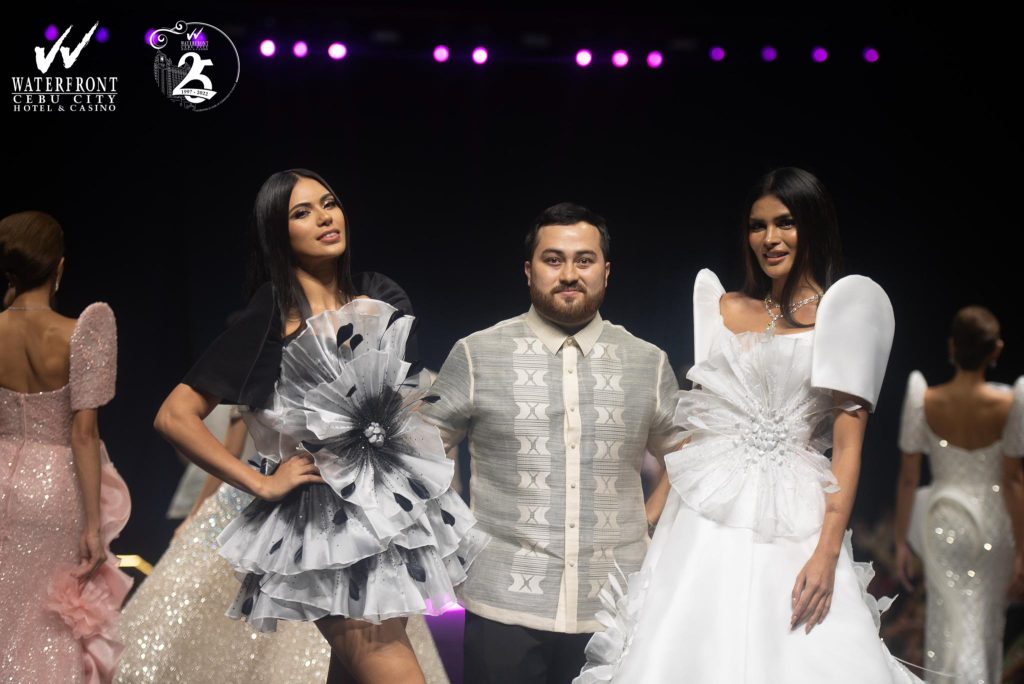 To end the fashion show, Cary Santiago left a statement as the runway welcomed stunning designs leaving the crowd in awe.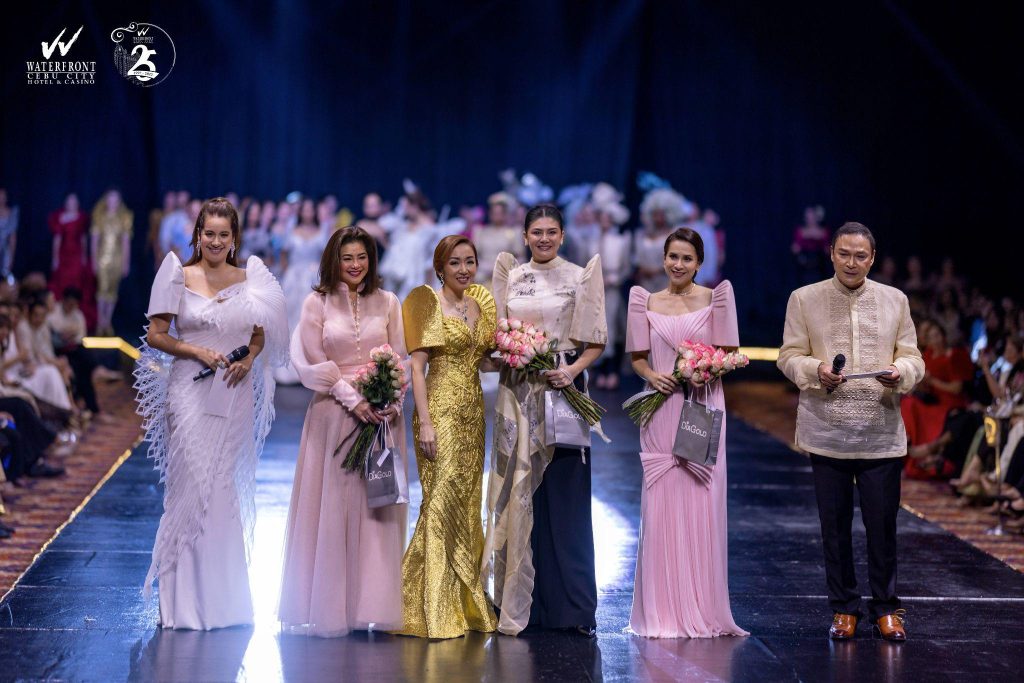 As a surprise to the guests, special rewards were given to the crowd stoppers of the night with special thanks to Dia Gold and Jun Villanel.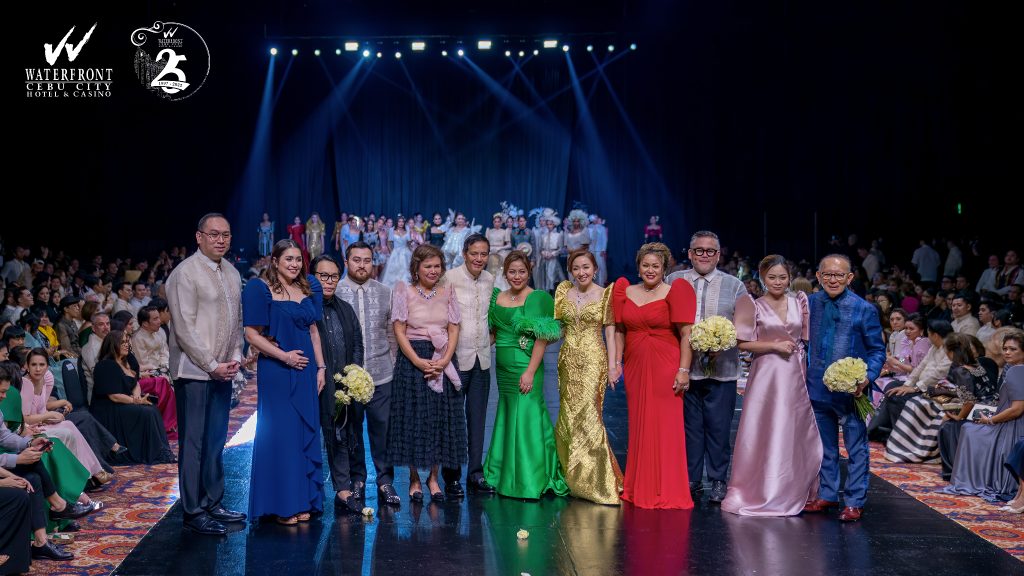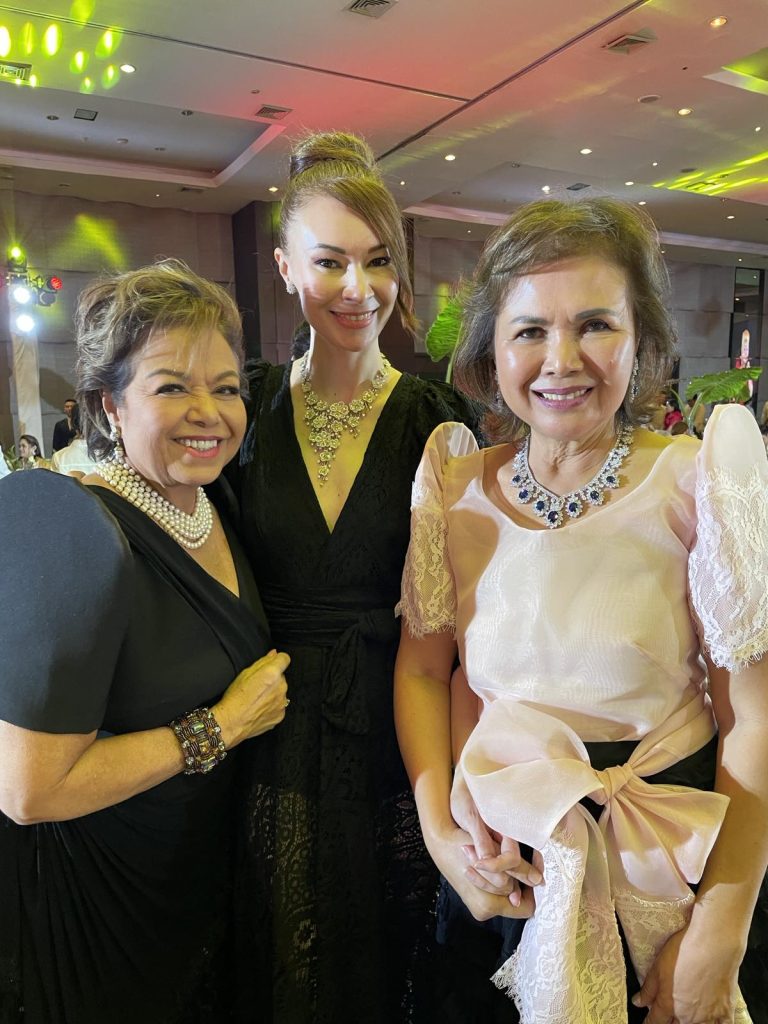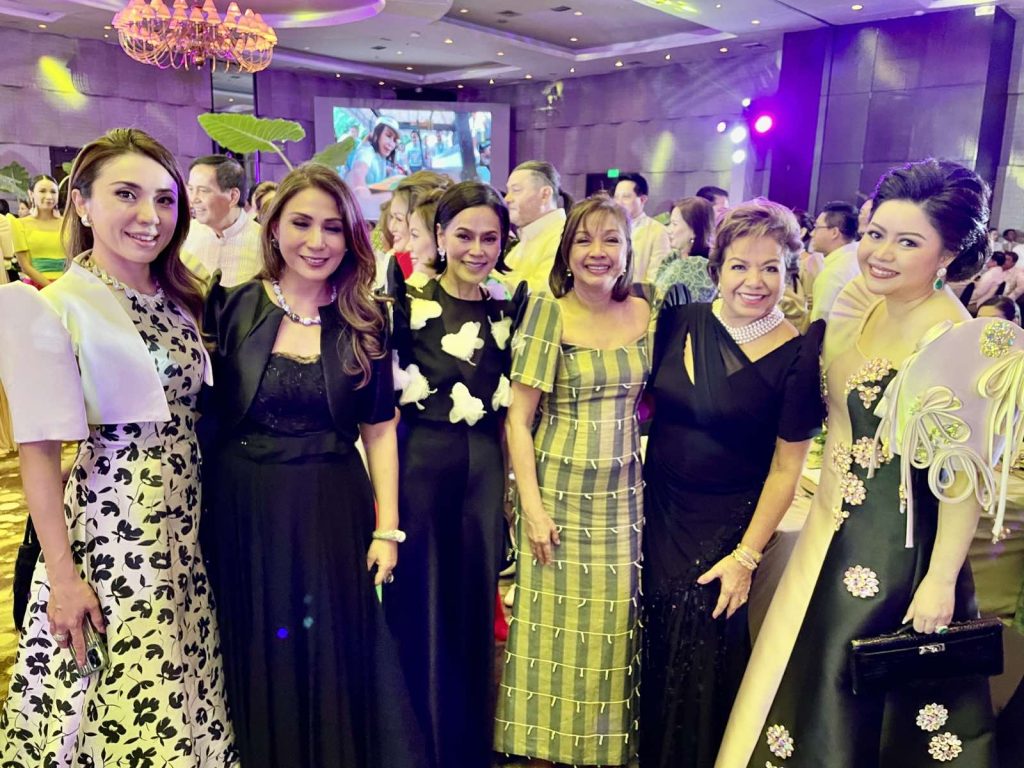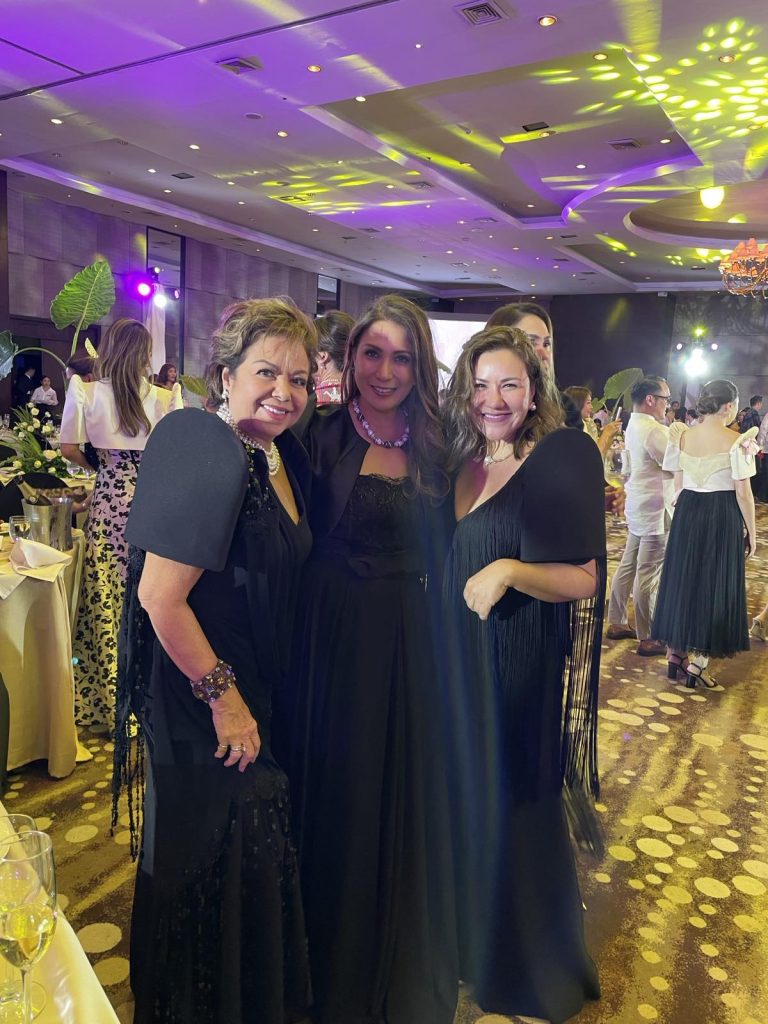 Waterfront Cebu City Hotel & Casino proved once more that they are the premier venue choice for grand events. Waterfront Cebu City Hotel & Casino will see you all in their upcoming events as a part of their year-long celebration of its 25th anniversary.
CEBU KALEIDO: A Night of Fashion and Celebration at Crimson Mactan Resort and Spa
Miranda Konstatinidou's beautiful beach wear and jewellery worn by her guests at an intimate beach party at Crimson Resort in Mactan. Konplott is Miranda's luxury fashion accessory brand sold in Europe, worn by fashion icons and celebrities (no, it's not sold locally) while her exclusive beach wear in silk are fabric designed by her, are also sold in high end resorts around the world. Meanwhile, Crimson Resort in Mactan will officially close temporarily for a makeover as most of their beachfront villas were damaged heavily by last December.s super typhoon Odette. Here's to a great reopening of Crimson in a few months. (photography by Steffen Billhardt)