VAGUE: A Tribute to Cebuano Society
Zee pays tribute to Vague with a special section dedicated to the Annes, Ashiras and Barbras we know. Read about the fashionable it girl, the stunning trophy wife and the sophisticated socialite and let us know: Which one are you?
Old Money: BARBRA SOPHYA ONAZES Y ROMUALDEZ
hair and make up Romero Vergara
A VAGUE regular, Barbra with a brand new haircut and streamlined wardrobe reintroduces herself to Cebuano society, giving these young it girls a run for their money, showing them how to live a truly charmed life.
What's your family business?
My family is into mining; we're very much connected to the South African diamond magnate.
Who are you wearing right now?
Who do you consider your friends in the society world?
When you're on top you have a lot of friends here. Well, I consider a lot of people my friends but I don't know if they consider me a friend. But of course, I'm very close to Amparito because they're also into the jewelry business.
What about your enemies?
I would consider politicians my enemies, especially in times of elections. They ask for contributions, so they're my enemies every three years.
What do you say to people who call you a social climber?
Oh, well they should climb with me!
What are your thoughts on Paris Hilton?
She doesn't deserve the name. I've been to Paris and it's very romantic, and Paris Hilton is never romantic. She's… I don't know what you would call her.
Speaking of Paris Hilton, do you have a sex video?
Yes, 60 pounds ago but it was never released. When I did, it was still on VHS.
Do you believe that money can't buy happiness?
I don't believe it. I mean, money is happiness. That's why so many people want it.
You travel quite a lot and get recognized often. Where do you go to escape the paparazzi?
My bathroom. It's the safest place in the world. I don't have windows in my bathroom.
If you could trade places with anyone in the world, who would it be?
I would like to be the former pope, Pope Benedict XVI because I want to see what it's like to be pope and then not be pope anymore, but still be alive.
If Hollywood were to make a movie about your life, who would you want to play you?
It would either be Julia Roberts or Angelina Jolie. Julia Roberts because she has the best smile, lips and personality, and Angelina Jolie because she's like me right now: we don't have any boobs.
How many husbands have you had?
I'm a Filipina so I only have one. But to say the least, I think I have lived with seven men.
What do you say to rumors about your husband being unfaithful?
I don't really care; I also am.
Do you have any kids?
I have three—one is in Europe, studying in Cambridge. Two of them are in the US, one in MIT and the other in Harvard.
Where did you go to school?
I finished highschool in the Philippines, then proceeded to college in Oxford and then graduate studies at MIT.
Do you have a private plane?
I have two. I can give you one.
What's your favorite travel destination?
Antarctica. It's the only place I get real privacy.
What's the most expensive thing you've ever bought?
Love. But it's on sale these days.
What's your favorite restaurant in Cebu?
Anzani and Tavolata, and of course the ones that I own.
What's your favorite drink?
Blue margarita
Who are your favorite designers?
For gowns, locally, I love Cary Santiago. Internationally, I love Christian Lacroix.
Where do you usually shop?
Paris, and of course Milan.
Do you have any charities?
Yes, I have a lot right now and there's one under my name, the Barbra Foundation, which is for women who are struggling, abused women and women with unfaithful husbands—just so they can get a livelihood, and get a life.
Do you believe in plastic surgery?
Yes of course! If you're beautiful inside but not on the outside, then go for plastic surgery. Fortunately for me, it's just that I don't need them. No botox, not yet. Maybe after 20 years, maybe I'll join the likes of certain high profile women who are very open with their botox.
Where do you usually go out in Cebu?
I don't usually go out. It's just with friends at their houses. I mean, Cebu's a bit crowded now and I've been advised by my security people to not go out as much.
Where do you live?
It's a humble house with the front door by the Banilad gate and the back door by the Busay gate of Ma. Luisa.
What do you drive?
I don't drive; of course I have my driver. I'm the simplest person, I don't know the brand I'm riding on. I just ride them comfortably. That's a man's world.
Who's a Cebuano guy that you have a crush on?
Mike Rama, I have a crush on him. Especially now that he won again.
Would you ever run for office?
Never. I fund politicians, but I would never run myself. It's so tedious for me, and I don't like going there and convincing people to vote for me. But I can buy votes though.
The Trophy Wife: ASHIRA DUPONT
hair and make up Gari Son
Poised to become Cebu's next wine mogul, Ashira talks about how her beautiful looks and slender figure landed her in a life of luxury.
Where are you from?
Cebu City, but I actually grew up in the province, in Tuburan. I went to school and worked in Cebu.
Who is your husband?
Michel Dupont, from Antwerp, Belgium. We met during my vacation in Boracay, and I was shocked when I found out he was filthy rich in Belgium. It's how I became a rich woman.
What is your family business?
Now I'm managing our wine importing business in the Philippines, but he still manages his jewelry business in Antwerp. I can't tell you the name, though, because it's very confidential.
Do you guys travel a lot?
He travels most of the time in India and in Africa, but he comes here often. He loves Boracay and Palawan; he loves the Philippines because he gets to relax. But we've travelled around the world—he loves Asia and I love Europe. We went to Germany, but I love Paris and Italy. It's very romantic. I love the Mediterranean.
Do you have a private plane?
No, we don't. I think it's very expensive in Europe, but we only take first class flights because my husband is a very sophisticated person, very luxurious. He wants luxury all the time—if it's five-star, six-star, I can't tell. I'm not used to having that luxurious life, but I love him. He's quite handsome; at least he was when he was younger.
How old is he?
He is 46 and I'm 28.
How old were you when you met?
I was 27, so it's been a year of luxury. This is really all still shocking for me.
How did you start your wine business?
My husband is really a businessman, and he wants to earn more money so he told me to venture into the wine business. He is a shareholder of a winery in the south of France, so that's why he exported wine to here and I receive it to sell in Cebu City.
Where do you live?
I live in Maria Luisa alone, with my helpers.
How many helpers do you have?
I have six, to take care of the house and my clothes.
What brands and designers do you like?
I love Louis Vuitton and I love Versace, it's my favorite brand. It's so sexy, and I feel like Donatella. That's the look I like. I love Gucci also. I don't like the American brands that much; I'd rather go for the European ones. I would like to be able to wear Alexander McQueen, but it's too avant garde for me. I have bags and shoes that my husband buys for me, and he just gives me a credit card so I can shop and swipe in Europe during my vacations.
What car do you drive?
It's an Audi, a silver one. I don't know what model though, and I don't know how to drive. I need to practice. We just hired a driver to drive me to the office.
What do you do everyday?
I just manage the wine business since we're just starting. It was launched last October. It's called "Hey, Wine!". Hey, because it's that great feeling of just greeting people with "hey!" It's welcoming. If it doesn't work we'll change the name to "Hello, Wine!"
Do you go out a lot?
I'm not used to going out because I still don't have a lot of friends in the social circles of Cebu. My husband isn't here and if I go out a lot, then he might get jealous when I meet men—and I don't want him to think that because I'm rich already. I can't give up my husband, so I take care of him and the business. I do go out to Ayala to shop and dine in the best restaurants in Cebu.
Do you believe in plastic surgery?
Yes! Before I had small breasts but my husband didn't like them so I opted for implants, went to Belo and had it fixed. My husband was so happy with my operation. It looks superb now. I feel like a Victoria's Secret model.
Do you plan on having children?
Oh my God, I don't know if my husband can handle babies, or if he's ready for it. I would like kids though, because they'll live a rich lifestyle and they can go to the good universities.
How often do you go to Belgium?
I lived in Belgium for seven months after the wedding, before my husband decided I should go back to the Philippines and start a business. I got bored in Belgium. It's a cold country— nine months of cold weather—and when you're a Filipino, you need to adjust and all, but my husband was very sensitive. He told me to go back and continue my happy life in the Philippines.
Are you on a diet right now?
No, my yaya just cooks for me. I just eat whatever she prepares.
Do you have any charities?
Yes, I do help children. My family is doing a feeding program in our barangay and soliciting money. I just give, because whatever you give will come back a thousand times over. I really believe in that. Just share the good karma, and it will come back.
Where does your family live now?
In Tuburan. I don't want my family to live with me because I decided when I started a family of my own, I want it to be separated. I just had our house fixed there and support them.
Does your husband get mad that you support them?
He's very understanding, because I let him understand.
Have you met your mother-inlaw?
She's already dead, but I've met my father-in-law and I can't understand him. The language is really complicated. I need to live there for five more years, then maybe I can speak fluently and understand better.
Do you and your husband have a language barrier?
No, he speaks very good English. He's a businessman and he meets a lot of people from around the world.
Do you spit or swallow?
Of course I swallow, because I'm not bulimic. I don't want to spit out what I put in my mouth. Just follow the natural process of things.
Would you rather be rich and ugly, or poor and beautiful?
Well, I would rather be poor and beautiful, because that was how I was before. I was just fortunate enough to find a very rich and handsome husband who was my knight in shining armor. He rescued me from poverty. It's just like a Cinderella Story.
The It Girl: ANNE AWARD
hair and make up Romero Vergara
The 19 year-old hotel chain heiress gives VAGUE a sneak peak into the life she's tried so desperately to keep private and her plans for the not-so-distant future.
Describe your style.
Elegant and sophisticated but bitchy.
People say you're a bitch. Are you?
When I enter a room, it's full of bitches, but I'm the prime bitch.
There are rumors going around that your boyfriend is gay.
Those who are spreading rumors obviously just want to sleep with him.
Do you abide by the unwritten rules of friendship, like don't sleep with your friends' exes?
It's always situational. It depends if my friend's ex is hot, then maybe. It could be one way of revenge for her, right?
How do you feel about the hundreds of fake accounts of you on Facebook?
Stalkers! Ambitious!
Leather or lace?
It depends on the boyfriend, but a mix of both would be great. Hard and soft. I'm always for the balance.
Where do you usually hang out?
I'd rather not say. Commoners will start crowding up the place.
How much is your monthly allowance?
It's too vulgar an amount to mention.
What is your take on friends who magically lose their wallets when it's time to pay the bill?
They're not my friends anymore.
Did you go to an international school?
Are there any other kind?
What's your family business?
We own an IT company and we have a lot of hotels in Cebu and Manila, but we're humble. It's the Award Hotels.
Is there a membership club in the hotel?
For you guys no, it's just for the beautiful bitches.
Do you have a private plane?
No, because my dad doesn't want me to have one since I'm too bratty already. But I'm a member for all the airlines, but except the low-budget ones, of course.
Where's the last place you traveled to?
Sorry, I travel a lot so I can't remember. I think it was in Milan. I had lunch in Milan, dinner in Paris and then breakfast the next day in London.
Where are the Awards from?
Genovia. I'm neighbors with Princess Mia.
Are you part of the royal family?
I have to keep that a secret to protect the family, but just between us, yes.
Who's your favorite designer?
I always loved Christian Dior and Roberto Cavalli. I love the way he goes for prints and volume.
What do you look for in a man?
I already have everything, so my perfect guy is like what everyone wants. A very simple guy: rich, handsome, very good attitude… rich.
What if the guy is poor?
Poorer than me? Well that's a given cause I'm the richest. But he shouldn't be far from like the second or third richest family.
What are your parents' names?
My mom is Bitchirhea Award and my dad's Pedro. He's half Filipino.
What are your plans for the future?
It's all laid out by my parents already so I don't have to worry about that.
Are you going to take over your company?
No! I need to pay people to take over. I just want to have breakfast, lunch and dinner in different places with the best guy on my side.
What's the worst thing you've done to a girl?
Stared at her. After that she was diagnosed with bipolar disorder.
Were you a mean girl in high school?
I wasn't! I was so friendly. Everyone would say hi, and then that's it. They'll go back to bowing their heads when they walk.
Have you had any plastic surgery?
No, everything here is real.
Are you against plastic surgery?
No. If people need the ego boost, then they can go ahead. I don't need it.
Do you think you're pretty?
What a stupid question.
How old are you now?
I'm 19, turning 18.
How many boyfriends have you had?
I can't tell you, my dad might be reading.
How old do you want to be when you get married?
19. So, I have to get married soon.
Where do you like to get a drink here in Cebu?
At Crossroads, just Distillery or GILT. I love Waves at Shangri-la Mactan.
What's your boyfriend's name?
Stefano Dalimarsh. He's from Belgium, I met him last night. He runs a restaurant and a club, and he's a gangster.
What kind of sausages do you like?
Depends on my mood. But everyone loves Hungarian.
Do you prefer guys in boxers or briefs?
Boxers. I like them bouncing.
Where do you want to get married and have your honeymoon?
Paris and Maldives.
Do you have a hotel there also?
No, but my dad's friend does.
Do you have any siblings?
No, I banished them all. It's all about me.
Where do you live?
No, you might go to my place. In Cebu, I do have a condo in Calyx.
Where do you usually shop in Cebu?
In Ayala, but I shop when it's closed. It's a private thing.
Name a prominent Cebuano guy you have a crush on.
Joe Vince Canizares
photography Dan Douglas Ong
St. Patrick's Day Celebration at Marco Polo Plaza
Marco Polo Plaza will be celebrating St. Patrick's Festival with the rest of the Irish community! It's not only a feast of greens and four-leaf clovers but of good food too! From March 17 to 19, dig in and enjoy traditional Irish dishes and delights such as Irish Stew, Potato Nachos, Cheesy Reuben Loaf, Guinness Beef Stew Pot Pie, Beer Mac N' Cheese and many more. These on top of the international lunch and dinner buffet at Cafe Marco. Complete the experience in true Irish fashion with an ice-cold mug of Irish Beer, also available at Cafe Marco.
Gastronomic adventures await at Café Marco! For inquiries and reservations, you can call (032) 253-1111. For real time updates, like the Facebook page at facebook.com/marcopolocebu or follow on Twitter at @5StarInCebu. Visit the website at www.marcopolohotels.com.
For inquiries and reservations, call 253-1111 or email hospitality.ceb@marcopolohotels.com.
La Liga Henerales: Shaping History Awareness Back Again in Cebu
La Liga Henerales is a community of young talents passionately promotes historical awareness through periodic costumes carefully researched for its authenticity and accuracy and promoted as well in events and schools.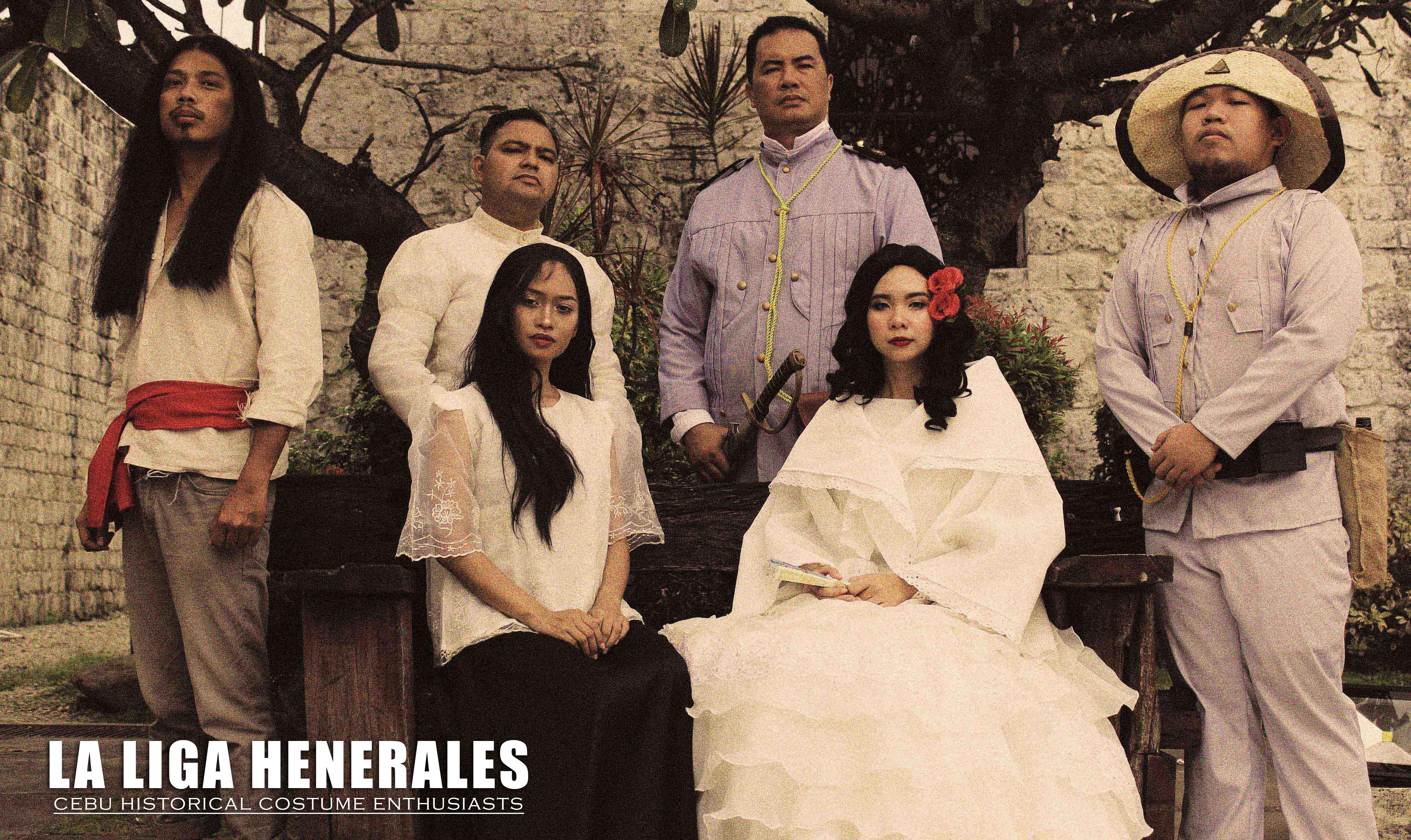 Only few individuals before were into pursuit in this historical awareness project until the age of communication where internet is convenient in the palm of our hands through our gadgets. New information travel fast and data is retrievable, yet also possess a disadvantage with the plethora of different social media platforms carried by various makers as well. In a daily basis, historical backgrounds are unearthed making its trend until now as new discoveries are released, but the idea of these information being shown and shared is as close as not valuing or commemorating to its sources leaving this information just a trend.
There is a certain community of Cebuanos that are taking a quest to rewrite and restructure what was in the past, filling the gaps in facts with further research of variable sources that are made debatable but sticks to it true cause, to unveil the truths of our heritage and our origins, as Cebuanos and as Filipinos as well.


La Liga Henerales is a Cebu-based, non-profit organization composed of a group of talented, committed and respectable individuals from different walks of life, schools and profession whose primary aim is to promote both, Cebuano and filipino culture and heritage that was depicted before in pre-colonial and colonial eras via re-enactment with costumes vested in proper research and investigation to achieve authenticity. They also push their cause on schools and other social gatherings promoting and spreading awareness about our local, and national heroes that we look up to. With these said, they also portray a closer look of the lifestyle of the past to where they perform stories, perform forgotten dances and rituals and portray their individual roles, vital in the fight of our country's future during those challenging times, and in honor to spread awareness of the lost practices we had in those times.
The Founder
Louis Kenneth Villaflor, an entrepreneur and an avid history enthusiast and costumer, founded the group on the purpose of re-educating the youth about real local and national history, he saw the opportunity to combine his favourite hobbies which is costuming and story role-playing and the process to instill the historical awareness and value among the youth and in schools, along with a group of fellow enthusiasts who shares his passion about research and history, they took it among themselves to be purposeful in the advocacy in spreading historical awareness in schools or events by wearing periodically correct costumes and sharing the stories and its value to the youth.
Behind the Garments
Meet Rodney "Pee-Wee" Senining, who has been in the fashion industry since the late 90's, strives  in concepts of avant-garde, innovation and cutting edge-fashion forward design. And also a teacher of Architecture, Fine Arts and Design of University of San Carlos, he had grown into research of books like the holy grail in the Library Resource Center and is always fascinated of the periodical times and how to preserve it; Hence, his interest had grown for the affinity of Periodical Costumes and Sustainable Fashion.
 Being part of the group La Liga Henerales, he was tasked to instantly be their mentor for the young talents and as the organization is still new and developing with limited funds, resourcefulness and research were done to come up with a good output of photo shoot and was quite proud of it and still promise on the next editions of pieces to be more historically accurate. Even as teacher for Fashion Design in SAFAD, his expertise comes hand in hand with the members as he helps them do research as well. His passion and interest somehow led him with enough knowledge to key the insights of the significant periods and historical backgrounds of it.
Historical Awareness in Cebu
The strength and progress of a country is anchored on how well they know and honor its history. The means of historical awareness in Cebu is almost non-existent among the Cebuanos, although we push forward in tourism and promote beauty through sceneries and other aspects of culture yet never commemorate deeply on historical icons such as our other local heroes, and ancient cultures as well that is almost been forgotten in an urban Cebu. Nevertheless, as long as communities' like La Liga Henerales are now evolving in a learning state by real discovery by multiple resources, this will always reflect of how we appreciate love, patriotism and honor to our country and would look forward to progress.
Christmas in Colonial Cebu: A Themed Exhibit by Teresin Mendezona and Eva Gullas for Stylescapes 2019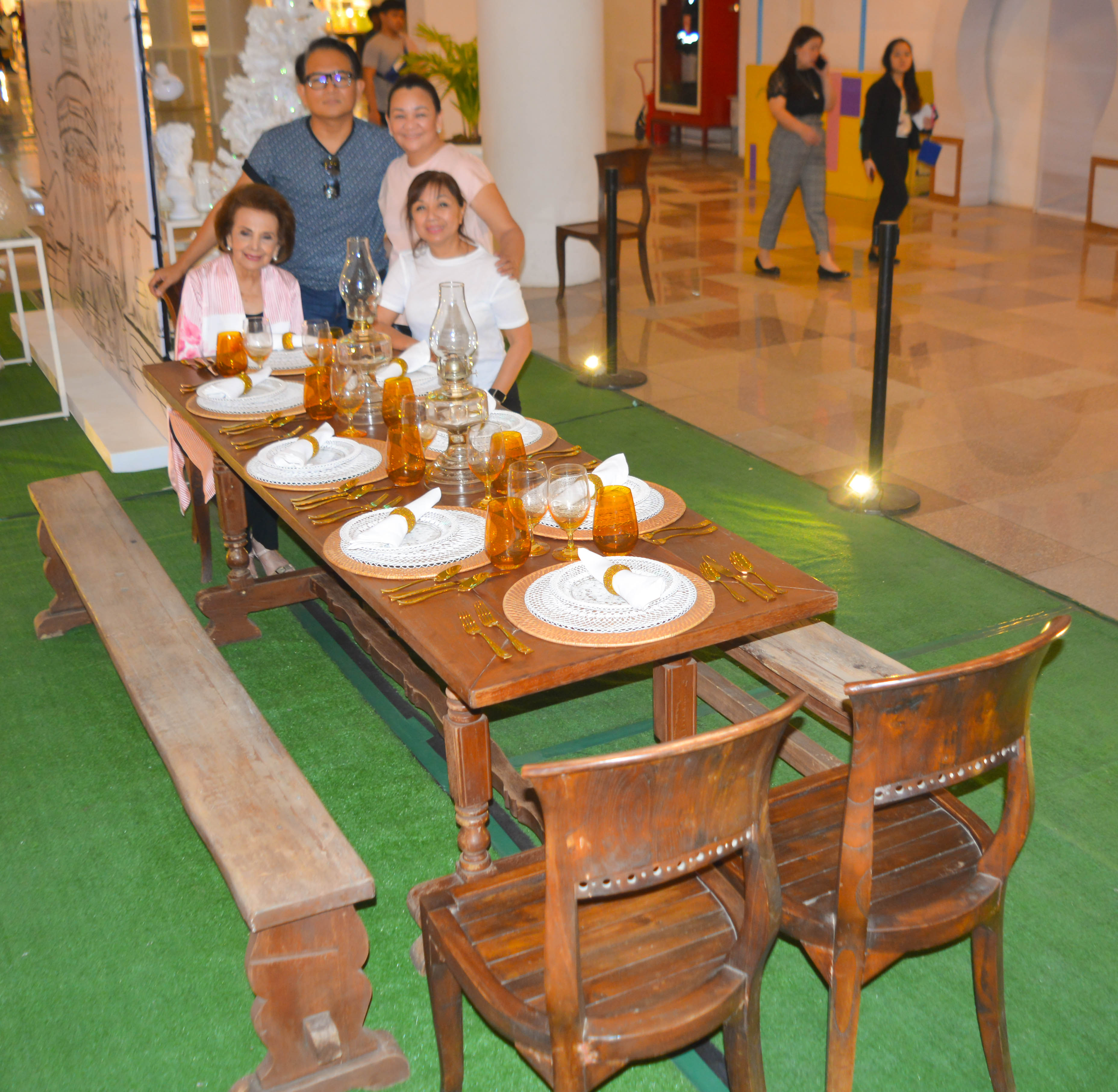 Ever wonder how the yuletide season is celebrated in colonial times? This year at Stylescapes 2019, Teresin Mendezona and Eva Gullas collaborated to showcase the elegance of Christmas during the colonial period, specifically most of the Spanish regime.
This pop-up radiated the ambience of Christmas in the colonial times through the various details used within the setting. Specific pieces like the gansilyo table cloth, oil lamp, and the sketches were from Ms. Mendezona and Gullas themselves.
Aside from that, various table and living room pieces were sourced from Rustans and Metro Ayala, and was curated by Doro Barandino.