Allen Zaldariagga's pursuit of happiness
With 20 years of success in Play House Preschool and B.R.I.G.H.T. Academy, Allen Zaldariagga continues to be an inspiring figure with her positive outlook on life, genuine care for those she meets and an effervescent inner joy that catches on.
With 20 years of success in Play House Preschool and B.R.I.G.H.T. Academy, Allen Zaldariagga continues to be an inspiring figure with her positive outlook on life, genuine care for those she meets and an effervescent inner joy that catches on.
When spending time with Allen Zaldariagga, her innate cheerfulness is contagious, spilling over in enthusiastic stories, cheerful greetings and the most genuine bouts of heartfelt laughter. Tita Allen to the students of Play House Preschool and B.R.I.G.H.T. Academy, and in effect everyone else, she walks around the campus after class, striking conversations with the lingering students. At one point, she picks up a paper flower that some of the girls were working on and admires it up close. "It's so beautiful, are you going to make some for me?" she jokes, which the students gamely agreed to do.
It's the kind of amiable exchanges that make Tita Allen a beloved fixture in the lives of the B.R.I.G.H.T. Academy community, every one of which she treats with familial care. "The culture here is really like a family," she says. "I started something where I treated everyone like they're my children. I don't want it to become too big to a point that I don't know anyone."
That may be so, but the school has already grown significantly since its beginnings as Play House at a garage in Paradise Village 20 years ago. "John, our eldest son, asked me 'mom, what do you really want to do with your life?' and that made me think. I really love kids, and at the time, we had our one-year-old son Michael so I decided to start a preschool with five children, with Michael as one of the students," she recalls. Of course, teaching wasn't something that she just thought of on a whim. She had studied at the Colegio del Sagrado Corazon de Jesus in Iloilo, where she graduated as an AB English cum laude and Most Outstanding Student awardee, as well as the editor- in-chief of the school publication The Voice. Back then, the school nuns had already asked her to spend time teaching little children, so the choice seemed like an obvious fit. She carried out the school functions completely on her own, working as a teacher and marketing the school to other residents of the village at the same time. "It really started small, then word got around with my friends, who started putting their kids in. From five, it turned into ten, and then 20."
As a result of the steady expansion, the school has changed campuses twice, with a location just outside the gates of Maria Luisa and later to their more permanent site along Gov. Cuenco Street in Banilad. For Tita Allen, though, B.R.I.G.H.T. had just grown up together with her pioneering students. "I didn't see it as an actual school, more of just a preschool," she admits. "But when the kids were in kinder two, they didn't want to leave and the parents were asking me to go up to grade school. So I said, 'okay let's try grade one.' We really grew up with the children one year at a time." The same thing happened at the first sixth grade graduation, with kids reluctant to leave for another school. "Everyone was telling me that high school was tough, but the kids didn't want to go, and I started with them and saw them grow up, so I carried on."
Now, B.R.I.G.H.T. Academy has about 700 students from preschool to high school, with many of their graduates going on to prestigious universities in the country and around the world. "Here, our school curriculum is always evolving to address the needs and challenges the students face in the local and global community," high school English teacher Vert Reyes explains. The dynamic approach to education keeps B.R.I.G.H.T. current, and the competent faculty admits that they too are encouraged to learn with the students and challenge themselves to continuously do better.
Of course, it isn't always about being in the classrooms. "Aside from the high academic standards, we have a balanced education, which allows the students to experience so many other subjects," says the school superintendent Dr. Alan Ferguson. This includes a wide range of extracurricular activities where students can find their own interests and develop talents as they grow. "It plays an important part in our school, whether its sports, music or performing arts," Tita Allen adds, describing Voices of Children, an activity where the students are encouraged to develop public speaking skills. In fact, B.R.I.G.H.T.
has exemplary English standards, encouraging students to read and attend various school events like Book Month and character role-playing.
Keeping up with its curriculum, the school boasts of facilities to cater to educational and extracurricular needs. Besides the bright and airy classrooms decorated with student art and encouraging posters, the buildings sit around a sprawling open field with Little Tikes play areas and a soccer field to encourage interaction while outdoors. Towards the back of the school is a large gym, where the young athletes can play basketball and tennis, or do laps in the swimming pool. The home-economics room mimics a charming country kitchen, although kids take their meals at the fully air-conditioned cafeteria, which boasts of an extensive menu from the in-house chef. But probably the room that best embodies the school spirit is the Discovery Park, a 1,200-square foot playroom, which has a mini-community of houses and stores, a ball-filled playpen and a number of developmentally appropriate toys.
"Well, we really believe that one of the foundations to make a person a better individual is to build self-confidence and self-esteem. We provide various experiences for the kids to find what ticks for them, so it's building on their strengths so they can develop passion and confidence," shares school headmaster Neil Montesclaros. "We also believe in training kids to be self-reliant. They learn to be creative in coming up with solutions. Also equally important is our belief that the quality of the school cannot surpass the quality of its teachers. The teachers make the difference, and that is something we espouse in B.R.I.G.H.T. Academy."
It's a philosophy Tita Allen understands by heart. "At the end of it all, it's not the building, but the people," she says. "Because what would I do if it were just me? I have this culture I want to share and nobody helps me." Thankfully, there were and her said culture has become one to make the B.R.I.G.H.T. community close-knit and warm, embodying that line in Play House's catchy radio jingle ad that goes "the school with a heart."
"I want everyone to be happy," she enthuses. "Despite what you go through in life, nothing should stop you from that. It's really a decision you make, to try to go on and be happy." Everyone who sits down with her immediately understands the contagious power of Tita Allen's bright smiles. She has a firm but personal approach to leadership that is integral to keeping the institution productive, but she also makes sure to create a warm environment to make everyone feel appreciated—from an elaborate Hollywood-themed sit-down dinner for last year's faculty and staff Christmas party, to handpicking and personally wrapping special gifts. "I guess if you really care about the people you work with, then you do what you can to make them happy," she explains, a gesture that is clearly recognized.
"We are all Tita Allen's children!" says high school head Meann Rafaeles. "The environment in the school is very much like family—from the students, teachers, guards, kuyas, office staff. When she arrives in the office in the morning, she greets each of us with 'Happy Morning!' and it's a wonderful way to begin the day."
"She really does have a big heart," adds Neil. "Her genuine personal care and affectionate warmth is always disarming. I really try to emulate her in this way. She has a way of honestly telling you where you stand with her, and yet convey it with sincerity. I have great respect and admiration for this woman, knowing the many things she has gone through in life."
One such thing is her annulment, a situation that she now talks about with grace and wisdom. "You know, it's not the end of the world," she says. "I think it should just make you strive to do better and do what you need to become a better person." One way of coping had been to join marathons, a feat that she now proudly narrates having finished a recent 21k run in Singapore. "I'm a half-marathon runner," she says, referring to how marathons are traditionally 42 kilometers, "but I'm still very proud. I started with 5k and made my way up to 10k and 12k and I was so amazed that I could do it." She's even done the 25k Cebu 3-bridge marathon, and plans on doing more – proving she still has an upbeat energy despite turning 63 this May.
Countering obstacles with hobbies that effect positivity is an outlook that many of today's world- weary folk should adapt. "I don't see things as problems," Tita Allen shares. "I don't like the word problem, it feels heavy and it becomes hard for you to solve it. I see it as a situation, as a learning experience."
When she does feel her spirit waning, she retreats into the Happy Room, a corner of her bedroom where she keeps her books and does arts and crafts, or schedules quick yoga sessions on her house's scenic garden. "Like when I was feeling a little tired earlier, I had to switch and do my yoga," she admits. "I need that calmness of spirit back because the world can get noisy, and I need to get back and refocus."
A central part of her downtime, though, is spending it with her family. "Playing with my grandchildren and being with my children, that's very important to me." Besides the Sundays spent at home, the family goes on trips to Boracay, Hong Kong or Los Angeles together, with six grandchildren in tow. "Enjoy it!" she advises on how to travel with kids. "I think you have too many dos and don'ts, you lose the focus. I'm a very organized person, but I know when to switch it up and say let's have fun."
Quality family time is something her children look forward to as well, looking up to their mother as an example of strength and passion. "Whether it's a B.R.I.G.H.T. Academy school activity or a 21k run she's joining, my mom gives it everything that she's got," eldest son John Pages shares. "She has so much energy, enthusiasm and love for all that she does. Her passion is infectious."
Her only daughter Cheryl Pages-Alba says she developed a deeper appreciation for her mother as she grew up. "My four brothers will attest to this, that my mom never made us feel like we weren't good enough," she recalls. "No matter what we did, she would always tell us how proud she was. Even my brother Charlie still gets a note on his door from my mom with sweet words of encouragement from time to time, and my other brother Randy knows that our mom is always cheering him on at his gigs. I don't think there's a better word to describe her than nurturing—it's in her DNA. I guess because of her positive reinforcement, all of us don't want to settle for mediocrity in our chosen field of interest. It is so much easier to be your best when your mom believes in you."
The same wholehearted support is now bestowed on her grandchildren, who she dotes on with time and attention. "My mom knows that in order to win the love and trust of a child, you have to really be there for them," Cheryl shares. "You should see her when she's around my daughters. You'd think she was the same age as them!"
The close-knit ties Tita Allen created in her own family was a product of her own relationship with hers back in Iloilo, where she grew up. Growing up as an only daughter as well, she continues to be very close with her brothers, who she visits often.
Truly, Tita Allen is an inspiration to everyone around her. "Many of us dream of making a difference in this world, but very few actually have the willingness to translate that into action," says Carmen, mother to B.R.I.G.H.T. Academy student Feliz. "She continues to help shape the lives of so many children by her sheer passion for creating in them a never-ending sense of awe in the beauty of learning while in a fun- filled and caring environment—all from something she established in her garage 20 years ago. I bet there isn't one single Play House or B.R.I.G.H.T. Academy student who doesn't have Tita Allen on their list of people who made a difference in their lives and that, I think, is her greatest achievement."
When asked personally, though, Tita Allen reveals that the legacy she wants to leave the children is relatively simple. "Believe in yourself, and that you can do things," she insists. "I don't know why people have to sulk and complain about a lot of things. You can't help but love life. That's why I'm always smiling, because there's so much to be thankful for." In her case, when she needs a change in perspective, she gains life lessons from sitting in a class where it all started in the first place. "The preschoolers give me a reality check. They make life so simple."
by Shari Quimbo
sittings editor David Jones Cua
photography Dan Douglas Ong
hair and makeup Jessie Glova
LADY CYCLISTS HIT THE ROADS AND SLOPES OF CEBU.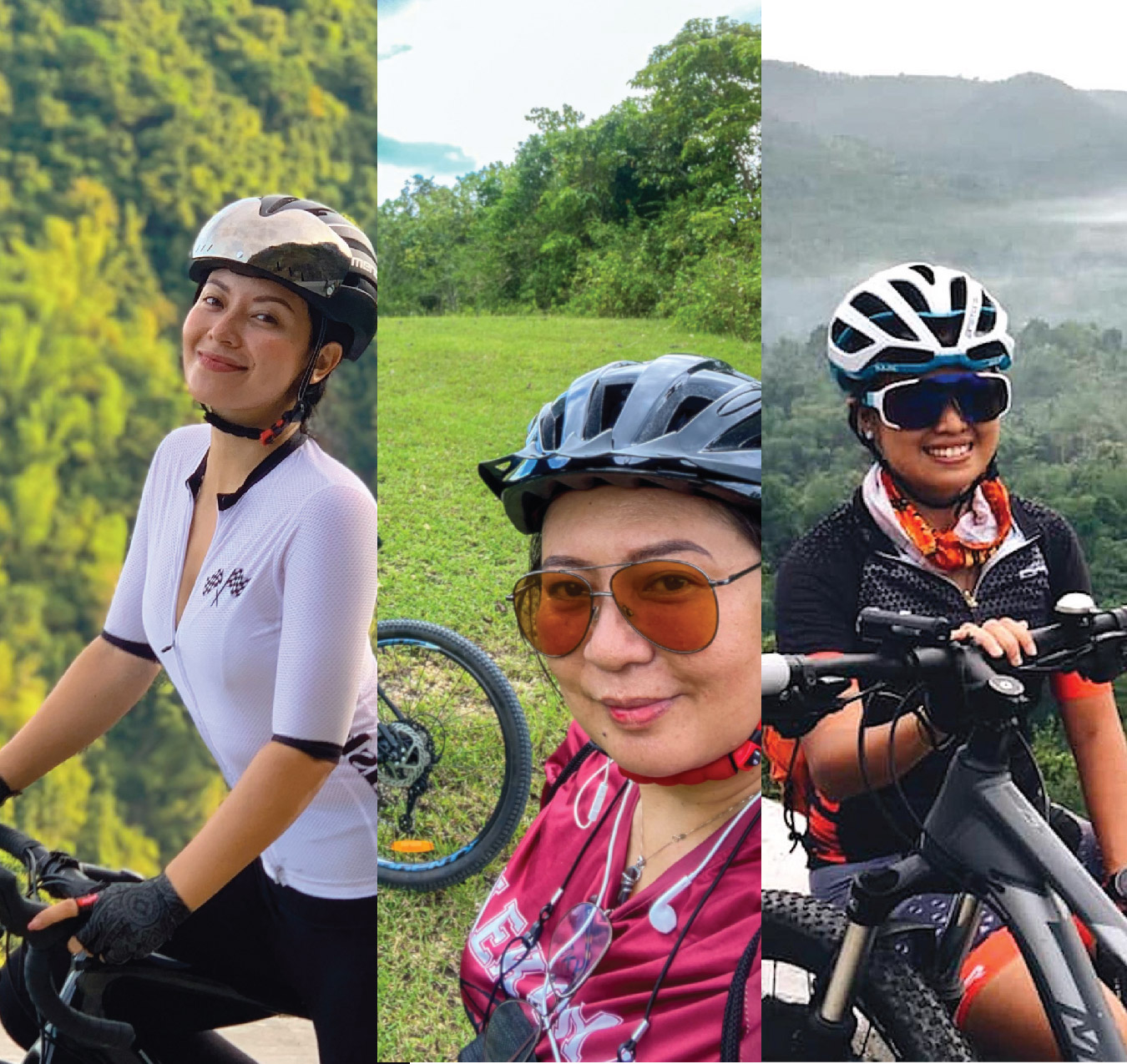 Cycling has been a growing sport and hobby for many years but it's popularity has erupted since the Covid pandemic.  People biking to work and for recreation is an everyday sight in Cebu.  More and more are joining the ride.  Many are quite serious about cycling.  I know three ladies who are among those who've gone long distances across Cebu.
How did you get into serious cycling?  What was your motivation?
Blinky de Leon.  Event Host, Product Endorser & Influencer
" I've been into cycling since I was a kid. A little backstory, I was around 10 years old when my dad surprised me with my first custom-made mountain bike. I still keep it until now, in fact I had it refurbished. It's the most sentimental thing I ever received since it was his way/gesture to catch up with me after not seeing each other for almost 6 yrs. My dad is based in Germany and he also loves cycling and makes his own bamboo bike."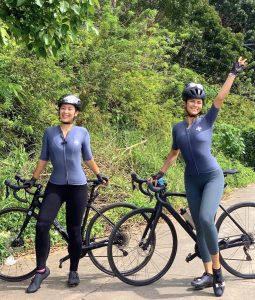 "Just a year ago though, my friend Gazini randomly, out of nowhere, picked me up from home to bike with her to the South of Cebu. I felt really excited and motivated to get back on track because it's very nostalgic and brings back so many great memories. And since then, the rest was history. We've been joining different groups, tried different routes and conquered different heights. I've met so many cyclists with very inspiring stories in the bike community who kept me feeling motivated too. I also look forward to the sights and the adventure that comes along with it."
Yumz Mariot. Branding & Marketing Consultant
"I used to bike along with rock and wall climbing. I am lousy with ballgames which is why. Our usual route were Talamban and Mactan but one time, managed to ship gears all the way to Dumaguete for a quick ride to Valencia, the next town located at a higher elevation. Those were days when I did it for fun and what bike I was using did not matter."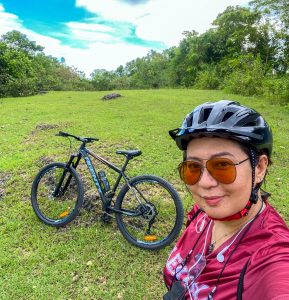 "Fast forward to 2021, a year after the pandemic lockdown began, I realized I have been lazy to do any fitness routine. Too caught up on juggling between house chores and Work from Home deliverables (I work as a Branding and Marketing Consultant), I started to feel my body needs to move as much as my brain does. A hysical fitness routine is as important as what I eat, or what I read or watch. So I decided to invest on a decent MTB, just very recently and got myself a much necessary restart. What motivates me even more is the area where I currently reside at. It is vast, fresh, green and safe for solo bikers like me."
Prime Sarino. Digital Media Creative
"I started biking as a young teenager and I got the idea to start it as an adult hobby 3 years ago. I was already into running and I thought it would be great to venture into another outdoor activity to keep me occupied after work hours and weekends. I was set to travel for a year so I had to put aside the idea first but came pandemic. We were all forced to stay put and everything was put on hold. Cycling became my diversion. My cyclists friends invited me to quick and short rides. I enjoyed my first 50km ride and the sceneries and routes most of all. It also helped channel a positive mindset during the hard hit season of the pandemic. Not to mention it's also another way to stay fit when we were forced into inactivity during the quarantine."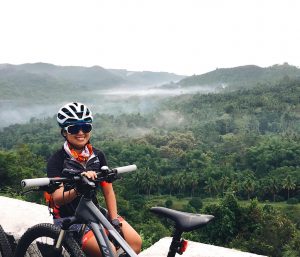 Next in Part 2, we ask the ladies about their cycling experiences and memorable moments…
by: Zen
#CebuPride:  Cebuanos in Multi-awarded Pride-Themed Films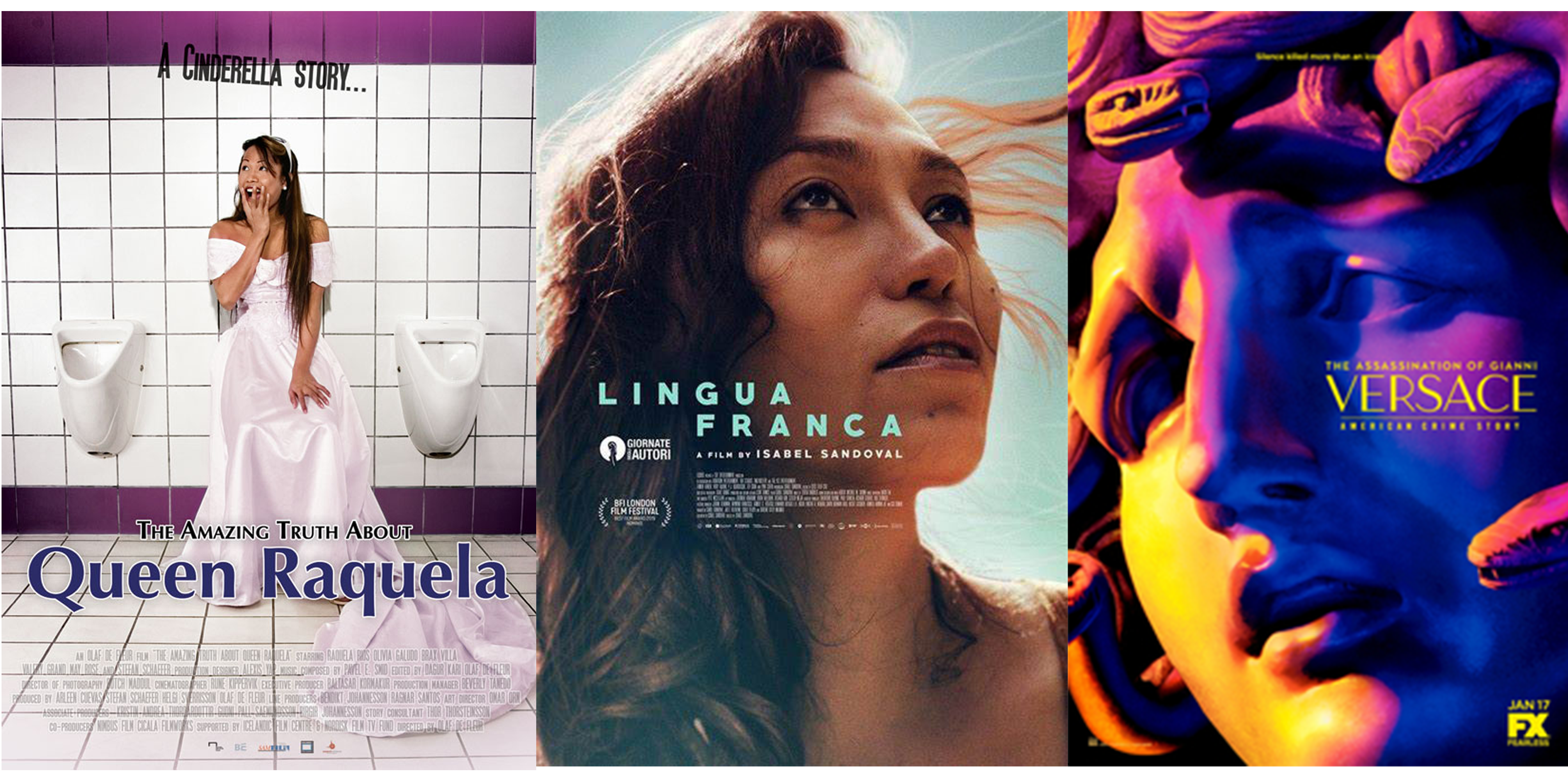 Multi-awarded International Gay Movies with Cebuano Lead Casts
By:  Allain Dumon Fonte
Pride-themed movies are starting to invade the film industry as people become more accepting and are more intrigued on the stories about LGBTIQ.  Many have shared the intensity of emotions and laughed with the craziest jokes on gay-themed movies.  In the Philippines, these kinds of movies were questioned as to their morality and their message to the society.  The strong influence of the country's religious standards had branded gay-themed movies as sex-oriented and nothing more.  Yet, with Thailand's more tolerant culture, Thai BL (Boy's Love) movies and television series have created a new perception to the viewers; and that is gay-themed movies are remarkably alike to all other movies – there is romance, comedy, drama, and the continuing struggle of living like normal people.  Hence, Thai BL TV series have a massive following all over Asia.  At the end of 2019, they became available in Netflix and are being watched by millions of viewers all over the world.
The Philippine film industry is not that far from Thailand's.  Some of the LGBTIQ-themed movies and television series are slowly getting a following in Asia and are now accessible to viewers worldwide.  A few of these pride-themed movies that casted or directed by a Filipino have already been receiving nominations and awards from Golden Globe, The Berlin Film Festival, the Venezia Film Awards, and even the Emmy's…and the Filipinos in these films hail their roots from Cebu!
1. Lingua Franca
Lingua Franca is a film directed by a Cebuana, Isabel Sandoval.  Sandoval also plays the main character of the movie, and she even wrote the screenplay.  Lingua Franca tells the story of Olivia, an undocumented transgender woman in New York who works as a caregiver to a senile old-lady of Russian-decent.  When Olivia is challenged to attain legal status in the US, she is left with a "marriage-based green card".  While in search for her groom-to-be, she becomes romantically involved with Alex, Olga's grandson.
The film is now available on Netflix and has received positive reviews from the media.  Stephen Dalton of the Hollywood Reporter wrote Lingua Franca is a "heartfelt personal statement rooted in timely, gripping issues that obviously resonate deeply with its author, notably trans rights and Trump-era immigration anxieties".
Isabel Sandoval graduated summa cum laude with the degree in psychology from the University of San Carlos in Cebu, Philippines.  In New York, she pursued graduate studies in Film at NYU.  She is now currently residing in NYC, and already has award-winning films under her belt like Apparition, Lingua Franca, Senorita, Ritwal, The Unstoppable, and Judgement.
2. The Assassination of Gianni Versace: American Crime Story
This television series was aired in Netflix and has gained so much popularity because it showed the murder of world-renowned fashion designer, Gianni Versace, by a serial killer, Andrew Cunanan.  Based on Maureen Orth's book Vulgar Favors: Andrew Cunanan, Gianni Versace, and the Largest Failed Manhunt in U.S. History, this television series has 9 episodes of suspenseful scenes, and is star-studded with casts like Ricky Martin and Penelope Cruz.  However, the main actor who played Andrew Cunanan is Darren Criss who gained his popularity after being a regular on the top rating TV show, Glee.  Darren Criss hails his roots from Cebu, Philippines.
The Assassination of Gianni Versace: American Crime Story received positive reviews from critics. At the 70th Primetime Emmy Awards, it received 9 nominations, and won 3 awards, including Outstanding Limited Series and Outstanding Lead Actor in a Limited Series or Movie for Darren Criss.
Criss was born and raised in San Francisco, California, USA.  Criss was raised as a Roman Catholic and attended roman catholic schools.  He later moved to Michigan where he studied Bachelor of Fine Arts major in Theatre Performance and minor in music at the University of Michigan.  Criss's father, Charles William Criss, is a banker and served as CEO of the East West bank in Honolulu, Hawaii.  Criss's mom, Cerina, is a native of Talisay, Cebu, Philippines.  When he was younger, he visited Cebu a couple of times with his mother.  Darren Criss is very proud of his Cebuano roots and wants to portray Filipino characters in films and in theatres to promote visibility of the Filipinos in the American films.
3. The Amazing Truth About Queen Raquela
     The Amazing Truth About Queen Raquela premiered at the 2008 Berlin International Film Festival where it grabbed the Teddy Award for Best Feature Film.  It was also awarded the Grand Jury Prize in the 10th 2008 Cinemanila International Film Festival at Malacañang Palace's Kalayaan Hall.  It starred Raquela Rios also known as Minerva to her Cebuano friends.  Raquela  is a local of Mandaue City, Cebu, Philippines.  The film is directed by Icelandic film director, scriptwriter, and producer, Olaf de Fleur Johannesson.
Raquella Rios is a native of Mandaue City, Cebu, Philippines, and she went to the University of San Carlos in Cebu, studying sociology and anthropology.  Before finishing her studies, Raquella left the Cebu and went to Iceland after being casted by Icelandic film director, scriptwriter, and producer, Olaf de Fleur Johannesson for the movie The Amazing Truth About Queen Raquela.  She is now based in Bangkok, Thailand as a fashion stylist and wardrobe assistant to some local Thai movies.  Raquella is also an activist for sex workers rights and trans rights in Southeast Asia; pushing for the recognition on the choice of their gender and the right to change their birth names.
There are still plenty of pride-themed films in the Philippines that gained recognition all over the world; yet these movies mentioned are special because of the talented Cebuanos that have  brought Cebu to world.  They truly are #CebuPride.
37 Years of High Fashion; Arcy Gayatin leaves a Legacy of Edginess and Elegance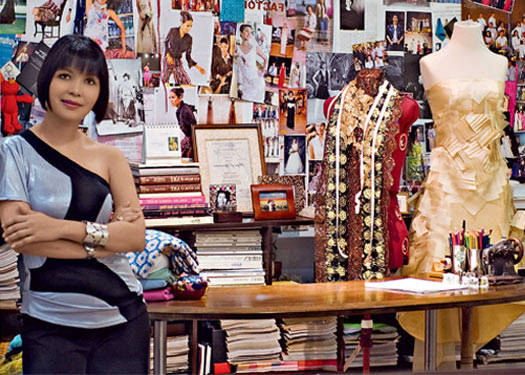 Arcy Gayatin: A Legacy of Luxury in Fabrication
By:  Allain Dumon Fonte 
The brand Arcy Gayatin gave the Queen City of the South a distinct reputation in the fashion industry.  The fashion line of Arcy Gayatin sets the bar higher each year for clothing luxury and fabrication techniques.
Araceli "Arcy" Ancajas Gayatin is the daughter Galileo Ancajas and Remedios Zanoria Ancajas who founded Cebu's home brand, Gal's Bakery.  Arcy went to the University of San Carlos and studied Political Science.  And just like Dr. Muccia Prada, who completed her Ph.D. in Political Science and established the luxury line of Prada, Arcy also got in touch with her artistic side and started her own fashion line.  However, it was not Prada that influenced Arcy.  Arcy was introduced to fashion and tailoring at a very young age by her mother, Madame Remedios Anacajas whom they dearly call Mama Eme.  Mama Eme was running a tailoring business back then.  It was called Arabel; named after Arcy and her sister Belma.  Ara from Araceli and Bel from Belma.  In those years, Arcy was fascinated by fabrics and was intrigued by how to manipulate the fabrics to come up with fashion-forward designs without compromising comfort and taste.
After 37 years of creating haute couture pieces for the most fashionable personalities in the Philippines, Arcy Gayatin is now laying down her sketchpads and pens to rest.  As she enjoys her retirement, may be on a cruise to the Bahamas or a holiday to the Swiss Alps, Arcy Gayatin has left the fashion industry a legacy of elegant and edgy clothing ensembles that understand and define the shape of women; without compromising comfort and good taste.
To salute the lady who brought Cebu fashion to the world, a retrospective exhibition of Arcy's incomparable masterpieces can be seen today at Ayala Center Cebu's The Gallery; curated by fashion editor and writer, Clint Holton Potestas, and interior and fashion designer, Jul Oliva.
BALANCE.  Arcy Gayatin is known for her perfect symmetrical lines when fabricating.  She knows how to balance edginess and class; understanding well the strength and the finesse of a woman.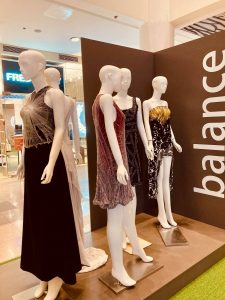 RHYTHM.  Arcy's expertise in draping and fabric manipulation can be seen in how she achieves rhythm between architectural lines and soft fabrics like silk and cashmere.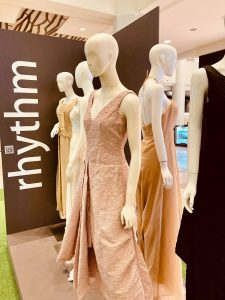 TEXTURE.  With her thorough knowledge on fabrics, Arcy Gayatin has achieved the perfection of fabrication by working on different types of fabrics and creating a single piece of art out of them.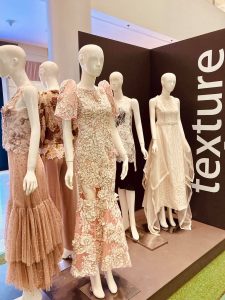 HARMONY.  The simplicity of the silhouette plus the intricacy of the details create a wonderful harmony, making Arcy Gayatin's design a one-of-a-kind masterpiece.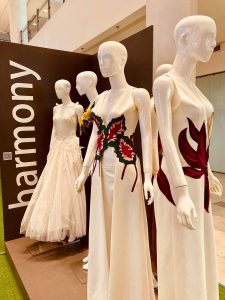 The photos below show an up-close look at the intricacy and the exquisite craftsmanship of Arcy Gayatin's fabrication techniques: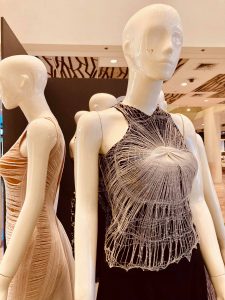 THE SPIDER WEB:  one of Arcy's genius fabrication techniques.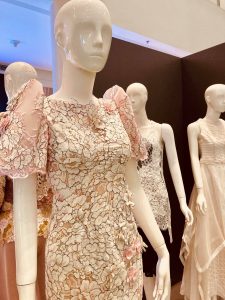 MATCH and PATCH:  Arcy's unique fabrication craft by patching layers of different types of lace and lace patterns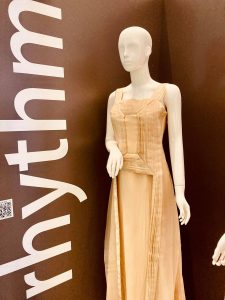 PLEATS: The perfection of symmetry in pleats on silk.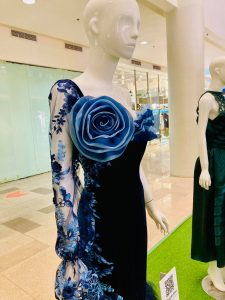 LA ROSE BLEUE:  U.P. student, Danielle Alessandra Deutsch, inspired by the artistry of Arcy Gayatin, designed this midnight blue dress.   The cabbage rose made from layers of silk organdy gave this evening ensemble a romantic appeal.