The 23 independent Filipino films you should watch
While certain movies go against the norm, mainstream Filipino blockbusters have a reputation for clichéd and formulaic plots, repetitive celebrity tandems, and standard happy endings, among other factors. But when you delve into the world of independent movies, you'd find that there are some quality films that help elevate the local industry into something world-class.
The Binisaya Film Festival 2016, running from September 17 to 24, aims to help promote these movies by bringing them to a wider audience. After years of small screenings in coffee shops and under the bridge communities, this year marks the first time the festival will take place in commercial theaters.
Here are some of the independent films worth checking out:
2013
A romantic misadventure leaves our protagonist struggling with depression. He finds himself in the care of a male nurse, who lives with his gay brother. Together, they dole out equal measures of care and taunts to their patient. But one day, the urge to take revenge is felt. Bodies are dismembered and mutilated. No guilty party is spared. Will history be easily outrun?
ALUNCINA
One day in the life of a young woman in a burgeoning city.
AMBIHAS
When Jaylou, a mechanic, discovers the code of conventional courtship, he decides to use that discovery to carve his name in history. What could possibly go wrong?
COBRA
A bet collector makes the gamble of his life.
ENGKWENTRO
Pepe Diokno
"Engkwentro" follows two teenage brothers attempting to escape an unnamed city controlled by an iron-fisted mayor. They must first break away from the cycle of crime, while trying to run from rival gang leaders and the state's murderous vigilantes.
FAMILIAR STRANGERS
There is a social transformation worldwide into a positive attitude that unites us instead of tears us apart. Familiar Strangers: Conversations on the Near Future explores this very shift through a series of performative dialogues from a personal and local viewpoint. As a small-scale gold miner, Henerose Lorono can often be found digging for gold in his tunnel. Whereas, this practice seems to affect nature negatively, people's lives have improved in financial terms. Heneroso's daughter is now able to study.
GET CERTIFIED
Heaven or Hell? These are the paths that the resurrected lost souls have to choose in the afterlife. But for Angelica — it's hell or nothing! Will her strong conviction to become a full-fledged demon be enough for her to get certified?
GUGMA NI OLIVIA
Christian Linaban
Olivia, who sells knives for a living, develops a romantic obsession with her next door neighbor, Jeffrey.
HAPPY FIESTA
A Western man in black pays local hospitals nightly visits carrying an ice bucket. Later revealed as a member of an international organ-trading association, he seduces women into spending nights with him with his ulterior motive. This night, however, he meets a mysterious woman who proves to be his match.
HINAGUNOY SA GURYON
It was in the humble and peaceful countryside where the clouds spread across the sky and the palm leaves sway to the fresh mountain breeze that a growing fledgling experiences the pain of loss, the loss of time, and the time unspent with the father he never met. We follow the life of this tree sparrow towards the end of his, and the start of another.
INAHAN SA KANUNAYNG PANABANG
Three brothers quarrel over the rights of their ancestral home and the care of their mother suffering from Alzheimer's disease.
JUNILYN HAS
A dancer in a nightclub, Junilyn has to learn new moves to attract more customers during the Pope's visit to the Philippines. But while she rehearses, she is also preparing her bold move to free herself.
LOLA
This is a portrait of my grandmother. Every day, she would sing her song while threading sorghum seeds that she sells in the market.
LUNCHBOX
A mother works abroad leaving behind her sick husband and young son who couldn't stand each other. Both boys suffer from intense longing of the same woman they loved and started drifting in a world of their own; Father drowns his sadness with his vices while son escapes through his drawings of imagined adventures, but an accident forces both boys to work together to become better men.
MISS BULALACAO
Ara Chawdhury
A young drag queen, Dodong, joins a barangay gay pageant to gain acceptance in his father's community. He is instead met with hostility from his father, who chases him to a jungle, where he sobs to a lone bright star. What follows is the strangest night in his entire life, and an even stranger 9 months when he realises he is pregnant. With his only his stepmother, Lisa, as support, Dodong deals with ridicule from a barangay who does not believe him – until the rumours become a headline in a tabloid, "BAKLA, INA NG DIYOS"
ONE DAY, ISANG DIWA
Two people facing the same fate and meeting the same end: sadness, darkness, fulfillment, and enlightenment. Will they find solace until they learn to accept life as it is?
PAKIGBISOG
A few days after a super typhoon ravages a small town in the Philippines, a lone survivor scavenges for food in an abandoned compound. He stumbles upon a large can of food which he takes for himself but also discovers another desperate and starving survivor willing to use violence.
PROLOGO SA ANG DAKILANG DESAPARECIDO
It had been 325 years that the Philippines was under Spanish rule when the Revolution, led by Andres Bonifacio, exploded on August 21, 1896. But on May 9, 1897, Bonifacio was charged with death sentence by rival revolutionaries led by Emilio Aguinaldo. Bonifacio's body has never been found. His wife, Gregoria De Jesus, searched for his body in the mountains for thirty days, calling for Andres and even spirits to help her find her husband.
SARANGHAE MY TUTOR
Victor Villanueva
Benjamin teaches English to Koreans in an ESL centre. Despite his mundane and routinary life, he still believes that he will find his soul mate. One day, as if destiny intervened, he meets his new Korean student, Mi-Ok North Park…. it was love at first sight! Is this the soul mate that he's been longing for? Will there be a happy ending between the shy Cebuano teacher and the beautiful Korean Angel despite their language barriers?
STATIC
An inspector tries to get to the bottom of a local drug-related killing.
SUPERPSYCHOCEBU
A young man is on a quest to find a mythical strain of cannabis called the SUPERPSYCHOCEBU. Along the way, he meets characters that appear to have lost their minds after trying it, one of them even possessed by the Devil, at which point he starts questioning whether he's in for some good weed or just one hell of a bad trip.
UWAN INIT PISTA SA LANGIT
Keith Deligero, Remton Siega Zuasola
A story about heaven and hell.
YES
Miguel gives a surprise wedding proposal to his girlfriend Jonah, when in the middle of the proposal Jonah secretly leaves and appears to have been cheating on him over a mysterious guy named Henry. Miguel retreats to a bar where he meets the temptress Melena. He now faces the dilemma of sulking on his fate with Jonah or accept the sweet invitation of Melena?
BINISAYA 2016 SCHEDULE OF ACTIVITIES:
SATURDAY, September 17
SM Seaside City Cebu
6:30 – 7:00 p.m.
Lunchbox (Remton Siega Zuasola | PG)
7:00 – 7:30 p.m.
Q&A with the cast and crew
8:00 – 10:00 p.m.
ASIAN SHORTS:
Daughters of a Lesser God (Ammar Aziz | Pakistan | PG)
Fat Boy Never Slim (Sorayos Prapapan | Thailand | R13)
Lo Sum Choe Sum (Dechen Roder | Bhutan | R13)
Sepatu Baru (Aditya Ahmad | Indonesia | PG)
There Is No Poetry Here (Kalinga Deshapriya | Sri Lanka | R13)
Three Wheels (Kavich Neang | Cambodia | PG)
MONDAY, September 19
UP Cebu
6:00 – 7:30 p.m.
BINISAYA CLASSICS
Saranghae My Tutor (Victor Villanueva)
Gugma ni Olivia (Christian Linaban)
Uwan Init Pista Sa Langit (Keith Deligero, Remton Siega Zuasola)
7:30 – 8:00 p.m.
Q&A with directors
TUESDAY, September 20
CIT
2:00 – 3:30 p.m.
BINISAYA CLASSICS
3:30 – 4:00 p.m.
Q&A with directors
WEDNESDAY, September 21
CNU
2:00 – 3:30 p.m.
BINISAYA CLASSICS
3:30 – 4:00 p.m.
Q&A with directors
Robinsons Galleria
5:00 – 7:30 p.m.
Engkwentro (Pepe Diokno | R13)
8:00 – 9:30 p.m.
Miss Bulalacao (Ara Chawdhury | R13)
THURSDAY, September 22
USJR MassComm Studio
2:00 – 3:30 p.m.
BINISAYA CLASSICS
3:30 – 4:00 p.m.
Q&A with directors
FRIDAY, September 23
USC SAFAD Theater
1:00 – 4:00 p.m.
Filmmaker's Forum with FDCP chair Liza Diño-Seguerra
4:00 – 4:30 p.m.
Prologo sa Ang Dakilang Desaprecido (Lav Diaz)
SATURDAY, September 24
USC SAFAD Theater
9:00 – 12:00 p.m.
The Film Business and Production with Cebuana producer Bianca Balbuena
SM Seaside City Cebu
1:00 – 3:00 p.m.
REGIONAL SHORTS IN EXHIBITION
Happy Fiesta (Joe Bacus | Cagayan de Oro)
2013 (Eluna Cepeda | Manila)
Cobra (Marco Campos | La Union)
Aluncina (Grace Marie Lopez | Cebu)
Familiar Strangers (Eric Peter | Compostela Valley/Surigao del Sur)
Pakigbisog (Steven Atenta | Cebu)
Junilyn Has (Carlo Francisco Manatad | Tacloban)
Lunchbox (Remton Siega Zuasola | Cebu)
3:30 – 5:00 p.m.
SHORTS IN COMPETITION
Lola (Roberta Fuentes | Bantayan | PG)
Hinagunoy Sa Goryon (Karl Derick Sia | Cebu | PG)
Inahan Sa Kanunayng Panabang (Chloe Veloso | Cebu | PG)
One Day, Isang Diwa (Nickle John Lim | Davao | R13)
Static (Jose Victor Bacsarpa | Cagayan de Oro | R13)
Get Certified (Isaias Herrera Zantua | Cebu | PG)
Ambihas (Jaylou Dari | Cebu | PG)
Yes (Hanz Florentino | Cebu | R13)
5:10 – 5:30
Q&A with Directors
6:00 – 7:30 p.m.
SUPERPSYCHOCEBU (Christian Linaban)
7:30 – 8:00 p.m.
Q&A with the cast and crew
Like Binisaya on Facebook for more updates.
All plot synopses courtesy of Binisaya.
Inside Scoops at Cebu Art Week 2021
Post-Art Affair
By Emcee Go
On a rainy evening last Thursday, the first ever The Visayas Art Fair opened with fanfare, attended by art collectors, political personalities headed by Governor Gwen Garcia and Mayor Mike Rama, and big a crowd of Cebuanos.  The well attended 4-day event at the Montebello Hotel was an initiative of the Cebu Design Week (CDW) Inc., in collaboration with the National Commission for Culture and the Arts, the Office of the Presidential Assistant for the Visayas, the Sacred Heart School for Boys Batch 1985 Foundation and the Cebu Furniture Industries Foundation.
A separate hall was created purposely to house art galleries from Cebu, Manila and Bacolod. Qube Gallery headlined with an impressive body of work by Cebuano artist Anton Quisumbing and Sio Montera.  Quisumbing, noted for his metallic sculpture of churches, showed his latest collection with flat renditions of his otherwise 3D works, a series of architecturally defined lines that evoke his many churches.  On one side of Qube was a booth with paintings done by UP Fine Arts students while on the other side stood a huge painting done by Bacolod-based Charlie Co, titled Lukbo (reportedly priced at 4M). Project Orange, the Bacolod based collective, was well represented, as well as from Manila, among them Metro Gallery where a Dino Gabito painting of a monotone drape was sold early on.  Brisk sales were done as art lovers mingled with a surge of curious crowd who were there mainly for their IG feeds.
Across the hall beyond the main driveway, in the central lobby, quietly facing the food stall of Tinderbox and Chocolates, a display wall featuring a Fernando Amorsolo, Martino Abellana and Romulo Galicano stood unguarded behind a large canvas of Ronald Ventura. Collectively, these 4 painting would be the Mona Lisa of the exhibit.  The elusive Mr. Ventura famously sold an artwork titled "Party Animal" at Christie's Live Auction in Hong Kong for a cool 120 million pesos recently.
Late in the afternoon, an open auction of art pieces was going on — with jaw dropping figures of several zeros casually being thrown around, including another Gabito canvas that allegedly banged for 2M. Looking at the auction list, one wag was prompted to comment — I don't know any of these art collectors, all names with 2 or 3 letters!
Other activities were on hand. The finalists of Miss Cebu 2022 were presented during a fashion show that featured the locally woven hablon creations of Dexter Alazas.  Another fashion show by FIDA students got rained on and had to transfer indoors. Both were staged to perhaps attract the otherwise uninclined art audience, a laudable enough reason. Seen downing several goblets of celebratory Moët was CDW's Butch Carungay, together with Congressman Toff de Venecia who was on hand to talk about his creative industry initiatives in Congress, and Isa Garcia, perhaps eyeing more artwork for her dad Winston Garcia's old masters.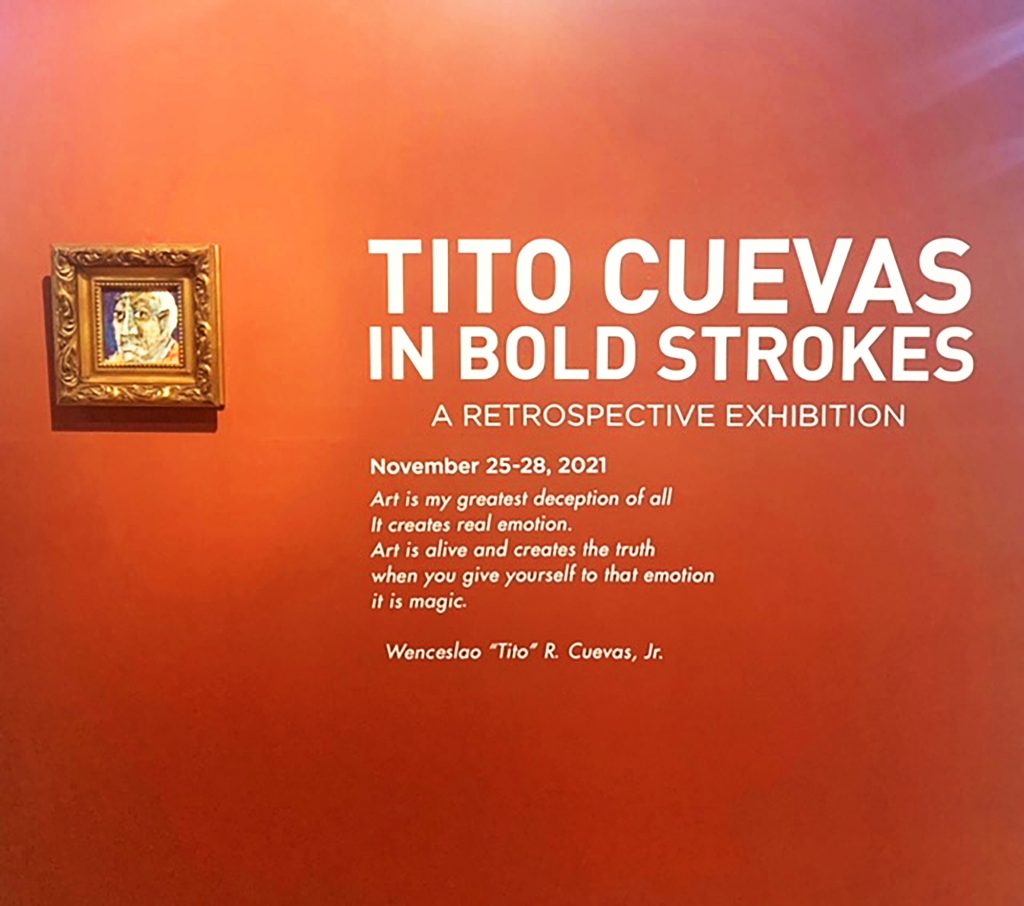 The last, and best attraction of the Cebu Art Fair, at least in the opinion of this magazine, was the impressive pavilion housing the Tito Cuevas retrospective.  The modernist Cebuano artist operated for many decades at his humble home near the Cebu Capitol. Cuevas passed away in 2012. This would be the first time his body of work is displayed, and the scope and breath of his genius is impressive, largely undiscovered except to his avid collectors. In this exhibit, 2 paintings of  self portrait was a fun and irreverent play of colors and multiple heads with different expressions, part of the artist collection now belonging to his family. The 36 x 36 canvases are currently priced at P990,000. A large part of the Cuevas exhibit is owned by art-lover Michael Dino and his wife Christine.  Dino has been buying the Cuevas for some time, and now his more than 20 artworks anchors this retrospective.  "This is his last work and remains unfinished", Christine Dino explained when asked why the huge splash of orange and yellow canvas was in prominent position.
Michael Dino is in a unique position to pull off this feat.  As the Presidential Advisor in Cebu, he has at his disposal the many government agencies needed to help.  Add to that his genuine love of collecting art, and access to the city's only estate hotel, Montebello. "It was a collective effort," he answered when we congratulated him. "Have you seen the wall of our next project," he further tells us.  This would be CICAD, the exciting new chapter of Michael Dino's passion with art. But that would have to be another story.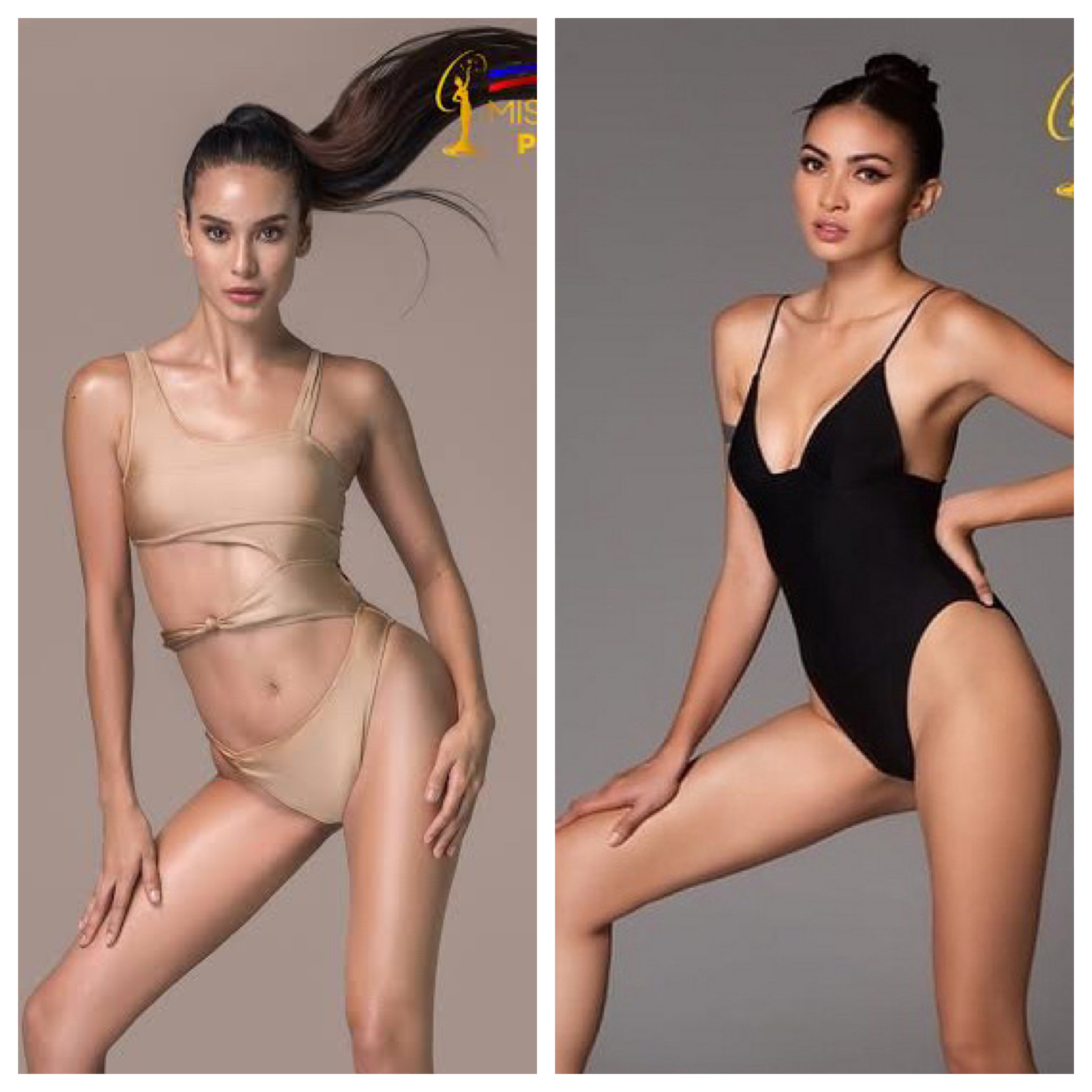 Cebu's Conquest to the Universe
By Allain Dumon Fonte
There are only two worldwide events that could stop traffic in the entire country.  First is a Pacquaio boxing match, the second is when a Filipina outshines other ladies in the Miss Universe pageant.  The Miss Universe beauty pageant is one of the longest running and most prestigious beauty pageant.  The Philippine candidates are to look forward to because for the past 10 years, our representatives always make it to the cut; not to mention winning 2 crowns in the last decade.
However, in the long history of the pageant, there were only 2 Cebuanas that represented the Philippines.  The veteran and multi-awarded actress Pilar Delilah Veloso Pilapil-Penas, from Lilo-an, Cebu, represented the Philippines in the 1967 Miss Universe.
And in the 2019 Miss Universe pageant, the Philippines was represented by supermodel Gazini Christiana Jordi Acopiado Ganados, from Talisay City, Cebu; where she was a Top 20 finalist, and she bagged the "Best in National Costume" award.  Her national costume was designed by Cebuana primier créature de mode, Cary Santiago.
Will a Cebuana represent the Philippines this year?  Today, the 30th of September 2021, in Panglao Island, Bohol, a Filipina will be crowned Miss Universe Philippines 2021 and she shall represent our nation in Israel.  Almost all pageant enthusiasts and pageant fans have set their eyes on the two Cebuanas in the pageant.  One was widely talked about with her fierce runway challenge, while the other one was greatly applauded with her heart-warming and witty self-introduction.  And after the preliminary pageant last Sunday, everyone is now confused who to put their bets on.  One made waves as she struts in her swimwear, while the other one raised the bar higher as she promoted the rattan crafts by wearing it as her national costume.  So, who are these Cebuanas that the entire nation is crazy about?
Steffi Rose Pearson Aberasturi is representing the Province of Cebu, while Beatrice "Bea" Luigi Gomez represents Cebu City.  Both Steffi and Bea are front runners in this year's pageant.  And with their participation, the Miss Universe Philippines pageant is getting more exciting for the Cebuanos.  Although, the two ladies are queens in their own rights because both have been crowned and have won major pageant events, they still have not escaped the scrutiny of this author.  I have consistently followed both ladies as they submitted their entries for the virtual challenges assigned to them by the MUP organization, and here is what I have to say.
First, beauty pageants now are neither looking for another pretty face, nor another witty woman, not even the next runway model.  Beauty pageants are now the venues of empowered women to express their thoughts freely while motivating other young women and girls.  They only do not represent their cities, but they also become the ambassadors of trade and goodwill, introducing their cities to the world.  Hence, for the Runway Challenge, I rated Steffi 9/10.  The over-all runway challenge video is almost perfect.  It showcased one of the achievements of the "Build, Build, Build" program of the government while giving a majestic view of the Cebu-Mactan Channel.  Steffi flawlessly floats on her every step at the Cebu-Cordova Link Expressway.  It was a very well-thought production, but mostly, well-implemented by showing to the world that Cebu Province is at par to the world's most advanced places in technology and development.
Second, beauty pageants are looking for woman of substance who has a sense of leadership and can motivate and empower other young women.  For this category, I am giving Bea 10/10.  Her self-introduction video is so natural and honest.  It showcased her genuine commitment to serve others as a Philippine navy reserved officer and in participating in adrenaline-raising sports for the benefit of disadvantaged children.  Bea also showcased her passion for extreme sports, showing that beautiful women are not only good with stiletto heels but are also up for a challenge in boxing and diving.
Third, the MUP needs someone who can speak and is confident.  A beauty queen will use her voice to amplify the voices of those who do not have the opportunity to speak for themselves.  Basing on the preliminary interviews of the two ladies, I am giving Bea 6/10.  Her answers are correct but too safe that they are underwhelming and does not appeal strongly to the audience.  Steffi, on the other hand, stood very confident and charming during the interview and I am giving her a score of 8/10.  Steffi's answers did not really hit the marks, her arguments are not that strong, but her confidence in her answers and in herself makes her responses convincing to those who are listening.
Lastly, as Miss Universe, you become an ambassador of the organization and of your country.  Therefore, you need to be your best, always, and you need to be able to carry yourself with pride.  This means, that when you enter a crowded room, you will be able to get everybody's attention; and when you walk, you make heads turn in your every step.  For this criterion, I am scoring Bea 9/10 because of her formidable performance in the preliminary swimsuit and evening gown competition. The last time I got so excited for a pageant was when Janine Tugonon made that iconic turn and pose at the 2012 Miss Universe evening gown competition.  After seeing how Bea owned the runway in her swimwear performance, I am seeing another Janine Tugonon in the making!  However, Steffi is not that far behind.  Steffis' charm and grace made her look regal in her evening gown.  But, I must say that she was just too sweet for the swimwear competition, she must bring back that fierce walk in the runway challenge for the swimwear competition.
Both Bea and Steffi are already making the Cebuanos proud.  Both of them are the crowd's favorites, and we wish them the best for tonight's Miss Universe Philippines grand coronation night.  The MUP coronation event will be streaming live at Iconique Mall's roof deck dining area.  Show your support to these Cebuanas and don't miss to watch the Miss Universe Philippines 2021.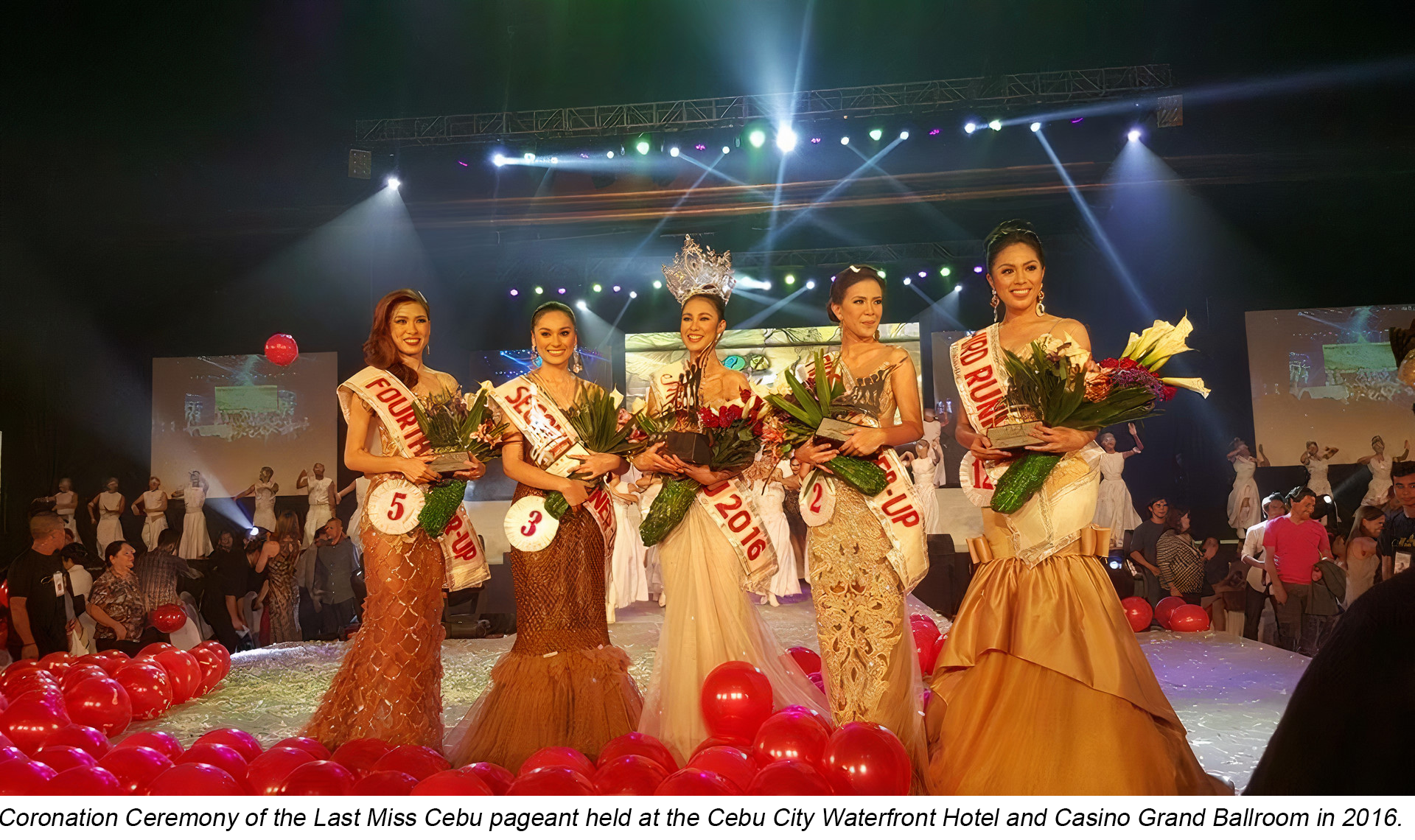 Cebu City Tourism Commission Relaunches Miss Cebu
By Allain Dumon Fonte
Like a phoenix that resurrects from the ashes, so shall Miss Cebu 2022 blooms to a new dawn in the Queen City of the South.  After 5 years of hiatus and whispered controversies that surround it, the Cebu City Tourism Commission is relaunching the search for Miss Cebu.   Now is truly the high time that Cebu City must crown her new queen to bring back the spirit of pride amongst Cebuanos; and to have a queen to lead us in rekindling our passion to make Cebu City number one, again.
Miss Cebu was officially relaunched on the 16th of September 2021 at IL CORSO Mall at the South Road Properties; headed by Cebu City Tourism Commissioners, Hon. Philip Rodriguez and Hon. Cinbeth Orellano, and pageant director, Engr. Junget Primor.  The launching was attended by Miss Cebu past winners, Cebu's celebrated couturiers: Dexter Alazas, Edwin Ao, Jun Escario, and Jun Protacio; and celebrating with them are the ladies and gentlemen of the media and of the Cebu City Tourism Commission Office.
Miss Cebu…Then!
In the age of industrialization, the countries in the Asia Pacific region were coping with globalization and international trade.  The Philippines is on a strategical advantage being the gateway to the East; and made Cebu as the Queen City of the South for her central location.  Gifted with pristine beaches, abundant highlands, developing urban lifestyle, rich heritage, and friendly and skilled people, Cebu became an incomparable jewel for many investors.  So in1983, some leaders and a few stakeholders from the Hotels, Resorts, and Restaurants Association of Cebu blessed with foresight, took advantage of the opportunities, and promoted Cebu as a travel and holiday destination; rebranding Cebu as an "Island in the Pacific".  Hence, the birth of Miss Cebu Tourism in 1984.
The Miss Cebu Tourism became an avenue to search for a Cebuana who shall embody the characteristics of Cebuanos and promote the tourism landmarks of the region.  The Miss Cebu Tourism ran from 1984 to 1999 and has produced beauty queens that effectively promoted Cebu to the world. Because of this, Cebu was featured countless times in international travel magazines like "The Voyager", "Adventure Travels", "The Traveller", "Explore", and "Getaway".  The pageant has also helped in establishing strong international relations with Japan.  This is the period when Japanese employees were reinforced with travel incentives.  Through the promotions of Miss Cebu Tourism, Cebu became one of the destinations for the Japanese' travel incentives; and this paved way for direct flights to Cebu from Narita and from Osaka.
Miss Cebu Tourism also paved way for direct flights from Hong Kong; and also from Singapore.  Miss Cebu Tourism winners promoted Cebu's landmarks, culture, arts, and crafts through a series of fashion shows and cultural trade and events in Singapore that stirred the interest of the tourists and investors alike.  Hence, Cebu City also became a venue of trade and commerce with Singapore in the mid-1980's.
In 2001, Miss Cebu Tourism evolved to Miss Cebu with the aim of promoting not only our tourism but also the city's economic strengths, making Cebu as the new business hub in Asia.  From the years 2001 to 2016, Miss Cebu queens have successfully put Cebu on the globe as an industrial, trade, and tourism leader in the Southeast Asian region.  The pageant showcased the best of Cebu that intrigued numerous tourists, investors, and even global leaders to visit this small but bustling metropolis.
Miss Cebu… Now!
In the past decade, Miss Cebu also became a platform for the candidates to be the voice for the voiceless.  Candidates do not only promote Cebu; the pageant also became a stage to discuss current events and promote advocacies in uplifting the lives of Cebuanos; to ensure their welfare, to promote equality, and to implement social policies.  Through the years, Miss Cebu has elevated the standards of beauty pageants in the country and is even admired by international pageant enthusiasts.  It has gathered a pool of ladies with intellect, integrity, and with substance to lead the Cebuanos to a new era of empowered women and with a more inclusive society.  Miss Cebu has redefined the essence of femininity with the sense of style and leadership.  Because of this, Miss Cebu has produced women who are leaders in their fields; from lawyers, doctors, public servants, tourism directors, industry managers, entrepreneurs, and even business leaders.
In 2019 up to the present, the corona virus pandemic has impacted all the economic sectors in Cebu, from the tourism industry to real estate, arts, fashion, manufacturing, business process outsourcing, food, travel, and retail industries.  It is high time that Cebu must stand again on its feet and bring back its glory.  Thus, the intense clamor to bring back Miss Cebu.  Miss Cebu is no longer a mere beauty pageant; it is a wheel of development and a catalyst of economic advancement through its promotions of what the Queen City of the South can offer to the world.  In the past, Miss Cebu winners and candidates worked tirelessly as our ambassadors and brought us to a dawn of progress, and they shall do the same in this most challenging time.
Who really is Miss Cebu?         
          The year 2022 is the rebirth of Miss Cebu.  Miss Cebu's candidates shall represent not only the tourism and the economy of the city; but they shall bring to the world our pride from the city's crystal coastlines, lush hills, world-class urban living, deep history and rich heritage, exquisite delicacies, ecstatic festivals, thriving industries, skilled craftsmen, and esthetic arts; making Cebu as a UNESCO City of Designs.  Our candidates shall be forward-thinking and strong-willed leaders who are empathic to the needs of her fellow Cebuanos, motivating the younger generation.  And our Miss Cebu candidates will instill pride amongst Cebuanos with our roots and our identity as descendants of Rajah Daya, Datu Humabon, and Hari Lapu-Lapu; making us proud as people with unparalleled civilization enriched by colorful cultures and unequalled artistry.  This shall be a quest not only for the most beautiful Cebuana, but a search for Cebuanas who can support and promote sustainable livelihood and lifestyle; and finally, to raise the bar higher for pageantry by producing women that can shape a society, that can bring the world to Cebu, and that can redefine the meaning of women empowerment.
So, who is really Miss Cebu?  It can be you.  The search for Miss Cebu 2022 is now on-going.  If you believe that you are the woman that Cebu City needs, then please, present yourself and take the Cebuanos with you to a future of certainties, progress, and peace.