Fall In Love Again With These Valentine's Day Date Ideas
If you're running out of gift ideas for your special someone this February 14, don't panic. We got you covered. Scratch presents off your list and make Valentine's Day a memorable date you won't regret.
With these date ideas, relive the butterflies inside your stomach and get ready to fall in love with your partner again and again.
Valentine Dinner at the Blu
Food is love, that's for sure. And Radisson Blu is definitely a smart choice when it comes to romantic dinners.
Bite into love when you celebrate with your soulmate over a luscious dinner buffet or woo your sweetheart with an exquisite 5-course dinner as you toast your time together. You can book your table by emailing or calling Radisson Blu's reservation department.
Watch Black Panther on Cinemas
To all Marvel fan couples out there, here's some good news for you: Black Panther will be screening earlier than planned. And the best part is, you can watch the movie on Valentine's Day.
You can check your favorite cinemas for the schedule. Tickets, of course, will be the regular admission prices.
Indie Date
Spend your Valentine's Day evening with award-winning indie films that will be screened at Books and Brews, Mango Square. And although this year's theme is #LoveHurts, it still wouldn't hurt to show up with your special someone.
Slots are limited so you have can register here. The proceeds will go to the BINISAYA organization and Youth for a Livable Cebu, which means you are directly supporting local filmmakers and Youth for a Livable Cebu Programs.
MINI VACATION
Valentine's Day is a Wednesday and Wednesday is a weekday. And that can only mean one thing: less people on the beach! This is a perfect cue to get out of town and have the beach to yourself.
There are tons of beaches in Cebu you can choose from. In Club Serena – Moalboal for instance, they can accommodate you with a candlelight beach dinner this Valentine's Day. Isn't that magical?
A PARISIENNE VALENTINE
No, it's not just the wine. La Vie Parisienne has so much more in store for you and it's going to be perfect this Valentine's Day. Aside from their Pink Flower Valentine special, you can have fun experimenting with La Vie's Make Your Own Pasta where you can select the kind of pasta, toppings and sauce you want.
For dessert, you can buy a scoop or two from Gelato and choose from their amazing and unique flavors.
So, question is: how will you spend your Valentine's Day? Would it be somewhere from our list or adding a touch of your own taste? We'd love to hear it from you on the comments. But remember, Valentine's Day is just a holiday– you and your partner should make every moment special no matter what day it is.


Hilarious Series ramps up with Season 2
These two comedy series are now airing their season 2 programs.  Highly acclaimed and are must-watch rib ticklers in our opinion.
Resident Alien 2: starring Allan Tudyk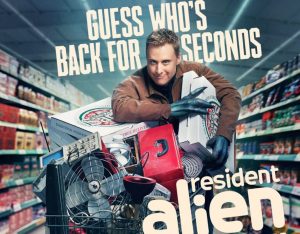 Space Force 2: starring Steve Carell