Revelry of the Visayan People: Sinulog
In other parts of the Visayas, the Sinulog is also widely-celebrated in different ways.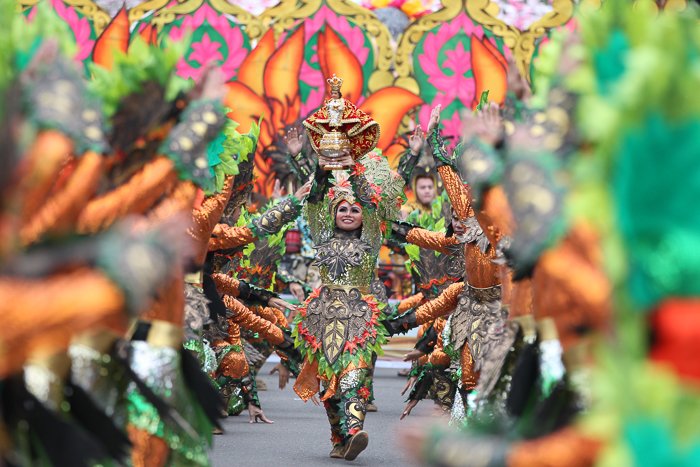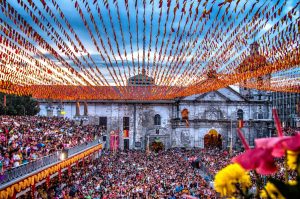 In Cebu, the holiday season doesn't end with celebrating the beginning of a new year. It stretches throughout the whole month of January for the annual Sinulog Festival, a celebration in honor of Cebu's patron saint, Señor Santo Niño. It's known for the colorfully-themed dancing and street parade, and is something that's inherently Cebuano. But, did you know that in other parts of the Visayas, Sinulog is also widely celebrated?
Aside from Cebu, there are two places that celebrate Sinulog with their own touch of culture. These festivals are Aklan's Ati-atihan Festival and Ilo-ilo City's Dinagyang Festival. Let's take a look at how these two celebrate the Sinulog in their own ways.
Ati-atihan Festival of Aklan, Panay Island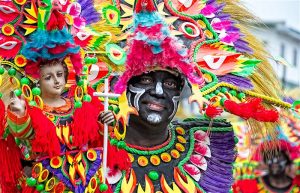 Although Cebu is widely known for its grander take of Sinulog, Kalibo-Aklan's Ati-atihan Festival is said to be have inspired the Sinulog, and is dubbed as the "Mother of All Philippine Festivities".
A version of its legend tells the story of an unnamed fisherman of Barangay Naile in the western part of the province who went to fish at the river, but he caught a piece of wood instead of fish. He tried to throw the piece of wood away, but it returned repeatedly to his net. He decided to bring the wood and used it as fuel to cook his meals. As the fisherman and his wife slept, they heard a beating sound nearby. When they looked where the sound came from, they found the wood with a carving of a child.
Seeing this, the fishermen decided to put it at their altar. The family received blessings from there, including bountiful catches. A few weeks went by and the fisherman decided to ask a priest for advice, and the priest told him to place the wood at the Ibajay Parish. Several days later, the residents wondered why the piece of wood always disappear and repeatedly found on top of the fisherman's house. The residents of Ibajay interpreted this incident as a call for them to seek forgiveness of their sins, and part of their penance is to blacken their faces and body with coal and to dress in rags. After doing this, the wood no longer left the parish.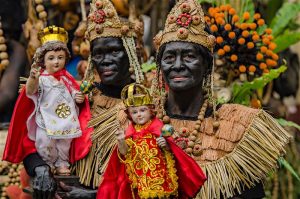 In June 11, 1871, a Kalibo priest signed a testament with businessmen in town to institutionalize the holding of the annual Kalibo Santo Nino Ati-atihan Festival. During those times, the tradition of its revelry was held every noon as a sign of penance while dancing in the streets. The National Commission of Culture and the Arts (NCCA) named the Kalibo Santo Niño Ati-atihan Festival as "The Mother of Philippine Festivals."
Now, the phrase "Hala Bira! Pwera Pasma!" is associated with the Sto. Nino Ati-Atihan Festival as the revelers and devotees of some painted in coal, dancing to the beat of the drums while carrying their variations of baby Jesus statues. Festivities happen all over the town from morning to the wee hours of the next morning, rain or shine.
Dinagyang Festival of Ilo-ilo City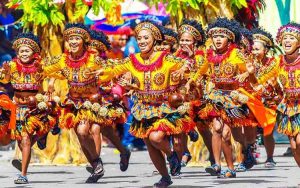 The word "dinagyang" was coined by Ilonggo writer and broadcaster Pacifico Sudario in 1977, and means "merry making". It's Ilo-ilo's version of the Ati-atihan Festival. Started in 1968, a replica of the original image of the Santo Nino from Cebu was brought to Ilo-ilo by Fr. Sulpicio Enderez of Cebu as a gift to the Parish of San Jose, accompanied with several Cebuano devotees and received by the Ilonggos at the Mandurriao Airport.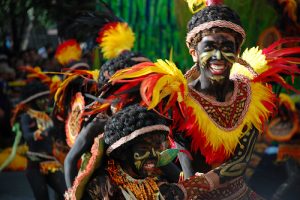 The festival had 4 participating tribes then, but as the celebrations improved through the years, the number of groups and tribes participating increased as well. Like the Aklan celebration, the audience are encouraged to dance with the parade and join the participants, giving them room to forget their frustrations and bind faith with the Santo Nino.
It was also in 1977 where the government ordered the various regions of the Philippines to come up with festivals that could boost the tourism and development. Ilo-ilo CIty readily adapted Ati-atihan as its project as its festival reflects the Illonggo's artistry, craftsmanship and creativity through their dances and costumes.
Since the 16th century, the great devotion to the Santo Niño in the Philippines had spread through the Visayas. Many people make their yearly journey to churches to join the procession and festivals, and this signifies the rejection of former animist beliefs. It transcends generation and it has improved the socio-cultural aspect of the region. There's no topping the grandest festival called Sinulog.
Here Are the Highlights of Fete de la Musique 2019
Local talent took centerstage at _ACOUSTIC: Fete de la Musique 2019.
The Return of the Best-Tasting Lechon in Cebu, Rico's Lechon
Cebuanos, rejoice! Rico's Lechon makes a comeback in the city.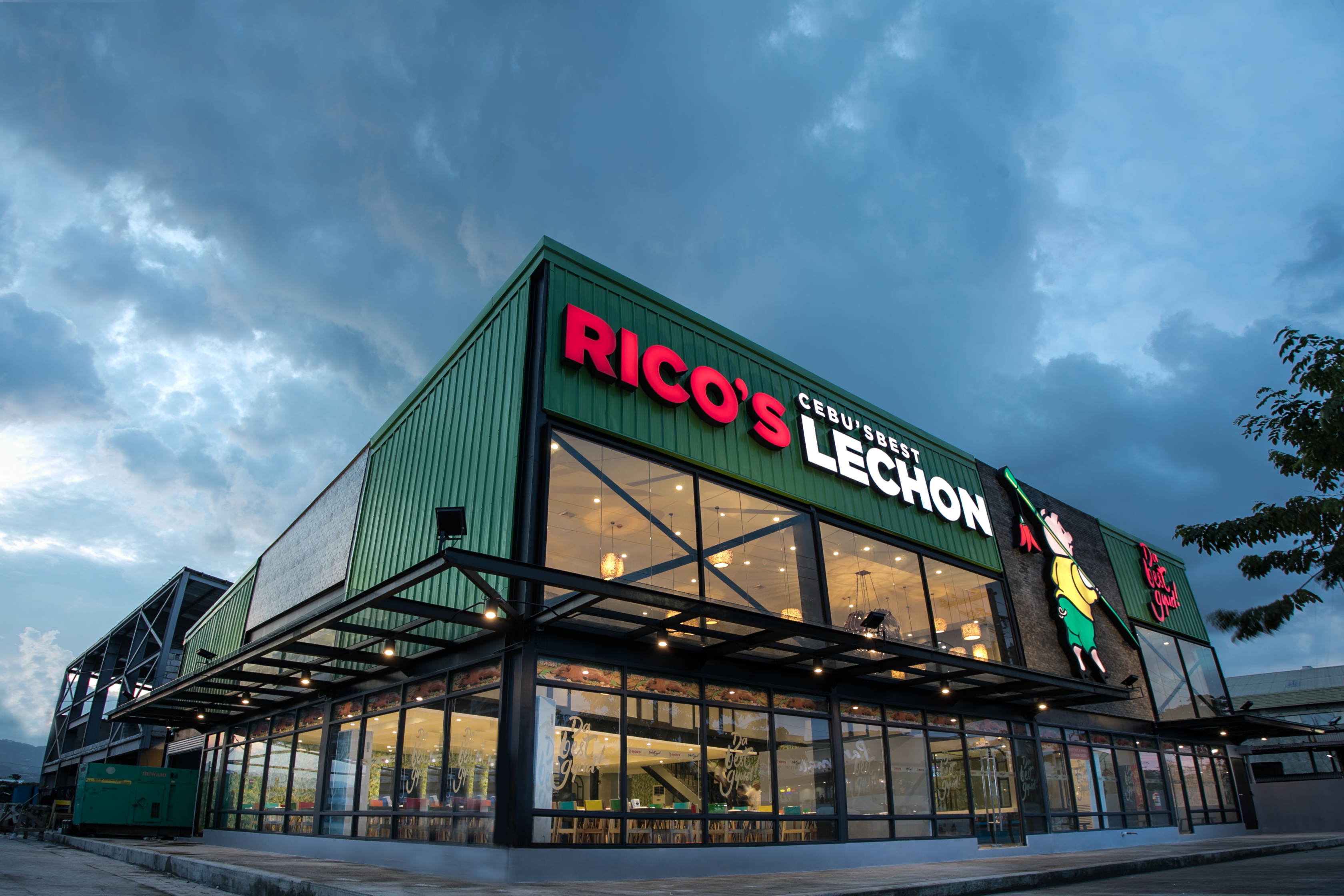 Several minutes to 11:00 on a cloudy Friday morning, a man clad in a pineapple print polo shirt stood in a tight circle of eager faces. His neutral-colored top contrasted with the boldness of their red uniforms. The man wore a serious look occasionally interrupted by a smile as he addressed his small crowd. He meant business. His hand gestures displayed a purposefulness that did not cause distraction but drew attention. The team huddle ended on a positive note as everyone placed their hands atop each other's in the middle of the circle and recited their chant for the day, smiling all the while. The man's smile was among the brightest, and it stayed that way for as long as he was in the room, welcoming people—young and old, foreign and local—to a restaurant that came back to serve the best tasting lechon in the city.
The man was Mr. George Pua, president of Meat Concepts Corporation and new owner of Rico's Lechon. And the restaurant was the biggest one in the chain, which started officially serving the public on June 28, 2019. George had his hands full even before the restaurant opened, but he seemed to have drunk from the well of never-ending energy and enthusiasm as he tirelessly talked with and offered friends and guests a smile. My colleague and I were two of its many recipients. In an exclusive interview in one of the restaurant's function rooms on the second floor, I learned that George's enthusiasm went beyond the successful opening of another business. He was happy to not only be eating Cebu's best lechon but also sharing it with his fellow and potential "lechon fanatics."
A Long-Time Love for Lechon
"Lechon fanatic," was what George called himself when he told us how his young self fell in love with the dish. "I lived in Baclaran, and every time I opened my window, it's all lechon. It's all lechon being paraded. Every time I opened my window I would see lechon and I would ask the maid to buy me ¼ kilo. Every time I opened my window." The repetition in his response left no room for doubt; he was—is—indeed a real lechon fan.
It was this love that brought him on a 5-day trip in the Queen City of the South six years ago, eating nothing else for lunch and dinner but lechon. He was on a mission: to taste the best lechon. He tried all brands he could get his hands on, even when it meant going as far as Talisay and Carcar. One store in the former, which was his host friend's favorite, secured the second spot in George's brief list of best lechon brands. Rico's Lechon came first.
George's list was no surprise. I'm not the biggest lechon fan—I don't crave it when I'm overseas—but I appreciate a great dish when I taste one, Rico's Lechon included. I liked how tender and flavorful the meat was that I didn't even have to dip it in sauce. The skin was not fatty and had just the right crispness, which saved me from feeling jaw pain because of excessive chewing. There was an added sense of gastronomic satisfaction from seeing how the lechon was chopped before it arrived at our table. I might have eaten more than what I intended to.
A Determined Man
George liked the tenderness of the lechon he tasted in Talisay, but the brand only offered the original variant whereas Rico's Lechon offered both original and spicy. "If you are a good businessman, or if you have a business acumen, you would want the original and the spicy," he said.
He soon met Enrico "Rico" Dionson, founder of Rico's Lechon. At that time, George only wanted to know the man who perfected the recipe to the best tasting lechon; he had no intentions of buying or franchising the brand. But he did ask him of potential plans to open a store in Manila, to which the latter responded with a firm no. Since then, George made it a point to eat at Rico's Lechon and chat with Rico every time he visited Cebu. The question of opening a branch in Manila would sometimes come up in these conversations. The third time it did, George took a different approach and asked whether he could instead franchise the brand. Rico was steadfast in his initial response.
Things started to take shape when a common friend reintroduced George to Rico in 2015. This connection solidified the former's love for lechon to the latter, who finally saw George as more than just a businessman eyeing a new venture. And in 2017, amid a busy night of setting up one of his restaurants and preparing for a flight to Japan the next day, George received an unexpected call from Rico. The call caught him off guard that he momentarily forgot who Rico Dionson was. "I should know him because he's in my phonebook," he said with a laugh. He picked up the call, and it was then that thoughts of eating Cebu's best tasting lechon in Manila became reality—Rico offered to sell the entire brand. George had no hesitation in saying yes.
Before the official contract signing in February 2018, George's Feng Shui master came to Manila to "read" him for the next year. George, who then wanted to know his compatibility with Rico as a business partner, asked his ninong to also do a quick reading of Rico. Rico consented. Then the reading happened. "You have a good heart, but you talk too much," George quoted.
Nevertheless, the Feng Shui master gave them his blessings and they soon signed a contract. By May of the same year, Meat Concepts Corp. took over the entire operations. In August, they opened their first Manila store in Bonifacio Global City; in September, Glorietta 1; October, Tiendesitas; November, UP Town Center; and in February 2019, SM Mall of Asia. It was a productive year for George.
"Old Cebu with a Twist"
The success of the great RICOmeback seemed to suggest that this year will be as busy, if not more, as the last. The brand's flagship outlet can accommodate 300 people and has four function rooms, whose names refer to the places where Rico's Lechon used to stand. "We wanted to be reminded of our roots," George explained.
George chose the location because it fits his criteria—not in Cebu City but near it. His friends' opinion, that the area is a new segment of progress in Mandaue, made decision making easier for him.
He was also very much involved in the conceptualization of the restaurant's interior design. He wanted to showcase the "Old Cebu with a Twist," so he incorporated elements of Sinulog into the restaurant. Instead of hanging buntings like people do during fiestas, which can look messy inside a confined space, George asked his Cebuano chair manufacturer to paint the backrests of chairs in bright yellow, green, apple blue, and red. "So, when you lay out the seating arrangement, you all see the different colors. It's like a bunting," he said.
Other Cebuano-made items included tables and hanging lamps. What I found most interesting about the restaurant's interior, however, was the lechon plate chandelier. George revealed that it was the last fixture added and its creation materialized mostly out of a desire to avoid wasting resource. George ordered these plates with the intent of using them for what they really were, but the vendor shipped them to him in the wrong size. Instead of complaining about what went wrong, George focused on the positive and asked his manufacturer to make a chandelier using his oversized lechon plates.
A Foodie's Menu
Rico's Lechon's expansion is evident not only in the restaurant's space but also in its menu. Other than their renowned lechon, they now serve more Filipino favorites like Special Boneless Bangus, Sizzling Lechon Sisig, Monggos, and Bicol Express. New additions to the list include Grilled Pork Belly, Sinigang na Baka at Baboy, Sisig Fried Rice, and Buttered Mixed Seafoods.
The new management may have tweaked the menu, but George promised that they did not and will never change the original lechon recipe. "There's no ego here. I always say [that] it's not who runs it or who owns it. It's just the way that you present it to be the best and only the best, and make people smile and happy. That's the most important thing. It doesn't matter who owns it anymore," he explained.
As a foodie, George understands the feeling of going to one's favorite restaurant and finding out—a true foodie will, almost always immediately—that the management changed their recipe. He does not want his food to be "bastardized," and he assured me that it will never happen in his restaurant.
George shared that he can be adventurous and instinctive when it comes to food. When he goes to a restaurant, he orders a lot and eats them all (food waste is a no-deal). He cited his recent solo travel to Spain as an example, where he ordered about 12 plates of Spanish food for lunch. All for himself. The look on his face as he was narrating this story told me that he still could not believe what he did. And on the 4th day, to change things a bit, he had lunch at KFC.
After sharing a good laugh, I decided to bring the interview to a close. I wished George sincere congratulations and expressed my anticipation for brighter days ahead. With his familiar smile, he thanked me then said: "I promise with all my heart, with all my mind, with all my power, [that] we will maintain the same taste of lechon."
Visit Rico's Lechon Mandaue at Unit F1 Jamestown, Mantawi International Drive, Mandaue City. They are open daily from 10:00 AM to 10:00 PM.
Art Curator Maris Holopainen Recommends Top 5 Young Cebuano Artists You Should Know About Now
Having worked with many artists through Qube Gallery and an avid art collector herself, Maris Holopainen has been advocating young and local talent.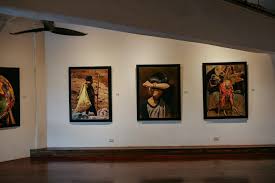 Originally published in Zee Digital Vol. 1.
Photography by Kyla Estoya
Having worked with many artists through Qube Gallery and an avid art collector herself, Maris Holopainen has been advocating young and local talent. Besides representing Cebuano artists at shows around the world, the gallery is also a platform of sorts for creatives who are hoping to make a name for themselves in the industry. Maris shares five up-and-coming artists she believes will soon become buzzed about in the local art scene.
GI Pongasi, Painter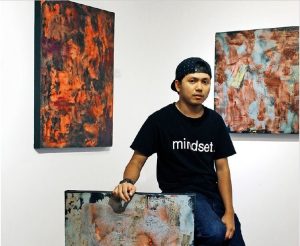 Describe your art.
Mixed media, non-figurative.
How did you break into the industry?
I joined different group exhibitions, and eventually had a chance to mount my own solo exhibit.
Plans for 2018?
After a successful one man show this January, I will continue to create a new series of work, and will be joining group exhibitions. Also, I'm planning to join major art competitions.
Borj Padron, Sculptor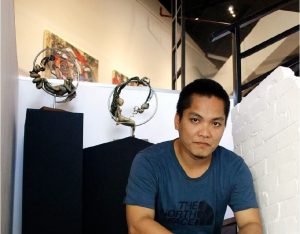 Describe your art.
I am into metal. Even when I was doing my thesis, I was working with metal cables, and stuff like that. Now, I like working with stainless steel.
How did you get into art?
Even when I was a kid, I was into arts. My parents didn't send me to art school; they made me take engineering. when I got to my senior year, I shifted from
engineering and pursued art.
Plans for 2018?
I want to do collaborations with my coartists. I also plan on studying more on metal and wood.
Almun Rey Logronio, Sculptor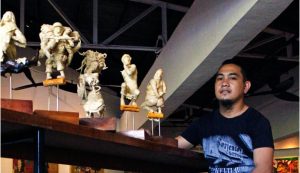 Describe your art.
My art is about comedy. I wanted to avoid the problems, so I converted them into something happy. At least for a moment, I can relieve your stress through my artwork. I experimented with 3D
painting and other materials, and some challenging techniques. For materials, I use polymer resin. My subjects are usually normal people that you'd see everyday.
How did you get into art?
I studied painting in college, but when I went to Dubai, I saw and discovered that I could do sculptures. I practiced and experimented with the materials.
Plans for 2018?
I have plans on doing another exhibit, and continuing making comedy as a statement. I want everyone to be happy. I hope I can make better pieces, and that people will like it more. And I'm planning
to add painting to my sculptures soon.
Mark Belicario, Painter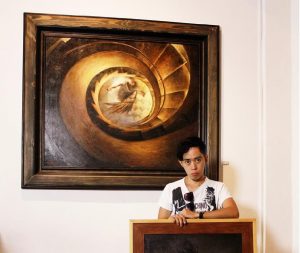 Describe your art.
My art is realism with a bit of surreal, it has some imagination. My medium is oil on canvas.
How did you break into the industry?
I started painting in 2008, together with my co-artists. They have influenced me to do the same. I was inspired by their work. From there, I attended exhibits, competitions, that's where it all started.
Plans for 2018?
To conduct more exhibitions here and abroad, and create another painting. Maybe try a different style of my art.
Francisca Ricablanca, Painter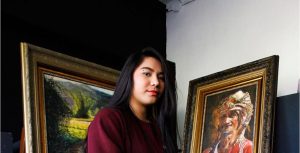 Describe your art.
I describe my art as realism, because in realism I can express my feelings and appreciate the beauty of nature. I feel like I have been enlightened by the Lord, because of what I've seen and what I put
in my art.
How did you get into art?
I started painting when I was 16 years old, and encouraged by a co-artist to join a trip to Samboan. I had no idea
what we were going to do there, I thought it was just another trip. It turned out they were going to do paintings on the spot. One day, they gave me a small canvas, and I finished my painting right away. The next day, they gave me a bigger canvas, and I started painting the guava tree; they were surprised that I was so quiet. I was actually drawing each leaf individually. That's when I started.
Plans for 2018?
I want to continue, and strive harder so that I can make artwork that's even better than what I did last year. I want to continue my career as an artist.