Proudly Philippine-Made
A second home showcasing the works of talented designers, national and local artists and Cebuano craftsmen. 
A second home showcasing the works of talented designers, national and local artists and Cebuano craftsmen.


One of the most fascinating things about my job as an interior designer is the people I meet and the clients I deal with. While a few can really suck the life out of you, most of my clients are really such wonderful people. Designing their living spaces entails a lot of research and getting-to-know-you on my part so it's not difficult to establish friendships when the project is done.
Such is my story with this beautiful family from Manila. Working with this particular client was a delight because they are a very warm and endearing family, but most of all, they appreciate local art and talent. In the first quarter of this year, I got commissioned to do the interior design of their second home here in Cebu. It wasn't by chance that led them to the queen city of the south. The cosmopolitan vibe of the city with beaches and mountains in close proximity made it easy for the family to unanimously agree to make this their second home.
From the start, they specifically told me that they wanted their house to showcase national and local artists, Cebuano designers and local craftsmen. I have never met anyone with such an extensive art collection as this family! They have original paintings from Jun Impas, Romulo Galicano, Manuel Baldemor, Mauro Malang, Manuel Sinquenco, Oscar de Zalameda and national artists BenCab and Arturo Luz, among many others. Not to be outdone, their furniture selection also consists of different designer pieces from famed furniture designers like Kenneth Cobonpue, Vito Selma, Rene Ybanez, and Clayton Tugonon; as well as furniture exporters like Mehitabel and Coast Pacific.
In the foyer, a huge Jun Impas watercolor painting is placed directly above a massive console table made of natural coco round core laminate designed by Clayton Tugonon of Classical Geometry. Florentino "Jun" Impas paints in the genre of realism where these seemingly mundane everyday scenes are given life in detail. That particular painting captures ladies doing laundry in the river. It is from these colors that I lifted the green accent color applied to one side of the walls.
During the design conceptualization phase, the wife consulted her psychic friend Stargazer, a reputable psychic medium from Manila who appears in several television programs. She recommended that the beam above the foyer be covered. As a solution, I placed this bamboo carved panel from Halsangz Plating Cebu, a manufacturer of surface decorative panels that come in different materials and finishes. The interlaced bamboo panels gave that modern Filipino twist to the Asian contemporary style of the house. Three tall rattan lamps from Obra Cebuana were suspended from the high ceiling in varying lengths and finished in different stains to add more character to the space.
The house was built on a mountain so it was only natural to do a split-level plan to follow the terrain of the land. Split-level homes offer living space on multiple levels separated by short flights of stairs, up or down. So from the foyer, a few steps down lead to the living room. There one will find a cornucopia of art pieces and fabulous furniture. Kenneth Cobonpue's award-winning Yin-Yang sofa sits across a pair of handsome lounge chairs with sulihiya weaving in the back designed by Rene Ybanez for Obra Cebuana. On the center is a round coffee table with a simple but elegant marquetry top. A red Chiquita stool sits right next to it.  The Chiquita stool, a Kenneth Cobonpue design, is made of natural rattan poles sitting on top of a polyurethane cushion inside a moulded steel base. All poles are natural untreated rattan. A simple yet brilliant feature of this design is the supreme comfort one experiences when the poles sink softly when sat upon and return to their initial height when you stand up. Behind the sofa is a spin off from Rene Ybanez's lotus coffee table which I transformed into a wall lamp. This makes for dramatic lighting at night and a focal point in the mustard-colored accent wall.
The centerpiece on the coffee table is a Michael Cacnio sculpture. Filipino artist and 2006 Ten Outstanding Young Men (TOYM) Awardee Michael Cacnio is a world-class brass sculptor.
The hallway leading towards the kitchen and dining area is like an art gallery of paintings. On one side there is a Romulo Galicano water lily oil painting on canvas, Manuel Baldemor's European series in oil and a small Malang. On the other side is a couple of Sinquencos showing his signature subject matter of old houses done in colors and shading to produce an old-world style.
As the saying goes, the kitchen is the heart of the home. So it applies to this family as well. The breakfast nook is the wife's favorite part of the house because this is where her family of four gathers when they are in town. It also overlooks the swimming pool and the garden outside. The kitchen cabinets are of solid wood in dark wood stain, crafted by Anything Timber. The bar stools are a gift from one of the wife's closest friends, Tina Lo of Coast Pacific. Shining brightly above the nook, a set of modern pendant lights made of Lucite glass was purchased from Imperial House of Furniture.
The dining room also contains big names not only in the furniture industry but also in the arts. The Vito Selma Plumeria table with this tree-like base, wrapped in stained tobacco leaves. The glass table-top shows all the branches that hold it. A perfect complement to the table are the dining chairs from Coast Pacific with a solid wood frame in a rich dark wood stain, rattan back and a removable upholstered seat cushion for added comfort. I chose a brown, leaf-printed fabric that resembled the lines of the rattan weaving on the back for the removable seat covers that were made by my good friend Ina Chona. At the far end of the dining room, a wooden credenza with slim, tapered legs carefully crafted by Mehitabel for Ralph Lauren rests against the floor-to-ceiling windows overlooking a pocket garden. On the red accent wall, a full-length silver-framed mirror is positioned on center, not only to give the illusion of space but also to reflect the Zalameda painting on the opposite wall. This allows diners to admire the painting no matter where they are seated. De Zalameda happens to be the favorite artist of the former First Lady Imelda Marcos, and that particular painting is also the wife's favorite piece. Flanking each side of the mirror are works from national artist BenCab. To add some sparkle to the room, a modern set of pendants lights from Imperial House of Furniture hang directly above the table.

The kitchen, dining and living room all look out to the swimming pool outside with a minimalist landscape overlooking the breath-taking views of the city. The terrace is decked out with the Dedon Slimline collection and a red Kenneth Cobonpue Dragnet chair sits on a corner.
Up a flight of stairs from the foyer leads to the family room. Fun and quirky sets the tone in this living space where a sectional sofa in black and white is complemented by the red Yoda chair of Kenneth Cobonpue. A pair of black upholstered ottomans doubles as footstools, but can also serve as extra side tables. Pay careful attention to detail and you'll notice that the center table is like a giant book with wooden cabriole legs. A floor lamp that extends to the center was purchased from Mandaue Foam. The scroll bench behind the sectional is an original design by Rene Ybanez for Obra Cebuana made of two-inch rattan poles with skin stained in a deep red. Directly above it is an Arturo Luz painting entitled "Cities Of the Past", another priceless piece from a Philippine national artist.
Designing bedrooms is a whole different ballgame, but a fun one I must say!  It's always different for every person. In this family's case, the daughter wanted a dreamy, purple-colored room; while the son preferred a more masculine approach using greys, blacks and whites with a central theme focusing on his music and records. Making room for his gadgets was a must. Given that this was their second home, the master bedroom was made to look like a hotel room with neutral colors and rich wood stains. The end result is one that makes me happy especially when I hear the children say that their favorite parts of the house are their bedrooms.
If this house in Cebu is just a second home, I can only imagine what other treasures lie in their home in
Manila. But no, their humble answer would always be that the true treasure lies in our country and our local artists and designers. Being a doctor by profession, they have had several opportunities to make a living abroad but they have always chosen to stay at home.
St. Patrick's Day Celebration at Marco Polo Plaza
Marco Polo Plaza will be celebrating St. Patrick's Festival with the rest of the Irish community! It's not only a feast of greens and four-leaf clovers but of good food too! From March 17 to 19, dig in and enjoy traditional Irish dishes and delights such as Irish Stew, Potato Nachos, Cheesy Reuben Loaf, Guinness Beef Stew Pot Pie, Beer Mac N' Cheese and many more. These on top of the international lunch and dinner buffet at Cafe Marco. Complete the experience in true Irish fashion with an ice-cold mug of Irish Beer, also available at Cafe Marco.
Gastronomic adventures await at Café Marco! For inquiries and reservations, you can call (032) 253-1111. For real time updates, like the Facebook page at facebook.com/marcopolocebu or follow on Twitter at @5StarInCebu. Visit the website at www.marcopolohotels.com.
For inquiries and reservations, call 253-1111 or email hospitality.ceb@marcopolohotels.com.
La Liga Henerales: Shaping History Awareness Back Again in Cebu
La Liga Henerales is a community of young talents passionately promotes historical awareness through periodic costumes carefully researched for its authenticity and accuracy and promoted as well in events and schools.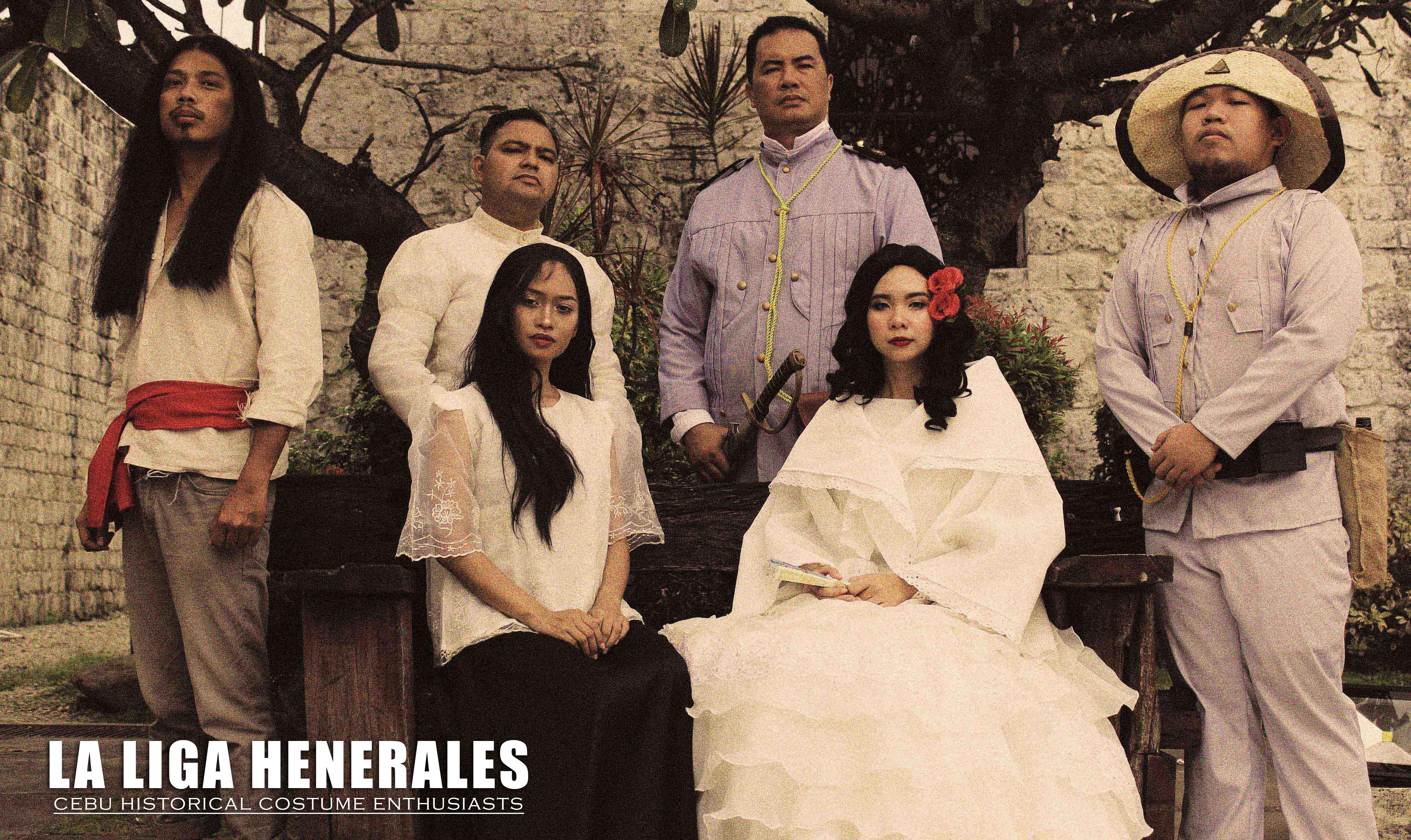 Only few individuals before were into pursuit in this historical awareness project until the age of communication where internet is convenient in the palm of our hands through our gadgets. New information travel fast and data is retrievable, yet also possess a disadvantage with the plethora of different social media platforms carried by various makers as well. In a daily basis, historical backgrounds are unearthed making its trend until now as new discoveries are released, but the idea of these information being shown and shared is as close as not valuing or commemorating to its sources leaving this information just a trend.
There is a certain community of Cebuanos that are taking a quest to rewrite and restructure what was in the past, filling the gaps in facts with further research of variable sources that are made debatable but sticks to it true cause, to unveil the truths of our heritage and our origins, as Cebuanos and as Filipinos as well.


La Liga Henerales is a Cebu-based, non-profit organization composed of a group of talented, committed and respectable individuals from different walks of life, schools and profession whose primary aim is to promote both, Cebuano and filipino culture and heritage that was depicted before in pre-colonial and colonial eras via re-enactment with costumes vested in proper research and investigation to achieve authenticity. They also push their cause on schools and other social gatherings promoting and spreading awareness about our local, and national heroes that we look up to. With these said, they also portray a closer look of the lifestyle of the past to where they perform stories, perform forgotten dances and rituals and portray their individual roles, vital in the fight of our country's future during those challenging times, and in honor to spread awareness of the lost practices we had in those times.
The Founder
Louis Kenneth Villaflor, an entrepreneur and an avid history enthusiast and costumer, founded the group on the purpose of re-educating the youth about real local and national history, he saw the opportunity to combine his favourite hobbies which is costuming and story role-playing and the process to instill the historical awareness and value among the youth and in schools, along with a group of fellow enthusiasts who shares his passion about research and history, they took it among themselves to be purposeful in the advocacy in spreading historical awareness in schools or events by wearing periodically correct costumes and sharing the stories and its value to the youth.
Behind the Garments
Meet Rodney "Pee-Wee" Senining, who has been in the fashion industry since the late 90's, strives  in concepts of avant-garde, innovation and cutting edge-fashion forward design. And also a teacher of Architecture, Fine Arts and Design of University of San Carlos, he had grown into research of books like the holy grail in the Library Resource Center and is always fascinated of the periodical times and how to preserve it; Hence, his interest had grown for the affinity of Periodical Costumes and Sustainable Fashion.
 Being part of the group La Liga Henerales, he was tasked to instantly be their mentor for the young talents and as the organization is still new and developing with limited funds, resourcefulness and research were done to come up with a good output of photo shoot and was quite proud of it and still promise on the next editions of pieces to be more historically accurate. Even as teacher for Fashion Design in SAFAD, his expertise comes hand in hand with the members as he helps them do research as well. His passion and interest somehow led him with enough knowledge to key the insights of the significant periods and historical backgrounds of it.
Historical Awareness in Cebu
The strength and progress of a country is anchored on how well they know and honor its history. The means of historical awareness in Cebu is almost non-existent among the Cebuanos, although we push forward in tourism and promote beauty through sceneries and other aspects of culture yet never commemorate deeply on historical icons such as our other local heroes, and ancient cultures as well that is almost been forgotten in an urban Cebu. Nevertheless, as long as communities' like La Liga Henerales are now evolving in a learning state by real discovery by multiple resources, this will always reflect of how we appreciate love, patriotism and honor to our country and would look forward to progress.
Christmas in Colonial Cebu: A Themed Exhibit by Teresin Mendezona and Eva Gullas for Stylescapes 2019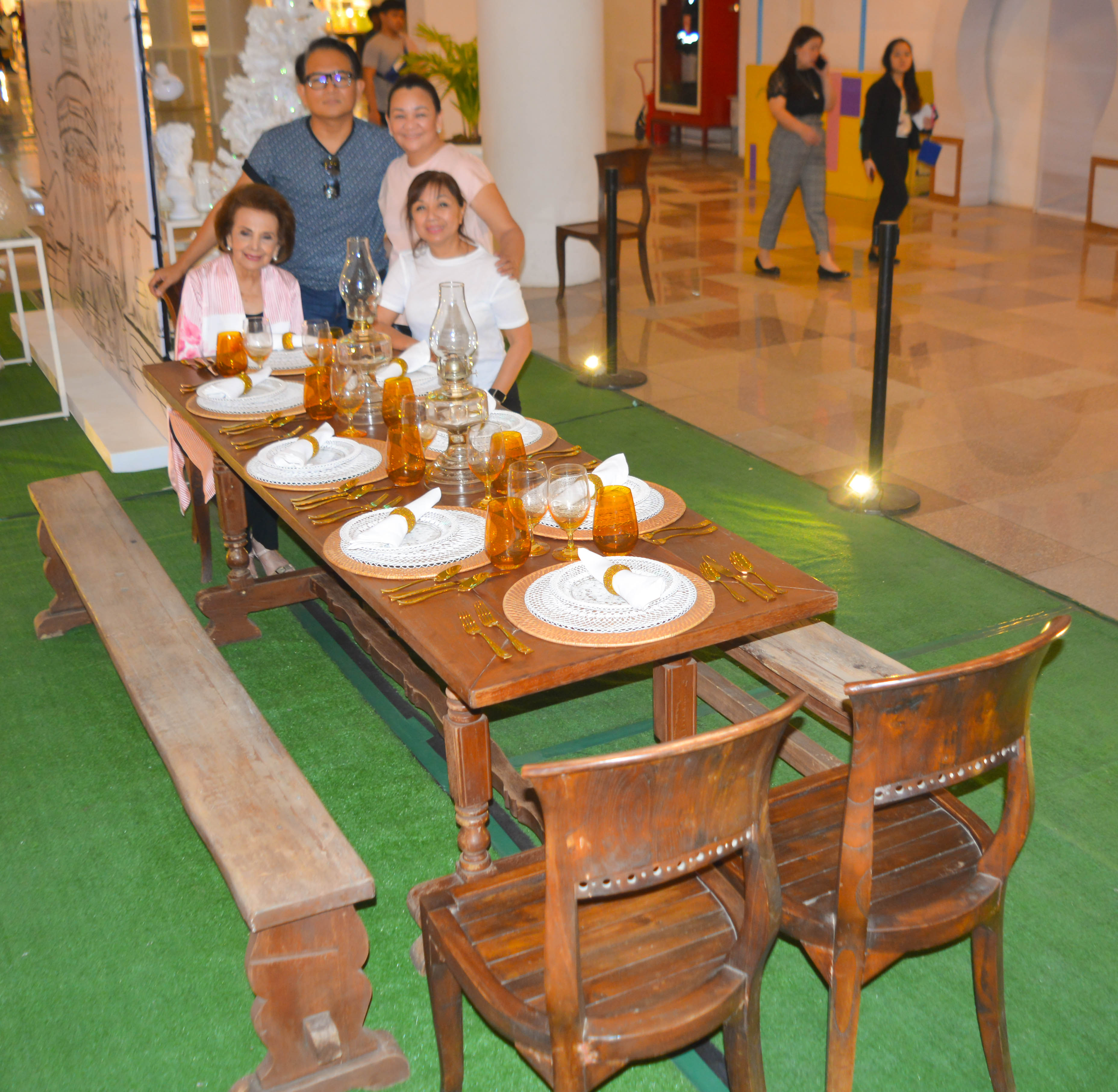 Ever wonder how the yuletide season is celebrated in colonial times? This year at Stylescapes 2019, Teresin Mendezona and Eva Gullas collaborated to showcase the elegance of Christmas during the colonial period, specifically most of the Spanish regime.
This pop-up radiated the ambience of Christmas in the colonial times through the various details used within the setting. Specific pieces like the gansilyo table cloth, oil lamp, and the sketches were from Ms. Mendezona and Gullas themselves.
Aside from that, various table and living room pieces were sourced from Rustans and Metro Ayala, and was curated by Doro Barandino.