From Shell Off-Cuts to Exquisite Shell Jewelry: Susanne Verallo
Taking creative inspiration from her rich Cebuano culture aside from her Italian influences, Susanne Verallo, with her namesake fashion label, aims to put Philippine artistry in the spotlight and produce "bold and daring" creations that tell remarkable stories.
She aims to stay true to her heritage in each of her striking pieces, which she deems fit for women who are not afraid to make a statement and most importantly, stand out.
Playing with confident colors and geometric shapes, designed and handcrafted to be "effortlessly versatile and impeccably fashioned", as Susanne describes it, her modern and mindful twist on shell jewelry and accessories gives the brand a classic yet youthful aesthetic.
Established in the year 2015, SUSANNE VERALLO has been partnering with local independent artisans to support their livelihood and to showcase the unique beauty of Philippine artistry.
With Cebu's abundant and diverse natural resources, it is very much why the Queen City of the South became home to the country's shell-craft industry. As crafting things out of puka shells began in the year 1980's, handcrafted sea shells species came into the picture to produce exquisite designs that flood the pages of magazines in today's modern world.
Susanne is very much lucky to find this exquisite resource in her homeland for her equally exquisite designs, and all the while staying true to her advocacy of sustainability. Altogether with her brand, they maintain an effort to counter such problems of pollution and exploitation of resources by making use of shell offcuts and overruns salvaged from other shell-craft companies. With this, she hopes to raise environmental awareness and enhance the value of this precious yet limited natural resource.
Mainly, the designer finds a lot of inspiration from culture. "My first collection of clutches was inspired by the Pop Art movement of the 60's, and my second upcoming jewelry collection takes inspiration from the tribal traditions of the ancient Visayans", she shares.
Working closely with artisans and patronizing local craftsmanship has given her the opportunity to fully observe and explore the various possibilities of the craft. Without any formal training in fashion or jewelry design, and now treading into that path, Susanne heeds to her furniture and product design experiences and studies, applying the same meticulous attention to detail in research and execution with each piece.
For artists like Susanne, she believes in giving meaning to each of her pieces, which she hopes would in turn gives them intrinsic value that others can appreciate. Inspired by different jewelry brands that made use of indigenous materials and techniques, giving birth to mostly chunky, matronly, and typically tropical sorts, she stressed that these elements made her clients love her pieces more, as they are versatile and modern, yet still proudly Cebuano.
Despite finishing her masters degree in Milan and having explored European designs, Susanne chose Cebu as a home for her art. "I believe our own traditional crafts coupled with our unique indigenous materials are more than capable of competing on a global scale", shares Susanne.
Since her first collection release in the year 2016, she has generated interest from the international market with her handmade jewelry. Despite the influx and popularity of this generation's fast fashion, a growing era of slow fashion – handmade and sustainable designer pieces– has put her collections in the spotlight.
Showing her designs and the beauty of local craftsmanship to a large international audience has been, by far, the greatest achievement for her brand.
From her early childhood creativity and drive, she always ambitioned to become a fashion designer. But when this took the backseat as she pursued a more serious career of interior and furniture design, she confesses that the dream never really left her thoughts, as it is realized in today's present time.
Her dream to be able to combine both her passion for the arts and earn from it as a living was finally an opportunity afforded to her, and with that, she made it all come true. "What draws me to fashion is that it's a very personal way of expressing one's self, even more so with accessories. You can say a lot with your outfit, but I believe it's the jewelry that punctuates it".
Shangri-La Mactan's Best-Kept Secret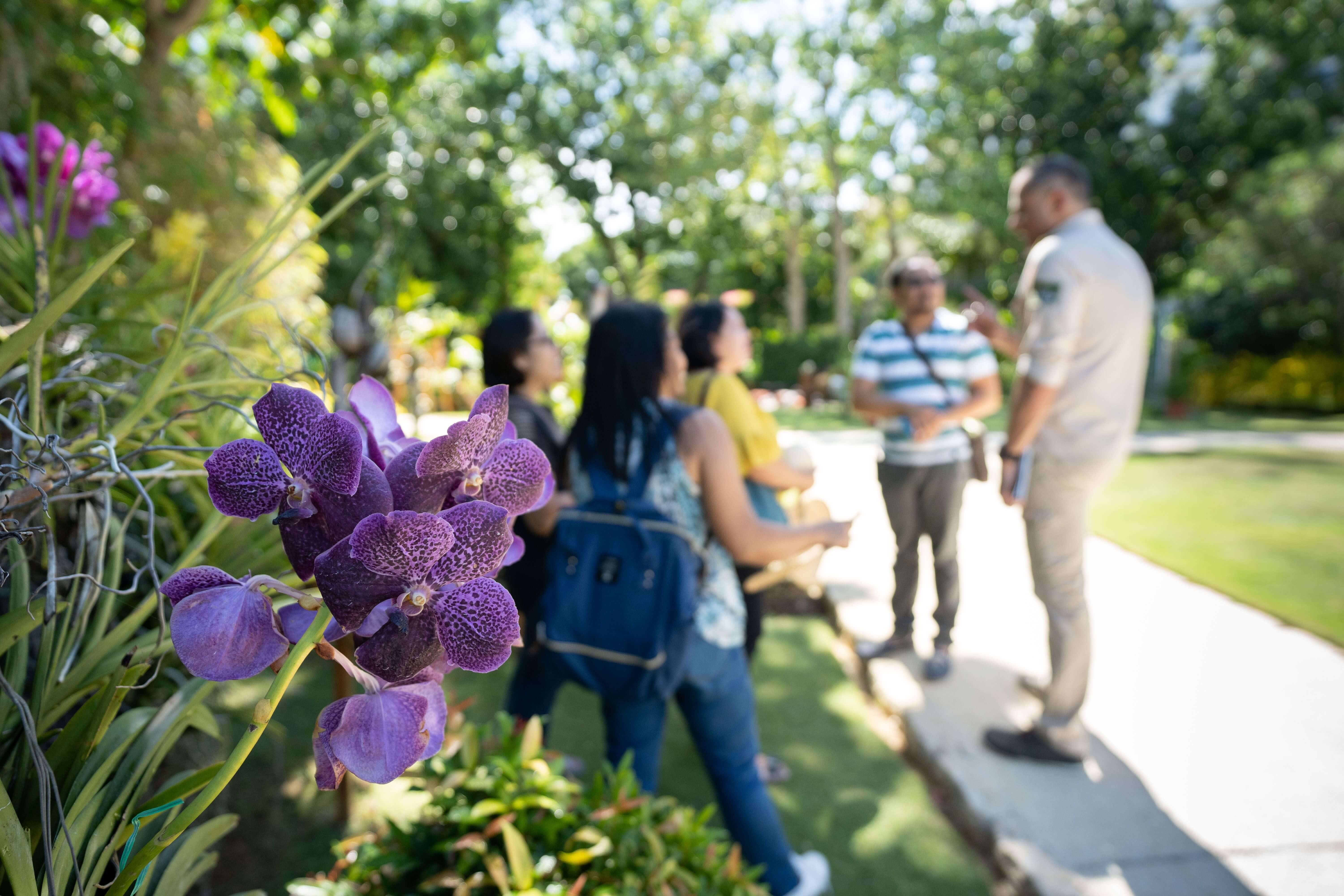 Every year on June 5th, people find different ways to celebrate World Environment Day, the United Nations Environment Programme's platform for positive environmental action. This year in Cebu, Shangri-La's Mactan Resort & Spa chose to celebrate the day by expanding its commitment to biodiversity conservation through its launching of the Eco-Trail.
A botanical sanctuary more than just a local attraction, the Eco-Trail features over 65 plants that form a route of lush greenery around the resort. Included in this collection is the recently discovered Cynometra Cebuensis, a flowering plant classified as critically endangered due to the rapid deterioration of its natural habitat. The plant's adoption in the Shangri-La Mactan Eco-Trail is a move to save it from extinction, a move for earth.
The trail begins at the Ranger Base and takes approximately an hour. Foreign guests need not worry about language barriers as each plant overview comes in multiple languages. Specialized resort rangers conduct the tours. These rangers are local experts who all share one thing: a passion for Cebu's flora and fauna, and a desire to share it with resort guests. Rangers received training from the University of San Carlos – Biology Department and the Department of Environment and Natural Resources.
To make the most of the experience, guests have the option to partake in a chocolate journey with the resort's chocolate sommelier at La Tierra del Chocolate After all, there is something so soothing about drinking a mug of hot (or cold) sikwate, a Cebuano chocolate drink, while basking in nature's glorious creations. (Some of Cebu's most stylish personalities enjoyed the Cacao Garden here!)
The Eco-Trail is initiated by General Manager René D. Egle and serves as the resort's testament to making taking care of Cebu's natural heritage an everyday advocacy.  
For more details, get in touch with the resort rangers at (63 32) 231 0288 or send an email to mac@shangri-la.com.
22 Tango Records Celebrates 9 Years with Roll-Out
The music label celebrates 9 years of homegrown music.
22 Tango Records celebrates its 9th year of producing and releasing quality local
music by hosting an anniversary event on Saturday, March 30, 2019 at Draft Punk, Mango Square. "Roll-Out" will feature live acts from a carefully curated list of artists signed under the label.
Performing on stage will be Wonggoys, Bethany, Vincent Eco, Lourdes Maglinte, The Labrats, and Mother Folker (aka Cattski).
Along with this grand celebration will be the unveiling of 22 Tango Records' new website, with updated features, music articles, events calendar, lots of music and valuable content not just about the label but also about the local music scene.
"As much as I feel like there's reasons to celebrate, I feel like there's still so much work to do." Cattski expressed, when asked about their anniversary celebration. "We still have a long way to go. But, looking back, I'm proud of what we've done. We've explored the different aspects in the music business – from music creation, promotion, education, distribution, publishing and production – all in the hopes that we'll ultimately co-create a sustainable local music industry."
22 Tango Records has given opportunities for artistic growth and development for all their artists in the span of 9 years, training and guiding them to become better at their craft. The label plans to keep giving its support by continuously creating events designed to cater to different genres and music listeners, giving each a unique brand and working hard to keep it consistent.
"I believe in our potential." Cattski says, "I think to have our own hyper local music industry is something that we strive for. We want the future to have thriving musicians capable and empowered to work for their music using the latest technology, communication means and with a supportive community".
Chief Finance Officer and Co-founder Anne Muntuerto also shares her thoughts about 22 Tango Records advancing into bigger, more eventful years.
"I'm so proud of how 22 Tango Records has made a mark in the Cebu music scene no matter how small it may seem in the last 9 years," she says. "We have been extremely lucky to be supported and surrounded by people who believe in our advocacy— our dedicated street team members, artists, brands and companies who have supported us, and 22T's loyal listeners and followers. It takes a village. And it's this tribe that inspires us to keep going."
Catch Roll-Out on March 30th, Saturday, in Draft Punk, Mango Square. Music starts at 8PM with a door fee of P150, inclusive of one free drink.
For more updates and information, follow us on Facebook, Instagram, and Twitter (@22tangorecords).
You Can't Miss The Final Performances of M. BUTTERFLY in Cebu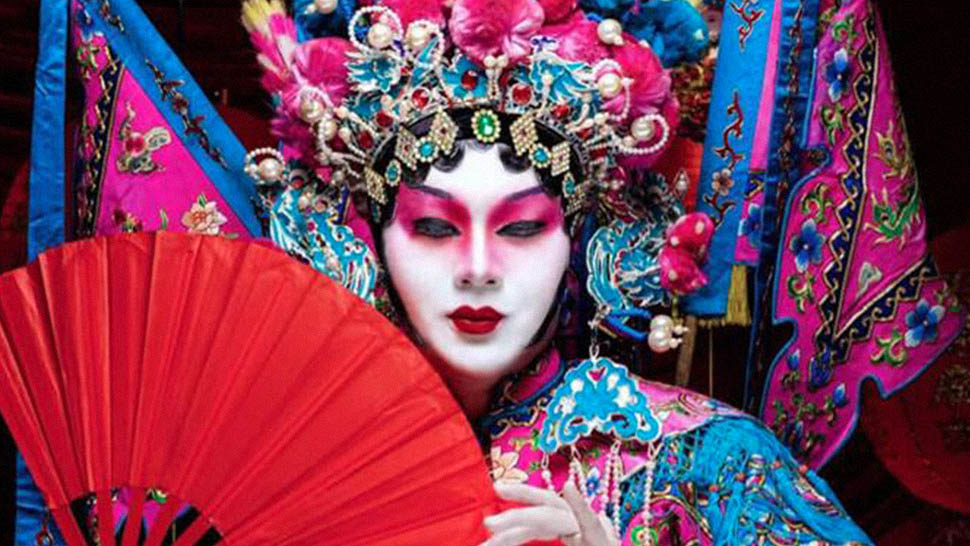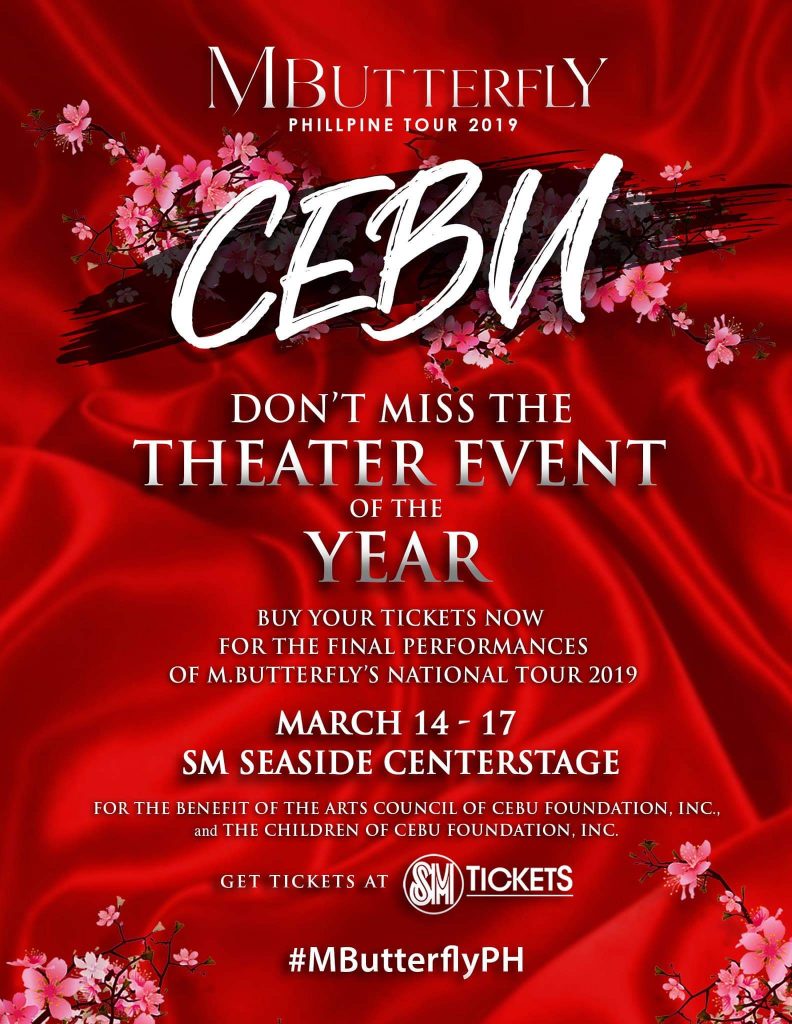 For its final performances, the M. BUTTERFLY National Tour 2019 will spread its wings at SM SEASIDE CEBU from March 14 – 17. Presented by Tony and Grammy award winning producer Jhett Tolentino and FRONTROW Entertainment (producer of highly-acclaimed independent films Bhoy Intsik and Bwaya), this world-class masterpiece is brought closer to those who did not have the opportunity to catch its 2018 Manila run. After all, location should not limit one's exposure to the arts and culture.
Due to many challenges and technical details that come with productions, most theatre companies in the Philippines are often hindered from bringing their projects to other key cities. Because of this, Jhett Tolentino and FRONTROW Entertainment are taking this bolder step to carry on their mission and advocacy in the performing arts and to further enhance audience development throughout the Philippine archipelago.
A revival production of David Henry Hwang's M. BUTTERFLY, this is the winner of the 2018 ALIW AWARDS for Best Play, Best Actor and Best Director and nominations for The Best Featured Actress in a Play.
Targeting audiences between ages 18 and beyond, the producers are
hoping that this classic drama, inspired by Giaccomo Puccini's opera 'Madame Butterfly', will likewise resonate to theater audiences from Luzon, Vizayas and
Mindanao that " love, power and deception holds no boundaries – whether this be
in a rural or urban setting."
The M. BUTTERFLY NATIONAL TOUR 2019 will benefit the following charitable institutions namely: Iloilo Prima Galaw, Philippine National Red Cross Iloilo Chapter, The Children of Cebu Foundation, Silliman University Culture and Arts Council and the Arts Council of Cebu Foundation.
The schedule of performances of M. BUTTERFLY in Cebu are as follows:
Mar. 14 – Thursday – Opening Night – 7pm
Mar. 15 – Friday – 7pm
Mar. 16 – Saturday – 2pm / 7pm
Mar. 17 – Sunday – 2pm / 7pm
VENUE : SM Seaside City Centerstage
For tickets, you can get them at SM Tickets through any SM Mall or SMTickets.com.