Bringing Life to Cebu's Heritage
At present, Cebu is an interesting study of contrasts. The rapid development of the city—especially in terms of the business process outsourcing and real estate industries—have led to it to becoming one of the most modern cities in the country, yet fascinatingly enough it remains embedded in its history and culture, the heritage of which has shaped its identity.
"The concept of heritage is anything of value that we treasure because it holds meaning for us," says heritage architect Melva Rodriguez-Java. "Because it holds meaning for us, we want to take care of it to transmit it to the next generation."
While there have been notable continuous efforts to preserve Cebu's rich heritage, it remains an ongoing struggle, especially with certain factors in play. Following the devastation in the aftermath of the natural disasters that struck last year, Java realized just how unprepared the country is in taking care of its heritage. "The government was unable to respond immediately and correctly to the damages brought by Yolanda and the earthquake," she explains, citing the fragmentary restoration labors for the Fort San Pedro and the belfry of the Basilica Minore del Sto. Niño, the restoration of which she is currently involved in. She adds that in the case of the Sto. Niño, international experts came in and volunteered to teach them how it's done.
Beyond the shortcomings of the government, the rapid globalization, while having its positive repercussions, considerably affects the identities of the citizens. "Globalization is there. It's a fact," she states. "But we cannot just go on floating and being carried here and there. We need grounding, and that grounding is appreciating our roots. Part of being able to do that is awareness of heritage."
Java acknowledges some people think heritage appreciation is an elitist thing only for the educated, yet shoots the misconception down, saying that it's very grassroots. "Maybe it's not innate in everybody," she admits. "It has to be developed. It has to be learned. Like a taste for food, it has to be acquired."
It starts with awareness of heritage, as awareness develops appreciation. "When you appreciate things, you begin to value them. You begin to protect and care for them. That's what we want to happen with heritage," Java says.
Thanks to the development of technology, efforts to be aware and appreciative are one notch more interesting. With museums and tours taking a more interactive approach, gone are the days of going around and visiting Cebu's historical sites being boring.
"History must be taught in a fun way. That's how you get people's attention," Ka Bino Guerrero shares in a profile written about him for Zee Lifestyle's June 2013 Arts & Culture issue. Ka Bino started the Old Cebu Walks, which takes people from Magellan's Cross through nearby churches before ending up at the ancestral homes in Parian. He interjects his personality into his tours, along with interesting anecdotes that may not be in history books.
Max and Marlen Limpag, who were featured on Zee Lifestyle's July 2014 Men's & Technology issue, began a digital tourism campaign through their startup company InnoPub Media. One of their projects is data-tagging tourism and heritage sites with QR codes. When people scan these codes using their mobile gadgets, they are provided with little tour guides right in their hands.
"Heritage work is hard work," Ka Bino says, admitting that the benefits are more like just a pat on the back. "More than the monetary aspect, there is the respect. It's very rewarding. There's no recognition, but it's more like having the satisfaction of being a part of something bigger."
Historical and heritage sites may mostly be tourist attractions, and with good reason: they paint a cultural picture and offer something we have that they don't. Yet more than anything, these places are a story of humanity—a story about us. "We understand ourselves better when we know where we come from," Java concludes. The refreshing and innovative approaches to heritage breathe new life and renew our pride in it.
In June 2013, Ka Bino invited Zee Lifestyle to join him on one of his Old Cebu Walks. Here's a sneak peek into his itinerary.
MAGELLAN'S CROSS
Planted by Ferdinand Magellan's men upon arriving in Cebu in April 21, 1521, the Magellan's Cross is the symbol of the Cebuano's acceptance of the Christian faith—although Ka Bino explains there might be more shrewd reasoning behind Rajah Humabon's acceptance of the foreigners. "He saw it as a business opportunity to be able to trade with more places," he says, explaining that before the Spanish arrived in Cebu, it was already a community that traded with various other Asian countries.
As various vendors approach with candles and an offering to say prayers, Ka Bino explains the practice that he usually encourages his guests to take. "I tell them to buy the candles, let the ladies say their prayers, then bring the candles home instead of leaving them here," he says. "You can no longer light candles inside this monument because it's a fire hazard, so you might as well bring them along and light them when you are badly in need of spiritual guidance."
BASILICA MINORE DEL STO. NIÑO
Built in 1725, the Sto. Niño Church is probably Cebu's most iconic for being the center of the popular Sinulog Festival. "When it was built, they didn't have cement so they would use egg whites," Ka Bino explains. "So if you wanted to get married or have your baptism in the church, you would have to donate a hen. The hen lays the eggs, and the egg whites are used to build the church. That's why we have a lot of delicacies that use just the egg yolks."
Approaching the façade of the church, Ka Bino points out the cement statues by the entrance. "The church itself is very Hispanic, but what's this thing over here? It's a Chinese foo dog. That's how crazy we are when it comes to decorating, we just put everything in it." The large doors themselves are carved with images of saints, including St. Peter. "In the early days, we were made to believe that you could only get to salvation through the church. That's why church doors are so ornately done—they represent the gates of heaven."
STREET VENDORS
"It's Filipino tradition that after attending mass, you have to buy flowers to offer to your altar at home," Ka Bino explains while walking through the alley across the church, filled with baskets of fresh and colorful flowers brought in from Cebu's upland barangays.
Right next to one vendor is a food cart, filled to the brim with familiar local treats, like rosquillos, pinasgbo, masareal, tagaktak and chicharon. "Flowers for God, and food for the children," he says. "Food is part of our heritage. Sometimes we take it for granted, but it's another way of learning about our culture."
CEBU METROPOLITAN CATHEDRAL
"It's time for the sad stories," says Ka Bino as we enter the Cathedral's compound. Besides the bomb that fell on the church during World War II and destroyed a substantial part of the structure, another sad story lay in the image that stands in the courtyard. "Miguel Lopez de Legaspi arrived in Cebu, it was the feast day of San Vidal, who was the patron saint of Cebu for the longest time. Every feast day, the image of the Sto. Niño would be brought to the Cathedral. But Pope Innocent ordered that all feasts of the child Jesus should be moved to January, so the feast of the Sto. Niño got moved and this guy was relegated to the courtyard. Today, if you ask a regular Cebuano about San Vidal, they will tell you he's not a saint but the former bishop of Cebu."
The Spanish king's coat of arms is carved above the entrance of the church, commemorating the fact that the King of Spain had financed its construction. "Once upon a time, this was the seat of the biggest diocese in the Philippine ecclesiastical map," Ka Bino says. "Guam was a part of the diocese, which is why we sent Pedro Calungsod there. Dumaguete, Tagbilaran, Leyte—they are just daughter dioceses that were once part of Cebu's."
THE RAJAH HUMABON MONUMENT
Sitting on a monument in the middle of a fork in the road, the image of Rajah Humabon sits proudly on his pedestal. "He is the king of Cebu and he is pintados," Ka Bino introduces, pointing out the tattoos that cover almost all surfaces of his body. "In the early days, tattoos were medals of valor. It's a merit. You can't just get a tattoo because you want it; you have to earn it. The first battle you win can earn you a tattoo on your feet. Humabon has tattoos on his face, so you can imagine just how powerful he must have been."
With several tidbits on daily life back then, Ka Bino gives a fitting explanation about why Cebuanos often find themselves in need of a nightcap. "In the early days, Cebuanos could drink like there was no tomorrow. Drinking and eating were like one activity," he explains. "In town hall meetings, drinking was always welcome because when they get tipsy, the discussion becomes more animated." Sounds like a great party to us.
JESUIT HOUSE
A colonial house in Cebu that dates back to 1730, the Jesuit House sits inside the Hotong Hardware bodega, a juxtaposition that Ka Bino finds interesting for tours. "I love the faces of my guests when they enter. They're always like 'why is my guide bringing me into a warehouse?'" The winding hallways of the bodega chronicle the history of Chinese presence in the Philippines and Cebu, which is in homage to its original occupants, the Jesuit priests. "The Jesuits were actually assigned to Christianize China, and the Philippines was a jumping point. They were assigned to the Chinese communities here as part of their training."
The house is the only one in Cebu that is bahay na bato from floor to ceiling, and has an erratic history that's included religious groups, old Cebuano families, and even a stint as Club X back when Serging Osmeña rented out the house for his exclusive gentlemen's club.
YAP-SANDIEGO HOUSE
"It's an old house, but most of the furniture had to be brought in," Ka Bino explains. "It belonged to the ancestors of Val Sandiego, but he'd only gotten a portion because it was shared with the other members of the family. When his house in Capitol burned down, one of his relatives offered to give him their share and he slowly started getting everyone's shares of the house. He even bought some of them out, then he had it restored."
It's an individual effort that's very admirable, considering that restoring the house completely would take at least P15 million. The cost is staggering, which makes Ka Bino hope for some help from the government regarding preservation matters. "The government should encourage or give incentives to people doing this," he says.
"It's a collective memory. Heritage isn't owned by some—it belongs to the people."
– Ka Bino Guerrero
THE CEBU HERITAGE MONUMENT
"If you just had one hour in Cebu and want to see something historical, you should visit the Cebu Heritage Monument," says Ka Bino. "It's a city tour in one stop—the Magellan's cross, the churches, the historical battles." Sculpted by local artist Eduardo Castrillo, with the help of the late senator Marcelo Fernan, the monument was finished in 2000 and depicts several places and scenes that are integral to Cebu's history. These include the Basilica del Sto. Niño, a Spanish galleon, the battle of Mactan between Lapu-Lapu and Magellan, the late president Sergio Osmeña Sr., and the recently canonized Pedro Calungsod.
by Patty Taboada
This story is an addendum to 'Memory Lane' written by Shari Quimbo, originally published on Zee Lifestyle's June 2013 issue.
THROWBACK THURSDAY. Our Stylish Voyage on a Boat with Loida and Richard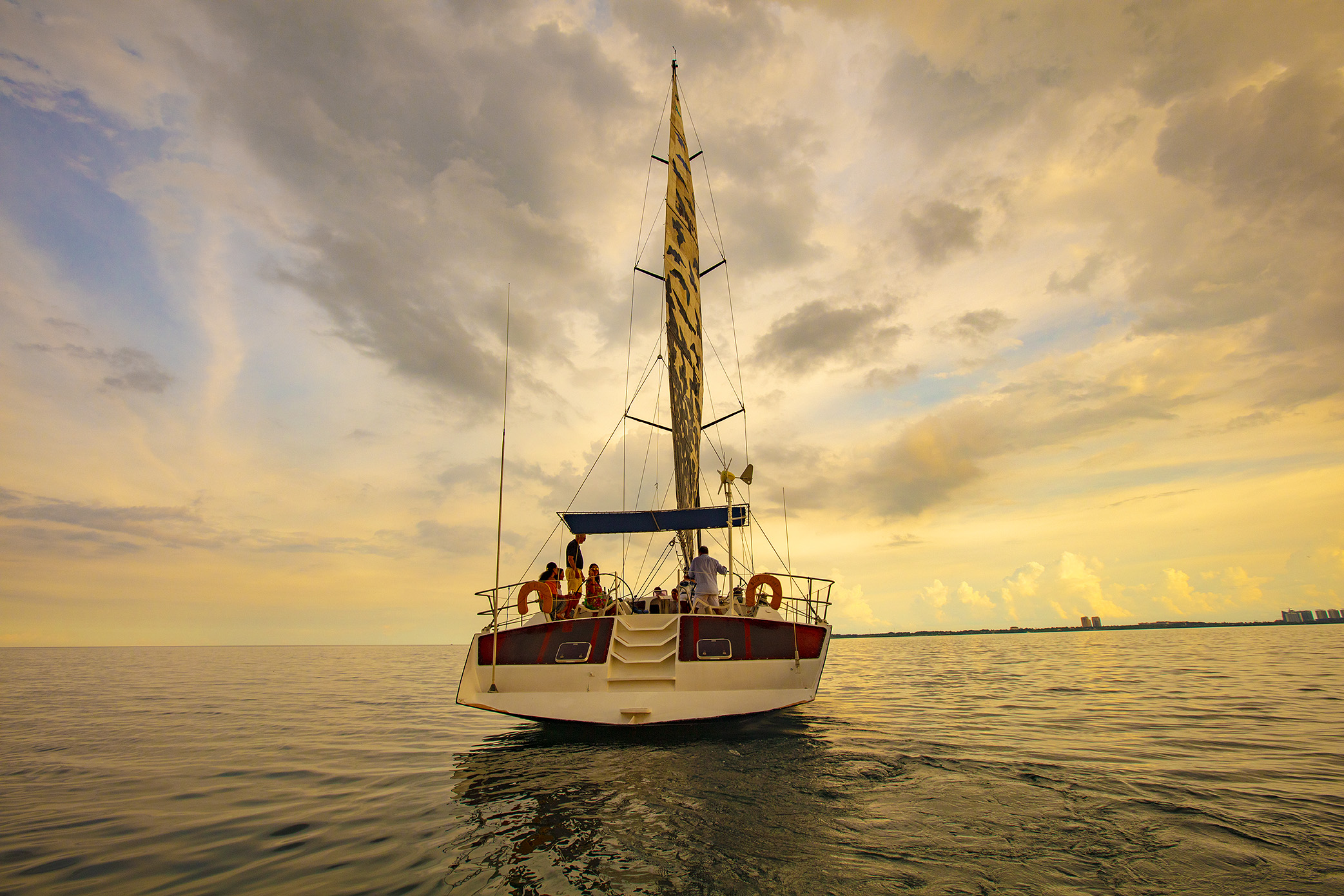 FOR SAIL
With hosts Loida Montesclaros and Richard Forteau, we take entertaining to the high seas.
by Shari Quimbo photography Steffen Billhardt
The sky was decidedly gloomy on the Sunday afternoon Loida Montesclaros and Richard Forteau invited a small group of us for a sail, the clouds getting darker as I make my way to Porter's Marina, where the Blue Planet was docked.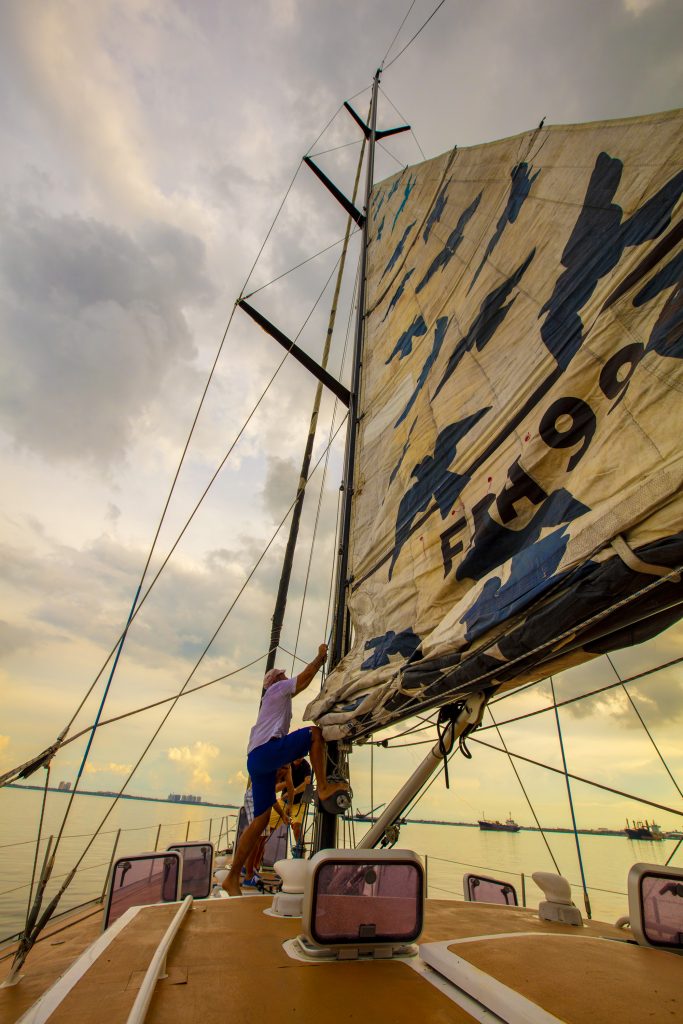 "Richard built the boat himself in Cebu," Loida explains, going on to share that he was the former honorary French consul in Cebu. "It was built here, and I designed the interiors."
All that work certainly paid off—Loida and Richard would often sail the boat out to different Philippine destinations such as El Nido, Siargao, Boracay and the Gigantes Islands in Iloilo. These could mean days-long journeys that sometimes meant dealing with some rough seas. Quick day trips, much like the one we were about to embark on, were also a regular past time.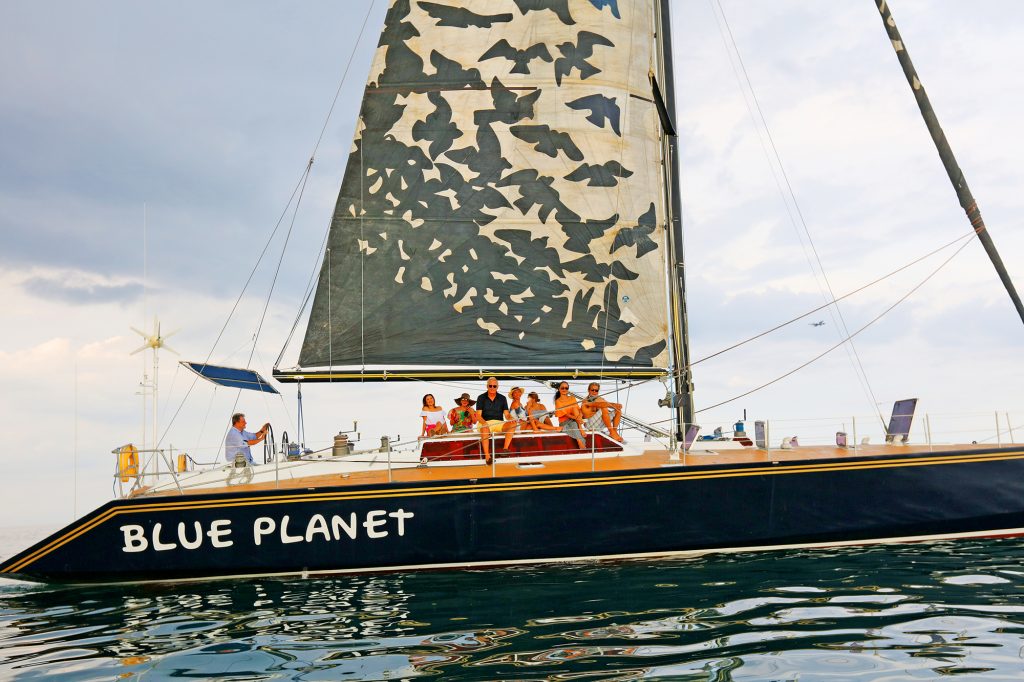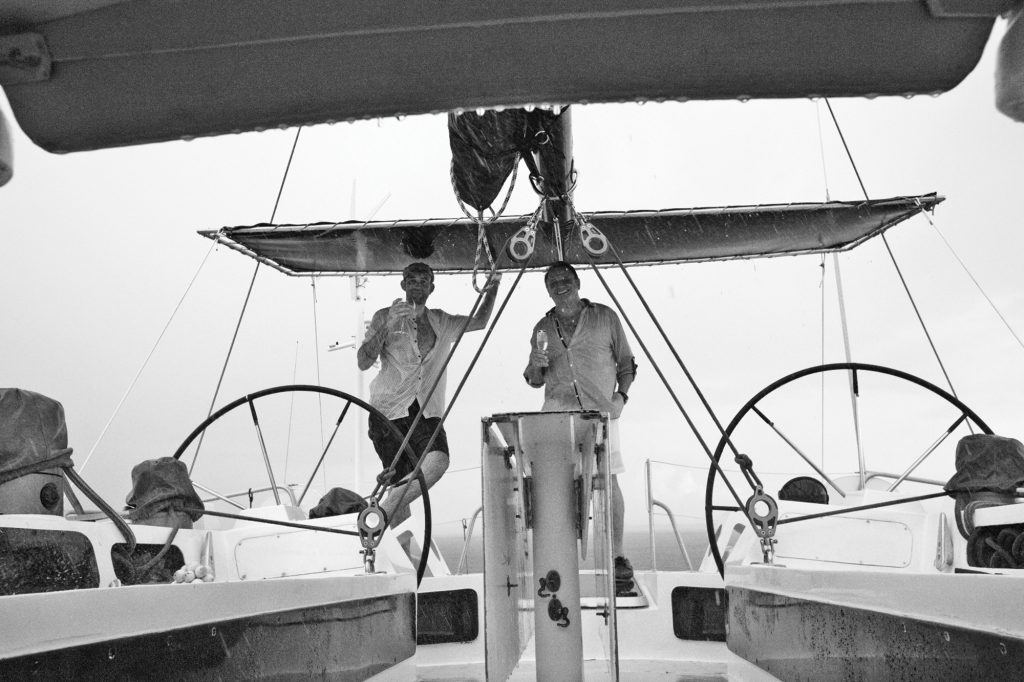 Loida gives me a quick tour of the boat then shows off her tropical spread. With its bright blue and white floral seating, the cabin's dining area is already a pretty festive site. "I wanted to keep it simple," she tells me, arranging her fresh fruits around on the banana leaf-covered wooden slabs she was using as serving trays. "And I wanted it to look more local, more tropical. We are on the water, after all."
The bamboo slats of the dining table were the perfect backdrop to Loida's spread, which featured tropical fruits alongside an entire roll of lechon belly, fresh lumpia, empanada and steamed shrimp.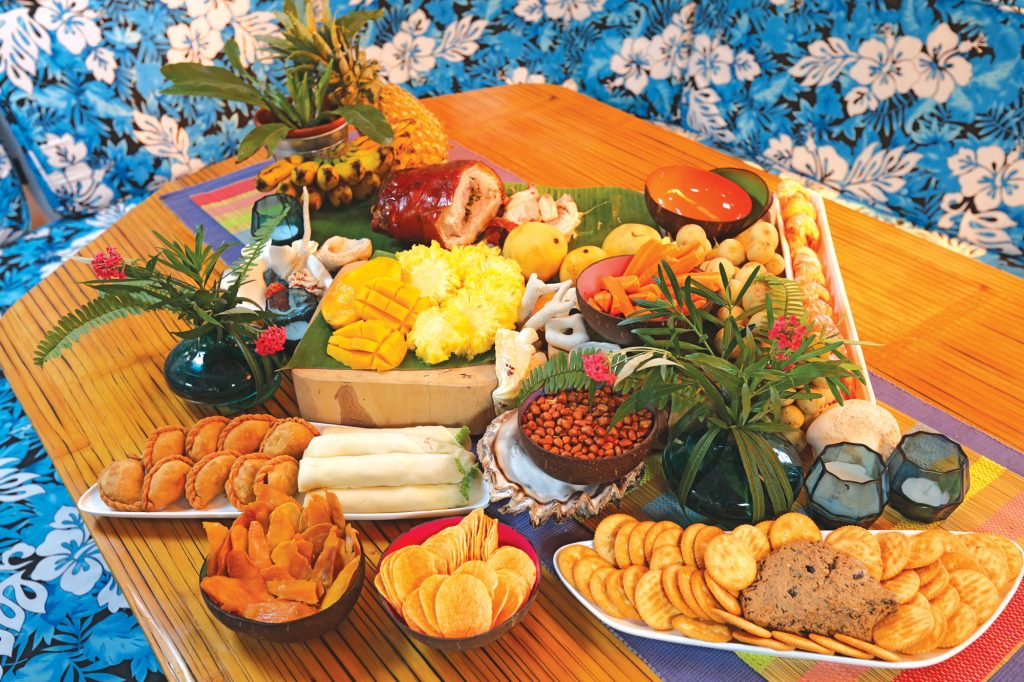 The highlight of the table, though, was the chicken liver pate, a dish that Richard makes himself. "Luckily, the French love to cook," Loida jokes conspiratorially.
Finally, it was time to take the vessel out onto the high seas, and the group makes its way above deck to enjoy the view. The cool sea breeze was a bit stronger than usual, something that had to do with the dark rain clouds looming above us—something that would have deterred any other group, but not this adventurous bunch. Armed with a glass of champagne in one hand and a biscuit smeared with pate on the other, many stand against the railing, admiring the sight of the sky turning orange above the Mactan Channel.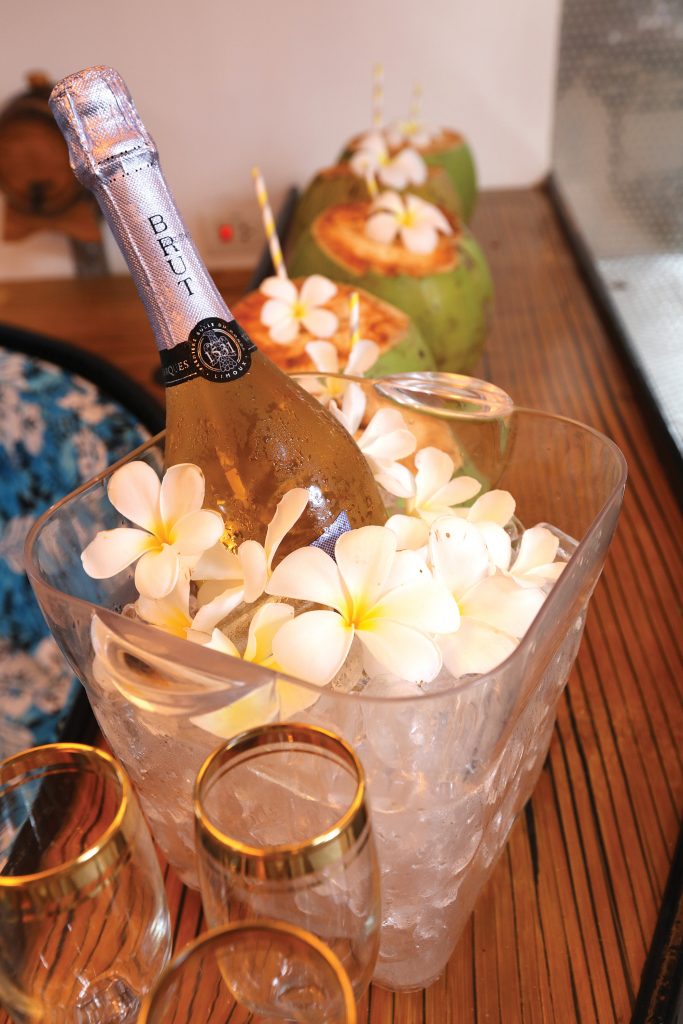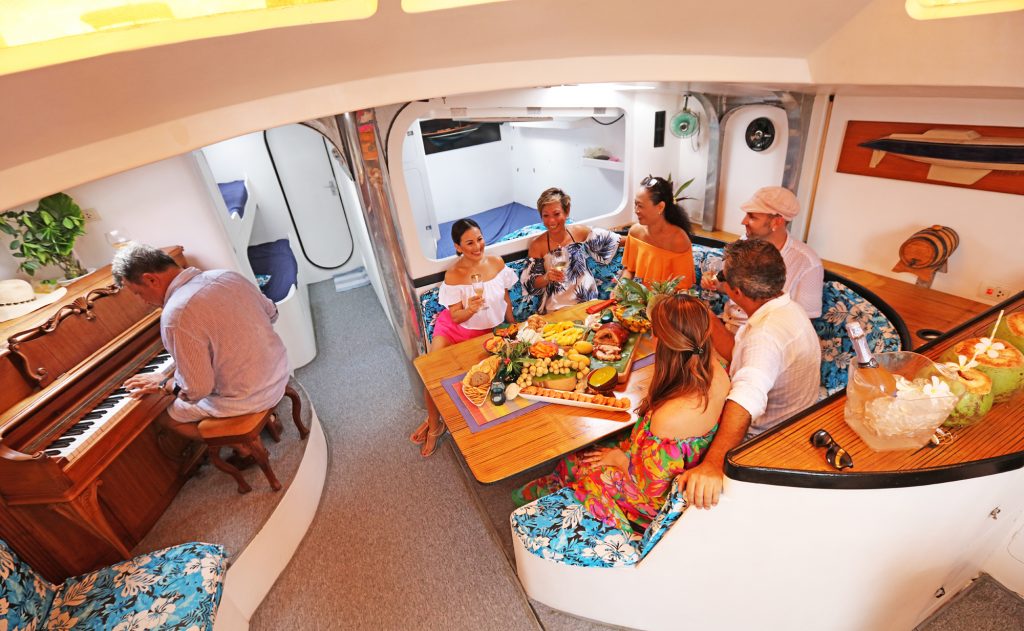 And then it starts to pour. No matter, though—as the rain pounds against the deck, the party finds its way down below. A bottle of wine is opened, and then another, while a second pot of pate is transferred on a plate. Our captain waits until the waves calm before he brings us back ashore.
(This story has already been published in the printed edition of Zee Lifestyle Magazine's November 2016 issue as one of the Entertaining Features on pages 82-85.)
Experience authentic Korean Barbeque at Da-In Restaurant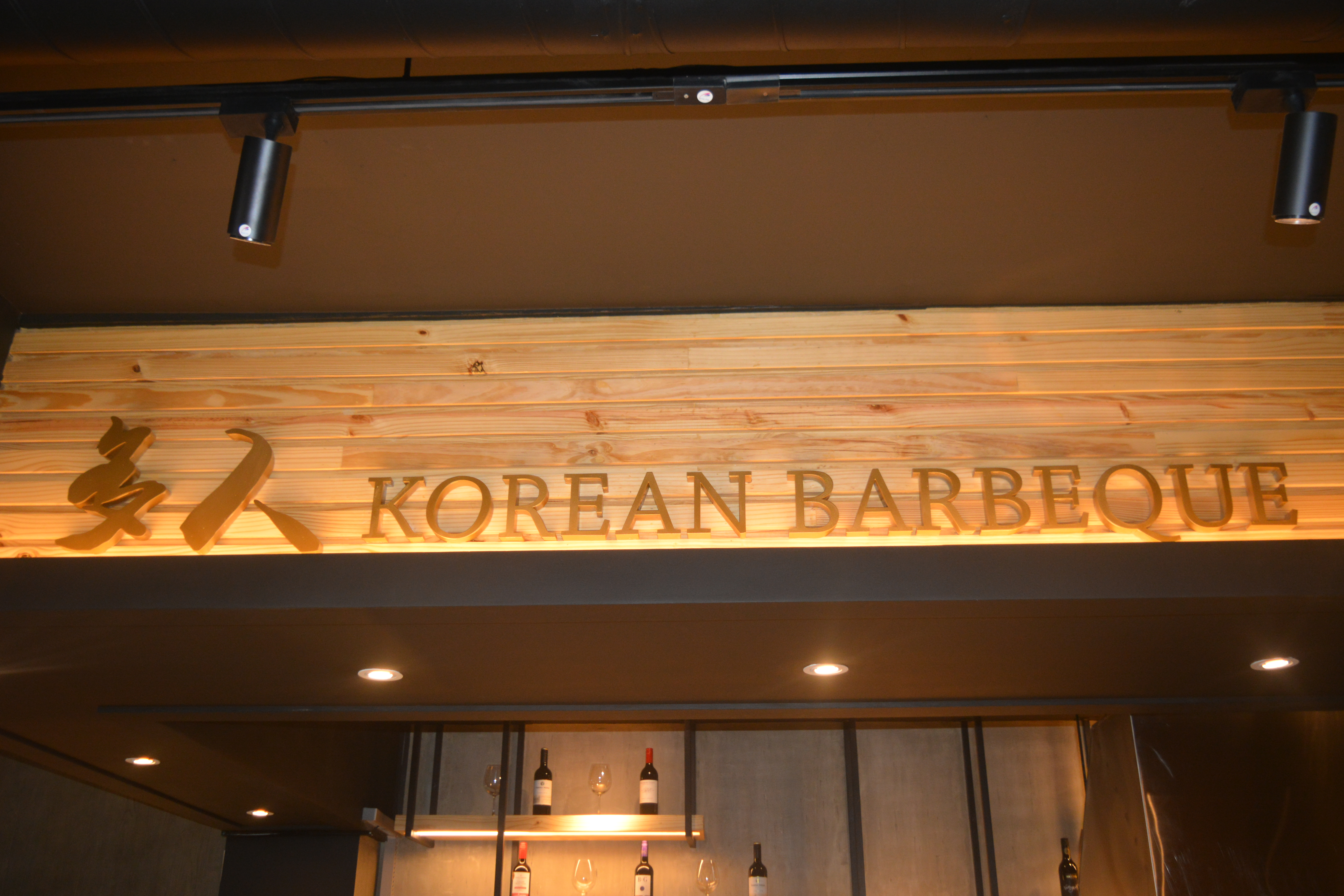 Filipinos are crazy for Korean barbecue. As such, there are a lot of places that are offering Korean barbecue. But Da-In restaurant isn't just one of those restaurants.
Located in Salinas Drive in Lahug, Cebu, Da-in restaurant is a joint project between the Creative Cuisine Group and Da-Won restaurant. With state-of-the-art grilling stations in each table and various Korean cuisines ready to be served, Da-In would surely sate your Korean barbecue cravings without any hassle.
Visit Da-In restaurant today!
Head Up North, Where A Relaxing Escapade is in Store at Maayo San Remigio
On your next trip out of the city, head up North to Maayo San Remigio, where a relaxing escapade awaits.
Oftentimes, when it comes to deciding the next travel destination, the Northern part
of Cebu is overlooked in favour of its Southern end. The South boasts of sunny beaches,
cascading waterfalls and the popular whale sharks who have made its waters their home.
While these are beautiful aspects that the South has to offer, the North is just as—if not
more—abundant in offerings. The North's natural scenery is relatively untouched, and on top
of that, it's less likely to be flocked by tourists.
This means more opportunities for a retreat away from the hustle and bustle of the
city. The roads heading North are long and winding, yet the beauty that lies at the end of the
journey proves that the trip is worth it. Knowing that, where does one go in the North?
Hidden away in the northern part of Cebu, Maayo San Remigio is a haven for those
who seek peace and serenity, making it an alluring abode for a sojourn on the island.
Approximately a 3-hour drive from the city, the resort grants access to a tropical
retreat with a captivating beachfront setting—a charming destination away from the daily
hustle. Whether on its fine white sands and blue waters or inside the cozy rooms, Maayo
San Remigio is a delight to local and foreign tourists alike.
A newly-opened resort under Maayo Hotels flagship, Maayo San Remigio is a
destination that guarantees a refreshing, laidback experience, sure to wash away the worries
you brought with you from the city.
It's equipped with a mix of luxurious relaxation and wellness, fun and entertainment,
and enticing wining and dining options. This Caribbean-inspired resort is a serene hideaway
on a lush slice of tropical paradise with emphasis on ultimate comfort and exclusivity.
The resort's location makes it doubly precious; scattered throughout the resort
grounds are viewing areas that grant you access to the sunset. Watch the sun sink down the
horizon by the infinity pool, on the beach's shoreline, or atop the cliffside with the waves
crashing below. When night falls, the stars come out to dance across the clear skies, making
for an unparalleled stargazing experience.
Maayo San Remigio blends authentic Cebuano hospitality with its tranquil
atmosphere and exceptional design. Its well-appointed rooms and villas ensure a relaxing staycation, while its thoughtful amenities and facilities evoke a feeling of belonging in
paradise. The resorts brings the culinary excellence that is found in the Maayo Hotels brand,
creating palate-pleasing Filipino dishes with a modern twist. Complemented by the resort's
wide menu of drinks—from juices to cocktails to shakes—one will truly enjoy a stay here.
So on your next trip out of the city, head up North to Maayo San Remigio, where a
relaxing escapade awaits.