Oj Jottings: The Zen of Shang
On the private vessel heading to Shangri-La's Boracay Resort & Spa at the northern tip of the island, I realized that traveling alone in southwest monsoon rains has its charm. The seaman carefully maneuvered the speedboat through a silent, mid-morning sea. I was right on the front seat, occasionally chatting with an attendant and marveling at how everything around the boat turned lucid gray in the mist. The supposedly twenty-minute transfer took longer. However, your jotter was quietly enjoying every minute of the passage.
Patti Javier, the resort's Communications Manager, warmly greeted me at the lobby. I had been communicating with her for six months prior to that visit. Just as charming and accommodating in person as she was on the phone, she showed me to my room and generously offered to be called if anything was needed. Such friendliness and hospitality was familiar; an important aspect of Shangri-La's care system that I consistently experienced in all their properties.
My room looked out to lush, verdant gardens and the indigo sea. Staying for two nights and, already, I was liking certain details such as the distinctively Maranao Okir motif carving framed on the wall, the opulently organic abaca woven rug on the floor, the eco-friendly reusable glass water bottle with pure linen serviettes on the table and the outdoor daybed where I visualized myself doing further readings on the relevance of CHADOU tea ceremony and the practice of Zen.
I unpacked all my white cotton pique resort clothes and ebony wood accessories, threw my sunscreens lotion, trunks and goggles into my floatable bag, then immediately headed towards the sea. I passed through Vintana restaurant with its irresistible buffet layout of international cuisine but given the shifty sun, I decided to take late lunch at Cielo beside the pool and outdoor arena instead.
Pleasant was the unhurried walk through lush gardens with monochrome corral stone paths and water- spouting fish fountains underneath overcast mid-day skies. I settled in a cabana that looked out to Puka Shell beach at the end of the lap pool. Despite the Habagat wind and occasional drizzle, I noticed some couples enjoying the ocean. Not having energy to wage war with the waves nor take ten laps on the pool, this vegetarian carbo-loaded with pizza and choco-banana shake al fresco. Then, lying on a chaise, I proceeded to read The Essence of Chan by Venerable Master Hsing Yun.
The sound of waves crashing on the shore woke me from a fifteen-minute siesta. I stretched my limbs and started to swim. Ten laps after, I was breathing deeply and waded towards the shallow end of the pool. Oxygenated by the exercise, and with a crisp mind refreshed by the water, I noticed how the long tropical leaves around me were seemingly dancing in the golden sunlight.
Was it the wind that was in motion or the leaves? These movements were external manifestations, I closed my eyes for a second and internally recognized that it was my mind that was moving considering that all phenomena exists in a transient and fragmented manner. According to Master Hsin Yung, differentiations arise in our minds because of the stirring of our thoughts. When our minds are tranquil, objects are not capable of making distinctions on their own.
This Zen (Japanese word for Chang) experience gave me a glimpse into the state of realization wherein motion and motionless are in harmony and no longer differentiated. I have not yet eliminated all discrimination arising out of subjective, perceived differences but this simple observation in the warm waters of the pool provided the initial mindful moment of inner peace.
I headed for the fully equipped health club to practice yoga asanas and pranayama after the swim. There were instructors ready to assist hotel guests for a complete workout but I opted to head back to my room to prepare for my therapy at the Chi spa.
The word "Palina" of Chi Spa's signature Palina Therapy came from the Visayan dialect, meaning, "to calm and cleanse the spirit." It was a three-part treatment that employed different Filipino healing traditions and two expertly trained therapists who synchronized their hand movements through out the massage.
It started with a "Pa-usok" cleansing ritual using locally made incense and a bamboo rainmaker that helped infuse healing energy into the room. Detoxification followed with a coconut scrub-wrap and herbal bath.
Going through the warm coconut scrub was another moment of inner peace for me. Thoughts such as these filled my head: Who was being scrubbed was it my body or I? Isn't the body that's relaxing and enjoying the treatment not me? Is the mind that's thinking about the body me, so on and so forth.
Immersed in the herbal bath at the Jacuzzi outside the room, I understood later that the conditions for healing and rejuvenation were always present at Chi Spa. More importantly, while savoring tropical fresh fruits from the region and mindfully sipping ginger-lemongrass tea, I was reminded that there is no fixed self or a constant "I" because everything in existence changes every fraction of a second.
The highlight of the 2-hours-fifteen-minute therapy was the ultimate renewal phase whereby two therapists employed a fourhanded massage in unison. The massage strokes mimicked the rhythmic movement of ocean waters rolling into shore. Rejuvenation was methodically achieved through a combination of acupressure, joint mobilization, stretching, and meridian work. This unique therapeutic performance by two therapists was doubly relaxing; I fell into deep sleep.
Next day I lingered through breakfast at Vintana, did my usual laps, siesta, body workout, yoga asanas, pranayama and further readings. At dusk, I prepared to meet Patti who invited me to a delightful dinner at Rima, the resort's charming hillside restaurant.
Rima redefined elegant dining in Boracay. According to Patti, it was the first on the island to serve Northern Italian cuisine. I tried the vegetarian specialties prepared by Chef Marco Ghezzi and congratulated him for the subtlety of his exquisite dishes. Chatting with Patti was amusing; the view of the tropical nightscape from the warmly lit restaurant was fantastic.
Have you seen a silvery mist during a boat ride or green leaves dancing in the golden sunlight? Those are the colors of Zen. Have you felt the comforting roughness of an abaca rug or the rhythmic effleurage of four hands on your back? Those are the feeling of Zen. Have you savored the rejuvenating freshness of ginger-lemongrass tea or the pungency of truffles in pasta prepared by a talented chef? Those are the taste of Zen.
A state of mind that cannot be described with words and can only be experienced by those who have attained it, Zen is the fiber of both existence and non-existence. With his recent visit to Boracay, this writer has gone through the most significant stage of Zen: its personal experience at Shangri-La's Boracay Resort and Spa.
A RHYME OF ITALIAN FLAVORS
RIMA is the award-winning Italian restaurant of Shangri-La's Boracay Resort and Spa. Italian Chef Marco Ghezzi pays homage to authentic Italian cooking with the recent launch of RIMA's new á la carte menu.
"We changed the entire menu, from starters to desserts. The former modern Italian fine dining menu was creatively inspired but we realized that many diners on a holiday in Boracay are searching for novelty and authenticity. And that is what we offer now," Chef Marco who has more than 18 years of culinary experience said.
Perched on a tree house. Its charming location provides a relaxed atmosphere where guests enjoy full view of the harmonious landscape and the refreshing ocean. Its rustic elegant interiors coupled with ambient lighting and soothing dinnertime music creates a romantic mood that inspires intimacy. The restaurant is an ideal spot for couples on a date or families looking for homey Italian fare during their stay on the island.
Rima's menu reflects a wide range of regional Italian cuisines, though predominantly inspired by dishes from Lombardy and Tuscany where Chef Marco gained much of his culinary experience. Reliving his fond memories of traditional Milanese fare inspired him to introduce dishes, such as Risotto Classico alla Milanese (classic Milanese risotto), Minestrone Tradizionale Lombardo and Carpaccio di Manzo (raw thinly sliced beef with freshly shaved parmesan cheese, Truffle oil and crisp arugula leaves).
Find Your Summer Spirit in Shangri-La Mactan, Cebu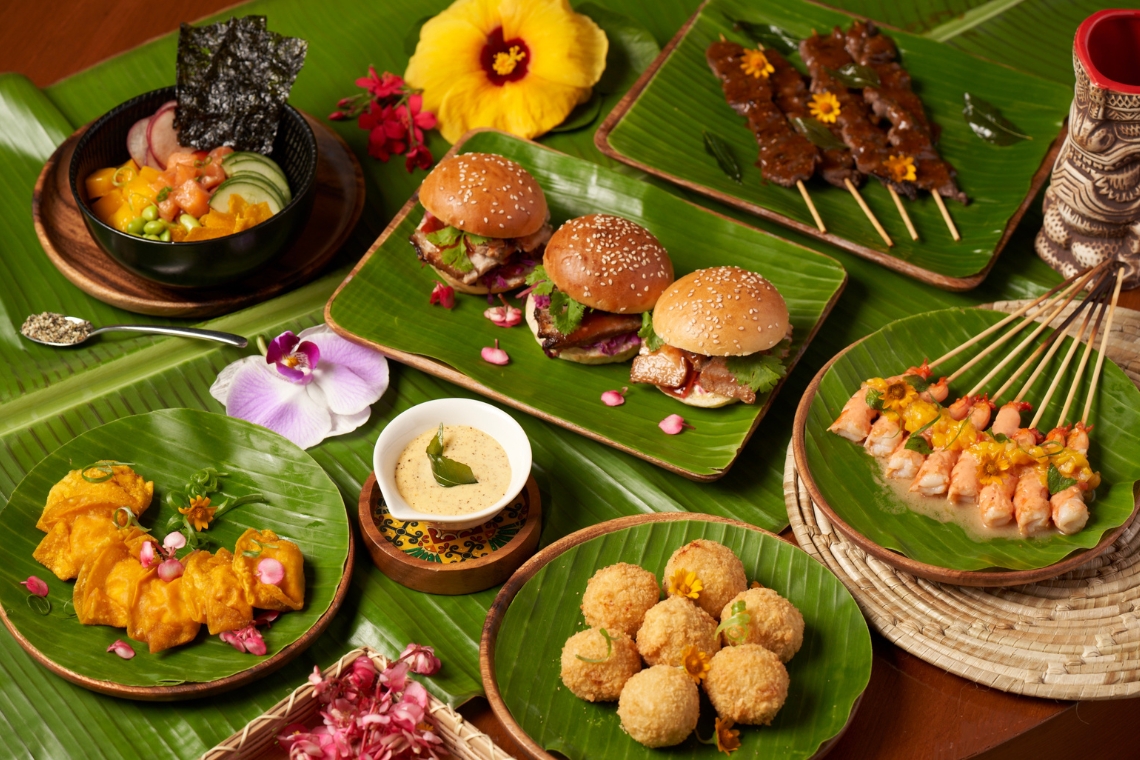 Breathe in the tropical atmosphere, as you find summer joys through sight, sound and taste at Shangri-La Mactan, Cebu. Poolside fun during the day, spent serenely and luxuriantly—a refreshment in hand. While the evenings are for outdoor family movie nights, with the ocean waves rippling in the background.
Summer is all of that, and more! Plan an extraordinary weekend with an array of exciting activities that await your arrival. Discover your #ShangriLaSummerSpirit from 15 July to 30 August.
Epicurean Delights by the Pool
Keep yourself fueled up as you splish and splash with the whole crew. Take a quick break from all that summer jazz with Mediterranean and Polynesian-inspired bites exquisitely crafted for your palate. From rice balls and pastas, ice creams to sliders—indulge in tastes and aromas that transport you to a world of endless, golden summers.
A Whimsical Touch
Make it a colourful summer for the kids! Let them explore their own version of paradise with whimsical floaties, sure to keep them happily afloat. Your little ones can now freely kick and play in the water with fun and fascinating, animal-shaped inflatables.
Pleasant Sundowner Tunes
Bid the sun adieu and embrace the sunset hues with live acoustics at the Main Pool from 4pm to 6:30pm.
A Toast to an Endless Summer!
Unwind and savour the tropical vibe as our expert mixologists craft refreshing Tiki cocktails and serve chilled bottles of exquisite champagne by the pool! With a backdrop of swaying palm trees and stunning ocean views, sip on delightful beverages and toast to unforgettable summer moments in paradise.
Family Outdoor Movie Night
Gather your nearest and dearest for an enchanting evening as we set up a large outdoor screen by the pool under the starry night sky. Cozy up as you enjoy a family-friendly movie that will delight both those who are young and young-at-heart at Treasure Island from 7pm to 9pm.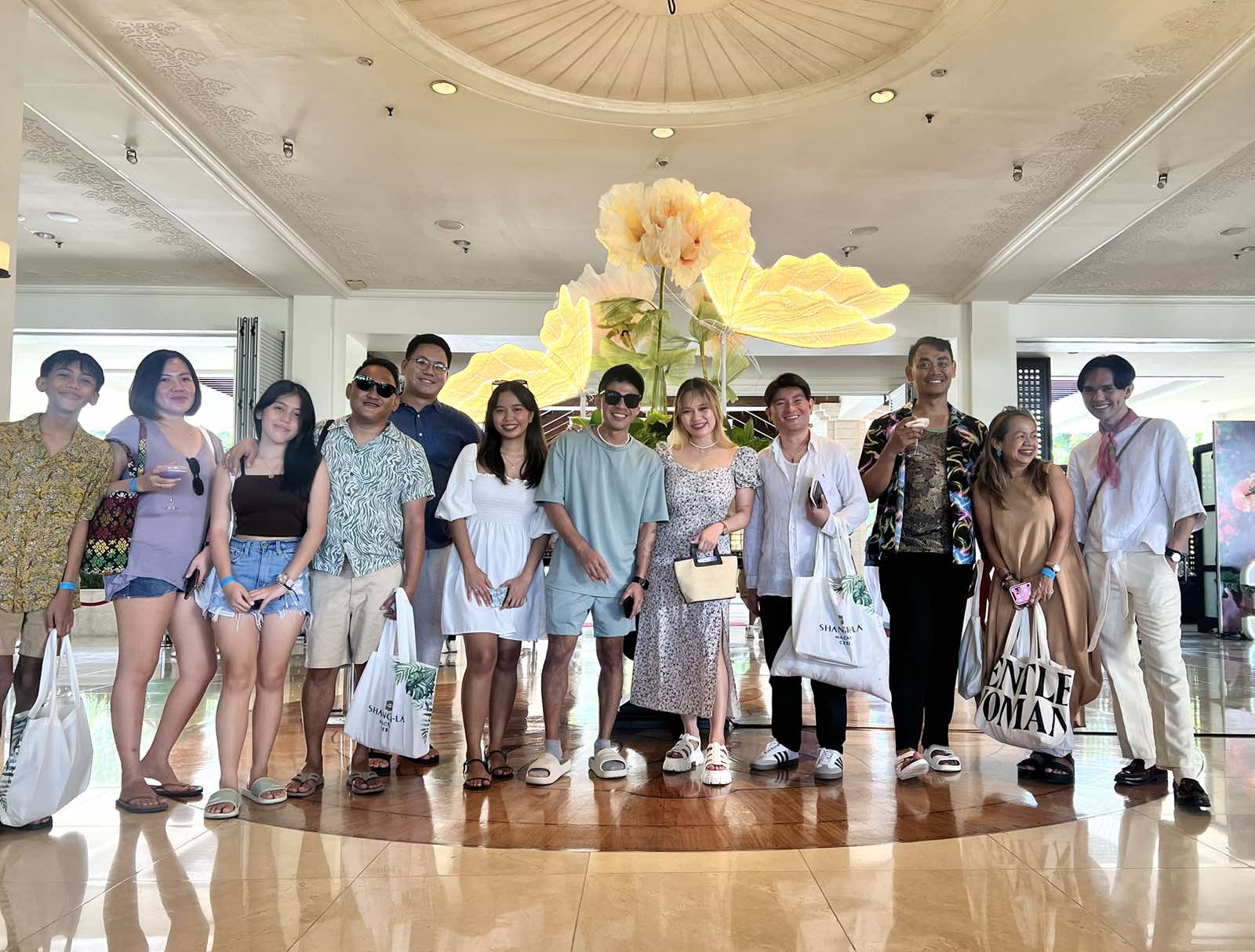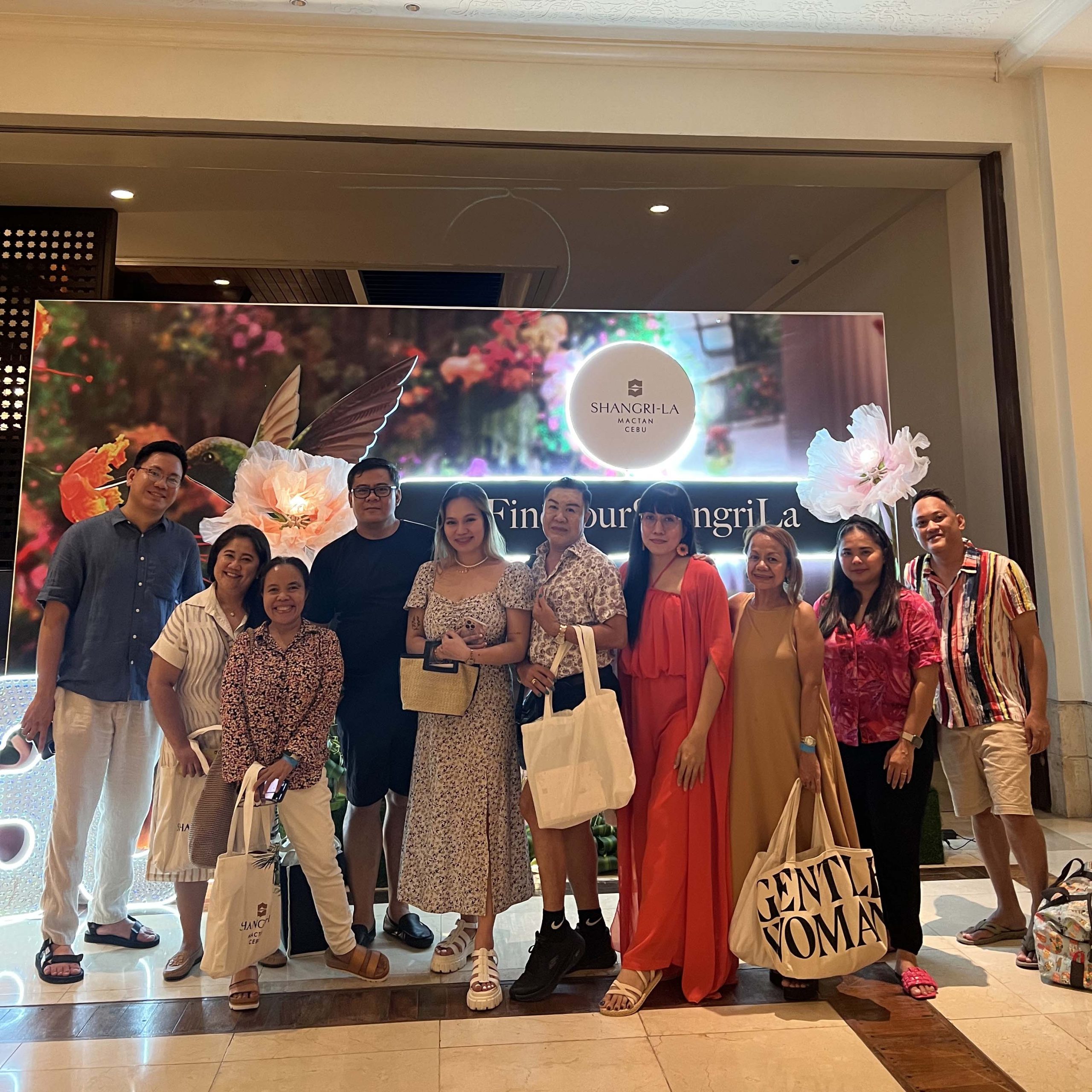 Surrounded by lush greens, let the experience bring you to a world of joy and laughter, creating cherished memories for you and the family. For more information on Shangri-La Mactan, Cebu, you may contact (032) 2310288. You may also follow them on Facebook and Instagram or visit https://www.shangri-la.com/cebu/mactanresort/ #FindYourSummerSpirit #FindYourShangriLa
LONDON IN FULL BLOOM: An Exclusive Look at the recent Chelsea Flower Show
The Chelsea Flower Show in London, one of the most prestigious horticultural events in the world, returned in full glory in May 2023, captivating visitors with its stunning displays and landscape designs. Held annually on the grounds of the Royal Hospital Chelsea in London, this year's show proved to be a true feast for the senses, showcasing an array of breathtaking gardens, vibrant floral arrangements, and innovative landscaping. The 3-day event showcased 36 outdoor gardens, including four balcony gardens for small spaces. Inside the giant pavilion, blooms compete with each other, exotic flowers, roses, and many more.
The 2023 Chelsea Flower Show embraced a Nature's Harmony theme, with a strong focus on sustainability and mental health. The show's organizers emphasized the importance of sustainable gardening practices and biodiversity conservation, inspiring attendees to create beautiful outdoor spaces while preserving and protecting the environment.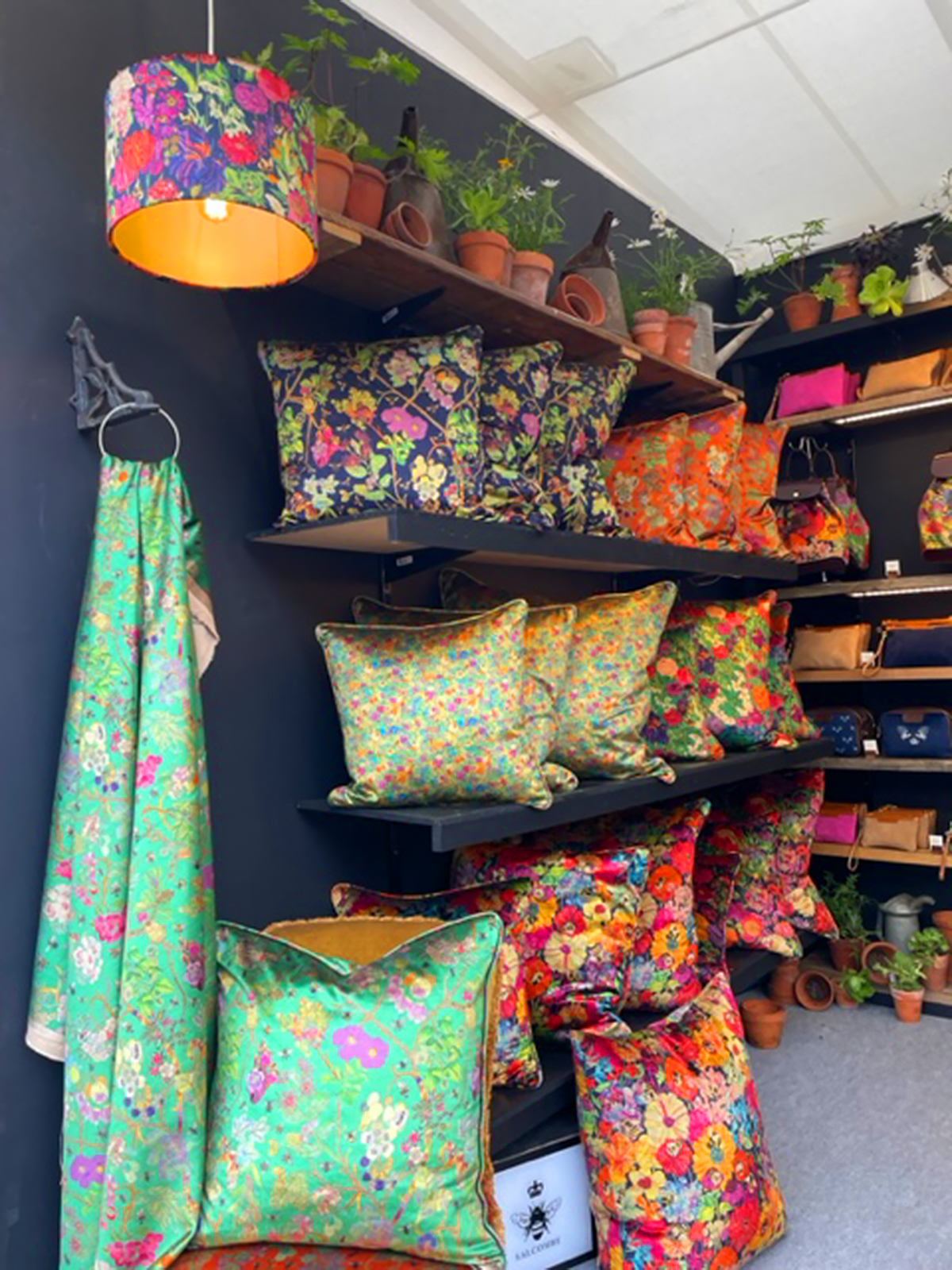 What's Cebu got to do with the Chelsea Flower Show in London? One person. James Doran Webb (https://www.jamesdoranwebb.co.uk), an Englishman working with driftwood, has been displaying his artworks for several years. James collects cast-off driftwood and shapes them into beautiful animal shapes that find places in some of the most iconic gardens. Leaping horses, owls, reindeer, and the occasional dragon, James Webb's creations are avidly collected by landscapers to add accent to gardens in all sizes, using cast-off wood, fitting perfectly with the sustainable element—something Mr. Webb has done quite well for the last decade.
***
The Philippine International Flower Festival will be held at the PICC in Manila from January 14 to 18, 2024. Watch out for more info from our website!
Club Serena: A 'Serene Luxury' Experience in the Heart of Cebu's Diving Mecca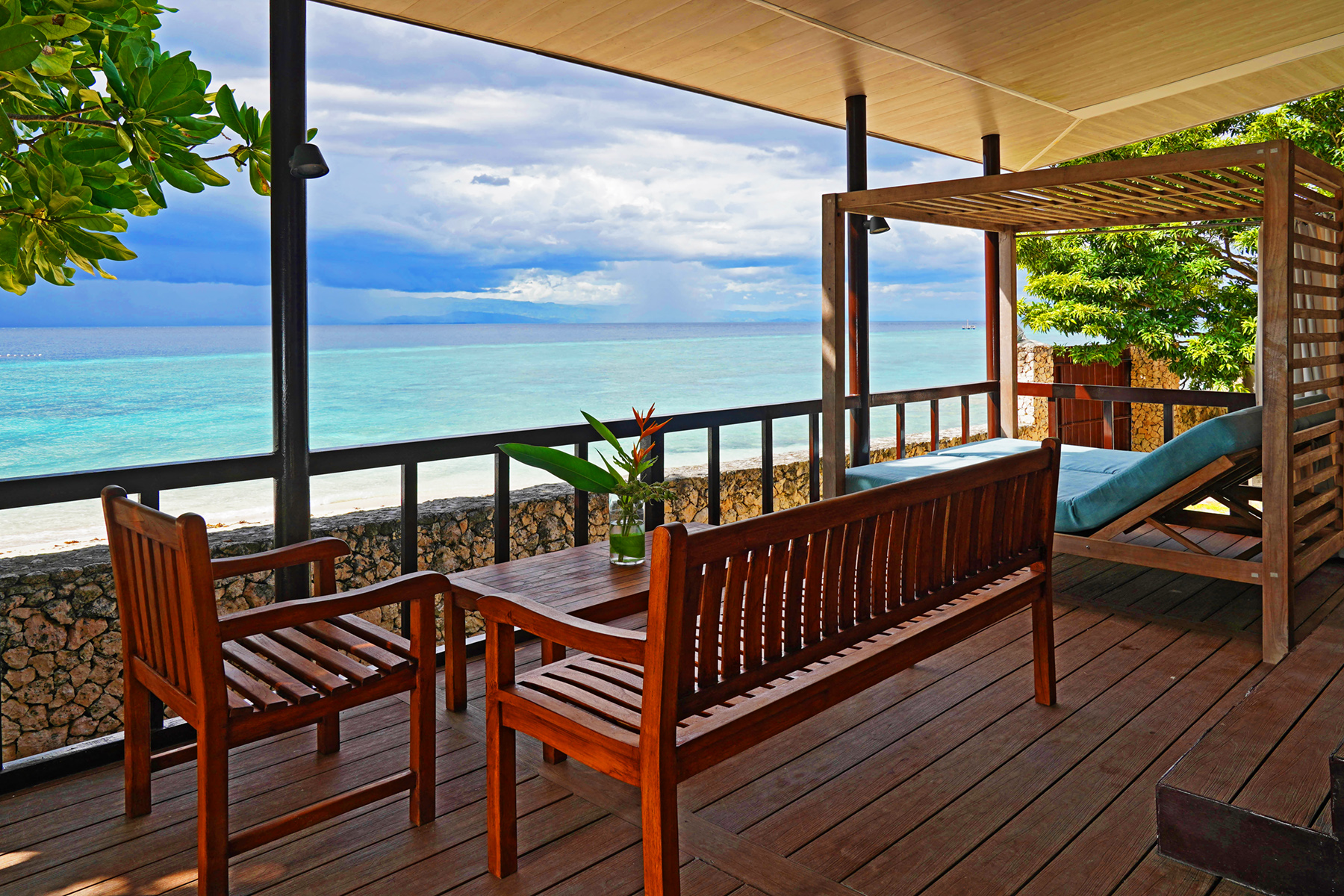 photography by GPA Art and Photography
A three-hour drive, or more, depending on traffic, the fishing town of Moalboal in the southwest of Cebu Island is an extremely popular destination for divers and weekenders who love the white sand and pink sunsets. It is also a favorite place to stay for expats looking for a laid-back life of endless coffees or cocktails.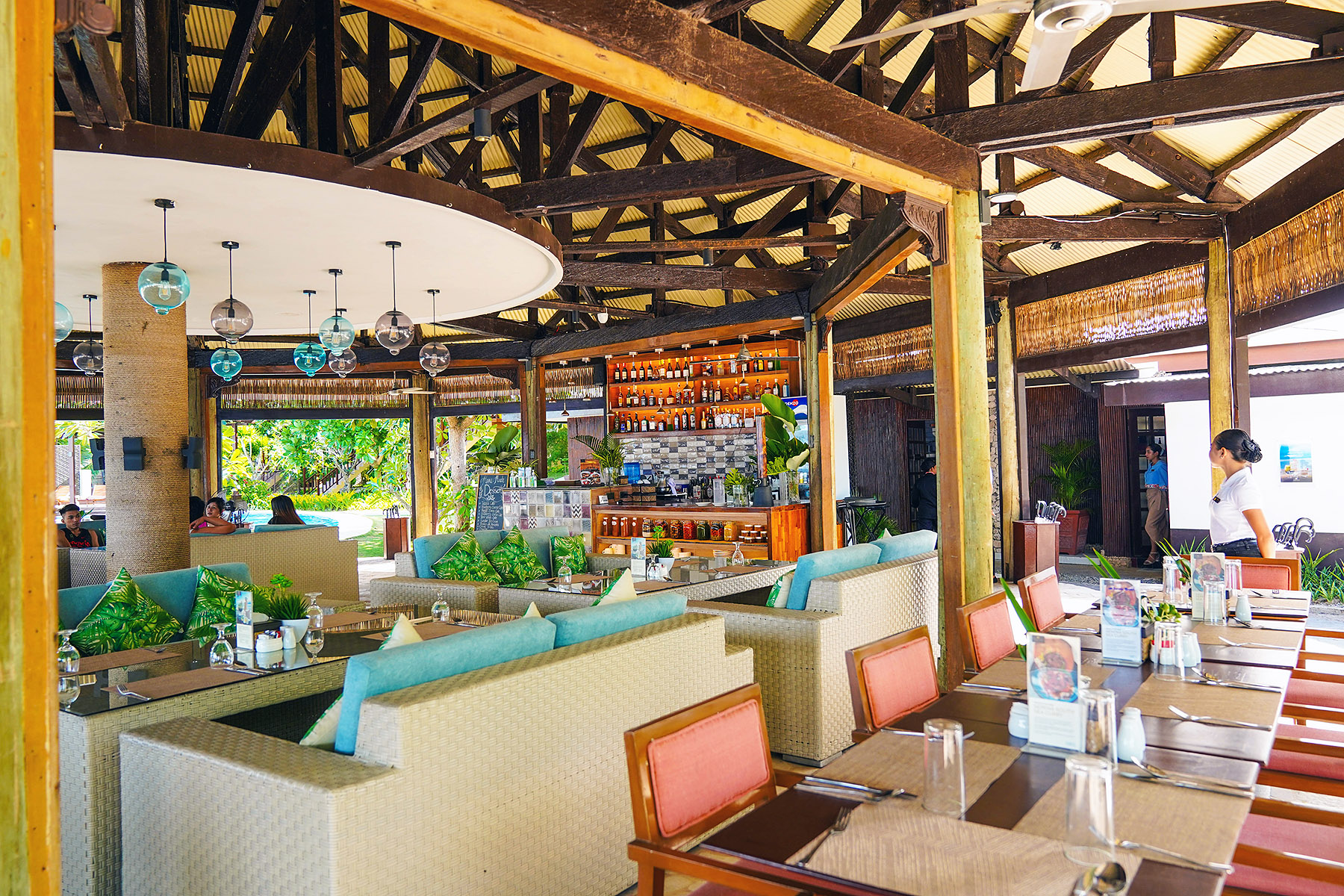 Thankfully, the big chain resorts haven't discovered it and places to stay are mostly small family-run resorts. But if pampering is what you are looking for, there is only one hotel to book in Moalboal. Club Serena Resort is a 1.7-hectare beachfront property perched above coral rocks, presenting a unique union of luxurious accommodations and a host of activities to be enjoyed. This hidden gem is reached through a dirt road away from the main highway. Fronting a wide swath of white sand beach, it is an easy walk past several smaller resorts to reach the main town.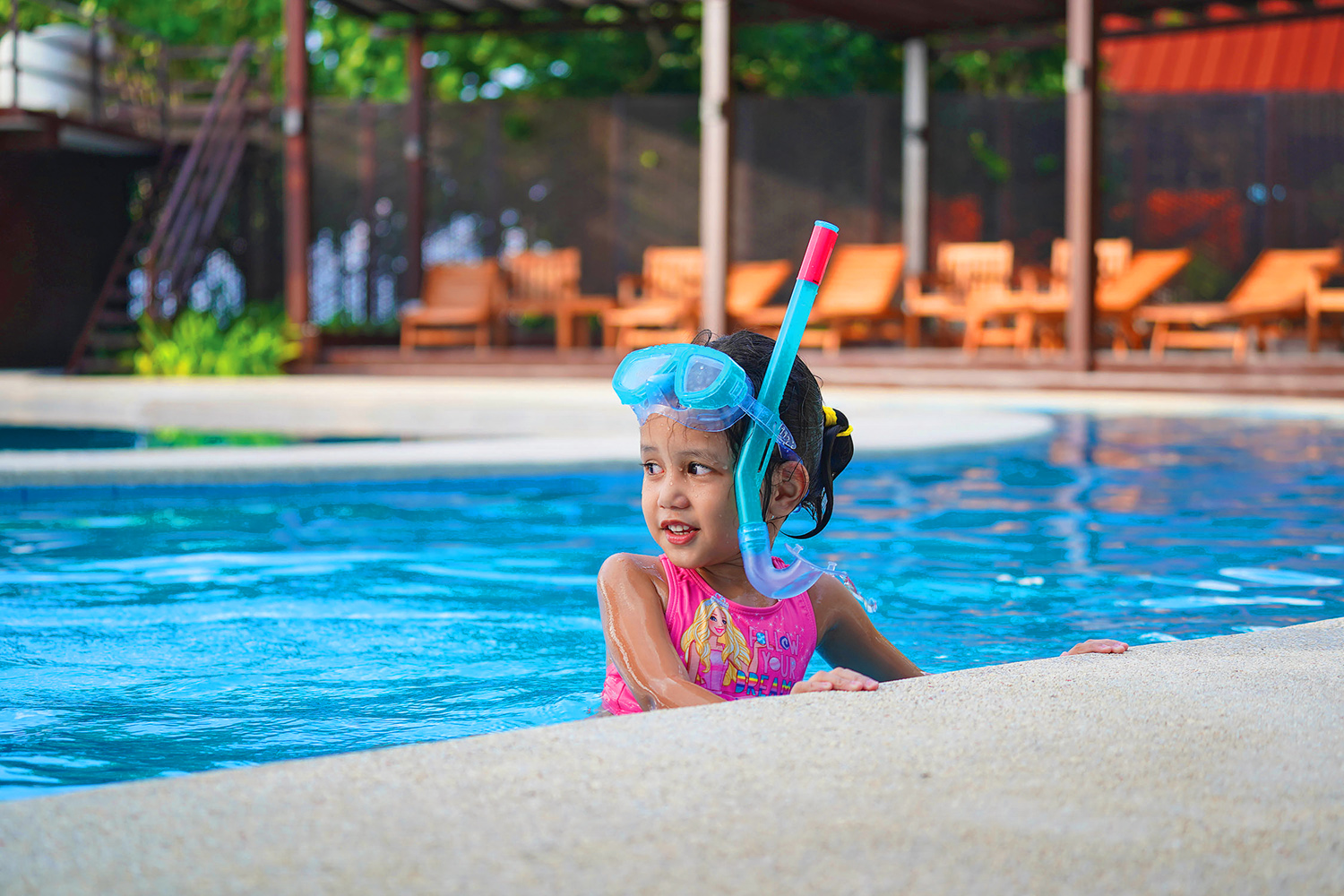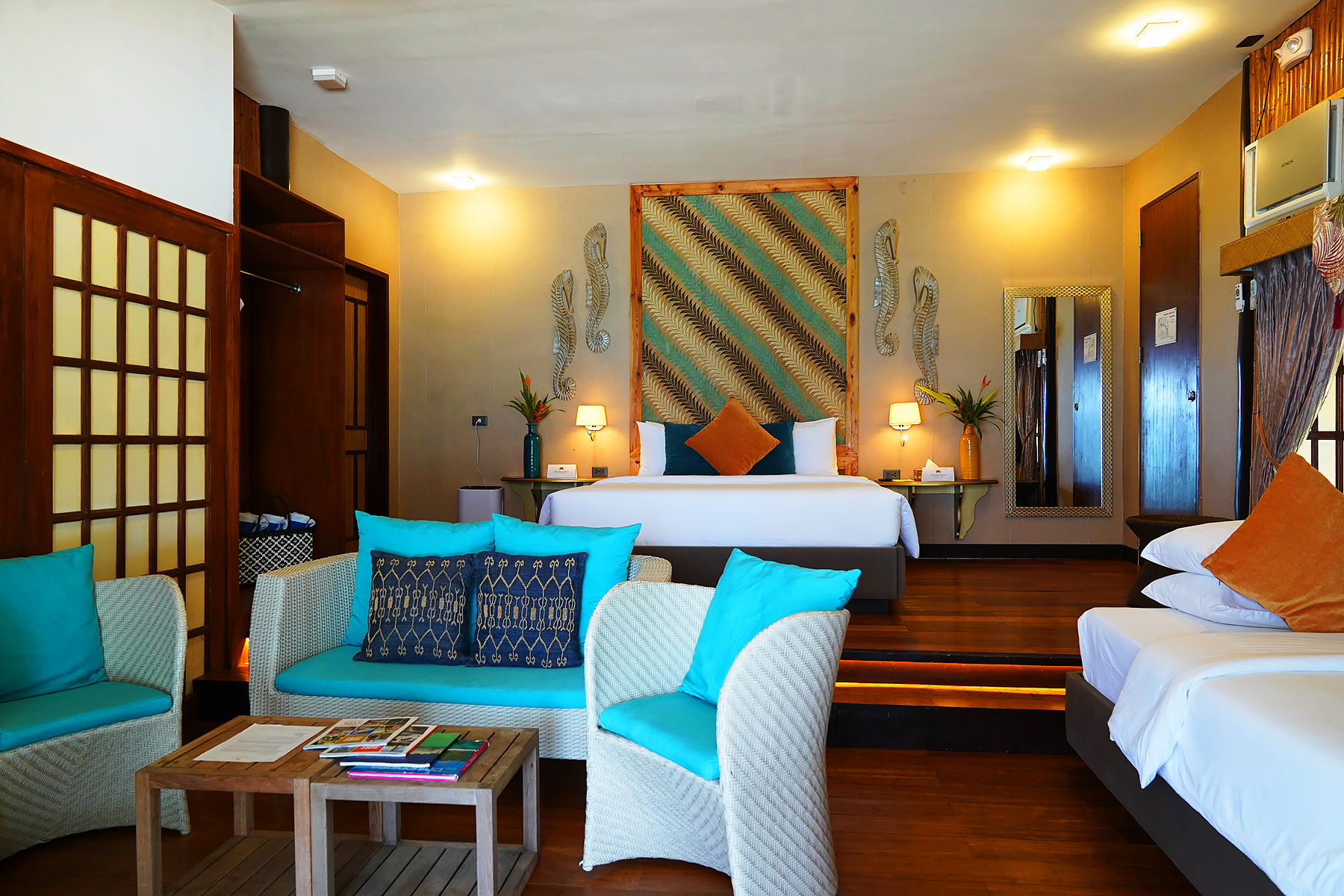 Recently renovated by noted architect James Jao, the new Club Serena has 17 rooms, three swimming pools, a restaurant, and a beachfront event space, all designed with modern Filipino aesthetic. On the drawing board are more rooms to be added, an expansion of their modern dive shop, and their popular Kids' Club program. Their food outlet, Mira, offers all-day dining, favorite among visitors and locals, as well as the growing expat community that has settled in Moalboal.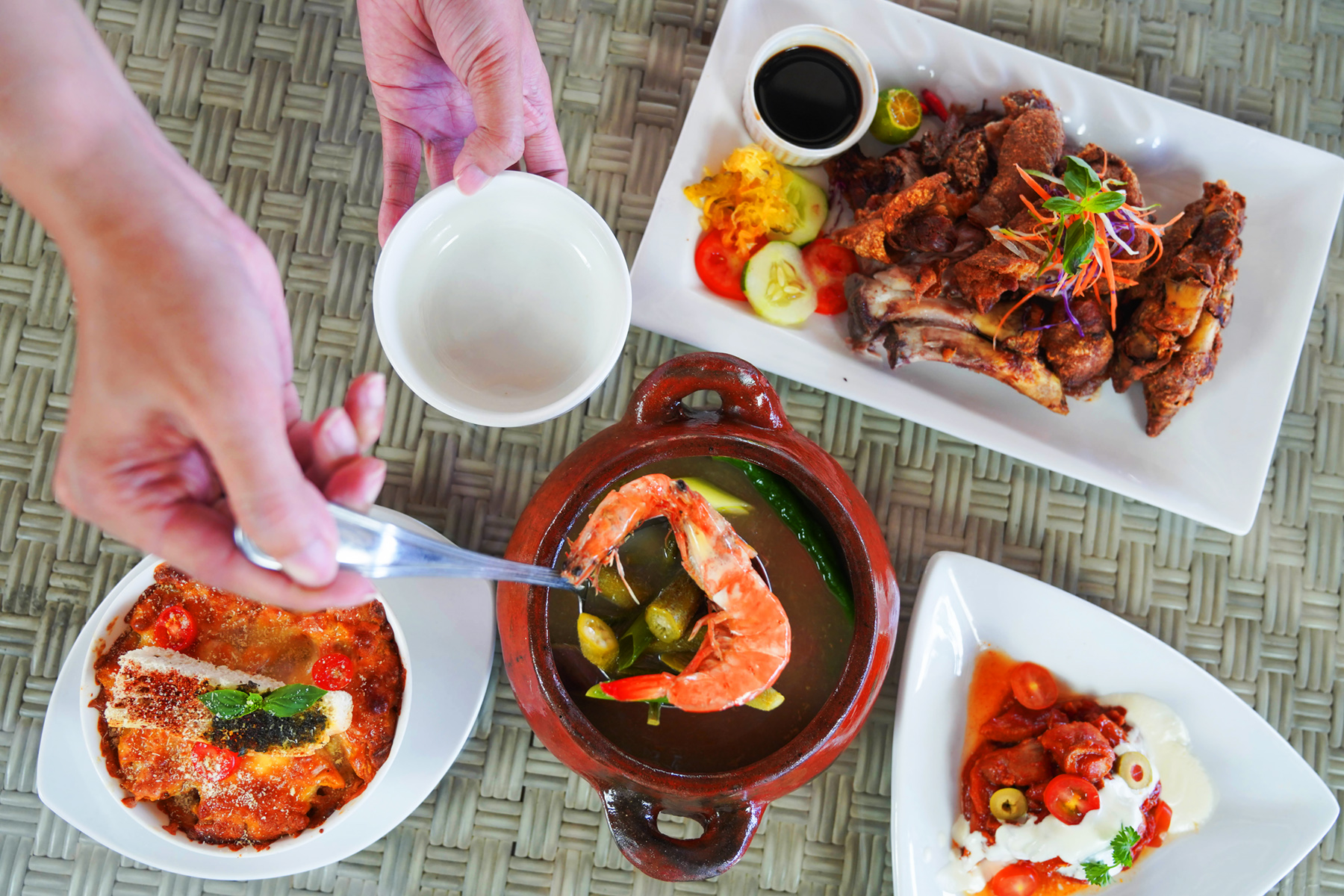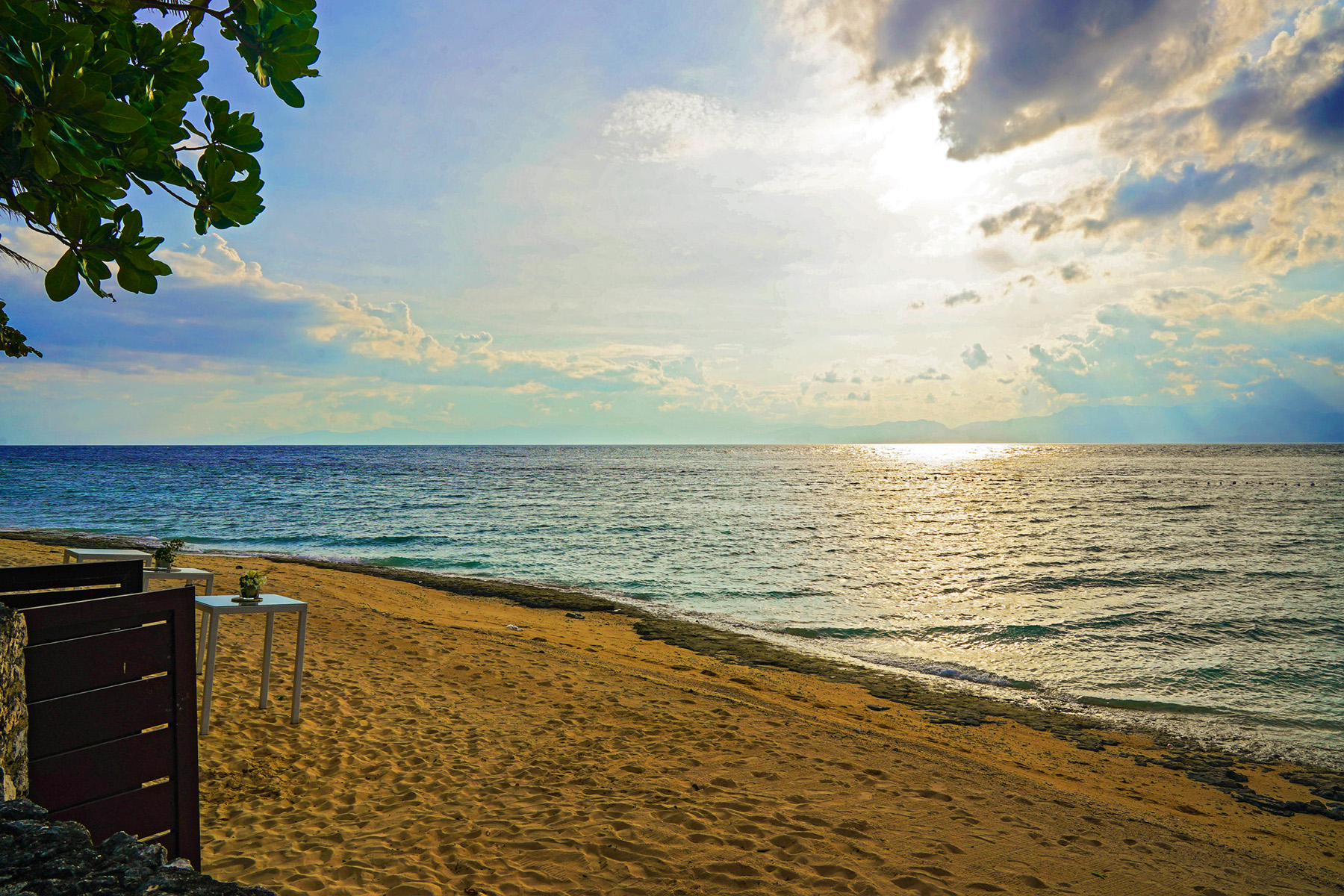 Club Serena offers diving courses for adults and kids by their resident operator, Seven Seas Aquanauts Phil. Corp, a PADI 5 accredited diving facility operating since 1988. For a complete list of the courses and their rates, please call (+63) 917.872.6367 or (+63) 905.459.5307.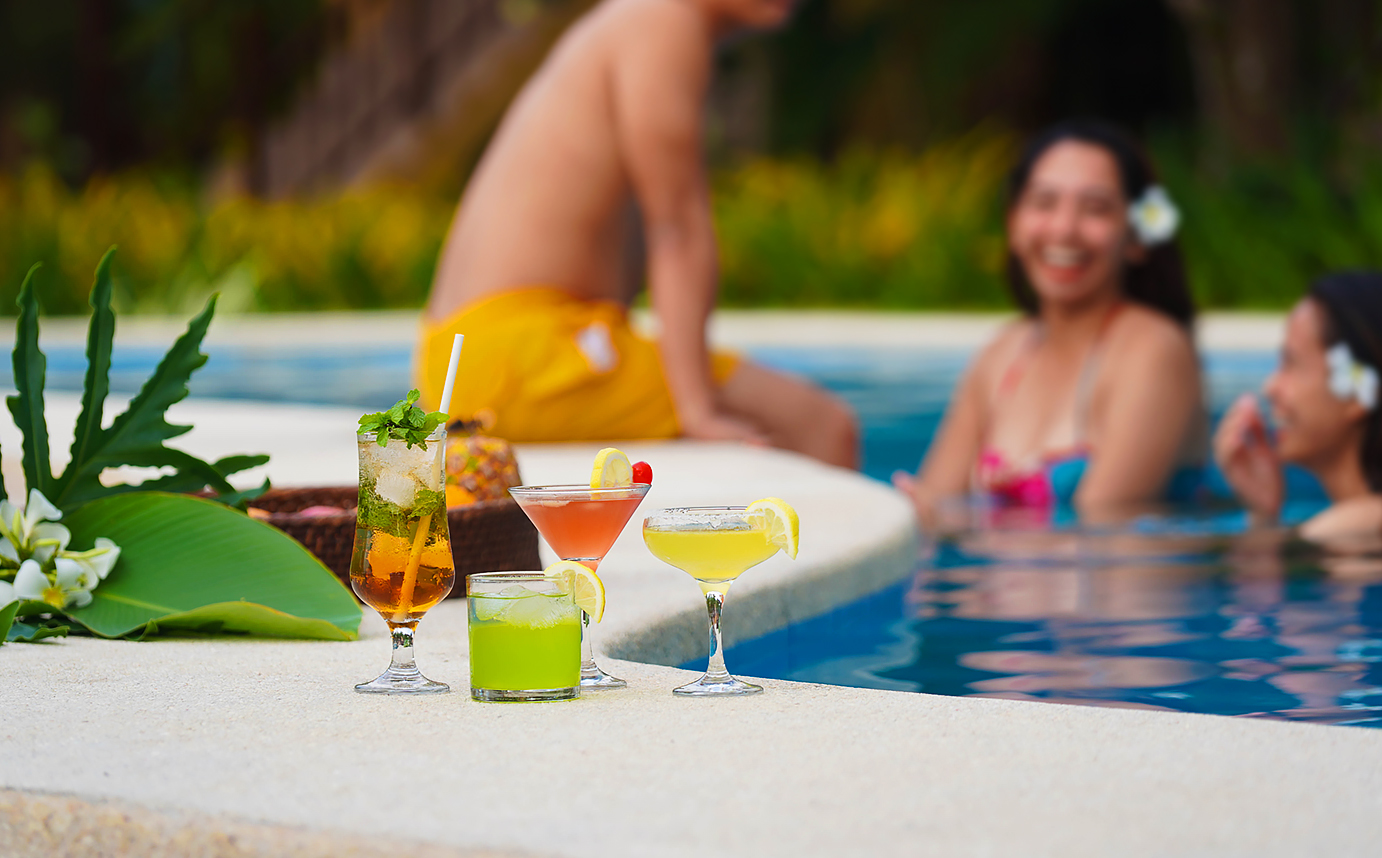 The resort encourages above-water activities as well, and they have several paddle boards and kayaks available for guests to use.
For rates and more information, visit www.clubserenaresort.com or email sayhello@clubserenaresort.com or (+63) 917.872.6367 or (+63) 905.459.5307. You can also visit their Facebook page for updates.