10 Things to Do When You're Single on Valentine's
While scrolling through Facebook last night, I came across a photo of a heart-shaped arch on fire outside a mall. A bit more snooping revealed it was a decorative installation at the SM City Cebu entrance across APM, and it looked like someone set it on fire.
Now, that might seem like extreme bitterness, but that's the sort of outburst that people have come to expect from singles on Valentine's Day. It's one of the few days in the year that seems to shine the spotlight on your "singleness," and it's easy to get caught up in the loneliness, envy and anger at the sight of another woman carrying a bouquet of flowers.
Here's some news for you: flowers wilt. I'm not saying their relationships will too–but just like how the Valentine gifts everyone received will soon lose its luster, this day will be over. By tomorrow, people will go back to complaining about their significant others, and you can go back to saying you're happily single–and actually have the conviction to make it sound convincing.
In the meantime, suck it up and stick it out. Here's a few tips on how:
1. Have a big group lunch with your other unattached friends. There's safety in numbers, and when you're with a group of people, you're less likely to throw food at a couple who spent the last 30 minutes gushing about how perfect they are together. Also, if none of your friends are single, go outside your usual circle and invite acquaintances who are. The failure to hang out with new people might be the reason you're still single.
2. Buy yourself something nice. No other time does the Miss Independent thing come in handy. Whatever it is, though, make sure it's something you really want. That way, when you feel sad that you had to get it for yourself, you'll look at that new bright orange Zara shift dress and think, "who cares? It's mine and I love it!"
3. Give your mother flowers. Whether she's to blame for your commitment issues or she's selling you off to her friends because she wants grandchildren NOW, no one in the world loves you like your mother does. Appreciate that.
4. Keep moving. Go for a run, take a yoga lesson, finally say yes to that friend who's constantly filling your Facebook timeline with motivational posters convincing you to try Crossfit. To loosely quote Elle Woods: exercise gives you endorphins, endorphins make you happy, and happy people don't kill the couple making PDA in the corner of the cafe.
5. Marathon. I don't mean the running kind, I mean the TV one. Binge-watch your favorite shows to catch up on the latest season, or finally start watching the ones you've been wanting to see. A season of 24 episodes at 45 minutes each totals to 18 hours–that's your entire day gone already. Then you can freak out about how you've completely wasted the day and yet all you can think about is starting on the next season–but that's a whole other issue.
6. Pour yourself a glass of red wine. Whatever it is about a bottle of Merlot, a good red is the perfect drink to calm you down. You don't need the drunken energy Margaritas or vodka is going to give you today–a glass of red is gonna get you to relax. Then one glass is going to turn into four, and you're going to be all "Valen-WHUT? I'm fine!" before sobbing. Just kidding! Or maybe not, we won't judge you.
7. Tinder binge. I think the whole appeal to Tinder is feeling in control of the dating scene, which is, of course, such an illusion because that's one of the most unpredictable experiences in life. But there's something therapeutic about swiping left, left, left, ooh right, ew left, left, left, left, left. Also, there's also the slightest chance you could meet someone who's not a total psycho. (We'll admit, though, that's the tiniest chance, and what you're probably gonna get is an indecent invitation and a request for nude pics at 10 in the morning.)
8. Have dessert. Nothing in life is too bad that chocolate can't make better. Nothing.
9. Go on a blind date. If you've been single for a while, you probably have a ton of friends who are dying to set you up with their cousin, colleague or distant acquaintance. Let them. It might put some pressure on the whole thing, having your first date on V-day, but what the hell? If you really want to feel like you're part of the holiday, then do it. (Of course, there's the possibility that your friends have given up on you a long time ago because you're too picky/you have weird taste in men/you're actually bats**t crazy. If that's the case, I know that feels and we should be friends.)
10. Wallow. If you're feeling beyond depressed about having to spend today alone again, then go ahead and mope. Eat your ice cream, listen to Lana Del Rey's disenchanted melodies all day, and schedule a sobbing phone call to your best friend for later in the day in which you cry, "what's wrong with me?" Nothing is, by the way. We're only human, and emotions like that are better let out than kept in. That's how you keep yourself from burning down a heart-shaped arch at the mall.
by Shari Quimbo
St. Patrick's Day Celebration at Marco Polo Plaza
Marco Polo Plaza will be celebrating St. Patrick's Festival with the rest of the Irish community! It's not only a feast of greens and four-leaf clovers but of good food too! From March 17 to 19, dig in and enjoy traditional Irish dishes and delights such as Irish Stew, Potato Nachos, Cheesy Reuben Loaf, Guinness Beef Stew Pot Pie, Beer Mac N' Cheese and many more. These on top of the international lunch and dinner buffet at Cafe Marco. Complete the experience in true Irish fashion with an ice-cold mug of Irish Beer, also available at Cafe Marco.
Gastronomic adventures await at Café Marco! For inquiries and reservations, you can call (032) 253-1111. For real time updates, like the Facebook page at facebook.com/marcopolocebu or follow on Twitter at @5StarInCebu. Visit the website at www.marcopolohotels.com.
For inquiries and reservations, call 253-1111 or email hospitality.ceb@marcopolohotels.com.
La Liga Henerales: Shaping History Awareness Back Again in Cebu
La Liga Henerales is a community of young talents passionately promotes historical awareness through periodic costumes carefully researched for its authenticity and accuracy and promoted as well in events and schools.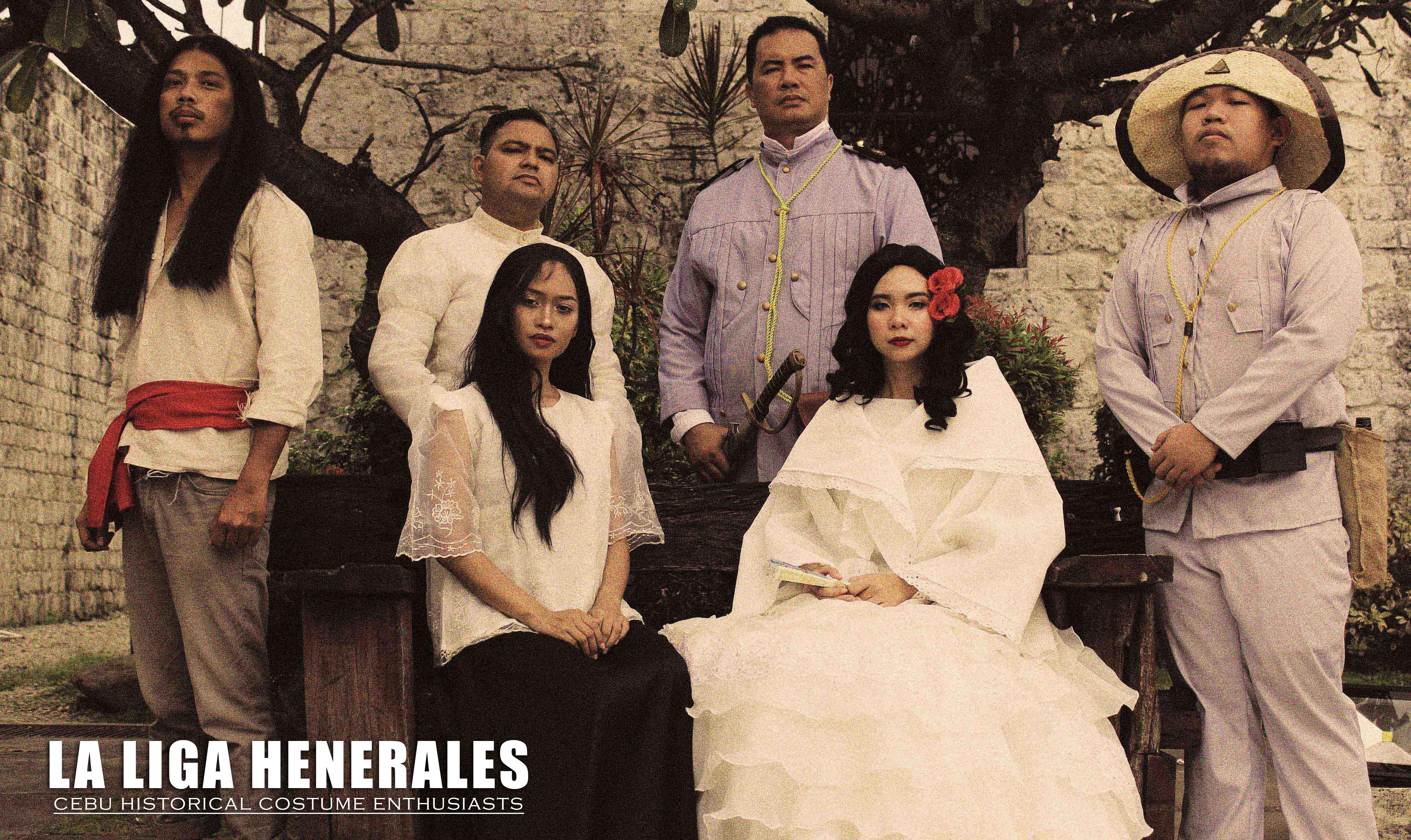 Only few individuals before were into pursuit in this historical awareness project until the age of communication where internet is convenient in the palm of our hands through our gadgets. New information travel fast and data is retrievable, yet also possess a disadvantage with the plethora of different social media platforms carried by various makers as well. In a daily basis, historical backgrounds are unearthed making its trend until now as new discoveries are released, but the idea of these information being shown and shared is as close as not valuing or commemorating to its sources leaving this information just a trend.
There is a certain community of Cebuanos that are taking a quest to rewrite and restructure what was in the past, filling the gaps in facts with further research of variable sources that are made debatable but sticks to it true cause, to unveil the truths of our heritage and our origins, as Cebuanos and as Filipinos as well.


La Liga Henerales is a Cebu-based, non-profit organization composed of a group of talented, committed and respectable individuals from different walks of life, schools and profession whose primary aim is to promote both, Cebuano and filipino culture and heritage that was depicted before in pre-colonial and colonial eras via re-enactment with costumes vested in proper research and investigation to achieve authenticity. They also push their cause on schools and other social gatherings promoting and spreading awareness about our local, and national heroes that we look up to. With these said, they also portray a closer look of the lifestyle of the past to where they perform stories, perform forgotten dances and rituals and portray their individual roles, vital in the fight of our country's future during those challenging times, and in honor to spread awareness of the lost practices we had in those times.
The Founder
Louis Kenneth Villaflor, an entrepreneur and an avid history enthusiast and costumer, founded the group on the purpose of re-educating the youth about real local and national history, he saw the opportunity to combine his favourite hobbies which is costuming and story role-playing and the process to instill the historical awareness and value among the youth and in schools, along with a group of fellow enthusiasts who shares his passion about research and history, they took it among themselves to be purposeful in the advocacy in spreading historical awareness in schools or events by wearing periodically correct costumes and sharing the stories and its value to the youth.
Behind the Garments
Meet Rodney "Pee-Wee" Senining, who has been in the fashion industry since the late 90's, strives  in concepts of avant-garde, innovation and cutting edge-fashion forward design. And also a teacher of Architecture, Fine Arts and Design of University of San Carlos, he had grown into research of books like the holy grail in the Library Resource Center and is always fascinated of the periodical times and how to preserve it; Hence, his interest had grown for the affinity of Periodical Costumes and Sustainable Fashion.
 Being part of the group La Liga Henerales, he was tasked to instantly be their mentor for the young talents and as the organization is still new and developing with limited funds, resourcefulness and research were done to come up with a good output of photo shoot and was quite proud of it and still promise on the next editions of pieces to be more historically accurate. Even as teacher for Fashion Design in SAFAD, his expertise comes hand in hand with the members as he helps them do research as well. His passion and interest somehow led him with enough knowledge to key the insights of the significant periods and historical backgrounds of it.
Historical Awareness in Cebu
The strength and progress of a country is anchored on how well they know and honor its history. The means of historical awareness in Cebu is almost non-existent among the Cebuanos, although we push forward in tourism and promote beauty through sceneries and other aspects of culture yet never commemorate deeply on historical icons such as our other local heroes, and ancient cultures as well that is almost been forgotten in an urban Cebu. Nevertheless, as long as communities' like La Liga Henerales are now evolving in a learning state by real discovery by multiple resources, this will always reflect of how we appreciate love, patriotism and honor to our country and would look forward to progress.
Christmas in Colonial Cebu: A Themed Exhibit by Teresin Mendezona and Eva Gullas for Stylescapes 2019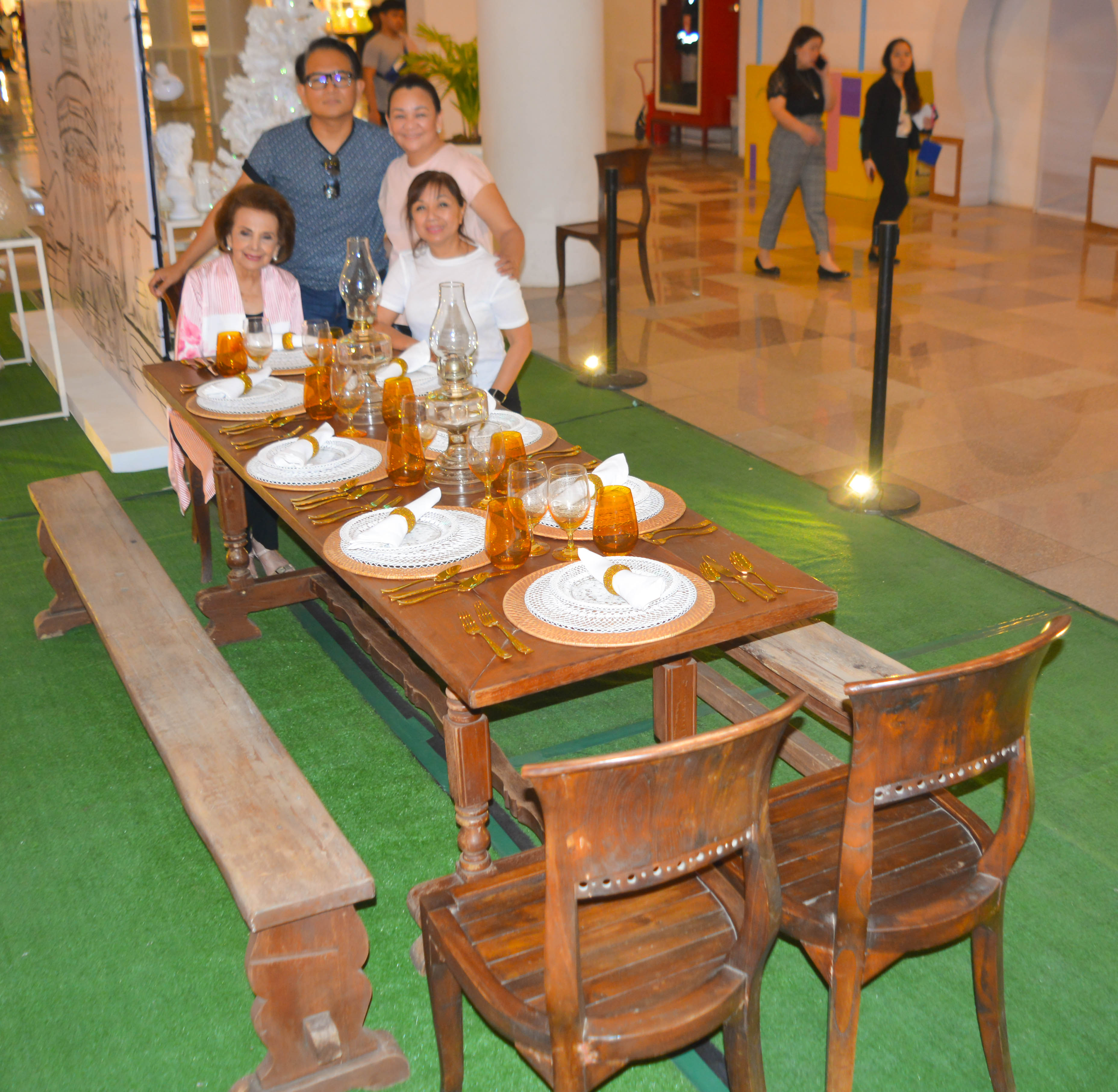 Ever wonder how the yuletide season is celebrated in colonial times? This year at Stylescapes 2019, Teresin Mendezona and Eva Gullas collaborated to showcase the elegance of Christmas during the colonial period, specifically most of the Spanish regime.
This pop-up radiated the ambience of Christmas in the colonial times through the various details used within the setting. Specific pieces like the gansilyo table cloth, oil lamp, and the sketches were from Ms. Mendezona and Gullas themselves.
Aside from that, various table and living room pieces were sourced from Rustans and Metro Ayala, and was curated by Doro Barandino.