This Watch Collection by Seiko Prospex is Perfect for the Adventurous
With several outdoor activities for adventure-seekers, Cebu is never without any options. Take Seiko Prospex's watches on your next adventure!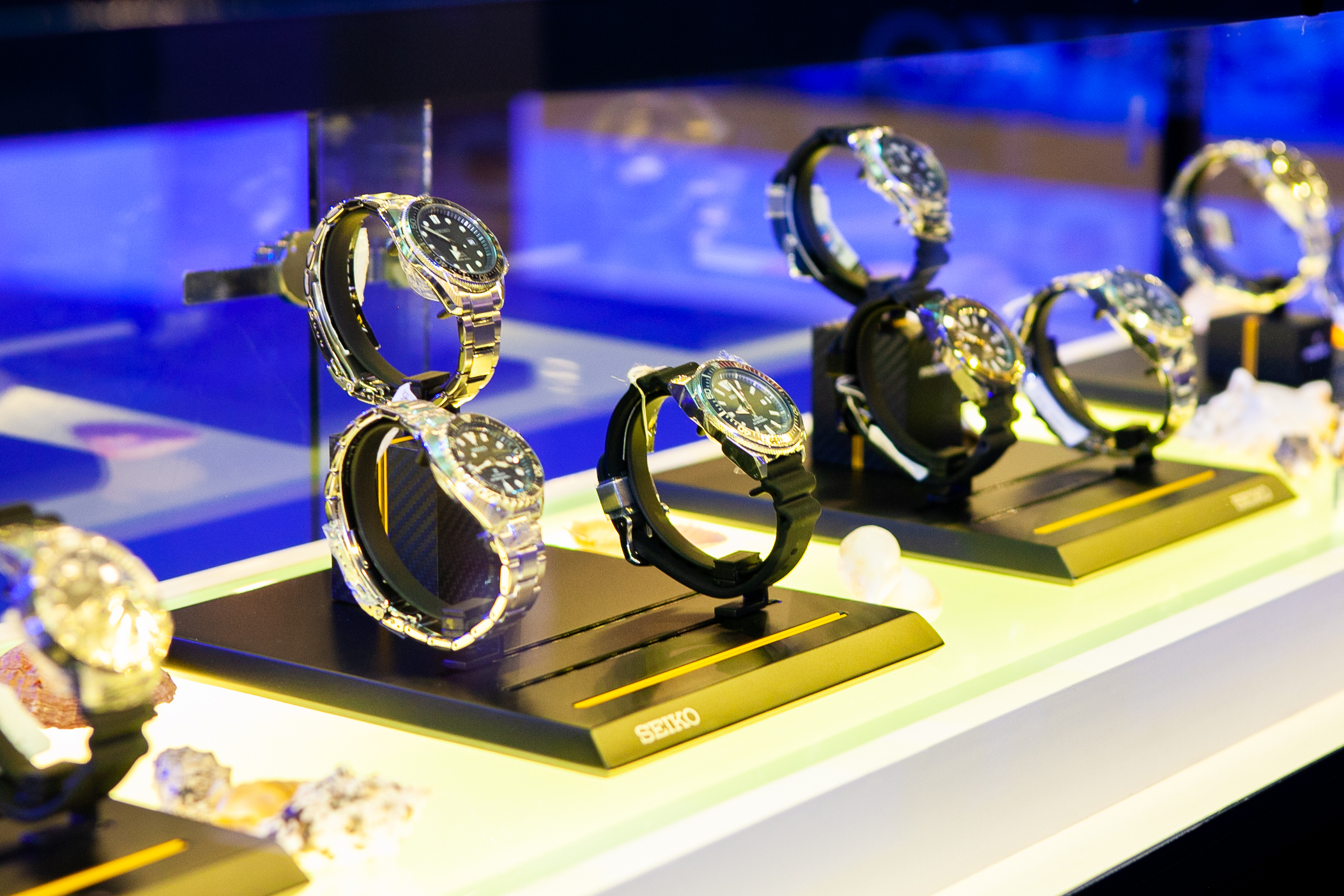 With several outdoor activities for adventure-seekers, Cebu is never without any
options. There's skydiving in Bantayan; snorkeling, canyoneering and scuba diving in
Moalboal; and mountain climbing in Dalaguete, Cebu's highest peak, to name a few. All
these activities require a quality timepiece that matches one's active lifestyle.
With this in mind, Seiko Watch Corporation opened the first Prospex Boutique outside
Japan to provide quality outdoor timepieces for sports lovers and thrill-seekers. The
Seiko Prospex Boutique in Cebu is located at Level 2 of Ayala Center Cebu.
Prospex is Seiko's leading sports watch collection renowned for its high functionality
whether on land, at sea or in the sky, and has won acclaim and the trust of
professionals across the world. It stemmed from Seiko's introduction of Japan's first
diver's watch in 1965 which used innovative technology and changed global standards
in producing timepieces for diving.
Leading the opening of the Prospex Boutique in Cebu last September 27, 2019 were
Timeplus Corporation Vice President and Digital Marketing Officer Edric Dy; Timeplus
Corporation President Karl Dy; SEIKO Watch Corporation Director and Senior Vice
President Yoshikatsu Kawada; and Hana Harada from the SEIKO Prospex
Management Planning Department.
Guests were treated to drinks and cocktails in the exhibit area at Level 1, near Oh
Georg! where select Seiko Prospex timepieces were on display, highlighting the
collection's heritage, features and functions. The event was also graced by mom and
actress, Kaye Abad-Castillo; Cebu City Councilor and former Philippine Basketball
Association player Dondon Hontiveros; and Maria Noella Zosa, a member of the
Philippine freediving team—Seiko's brand ambassadors who got the first glimpse of the
Prospex timepieces.
"I'm so glad to have opened the second Prospex Boutique here in Cebu because it is a
sacred destination for marine sports lovers," said Kawada.
The Prospex collection features five unique series: the Sea, Sky, Land, Street and LX,
all of which embody wearability, comfort, the fusion of practicality and aesthetics, as
well as functionality for all kinds of outdoor adventures.
The Sea Series is the ideal timepiece for all types of water activities from swimming to
scuba diving, the Sky Series is designed for pilots and frequent world travellers, and the
Land Series is perfect for trekking and camping. The Street Series is a line of sports
watches for the urban explorer, designed with enhanced durability for everyday use like
exploring, shopping, or running errands in the city.
Seiko Prospex's latest series, the LX Line, incorporates its Land and Sky models with its
classic 1968 divers watch, and features a spring drive movement in its timepieces,
promising reliability in various sports activities, from diving to mountain climbing.
The Seiko Prospex Boutique in Cebu is the seventh Seiko boutique in the country. An
eighth boutique will open in November 2019 at Ayala Malls Manila Bay, Parañaque City.
For more information and updates, follow @seikophilippines on Facebook and
Instagram or view its collections at www.seikowatches.com/ph-en.
Claudia Bezza-Yeung's Santorini Cruise Collection Seaside Debut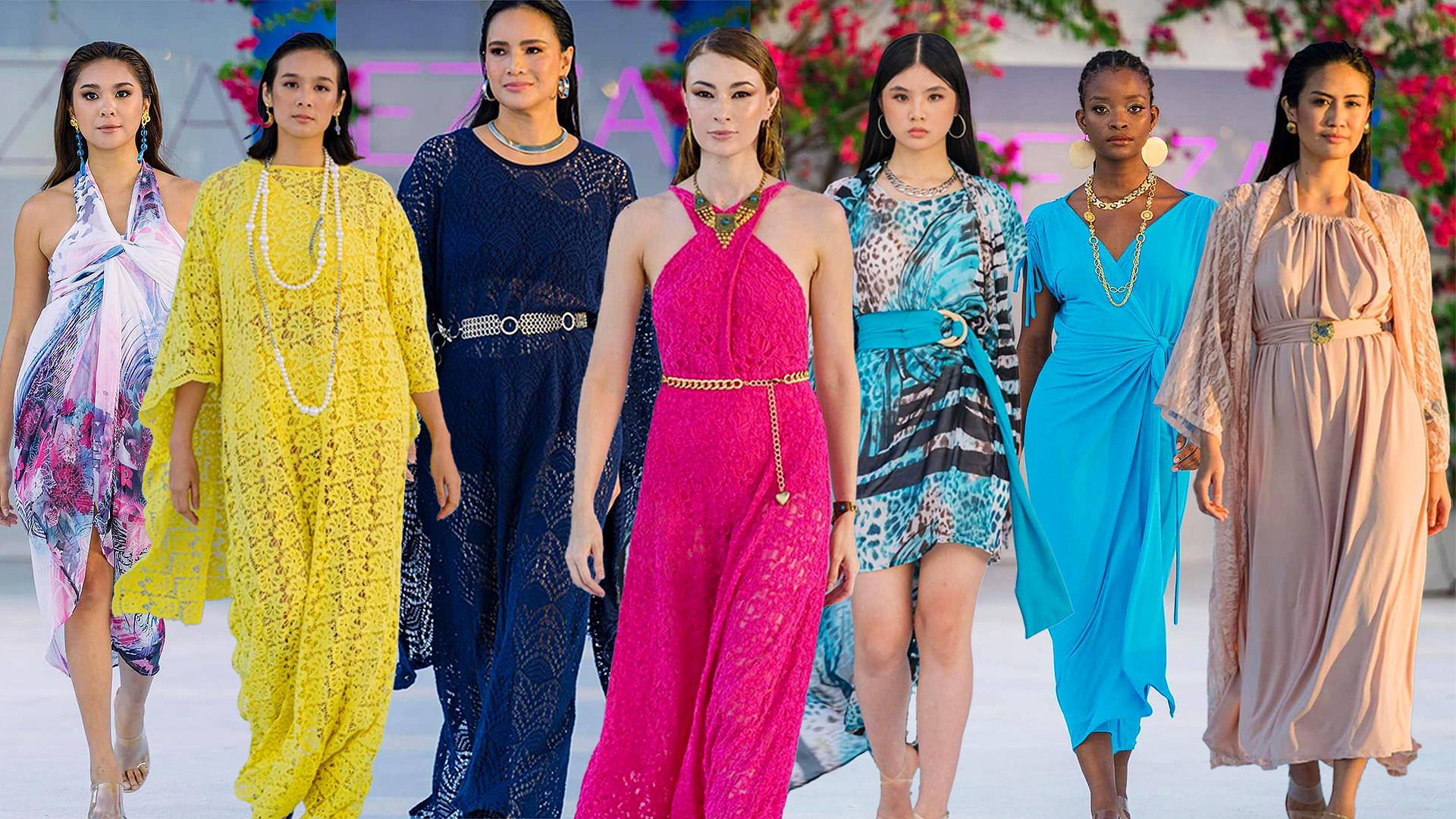 By Kingsley Medalla
The Santorini Cruise Collection launch, Claudia Bezza-Yeung's fifth, held last May in Kandaya Resort in Daanbantayan, was inspired by the Greek island of Santorini. Claudia's designs exude sophistication, and a touch of Mediterranean charm. The collection features flowing maxi dresses in vibrant colors that mirror the azure waters of the Aegean Sea, lightweight fabrics that effortlessly sway with the ocean breeze, and intricate design that adds a touch of opulence to each piece.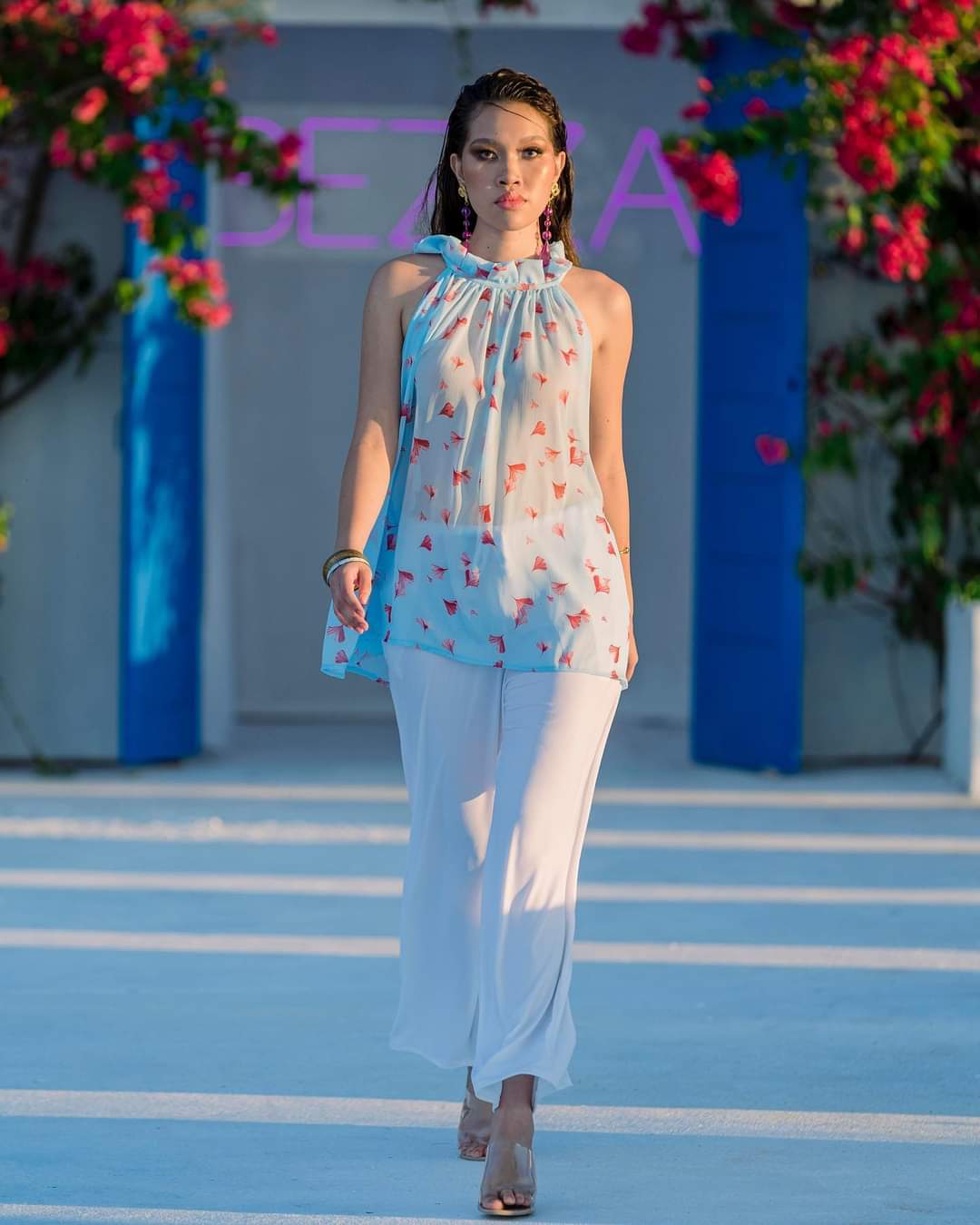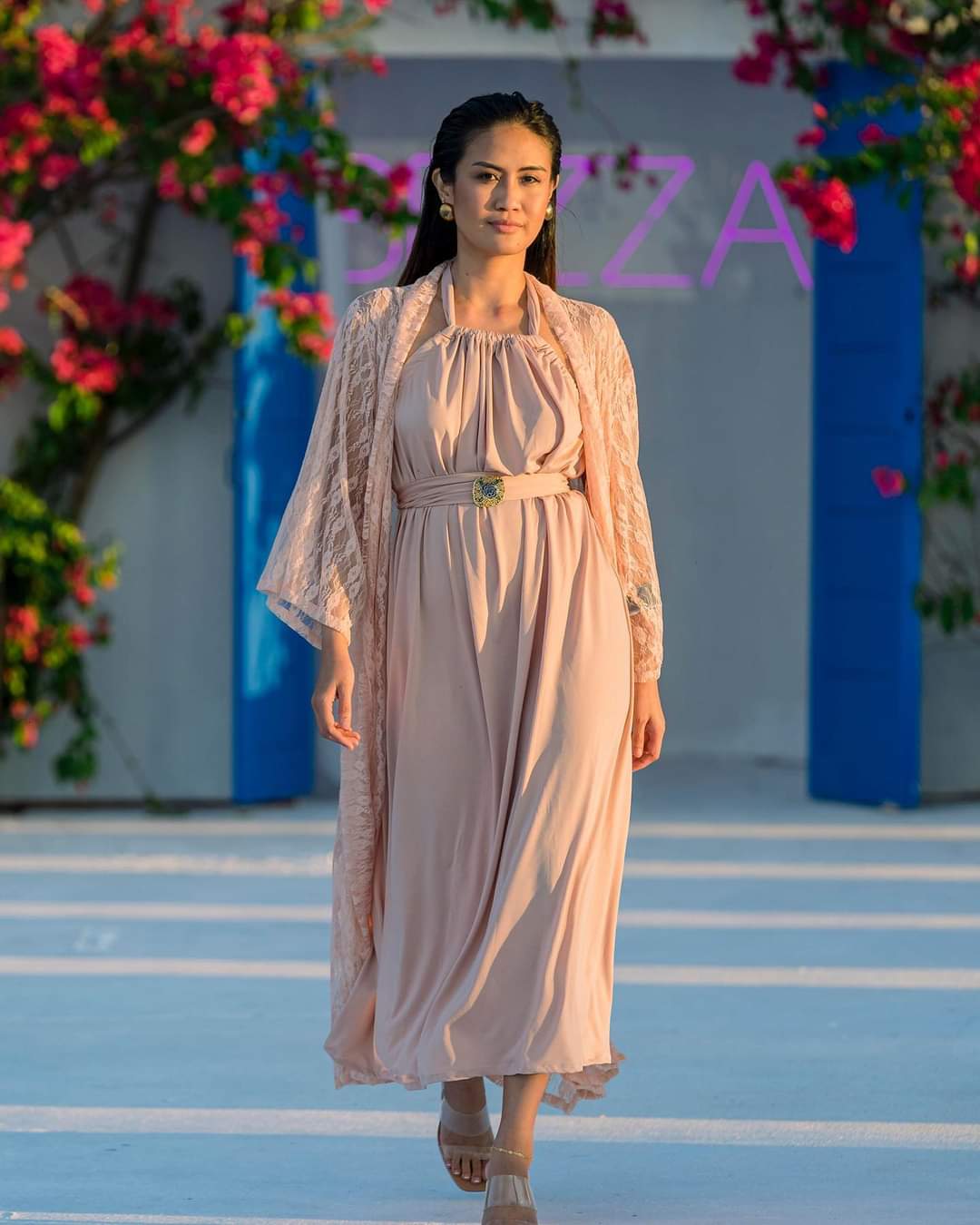 The collection itself is a celebration of summer: mini dresses with headbands and tote bags evoke images of strolls along whitewashed streets. Each piece is carefully crafted to capture the essence of Santorini's charm.
The color palette of soft pastels like pale blues and pinks, are juxtaposed with bold pops of color, like romantic pinks and vibrant yellows. This combination creates a visually striking contrast that adds depth and interest to each look.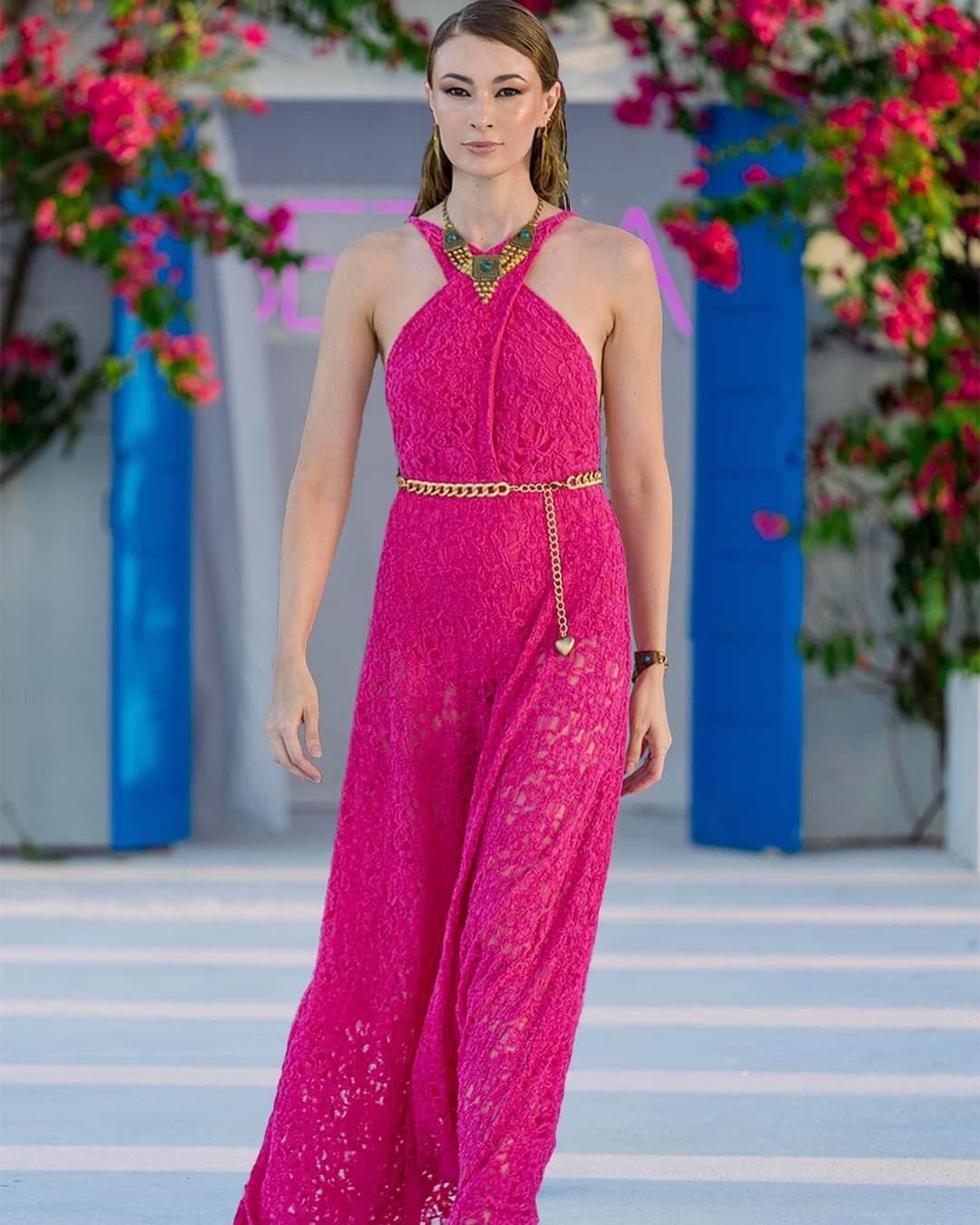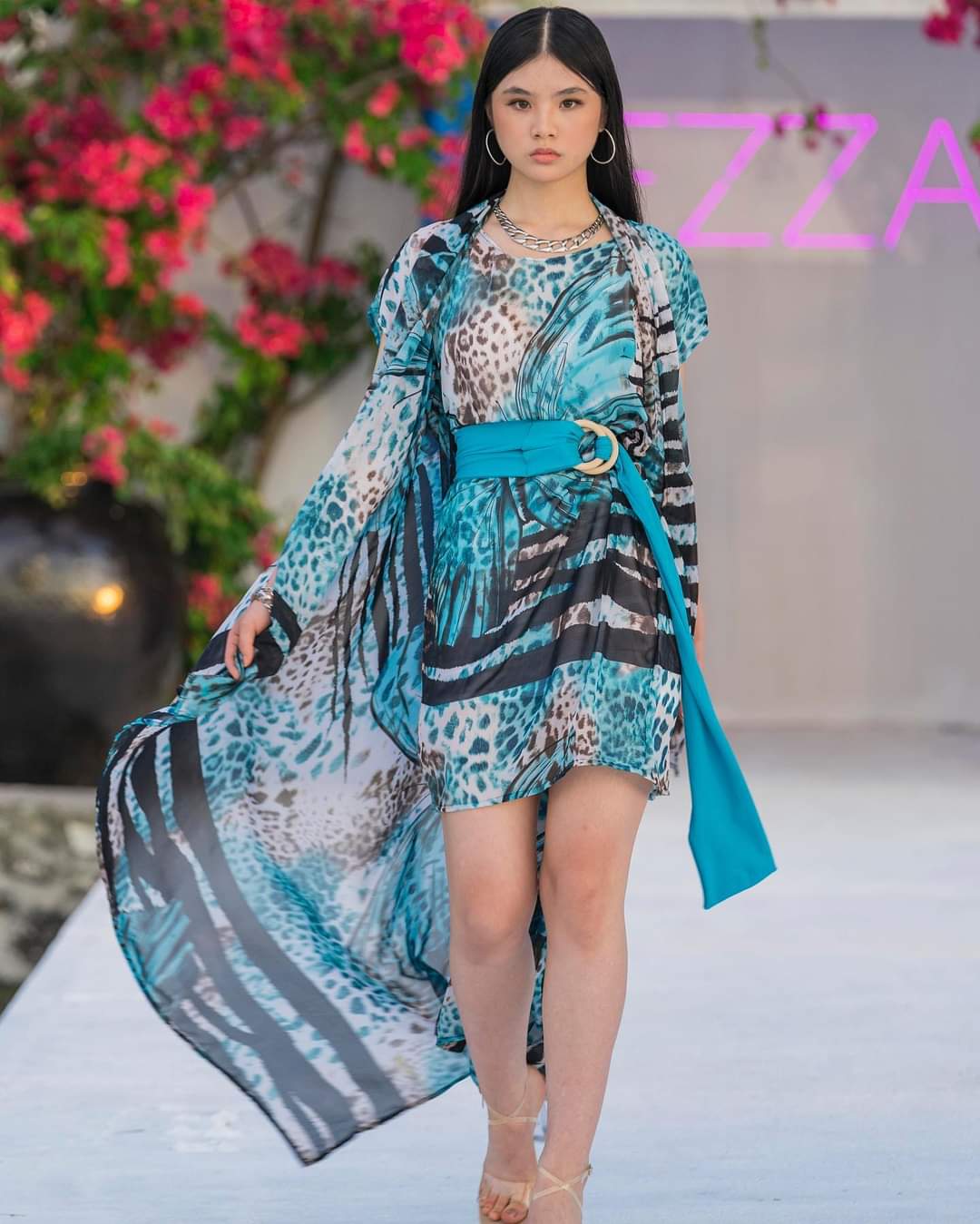 Kandaya Resort, with its breathtaking sunsets and white sand beaches, provides the perfect backdrop for the 55-pieces of beach wear.
"The collection, as with all our pieces, is made from discarded fabric that we source from China and Dubai," shares designer Claudia Bezza Yeung. "The fabrics for this collection were acquired at different times and were kept in storage since the pandemic, and it was only recently that they all came together with this vision: Santorini! "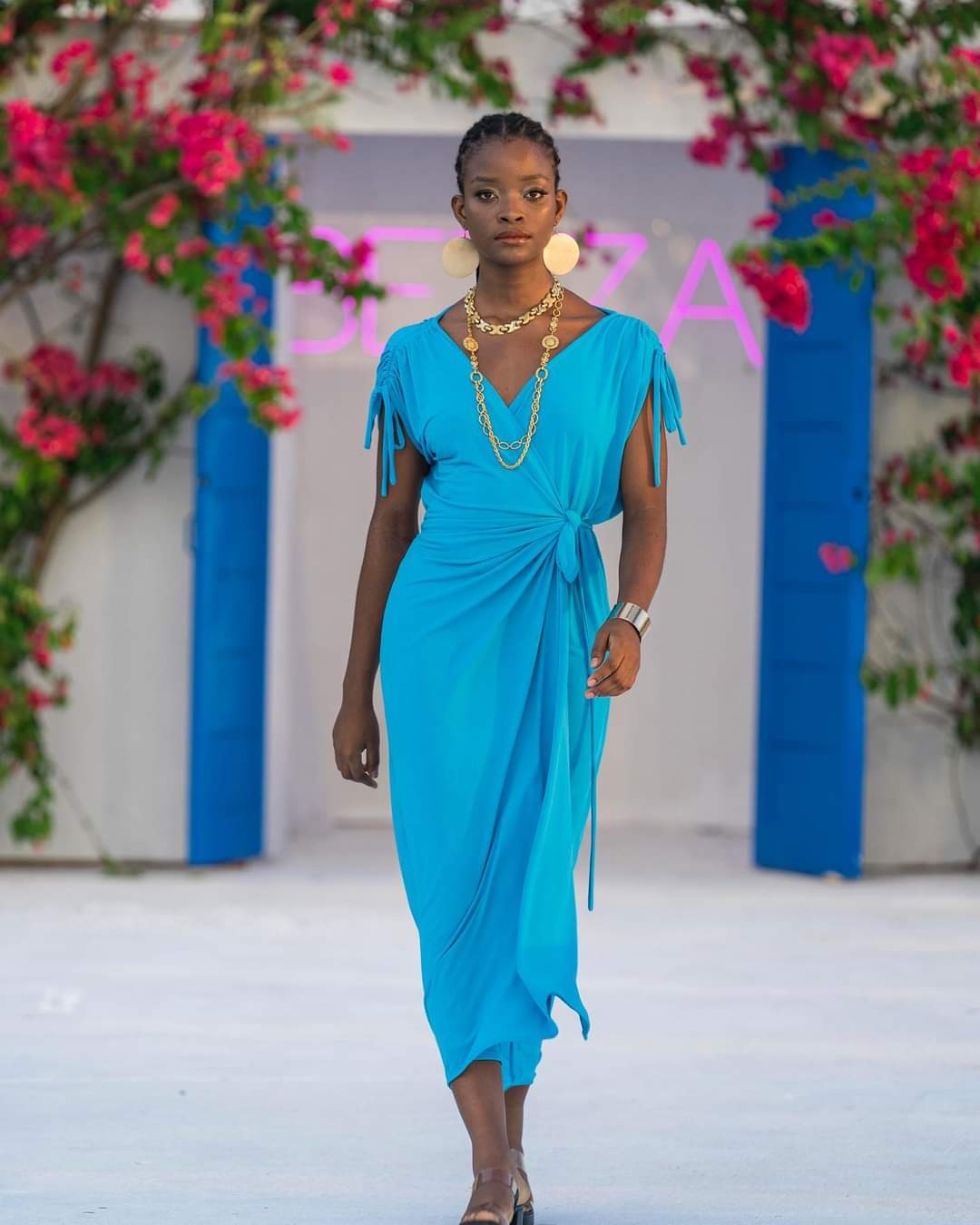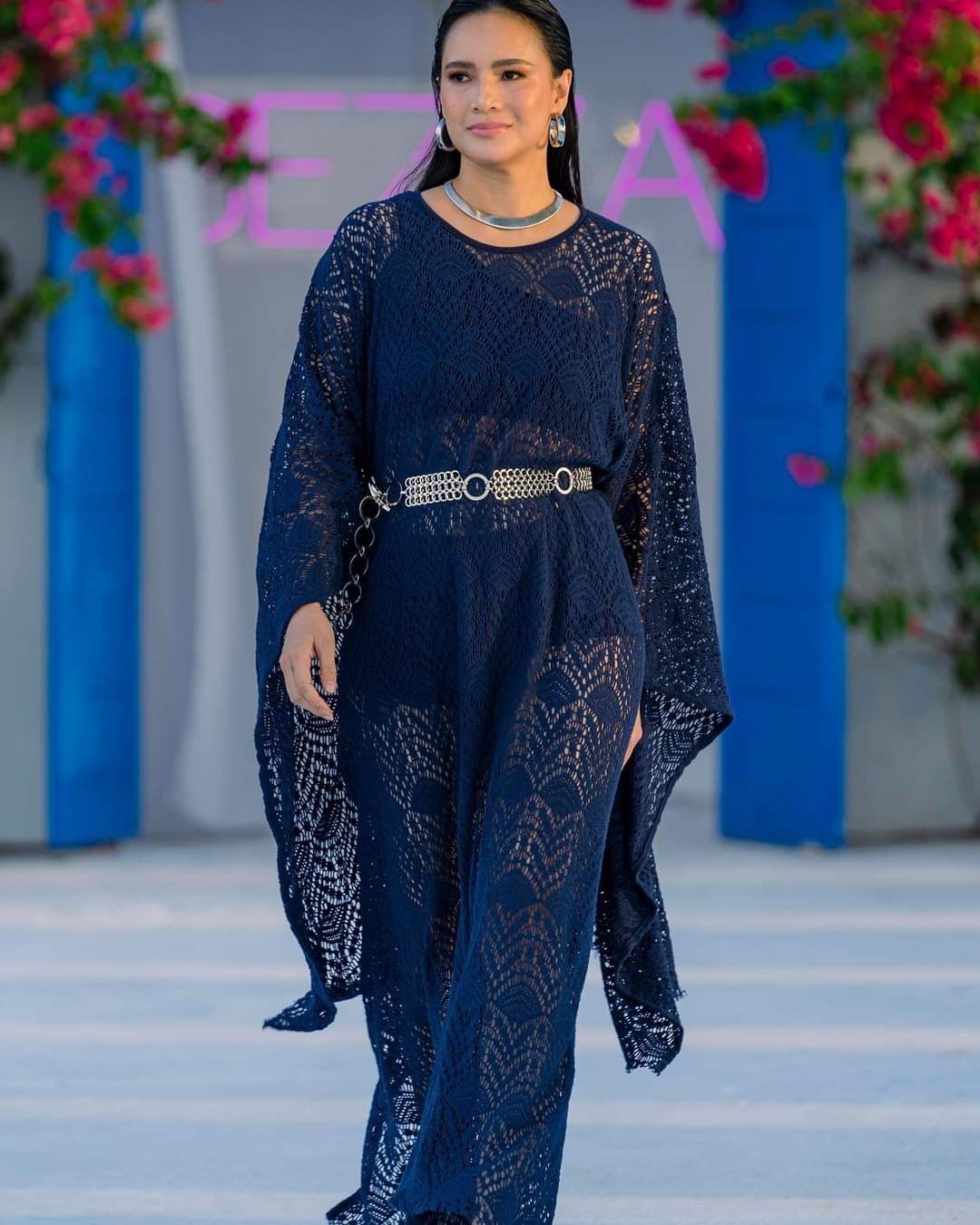 Beyond its aesthetic appeal, this fashion show also serves as an opportunity to showcase Bezza's talent on an international stage. By collaborating with local artisans and incorporating traditional techniques into her designs, this former model-turned-designer pays homage to Santorini's rich cultural heritage.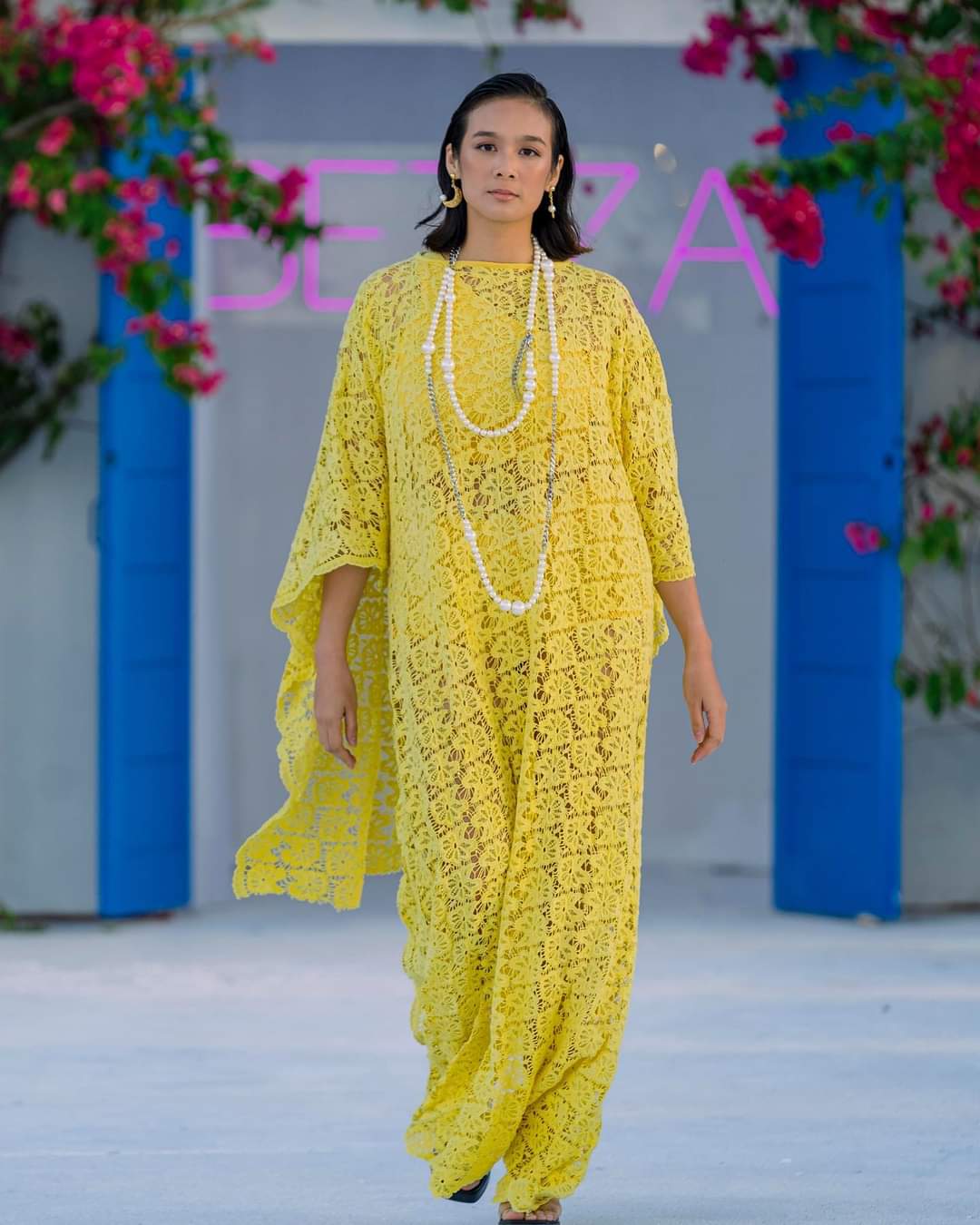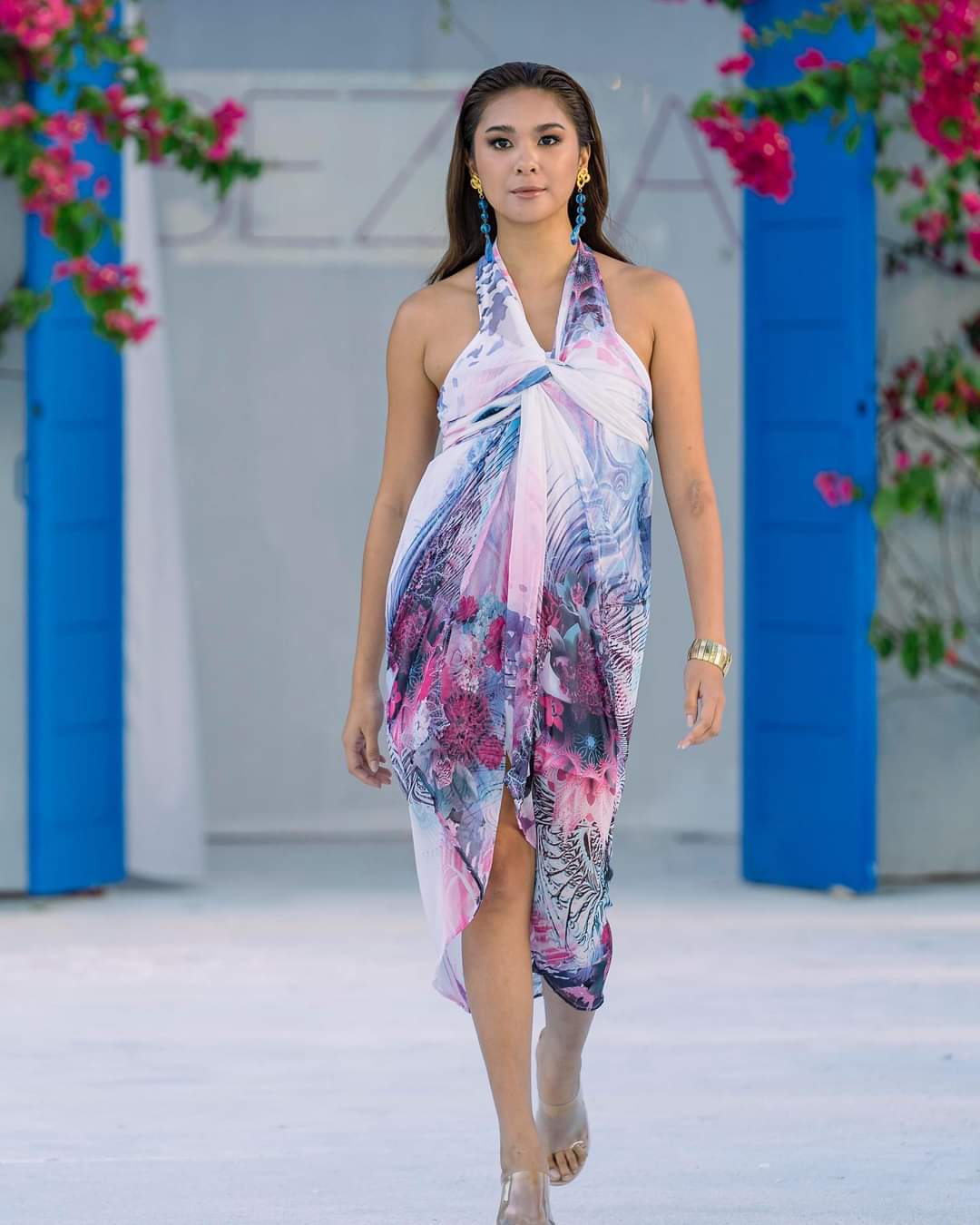 Claudia learned sewing skills from her mother, starting early by dressing up her dolls with fabric scraps. "When I was working and traveling all over the world, I had to decide to carry fewer clothes in my luggage, so I would recycle clothes and customize the ones I already had so they would look different every time." Soon, she began selling her creations to fellow models.
"I do not sketch. I find it better to manipulate fabrics directly on the body," Claudia shares. "I sew and drape directly on my body most of the time, and that's when I get ideas on transforming the dress.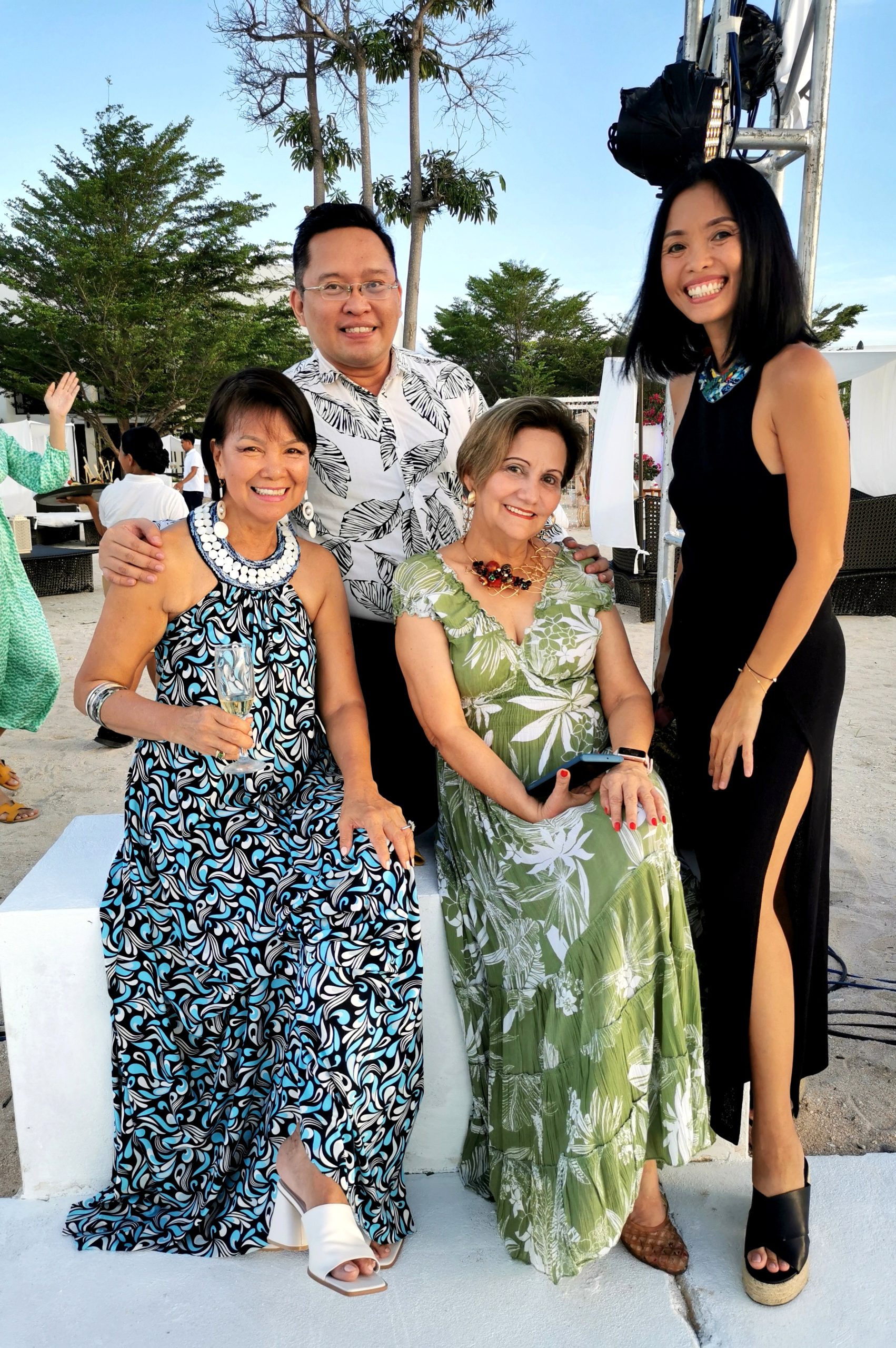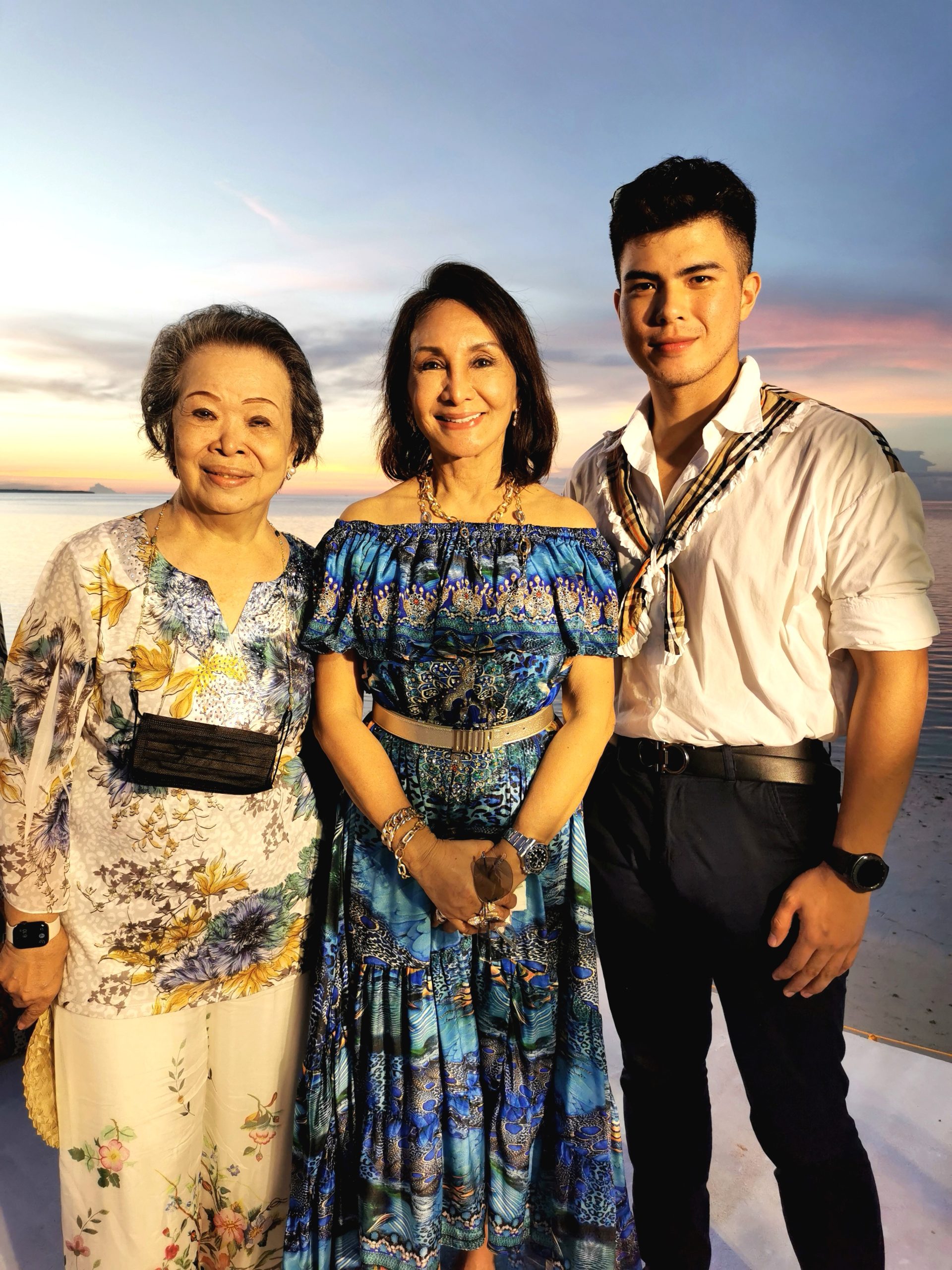 The Santorini Cruise Collection Launch, a Fashion Show on the Beach is not just another runway event but an immersive experience that celebrates both style and culture. Its idyllic setting and stunning designs leave an indelible mark on all fortunate enough to witness it firsthand.
The First Philippine Terno Gala at the Waterfront
On March 10, 2023, important guests and personalities entered the halls of Waterfront Cebu City Hotel & Casino to attend the first Philippine Terno Gala in Cebu brought to you by Cary Santiago.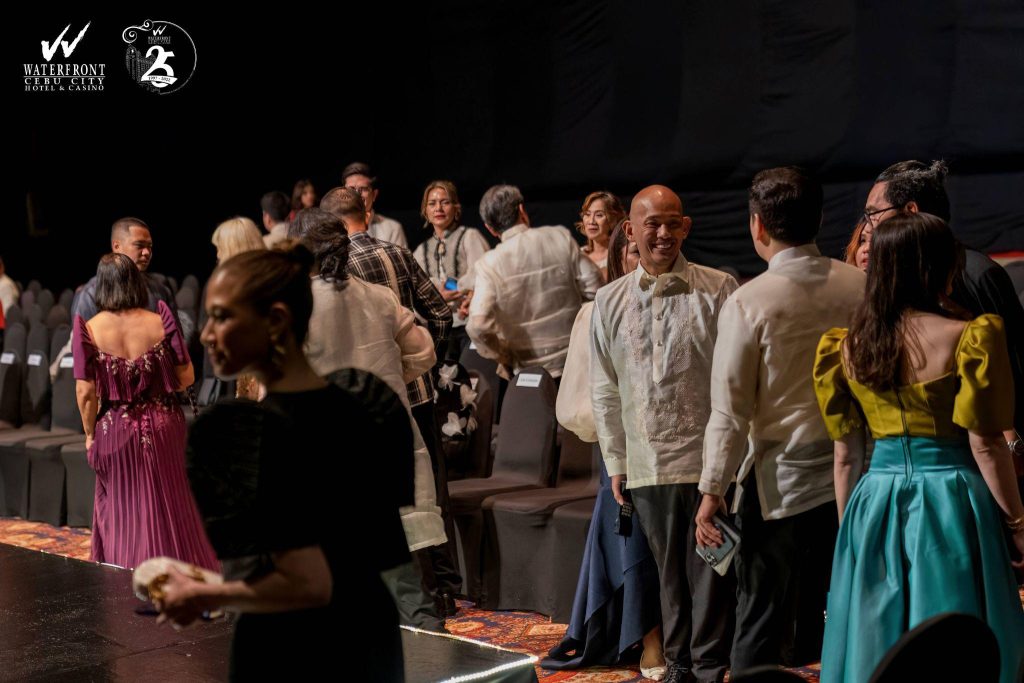 The Philippine Terno Gala's fashion show showcased couture pieces by world class Filipino designers: Rajo Laurel, Mark Bumgarner, Philip Rodriguez, and Cary Santiago.
The event started with Philip Rodriguez' daring designs that left the crowd with the need to see more.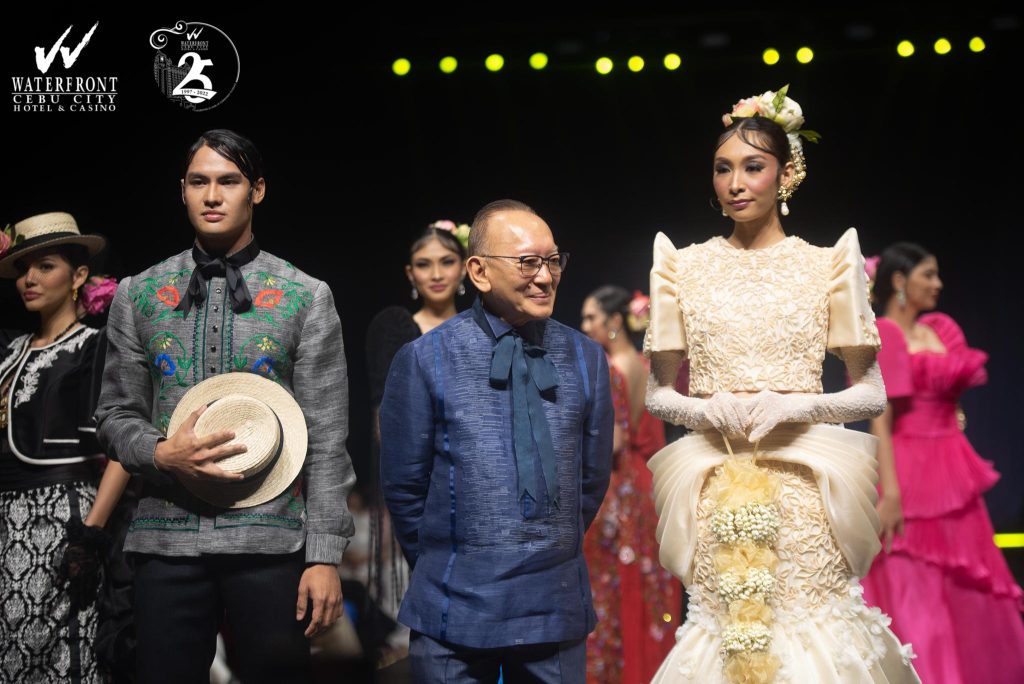 Followed by Rajo Laurel's contemporary pieces, keeping the ongoing gasps and cheers by the crowd alive to fill the ballroom's ambiance.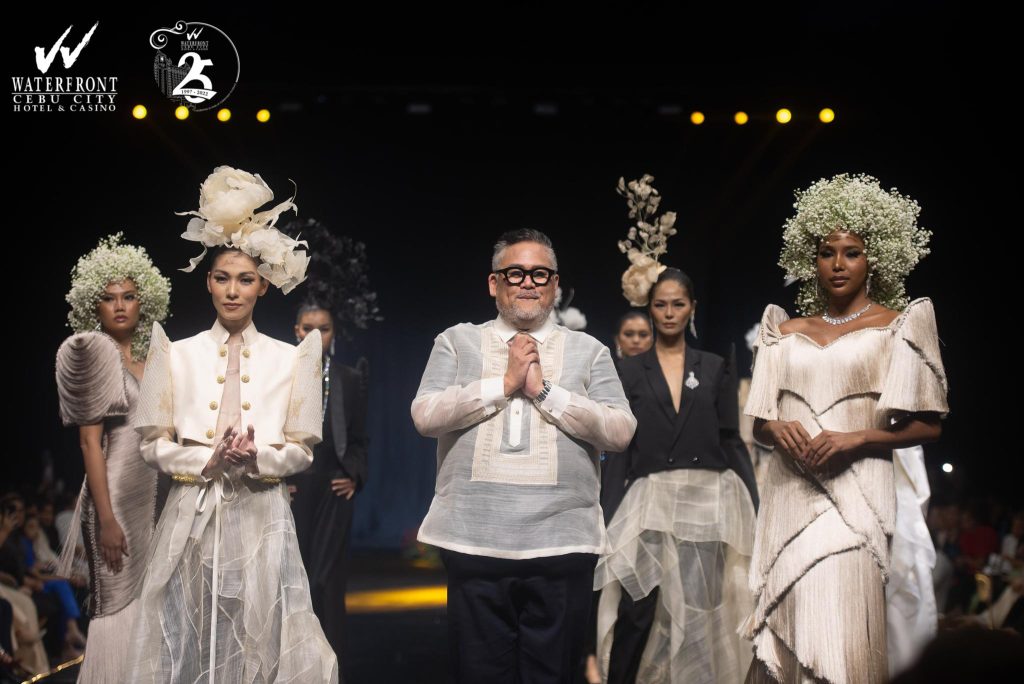 Next to grace the crowd is Mark Bumgarner's elegant designs had everyone raising their cameras to capture the admirable pieces.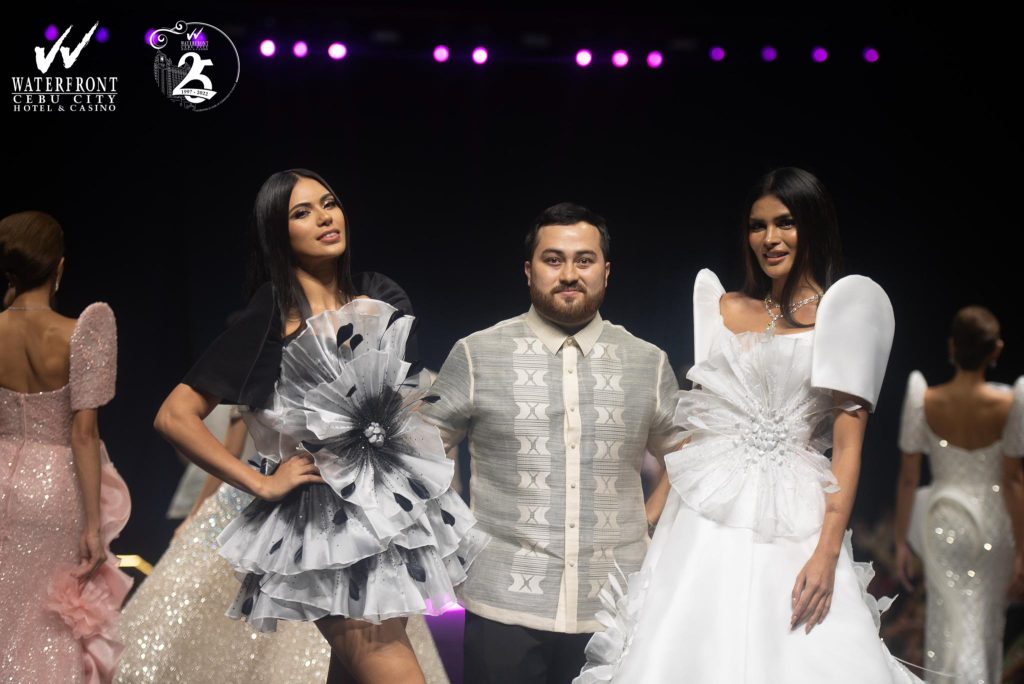 To end the fashion show, Cary Santiago left a statement as the runway welcomed stunning designs leaving the crowd in awe.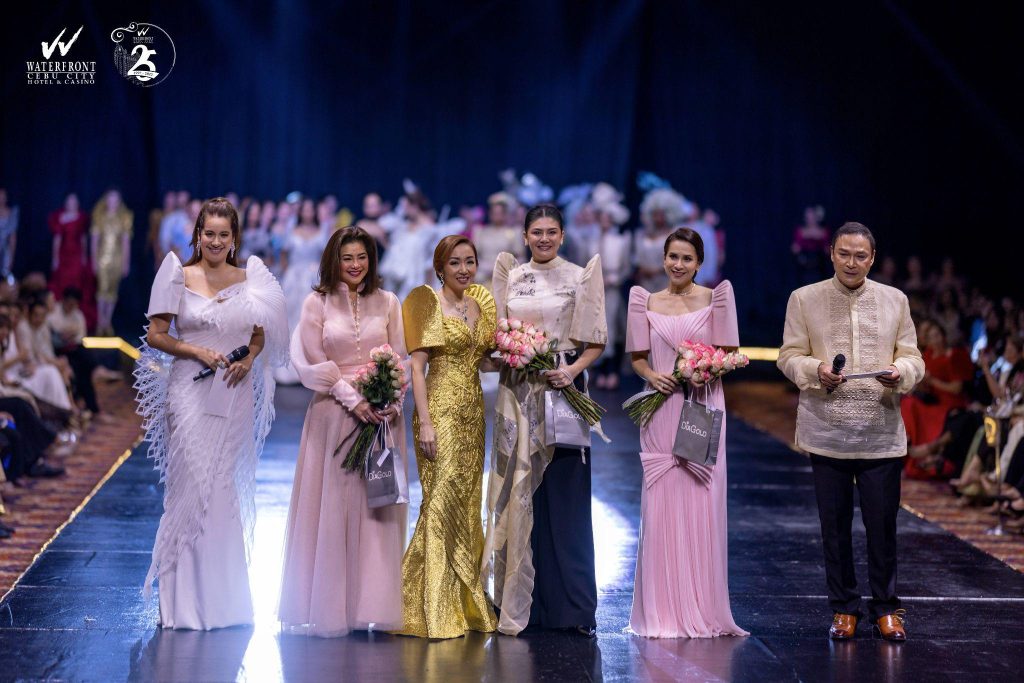 As a surprise to the guests, special rewards were given to the crowd stoppers of the night with special thanks to Dia Gold and Jun Villanel.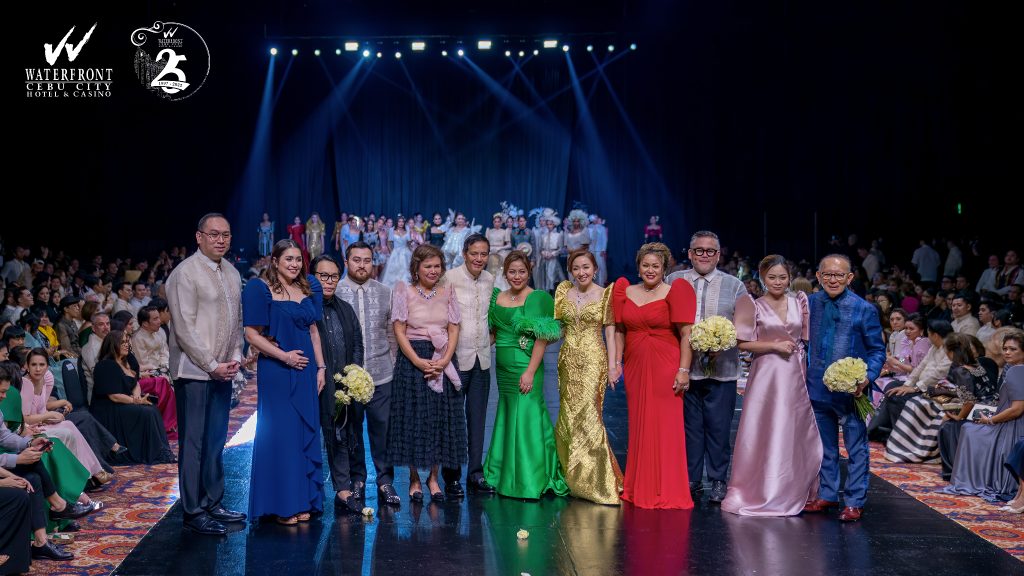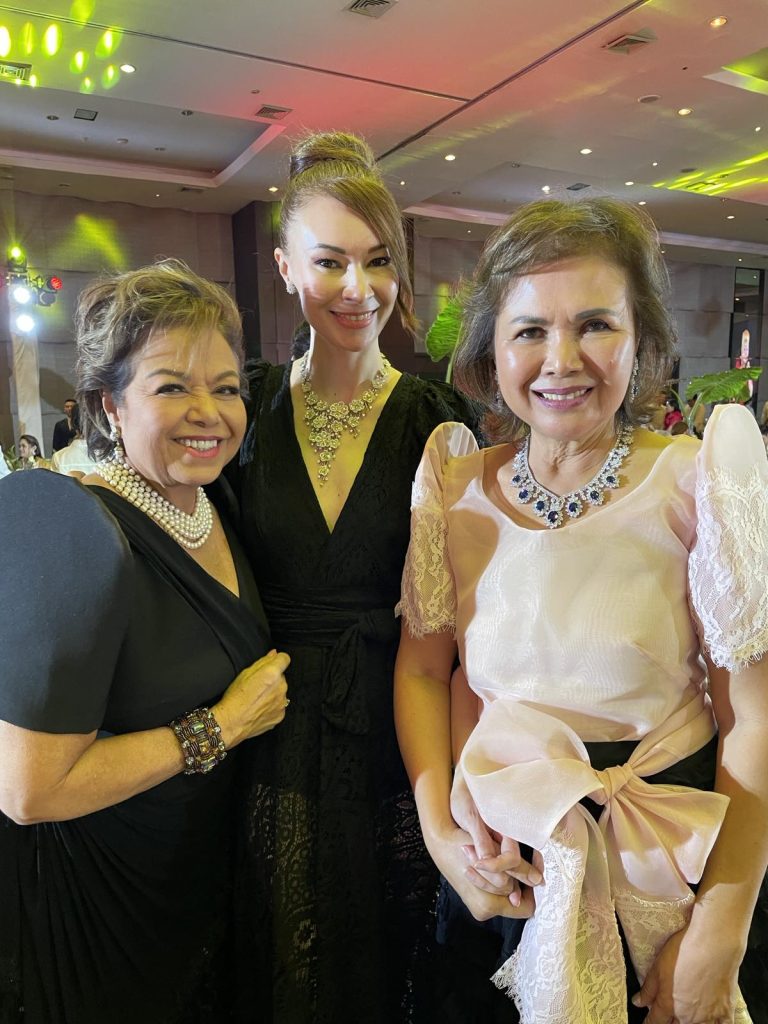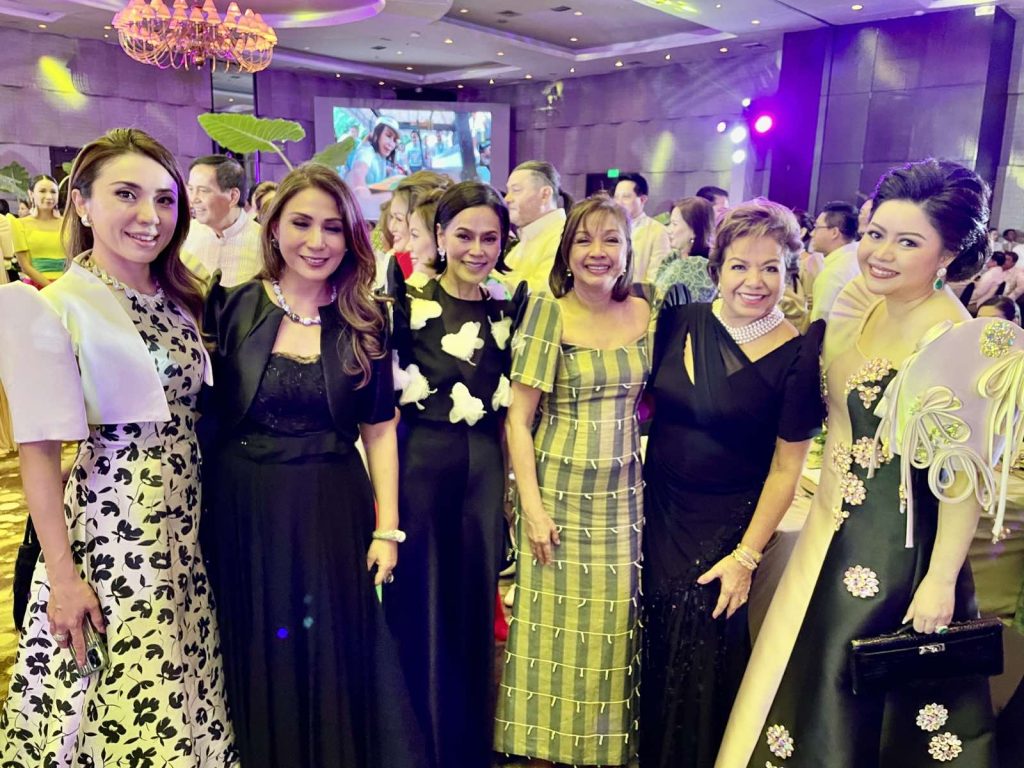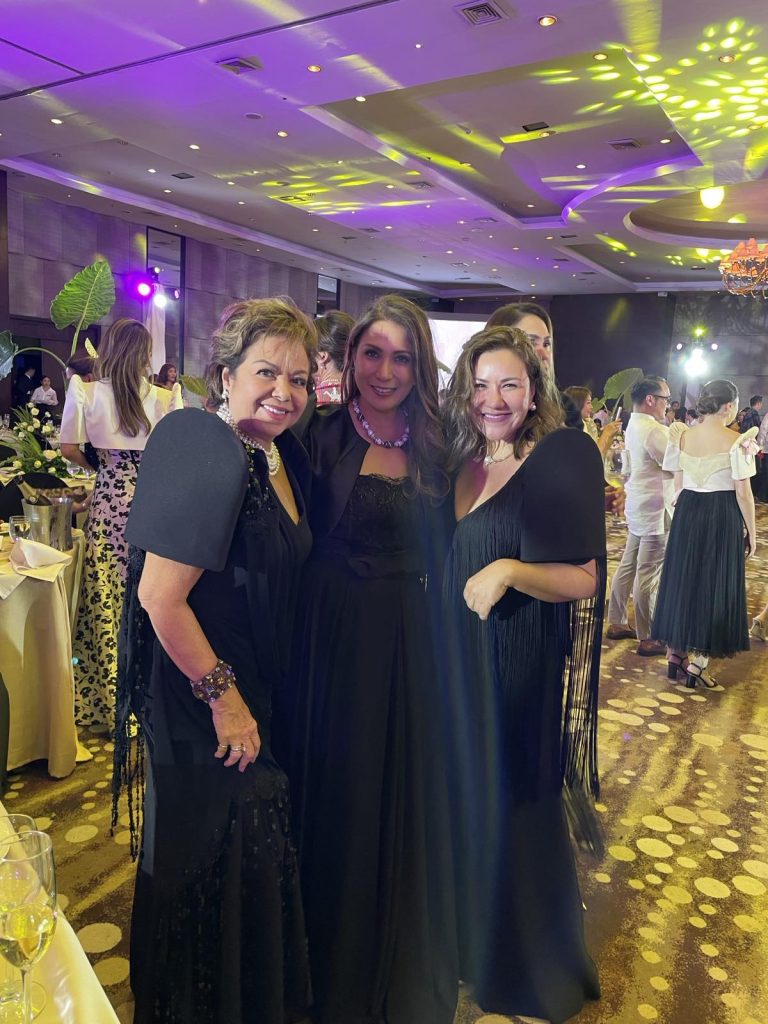 Waterfront Cebu City Hotel & Casino proved once more that they are the premier venue choice for grand events. Waterfront Cebu City Hotel & Casino will see you all in their upcoming events as a part of their year-long celebration of its 25th anniversary.
CEBU KALEIDO: A Night of Fashion and Celebration at Crimson Mactan Resort and Spa
Miranda Konstatinidou's beautiful beach wear and jewellery worn by her guests at an intimate beach party at Crimson Resort in Mactan. Konplott is Miranda's luxury fashion accessory brand sold in Europe, worn by fashion icons and celebrities (no, it's not sold locally) while her exclusive beach wear in silk are fabric designed by her, are also sold in high end resorts around the world. Meanwhile, Crimson Resort in Mactan will officially close temporarily for a makeover as most of their beachfront villas were damaged heavily by last December.s super typhoon Odette. Here's to a great reopening of Crimson in a few months. (photography by Steffen Billhardt)