Shades of Grès: A Fashion Design Competition
ZEE Lifestyle Magazine pays tribute to legendary French neoclassical couturiere Alix Grès through this fashion design competition open to all designers and aspiring designers whose clothes have not yet been photographed and published in its fashion editorial pages.
DEADLINE FOR SUBMISSION OF ENTRIES IS ON JUNE 20, 2012
Description
ZEE Lifestyle Magazine pays tribute to legendary French neoclassical couturiere Alix Grès through this fashion design competition open to all designers and aspiring designers whose clothes have not yet been photographed and published in its fashion editorial pages.
Recreate the drape and dynamism of the clothes crafted by Madame Grès in your own designs to become one of the featured designers in the fashion pages. The cover girl for the October Fashion issue will be wearing your winning piece.
Theme:
Channeling the drape and dynamism of the iconic jersey dresses created by Alix Grès. Designers recreate the fluidity of her creations while making the clothes wearable today.
Prizes:
WINNER
Winning garment on the cover of Zee's 2012 Oct. Issue, "Luxury"
Prominent feature in Zee's 2012 October Issue fashion editorial
Php 10,000 in cash
PhP 20,000 worth of scholarship from Fashion Institute of Design & Arts (FIDA) in Cebu.
More prizes to be announced.
FINALISTS
One Page feature in Zee's 2012 October Issue fashion editorial.
Criteria:
Sketches
Design Innovation 40%
Relevance to Theme 40%
Photos Previous Works 20%
Interview
Previous Garment 30%
Knowledge in Technical Construction 30 %
Personality 20%
Vision 20%
Garments (FINALS)
Construction/Finishing 30%
Wear-ability" 30%
Adherence to the Concept 20%
Photogenic Appeal 20%
MECHANICS
i.ELIGIBILITY
a. UNPUBLISHED Only designers whose garments have not been photographed and published in the fashion editorial pages of ZEE are allowed to join.
i. Designers whose garments have been published as collaterals for fashion shows under the events pages can join.
ii. Designers whose designs have been published as fashion illustrations and not as photographs can join.
iii.
Designers whose clothes have been featured in pages of ZEE Magazine other than the fashion editorial spreads can join.
b. AGE Aspiring and professional designers of any age can join the competition.
i. Designers below the age of eighteen must submit a letter of consent from their parent/legal guardian along with their application.
c. GENDER Aspiring and professional designers of any gender are allowed to enter the competition.
d. EXPERIENCE:
i. Aspiring designers or sewers or anyone interested in fashion who are not yet working professionally as fashion designers but who have produced at least 3 garments that they designed themselves.
ii. Fashion Design students who don't have dress shops or factories but who have produced at least three garments that they designed themselves.
iii. Any creative person who wants to be featured in the fashion editorial who has produced three garments of his own design.
e. REGION Only designers from Visayas and Mindanao are allowed to enter the competition
i. This includes designers who are currently living in the regions, were born in the
regions, have a permanent address in the regions.
ii. SUBMISSION OF SKETCH ENTRIES
a. NO. OF ENTRIES Designers are only allowed two (2) sketches as entries into the competition.
i. In the event that a designer submits more than two (2) entries, the first two (2) entries reviewed by the judges will be qualified, while the rest will be disregarded.
ii. Both sketches must be submitted in the same packet via email or hard copy.
b. DIMENSIONS Designers must submit their sketches (online or a hardcopy) on a Sketch Sheet with dimensions: 8.5″x13″ (long size bondpaper)
c. COLOR Sketches submitted online and through a hard copy must be rendered in full color.
d. SWATCHES:
i. For hard copy submission- actual swatches of all fabrics used measuring 1-½ inches by 3 inches per fabric should be attached to the Concept Sheet not on the Sketch Sheet.
ii. For soft copy submission- fabric swatches of all fabrics used measuring 1-½ inches by 3 inches per fabric should be scanned and pasted on the Concept Sheet, not on the Sketch Sheet.
e. ILLUSTRATOR Designers may use an illustrator and are not required to sketch their garments themselves but must indicate that they have done so at the bottom right of the Sketch Sheet.
f. SIGNATURES AND DESCRIPTIONS Designers must not sign the sketches or add descriptive marks on the submitted Sketch Sheet.
g. PARAPHERNALIA Paraphernalia attached to the Sketch Sheet are prohibited and can be a basis for disqualification.
iii. CONCEPT SHEET:
a. Dimensions are
b. Should have an image of the inspirational garment from Madame Grès.
c. Should contain detailed description of the design.
i. Description of additional fabrics used other than jersey.
ii. Description of techniques and special skills that will be used to produce the
designs.
iii. Description of embellishment if any is used.
iv. Description of accessories if any are used
iv. BIODATA/APPLICATION FORM
a. SUBMISSION Application forms must be downloaded from HERE or acquired from the ZEE office and submitted with Sketch Sheet and Concept Sheet. Entry packets should be submitted via email at shadesofgres@res210.servconfig.com or physically at the ZEE Cebu office.
v. ENTRY PACKET CONTENT: Submitted packets should contain 3 sheets namely: the Sketch Sheet, Concept Sheet, and official Application Form.
vi. INTERVIEW OF SIX FINALISTS
a. TIME AND DATE Time and date of interview of top six finalists will be set by Zee LifestyleMagazine and must be strictly followed.
i. CEBU Finalist in Cebu will be interview first on DAY1
ii. OUT OF TOWN Out of town finalist will be interviewed on DAY2
iii.TRANSPORATION Zee will not shoulder transportation expense for this stage of the competition.
iv. ABSENTEES
1. Cebu-based finalists who cannot make it on their interview date will automatically be disqualified. A new finalist from the waitlist will be picked and interviewed the following day.
2. Out-of-town based finalists will be given a grace period of one day only provided that they advise the organizers of their inability to travel ahead of time.
3. Waitlisted contestants who make it to the top six finalists may receive the cash allotment for fabrics, materials and production a day later but the same deadline of delivery of finished garments apply.
b. SAMPLES OF DESIGNED GARMENTS Semifinalists must bring a garment that they had
previously designed and created.
i. Designers must bring garment that they designed themselves and that they either
produced themselves or supervised during production.
1. Deconstructed garments from ready-to-wear and other designers are
prohibited
2. Refurbished pieces from old garments are prohibited.
vii. FINAL JUDGING
a. SUBMISSIONS Designers are to produce two garments out of the 5 thousand pesos that they have been provided and submit them for final judging.
b. FABRICS Seventy percent of the fabric used in both garments must be jersey.
i. ADDITIONAL MATERIALS Designers are allowed to purchase additional materials
beyond the Php 5,000 given to them but the costs will not be refurbished by ZEE.
1. OTHER MATERIALS Beads, feathers, metal, etc. are permissible only as accesories.
ii. ACCESSORIES Designers may provide accessories for the garment, but will
not be considered as part of the garment.
1. HATS AND HEADGEAR Hats and headgear made out of the primary fabric will be considered as part of the garment and will be judged as such.
iii. COLOR Designers are allowed to use any color in their garments.
1. DYING Coloring or dying fabric is permissible.
c. OWNERSHIP The winning garments are the property of participating designers. However, they will be kept by ZEE for the fittings, pictorials and launch of the Fashion Issue and will be returned after the event.
i. REPRODUCTION Loalde reserves the right to reproduce the design under any of its design labels but will credit the designer accordingly in press releases and sale pitches. ( WE HAVEN'T CONFIRMED LOALDE YET)
d. CONSTRUCTION Garments may or may not be sewn by the designer him/herself but he has to prove at least 75 % participation in its actual construction.
i. The designer may utilize a seamstress/tailor for the garments however; he has to overlook the production himself.
ii. As proof of his participation in the actual production of his designs, the designer
should present any one of the following during the final judging.
1. Patterns he drafted.
2. Toile or mock-up muslins.
3. Documentation such as a photographs or videos.
Claudia Bezza-Yeung's Santorini Cruise Collection Seaside Debut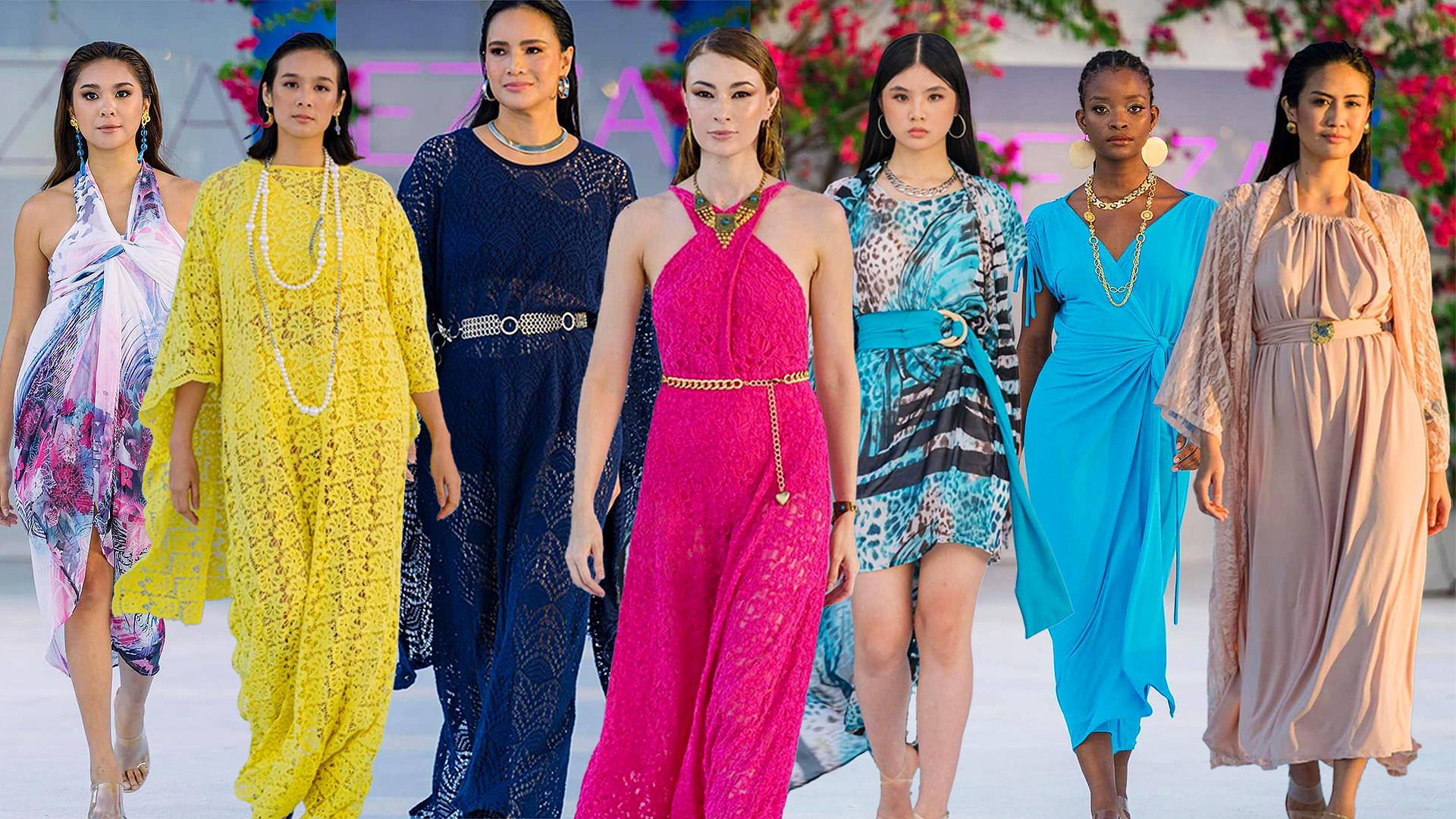 By Kingsley Medalla
The Santorini Cruise Collection launch, Claudia Bezza-Yeung's fifth, held last May in Kandaya Resort in Daanbantayan, was inspired by the Greek island of Santorini. Claudia's designs exude sophistication, and a touch of Mediterranean charm. The collection features flowing maxi dresses in vibrant colors that mirror the azure waters of the Aegean Sea, lightweight fabrics that effortlessly sway with the ocean breeze, and intricate design that adds a touch of opulence to each piece.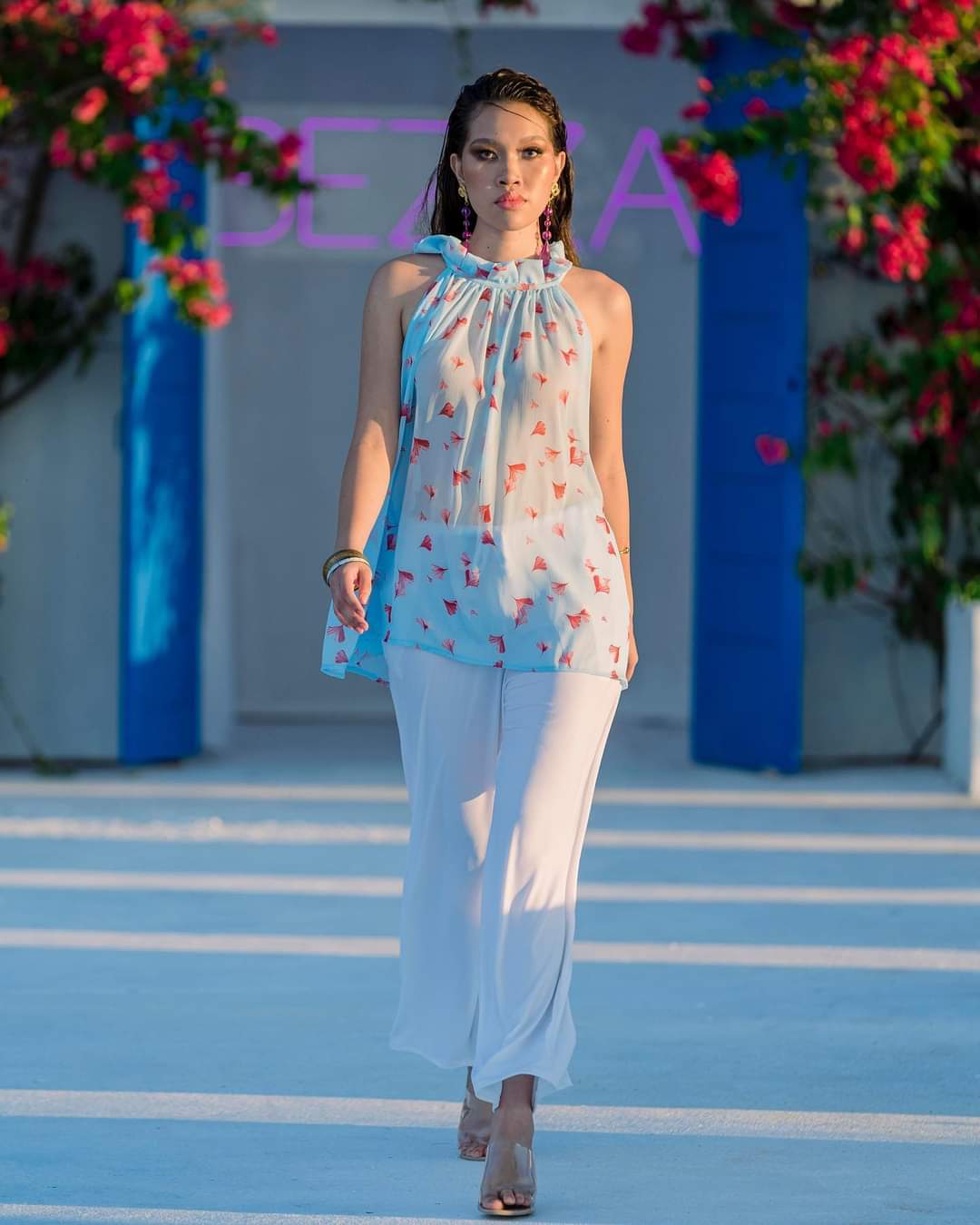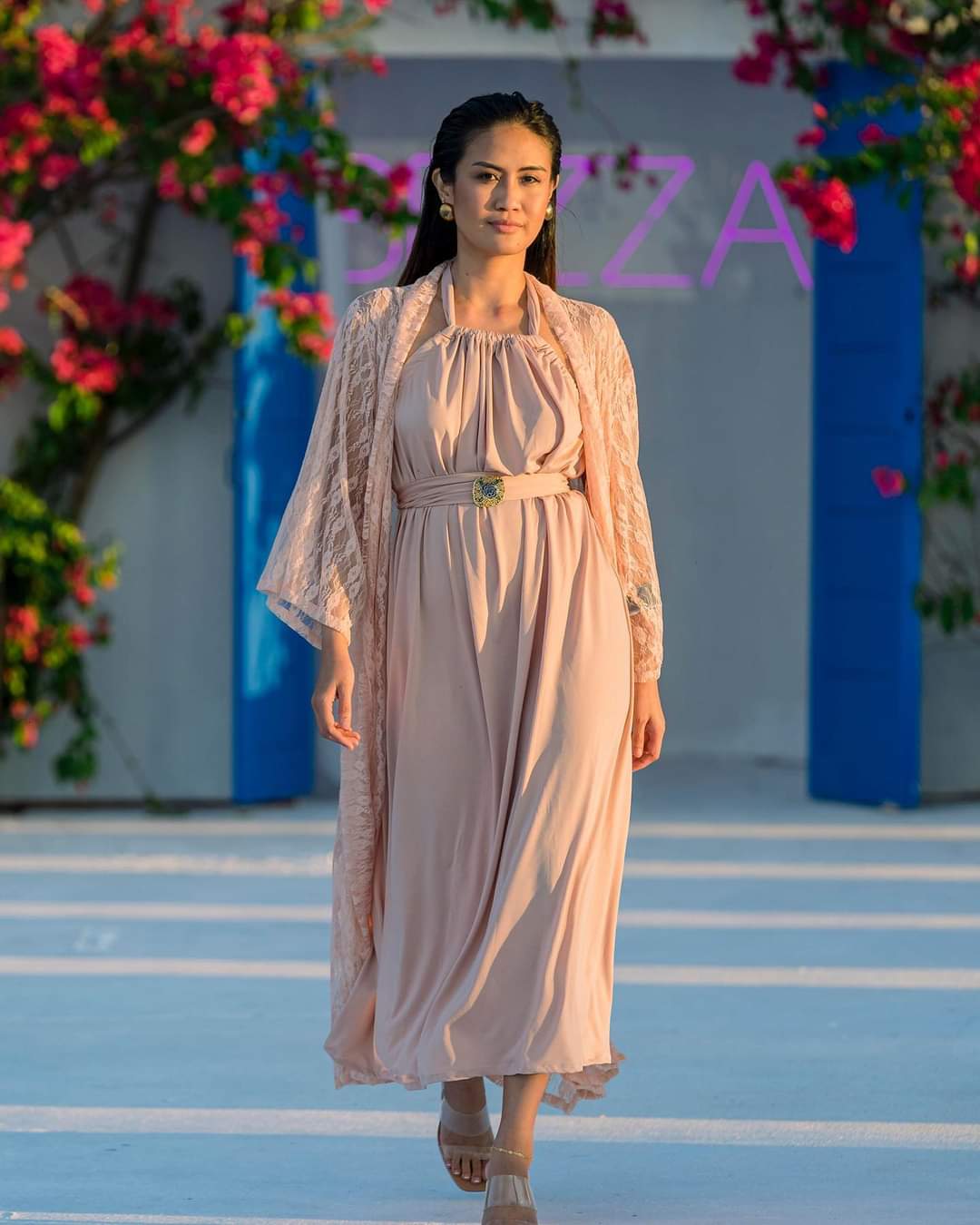 The collection itself is a celebration of summer: mini dresses with headbands and tote bags evoke images of strolls along whitewashed streets. Each piece is carefully crafted to capture the essence of Santorini's charm.
The color palette of soft pastels like pale blues and pinks, are juxtaposed with bold pops of color, like romantic pinks and vibrant yellows. This combination creates a visually striking contrast that adds depth and interest to each look.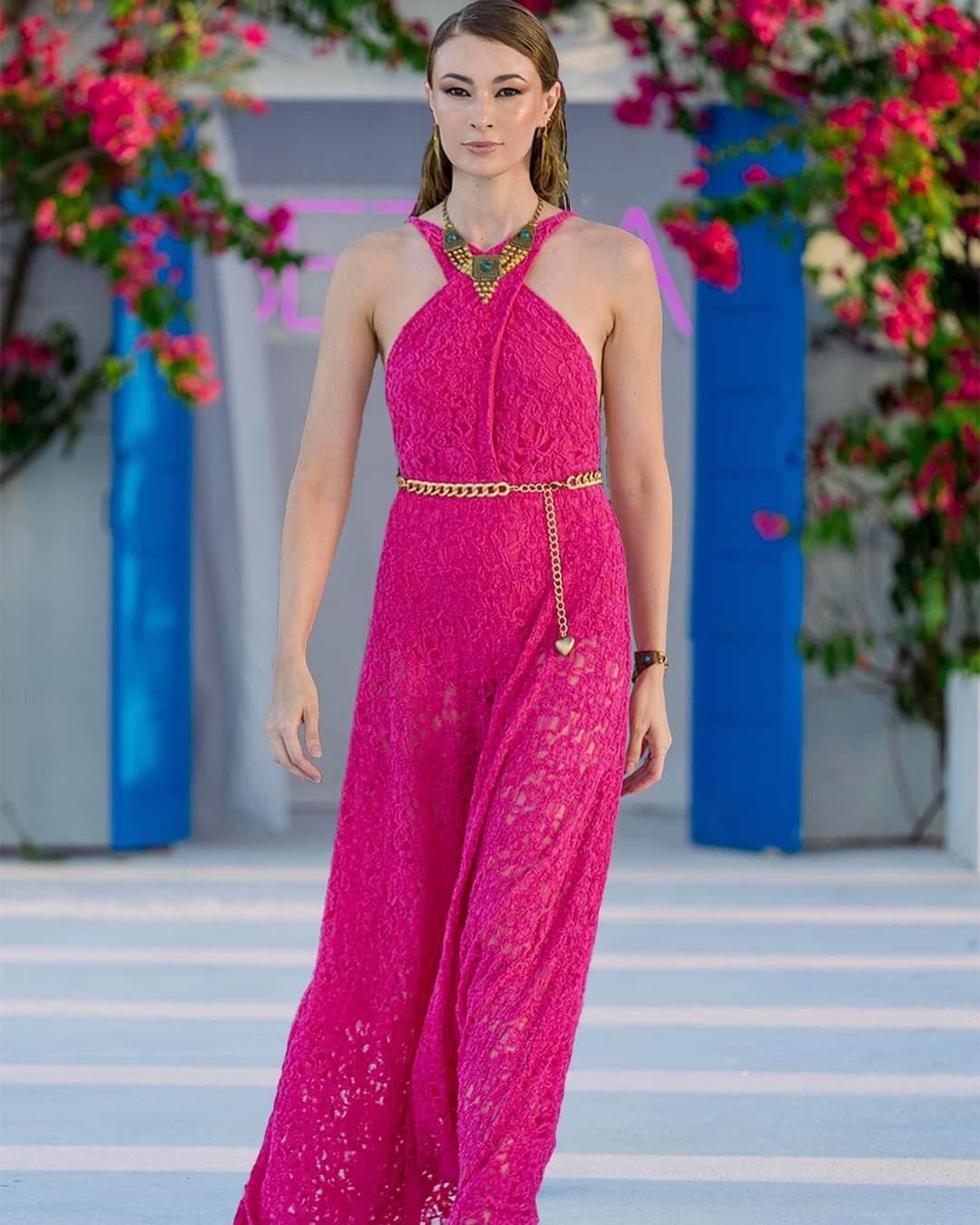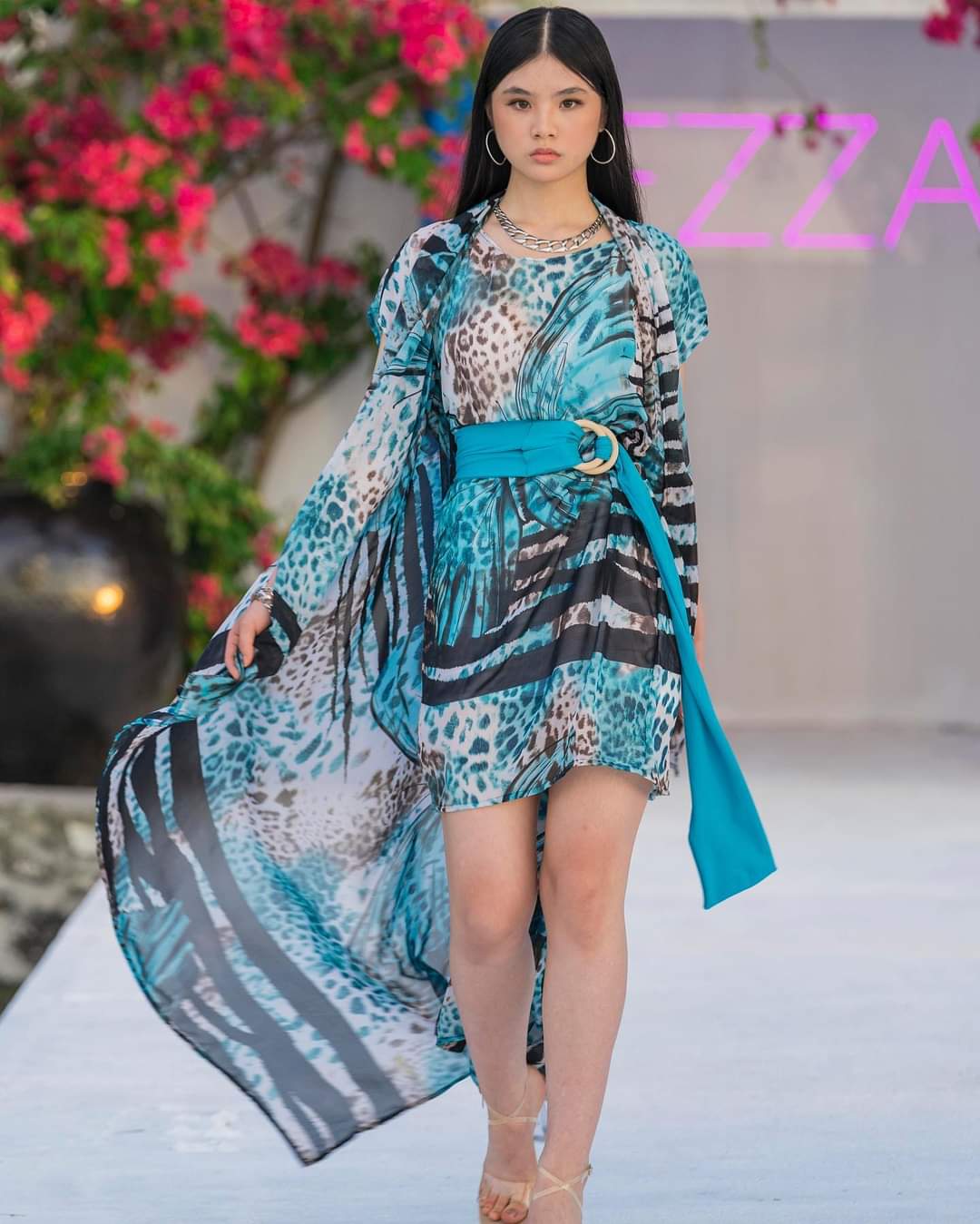 Kandaya Resort, with its breathtaking sunsets and white sand beaches, provides the perfect backdrop for the 55-pieces of beach wear.
"The collection, as with all our pieces, is made from discarded fabric that we source from China and Dubai," shares designer Claudia Bezza Yeung. "The fabrics for this collection were acquired at different times and were kept in storage since the pandemic, and it was only recently that they all came together with this vision: Santorini! "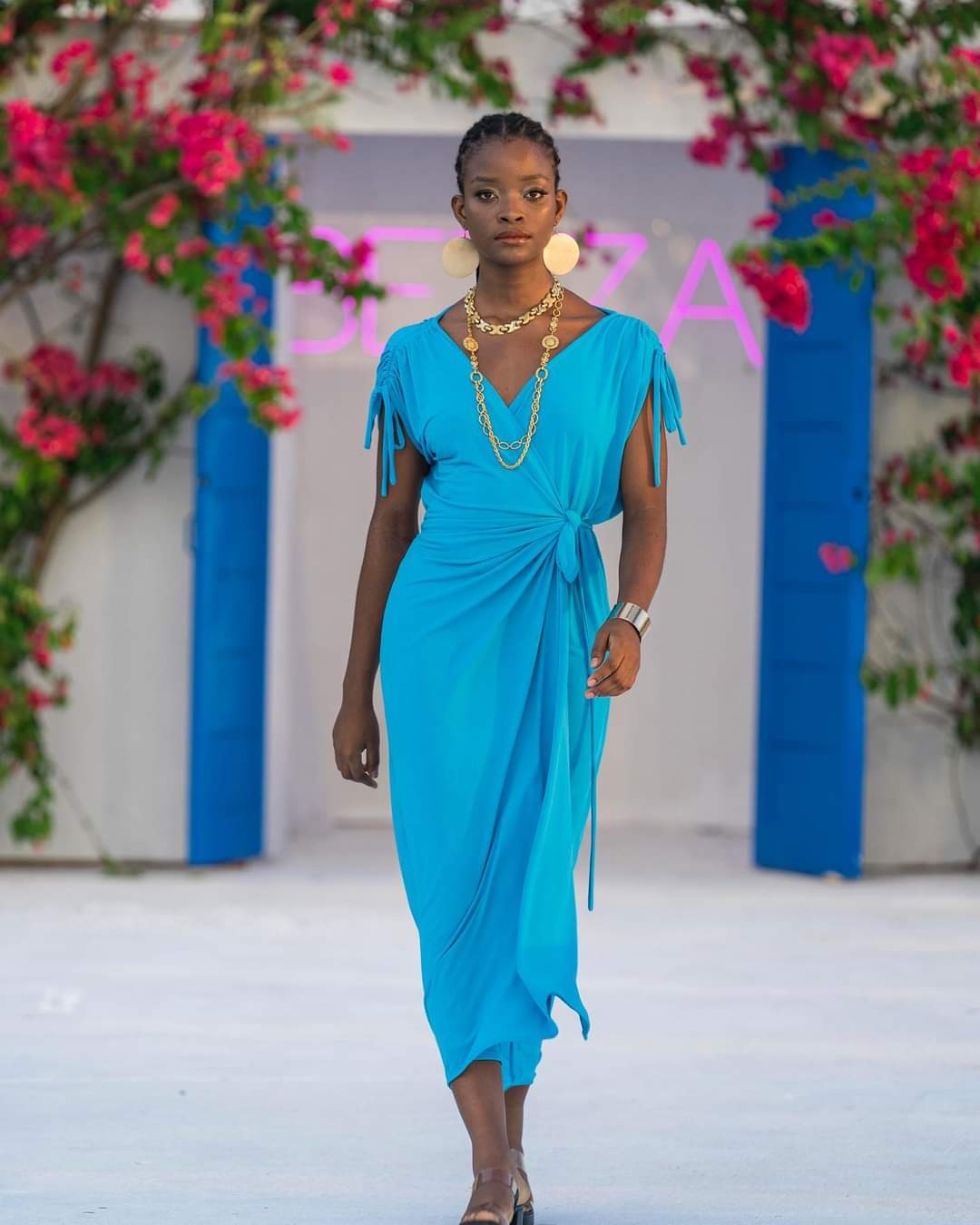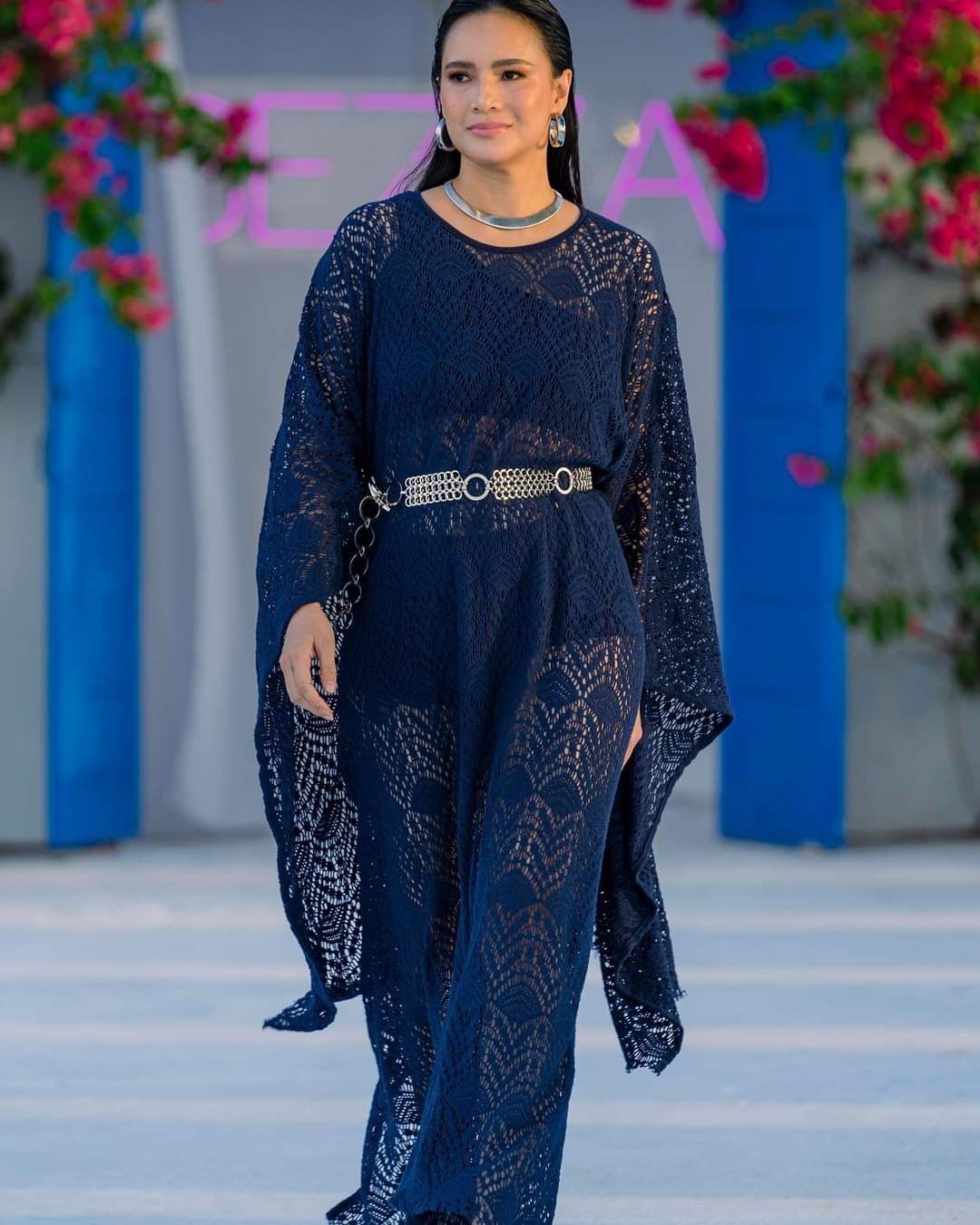 Beyond its aesthetic appeal, this fashion show also serves as an opportunity to showcase Bezza's talent on an international stage. By collaborating with local artisans and incorporating traditional techniques into her designs, this former model-turned-designer pays homage to Santorini's rich cultural heritage.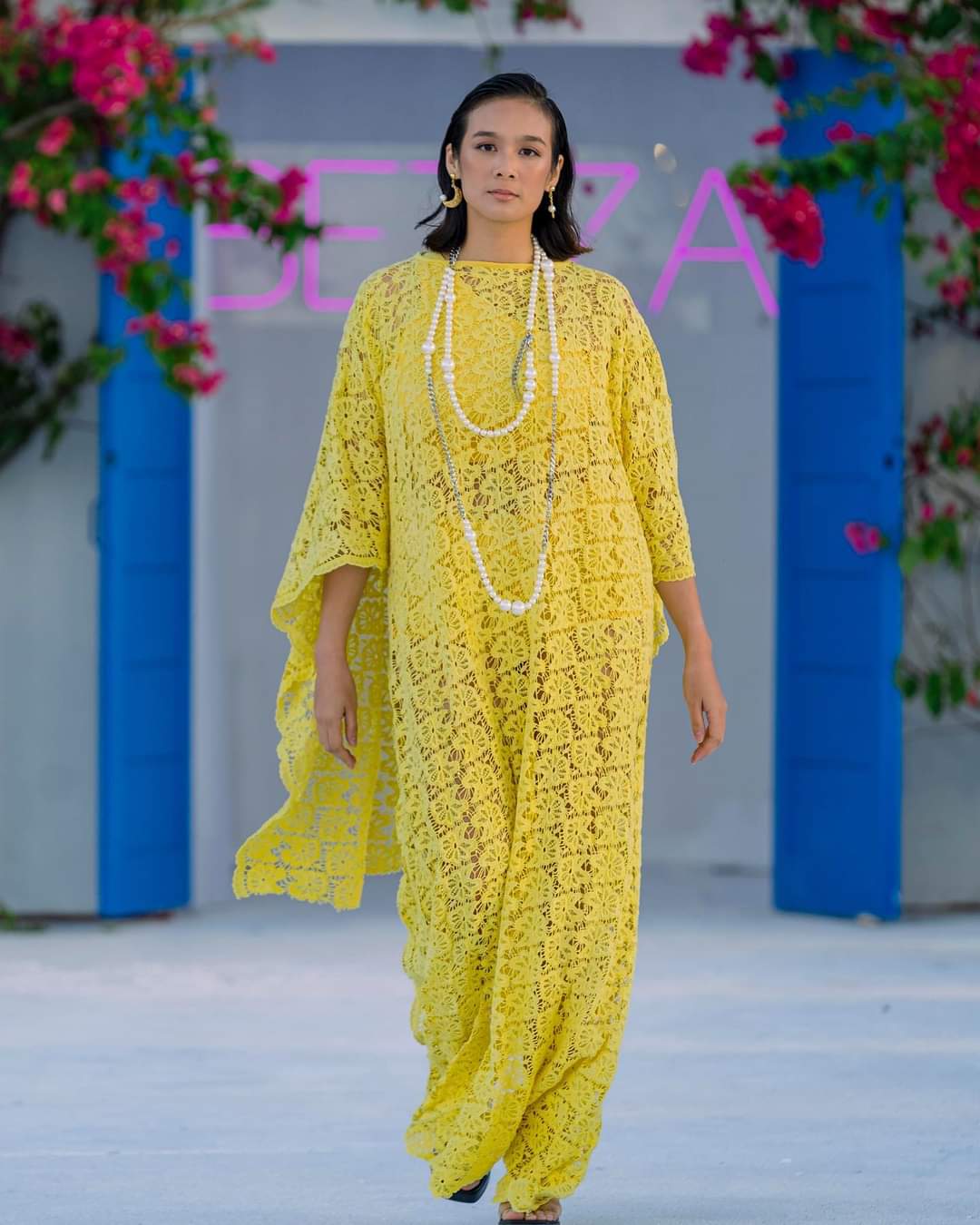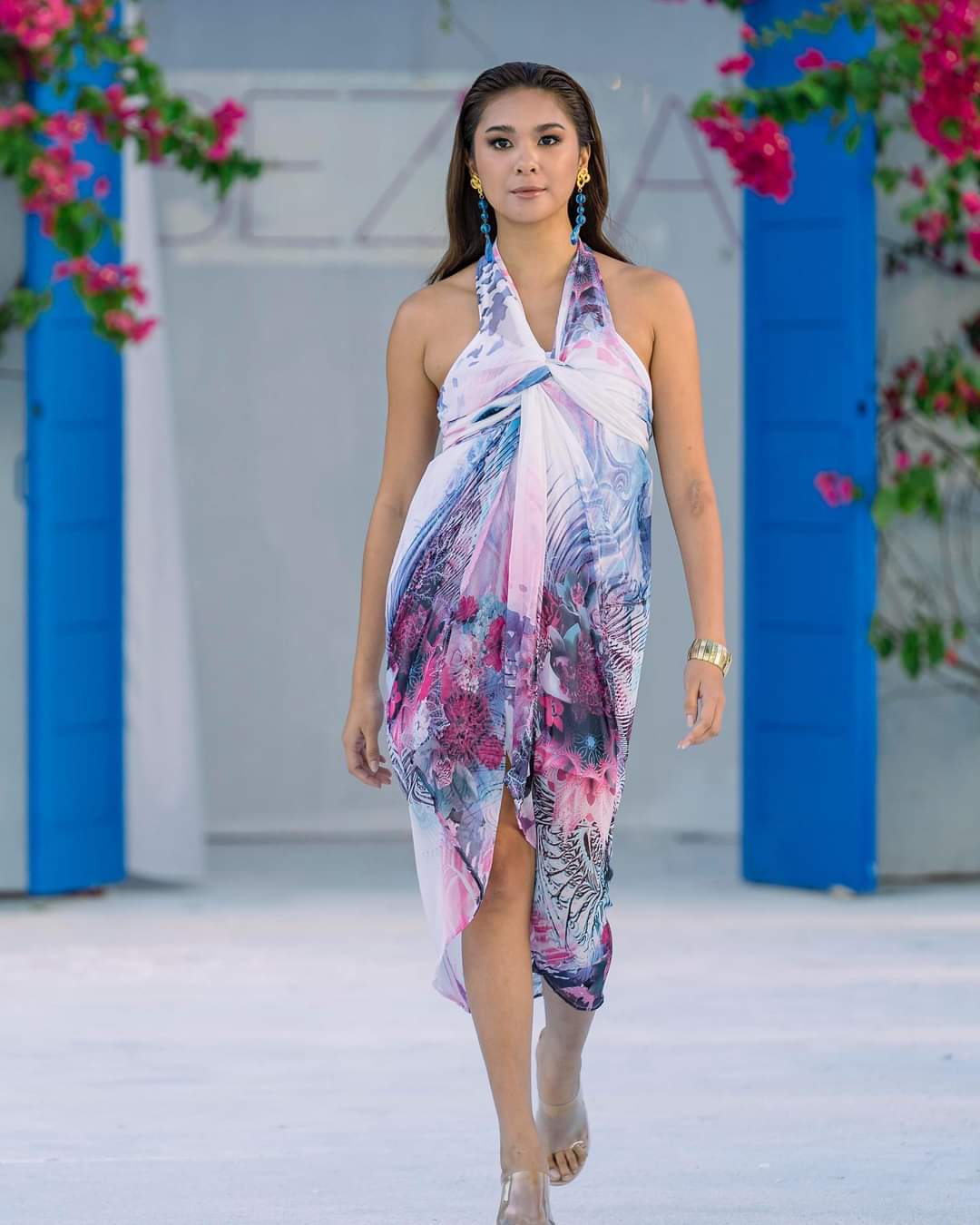 Claudia learned sewing skills from her mother, starting early by dressing up her dolls with fabric scraps. "When I was working and traveling all over the world, I had to decide to carry fewer clothes in my luggage, so I would recycle clothes and customize the ones I already had so they would look different every time." Soon, she began selling her creations to fellow models.
"I do not sketch. I find it better to manipulate fabrics directly on the body," Claudia shares. "I sew and drape directly on my body most of the time, and that's when I get ideas on transforming the dress.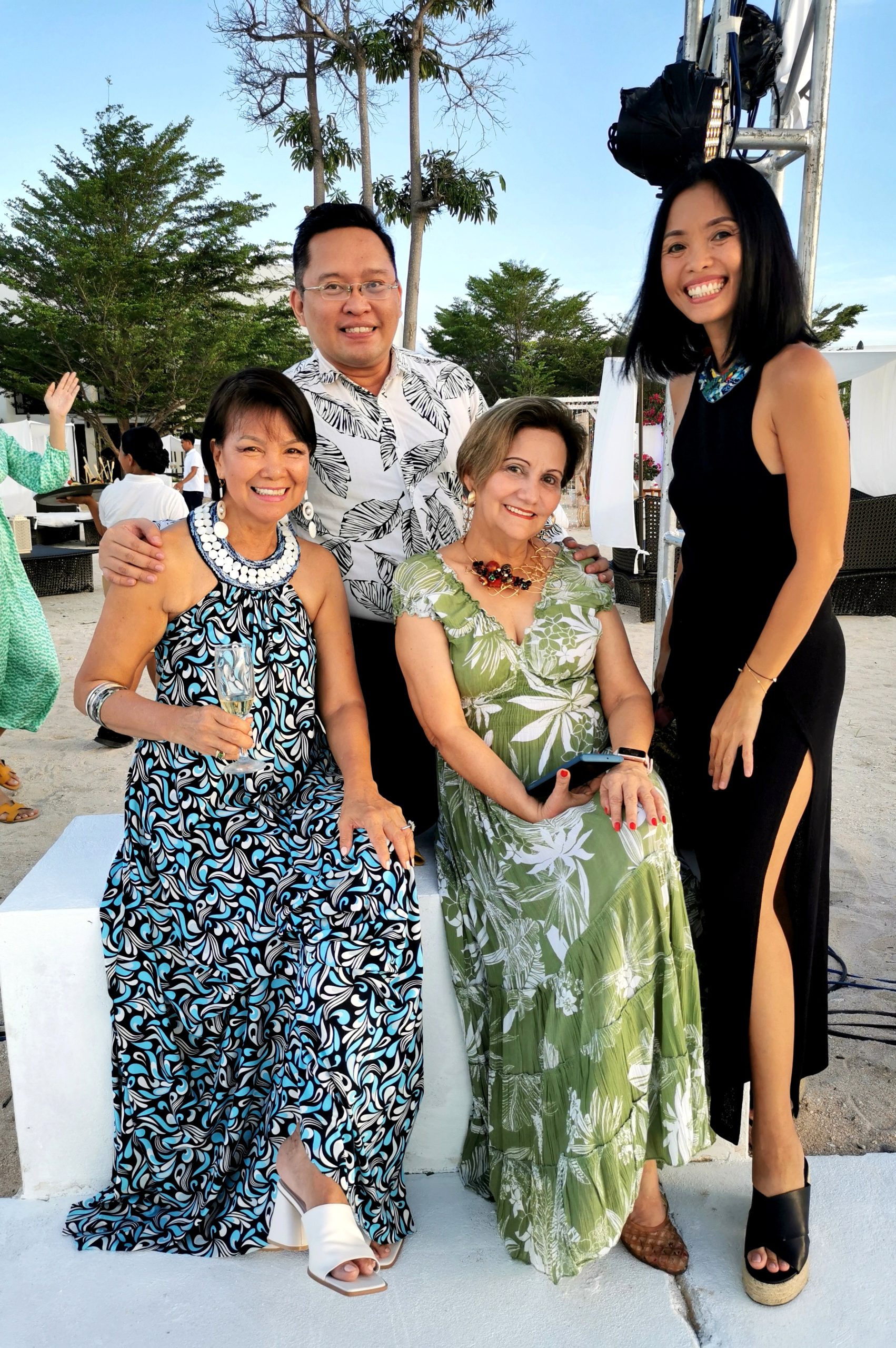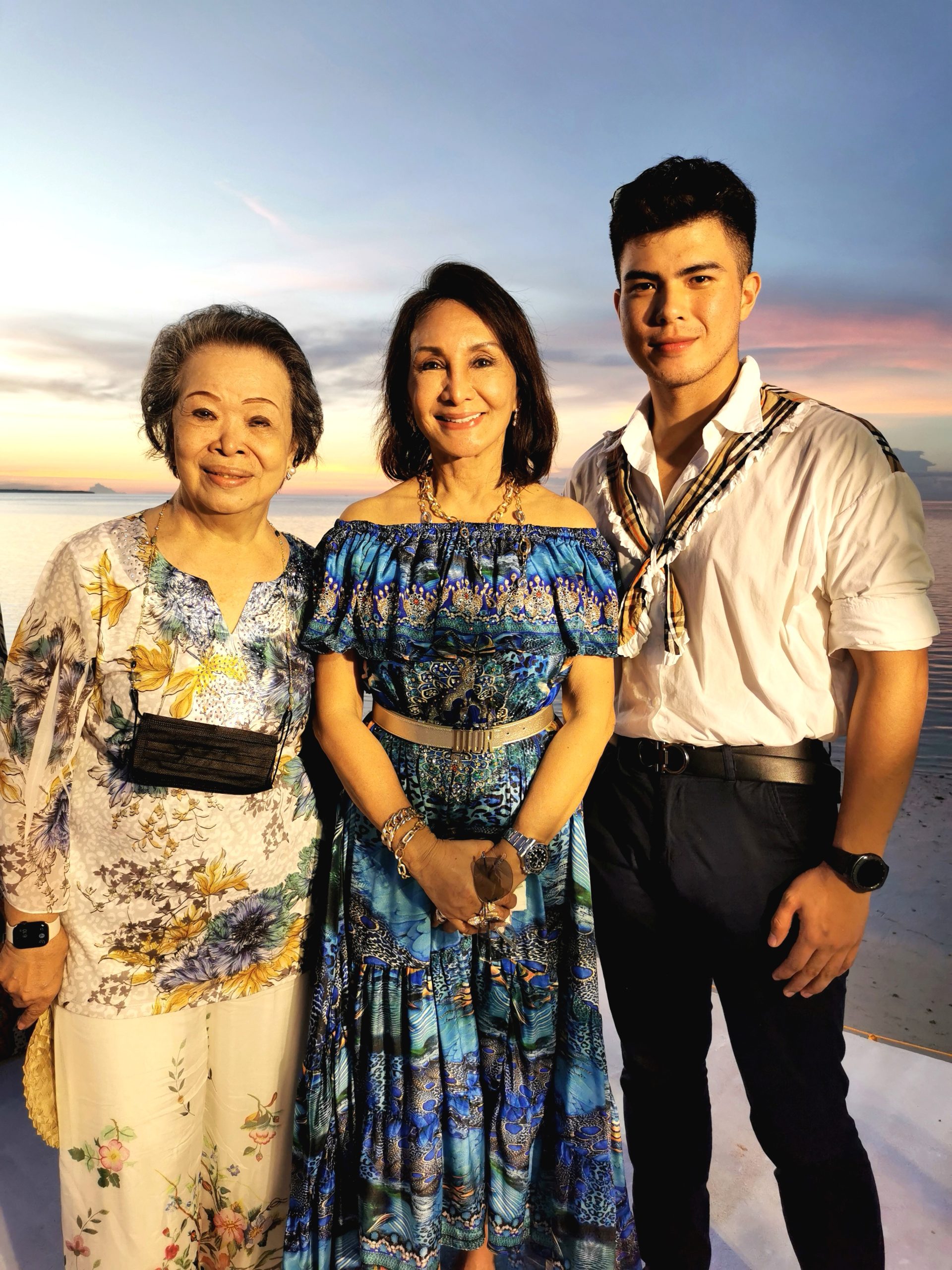 The Santorini Cruise Collection Launch, a Fashion Show on the Beach is not just another runway event but an immersive experience that celebrates both style and culture. Its idyllic setting and stunning designs leave an indelible mark on all fortunate enough to witness it firsthand.
The First Philippine Terno Gala at the Waterfront
On March 10, 2023, important guests and personalities entered the halls of Waterfront Cebu City Hotel & Casino to attend the first Philippine Terno Gala in Cebu brought to you by Cary Santiago.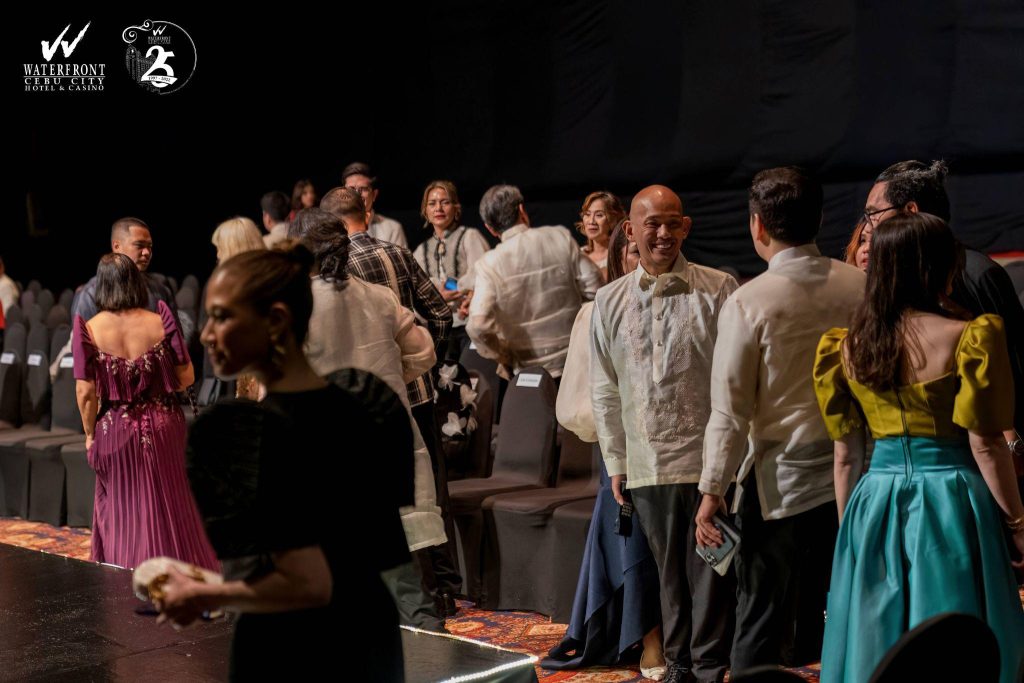 The Philippine Terno Gala's fashion show showcased couture pieces by world class Filipino designers: Rajo Laurel, Mark Bumgarner, Philip Rodriguez, and Cary Santiago.
The event started with Philip Rodriguez' daring designs that left the crowd with the need to see more.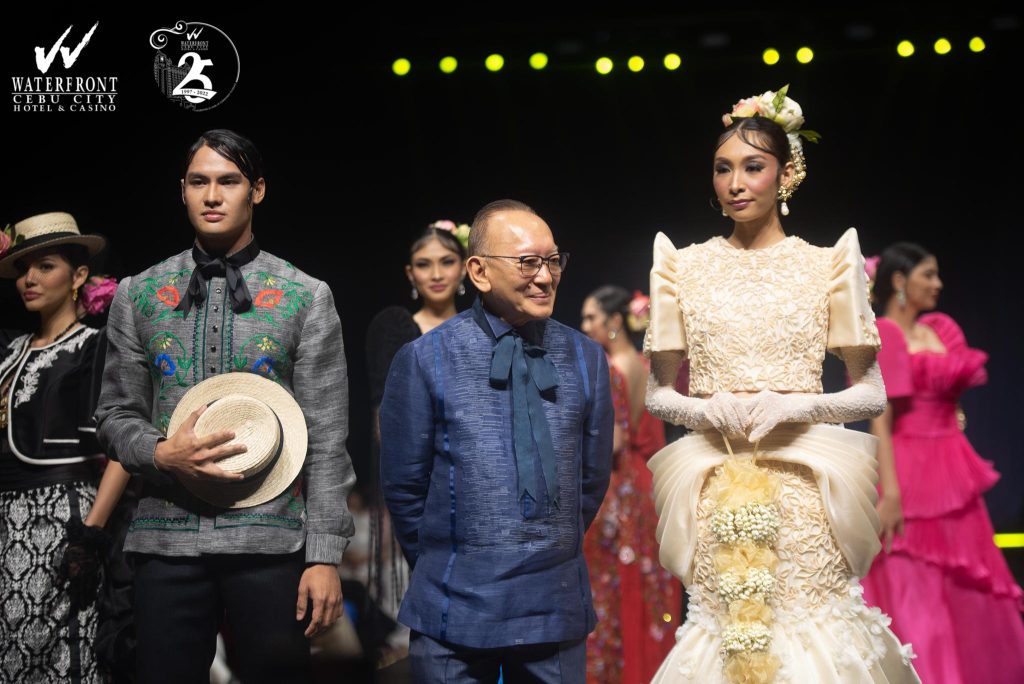 Followed by Rajo Laurel's contemporary pieces, keeping the ongoing gasps and cheers by the crowd alive to fill the ballroom's ambiance.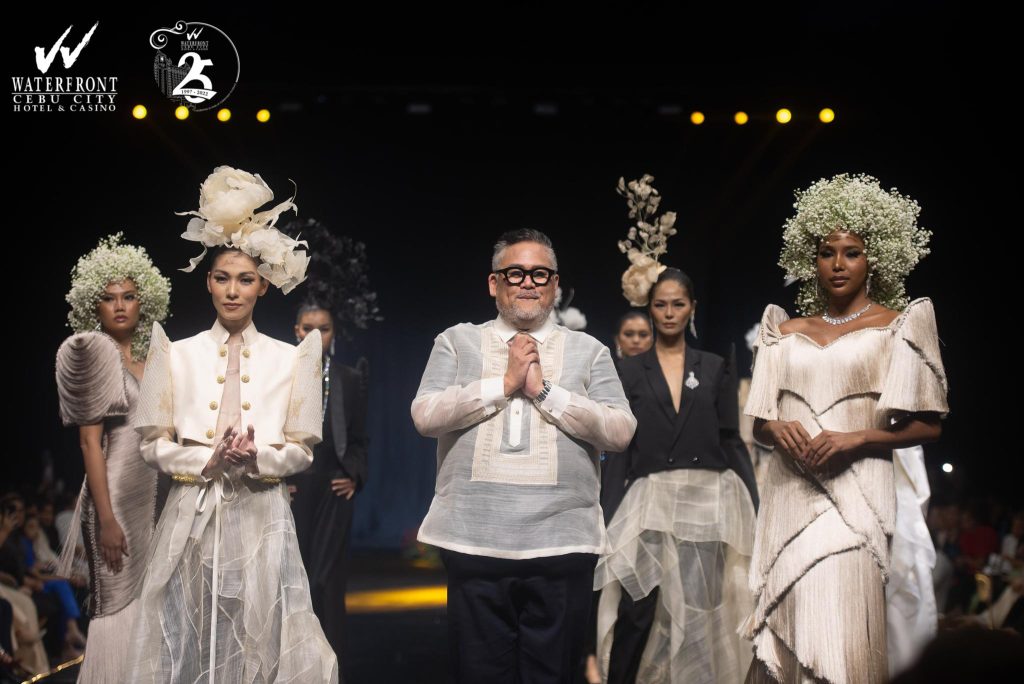 Next to grace the crowd is Mark Bumgarner's elegant designs had everyone raising their cameras to capture the admirable pieces.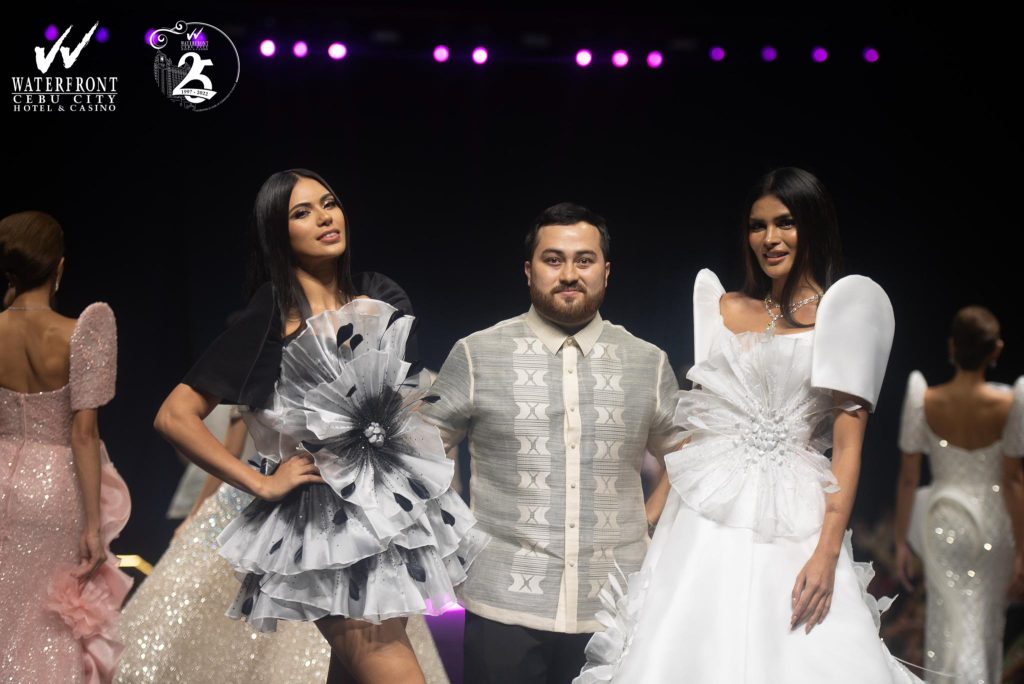 To end the fashion show, Cary Santiago left a statement as the runway welcomed stunning designs leaving the crowd in awe.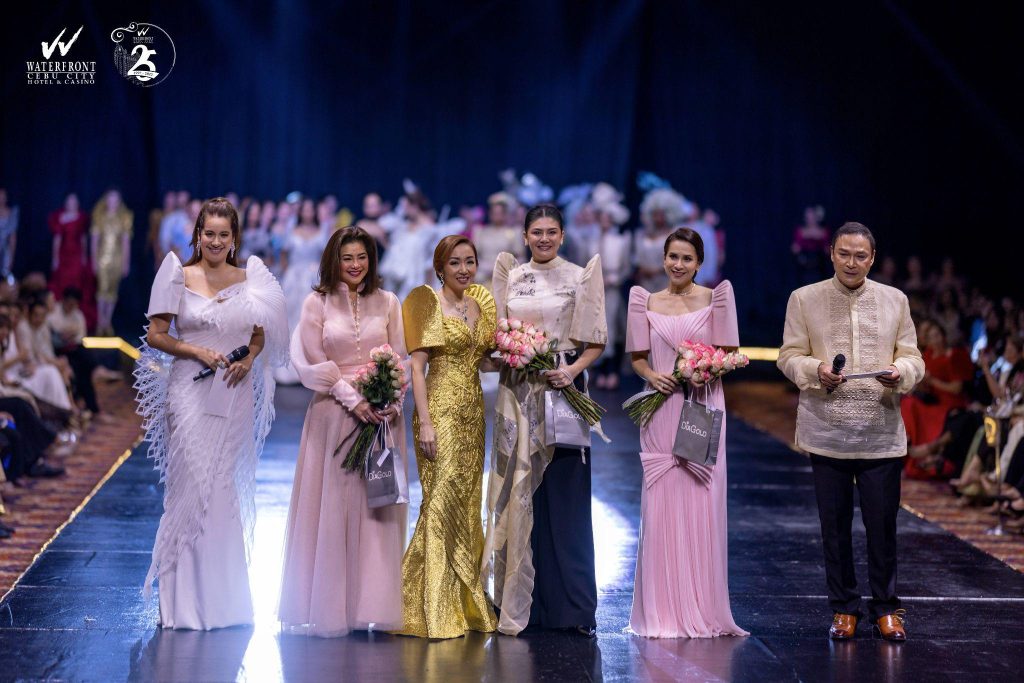 As a surprise to the guests, special rewards were given to the crowd stoppers of the night with special thanks to Dia Gold and Jun Villanel.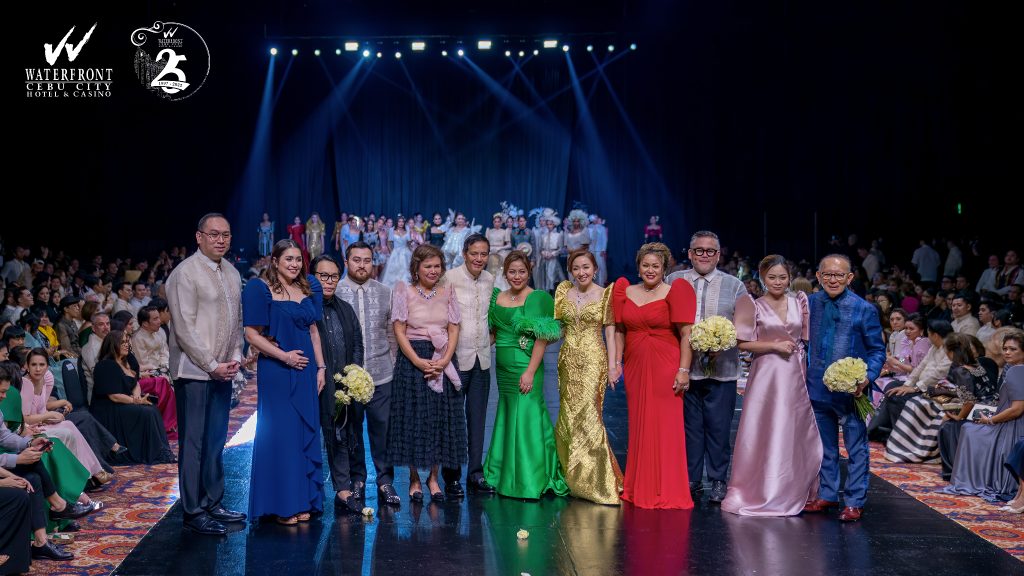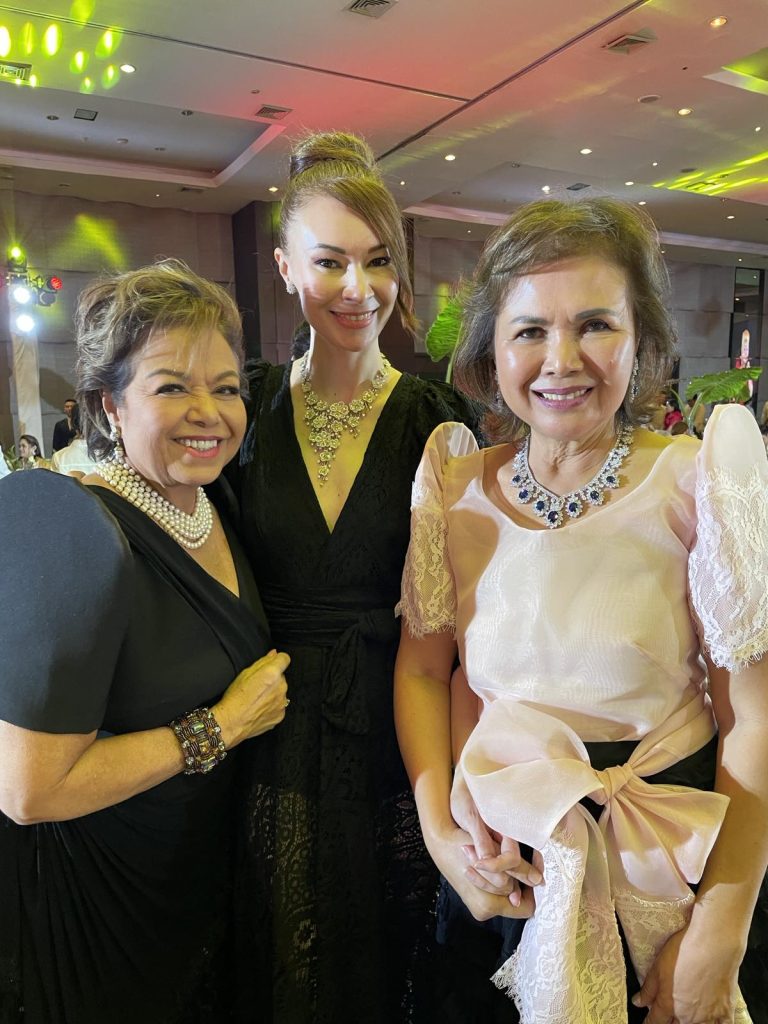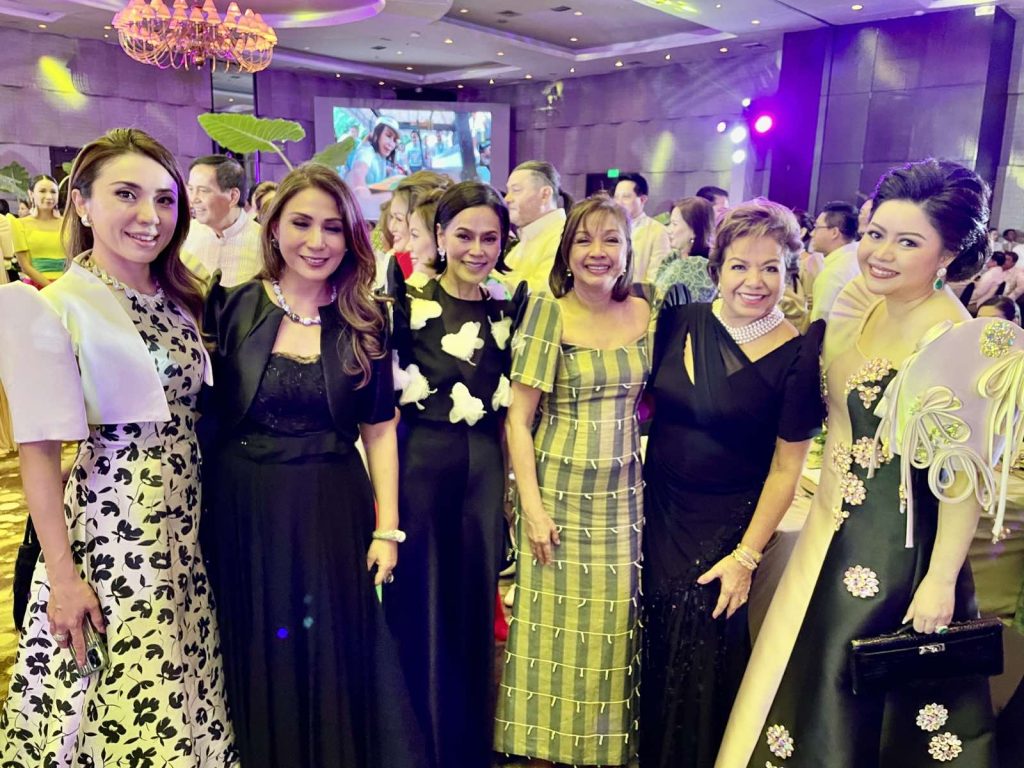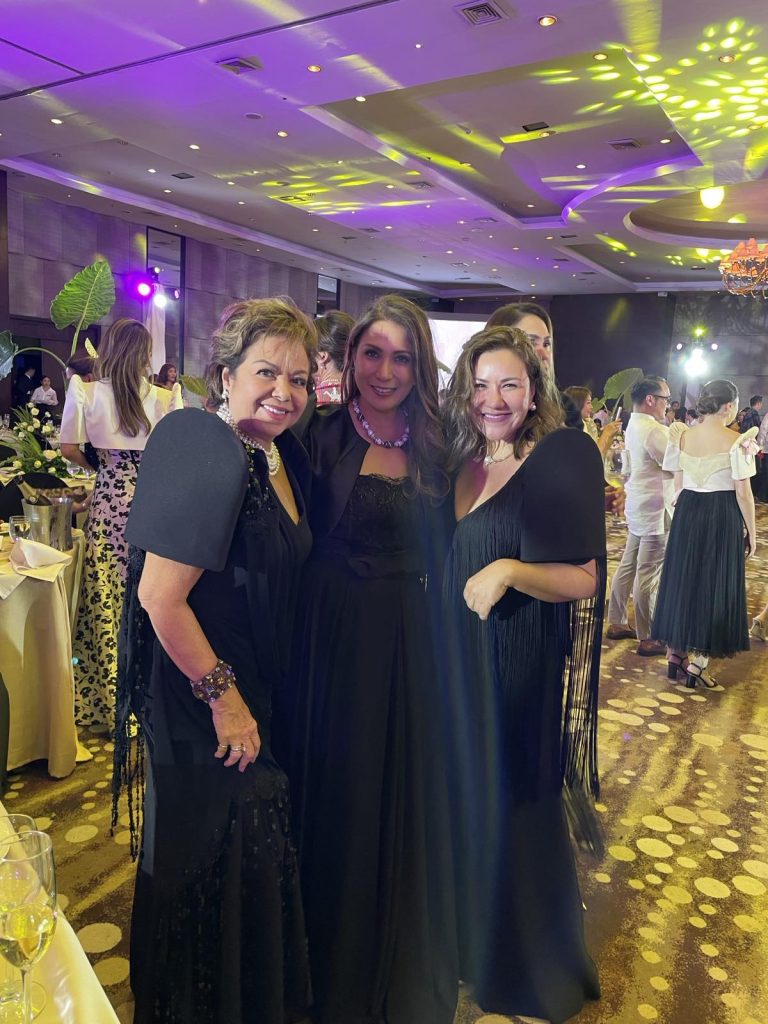 Waterfront Cebu City Hotel & Casino proved once more that they are the premier venue choice for grand events. Waterfront Cebu City Hotel & Casino will see you all in their upcoming events as a part of their year-long celebration of its 25th anniversary.
CEBU KALEIDO: A Night of Fashion and Celebration at Crimson Mactan Resort and Spa
Miranda Konstatinidou's beautiful beach wear and jewellery worn by her guests at an intimate beach party at Crimson Resort in Mactan. Konplott is Miranda's luxury fashion accessory brand sold in Europe, worn by fashion icons and celebrities (no, it's not sold locally) while her exclusive beach wear in silk are fabric designed by her, are also sold in high end resorts around the world. Meanwhile, Crimson Resort in Mactan will officially close temporarily for a makeover as most of their beachfront villas were damaged heavily by last December.s super typhoon Odette. Here's to a great reopening of Crimson in a few months. (photography by Steffen Billhardt)