This is the potluck to end all potlucks
For every holiday party season, there's bound to be an invite to a potluck. Zee Lifestyle invites some foodies together to see what dishes they whip up, all for your inspiration.
Munchkins are a vivid part of my recollection of potluck parties from kindergarten through college. There's always that someone who mars the tablescape with these afterthoughts. Thoughtlessness, rather, I've always understood that to be. While most everyone brings their best, this person brings his own convenience. I brought these so we'd really be in the theme of the Pinoy potluck.
On one of their regular Monday dinners, food writer Michael Karlo Lim and his better half Vanessa East, foodtrepreneurs Cheanie and Kim Salacop, Ilaputi's Jan and Karen Rodriguez, and BOCAS Modern Patisserie's Jean Louis Leon join forces with Zee Lifestyle's managing editor Shari Quimbo and partner-in-crime Nath Ybanez for a potluck dinner to end all potluck dinners. Take inspiration from what these food creatives whipped up for your own gatherings this season.
We were graciously hosted by the Anzani's, who regrettably were unable to join the affair, at the loft of their food hall concept, District on 53rd. As with regular dining guests, we were treated to the house appetizer trays, the Food Sungka. Banana Chips done more like nachos and fragrant Turmeric Bread came with an assortment of dips: Hummus, Tahini Mango, Harissa and Tomato Salsa.
Mine and Vanessa's actual pledge paid homage to last year's adobo cook off. I'd daresay I can cook but, really, I'd rather just eat. My princess stepped up to the plate and offered to prepare Pork Adobo of her mom's recipe. The resulting dish had me offering her marriage. Pieces of pork rubbed with crushed garlic, then seasoned with salt and ground black pepper were slowly boiled in vinegar and water on low to a total reduction. A stir-fry in the rendered fat with soy sauce and bay leaves finished it. Simple and simply delicious.
Shari and Nath brought in the main starch to start with her Saffron Orzo. Garlic was sautéed in butter and chicken broth was poured in with the saffron steeped on low heat. Uncooked orzo was brought to a boil in the mix and simmered to al dente until the stock has been absorbed. Oil, seasonings and fresh parsley were stirred in, making a dish reminiscent of risotto.
Restaurant supply-allers Cheanie and Kim brought a Tininolahang Pinaupong Manok for our turkey. A whole dressed chicken was stuffed with herbs and spices, deep-fried and rested to drain oil before a slow simmering with lemongrass, ginger and sautéed onions. The final render gave the soup body and flavor intensity. The meat's flavors were sealed in the fry while the bath gave it back moisture.
There's my favorite overachiever, another one of my kindred spirits in appetite and palate, Jan, with his wife Karen, bringing in two dishes plus a surprise number. Stems peeking out of what looked like deep-fried breaded chicken pieces betrayed the vegetal actuality of his Roasted Buffalo Cauliflower. Florets were dipped in a light herb and spice batter, oven-roasted for thirty minutes, rested ten and brushed with Louisiana-style hot sauce before another thirty-minute toast. A flash deep-fry finish freshened it up for service with fresh carrot and jicama sticks, and a blue cheese dip.
Bacon fat and pureed bacon were emulsified into a chicken liver pate topped with Applewood and Hickory smoked bacon marmalade in his "Faux Gras." Here the regular chicken liver burst with the richness of bacon fat, making it quite like the real LeCoy. The savory-sweetness in the marmalade helped cut through the fatty goodness albeit its bacon base.
Jean-Louis, my favorite and inarguably the best pâtissier on the island to date, brought in "Pumpkin"-Spice Eclairs for a seasonal twist. Local squash figured into custard with cinnamon and piped generously on split choux pieces with Chantilly cream. Some croquantine gave a chocolate-hazelnut crunch to the spongy textures with boudoir biscuits and chocolates for garnish.
Jan's surprise was his take on the Salted Egg Potato Chips trend. Hand-cut fried potato chips painstakingly brushed with salted egg butter and sprinkled with roasted pepper flakes for a rich and flavorful profile more "salted egg" than most commercial availabilities.
Order of progression has never been established in informal gatherings around these parts. Everyone dipped into the box of Munchkins randomly throughout dinner, each one making some declaration or a Munchkin anecdote with some bravado as if to ease some or share guilt. I gathered that my attempt at bringing humor to the table worked. I also hoped the juxtaposition allowed us to really appreciate all our food experiences. After all, this is thanksgiving.
photography Oliver Echevarria
Trendy Renovation Ideas for your Home or Condo.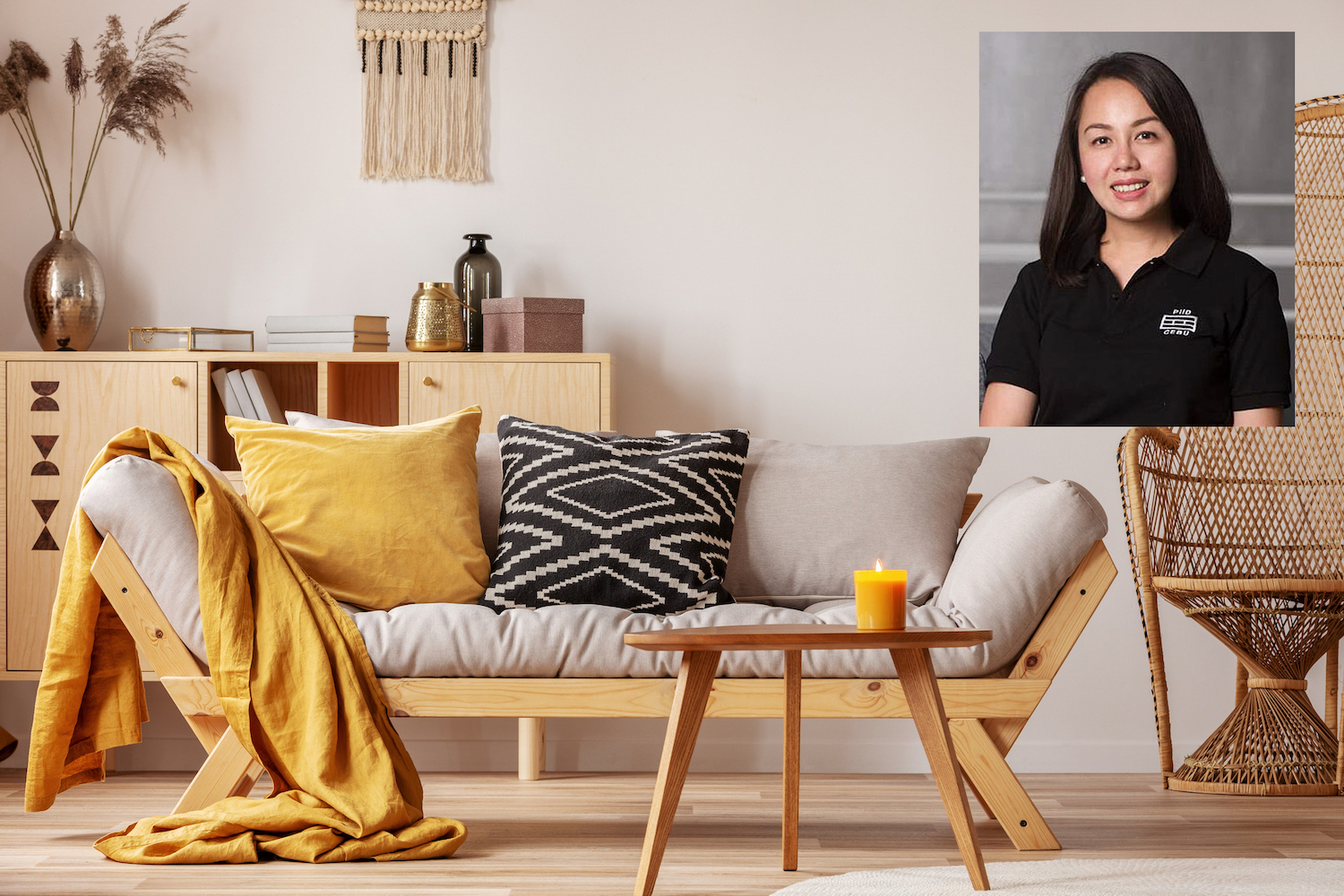 by Christa M. Cañizares IDr.
Part 1: Plan the Space to Suit your Needs.
A.)  Decide on a theme that reflects your personality. You can start by browsing through the internet and make a mood board on the colors, patterns, furniture and accessories that you love.
B.)  Work on your budget. This is essential to any renovation project. You can start with window shopping and scout for the key pieces and compare prices. You can also browse home products and purchase them online.
C.)  Invest in good and durable pieces.  Start with the big items that you often use. Your mattress tops the list as this is where you rest and recharge. Big items such as sofas and dining sets should be durable enough to withstand the everyday wear and tear. Choose a design that can easily go well with your space when you redecorate.
THROWBACK THURSDAY. Discover Why This Airy, Modern Structure in Busay is Called the Sky House
Defying Gravity
YKC Premier's first venture in Busay floats over a cliff and introduces a new brand of living in Cebu.
by Shari Quimbo photography Ezekiel Sullano
YKC Premier's first venture couldn't be more aptly named—Sky House was spot on—the airy, modern structure that juts out of a ridge in the Busay Highlands couldn't be called anything else. The drive up the hill levels to a short plateau right before the entrance of the village, allowing ample time for everyone to look up and admire a house that seems to be in defiance of gravity.
"When I saw the property, it was everything you could ask for, and it's in limited quantities so we wanted to maximize all its assets," says Victor Consunji, one-third of the group behind the project. "The problem was the land is narrow. Since we have the experience and capability, we thought, why waste all the good things about this property by just building on the ridge? Why not build over the ridge?"
Slater Young and Stephen Ku complete YKC Premier, a group of men who have come together to redefine the art of living with a view in Cebu. "Slater and I have been friends for a while, and I bumped into him at a wedding here in Cebu," Stephen recalls. "And then we were talking about businesses that we could do together, and he mentioned that he had a nice piece of land that he wanted to fix up. He showed me the place, and I thought it was beautiful. On the way back to Manila, I thought about Vic because I'm also working with him on his project in Manila called Mahogany Tree."
Once the three sat down to discuss the venture, Victor was immediately interested and, in fact, already had a vision for the house's design in his mind. The partnership played up each one's individual strengths and backgrounds—Victor comes from the family behind DMCI Holdings Incorporated, which have constructed Philippine landmarks such as the Manila Hotel and Shangri-La's Mactan Island Resort; Slater has a background in engineering and his family is also in construction; while Stephen is at the helm of Eventscape Manila and is behind some of the hottest restaurants and nightspots in the Philippines. "Victor would be the CEO, the visionary. His expertise is what we brought in here," explains Slater. "And since I'm also in construction, I was sort of his eyes here in Cebu. I'd be the CTO, Chief Technical Officer, and Stephen would be the CMO, marketing."
Although YKC Premier already has three strong personalities behind it, the guys decided to bring in another design visionary to help them complete the look of the Sky House. "The Sky House is unlike any other home in Cebu, and it was a designer's dream to be part of it," says Vito Selma, who brought in his iconic pieces, along with some custom-made furniture to complete the look of the Sky House. "Given its location and the abundance of windows, I wanted the home to feel just as light and airy—to simulate the feeling of flight. And to stay true to my brand, we just wanted to bring nature into the home, which can be seen in the materials, textures and colors in the space."
The look is relaxed but sophisticated, with many art pieces that Vito had commissioned especially for this project. "The installation in the entry is by me," he says of the large textured slab with pieces of wood in different finishes scattered on it. "I made it in a way that when someone walks in the house, they see a reflection of that piece and its materials in other areas of the home." Other notable pieces are in the living room: a large rattan sculpture of interlocking loops by Vito's sister Selina Romualdez, and a long painting with strokes in various shades of gray by Tzaddi Esguerra. "I love working with her for all our projects," Vito admits. "We tell her what colours to work with, and she makes the magic happen."
With the house finished in just over a year, the guys are looking forward to constructing seven more houses to complete the project, offering a lifestyle that is incredibly appealing. "Young, hip urbanites. Young families. If they're young, they at least feel young," says Stephen of who they see living in the space. "People who want to balance work and play, because this place is like a residence and a resort at the same time."
"Nowadays, with the way things are going in the Philippines, there is a focus on taking vacations, but not everybody has that chance. Not everybody can just take off whenever they want," Victor adds. "I really don't believe that a home is just your home, your vacation spot is just your vacation spot and your work place is just for work. I think you can have the best of all three, and this design incorporates that."
"It'll feel like you're going home to a vacation every day," Slater adds.
Although these gents are focused on the Sky Houses for now, they look forward to bringing more of this brand of living to other locations. "We're just looking for the right project, but I think the boys are in agreement that we really want to explore Cebu, particularly because this is the emerging market we want to be in. We just need to look for the right spot, and the right design," Stephen says.
More than just creating modern and luxurious properties, YKC Premier hopes to change the perception of what living in Cebu can be. "That's what we want to bring to Cebu," Stephen shares. "I haven't seen a development like this in Cebu, and a lot of the times I'd ask Slater, and he goes, oh no, the Cebuanos wouldn't want to spend for something like this. I kept telling him that if we build it, they will come. Cebuanos are ready for something edgy and daring, and I think this project will be a testament to that." With the first house already sold, that's certainly been proven true. After all, with just one visit to the Sky House, it's hard to imagine a better place to live.
(This article has already been published in Zee Lifestyle's February 2016 Real Estate Issue, "Defying Gravity" on pages 68-73.)
LOCKDOWN FUN: Whose Crib is This?
Here's one way residents of Cebu's exclusive villages created their own fun during zoom parties — guessing each other's home! Of course, you need a smart mastermind to curate the photos to make sure the homes of each of the amigas are not easy to guess.
So, here's a short tour of homes that was paraded during this very fun game. Homes are located in Maria Luisa, Northtown Homes, Beverly Hills and a beach house too.  Oh, and one came all the way from Scotland.
We hope your zoom parties are just as fun!