You're invited to Maris Holopainen's house
When you're the visionary behind one of Cebu's top art galleries, what would your home be like? Qube's Maris Holopainen shows us the answer.
Maris Holopainen is cheerful and chatty as she welcomes us into her home, offering the choice of beer and wine. "There's no such thing," she laughs amid playful protestations that it was too early. The large marble island dominates the home's open kitchen, punctuated with a piece from Michael Cacnio depicting a fisherman reeling in a net's catch. "It's my fake kitchen," she adds. "I don't cook."
There's something very light and affable about Maris, the force behind Qube Gallery and former chairperson of Southwestern University—and it's reflected in her home. Tucked away in one of the more elevated residential areas (and we mean tucked away—we had to go through two guardhouses and an "I'm lost" phone call to get there), the house's open floor plan, large windows and unassuming furnishings create an atmosphere of spaciousness.
"I'm a relaxed host," she says, and it's apparent in the way she easily carries conversations with the crew. Although she'd earlier confessed that she does not cook, she does occasionally have people over. "I love entertaining around the holidays, when I have more time to plan."
Of course, relaxed does not mean unprepared. Maris already has the makings of a great party on hand: a stocked bar cart positioned in one corner of the dining area, and an assortment of craft beers in the fridge that could rival that of a small pub's. Table settings, too, have quite a bit of character—the particular holiday set-up may feature minimal décor and a subdued color palette, but there are stories behind certain pieces. "The plates are from Thailand in the 70s," she says, gesturing to the mint green set with delicate curved patterns.
Considering Maris runs an art gallery, it's no surprise that she has a penchant for collecting items that have more value than décor. Far from creating a stuffy space, though, she puts them all together in airy quarters that somehow complement the mishmash of artwork.
Walking into the foyer already introduces guests to several paintings hanging from both walls of the short corridor, and there are pieces in nooks you wouldn't expect—a sculpture by Michelle Lua under the stairs, a pair of Indonesian wooden busts under the kitchen counter, a parade of wax sculptures on the stairs. "I hang the paintings I love at the moment, the paintings that speak to me at the time," Maris explains. "Having said that, it is therapeutic for me to move paintings around and repaint walls. I love color on my walls."
At the moment, one wall in the living room is painted bright red, mirroring the Mario de Rivera piece that hangs on it. But, based on how Maris describes it, it most likely won't stay that way for long. "I rotate things whenever I feel like it. Or more accurately, when I have a new purchase that I just need to make space for, everything changes."
It's not surprising then that Maris considers her house a work in constant progress. "My house evolves! It started off with just a few key items, and I wanted my place to have a minimalistic aesthetic," she shares. "But I ended up consolidating my belongings from Manila to Cebu, so now I look around and feel my house is so cluttered! So many things I love that remind me of different phases of my life and countries I have lived in. Chapters, really."
For all the things she's accumulated over the years, she's found editing down is not a strong suit. "My space is nothing like I originally imagined it to be," she admits. "I realized I couldn't find the strength to de-clutter. I've tried to be brutal with all my belongings but my furniture pieces all tell their own story. I have old pieces from when my family lived in Africa, pieces I picked up in Indonesia, and pieces picked up because of another major compulsion of mine—carpets from Kazakhstan and Uzbek fabrics."
Art, however, remains the primary compulsion, and Maris knows each piece in her house by heart. She walks us through many of the pieces that speak to her, including a textured piece by Eric Guazon of toy soldier shapes that come together to form a child's face, and yet another by Mario De Rivera with bright colored elements and graphic illustrations. "It's suggestive, no?" she says, pointing out to a small tile that showed off a Kama Sutra-esque drawing.
"I have too many favorite pieces—everything on my walls!" she says when I ask her which of the artwork on display is the most special. She enumerates the different reasons why a piece often makes its appearance in her home: "The paintings my mother gave me, although they do not necessarily reflect my aesthetics as of the moment, all remind me of her and the Cebu she knew. Those that I bought myself—I love too many genres to be consistent."
The home has also become a venue to showcase the work from local artists, an advocacy that she also pursues at Qube. "In the beginning, when I started collecting, I bought artwork in Manila, but now I am making a conscious effort to buy Cebuano," she says. "For a collection perspective, I prefer being able to 'follow' the careers of the artists I invest in. Also, I think in general, Filipino artists just speak to my cultural identity more." Of course, she also has pieces that reflect on her time spent abroad: "I have my Indonesian, Russian and Kazakh collections—they remind me of my story."
It may be that Maris doesn't play favorites with her art pieces, but a special spot is dedicated for those given as gifts. "I have a wall which is delegated to hanging the works that I have been given by friends and family. I have this in my bedroom to remind me of those people."
The amount of art pieces that Maris has in her home becomes surprising when you realize that she has dogs—a Great Dane, included. "I spend a lot of time apologizing that my home is clearly that of a dog lover," she laughs, pointing out to a pair of worn cans-turned-chew-toys on the coffee table. "But believe it or not, I don't need to make any design allowance for my dogs—they seem to respect the artwork, except for my carpets. I love central Asian carpets and wish I could cover every inch of flooring with them. But keeping them clean with dogs? Impossible!"
It might be this lived-in quality that keeps the home from feeling like a gallery, as is its resident's friendly openness. Maris brings together all these elements in a seemingly effortless way, to create a home that really reflects her personality—with comfortably diverse inclinations, cultured but in a casual, unpretentious way. There might be several art-related reasons to love the hilltop residence, but Maris' opinion is a little more basic. "My favorite part of living in my home is the quiet! I close the door, birds are chirping, dogs are playing and—when I'm really lucky—my kids are visiting. I wish I could spend more time at home."
photography Steffen Billhardt makeup Romero Vergara hair Jessie Egos
THE HOMES OF ZEE: A Cosmopolitan Life
A home for a young couple that mixes tradition and modernity.
By Eva Gullas  photography Pablo Quiza
If Colin and Araminta had a penthouse in Cebu, this would be it. This 15-storey buiding in the heart of Cebu's financial district is easy to spot but not many people know that its top floor is actually home to a young couple and their toddler son. And a huge King Shepherd dog, Vesian.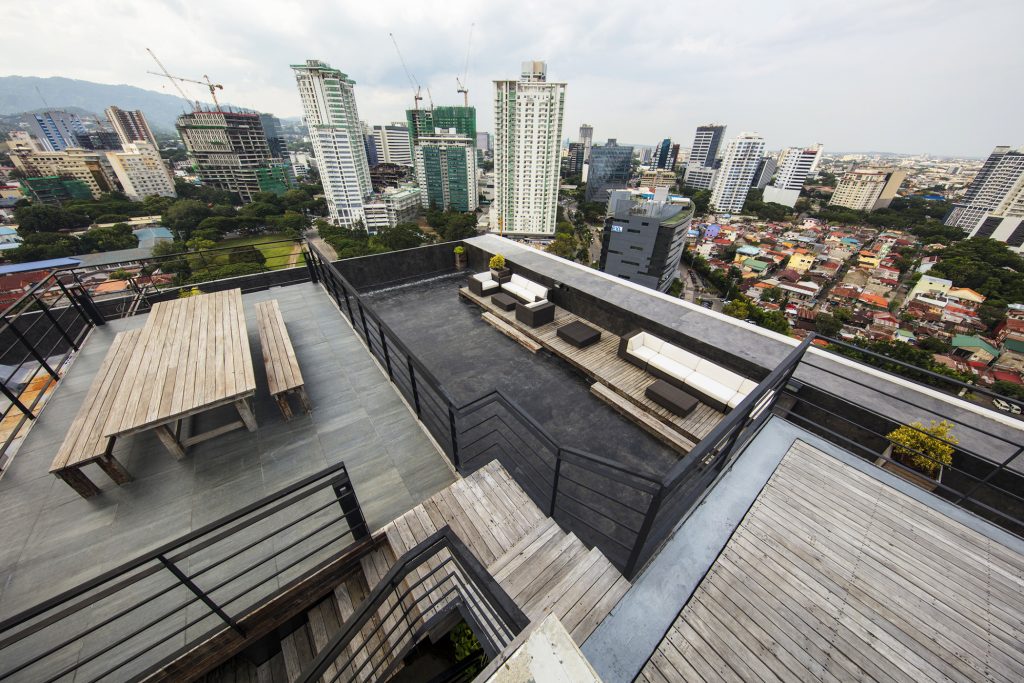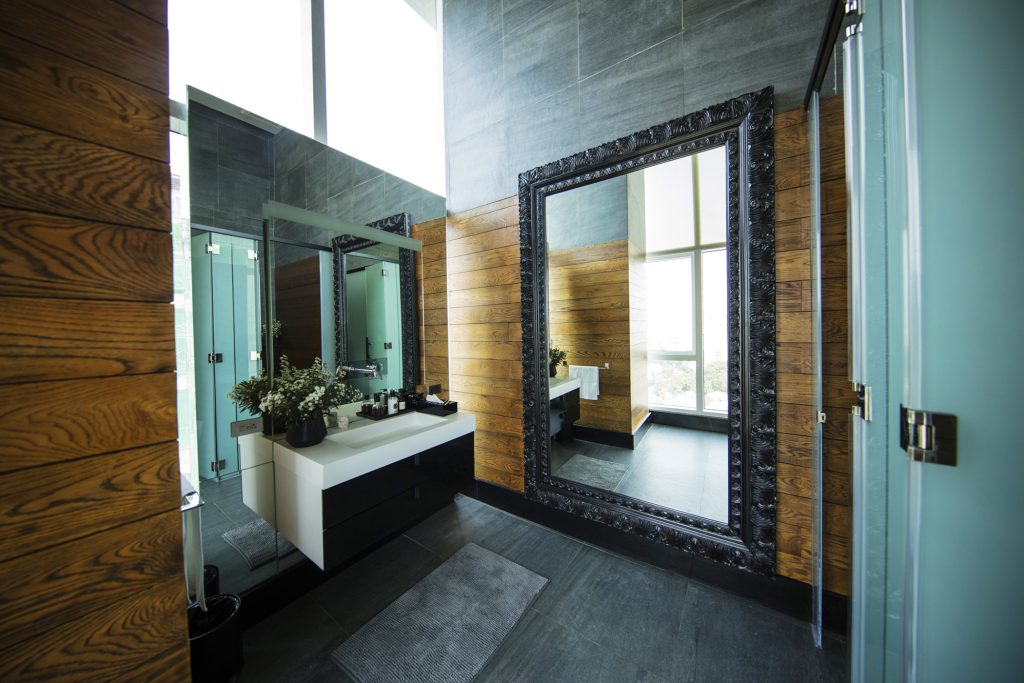 After years of residing abroad, the prospect of building a home from scratch, or in this case, the carcass of a whole floor of an unfinished building, is anything but easy. Having to transform more than a thousand square meters of open space into a family home is a daunting task that takes a lot of imagination and is not for the faint-hearted. It didn't start that way, of course. The original plan was to construct a house in one of the city's gated communities. But it wasn't too hard to convince the man of the house that having a home in the city center would give him the ease of being close to the business and a garage big enough for his car collection. "Being born and raised in Hong Kong and having the city below me was something I got used to," he quips.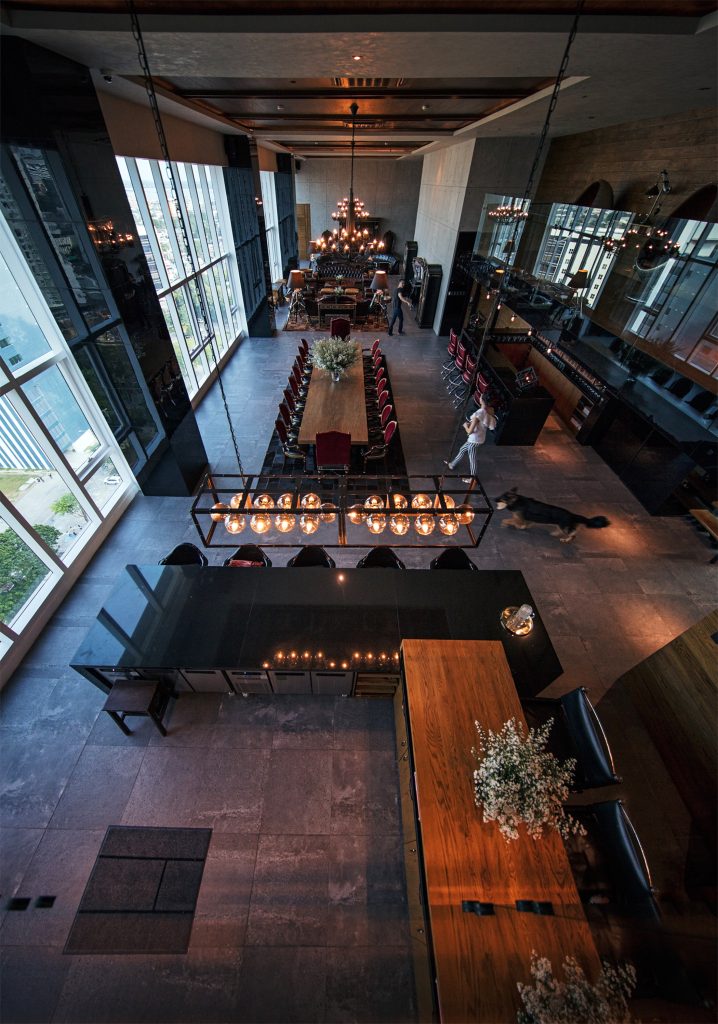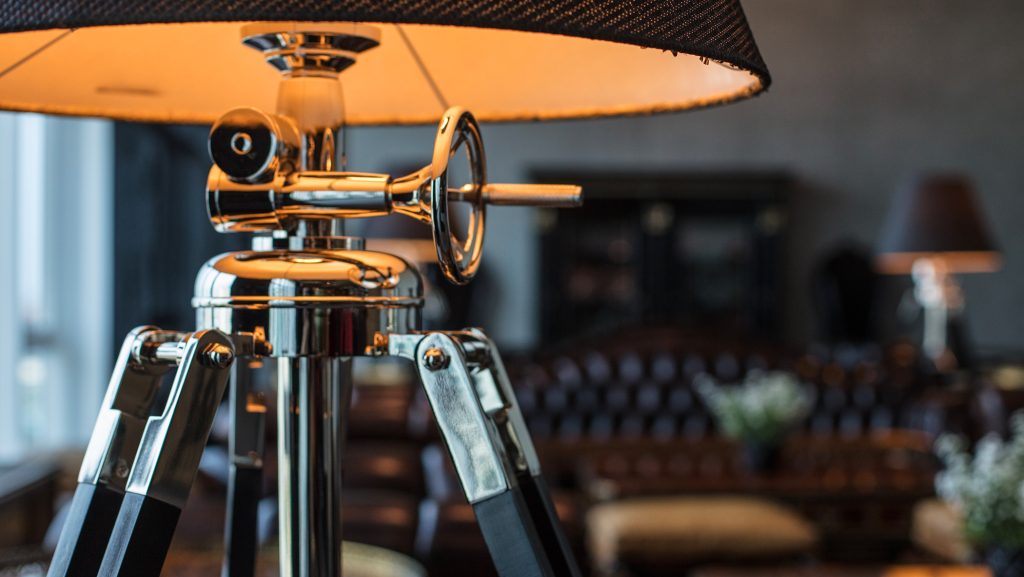 First on the design plan was to ensure a double-height ceiling fronted by a wall of glass that would give clear views of the sky, the city's business center and Mactan Island beyond. The partitions came next. For this, the home-owners, Martin and Claudia Yeung, consulted with Arlen de Guzman, the Manila-based interior designer whose discipline comes mostly from working on projects involving the hospitality industry. Arlen spent 20 years working for HBA in Hong Kong, including the design for the Grand Hyatt Hotel, before setting up his own shop.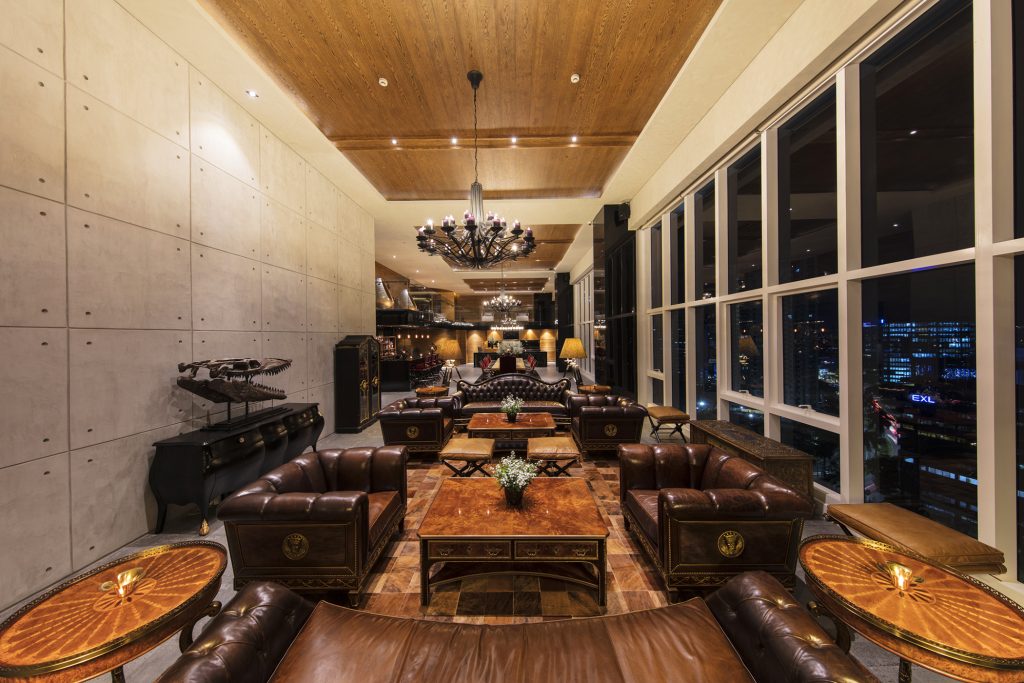 The mutual respect shared between the client and Arlen has made this home the way it is.  As expected from someone who moves in and out of some of the most stylish homes and hotels, Martin has a very particular taste. With his direction, the decorator executed most of the division plans, including a space for a gym and a pool table, and the master's bedroom with a loft TV room and a huge space for the closet area and en suite bathroom. In the loft area, the most private sanctum in this home, a highly coveted collection of Hollywood memorabilia is on display. The treasure trove features Achilles' helmet worn by Brad Pitt in the movie Troy, the Lannister mask from Game of Thrones, and the Roman cuirass used by Maximus played by actor Russell Crowe in the movie Gladiator, among others. "It started as a hobby, but now it's turning into a good investment as well," Martin laughingly adds. Prices for these items bought at auction have more than doubled in recent years.
 
Entry to this private residence goes through a series of security checks, from guards and protection details at the lobby level, to the many cameras that are strategically positioned. If that doesn't deter unwelcome guests, the ginormous size of 200-pound Vesian should stop anyone in his tracks.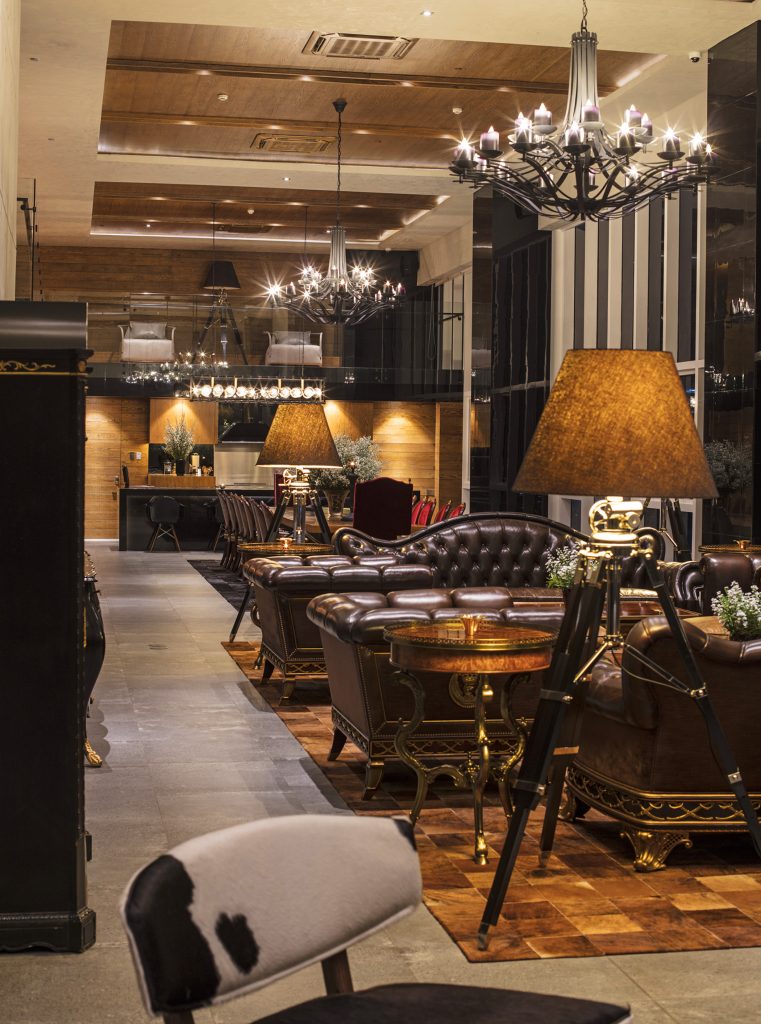 The very essence of sophistication meets guests the moment the elevator doors open. At the entrance, a large rococo framed painting against a wood paneled wall, a modern glass chandelier and dark hide floor covering set the tone for things to come. Tall wooden doors on both sides of the elevator serve as access to the apartment. Stepping inside, the expansive view and the sheer enormity of the living and dining areas that almost spans the entire width of the building is something you don't often see unless you check in to a luxury hotel like an urban Aman or a Four Seasons. 

An open kitchen of wood and black glass anchors the far side and is equipped with a built-in refrigerator, ice-maker, freezer and storage cabinets hidden below the counter while behind its wall is the service kitchen. On the opposite end of the kitchen is the powder room, concealed neatly with 2 sides of exposed glass walls overlooking more city views.

The open floor plan has several seating arrangements—dark leather sofas and club chairs with Italian tables, a dining table made of solid hard wood with 14 seats and a bar filled with bottles of single malt scotch. Lighting is a big deal as well in this home. Several easel lamps and dark wrought-iron chandeliers play a huge role, but it's the hidden ceiling lighting fixtures, with its various mood-changing combinations activated by remote control, that truly add to the drama. Set against a backdrop of glass and bare cement walls, leather and fine wood carpentry, the lighting effects evoke a welcoming luxury and a refined urbanity with the cityscape sprawled before your eyes. The layering of different styles is the main point in the over-all design. "I would think that it's a good balance of tradition and modernity," Martin sums it up.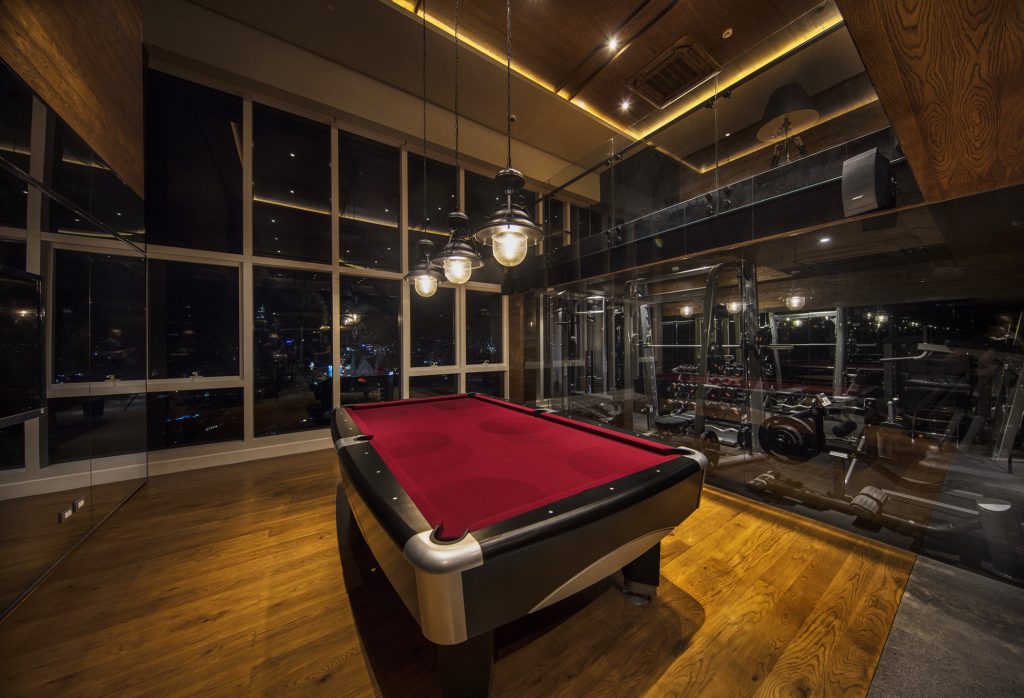 If there's not enough space, one floor up is the rooftop deck which provides more entertaining room. Furnished with outdoor sofas and added dining areas, this is the perfect venue for a good party on any given night.

As the only son of an industrialist family, Martin is actively involved in moving the family corporation forward. He is heavily invested in tourism with the company's real estate portfolio including some of the most desirable beach properties in Cebu. The first premium resort he developed is the posh resort of Kandaya in the north. He's currently developing an expansion that would offer an alternate lodging that is more affordable.

"Cebu is home to me and my family now," admits the itinerant gentleman who is well-loved by his employees. "There's a lot of potential here, and we would like to be part of the growth of this country."
Trendy Renovation Ideas for the Home or Condo. Part 4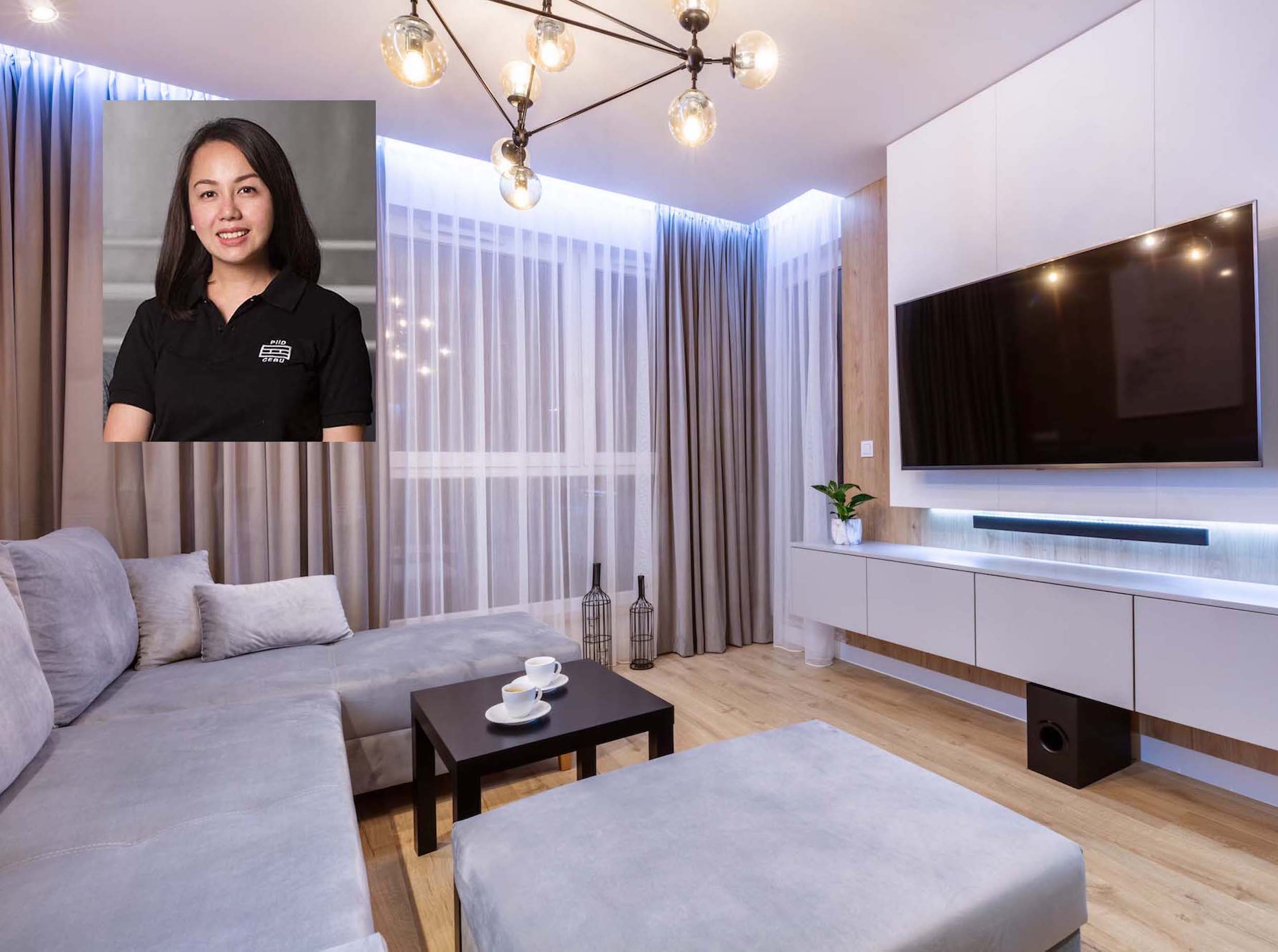 by Christa M. Cañizares IDr.
Part 4:  Upgrade your Choices
A.  Create different moods with lighting. The use of warm colored indirect lighting such as lamps, colored LED back lights, or even string lights can create a cozy and relaxing vibe after a day's work.
B.)  Convert to smart home systems. From door locks, CCTV cameras, you'll also be able to control and turn on lights, appliances even if you're away from home. All you need is a wifi connection and the applications on your mobile phone.
C.) Hire a professional interior designer. We always get an impression that hiring a professional would be expensive, but they actually help you make the best choices and save you from making bad purchases.
Trendy Renovation Ideas for the Home or Condo. Part 3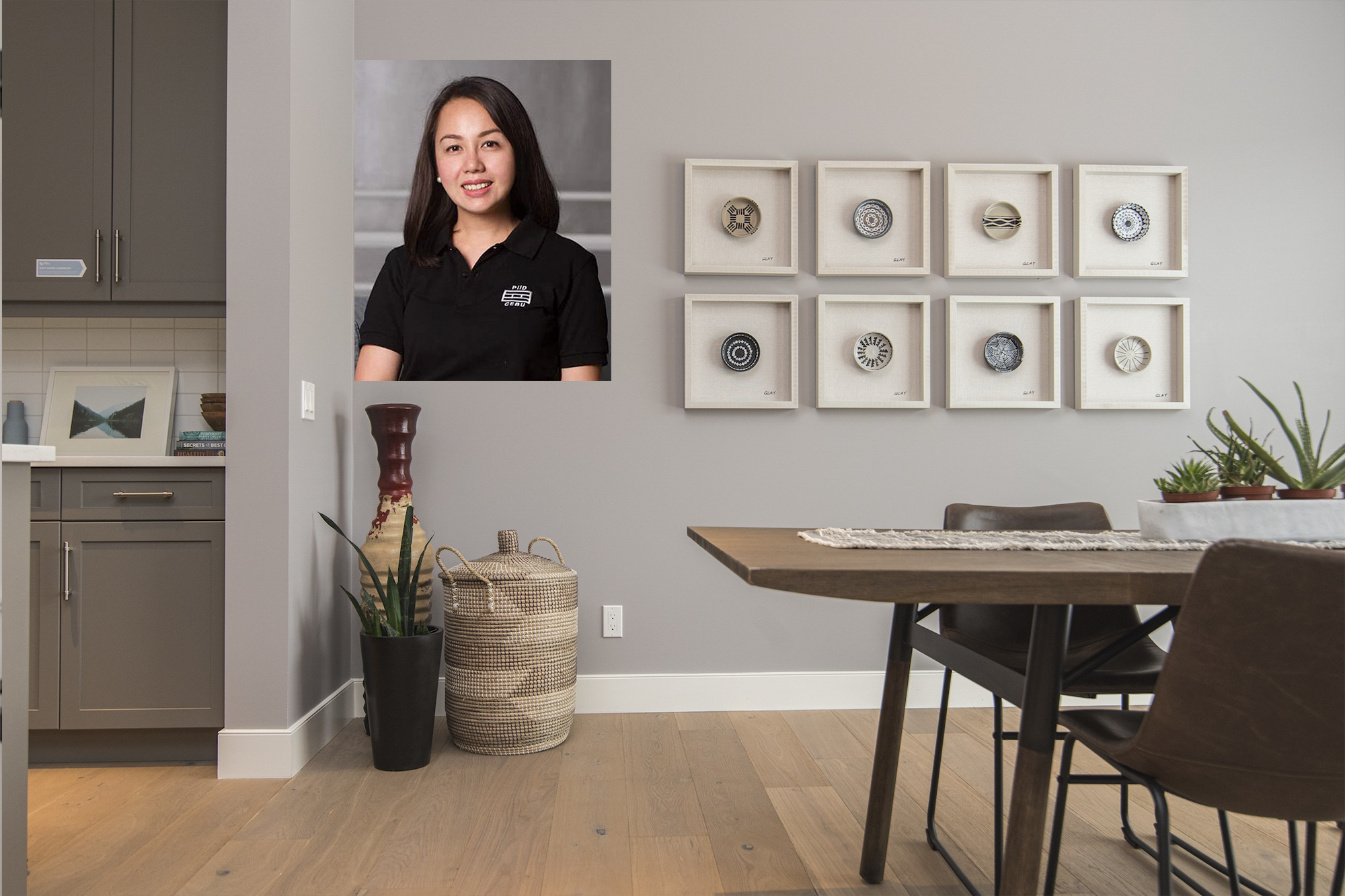 by Christa M. Cañizares IDr.
Part 3: Maximize Impact of Small Spaces
A.)  Storage spaces. You can go with concealed storage systems such as built-in cabinets on walls, under the bed or seating. Keep the items that you use often more reachable than the occasional ones. Choose what works best for your space and for your convenience.
B.)  Showcase your collection of interesting conversation pieces, like items you acquire from past travels, an artwork, an heirloom, coffee table books or a collector's item. Make sure to save a special place for them in your home.
C.)  Move things around to attract renewed energy into your space. May it be moving a sofa to the adjacent wall, creating a dining nook near a window, shuffling your accessories on to a different shelf? Little efforts go a long way.