Why Manny Osmeña is One of the Most Inspiring People in Cebu
With all his successful business ventures, Manny Osmeña is set on leaving a legacy that might change the world.
Manny Osmeña is the only person at Skillet when we walk in, sitting at a table by the kitchen despite the fact that the sign on the door already announced that the restaurant was closed. He'd asked to meet for the late night interview at the newly opened bistro—where, in his own words, they "serve western food cooked in a Japanese way"—because he had missed dinner for another appointment.
As we discuss his businesses, advocacies and life philosophy, he digs into the different dishes, occasionally pausing his narrations to tell us why each dish went with the others. He talks in between hearty bites, and something almost passionate is seen in the way he ate each dish, as if he genuinely enjoyed each spoonful. Certainly, Manny O ate with gusto.
Food isn't the only thing Osmeña regards with such zest. It's clear that his, and the rest of the Manny O Group's endeavors, whether in business or philanthropy, are done with a lot of heart. "I'm very meticulous. I'm very obsessive,"Osmeña admits.
It must be said, though, that his love for amazing gastronomic experiences was what spurred him to create the Ibiza Beach Club brand. "I've been on a quest for the longest time to take dining to the next level," he shares, continuing to describe the times he'd visited and dined in Michelin-starred restaurants around the world. Despite the exciting dishes that were often served, Osmeña always found that there was something missing. "That's when I started Ibiza Beach Club. I said dining has to be a full experience. It has to be all the senses, without the pretense."
"We're selling a philosophy," he adds. "It's about experiencing impeccable quality in all factors, from the food, environment, ambiance, service—but still very easygoing. It's not stiff. That's why we call it lifestyle dining."
Ibiza had brought a new, upbeat spirit to Mövenpick Hotel Mactan Island Cebu, and will be expanding beyond its shores. The flagship outlet will soon open above the streets of Bonifacio Global City, promising to bring the laid-back but world-class experience to the capital city. There are also talks of the possibility of opening other franchises around the world, which would eventually put in the spotlight Ibiza's most exciting offering—the unrivaled entertainment.
Featuring an in-house cast of singers and dancers who perform themed shows every night, entertainment is very much part of Ibiza's DNA. The upcoming outlet in BGC also brings with it the opportunity to create a much larger Ibiza Performing Arts Academy, which has partnered with people from Repertory Philippines. "In the future, if someone wants to open an Ibiza Beach Club anywhere in the world, they have to hire the performers from our Academy," he says.
Bringing Cebuano workmanship abroad isn't something new to Osmeña. The businessman had been running SkyLogistics for the past 20 years, handling on-ground operations at the airport and being the only airline-catering provider in Cebu. The business had expanded to Manila seven years ago, with his company, SkyKitchen providing in-air meals for Philippine Airlines. "In Cebu, we cater to literally every airline because we're the only one," he shares. "Between Cebu and Manila, we make over 20,000 meals a day."
It's certainly impressive, by any standards, but Osmeña isn't one to rest on his laurels. Wine is a passion that he had developed during his travels, finding it so different from other spirits that seem to be drunk for the pure purpose of inebriation. "I was never the person who would go out with friends and get wasted, and so I never really drank alcohol," he narrates. "But when I was traveling around Europe, I would be served wine, even for lunch. Wine for them is not to intoxicate them—it's a flavor agent. I became emotionally attached to it, both good and bad, so I fell in love with it."
Since then, Osmeña started a small collection of wine, furthering his appreciation by educating himself on what was good wine. His friends had eventually asked him to teach them about wine, when one broached the idea of producing his own. Although the idea had seemed appealing, Osmeña originally thought he had to set up his own vineyard and winery, something that sounded unfeasible—until he later realized that he could just commission a vineyard to make wine for him.
The venture has definitely paid off—despite admitting to a few years of less than stellar creations, his 2007 Bibulus has earned considerable international recognition. The re-created red Bordeaux has 21 accolades in ten countries, including being the trophy winner at the Vinalies Internationales 2013 in Paris, where it won against 1,736 other dry red wines.
It's clear that no matter what Osmeña sets his mind on doing, he does it with pure passion and drive. His latest venture, though, is something more humanitarian and very close to his heart.
"In the past, the Manny O Group would always give to charity after a disaster, one million here, five million there," he recalls. "But there was no sustainability. We just gave and moved on. It was Yolanda that woke me up."
The typhoon birthed what Osmeña calls a burden in his heart, prompting him to create Hope Now Philippines. The Manny O Group partnered with Gawad Kalinga to rebuild communities that were affected by Yolanda, beginning with Bantayan Island, north of Cebu.
Since that first community, the foundation has built communities in Leyte, Bohol and Samar. Osmeña is, in fact, heading to Manila the day after the shoot for a ceremonial turning over of checks pledged for another community in Sulu. "Last year, after President Duterte won, a movement was created with Joey Concepcion and Ramon Lopez. The movement was called Kapatid Angat Lahat, for inclusive growth," he explains, showing a photo of the group during a Christmas party in Malacañang—the lineup featured some of the country's top business leaders such as Teresita Sy-Coson, Manny Pangilinan and Robina Gokongwei-Pe. "I'm part of that movement. One of the things we believe is that the problem in Mindanao has to be solved, otherwise it'll only get bigger. We decided that we needed to open our arms to our brothers and sisters in Sulu."
The endeavor started the Save Sulu project, and Osmeña pledged to build a community there, and still there's more work to be done. Yolanda had also brought to awareness the issues that medical volunteers experience after a disaster. Featuring refurbished Mercedes Benz trucks, the Hospital on Wheels or Gulong ng Buhay (Wheels of Life) will be a mobile medical center that volunteer doctors can use to attend to patients.
"It took us a very long time to put together a model that is sustainable," Osmeña admits, sharing that the unprecedented project had caused some issues and delays with the Department of Health. "Hopefully, by God's grace, the delivery of the first will be before the end of the year."
The Hope Now presentation says on its very first slide: It's not all about us. This is a philosophy Osmeña has now embraced, and he believes it's about time that other people who have been just as blessed as he is do the same. "There are people now who compete against each other—who has the better-looking car? Who is growing his business faster?" he shrugs. "It feels different, it feels good when what you talk about is how much money you give. People can feel it. They can see it."
The change has created a more positive environment in his family, and has completely transformed the way he does business. "The Manny O philosophy is that we're all working for a higher purpose. Many divisions of the Manny O Group now dedicate a certain percentage of the profit to give to charity. Manny O Wines, Ibiza Beach Club—25 percent is owned by the poor," he explains. "We count ourselves very blessed. We already have what we need."
After all, he continues, he believes that the success he has experienced throughout the years can only be credited to a divine power. "It's no accident," he says of the businesses he runs now, and how he had managed to pull through despite a financial crisis some years back. "The Lord could have left me, but he picked me up from my fall. He not only gave me back what I had in the beginning—he gave me a lot more."
"Everything I have from then to now is a gift. If you ask me how I did all of this, I wouldn't know. Often I just happened to be the right person at the right time. And what does that mean? It must be divine," he declares. That mindset has put things in a clear perspective. "God made us all a blank canvas, and it's up to us if we make a mess or a masterpiece." In case you're wondering, this is also the reason Osmeña wears all white.
He pauses in the midst of dessert. "I didn't give you a chance to ask more questions, I just kept talking." I agree with a laugh, but as an audience, we certainly didn't mind. There was something genuinely touching and absolutely inspiring about his outlook on life. "Tony Meloto always said that God's calling for me was to be the conscience of the rich," he shares, referring to the founder of Gawad Kalinga. "The mark I want to leave is not as much of being a philanthropist, but being an instrument of philanthropy. I want them to read my words and feel guilty and be convicted, and then be enveloped by compassion."
These days, he reiterates, this is what he wants to do. When I ask him about what's next for the Manny O Group, his answer is refreshing and completely unique. "I've decided that I want to stop starting anything new," he confides, sharing that he's already turned down a few opportunities. "As I said, God has blessed us so much—let's take good care of what he has given us. And I would like to devote a lot of time in helping in whatever little way I can to help in reducing the trouble in the world. That's all."
A businessman who had no plans of building other businesses—it's something that's almost unheard of, but it's clear that Manny Osmeña is set on carving a different path. Whatever path it is, though, we know he will do it the way he eats—with genuine gusto.
Photography by Nath Ybañez
Eight Years of Redefining Hospitality Service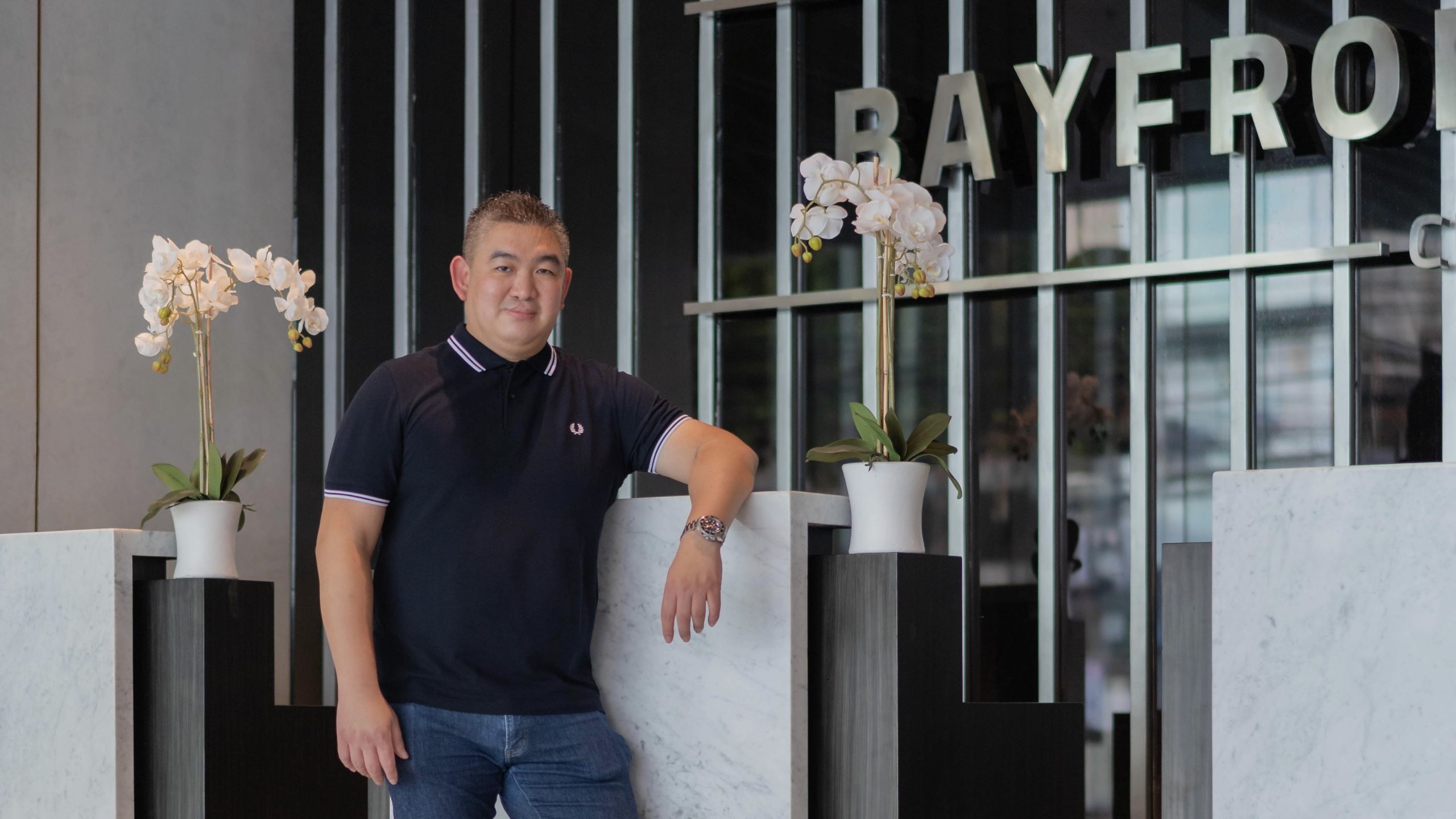 by Allain Dumon Fonte
The person behind the very successful chain of Bayfront Hotel  Cebu is the youngest son of entrepreneur couple, Edgar and Gregoria Cokaliong.  I first met Charlton as a young and dashing gentleman busily working in their textile business.  I am impressed with how he excellently juggled taking care of orders, organizing shipments, arranging deliveries, accounting, and even managing the staff of their textile company.  Charlton is an alumnus of Cebu Eastern College where he finished his primary and secondary education.  He then went to the University of San Carlos and studied accountancy.  He successfully passed the accounting licensure examinations, and worked as a certified public accountant while helping in the family's textile business; who would have thought that he would venture into hospitality.  
In 2014, he first opened Bayfront Hotel Cebu at the North Reclamation Area.  I even wondered why of all the places that he can start a hotel, he had to choose the North Reclamation Area.  I find the location appalling for a hotel.  What view will the guests see?  I would not want to stay in a room where the views are cranes, machines, and container vans from the sea port.  Yet, Charlton foresaw the future of hospitality service.  He knew that with the recent developments of Cebu City, people will prefer to stay in hotels that are near to the city, and have access to almost everything they need.  The hotel is right across SM City Cebu, 10 minutes from the sea ports, 30 minutes from the airport, and 15 minutes to almost all the tourist destinations in the city and in the hills of Cebu.  Then, he made the hotel packages and event packages reasonably priced; yet, with a 5-star quality of service.  I even questioned, are you not losing for the prices that you have set?  However, since the hotel opened and up to the present, Bayfront Hotel Cebu has always been fully booked and is becoming the primary choice of venue for events and celebrations.  Charlton explained that he foresaw that with the rising economy and the rising population of the metropolitan, people will always prefer to celebrate special occasions; yet, considering the inflation every year, people will also choose to become more practical by spending less  without compromising quality.  And this is what Bayfront Hotel Cebu delivers, an experience of excellent hospitality service at a price that no other can match.
Because of the continuous demand for their hotel rooms and venues, Charlton opened another Bayfront Hotel Cebu in September 2021.  This time the location is at the heart of the uptown of Cebu in the Capitol Site.  Again, Charlton banked on the great location of the second Bayfront hotel.  I once again questioned him on this; considering the competition in the area because of the many up and coming business hotels that offer the same rates and packages.  Charlton smiled and confidently said that apart from the great location, he also banks on the quality of service that his staff can deliver.  "If you take care of your staff very well, your staff will take good care of your customers".  I have seen first hand how Charlton handles and manages his staff at their textile store, so I know how he also handles and takes good care of his staff in the hotel.  And I realized that this is his biggest selling point, the hotel's incomparable service and friendliness.  Even though the hotel opened in the middle of pandemic restrictions, the new hotel is getting countless reservations; most especially that the Capitol Site Bayfront Hotel offers an amazing view of the city skyline at its roofdeck bar and pool area.  The gym , pool , and bar amenities at the hotel's roof deck with its view are a must to be experienced.
Early of 2022, Charlton also opened the hotel's in-house dining feature.  For seven years, Bayfront Hotel Cebu was catered by a third party food concessionaire.  But, again, Charlton foresees that the Filipino market will be more critical to food and taste.  I asked, why is this?  Charlton explained that with travel becoming more affordable and accessible, people will get to experience different kinds of food and dine in different restaurants.  Hence, people will now learn to benchmark, not only from local restaurants, but also from their dining experiences around the Philippines and overseas.  Therefore, Bayfront Hotel Cebu needs to step up its game in dining.  With the opening of Caja Kitchen, Bayfront Hotel offers more selections of Asian and Filipino comfort food fusion with international cuisines.  With Caja Kitchen, Charlton turned a Filipino menu into an international dining experience. I asked him how he came up with all these.  Charlton  explained that dedication to make his guests happy and satisfied is the key motivation why he does not stop thinking about innovating and reinventing everyone's hospitality and dining experience. 
In September of this year, the Bayfront Hotel Cebu in North Reclamation Area is officially celebrating its 8th year of wonderful and excellent hospitality service; while the Bayfront Hotel Cebu in Capitol turns 1!  Great and exciting anniversary promotions and packages await its patrons and guests!  Please visit the social media pages of Bayfront Hotel Cebu to know the amazing anniversary deals!
With my last question, what does he have in mind now.  Charlton just smiled and said, "Well, who knows?  Another Bayfront Hotel Cebu shall rise soon!".  After this interesting conversation, I can say that Charlton is truly a man who can foresee the future; may it be in business, in the market, with the trends, and with new experiences.  
Congratulations to Our New DOT Secretary! The Story of Cebu's Power Couple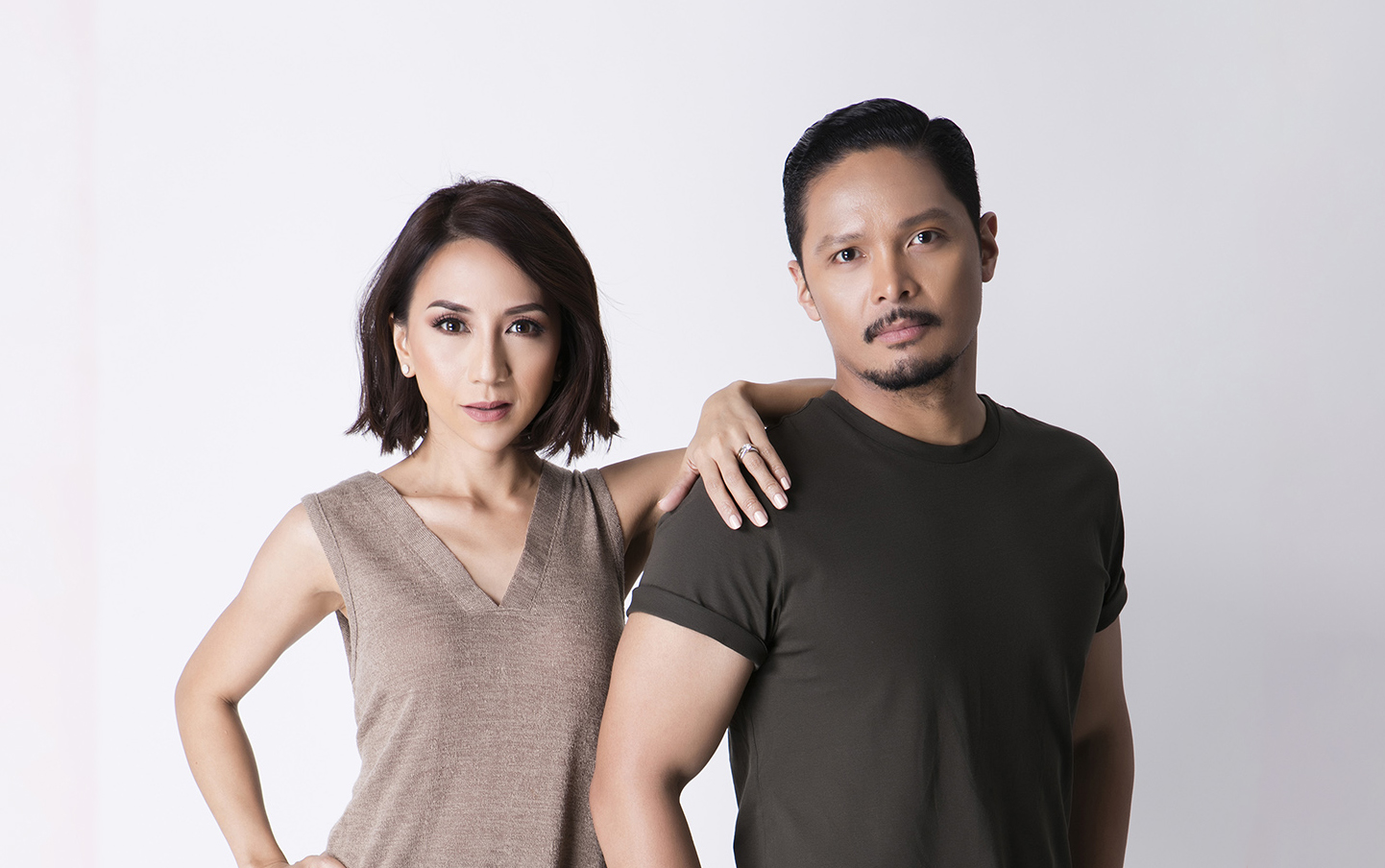 Congratulations to Our New DOT Secretary!
The Story of Cebu's New Power Couple
Whether it's spearheading progressive efforts in Liloan or spending weekends with their kids, Christina and Duke Frasco do things as a team. On their ninth year as a wedded couple, they share a side of themselves we haven't seen before.
Republished  from Zee's Digital Issue dated January 2018
by Gia Mayola photography Dan Douglas Ong sittings editor Shari Quimbo hair and makeup Arnauld stylist Vanessa East
Despite it being a day for family, Christina and Duke Frasco gamely accepted our Sunday-scheduled photo shoot. Not that they had any choice, considering that most days found their schedules fully packed.
The dynamic couple is hard to pin down for a reason. Christina is the mayor of Liloan, a first-class municipality in Cebu. On the other hand, Duke was appointed Cebu Port Authority Commissioner by President Rodrigo Duterte just last year, willingly giving up his position as Liloan's vice-mayor alongside his wife. While they have a lot on their plate because of work, having three young children is an added responsibility.
PUBLIC SERVANTS
Driven by her administration's goals for sustainable and inclusive development, Christina has introduced various innovations to public leadership, focusing on stakeholder participation in community governance and equitable access to government service.
She established the Liloan Community Action for Reforestation and Environmental Sustainability (LILOAN CARES), which brings community stakeholders together to periodically engage in environment programs. She also put up a Green Points System, which grants incentives to businesses that implement environment-friendly measures. Additionally, she has introduced an engaging approach to recycling in schools, and prohibits the use of plastics on certain days of the week. She has also founded Operation Second Chance providing rehabilitation and livelihood to drug surrenderees, and the Liloan Leading Empowered Action Against Drugs Summit (LILOAN LEADS), among many others.
On his end, Duke is a dynamic and engaging leader who thrives under pressure and focuses on realizing long-term goals and sustainable development. His governance has garnered him multiple awards—The Outstanding Young Men (TOYM) of the Philippines Award 2014 for Public Administration, from the Junior Chamber International (JCI), Inc. and the Gerry Roxas Foundation.
With his first two terms as mayor, Liloan elevated from a third-class municipality to a first-class one. He boldly spearheaded a comprehensive overhaul of the municipal tax code, and the modernization of local business processes.
THE LOVE OF LILOAN
Goal-driven and full of ideals, the couple has helped develop Liloan into what it is today. The municipality is one of the most progressive in Cebu, even establishing the Liloan Lesbian Gay Bisexual Transgender (LGBT) Federation during Christina's term, the first in the country spearheaded by a local government unit. Liloan prides itself in having the first LGU-established gender-neutral public restroom in the country.
"Our dream is to become a city," Christina divulges. She envisions Liloan as an ideal place to live, study, work and invest. "In preparation for that, we are focusing on improving public infrastructure, opening up and improving road networks, and ensuring strict compliance with our Zoning Ordinance and Comprehensive Land Use Plans to ensure that development is regulated, deliberate and sustainable."
This year, Liloan is launching tour packages that will feature its cottage industries and various tourist sites. Health services are being professionalized, scholarship programs expanded, and more investments channeled into its law enforcement and disaster response programs.
"We are also enhancing our community governance programs focused on protecting the environment, providing economic opportunities through livelihood, and reaching out to all sectors and stakeholders by incentivizing participation and compliance with our laws and regulations," Christina adds.
Duke shares that every now and then, he offers input to his wife. "I advice Christina on various matters, especially regarding the projects started during my term, such as our scholarship program and purok system," he says. "Being the party chairman of our local political party, I am also in continued contact with our local leaders."
THE PORT AUTHORITY
Beyond Liloan, Duke is enjoying his new position. "Since the thrust of the Cebu Port Authority spans the entire Province of Cebu, I am grateful to have the opportunity to contribute to improving the transport of people and goods throughout Cebu, through the continued improvement of existing ports and establishment of new ports."
New ports, such as the plans of moving the Cebu International Port north, off the coasts of Consolacion and Liloan to decongest the city. 
"A port is always a welcome development considering it will further boost the economy of Liloan and Consolacion, and the entire Northern Cebu," Duke says. "It provides livelihood opportunities for our people, which are relevant factors for cityhood. Moreover, the more ports, international or domestic, that we develop here, the better it will be for the people of Cebu."
The addition of more ports will complement the project he has been working on the past year, the ferry boat system. He laments the terrible traffic that Cebuanos experience each day, comparing the travel time it takes from Liloan to Cebu City ten years ago and now. The ferry boat system includes developing ports in strategic locations in the Province of Cebu, connecting ferries or boats that can accommodate 80 to 200 people per boat. That includes room for motorcycles and possibly vehicles.
Duke expects this to be a game changer for the Cebuano. "Hopefully, it will relieve us of the stress and frustration we experience each day going through Cebu traffic," he says. "I can just imagine our fellow Cebuanos feeling relaxed on a boat, feeling the sun and sea breeze on their faces, as opposed to the honking of horns and uneasiness of sitting in a PUJ or in your vehicles, not knowing whether they will arrive on time at their destination."
Aside from his work with the Cebu Port Authority, Duke is also involved with his family's business Titay's as the Chief Financial Officer, and as a member of the Board of Directors. 
A GREAT PAIR
It's evident that the two make a great pair. They met back in June 2007 at Gwendolyn Garcia's—Christina's mother—inauguration as the re-elected Governor of Cebu. Duke was among the officials invited to attend, having just been elected into his first term as the Mayor of Liloan. Christina had just recently passed the bar exams and became a lawyer.
"I suppose you could say that we met at a time when both of us were at a turning point in our lives," Christina recalls. "It is a blessing that our paths crossed at a time that it did. I was taken by Duke's charisma. To me, he exuded kindness and humility. Of course, bonus sad gyud na guapo kaayo siya (it's a bonus that he's so handsome)!"
"I thought she was beautiful, elegant and well-spoken," Duke adds. "When we were introduced, I was speechless!"
They're naturals in front of the camera, effortlessly settling into the poses the photographer asks them to do. At one point, they're locked in an intimate embrace and looking into each others' eyes. Duke sweeps in for a kiss that makes everyone in the studio coo.
"I couldn't help it," Duke defends himself with a laugh, holding Christina closer as she giggles.
"He can't resist me," she tells us with raised eyebrows.
FAMILY TIES
The couple comes from political families, and it's interesting to note that neither of the two had initial plans of running 
for office. Duke was in the audit and finance industry in the US, working for global consulting firm Protiviti right after finishing his double degree in Business Administration (Finance and Business Law) and Accounting at the Loyola Marymount University in Los Angeles.
"I had no plans at all," Duke admits. "My father, who had been Mayor then Vice-Mayor, died unexpectedly. The barangay captains of Liloan contacted me because the wanted to have me run for the position. It took me a couple of years before I finally decided to come home and run for Mayor in 2006."
On Christina's end, she had spent nearly ten years focused on building her career as a lawyer. After graduating from Ateneo Law, she practiced litigation, international arbitration and corporate law with one of the top-tier law firms in the Philippines, Romulo Mabanta Buenaventura Sayoc & Delos Angeles, being the head of its Cebu office.
"I knew that I wanted to make something of myself out of my own achievements, outside of and away from politics," Christina shares. "I must say though that being exposed to public service at a young age led me to an inclination to help others. I always felt a sense of duty to my country, because that's what I saw in my family as I was growing up."
Despite initially having no plans to follow in their family's political path, they both express a deep appreciation and admiration for their respective families' contributions to Cebu. "He was Mayor of Liloan for close to a decade, but served Liloan all his life," Duke says about his father, the late Panphil B. Frasco or Dodong Daku. "He was a man of the people, and Liloanons still speak of his kindness and humility to this day. I also greatly admire my uncle Gerardo 'Dodong Gamay' Frasco, for his pragmatism and wisdom, which has guided our family to carrying on the Titay's legacy spanning 111 years."
"For me, they have set the bar to which I would like to contribute to Cebu as a Cebuano," Christina says of her own family. "For his statesmanship and brilliant legal mind, my grandfather, former Governor and Deputy Speaker Pablo P. Garcia. For her passion towards community development and social justice, my grandmother, the late Judge and Cebu CFI Community Cooperative founder Esperanza F. Garcia. For her great love for Cebu and legendary work ethic, my mom, former Governor Gwen F. Garcia."
NEW LEADERSHIP
As two young personalities in government, they hope to be able to empower people through education. For ten years now since Duke's first term and continuing though Christina's current term, they have a scholarship program that has benefitted over 6,000 students.
They believe that an educated population is an empowered population, capable of becoming financially independent and discerning in their choices. "For us, this is key to breaking out of the bonds of poverty and patronage," Christina affirms.
The Frascos hope to introduce innovations to governance, like reducing redundancies and bureaucracy through the use of technology, and being more connected and transparent through the use of social media. They also support the call for Federalism, believing that it will give local governments more leeway and funding in improving local infrastructure and creating more locally-relevant projects for the people.
Considering that standpoint, it's no surprise how vocal the couple has been in their support for the controversial President Rodrigo Duterte. "President Duterte has political will, and he is a law and order President," they say. "We believe that his extensive executive experience sets him apart as a leader because he knows the value of enforcing the law in order to have a stable society. At the same time, he recognizes the necessity of governing in a manner that is compassionate and responsive to the needs of the people."
In the face of many conflicting views toward the President's brand of leadership, both Duke and Christina acknowledge that opposition is necessary for a working democracy, but hope that Filipinos can come together and support his national agenda of building a stable and peaceful society. "We owe it to our country to set aside what divides us, and to unite behind our common goal of attaining a better life for our countrymen and for our children."
Aside from their daily responsibilities, the couple also fosters their own advocacies. With education being high on Duke's list of priorities, Christina also extends efforts for the empowerment of women and children. "The promotion of inclusive development as well—giving equitable opportunities to vulnerable sectors such as the LGBT and the youth," she adds.
EVERYDAY LIFE
Being in the government means a lot of responsibility for the couple, and a typical day for them is being up 6:00 in the morning to have breakfast with their children before school, then going to their respective offices for work.
For Duke, work is either at the Cebu Port Authority to attend board meetings, or at their Frasco Group Office to attend to business matters. He also attends to pressing concerns in Liloan if need be, which shows how he is still dedicated to it even if he is no longer its Vice-Mayor.
Christina is either at the Municipal Hall to sign papers, attend meetings and meet constituents at the office, or scheduling visits to Liloan's barangays and puroks.
To keep from getting too stressed or burnt out, Duke says, "I go to the gym and I run. I also like to Netflix and chill."
Christina, on the other hand, makes time to paint and experiment with new dishes for Duke and their kids. She mentions that, if their schedules permit, they try to devote their weekends to their kids—watching movies, eating out, and traveling. "When Duke and I get home, we also make a conscious decision not to talk about work," she finishes.
A COUPLE AT WORK
While some people might find the idea of a married couple working together as a possible hindrance to getting things done, the Frascos think otherwise. To them, it is an advantage because their vision and values are aligned. "We are able to enjoy our victories together, and we're able to lift each other up in tough times, knowing that we will have each other's back," they share.
Duke and Christina are celebrating their ninth wedding anniversary this year, and it's no question that the romance is still very much alive between them. They share that their marriage is anchored on their love for each other, their love for their family, and their shared goals for the future.
At the same time, they emphasize that retaining a sense of individuality is also important, along with having a healthy respect for each other's differences. Compromise is key, and they constantly make sure to keep their values and goals in check, adjusting each other's expectations as necessary and working out their differences.
Considering all that Duke and Christina have accomplished at a young age, we had to ask if they had plans of running for higher office. "We have great plans for the future, not just for ourselves, but also for our family and for Liloan," they said. "As Cebuanos, we would like to continue to contribute to the development of Cebu. However, we also realize that ultimately, it is for the people to decide whether they would want us to continue to serve. As for the rest, it is in God's hands. So we are focused on doing as much as we can in the here and now, with the opportunities that we have been given, for which we feel very blessed."
Citizens of the World: CAMPAIGN 2KRAINE
Citizens of the World: CAMPAIGN 2KRAINE
By Eva Gullas
"We are all citizens of the world. What's good for you, must be good for all. If you are lost, share a plate with a stranger… you will find who you are."

-Jose Andres, renowned Spanish Chef and founder of World Central Kitchen
Where there are humanitarian disasters, you will find the volunteers of World Central Kitchen.  In their midst will be local chefs, most of them inspired by its iconic founder, celebrity chef José Andrés. Founded in the aftermath of the Haiti earthquake in  2010, World Central Kitchen established its "chef network," of global professional chefs. The vision was for a kind of "chefs without borders" program where volunteers would enact positive change by cooking using local knowledge and resources. Last year, they even came to the island of Siargao in response to an Instagram plea for help after typhoon Odette almost levelled this idyllic paradise. WCK sponsored 2 community kitchens for 2 months serving 250 to 500 meals per day in Siargao.
Chef José Andrés was born in Spain where he honed his culinary skills at the eponymous El Bulli under Ferran Adria. By the time he moved to the US in 1991, he was well on his way to being part of the celebrity chefs, with his Bazaar restaurant at the then SLS Hotel in Beverly Hills a favorite hang-out for Hollywood stars. Michelin stars and James Beard awards followed closely. These days though, Jose Andres spends his time in kitchens all over the world while his top rated chain of restaurants in the US continue to thrive. There's a Bazaar restaurant at Las Vegas and Miami, and if you happen to be in the area, check out their amazing servings – it's worth the splurge especially since it is owned by this great humanitarian!
With the Ukraine invasion delivered to us in sharp details tru social media and TV, it's hard to ignore. And so, it was a natural conversation to be able to do something about it even in a small way. On a full-moon evening a few days ago, joining us at a beachside home for dinner was Matthew Wood, the German singer guest of Miranda Konstantiniduo who is here for a few days to shoot his latest music video. Sated with a good meal by the sea, we idly discussed a fund raising event with Matthew. We have been so engrossed with local politics and a looming election in just 2 months, that it was refreshing to talk about something bigger than our small world. Butch Carungay, seated in front of me, took the idea to heart and by the following day, he had the graphics for the event, and a ready rolodex of possible donors for the silent auction. Getting on board the following night was Carlo Cordaro, who happily lent us the second level of Asmara Resort. To complement Matthew, Cebuana singer Doods Osmena also will belt out a few songs. An impressive list of items for the silent auction is being compiled by Butch, composed of overnight stays at top resorts, artworks and furniture pieces from named artists.  We will post a list on the day of event. 
It is sponsored by Zee Publications Inc., in our first foray after having been dormant during the pandemic and typhoon Odette. Zee will soon be launching a new artsy printed magazine called Eatz Cebu!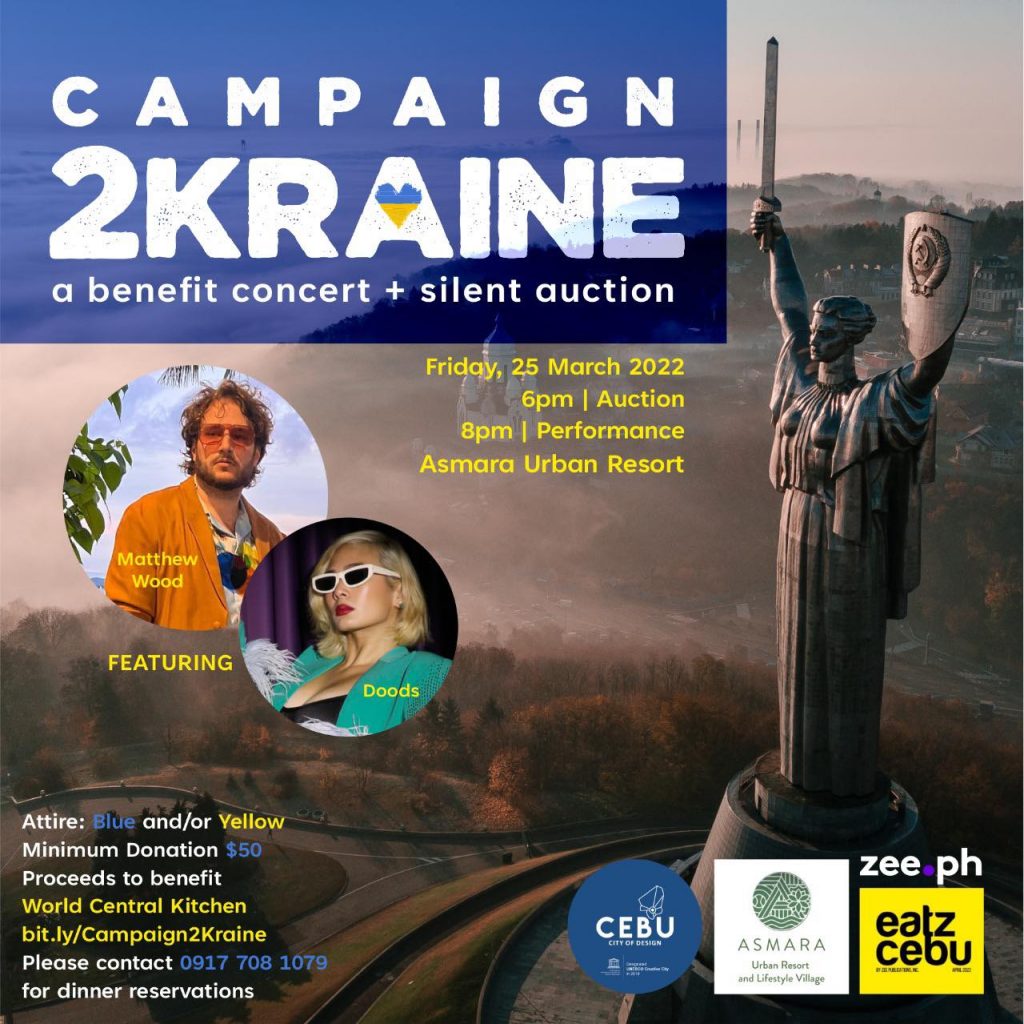 This Friday, March 25, at 6pm, we open the doors of Asmara Urban Resort (see map) for this fundraising where we hope you can join us by donating a minimum of $50 to the World Central Kitchen directly at https://wck.org/donate. It will be an evening of fun and fundraising, and entry is tru an email or digital receipt of your donation.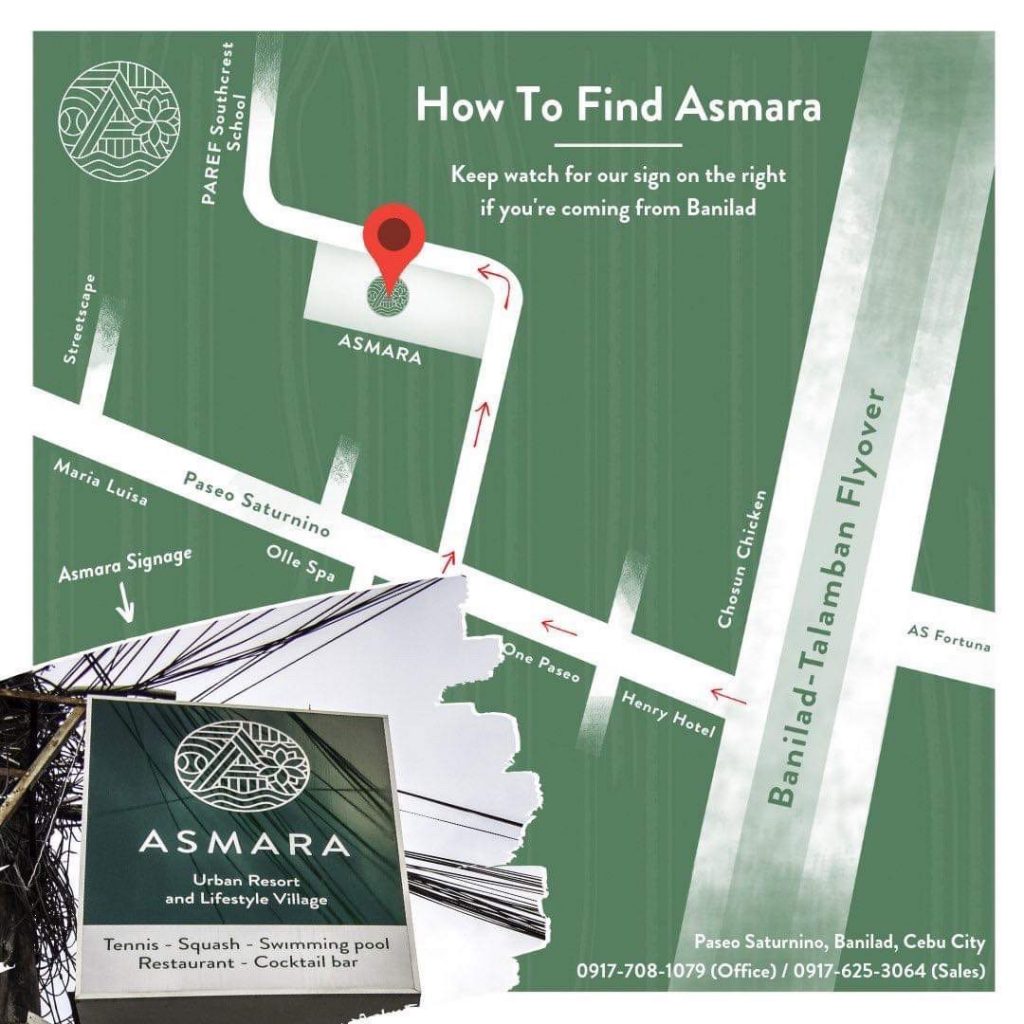 ***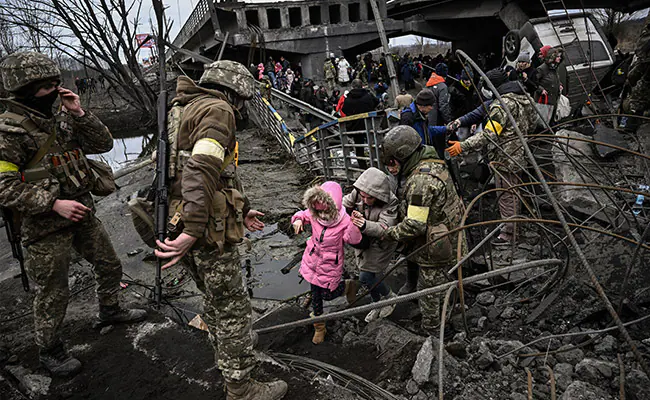 On February 24, 2022, Russia invaded Ukraine. By February 25, 2022, Chef José Andrés' World Central Kitchen (WCK) was on the ground serving free wholesome meals to those fleeing the violence. Chef Andrés and his volunteers have already served more than one million meals to Ukrainian refugees, from basements, train stations, and shelters. Still, cooking and distributing food in a war zone comes with unique challenges. "We began operations…over two weeks ago inside Lviv," says Andrés. "The last two days we saw some missiles falling down. So, the western side of Ukraine, that actually was a safe haven for many Ukrainians leaving war, is already kind of feeling like the war is getting closer." For Andrés, it's a humanitarian necessity and a call he answers. "The least we can do at World Central Kitchen is be next to them – making sure they will be fed every day."
SOURCE: MSNBC