Entertaining the new Filipino with Zee Lifestyle's November 2015 issue
Zee Lifestyle, Cebu's premiere lifestyle bible, prepares for the holidays with the November 2015 Food & Entertaining Issue.
On the cover is a picturesque outdoor entertaining setup, shot on location at Rockwell Land's first venture outside Metro Manila. 32 Sanson by Rockwell brings the art of fine living outdoors, with verdant greeneries, open spaces, and amenities that establish a sense of community.
Dean Taylor Pasquet, Nico and Noreen Tseng-Fernandez, and Holly Dawn Dychangco showcase the art of entertaining by granting access to their homes and intimate gatherings to show how they celebrate.
For this issue's roundtable discussion, Jennifer Martinez, Mary Love Deen, Laurice Chiongbian, Oj Hofer, Marguerite Lhuillier, D'oro Barandino, Michael Karlo Lim, and guest editor Kate Dychangco-Anzani join The Lazy Chef's Chip Lopez for a healthy dinner to talk about vegetarianism in Cebu; while Lorenz Florendo, Barbra Sia-Famador, Komiko Onda, Gretchen Choa-Uy, Kenneth Kokseng, Cecile Cuisia, and Kristine Kahler-Go have lighthearted Conversations on their thoughts on food.
This month, Zee Lifestyle gathers Cebu's top chefs and challenges them to put a twist on a classic Filipino dish—the adobo. The Laguna Group's Raki Urbina, Marco Polo Plaza Cebu's Stefano Verrillo, Crimson Resort & Spa's Godfrey Laforteza and The Anzani Group's Marco Anzani create decadent versions of the adobo that you'd never thought possible.
Read more in Zee Lifestyle's Food & Entertaining Issue, out on stands this month. Grab your copies at National Bookstore and Fully Booked. For subscriptions, click here, or download the Magzter app on your device and search for 'Zee Lifestyle'.


Hilarious Series ramps up with Season 2
These two comedy series are now airing their season 2 programs.  Highly acclaimed and are must-watch rib ticklers in our opinion.
Resident Alien 2: starring Allan Tudyk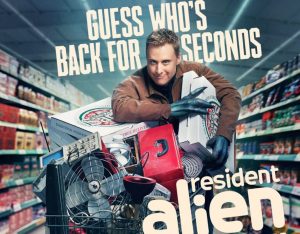 Space Force 2: starring Steve Carell