House Tour: A Modern Bohemian Apartment with a Twist
A mix of cultural pieces, colorful artwork and interesting furniture can be found in designer Lani Pasquet's chic residence.
"Eclectic glam," the photographer Maitina Borromeo says about the flat Lani Pasquet shares with Jay Chiongbian before the day of the photoshoot. It's something said with some backing, considering Maitina is a close friend of Lani and had actually offered some insight into the home's final look. "I couldn't find the words to really describe it, but that would be it. I looked it up online, and it's actually a thing."
As it turns out, the description is pretty accurate. The two-bedroom apartment is a play on textures, colors and materials that came together for a sophisticated, wordly aesthetic. It shouldn't be a surprise really, considering Lani's family's La Galuche brand is known for their shagreen-lined quirky-chic pieces.
"It's really mostly whatever Jay already had in his house, and the pieces that I had gathered through the years," Lani says, laughingly admitting that she really didn't have a specific look in mind at all. "I just put them all together and gave them my bohemian twist. It still keeps on changing, depending on what I have in the warehouse."
For his part, Jay jokes that he didn't get to have as big of an input in the home's design. "I didn't have a say in this at all. She'd ask me what I thought and I'd say something, and she'd do the exact opposite. But that's how women are, right?" he adds in jest.
Located in an older condominium building, the flat is considerably larger than some of the places available in the market today, although Jay admits it was partly through their own efforts. "We changed a lot of things to make it more spacious," Jay explains, pointing out some alterations—the door was moved further into the hallways for a more spacious foyer, they tore down the kitchen and service kitchen walls for a more open floor plan, repositioned the bedroom doors for a more optimal use of space, and closed off parts of the balconies. "This was actually a three-bedroom unit, but we took down the wall between two of them for a bigger master bedroom."
The careful consideration given to maximizing space makes an incredible impact, giving the living areas an airy feel that's further complemented by the view—the 18th hole of Cebu Country Club's golf course. The large open area next door often brings with it a cool breeze, along with a few stray golf balls that are "courtesy of Bob Booth and Jiji Gullas. That's why we have the screens," Jay laughs, referring to the windows' protective covers. "But it's also nice because we see a lot of our friends play through."
Inside, the open space gave Lani a blank canvas to bring in her pieces. She begins talking about the stories behind some of the items in the home—a red coral that had been given by a friend who moved away, African pieces that her grandfather had acquired from when he'd lived in Nigeria, a basket designed by Marguerite Lhuillier, some Chinese pieces that had belonged to Jay's family.
What's noticeable though is an abundance of lamps. "She loves lamps. Every time she goes somewhere, she brings back a lamp," Jay says. "I don't think she realizes it."
Apparently, she does. Some of the lamps had been acquired from traveling, like the orange one with the Vietnamese figure, and the bedside lamps that she'd bought in Bali. "A lot of the lamps are from Bali. One time, I went into a store to look at one lamp, and I came home with a whole container full of lamps," she laughs. The others come with their own interesting backstory—the capiz lamp had been a gift from a friend after a large capiz order, the shell ceiling lamp in the terrace was bought at a neighboring booth from Bacolod during a Cebu X furniture show.
The word eclectic comes to mind again, when going through the different rooms of the house. The living area is marked by a zebra hide, giving a touch of whimsy to the more classic pieces like the low dark wooden coffee table that had been in Gilt, a bar that Jay used to own, and the purple sofa with colored throw pillows. A pair of white armchairs frames the space—sitting next to a window is an oversized one with a gilded frame that had been a gift from furniture designer Carlo Cordaro, and the Detalia Aurora chair that Lani had customized with ostrich skin sits in the middle of the room. As a playful touch, a hippo peeks out from the tableau.
Just off the living area is the dining table, which sits on a woven area rug that dogs Java and Candra like racing around on. Off to the side is an antique buffet that had also been in Gilt. "Maitina had actually found it, in Carbon, and it turned out the place wasn't even an antique store," Jay laughs. "She, Lani and Delphine (Delorme) had been antique shopping, and they were going from store to store. The next one, where they found this, was actually just someone's house."
The kitchen, with its sheer black paneling and spacious counter was the only thing that Lani had been particular about. "I love to cook. I cook everyday," she explains, adding that she had designed it after an Italian kitchen. "I wanted to have a wide enough space so I can entertain on the counter, because I love having my friends over, and we can talk and eat while I cook."
The bedrooms also have their own character, beginning with the spare bedroom that Lani had previously used as a yoga studio. "But when Gilt closed, Jay started using it as a home office," she recalled. Now, one wall is covered completely by a Delphine Delorme painting that used to be at Gilt's entrance—the striking pop-art piece is complemented by minimal furnishings for a maximum effect.
After its expansion, the master's quarters is considerably spacious, with enough room for a boudoir and vanity, as well as a small nook that had previously been a balcony and where Lani now does her yoga. Artwork and Persian rugs come in as accents to the furniture pieces. A walk-in closet and bathroom are equally chic, with stone tiles for the walls and floors in the shower area, a cone-shaped shagreen sink with a mother of pearl basin, and gilded details on the closet doors.
"I spend most of my time in the kitchen," Lani admits when asked what her favorite corner in the house is. "But I also like the bedroom—lounging around and reading in bed or the boudoir, and enjoying the breeze from outside."
Probably the most notable thing about the home is how it all comes together with an air of insouciance, as if everything had just casually fallen into place—something that could probably be attributed to Lani's French side.
In any case, Maitina remains correct in her initial depiction of the place—eclectic chic. She adds later, "It's very grown-up," and that's true as well. The home represents a woman with an eye for design, an appreciation for the finer things in life, and a whole lot of personality—and in the end, the woman who lives there is exactly that.
Photography by Maitina Borromeo
Originally published in Zee Lifestyle, Dec-Jan 2017
Trendy Renovation Ideas for your Home or Condo.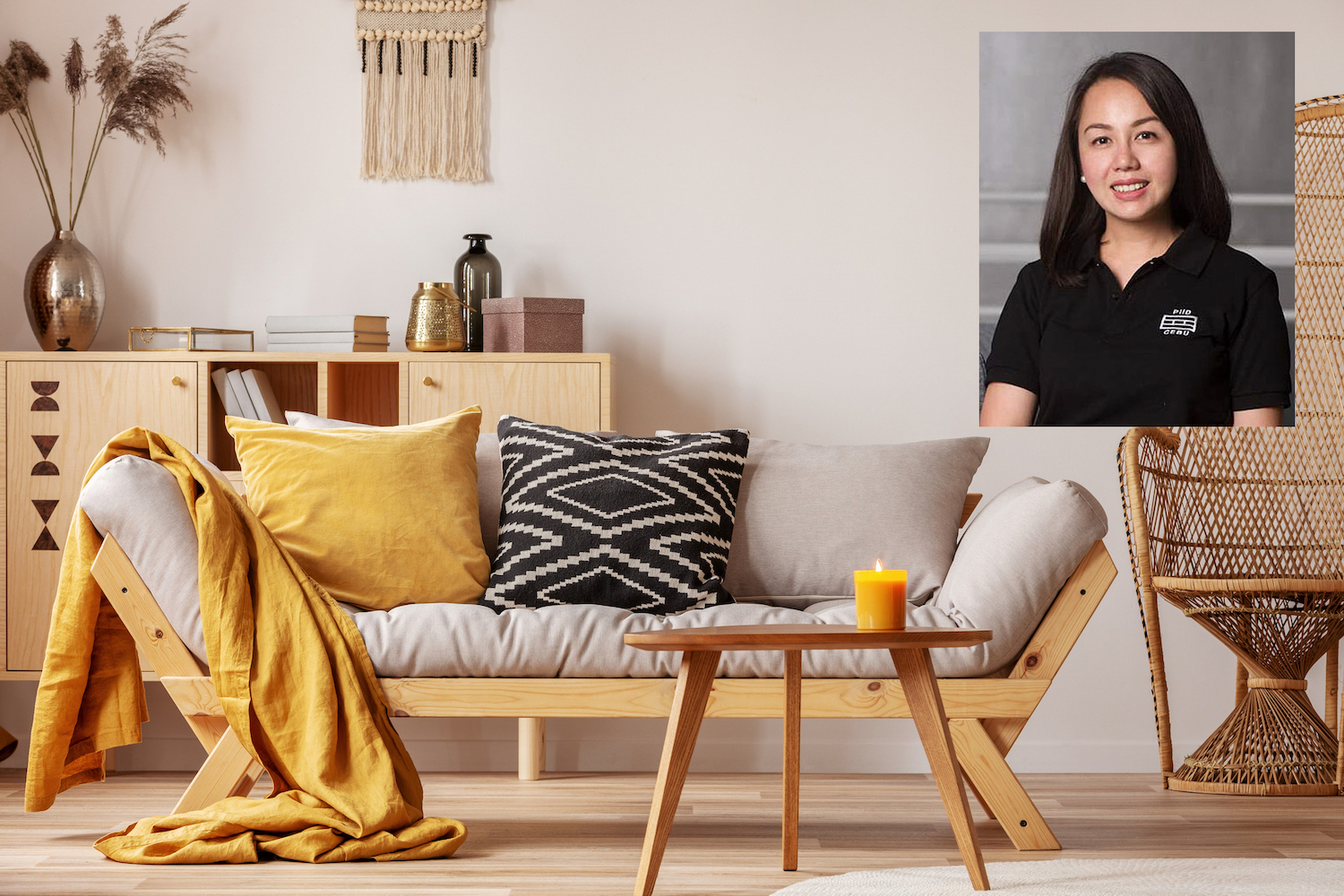 by Christa M. Cañizares IDr.
Part 1: Plan the Space to Suit your Needs.
A.)  Decide on a theme that reflects your personality. You can start by browsing through the internet and make a mood board on the colors, patterns, furniture and accessories that you love.
B.)  Work on your budget. This is essential to any renovation project. You can start with window shopping and scout for the key pieces and compare prices. You can also browse home products and purchase them online.
C.)  Invest in good and durable pieces.  Start with the big items that you often use. Your mattress tops the list as this is where you rest and recharge. Big items such as sofas and dining sets should be durable enough to withstand the everyday wear and tear. Choose a design that can easily go well with your space when you redecorate.
THROWBACK THURSDAY. Discover Why This Airy, Modern Structure in Busay is Called the Sky House
Defying Gravity
YKC Premier's first venture in Busay floats over a cliff and introduces a new brand of living in Cebu.
by Shari Quimbo photography Ezekiel Sullano
YKC Premier's first venture couldn't be more aptly named—Sky House was spot on—the airy, modern structure that juts out of a ridge in the Busay Highlands couldn't be called anything else. The drive up the hill levels to a short plateau right before the entrance of the village, allowing ample time for everyone to look up and admire a house that seems to be in defiance of gravity.
"When I saw the property, it was everything you could ask for, and it's in limited quantities so we wanted to maximize all its assets," says Victor Consunji, one-third of the group behind the project. "The problem was the land is narrow. Since we have the experience and capability, we thought, why waste all the good things about this property by just building on the ridge? Why not build over the ridge?"
Slater Young and Stephen Ku complete YKC Premier, a group of men who have come together to redefine the art of living with a view in Cebu. "Slater and I have been friends for a while, and I bumped into him at a wedding here in Cebu," Stephen recalls. "And then we were talking about businesses that we could do together, and he mentioned that he had a nice piece of land that he wanted to fix up. He showed me the place, and I thought it was beautiful. On the way back to Manila, I thought about Vic because I'm also working with him on his project in Manila called Mahogany Tree."
Once the three sat down to discuss the venture, Victor was immediately interested and, in fact, already had a vision for the house's design in his mind. The partnership played up each one's individual strengths and backgrounds—Victor comes from the family behind DMCI Holdings Incorporated, which have constructed Philippine landmarks such as the Manila Hotel and Shangri-La's Mactan Island Resort; Slater has a background in engineering and his family is also in construction; while Stephen is at the helm of Eventscape Manila and is behind some of the hottest restaurants and nightspots in the Philippines. "Victor would be the CEO, the visionary. His expertise is what we brought in here," explains Slater. "And since I'm also in construction, I was sort of his eyes here in Cebu. I'd be the CTO, Chief Technical Officer, and Stephen would be the CMO, marketing."
Although YKC Premier already has three strong personalities behind it, the guys decided to bring in another design visionary to help them complete the look of the Sky House. "The Sky House is unlike any other home in Cebu, and it was a designer's dream to be part of it," says Vito Selma, who brought in his iconic pieces, along with some custom-made furniture to complete the look of the Sky House. "Given its location and the abundance of windows, I wanted the home to feel just as light and airy—to simulate the feeling of flight. And to stay true to my brand, we just wanted to bring nature into the home, which can be seen in the materials, textures and colors in the space."
The look is relaxed but sophisticated, with many art pieces that Vito had commissioned especially for this project. "The installation in the entry is by me," he says of the large textured slab with pieces of wood in different finishes scattered on it. "I made it in a way that when someone walks in the house, they see a reflection of that piece and its materials in other areas of the home." Other notable pieces are in the living room: a large rattan sculpture of interlocking loops by Vito's sister Selina Romualdez, and a long painting with strokes in various shades of gray by Tzaddi Esguerra. "I love working with her for all our projects," Vito admits. "We tell her what colours to work with, and she makes the magic happen."
With the house finished in just over a year, the guys are looking forward to constructing seven more houses to complete the project, offering a lifestyle that is incredibly appealing. "Young, hip urbanites. Young families. If they're young, they at least feel young," says Stephen of who they see living in the space. "People who want to balance work and play, because this place is like a residence and a resort at the same time."
"Nowadays, with the way things are going in the Philippines, there is a focus on taking vacations, but not everybody has that chance. Not everybody can just take off whenever they want," Victor adds. "I really don't believe that a home is just your home, your vacation spot is just your vacation spot and your work place is just for work. I think you can have the best of all three, and this design incorporates that."
"It'll feel like you're going home to a vacation every day," Slater adds.
Although these gents are focused on the Sky Houses for now, they look forward to bringing more of this brand of living to other locations. "We're just looking for the right project, but I think the boys are in agreement that we really want to explore Cebu, particularly because this is the emerging market we want to be in. We just need to look for the right spot, and the right design," Stephen says.
More than just creating modern and luxurious properties, YKC Premier hopes to change the perception of what living in Cebu can be. "That's what we want to bring to Cebu," Stephen shares. "I haven't seen a development like this in Cebu, and a lot of the times I'd ask Slater, and he goes, oh no, the Cebuanos wouldn't want to spend for something like this. I kept telling him that if we build it, they will come. Cebuanos are ready for something edgy and daring, and I think this project will be a testament to that." With the first house already sold, that's certainly been proven true. After all, with just one visit to the Sky House, it's hard to imagine a better place to live.
(This article has already been published in Zee Lifestyle's February 2016 Real Estate Issue, "Defying Gravity" on pages 68-73.)
LOCKDOWN FUN: Whose Crib is This?
Here's one way residents of Cebu's exclusive villages created their own fun during zoom parties — guessing each other's home! Of course, you need a smart mastermind to curate the photos to make sure the homes of each of the amigas are not easy to guess.
So, here's a short tour of homes that was paraded during this very fun game. Homes are located in Maria Luisa, Northtown Homes, Beverly Hills and a beach house too.  Oh, and one came all the way from Scotland.
We hope your zoom parties are just as fun!