The Wild is Closer to Home at the Cebu Safari and Adventure Park
Finally open after months of excited buzz, the new destination offers a number of up-close animal attractions, adventure rides, and a true sense of wonder.
There was a busy procession of cars on the national highway as we headed up north to the Cebu Safari and Adventure Park. After all, people were busy with their Tuesday morning commute.
It was a bit different for our group that morning, though. As we turned on a narrow road off the main highway in Carmen, the concrete buildings and storefronts soon gave way to trees, farm lands and the occasional cold spring.
We passed some abandoned chicken coops, and the day's host Honey Loop pointed out that this marked the beginning of the Lhuillier's property. It turned out to be expansive, with a number of livestock and produce planted on the land. Philippine Daily Inquirer columnist Jaime Picornell shares, "He actually wanted to be a farmer when he was young," referring to Michel Lhuillier.
With that history in mind, it seemed only natural that Michel would venture into something like the Cebu Safari and Adventure Park. Actually, the buzz of his personal animal collection had been circulating social groups in Cebu for years. When the opening of a fully developed safari in the north was announced, it inevitably caused some excitement.
In the Making
That, then, leads us to today. Philippine Star columnist and frequent Zee contributor had organized the trip. A selected group from the media and travel agencies were treated to an exclusive preview of the safari.
Hosting us was her son Eduard Loop, the Vice-President and Chief Operating Officer of the Cebu Safari. "Yes, it was his dream to be a farmer," he confirms when we ask him later about Jaime Picornell's anecdote. "But his father told him that there's no money in farming," he adds with a laugh.
Of course, the eventual success of Michel's business ventures later allowed him to chase this dream. He started acquiring properties and explored some farming options. Eventually, his love for animals also started claiming his time and attention.
"We made a masterplan about eight or ten years ago," Eduard shares, revealing just how long this project has been in the making. "It's now under the corporation, under the M. Lhuillier Group of Companies. But in the beginning, he did it on his own."
Borne of this passion for nature and animals, the Cebu Safari and Adventure Park spans 170 hectares, and is currently home to 111 species of wildlife. "We have a few more coming in by the end of April," Eduard adds. "There's some white lions, flamingos, four more giraffes, and some other African animals."
Exploring the Park
We were dropped off by the bus at the Welcome Pavilion, where refreshments were served. The park's mascots–Bayani, the Philippine saltwater crocodile; Andres, the Visayan warty pig; and Amihan, the African Crown Crane–greeted the group with a dance number.
After a brief talk on the park's rules and guidelines, we were divided into groups and ushered into trams for a tour of the grounds.
First up was the African Savanna. The tram drove through the rugged terrain, while zebras, wildebeests, waterbucks and other animals grazed as if on their native plains. "This is actually just the first portion," Eduard told us later. "We're building something in the back, so the actual ride will be longer. There's going to be a river."
A short drive away was the Crocodile Area, where the large creatures lounged around their pool of water. In a separate enclosure to the side, otters and turtles waded in their own ponds. Just outside, the pythons were out to interact with the braver guests.
Even More Animals
Various animal enclosures are distributed throughout the property. The cheetahs, for one, lounged in the shade as we observed them through a thick glass window. The spotted hyenas were out of sight, being nocturnal. We were encouraged to interact with the giraffes though, who weren't shy about grabbing the branches of trees we offered them.
The meerkats seemed to be naturally curious of cameras, posing as we approached them. The Canopy Trail cuts through the area for the flightless birds, where swans, pelicans and crowned cranes took periodic dips in their ponds.
The bird show came after lunch, in the training area while the amphitheater is under construction. Eagles, toucans, owls and a number of other avian species performed a series of tricks for the audience.
Afterwards, it was time to visit the Macaw Aviary, where you could get a closer look at the colorful birds. A path from there led to the capybaras, llamas, and emus. Across the path were the Visayan warty pigs, deers, and the black bucks. At the end was the Tiger Turf, arguably one of the most beautiful parts of the tour. The large cats frolicked in their space, eventually playing in their own watering hole to escape the heat.
A number of other areas were still under construction, For one, the lions' area will have caged vehicles driving through the enclosure to offer a closer look. We didn't mind though–we were glad to have a reason to come back.
The Adventure Park
Of course, the animal attractions aren't the only things the Cebu Safari has to offer. "We plan to put up a 60-room hotel, but that'll probably be done by 2020," Eduard shares. "For 2018, we will have four adventure rides. There's a 1.3-kilometer zipline, and a bicycle zipline. There's an obstacle course for team-building activities. And there's a giant swing, with a 35-meter drop."
A lunch buffet is currently included in the introductory rate of P800, and they will soon have more to offer in terms of dining options. La Vie Parisienne will have outlets throughout the property, including their popular pizza and gelato.
Giving Back
With so much to offer, the Cebu Safari is definitely one of the most exciting places to visit this year–but it's not just all fun. Eduard reveals that they are also dedicated to giving back to their community.
"85% of the workers are from Carmen," Eduard reveals. "As much as possible, we try to employ locally. We have training programs for them." The training programs include the Life Science Group, with consultants from Australia, Singapore, Sri Lanka and Czech Republic. "They take care of our animal husbandry side, because our local vets have never had the experience to deal with these kinds of animals."
The Cebu Safari will also offer special rates for Carmen residents, and have partnerships with local public schools. "Basically we're trying to educate the youth about nature, the environment, and animals," Eduard shares.
In trying to foster the tourism industry in the area, the Cebu Safari encourages locals to open up accommodations, or offer transportation services.
The Legacy
As impressive as the Cebu Safari and Adventure Park is, at its core is a man's passion project. Eduard himself believes this passion project is more than just a recreational destination for Cebuanos and tourists alike.
"It's really Michel's vision," he says. "The way I see it, this is his dream, and it will be his legacy for sure."
We'll definitely be enjoying the Cebu Safari and Adventure Park for years to come. In fact, we're already planning our next trip.
Toril, Barangay Corte, Carmen, Cebu
For inquiries and reservations, call +63 995 835 3460.
The Uncommon Traditions that Mexicans and Filipinos share when celebrating the Day of the Dead.
Dia de los Muertos
By Allain Dumon Fonte
The 2nd of November is All Soul's Day, a holiday that is very important to many Filipinos to remember our loved ones who passed on. This is also widely celebrated in Mexico as "Dia De los Muertos" or in English, "The Day of the Dead". And Mexicans celebrate the 2nd of November grander than they celebrate Christmas. Well, you can witness it from the Disney movie, "Coco".
As All Soul's Day or Dia de los Muertos is about to end, here are some interesting traditions and superstitions that Filipinos and Mexicans share:
1. IT IS NOT ON THE 31st OF OCTOBER
Dia de los Muertos or All Soul's Day is not practiced on October 31st or on the Hallow's Eve as many other western cultures practice; but we celebrate it on the 2nd of November. We celebrate November 1st as All Saint's Day or the Day of the Holy, while in Mexico they call it Dia de los Innocentes or Dia de los Angelitos to commemorate the children who died too early in life.
2. THE RITUAL
Both in Mexico and in the Philippines, we visit the grave of our loved ones and we clean it well. This is a ritual to honour their resting places and to let them know that they are never forgotten.
3. FLOWERS INVITE SPIRITS
In Mexico, they believe that the scent of flowers attract spirits. So the flower offerings are invitation to their dead loved ones to visit the living families. While in the Philippines, we believe that flowers offered to the dead exalt the souls and somehow fill in the sadness that we feel when missing our dead loved ones.
Most of the time, Filipinos choose all-white flowers to offer because white is the absence of colour, which means the absence of Joy and happiness. White also symbolises purity of soul which we hope our dead loved ones will attain as they journey to heaven. While in Mexico, they have the yellow Mexican marigolds as the official flowers of the dead that will guide them in their journey to the afterlife.
4. THE LEGEND OF THE MONARCH BUTTERFLIES
Both cultures believe that monarch butterflies are dead loved ones who visit us and show their appreciation that we have not forgotten them. A presence of monarch butterflies also means that our dead loved ones are always there guiding us and looking after us.
5. A PICNIC IN THE GRAVEYARD
Spending a night at the graveyard and picnicking with the rest of the family may sound very creepy to many; but to both Filipino and Mexican cultures, picnicking and spending a night at the cemetery is a must to show our love to our dearly departed. It is the only time in the year that families gather and tell stories of the dead loved ones and how colourful or how great their lives were.
6. FOOD FOR THE DEAD
In Mexico, they have what they call "ofrendas" or an altar where the pictures of their dead loved ones are displayed and offered with flowers, candles, and their favourite food. Very similar to the Filipino culture of cooking the favourite food of our dead loved ones and everyone in the family enjoys the food for dinner.
My family tradition involves me driving all the way to Colon street and buy that famous Snow Sheen's "pancit canton". This is my granddad's favourite snack. Sadly, the old Visayan Restaurant is no longer there. My late uncle and my late grandpa love their sweet ad and sour fish. We also set up an "ofrenda" on their graveyard and eat their favourite food while picnicking in the cemetery. We do not spend a night in the cemetery; but while we are picnicking there, we usually play the songs of Pilita Corrales and Susan Fuentes that my late grandpa used to listen every afternoon while enjoying his coffee, pan de sal, and pancit canton.
What about your family traditions? Share your thoughts by commenting to this article.
MODEL: Michael Joseph Mortola Enriquez & Alexis Wingfield
PHOTOGRAPHER: Gianne Paolo Anciano
HMUA/DESIGNER: Hazel Ocaba
STYLING: GPA Lifestyle + Clothing
Catch Ted Lasso the Emmy Award Winning Comedy Series on Apple TV+
Rating: *****/ *****
The multi award–winning comedy series airing on Apple TV+ is one of my favorite shows.  Ted Lasso starring Jason Sudeikis is about a fun good-natured American football coached hired by a British soccer club (AFC Richmond in London) to become their new coach.  In spite of the fact that Ted has no experience or knowledge about British football/soccer, his positive demeanor and charm helps him overcome the animosity of the team's players, staff and fans.  Eventually Ted wins over the team and the locals as they fight for position in the English Premier League.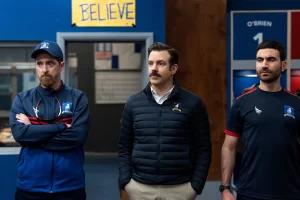 The show won the 2021 Primetime Emmy Award for Outstanding Comedy Series and 7 Emmy Awards in its 2 seasons and Season 3 is just around the corner.  You can catch Seasons 1 & 2 of Ted Lasso on Apple TV+
PANDEMIC DIARIES: Twelve Months Later
Photos taken by Pablo Quiza around Cebu City during the months of March, April and May 202
AS WE APPROACH ONE YEAR under pandemic times, we look back at March 2020 with fascination. And awe. We had 12 months of lockdown and survived the so called new normal. We lived with masks and alcohol even today. Carless roads and dark malls. Those were the early days of March, April and May.
It stretched to October and past Christmas. No Sinulog. Virtual parties on Zoom and virtual mass on You Tube and FB Live. We debated on the best meds to take if we get sick and whether to wear masks (please do!). We scampered for face shields and anti-viral sprays. Vitamins C and D and zinc. Later, we survived being swabbed and we learned the difference between a PCR and an anti-gene test. The latter cost less.
We dreaded the declarations of IATF mandated from Manila. And we got mad at the police chief who had a birthday party while his people were busy locking up everyone violating the lockdown. Most horrifying of all, we needed to produce IDs! Are you a resident of Barangay Lahug or Banilad? Are you employed and why are you still working? Everyone suffered thru endless checkpoints. Most sad of all are those using motorbikes, they seem to get the raw end of the deal since those with cars are not as scrutinized. We managed to trick the system by putting a big handwritten note in front of the car: COMPANY CAR, and zipped tru the police desks in the middle of the road. Don't even think of travelling, by plane, boat or bus. The collection of the required documents is enough for one to get exposed to Covid.
We learned to shop online, order groceries and necessities thru delivery. We slowly moved towards cashless payments. Gcash and banks like Union Bank and China Bank with friendly apps are heroes for making life easy for most of us to spend what little cash we have to spend on Lazada or pay the VECO bill. Oh and we binged on K dramas on Netflix and You Tube, kamsaminada.
As 2021 enters, there are some good news. For those obsessed with news, you already know that 7,000 vaccines arrived last March 2 in Cebu, with more expected in the next few weeks. The death rate is not as high among those who caught this pesky virus, which tells us that doctors in the hospitals have some proven expertise in dealing with Covid. More cures should be in the horizon.
Meanwhile, lets continue dreaming of the day when we can cross borders again, even if its just Bohol or Boracay, Bangkok or Hong Kong. Ready those luggages and bags bought during the 3/3 sale in Shopee in preparation for the day when we can take the ferry or the plane for new adventures.