Cebu Next
Armed with talent and a driving ambition, this crop of cool kids have been working and excelling in their respective industries to bring Cebu into the future, all while embodying a style statement that makes work look good.
The names that grace our next few pages are no strangers to Zee Lifestyle, but then again, that just goes to show much they've already accomplished. Armed with talent and a driving ambition, this crop of cool kids have been working and excelling in their respective industries to bring Cebu into the future, all while embodying a style statement that makes work look good. This month, we catch up with them to see what they've been up to and what they've got planned. It may not be all smooth sailing, but clearly they have nothing in mind but continuing on full speed ahead.
MATTEO GUIDICELLI
Actor, TV Personality
There must be something about guys who drive fast. In the case of Matteo Guidicelli, his clout as a three-time winner of the Karter of the Year award is matched by broad shoulders, a brooding gaze and an overall appeal that's made girls squeal since he first emerged as a veritable boy wonder in the Philippine karting arena. "I used to fly to Manila from Cebu every weekend for races because all of them were in Manila or abroad," he recalls of his beginnings. "Eventually my parents decided to move, then we started looking for sponsors. That's when Penshoppe came in."
That first print ad eventually gave way to several others, though that didn't mean it came easily. "I was so nervous, I couldn't move," Matteo admits about his first photo shoot with Xander Angeles. "I didn't know what to do or how to pose." That didn't stop the industry from taking notice, eventually booking him for acting jobs after he left Columbia College in Chicago two years into his course. "I realized that I wanted to be in showbiz, so I came back home."
The move turned out to be a good one, with Matteo soon booking several acting gigs until he truly broke out in the primetime television series Agua Bendita. "It was such a blessing because it put me and Andi's names out there," he shares, referring to co-star Andi Eigenmann, who was also a new talent at the time. "Because the show was such a hit, I got offered more projects," projects that's included movies like Catch Me, I'm in Love with Sarah Geronimo and My Cactus Heart with former real-life girlfriend Maja Salvador, as well as the TV show My Binondo Girl with fellow Cebu native Kim Chiu.
"I consider myself fortunate to have worked with all these leading ladies," he says, though it would be hard to think working with Matteo could ever be a chore. Most recently, he's been heating up television screens with Jessy Mendiola in Precious Hearts Romances' Paraiso, which follows the story of two people stranded on a deserted island. "It's daring and it shows a lot of skin," he admits, also saying that he does his own stunts. "I'm working so hard for it so I hope that everyone likes it."
VANIA ROMOFF
Fashion Designer
When asked about what the biggest challenge of being a designer was, Vania Romoff answers, "To get noticed and, when that happens, to endure." She's certainly gotten her share of attention since her debut at Philippine Fashion Week in 2009 and subsequent relocation to Manila. Now her creations grace the red carpet and magazine covers, sometimes on the designer herself. Of course it's no surprise that editors are as keen on photographing Vania as much as her creations, with her statuesque Russian-Filipino beauty. There's a laidback but sophisticated feel about her that is immediately noticed, which translates well into her creations. "I won't do something I would not wear myself. It starts from personal taste," she says, naming the undone looks of Parisian chic as her style influence.
Her personal taste has resulted in detailed creations that are flattering and comfortable. "The best compliment is hearing someone say they feel beautiful in my clothes," she shares. It's hard not to, what with the way she puts together pieces that are feminine yet simple, embodying an understated elegance that gives off a regal air, whether it's the easy column dresses in soft fabrics or her collection of structured jackets.
It seems Vania has stamped the fashion scene with her presence, and the industry clearly approves. She was recently chosen by the Philippine Consulate General of the United States as one of five designers who participated in an International Fashion Tour, which allowed Vania to showcase her Spring/Summer 2012 collection on runways in Seattle and New York. New York, especially, was a venture out of her comfort zone. "I flew in alone and did everything myself," she says, recalling her battle with the subway system and handing out invites in a state of anonymity. It's reminiscent of how she started in Manila, running around the city in sneakers to meet clients and have meetings in coffee shops. She's come a long way and certainly Vania isn't anonymous anymore.
KRYZ UY
Blogger
"I've been traveling for work and fun," says Kryz Uy on her busy last couple of months. "I keep moving around and hardly have time to stay put in my own home because work just keeps coming in." Her numerous followers must feel like they've traveled right alongside her, with her Twitter and eponymous blog getting constant traffic and her Instagram photos gaining as much as 7,000 likes. Besides the outfit updates and visual travel anecdotes, though, Kryz is also keeping busy as the creative director of What A Girl Wants, a boutique chain that is steadily expanding across the Philippines.
With its collection of trendy clothing, WAGW gives the fashion-inclined a chance to create their own Kryz Uy renditions, although the original still has a personality all her own. "Over the years, my style has evolved into simpler, more streamlined dressing and sleek fuss-free looks, but I always inject a touch of youth and quirkiness into it to make it more me." It's this lighthearted individuality that makes her a regular on Lookbook.nu's list of biggest karma gainers of all time, though she still packs her closet with the classics—high heels, a crisp white button-down, denim cut-offs and a good men's watch. "If I was an accessory, I'd be similar to Michael Kor's oversized Tortoise watch. It's classic yet modern, striking but not over the top."
The busy schedule seems to have left her almost ambivalent about the future, as she shrugs, "Who knows what the future brings? Hopefully, more success and more travel opportunities." She names Israel and Iceland as her dream destinations but these days, she's excited about something closer to home. "It might sound cliché, but what Cebuana wouldn't think it's the most epic event of the year? WAGW is actually sponsoring the Baseline Sinulog party this year. Can't wait for that!" Knowing they might catch a glimpse of her on the streets, her followers probably can't wait either.
RALEENE CABRERA
Interior Designer, Musician, Blogger, Entrepreneur
"Focus on work, visit Europe and design, design, design!" says Raleene Cabrera of her plans for the next year, which specifically include practicing interior design, booking singing gigs with her sister Rizza, planning a holiday revamp for her online vegan dessert store Skinny Sweets, and putting a lot more effort into her blog. She's recently taken a more concrete step towards adulthood—moving into her own place that she redesigned with her team. "I live without household help and I'm trying to be more independent," she shares before admitting, "but I'm glad that my dad and sister are just a phone call away for emergencies."
Designing her own space is just the beginning of her career, her schedule now packed with visits to construction sites that have changed her views on dressing. "Being on-site is just not glamorous, so I am keener on utilitarian fashion nowadays." She's found a way to infuse her personality into her comfortable outfits. "I've been more into boots lately—high-heeled and casual ones. I find that they pull an outfit together and I can easily transition my look from work to partying. They're also easier to walk in and I'm not worried if it suddenly rains in the city." Besides the boots, she plays up her looks with accessories, colorful blazers and denim button- downs, which she says, "I always end up resorting to."
Raleene dreams of visiting the Maldives and Iceland, but for a vacation that's much closer, she names Philippine festivals as a great way to explore the local cities and cuisines. "It's when everyone is extra hospitable." She plays the part of the hostess herself on Sinulog, where her weekend itinerary gets just as busy as her regular days. "I usually invite my friends from Manila to stay in our home and my mom would feed them lechon everyday. Then it's island hopping or swimming, and then clubbing at night. On Sunday, we're usually at the street parties 'til dinnertime, when I take my guests to Larsian's before watching post- Sinulog gigs in the city."
HOLLY DYCHANGCO
Entrepreneur
"Wear what makes you comfortable and what makes you feel sexy," Holly Dychangco says on the best fashion advice she's gotten. "But sexy doesn't mean you have to expose yourself provocatively. Sexy is in the way you carry yourself." Her confidence now comes by learning from some style detours along the way. "I did get very hipster at one point, while I was living in San Francisco. I guess the way the scene out there influenced me."
Considering her return from the bay area was just a few months ago, Holly has been off to work and on the go with various opportunities. "I've been involved in the development of this new brand, Urbanfolio. It gives the design trends in Cebu a little push forward as we expose local design and talent through our television show." The packed schedule called for a style evolution, which she calls simple and streamlined. "I choose comfort over extreme glitz and glam. Since I started working, the closet has definitely evolved to include a bit more professional clothing."
Of course, her style isn't the only thing that's evolved. Although still comfortably affable, Holly's definitely learned some things from the obstacles she's been through. "All I can say is that the industry is a tough field," she shares. "I learned to stay strong and push forward. There are people who try to bring you down, but I believe it's a battle between you and yourself. I am my own competition, and it's broadened my understanding of the industry and the ways of handling tough situations."
With that, she looks forward to the future, "I have big, big plans. Fingers crossed, I will be launching a special line of furnishings and accessories, a new design collection. Also, a lot of traveling, hopefully in Madagascar or the Maldives." She also espouses the offerings in our own backyard. "There's food and white sand beaches," she says of what to see in the Philippines. And then there's Sinulog. "I'm usually the person dancing with the street dancers, covered in paint, or jumping up and down the crowd to the beat while the Sinulog parade is happening. I usually go where the beat takes me."
VITO SELMA
Furniture Designer
A quick look at Vito Selma's Instagram profile will have you wishing your passport saw just as much use, his profile description of "keep calm and sail on" being apropos to his collection of travel, fashion and design photos. "I have a goal of traveling to all the continents before I turn 30," he shares. "South America is the only one left. I'd be happiest to travel around the continent, hoping to follow the route of Che Guevara, just not on a motorbike."
The wanderlust seems to work well with his career, with Vito traveling all over the world for trade shows and client meetings. It's an on-the-go lifestyle that has the furniture designer thinking his shoes best epitomizes who he is. "Shoes tell a lot of where I've been," he says. "Good shoes are a great investment as you spend most of your time in a day wearing them." The simple philosophy makes sense, capitalizing on the belief of dressing for himself and not other people. "I'm a very casual guy. I just learned to polish up after living in Milan." The exposure to other cultures affects more than just his sartorial choices, of course. "Life is all about growth. I learn from experience and others, apply all that information into my future, decisions and designs."
His future proves to include just as much wandering as his past, his schedule marked with a return to Paris in January for Maison et Objet, a meet-and-greet for his US clients and a Philippine launch for his 2013 collection in March. However, Vito makes room for philanthropy. "I'm working on a project with an architect and business designer to improve education in the country, especially in remote areas where there isn't a lot of opportunities for children."
The chances to give back prove the designer's continued support for where he's from, as does his appreciation for local sights. "Philippine architecture," he answers when asked for a cultural can't-miss. "People take for granted the history of design and architecture that's in the older parts of town. I wish there was more investment in preserving these historically rich old homes and buildings." Vito might see a different world from the rest of us, but his photos offer a little peek into it that, truthfully, still makes us a little bit envious.
SLATER YOUNG
Actor, TV Personality
After winning Pinoy Big Brother and taking on movie and television projects, Slater Young might have been shy as the engineer who was following in his father's footsteps and working at the family business Hi-Speed Construction, but his current career path in showbiz has been teaching him otherwise. "It gets you out of your shell quickly," he says on how the last few months changed him. "It gives you confidence, especially when you know that a lot of people are supporting you. The industry is built on relationships with the people you work with, so it's made me a more sociable person. I still have a lot to learn though."
The humble way he points out his own room for improvement is probably how he won over thousands of fans in a little over a year; then again, it could have been his bright-eyed boyish good looks. With already close to 300,000 followers of Twitter, Slater continues to charm audiences with more acting projects, including the new show A Beautiful Affair with John Lloyd Cruz and Bea Alonzo. Despite the national fame, though, his affinity to Cebu isn't easily shaken, especially around January. "You can't miss Sinulog. I'll be there this year—the first time since PBB—and I'll be ready to have a great time," he enthused.
Like most Cebuanos, Slater takes a more laidback approach to fashion. "It's usually just polo shirts and jeans," he says of what outfit best reflects his personality. The minimalistic dressing had to be slightly altered though. "I didn't use to mind what I was wearing as long as I'm comfortable," he confesses. "But they told me I had to dress like a star!" Considering the fanfare that's starting to follow him around, his disarming smile might have been enough to make him one anyway.
MIA ARCENAS

Fashion and Accessories Designer, Entrepreneur
"I'm definitely not sitting at home and watching it on TV," Mia Arcenas says of her Sinulog plans come January, when she will be entertaining friends from LA. "My face paint, whistle and feather hat will be ready so I will be seeing you on the streets!" The exuberance for the festival is the kind of thing about the fashion designer and recent Bb. Pilipinas contestant that sets anyone who has qualms about meeting her immediately at ease. "I'm like a pair of comfortable high heels. Most people see me as intimidating, too high up there, when I'm really not."
Perhaps more than her long legs and bronzed skin, it's Mia's air of confidence that makes her immediately stand out, but that's just from having the drive to get what she wants out of life. "Every experience has definitely been a learning curve to knowing what I really want in life. Traveling around the world, working for the family business, school, and all the other circumstances I've put myself into add up to realizing my wants and needs." That's included working on her brand and focusing on apparel and accessories for the resortwear market.
As for her own style, Mia's found herself backing on sound advice she received at an early age. "When I was about nine or ten, my mom always used to tell me, 'build your closet; it's about quality, not quantity.' It is definitely important to invest on good pieces that will last years, instead of two to three washes." Since then, her style has evolved into more solid-colored and quality pieces that she matches with her collection of shoes. "It's more put-together, feminine but edgy."
There might be some room for other style inspirations as she travels in the next year, which could include stops in Egypt, Turkey, Maldives, Bali and Tokyo. As for the rest of what's to come, Mia is unapologetic about going after what she wants. "Nothing is set in stone, and you'll just have to see what happens. But I've got high hopes and big dreams. They say big dreams take as much energy as small dreams, so why not go for the gold?"
by Shari Quimbo
produced by Melo Esguerra
photography Dan Douglas Ong
sittings editor Michael Sanchez
locale Cebu Yacht Club
LADY CYCLISTS HIT THE ROADS AND SLOPES OF CEBU.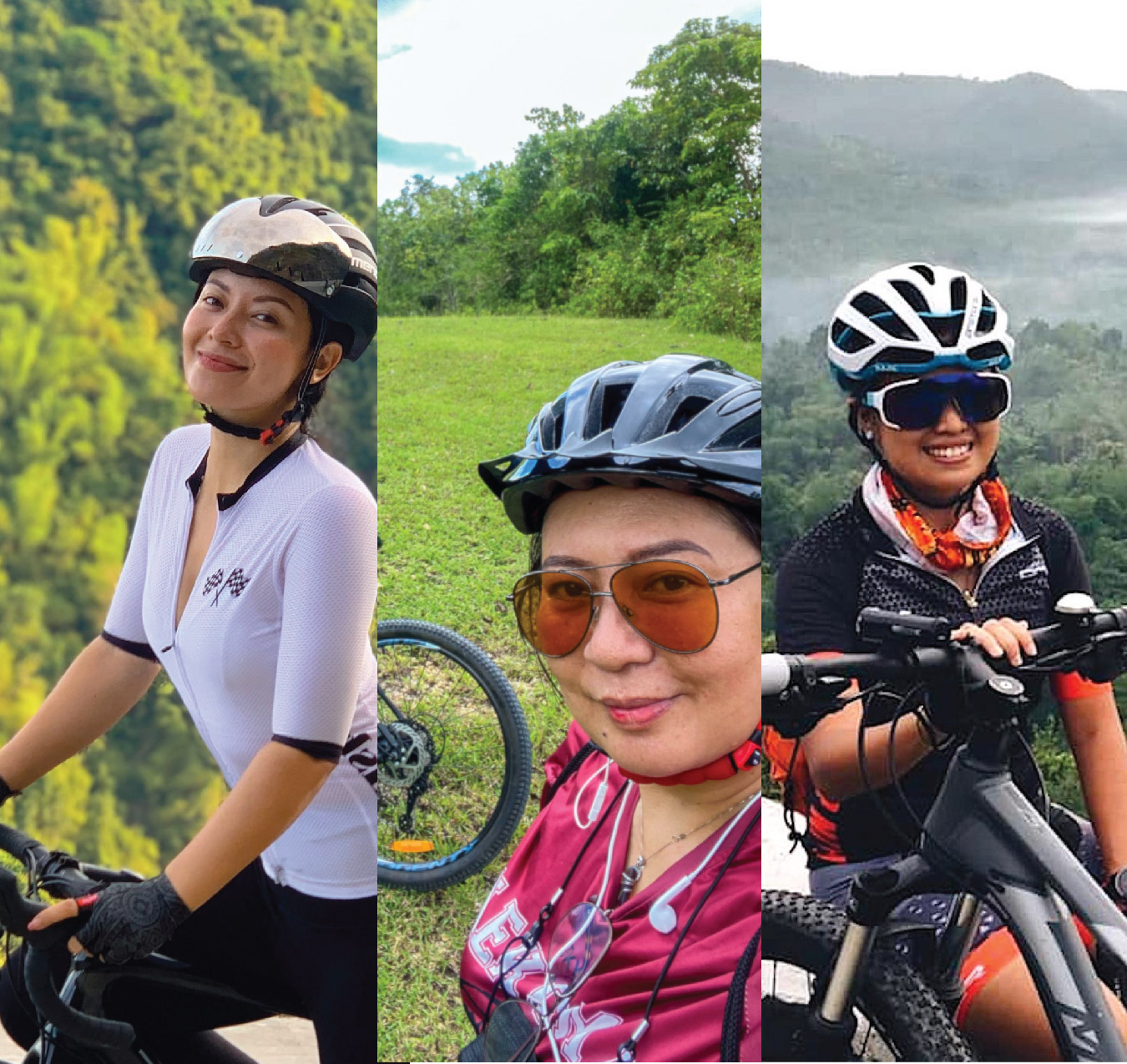 Cycling has been a growing sport and hobby for many years but it's popularity has erupted since the Covid pandemic.  People biking to work and for recreation is an everyday sight in Cebu.  More and more are joining the ride.  Many are quite serious about cycling.  I know three ladies who are among those who've gone long distances across Cebu.
How did you get into serious cycling?  What was your motivation?
Blinky de Leon.  Event Host, Product Endorser & Influencer
" I've been into cycling since I was a kid. A little backstory, I was around 10 years old when my dad surprised me with my first custom-made mountain bike. I still keep it until now, in fact I had it refurbished. It's the most sentimental thing I ever received since it was his way/gesture to catch up with me after not seeing each other for almost 6 yrs. My dad is based in Germany and he also loves cycling and makes his own bamboo bike."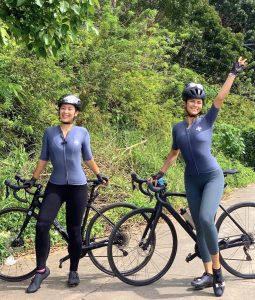 "Just a year ago though, my friend Gazini randomly, out of nowhere, picked me up from home to bike with her to the South of Cebu. I felt really excited and motivated to get back on track because it's very nostalgic and brings back so many great memories. And since then, the rest was history. We've been joining different groups, tried different routes and conquered different heights. I've met so many cyclists with very inspiring stories in the bike community who kept me feeling motivated too. I also look forward to the sights and the adventure that comes along with it."
Yumz Mariot. Branding & Marketing Consultant
"I used to bike along with rock and wall climbing. I am lousy with ballgames which is why. Our usual route were Talamban and Mactan but one time, managed to ship gears all the way to Dumaguete for a quick ride to Valencia, the next town located at a higher elevation. Those were days when I did it for fun and what bike I was using did not matter."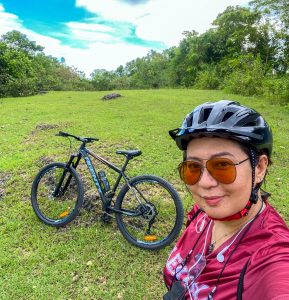 "Fast forward to 2021, a year after the pandemic lockdown began, I realized I have been lazy to do any fitness routine. Too caught up on juggling between house chores and Work from Home deliverables (I work as a Branding and Marketing Consultant), I started to feel my body needs to move as much as my brain does. A hysical fitness routine is as important as what I eat, or what I read or watch. So I decided to invest on a decent MTB, just very recently and got myself a much necessary restart. What motivates me even more is the area where I currently reside at. It is vast, fresh, green and safe for solo bikers like me."
Prime Sarino. Digital Media Creative
"I started biking as a young teenager and I got the idea to start it as an adult hobby 3 years ago. I was already into running and I thought it would be great to venture into another outdoor activity to keep me occupied after work hours and weekends. I was set to travel for a year so I had to put aside the idea first but came pandemic. We were all forced to stay put and everything was put on hold. Cycling became my diversion. My cyclists friends invited me to quick and short rides. I enjoyed my first 50km ride and the sceneries and routes most of all. It also helped channel a positive mindset during the hard hit season of the pandemic. Not to mention it's also another way to stay fit when we were forced into inactivity during the quarantine."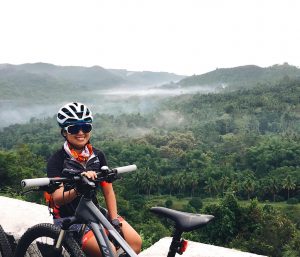 Next in Part 2, we ask the ladies about their cycling experiences and memorable moments…
by: Zen
#CebuPride:  Cebuanos in Multi-awarded Pride-Themed Films
Multi-awarded International Gay Movies with Cebuano Lead Casts
By:  Allain Dumon Fonte
Pride-themed movies are starting to invade the film industry as people become more accepting and are more intrigued on the stories about LGBTIQ.  Many have shared the intensity of emotions and laughed with the craziest jokes on gay-themed movies.  In the Philippines, these kinds of movies were questioned as to their morality and their message to the society.  The strong influence of the country's religious standards had branded gay-themed movies as sex-oriented and nothing more.  Yet, with Thailand's more tolerant culture, Thai BL (Boy's Love) movies and television series have created a new perception to the viewers; and that is gay-themed movies are remarkably alike to all other movies – there is romance, comedy, drama, and the continuing struggle of living like normal people.  Hence, Thai BL TV series have a massive following all over Asia.  At the end of 2019, they became available in Netflix and are being watched by millions of viewers all over the world.
The Philippine film industry is not that far from Thailand's.  Some of the LGBTIQ-themed movies and television series are slowly getting a following in Asia and are now accessible to viewers worldwide.  A few of these pride-themed movies that casted or directed by a Filipino have already been receiving nominations and awards from Golden Globe, The Berlin Film Festival, the Venezia Film Awards, and even the Emmy's…and the Filipinos in these films hail their roots from Cebu!
1. Lingua Franca
Lingua Franca is a film directed by a Cebuana, Isabel Sandoval.  Sandoval also plays the main character of the movie, and she even wrote the screenplay.  Lingua Franca tells the story of Olivia, an undocumented transgender woman in New York who works as a caregiver to a senile old-lady of Russian-decent.  When Olivia is challenged to attain legal status in the US, she is left with a "marriage-based green card".  While in search for her groom-to-be, she becomes romantically involved with Alex, Olga's grandson.
The film is now available on Netflix and has received positive reviews from the media.  Stephen Dalton of the Hollywood Reporter wrote Lingua Franca is a "heartfelt personal statement rooted in timely, gripping issues that obviously resonate deeply with its author, notably trans rights and Trump-era immigration anxieties".
Isabel Sandoval graduated summa cum laude with the degree in psychology from the University of San Carlos in Cebu, Philippines.  In New York, she pursued graduate studies in Film at NYU.  She is now currently residing in NYC, and already has award-winning films under her belt like Apparition, Lingua Franca, Senorita, Ritwal, The Unstoppable, and Judgement.
2. The Assassination of Gianni Versace: American Crime Story
This television series was aired in Netflix and has gained so much popularity because it showed the murder of world-renowned fashion designer, Gianni Versace, by a serial killer, Andrew Cunanan.  Based on Maureen Orth's book Vulgar Favors: Andrew Cunanan, Gianni Versace, and the Largest Failed Manhunt in U.S. History, this television series has 9 episodes of suspenseful scenes, and is star-studded with casts like Ricky Martin and Penelope Cruz.  However, the main actor who played Andrew Cunanan is Darren Criss who gained his popularity after being a regular on the top rating TV show, Glee.  Darren Criss hails his roots from Cebu, Philippines.
The Assassination of Gianni Versace: American Crime Story received positive reviews from critics. At the 70th Primetime Emmy Awards, it received 9 nominations, and won 3 awards, including Outstanding Limited Series and Outstanding Lead Actor in a Limited Series or Movie for Darren Criss.
Criss was born and raised in San Francisco, California, USA.  Criss was raised as a Roman Catholic and attended roman catholic schools.  He later moved to Michigan where he studied Bachelor of Fine Arts major in Theatre Performance and minor in music at the University of Michigan.  Criss's father, Charles William Criss, is a banker and served as CEO of the East West bank in Honolulu, Hawaii.  Criss's mom, Cerina, is a native of Talisay, Cebu, Philippines.  When he was younger, he visited Cebu a couple of times with his mother.  Darren Criss is very proud of his Cebuano roots and wants to portray Filipino characters in films and in theatres to promote visibility of the Filipinos in the American films.
3. The Amazing Truth About Queen Raquela
     The Amazing Truth About Queen Raquela premiered at the 2008 Berlin International Film Festival where it grabbed the Teddy Award for Best Feature Film.  It was also awarded the Grand Jury Prize in the 10th 2008 Cinemanila International Film Festival at Malacañang Palace's Kalayaan Hall.  It starred Raquela Rios also known as Minerva to her Cebuano friends.  Raquela  is a local of Mandaue City, Cebu, Philippines.  The film is directed by Icelandic film director, scriptwriter, and producer, Olaf de Fleur Johannesson.
Raquella Rios is a native of Mandaue City, Cebu, Philippines, and she went to the University of San Carlos in Cebu, studying sociology and anthropology.  Before finishing her studies, Raquella left the Cebu and went to Iceland after being casted by Icelandic film director, scriptwriter, and producer, Olaf de Fleur Johannesson for the movie The Amazing Truth About Queen Raquela.  She is now based in Bangkok, Thailand as a fashion stylist and wardrobe assistant to some local Thai movies.  Raquella is also an activist for sex workers rights and trans rights in Southeast Asia; pushing for the recognition on the choice of their gender and the right to change their birth names.
There are still plenty of pride-themed films in the Philippines that gained recognition all over the world; yet these movies mentioned are special because of the talented Cebuanos that have  brought Cebu to world.  They truly are #CebuPride.
37 Years of High Fashion; Arcy Gayatin leaves a Legacy of Edginess and Elegance
Arcy Gayatin: A Legacy of Luxury in Fabrication
By:  Allain Dumon Fonte 
The brand Arcy Gayatin gave the Queen City of the South a distinct reputation in the fashion industry.  The fashion line of Arcy Gayatin sets the bar higher each year for clothing luxury and fabrication techniques.
Araceli "Arcy" Ancajas Gayatin is the daughter Galileo Ancajas and Remedios Zanoria Ancajas who founded Cebu's home brand, Gal's Bakery.  Arcy went to the University of San Carlos and studied Political Science.  And just like Dr. Muccia Prada, who completed her Ph.D. in Political Science and established the luxury line of Prada, Arcy also got in touch with her artistic side and started her own fashion line.  However, it was not Prada that influenced Arcy.  Arcy was introduced to fashion and tailoring at a very young age by her mother, Madame Remedios Anacajas whom they dearly call Mama Eme.  Mama Eme was running a tailoring business back then.  It was called Arabel; named after Arcy and her sister Belma.  Ara from Araceli and Bel from Belma.  In those years, Arcy was fascinated by fabrics and was intrigued by how to manipulate the fabrics to come up with fashion-forward designs without compromising comfort and taste.
After 37 years of creating haute couture pieces for the most fashionable personalities in the Philippines, Arcy Gayatin is now laying down her sketchpads and pens to rest.  As she enjoys her retirement, may be on a cruise to the Bahamas or a holiday to the Swiss Alps, Arcy Gayatin has left the fashion industry a legacy of elegant and edgy clothing ensembles that understand and define the shape of women; without compromising comfort and good taste.
To salute the lady who brought Cebu fashion to the world, a retrospective exhibition of Arcy's incomparable masterpieces can be seen today at Ayala Center Cebu's The Gallery; curated by fashion editor and writer, Clint Holton Potestas, and interior and fashion designer, Jul Oliva.
BALANCE.  Arcy Gayatin is known for her perfect symmetrical lines when fabricating.  She knows how to balance edginess and class; understanding well the strength and the finesse of a woman.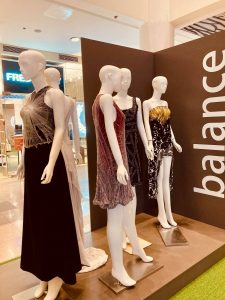 RHYTHM.  Arcy's expertise in draping and fabric manipulation can be seen in how she achieves rhythm between architectural lines and soft fabrics like silk and cashmere.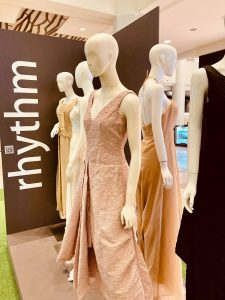 TEXTURE.  With her thorough knowledge on fabrics, Arcy Gayatin has achieved the perfection of fabrication by working on different types of fabrics and creating a single piece of art out of them.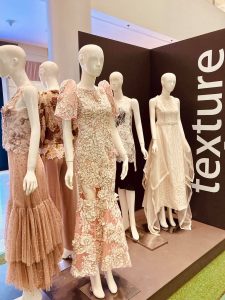 HARMONY.  The simplicity of the silhouette plus the intricacy of the details create a wonderful harmony, making Arcy Gayatin's design a one-of-a-kind masterpiece.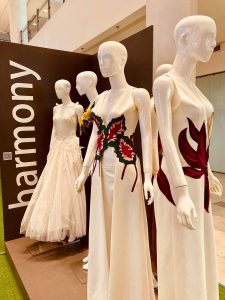 The photos below show an up-close look at the intricacy and the exquisite craftsmanship of Arcy Gayatin's fabrication techniques: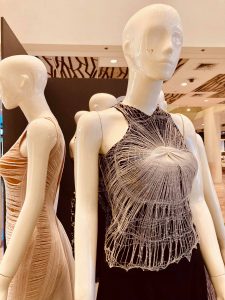 THE SPIDER WEB:  one of Arcy's genius fabrication techniques.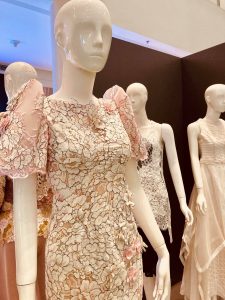 MATCH and PATCH:  Arcy's unique fabrication craft by patching layers of different types of lace and lace patterns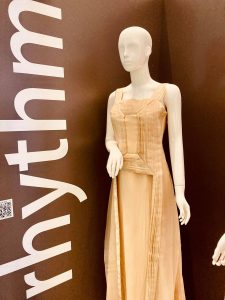 PLEATS: The perfection of symmetry in pleats on silk.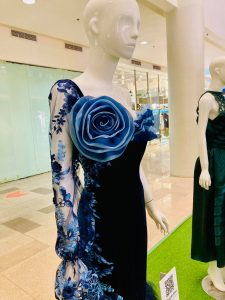 LA ROSE BLEUE:  U.P. student, Danielle Alessandra Deutsch, inspired by the artistry of Arcy Gayatin, designed this midnight blue dress.   The cabbage rose made from layers of silk organdy gave this evening ensemble a romantic appeal.