Upgrade Your Beauty Regimen With These Skincare Tips
If you're new to skincare or you want a reference of what products would be suitable for you, here's a list of skincare tips from Zee's managing editor.
Growing up, there was a time when I used to watch my mother as she did her skincare routine. Each night before going to bed, she would be at her vanity table, where she had at least four bottles containing different kinds of substances. While she applied them onto her face, I would sit on the bed and watch her through the mirror. Sometimes I asked her what a certain bottle contained or what it did, and sometimes I just keep silent until she finished.
It's been a while since then; mum doesn't keep to a skincare routine as religiously as she used to because of her work. Interestingly enough, the situation is now reversed—I'm the one who's fully immersed in having a full-blown skincare routine, and she's the one watching me through the mirror.
She asks me things like "What does that do?" and "What's the difference between this and that?", and it amuses me to no end that she's now the one who's curious about things that used to make me curious. What makes me respond with raised eyebrows, though, is when she asks me: "Why are you doing a skincare routine when you're still young?".
My mother poses a good point—why am I starting a skincare routine young? It's a common misconception that taking care of your skin is something that should be done by people in their 30s or 40s. Research shows that as early as 25, our skin's two structural proteins—collagen (which keeps it firm, taut, and resilient) and elastin (which gives skin its flexibility, enabling it to stretch out and then snap back into place)—decrease, according to Dennis Gross, MD, founder of 900 Fifth Dermatology in NYC.
Backed up by other recent research on skin aging, it's only understandable how the idea of a skincare routine appeals to the younger generation now—this, and how beauty enthusiasts and influencers all over social media are hopping on the skincare bandwagon.
That being said, it's best to start taking care of your skin as soon as possible; don't wait until you see signs of aging. Personally, I've been sticking to a skincare regimen as early as 17 years old. Since then, my routine has changed quite a bit, as I've figured out what works for me and what doesn't.
If you're new to skincare or you want a reference of what products would be suitable for you, here's a list of skincare tips I've learned and put together over the years.
Remove Your Makeup Properly
If you're someone like me who wears makeup almost on the daily (in my case, it's not just for work—I do love playing with makeup), it's a MUST that you take it all off.
The first step would be to remove your makeup with a gentle product like Garnier's Micellar Water, which you apply on a cotton pad and gently wipe across your face. It's important to remember that with this, you're only removing what's on the top-most layer of your skin; that is, breaking down the layer of makeup or other products.
Do a Double Cleanse
This step goes hand-in-hand with the first one. After removing your makeup, you have to make sure that you wash your face to remove the residue. For this step, it's best to choose a water-based cleanser such as gel or foam to deep clean the pores and get rid of impurities.
I recommend the Banila Co. Foam Clean It Zero or the Glossier Milky Jelly Cleanser, two products which I alternately use depending on what best suits my mood at the time.
Don't Forget to Exfoliate
Exfoliation not only cleans out clogged pores, but it also sloughs off dead skin cells. When you remove this dull layer of cells, brighter skin is revealed. This step is not recommended for daily use. If you have sensitive skin, you'll only want to exfoliate once a week; otherwise, you may opt to exfoliate up to thrice a week.
Personally, I prefer to exfoliate only once a week, especially since it's an added step of my already-long regimen and I don't always have the time to exfoliate. This gentle exfoliator, Dermalogica Micro Exfoliant, leaves skin feeling refreshed and clean, and isn't tough on the skin.
Deep Cleanse with a Clay Mask
Clay masks are used to draw all the toxins and impurities from the skin. It's said that clay is best for oily skin as it sucks out all the oil that's built up deep in the pores.
Apply the clay mask (try the Aztec Indian Healing Clay, in which you combine equal amounts of the product with apple cider vinegar or water) to your T-zone and cheeks two to three times a week, depending on how much you need it. Once your skin has gotten better, cut down the usage to only once a week or when necessary. If you have combination skin, you can multi mask. Apply a hydrating or tightening mask on the areas where you did not apply the clay mask.
Apply a Sheet Mask
Sheet masks are something that I enjoy putting on, especially after a day's worth of work. While sheet masks generally have moisturizing and soothing properties for normal, dry or sensitive skin, these masks also have variants that are best for oily skin, which include ingredients like tea tree, lemon, witch hazel, honey, and so on.
If you do a deep cleanse, there's nothing wrong with doing a sheet mask right after. I recommend using Korean brands when it comes to picking out sheet masks; my personal favourite are those from The Face Shop.
Use a Toner
A toner is a way to prep the skin especially after putting it through a thorough cleanse. It resets the skin's pH to help maintain moisture levels, minimize acne-causing bacteria, and quell inflammation. While I think each of the steps listed here are important, I always think it's wise to not skip out on toner.
As someone with oily skin, I was constantly looking for the right toner that could balance out the double (and deep) cleanse that I do and improve my skin's moisture level. I found Human Nature's Balancing Face Toner works the best among all the toners I've tried. Aside from that, it's an organic, cruelty-free Philippine brand that supports the local community, so that's a plus in my book!
Invest in Serums, Essences and Ampoules
Popularized by the Korean wave, these are products that give an added boost to your skin. While there's very little difference between the three (don't worry too much, as it's a marketing tactic more than anything else), such as texture and consistency, it's best to figure out which suits your skin.
I typically use Korean products for this step, such as the It's Skin Power 10 Formula PO Effector, although I've been using the Nuxe Nuxuriance Ultra Replenishing Serum for about two months now and it achieves a similar result.
Use Sunscreen—Even on Cloudy Days
Aside from being an often-disregarded product, it's a very common misbelief that there's no need to wear sunscreen when the sun isn't out. That's quite wrong, to put it simply. Even when the sun can't be seen for a whole day when you're out, its UV rays are still able to affect you and your skin negatively.
Try Nivea sunscreen, a product that's made a name for itself when it comes to products containing SPF.
Moisturize Your Skin
You're probably thinking—we've already put on our sheet masks and applied toner, essence, serum, and whatnot, and we're still going to moisturize our skin? Yes, we definitely are.
It's best to have to moisturizing creams; one for the day, and one for the night. The difference? The day cream is typically lightweight and contains SPF, and the night cream is usually thicker in consistency and can be left on overnight. Try the Nuxe Nuxuriance Ultra Day Cream SPF20, which in my case, doubles as my night cream because of its thick consistency.
Make Sure You Apply Eye Cream
Your eyes tend to be the quickest to show signs of aging. Depending on the eye cream you choose, its effects could range between lightening dark circles or get rid of fine lines and wrinkles. Most people omit this step, thinking that a regular moisturizer will do, but our eye area needs extra care beyond that.
Give MAC Cosmetics' Fast Response Eye Cream a try, a favourite among makeup artists and enthusiasts. Side note: you can also use this product on your smile lines or the fine lines on your forehead.
Prime Your Face Before You Do Your Makeup
While primer, for most people, is more of a makeup product than a skincare product, I'd like to think that it's both. Aside from ensuring that you have a smooth base to apply the makeup, primer also preps the skin and makes it so that the layer(s) of makeup on top doesn't penetrate too deeply into the pores.
I can't apply my makeup without priming my face first, and the Banila Co. Classic Matte Primer is my all-time favourite primer in the world. Nothing compares to it—at least in my opinion.
These steps may seem daunting to most people, especially for a first-timer. Admittedly, this routine does take a good amount of my time, but let me tell you: it's worth it. You can always omit steps that you find irrelevant to your case, and there's no problem with that, really; not everything works for everyone. So go out and don't be afraid to explore!
Lastly, I am by no means an expert in skincare, but this is what works for my skin type and my lifestyle. I'm still constantly on the lookout for products or methods that can help improve my current skincare routine.
A Weekend Well-Spent at Shangri-La Mactan's Manumbalik Villa
Nestled in Shangri-La's Mactan Resort and Spa is an oasis for those in need of a weekend respite. Find out more about this hidden treasure!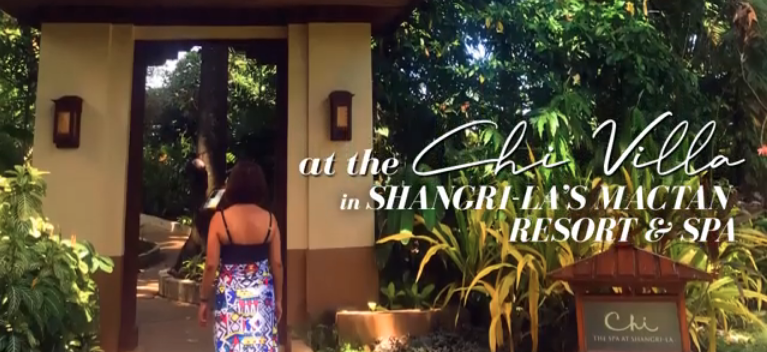 Nestled in Shangri-La's Mactan Resort and Spa is an oasis for those in need of a weekend respite. Find out more about this hidden treasure called the Manumbalik Villa!
<iframe width="560″ height="315″ src="https://www.youtube.com/embed/IfvtVcKetYw" frameborder="0″ allow="accelerometer; autoplay; encrypted-media; gyroscope; picture-in-picture" allowfullscreen></iframe>
5 Things We Love at SaladStop!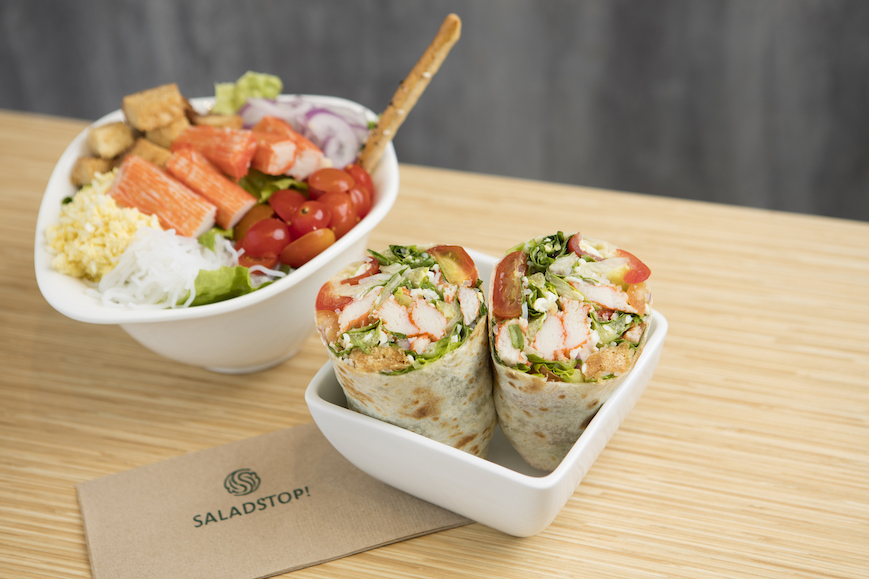 The search for shops in Cebu with healthy food is still on the run and SaladStop! just opened a second branch at Oakridge Business Park, just in time for more people to try their delicious and healthy goodies.
SaladStop! offers a variety of flavors and exciting twists to the usual salad that we make at home, and we can't help but love them for that. That being said, here are 5 things we love at SaladStop!
Their sweet and tasty Whole Wheat Chocolate Chip Cookies
The Wheat Chocolate Chip Cookies from SaladStop! allows you to indulge in sweet goodness with no guilt and regrets because it tastes like your regular chocolate chip cookie but it's vegan which makes it have healthier benefits than your usual chocolate chip cookie.
For less than a hundred pesos, you get to enjoy their flavorful and tasty whole wheat chocolate chip cookies and it's totally worth it. The cookies are sold in 15 pieces per pack which makes it even more better than any other cookie you get to taste.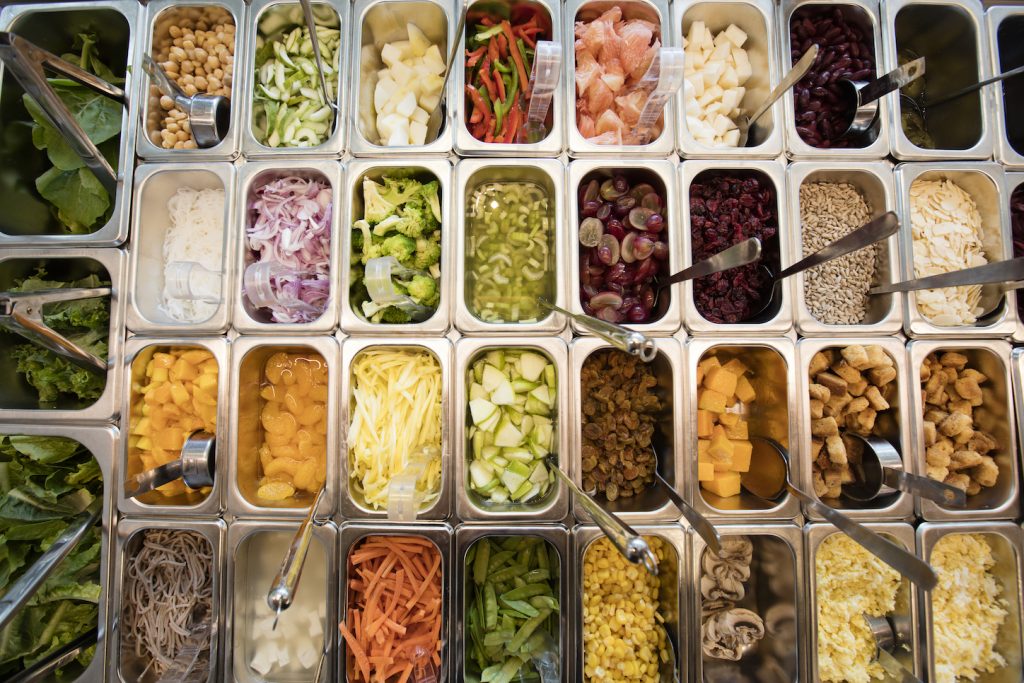 Their freshly-made salads with a variety of choices for toppings and dressings
The best thing about SaladStop! is that you get to create your own salad with a variety of toppings and dressings that you can choose from. Just tell the salad artist and they'll make the salad right in front of you. With more than 50 choices for toppings and 18 homemade dressing, surely you'll get to enjoy the salad flavor that suits your taste best.
Of course, SaladStop! wouldn't settle for just that. SaladStop! also has a menu of various salad choices that they've put together like their bestselling Oh Crab Lah! Salad.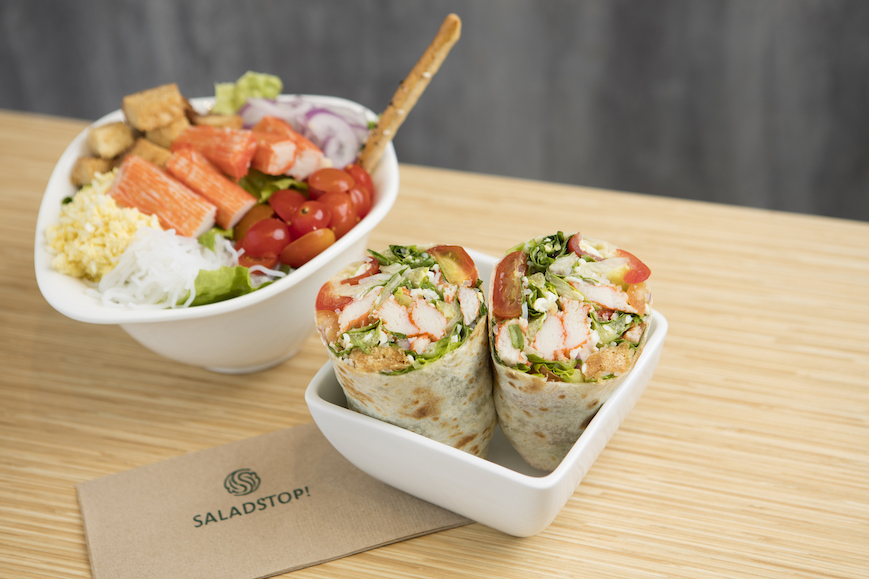 Their bestselling Oh Crab Lah! Salad
As mentioned, SaladStop! offers a variety of salads with exciting twists to their flavor and one of them is their Oh Crab Lah! Salad. Originally from the flavors of Singaporean cuisine, the flavors of this salad will definitely dance in your tongues with its appetizing taste of Singapore's famous chili crab dish mixed with your greens.
Ingredients: Romaine, Crab Sticks, Grated Eggs, Vermicelli, Cherry Tomatoes, Red Onions, Croutons and Singapore Chili Crab.
Healthy all the way menu
Another thing we love about SaladStop is that we don't get tempted into purchasing anything that makes us regret buying like soda. Yes, you read that right. SaladStop does not sell soda. There, you get to maintain your healthy diet because they only sell juices and smoothies with high nutritional values. Of course, they wouldn't forget water above all else.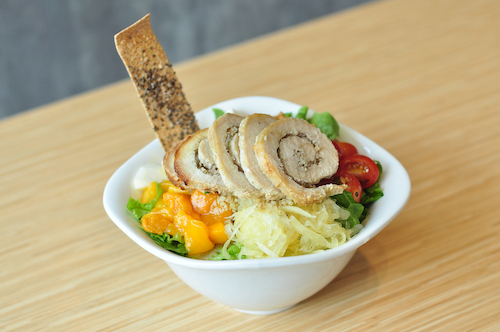 Their new "Bring It Chon" salad
With the recent opening of their new branch, SaladStop! also introduces the new variety to their healthy menu called Bring It Chon, which is exclusively available in Cebu until June 12, 2019. Bring It Chon is a mix of your favorite fresh salad ingredients with a twist of Cebu Lechon's savory flavor.
Ingredients of the Bring It Chon salad include: Romaine Lettuce, Quinoa, Cherry Tomatoes, Pickled Green Papaya, Fried Garlic, Ripe Mango, Turnip, Mango Cilantro Dressing and Lechon
Try Out This Summer Skincare Routine from Kiehl's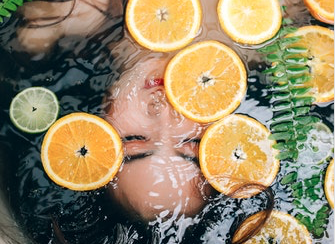 Summer may be nearly over, but for those of us who seek to soak up the last of the sun's rays before the season ends, it's far from it—especially with the searing heat in Cebu. Coupled with the rise of the Earth's average climate system, we're more likely to experience hotter days.
When going for a swim or an adventure outdoors, we're often advised to put on sunscreen to protect ourselves from the sun, and more often than not, it's the only time most people put on sunscreen. There's a widespread misconception among Filipinos that they don't need it because their skin isn't fair like Caucasians, who are more prone to skin cancer, but we actually do need it no matter the amount of melanin we have. Moreover, we need to apply sunscreen everyday—even if it's not sunny out, or even if we're not going to be out all day.
Sunscreen aside, there are many other ways to take care of your skin—and Kiehl's has the right routine for these last few days of summer. You may have heard of the company, but if not, Kiehl's is dedicated to providing the most efficacious and personalized skincare solutions to everyone, as part of their "Healthy Skin Guarantee". They source the highest quality natural and scientifically advanced ingredients in their formulas for skin, hair, and body. Since 1851, they've blended pharmaceutical, herbal, and medicinal expertise to serve the unique needs of their community.
Here's their 5-Step Summer Skincare Routine:
Tip 1: Use a gentle daily cleanser day & night to make sure your skin remains clean but not dehydrated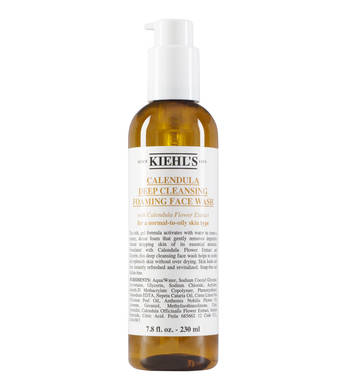 Try out the Calendula Deep-Cleansing Foaming Face Wash. It's sulfate-free, soap-free, fragrance-free and paraben-free, allowing it to cleanse skin without stripping it of moisture.
Tip 2: Prep your skin with toner for faster skincare absorption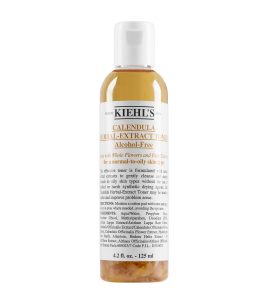 The Calendula Herbal-Extract toner is alcohol-free, and it gently cleanses and refreshes skin without harsh synthetic agents.
Tip 3: Use a Vitamin C serum to brighten your skin and reduce the dark spots/freckles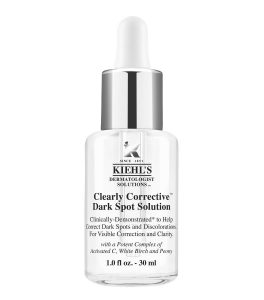 The Clearly Corrective Dark Spot Solution helps boost radiance and improve skin clarity. It's formulated with Activated C, White Birch and Peony Extracts, and helps visibly brighten skin and diminish the number and intensity of dark spots and skin discolorations over time.
Tip 4: Tip #4: Hydrate your skin with a gel-type moisturizer to keep your skin's hydration level balanced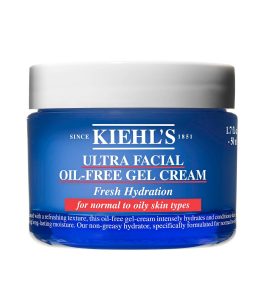 Try the Ultra Facial Oil-Free Gel Cream. With 24-hour hydration, this non-greasy moisturizer refreshes skin with an instant cooling effect. Stay hydrated and shine-free with this lightweight, non-comedogenic moisturizer.
Tip 5: Always use a sunscreen during the daytime, even if you're just staying indoors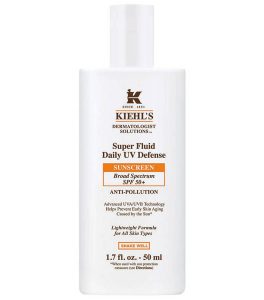 This Ultra Light Daily UV Defense help protect skin from the early signs of aging with SPF 50+. It's lightweight and helps defend against UV rays, pollution and free radicals.
Kiehl's opened their Store of the Future in Ayala Center Cebu last month. Check out these products, or have your skin tested by one of their specialists to find the best skincare products suited for your skin.