Santonilyo: The Pagan Origins of Santo Nino
Santonilyo was said to be an old and a new god to the pantheon of ancient Visayas. In relation to this, it was also believed that this was also connected to the Santo Nino de Cebu.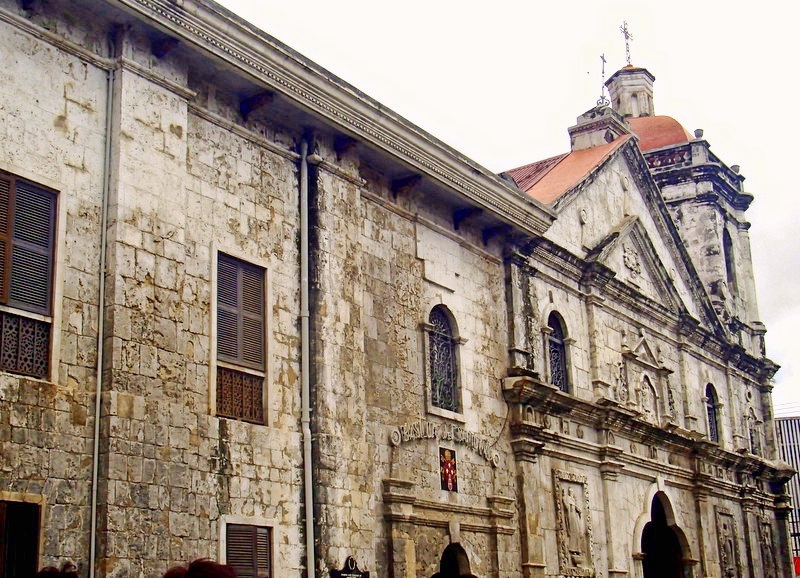 In Cebu, some, if not most, establishments or residences have always kept an altar or a pedestal with a carved wooden statue of a little king, clothed in rich fabric of red or green, wearing a golden necklace and bearing a scepter and a globus cruciger in his hands. This figure was brought by the Spaniards and is known as Santo Niño. This image is revered by Cebuanos,  holding festivities in honor of the miraculous child Jesus.
During the pre-Spanish colonial era, our ancestors had similar wooden idols named as guardians, protectors and pagan deities. This brought a similar legend about a piece of drift wood that turned out to be miraculous, and scared away creatures when placed on the farms. Let's take a look at the origins of the religious image that once was said to be a pagan god and converted to the catholic path to many of us believe in.
 The Lianito Idol
The Animist people of the Visayas region worshipped a time god known as Kaptan, equivalent to the creator god Bathala of the Tagalogs. He was the supreme deity in the Visayan pantheon, but relatively distant. To bridge the gap of the activities of heaven and the mortals, the ancient people replaced mediators such nature-based deities known as diwatas (fairies and elementals) and anitos (ancestral spirits) who supposed to give blessings and abundance on a family or a society.
Furthermore, these "Anito" spirits are usually old ancestors who have lived a virtuous life when they were alive. Each house in the ancient Visayas was supposed to carry a "tawu tawu"(idols) made out of wood, stone, gold or ivory whom the family pay honor in resemblance of offering food or flowers and "pag-anito"(worship) to ensure and continue daily blessings upon them. When the head of a family dies, everyone in the village help make the statue, they would carve out an androgynous (to further symbolize gender-equality), child-like image, and always smiling to what they would call the "Lianito", the collective embodiment of the ancestor spirit of a family and territory and they would dress the doll with gold and would place the image among the other idols.
The Baptism
The birth of Catholicism in Cebu was through the image of Santo Niño de Cebu, brought by the Spanish Occupation through Antonio Pigafetta, an Italian scribe of Ferdinand Magellan, given as a gift to Hara Humamay the royal consort of the chieftain of Cebu of 1521, Rajah Humabon, as token of good relations and allegiance to Spain. The queen was baptized to Catholicism and renounced her animist beliefs and dubbed a new Christian name, "Juana".
Queen Juana loved the image so much that according to the account of Pigafetta upon receiving, she bathed the statue with her tears of joy as she is hugging it. Eight hundred Cebuanos were baptized as well and were given an image of the Virgin Mary, a crucifix and a bust depiction of Jesus before Pontius Pilate. The Spaniards underestimated the animist faith that Magellan discovered that the king and queen still keep their Lianitos. The queen perhaps readily accepted the Santo Niño because it looked more regal and refined. Rest of the history follows of another chieftain's refusal of conquering the land and instilling tradition that was Datu Lapu-Lapu and had a violent conflict which caused Magellan's death.
Moving on its dark past of the conquest through religion, 44 years after Magellan came Miguel Lopez De Legazpi, arrived Cebu and found the native's hostility and fearing the retribution for Magellan's death. The villages were burned during the progressing conflict. Juan Camus, a Spanish mariner found the image of the Santo Nino in a pine box amidst the ruins of a burned-down hut. Presented the image to Legazpi and the Augustinian priests; the natives denied the gift was associated to Magellan and claimed it have been there for a long time. A church was built on the spot to where the image was found that was originally in bamboo and mangrove palms then was reconstructed later and claims to be the oldest parish in the Philippines.
The Youthful Deity of the Rain
Filipino Historian Nico Marquez Joaquin's workes in 1980 state that it was also within the time gap of those 44 years since Magellan that the natives discovered a new god in the pantheon of the Visayas. The new deity in the form of a child they call Santonilyo. Influenced in its Spanish title, they recognized the statue as a lianito describing both an old and a new god to the Visayans.
Santonilyo is the child deity of good graces who was worshiped as a rain god for four decades since the Spanish first arrived. Fray Gaspar de San Agustin wrote about it in 1565 book "Conquistas de las Islas Filipinas", that during drought, the ancient Cebuanos would bathe the image in the sea.
"Cun ulan ang pangayoon, ug imong pagadugayon. Dadad-on ca sa baybayon, ug sa dagat pasalomon. Ug dayon nila macuha ang guitinguha."
Which translates: "If they seek rain and you delay it, you'd be brought to the shore and bathed in the sea. They then obtain the rain they desire." The practice of immersing the sacred image is also mentioned in the Sto. Niño's Gozos (prayer hymn) published in an 1888 novena.
However, Santonilyo's popularity was already widespread among the Visayan islands reaching the Panay, Mindoro, Negros, Bohol, Siquijor, Samar and Leyte. The Santonilyo as mentioned by Felipe Landa Jocano, an anthropologist and author of "Filipino Value System", as one of the supporting Upper world deities along with Ribung Linti (god of thunder and lightning) who assisted Tungkung Langit (the creator god of Panay Islands) in the creation myth known as the "Sulod" Epics.
In its connection of the legend of Panay that Santonilyo was said to have reached the islands as a fisherman caught a piece of "agipo" (or a driftwood) but couldn't catch fish the whole day. Dismayed, he threw it back soon after, felt another tug to his net and realized it's the same driftwood and over and over again would dump it on the sea, known only to catch the same agipo again.
Tired and frustrated, the fisherman decided to keep the driftwood in his boat, and like a miracle, fish flocked towards his boat and returned to the village with a bountiful catch. The villagers soon discovered that the piece of wood had other magical powers used as a scarecrow to keep the birds and animals away in drying the grains and in times of drought, only had to immerse the driftwood in the sea to produce rains.
This agipo became an idol in their pantheon, and like the venerated Holy Child, Santonilyo is also prayed for graces. The Lianito idol then on was called Lisantonilyo. As Santo Nino has been honored and prayed in Cebu, we are able to peak in the origins of our faith based on discovery and documents not diminishing the fact on what we truly believe in which is God represented as a sweet, youthful child that would save the whole world from sin.
Shangri-La Mactan's Best-Kept Secret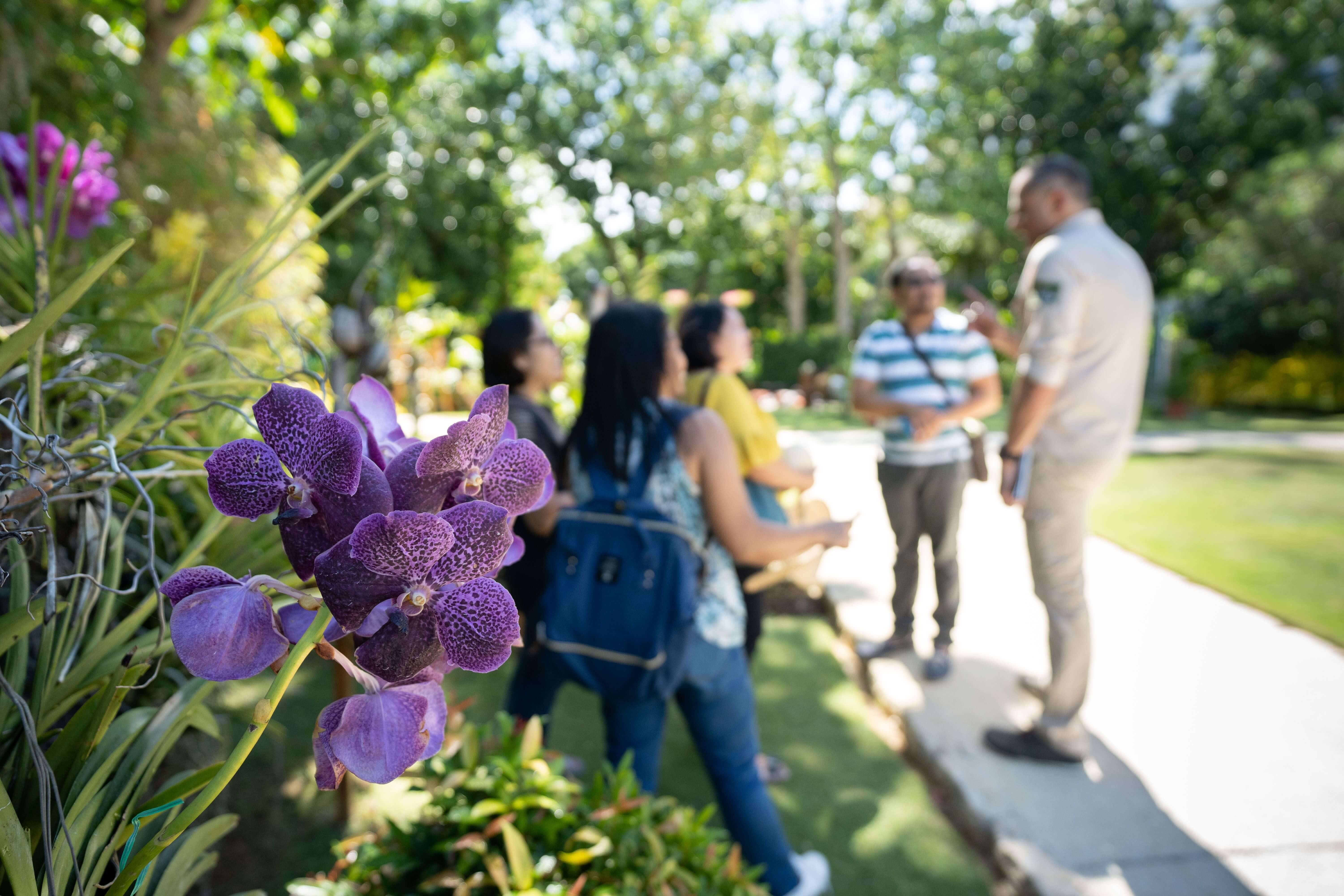 Every year on June 5th, people find different ways to celebrate World Environment Day, the United Nations Environment Programme's platform for positive environmental action. This year in Cebu, Shangri-La's Mactan Resort & Spa chose to celebrate the day by expanding its commitment to biodiversity conservation through its launching of the Eco-Trail.
A botanical sanctuary more than just a local attraction, the Eco-Trail features over 65 plants that form a route of lush greenery around the resort. Included in this collection is the recently discovered Cynometra Cebuensis, a flowering plant classified as critically endangered due to the rapid deterioration of its natural habitat. The plant's adoption in the Shangri-La Mactan Eco-Trail is a move to save it from extinction, a move for earth.
The trail begins at the Ranger Base and takes approximately an hour. Foreign guests need not worry about language barriers as each plant overview comes in multiple languages. Specialized resort rangers conduct the tours. These rangers are local experts who all share one thing: a passion for Cebu's flora and fauna, and a desire to share it with resort guests. Rangers received training from the University of San Carlos – Biology Department and the Department of Environment and Natural Resources.
To make the most of the experience, guests have the option to partake in a chocolate journey with the resort's chocolate sommelier at La Tierra del Chocolate After all, there is something so soothing about drinking a mug of hot (or cold) sikwate, a Cebuano chocolate drink, while basking in nature's glorious creations. (Some of Cebu's most stylish personalities enjoyed the Cacao Garden here!)
The Eco-Trail is initiated by General Manager René D. Egle and serves as the resort's testament to making taking care of Cebu's natural heritage an everyday advocacy.  
For more details, get in touch with the resort rangers at (63 32) 231 0288 or send an email to mac@shangri-la.com.
22 Tango Records Celebrates 9 Years with Roll-Out
The music label celebrates 9 years of homegrown music.
22 Tango Records celebrates its 9th year of producing and releasing quality local
music by hosting an anniversary event on Saturday, March 30, 2019 at Draft Punk, Mango Square. "Roll-Out" will feature live acts from a carefully curated list of artists signed under the label.
Performing on stage will be Wonggoys, Bethany, Vincent Eco, Lourdes Maglinte, The Labrats, and Mother Folker (aka Cattski).
Along with this grand celebration will be the unveiling of 22 Tango Records' new website, with updated features, music articles, events calendar, lots of music and valuable content not just about the label but also about the local music scene.
"As much as I feel like there's reasons to celebrate, I feel like there's still so much work to do." Cattski expressed, when asked about their anniversary celebration. "We still have a long way to go. But, looking back, I'm proud of what we've done. We've explored the different aspects in the music business – from music creation, promotion, education, distribution, publishing and production – all in the hopes that we'll ultimately co-create a sustainable local music industry."
22 Tango Records has given opportunities for artistic growth and development for all their artists in the span of 9 years, training and guiding them to become better at their craft. The label plans to keep giving its support by continuously creating events designed to cater to different genres and music listeners, giving each a unique brand and working hard to keep it consistent.
"I believe in our potential." Cattski says, "I think to have our own hyper local music industry is something that we strive for. We want the future to have thriving musicians capable and empowered to work for their music using the latest technology, communication means and with a supportive community".
Chief Finance Officer and Co-founder Anne Muntuerto also shares her thoughts about 22 Tango Records advancing into bigger, more eventful years.
"I'm so proud of how 22 Tango Records has made a mark in the Cebu music scene no matter how small it may seem in the last 9 years," she says. "We have been extremely lucky to be supported and surrounded by people who believe in our advocacy— our dedicated street team members, artists, brands and companies who have supported us, and 22T's loyal listeners and followers. It takes a village. And it's this tribe that inspires us to keep going."
Catch Roll-Out on March 30th, Saturday, in Draft Punk, Mango Square. Music starts at 8PM with a door fee of P150, inclusive of one free drink.
For more updates and information, follow us on Facebook, Instagram, and Twitter (@22tangorecords).
You Can't Miss The Final Performances of M. BUTTERFLY in Cebu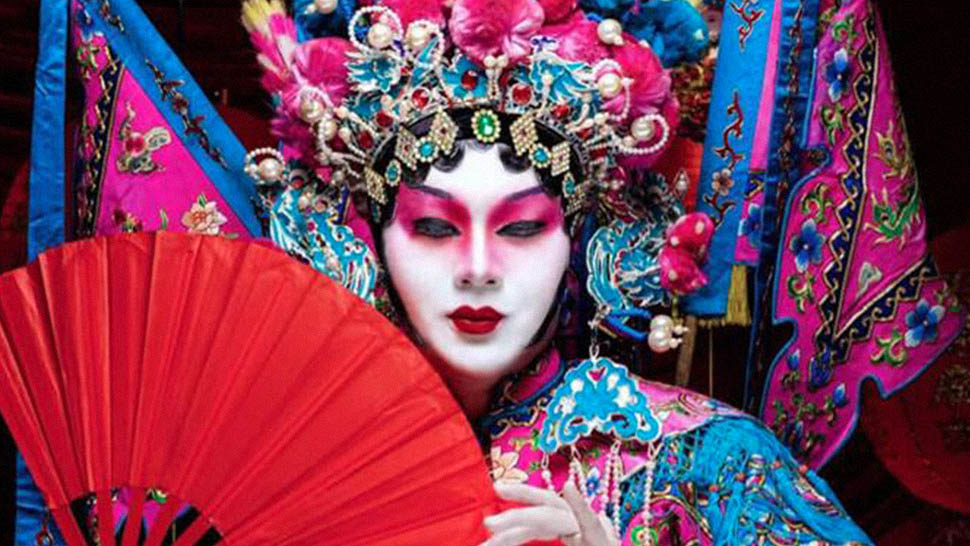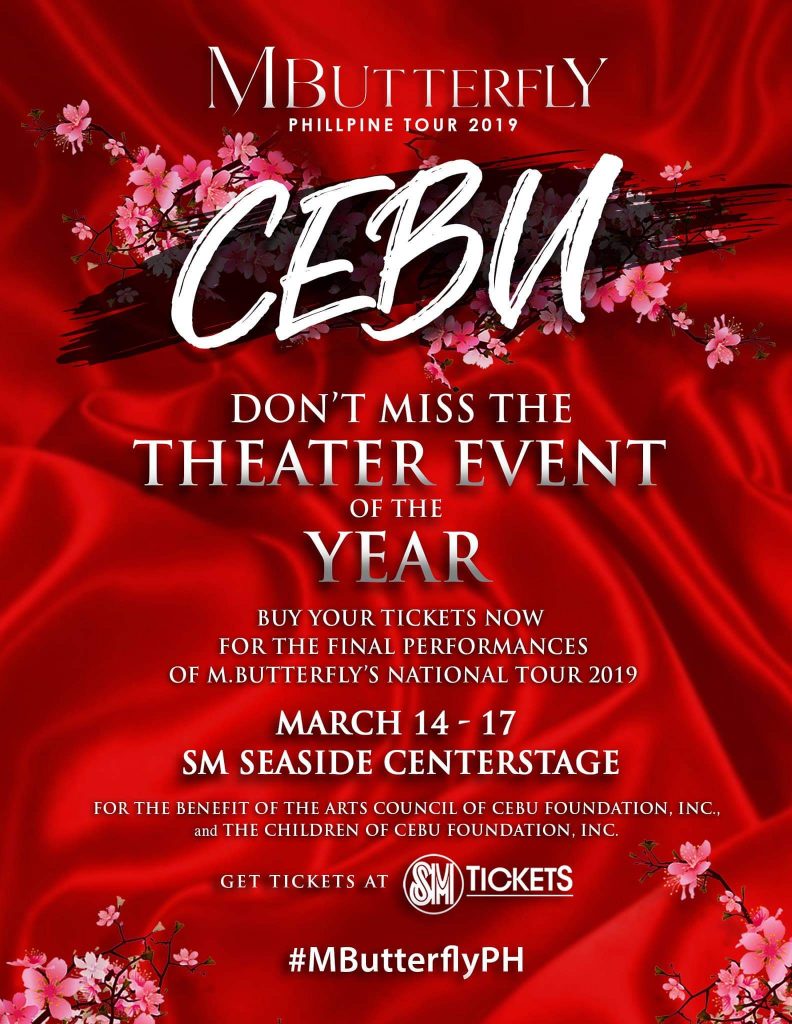 For its final performances, the M. BUTTERFLY National Tour 2019 will spread its wings at SM SEASIDE CEBU from March 14 – 17. Presented by Tony and Grammy award winning producer Jhett Tolentino and FRONTROW Entertainment (producer of highly-acclaimed independent films Bhoy Intsik and Bwaya), this world-class masterpiece is brought closer to those who did not have the opportunity to catch its 2018 Manila run. After all, location should not limit one's exposure to the arts and culture.
Due to many challenges and technical details that come with productions, most theatre companies in the Philippines are often hindered from bringing their projects to other key cities. Because of this, Jhett Tolentino and FRONTROW Entertainment are taking this bolder step to carry on their mission and advocacy in the performing arts and to further enhance audience development throughout the Philippine archipelago.
A revival production of David Henry Hwang's M. BUTTERFLY, this is the winner of the 2018 ALIW AWARDS for Best Play, Best Actor and Best Director and nominations for The Best Featured Actress in a Play.
Targeting audiences between ages 18 and beyond, the producers are
hoping that this classic drama, inspired by Giaccomo Puccini's opera 'Madame Butterfly', will likewise resonate to theater audiences from Luzon, Vizayas and
Mindanao that " love, power and deception holds no boundaries – whether this be
in a rural or urban setting."
The M. BUTTERFLY NATIONAL TOUR 2019 will benefit the following charitable institutions namely: Iloilo Prima Galaw, Philippine National Red Cross Iloilo Chapter, The Children of Cebu Foundation, Silliman University Culture and Arts Council and the Arts Council of Cebu Foundation.
The schedule of performances of M. BUTTERFLY in Cebu are as follows:
Mar. 14 – Thursday – Opening Night – 7pm
Mar. 15 – Friday – 7pm
Mar. 16 – Saturday – 2pm / 7pm
Mar. 17 – Sunday – 2pm / 7pm
VENUE : SM Seaside City Centerstage
For tickets, you can get them at SM Tickets through any SM Mall or SMTickets.com.