Lessons Learned: The Legacy of Haiyan
On the morning of November 8, 2013 in Tacloban, Kent Nemenzo managed one last Facebook status update about how the winds of Typhoon Haiyan (local name: Yolanda) broke the chain holding the gates of his home together. A bit later, he noticed brackish water seeping into the sealed windows and glanced outside: The flood was chest-high, and his car was slowly floating away. "I ran over to where my family was and told them how high the water is, and how it's still rising," he recalls. "My mom had barely gotten out of bed when my younger sister started screaming. The door near our kitchen could no longer hold the water and the debris; it cracked open, and our house started becoming a death trap."
Everyone made it through the front door and out of the house, standing on the windowsill and holding on for dear life as the water levels continued to rise. His girlfriend lost hold of their three-year-old daughter, and he lunged after them despite not knowing how to swim, pushing them near a concrete railing where they could get a foothold. Meanwhile, his mom was swept away; she held on to one of the drainage pipes a bit further behind. Eventually, the water started going down and brought them down to ground level. "Reality started to creep in, and it wasn't looking good," Kent narrates. "We had nothing but the clothes on our back. Everything in the house was gone. One of our dogs went missing. But we were alive."
As the entire world knows by now, other people weren't as lucky. "Typhoons are a normal occurrence, and they almost always first make landfall in the Samar and Leyte area," Kent explains. "I treated Haiyan like everyone else treated it: like a normal typhoon passing by. We never accounted for wind speed. No one knew exactly what a storm surge meant."
One year later, yet another storm made its way to the Philippine Area of Responsibility (PAR). Typhoon Hagupit (local name: Ruby) was touted to be as devastating as Haiyan, and more worryingly so, it was also on the same path as the aforementioned super storm. Although it intensified into a Category 5 super typhoon in early December, it weakened into a Category 3 typhoon before making landfall in Eastern Samar. It progressed slowly throughout the country, with landfalls in Masbate, Marinduque and Batangas before finally exiting the PAR on December 10.
The impact wasn't as bad as Haiyan last year. While property damages stood no chance against Mother Nature, with the National Disaster Risk Reduction and Management Council (NDRRMC) reporting a total of three billion pesos' worth of damages in infrastructure and agriculture as of December 12, the casualties have been kept to an extreme minimum. According to NDRRMC, 19 people died—a far cry from the more than 6,000 people post-Haiyan. While the lower figures could be attributed to Hagupit weakening, a significant factor lies in the fact that people were more prepared: Classes were suspended, people fled to evacuation centers, and the Philippine government prepared rescue boats for food packs, medicines, and doctors. This time around, everyone learned their lessons.
"Yolanda has left her profound footprint on the Philippines. In all likelihood she will not be the last super-storm to bludgeon its way through our country. I shudder to think of what will happen if another angry typhoon follows on heels of Yolanda. In today's world of mutated weather, as certain as an angry woman's slap, another Yolanda, Ruping, Dading, Ondoy or Pepang will come. We can no longer be ill-prepared and we only have to look at how many other countries prepare for and respond to disasters: the USA, Fukushima in Japan, and even in India in 2012, where 800,000 people were forcibly evacuated following a major typhoon warning. The storm hit and only a handful of lives were lost. Seventeen years earlier, a similar typhoon hit the same area of India and 10,000 people died. They learned. They prepared. They lived. Time is short, and the waters may rise again."

Joseph, Dondi. "Moving Forward." Zee Lifestyle. Dec.-Jan. 2014: 80-88
According to Margareta Wahlström, Chief of the United Nations Office for Disaster Risk Reduction (UNIDSR), the Philippine government has done an excellent job of putting into action the lessons learned from Haiyan. "All arms of government, including PAGASA and the NDRRMC, and municipalities like Tacloban have pulled together to save lives and minimize the damage being inflicted by this disaster event."
"Filipinos have learned to take this climate change seriously, and that it is best to take caution to leave their homes and evacuate to safer structures," says LA-born designer Renée Patron. Although she survived the destructive effects of Haiyan when she was in her hometown of Guiuan, Eastern Samar, it took a while for her business to get back on the ground. A profile on Renée in Zee Lifestyle's Dec.-Jan. 2015 issue details how Haiyan destroyed the entire production of her business, Banago, a collection of bags and home accessories hand-woven from the banig by women from Samar. "In the blink of an eye, our homes, our towns, our natural materials, our production facility—close to half a million dollars in production—were all taken by the storm surge and typhoon," she reminisces.
In September this year, a Kickstarter campaign by Banago and Livelihood United raised $20,000 to help restore the livelihoods of over 400 women in Samar. In the light of Hagupit, Renée shared that the typhoon did not cause that much damage this time around. "We made sure all the finished products and machines were kept in a safe place this time," she shares. "We made sure all the supplies—gadgets, first aid kits and food—were at hand and in a place where it would be kept dry." Her experience with Haiyan taught her which kinds of structures were safe, in case of strong winds or flooding. "We went the extra mile to make sure we could survive another super typhoon."
Following Haiyan, Kent moved to Manila, yet the ghosts of the storm continued to haunt him. "I didn't get enough sleep when Hagupit was making its way to the Visayas," he admits. "Thankfully, no storm surge—just a bit of damage on the outside of the house, but we still had a roof."
"Everyone was better prepared, but mostly because everyone experienced the worst and didn't want to go through the whole thing again," Kent says. He believes that Filipinos now have a better idea about storm categories, speed, storm surges, and the importance of climate change. While typhoons before averaged 160-180 KPH; now it looks like typhoons above 200 KPH are the norm.
"We've learned to heed calls for evacuation—to take the information they see on weather bulletins seriously," he adds.
Haiyan was a shadow that loomed over Hagupit, especially with such a short span of time between these two storms. "Make no mistake. It may take only weeks or months to rebuild homes, but it will take years to replace lost livelihoods and to heal hearts torn apart by loss," Dondi Joseph writes in 'Moving Forward', the cover story for Zee Lifestyle's Dec.-Jan. 2014 issue post-Haiyan. "We must never forget Yolanda—not only for the sake of those who suffered, but for the sake of those who survived and still live in the peril of more catastrophes—as we all do," his article continues.
Haiyan and Hagupit weren't the first, nor will they certainly be the last. As Dondi states in his article, "Through the devastation, the human spirit is battered but not broken." All the more, while the world praised the resiliency of the Filipinos, the lessons brought forth by Haiyan are ultimately its legacy to our countrymen.
by Patty Taboada
This story is an update on Typhoon Hagupit, as well as a follow-up to Dondi Joseph's 'Moving Forward', the cover story for Zee Lifestyle's December 2013-January 2014 issue.
St. Patrick's Day Celebration at Marco Polo Plaza
Marco Polo Plaza will be celebrating St. Patrick's Festival with the rest of the Irish community! It's not only a feast of greens and four-leaf clovers but of good food too! From March 17 to 19, dig in and enjoy traditional Irish dishes and delights such as Irish Stew, Potato Nachos, Cheesy Reuben Loaf, Guinness Beef Stew Pot Pie, Beer Mac N' Cheese and many more. These on top of the international lunch and dinner buffet at Cafe Marco. Complete the experience in true Irish fashion with an ice-cold mug of Irish Beer, also available at Cafe Marco.
Gastronomic adventures await at Café Marco! For inquiries and reservations, you can call (032) 253-1111. For real time updates, like the Facebook page at facebook.com/marcopolocebu or follow on Twitter at @5StarInCebu. Visit the website at www.marcopolohotels.com.
For inquiries and reservations, call 253-1111 or email hospitality.ceb@marcopolohotels.com.
La Liga Henerales: Shaping History Awareness Back Again in Cebu
La Liga Henerales is a community of young talents passionately promotes historical awareness through periodic costumes carefully researched for its authenticity and accuracy and promoted as well in events and schools.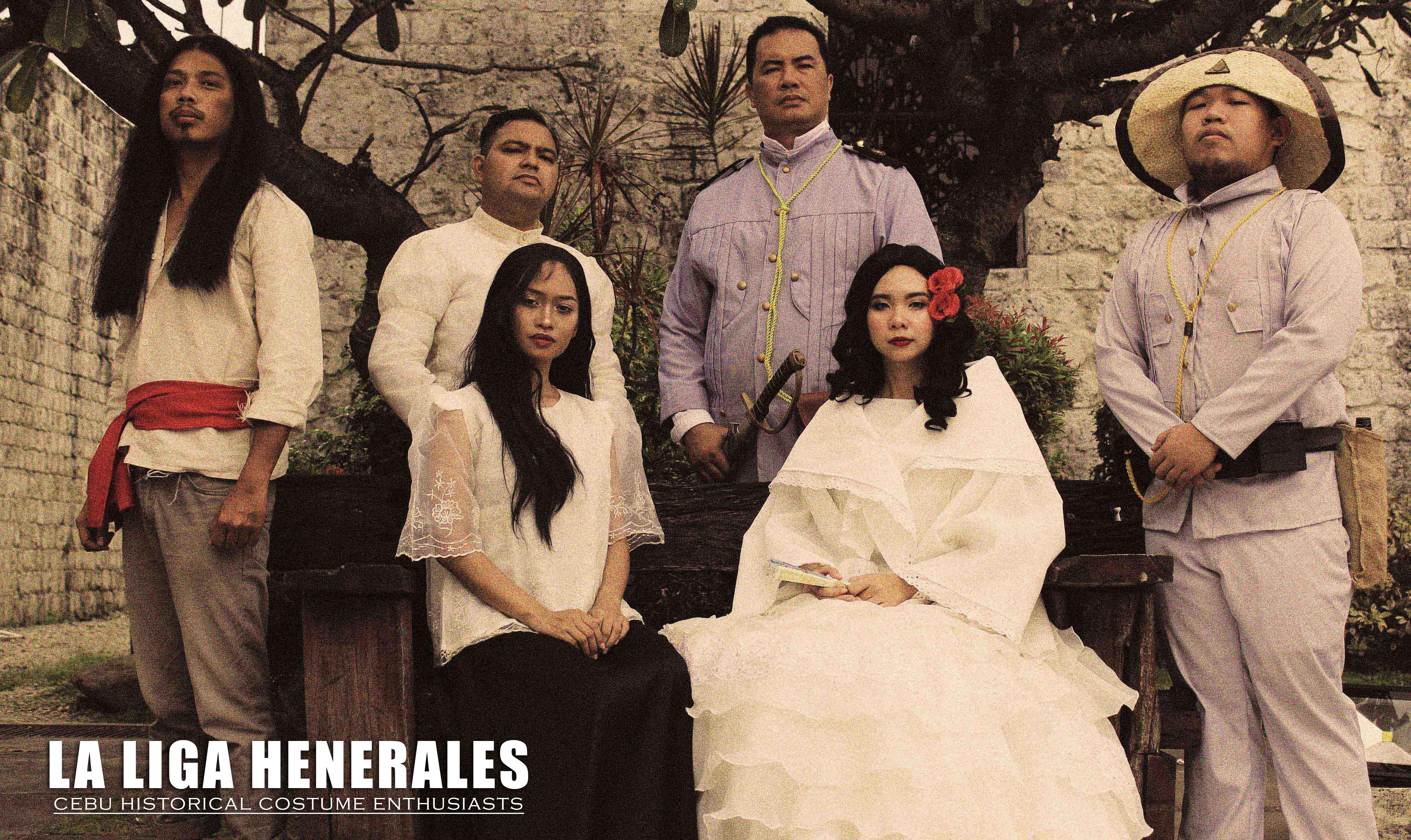 Only few individuals before were into pursuit in this historical awareness project until the age of communication where internet is convenient in the palm of our hands through our gadgets. New information travel fast and data is retrievable, yet also possess a disadvantage with the plethora of different social media platforms carried by various makers as well. In a daily basis, historical backgrounds are unearthed making its trend until now as new discoveries are released, but the idea of these information being shown and shared is as close as not valuing or commemorating to its sources leaving this information just a trend.
There is a certain community of Cebuanos that are taking a quest to rewrite and restructure what was in the past, filling the gaps in facts with further research of variable sources that are made debatable but sticks to it true cause, to unveil the truths of our heritage and our origins, as Cebuanos and as Filipinos as well.


La Liga Henerales is a Cebu-based, non-profit organization composed of a group of talented, committed and respectable individuals from different walks of life, schools and profession whose primary aim is to promote both, Cebuano and filipino culture and heritage that was depicted before in pre-colonial and colonial eras via re-enactment with costumes vested in proper research and investigation to achieve authenticity. They also push their cause on schools and other social gatherings promoting and spreading awareness about our local, and national heroes that we look up to. With these said, they also portray a closer look of the lifestyle of the past to where they perform stories, perform forgotten dances and rituals and portray their individual roles, vital in the fight of our country's future during those challenging times, and in honor to spread awareness of the lost practices we had in those times.
The Founder
Louis Kenneth Villaflor, an entrepreneur and an avid history enthusiast and costumer, founded the group on the purpose of re-educating the youth about real local and national history, he saw the opportunity to combine his favourite hobbies which is costuming and story role-playing and the process to instill the historical awareness and value among the youth and in schools, along with a group of fellow enthusiasts who shares his passion about research and history, they took it among themselves to be purposeful in the advocacy in spreading historical awareness in schools or events by wearing periodically correct costumes and sharing the stories and its value to the youth.
Behind the Garments
Meet Rodney "Pee-Wee" Senining, who has been in the fashion industry since the late 90's, strives  in concepts of avant-garde, innovation and cutting edge-fashion forward design. And also a teacher of Architecture, Fine Arts and Design of University of San Carlos, he had grown into research of books like the holy grail in the Library Resource Center and is always fascinated of the periodical times and how to preserve it; Hence, his interest had grown for the affinity of Periodical Costumes and Sustainable Fashion.
 Being part of the group La Liga Henerales, he was tasked to instantly be their mentor for the young talents and as the organization is still new and developing with limited funds, resourcefulness and research were done to come up with a good output of photo shoot and was quite proud of it and still promise on the next editions of pieces to be more historically accurate. Even as teacher for Fashion Design in SAFAD, his expertise comes hand in hand with the members as he helps them do research as well. His passion and interest somehow led him with enough knowledge to key the insights of the significant periods and historical backgrounds of it.
Historical Awareness in Cebu
The strength and progress of a country is anchored on how well they know and honor its history. The means of historical awareness in Cebu is almost non-existent among the Cebuanos, although we push forward in tourism and promote beauty through sceneries and other aspects of culture yet never commemorate deeply on historical icons such as our other local heroes, and ancient cultures as well that is almost been forgotten in an urban Cebu. Nevertheless, as long as communities' like La Liga Henerales are now evolving in a learning state by real discovery by multiple resources, this will always reflect of how we appreciate love, patriotism and honor to our country and would look forward to progress.
Christmas in Colonial Cebu: A Themed Exhibit by Teresin Mendezona and Eva Gullas for Stylescapes 2019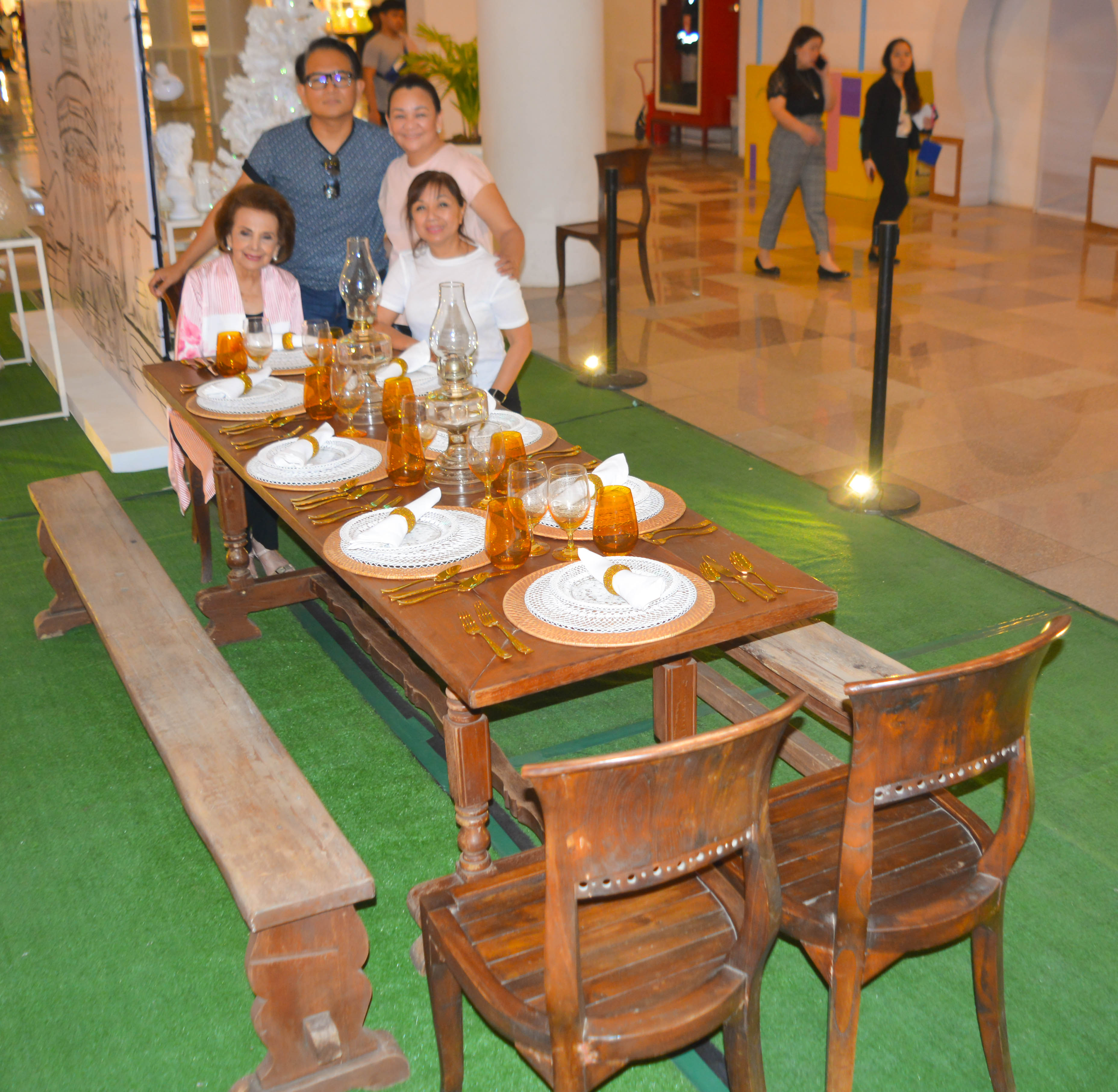 Ever wonder how the yuletide season is celebrated in colonial times? This year at Stylescapes 2019, Teresin Mendezona and Eva Gullas collaborated to showcase the elegance of Christmas during the colonial period, specifically most of the Spanish regime.
This pop-up radiated the ambience of Christmas in the colonial times through the various details used within the setting. Specific pieces like the gansilyo table cloth, oil lamp, and the sketches were from Ms. Mendezona and Gullas themselves.
Aside from that, various table and living room pieces were sourced from Rustans and Metro Ayala, and was curated by Doro Barandino.