Here's an Insider Look at this Highly-Contemporary Glass House by Architect Dave Pastrano
Zee gives you an exclusive peek into this glass home designed by Architect Dave Pastrano.
This article is taken from our archives. Originally published in Inside Cebu.
The young couple had done their research before consulting Architect Dave Pastrano; they were able to give him a clear description of how they wanted the house to look. It was a plan that actually coincided with what the architect himself had imagined for the property in Maria Luisa Estate Park.
From the start of the project, Lesley and his wife Ivy Lim were receptive to the architect 's suggestions. The whole design process took about three months, with the goal of producing a highly contemporary house in glass—one with a timeless appeal through the clever use of exposed I-beams, straight lines of wood and metal accenting the ceilings and hallways, and glass walls providing transparency and allowing in abundant natural light.
Complementing this design now are the homeowners' stylish furnishings and lighting fixtures sourced from Hong Kong. However, the piece de resistance is an imposing, custom-made, and beaten-copper-and-steel chandelier by Davao artist Ann Pamintuan, and it hangs in the center of the house.
Entry to the two-story house is gained through a spectacular nine-foot door made of wood, glass, and metal added by the architect. But even before reaching the door, the visitor passes through Pastrano's work that can only be described as an "art installation" of water features. With the additional elements of earth and wood, it is indeed a grand prelude to what lies inside the house.
The entrance leads to two stairways—one leads to the bedrooms upstairs and the other, to the service area below. The living room, the dining room, and the kitchen, all with extensive views of the city, are on the same level as the family room and the home-theater. The walls of the last are specially padded for great acoustics, to complete the advantage of a state-of-the-art entertainment system and leather lounge chairs.
DETAILS
With its wooden walls, neutral palette, custom-made floor-to-ceiling headboard, and private access to the infinity pool and the gardens, the guest room is unexpectedly simple. There is no need for further ornamentation; the interior is, in fact, constantly relating to the surrounding landscape as it opens to a water feature and a pocket garden teeming with bamboo. The traditional elements of earth, wood, and water and spectacular vistas create a harmonious atmosphere for a tranquil dwelling—all for the owners, their children, and their children's children to enjoy for years to come. The house is an example of how a relationship between an architect and a client can work well to achieve the visions of both.
Dining Out? This Restaurant in Busay Offers Modern Filipino Cuisine with a View
Balay sa Busay is a new modern-Filipino food destination that offers an unhindered view of the city landscape, providing a pleasurable dining experience.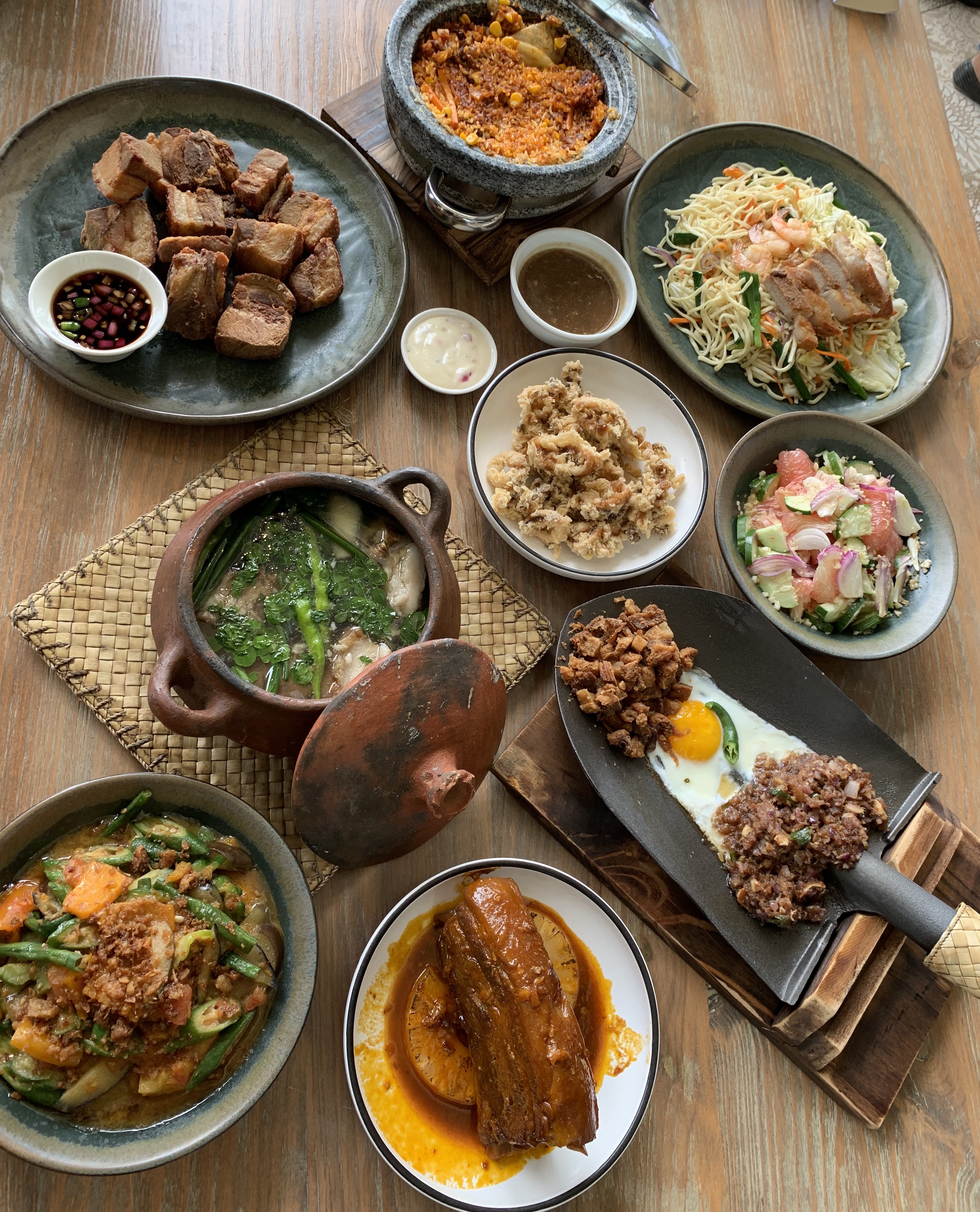 Balay sa Busay is a new modern-Filipino food destination in Busay, Cebu which offers an unhindered view of the city landscape and ocean view with a cool breeze, providing a pleasurable dining experience.
Specializing in modern Filipino cuisine, Balay sa Busay serves our favorite comfort food, with a taste of home and a unique Cebuano touch. House specialties include Adobong Binisaya ni Bebe, Hamonada sa Among Bukid, and Paboritong Sisig Ni Tatay.
Other bestsellers are the Chickenillo, a tender roasted whole chicken so tender that it can be cut using a platito; Pomelo Salad with toasted coconut with calamansi dressing; Pochero Rice; Banana Cue Ala Mode with sugar-coated cardava topped with vanilla ice cream; and Shrimps in Buko.
Dining with a splendid view
Whether it's a casual day out or a special celebration with family and friends, 
Balay
 sa 
Busay
 provides a much-desired breather for busy city folks.
The restaurant is inspired by old Filipino ancestral houses in the province with a perfect blend of old and new elements–a transitional style featuring traditional and modern furniture and fixtures. The spacious interiors give diners the option to dine in the air-conditioned room or open-air veranda which provides a panoramic view of Cebu.
Balay sa Busay has an air-conditioned function room for special occasions, private events, and meetings which can accommodate up to 50 guests and can be split into two and seat 25 each. An open area at the second floor is also available and can also accommodate up to 50 guests.
Balay sa Busay is located at Cebu Tops Road, Busay, Cebu City. It is open from Monday to Thursday, 11 a.m. to 10 p.m. and Friday to Sunday from 11 a.m. to 11 p.m. Walk-ins and reservations are welcome.
For more information and updates, like and follow 
Balay
 Sa 
Busay
 on Facebook at @BalaySaBusay. For reservations, private meetings and events, call (032) 354 7169.
This French-Filipino Family Home Perched Atop a Hill is a Beauty
Zee gives you an exclusive look at this family home owned by French businessman Gilles Pochiet and Filipina wife Cielito.
This story is taken from our archives. 
Originally published in the coffee table book, Inside Cebu.
French businessman Gilles Pochiet and his Filipina wife Cielito, with their three children, have made a home for themselves in the hills of Northtown Homes. When they started with it, they had a few items on their wish list: 
First, he wanted to indulge his passion for art and his penchant for a quiet, cultured lifestyle. Thus, the house had to provide ample and appropriate display space for a continually growing collection of contemporary art. Then the importance of family, best expressed through a close arrangement of family spaces, had to come into the picture, too. And yes, they also love to entertain friends at home. 
Their house, designed by Architect Ed Gallego, took over two years to construct and six months to furnish. Finished almost entirely in white and glass, the exterior of the house cleverly utilizes line, angle, and shape to achieve geometric elegance. It opens to the outdoors through full-length, clear-glass panels and retractable walls, permitting generous amounts of the incomparable tropical light to pour in. 
From the lounge and dining areas, one can enjoy pleasant views of the hills of Cebu. The minimalist theme is emphatic in the dining room, where the square table and the eight chairs around it are enhanced only by water flowing on a floor-to-ceiling stone façade. The sound of trickling water is the perfect accompaniment to life's best moments. 
At first glance, the house may not seem family-oriented, but that is only at the ground level. The family bedrooms are located on the second floor—all with cleverly designed storage cabinets disguised as decorative framed walls. Each of the children's rooms has its own carefully selected set of artworks, strongly indicating how their parents would love to pass on to them an appreciation for art. 
The guest pavilion, uniquely located at the poolside, is fully self-contained, and is actually a smaller version of the main building. It shows the importance that the owners place on privacy; they prefer intimate gatherings of their closest friends, where conversations flow over fine wine and good food. 
DETAILS
The homeowners are totally dedicated to contemporary art. Their collection includes paintings by Ouattara, Lindstorm, and Maryan; carpets by Garouste and Bonetti; vases by Gaetano Pesce, and sculptural pieces by Ettore Sottsas. The white walls set off the artworks. The surprising combination of minimalist sophistication and design savvy is achieved throughout the house.
A Pastel-Themed Afternoon High Tea with Kate Anzani
Zee takes you on a journey of elegance and beauty as we look into the fresh themes that Kate Anzani created for her Afternoon High Tea.
Zee takes you on a journey of elegance and sweetness with Kate Anzani's latest themes for her Afternoon High Tea.