Furne One: Dreaming the Drama
From a simple but nurturing home to making bold strokes in global fashion, Furne One is Cebu's gift to the world—a symbol of Filipino pride that comes in a halo of gorgeous fabrics, shimmering beadwork and bold designs.
From a simple but nurturing home to making bold strokes in global fashion, Furne One is Cebu's gift to the world—a symbol of Filipino pride that comes in a halo of gorgeous fabrics, shimmering beadwork and bold designs.
There is a dream-like quality to the work of Furne One (pronounced "Oh-ney"), but in this dream, there are no fairy princesses with flowers in their hair or dashing princes to sweep them off their feet. In the visions in his head, he conjures up a different kind of fantasy—of majestic women tough but beautiful, magnificent in their structured, almost architectural yet ultra feminine haute couture, burdened by fashion yet somehow liberated by it.
Fashion designer is a term that does not even begin to describe him. A craftsman and an artist both, Furne's work shocks and awes—from his "It's Alive" show and his collaborations with Swarovski, to the various collections showcased from Los Angeles to Dubai. Criticized as a costumer on one hand and hailed as a visionary on another, Furne's instinct and flair for drama has nevertheless made him one of the most exciting designers to have risen in the last decade, audacious enough to throw in everything—extravagant headdresses, ostentatious appliqués and stiletto platform boots into a mix featuring winged sleeves, décolleté necklines, sharp cuts and sexy sheer fabrics.
"Furne One is known for his intricate and handcrafted gowns that are literally hard to describe in words," wrote the LA Fashion Magazine in an article about the Furne One by Amato Couture 2012 show at LA Fashion Week, which was published online in March. "The finale was absolutely stunning," it would also say of his pièce de résistance, a nude crystal-decorated bodysuit with arms made from tulle fabric that were meant to look like wings. "It was a masterpiece—a work of art, and much more than fashion, which is what Furne One's show was all about. His collection was not just full of beautiful and ornate pieces—it symbolized nature, its beauty and what he felt represented this best," the article would end.
"Growing up, I knew that I was inclined to the arts," says Furne. "If I weren't a fashion designer, I guess I would be a theatrical director." This is unsurprising given his unyielding vision, as had been noted in Splash Magazine's website how he himself is "in charge of each detail, from aesthetic of hair and makeup, to lights and music."
"I draw inspiration from a variety of unlikely sources," he says of his creations that are the glorious centerpieces to his overall presentations. "They range from music, cinema, gothic art, disturbing images, vintage pieces, cosmic mysticism, architecture, myths and legends, science and religion." But even the simplest things are just as important inspirations to him, like "people, nature, my travels, old villages and even intelligent conversations."
Anyone would fear that Furne's broad list of influences may result in a mish-mash of one-off art pieces, but Furne always manages to deliver collections that are thematically consistent. Although his clothes seem to be out-of-this-world modern art pieces at best, it should also be noted that pop stars Shakira, Katy Perry, Jennifer Lopez, Heidi Klum, Nicole Scherzinger and, to a more flamboyant extent, Nicki Minaj have all worn Furne's creations on the red carpet. Come to think of it, even local pop princess Sarah Geronimo has been "Furne-d."
Deeply-Rooted Born and raised in Cebu, Furne recalls, "My childhood was fascinating and colorful. I remember I used to marvel at my mother and grandmother's fashionable clothes, and I would always be blown away every time I saw them wearing something new. They inspired me a lot in a sense that they both have great taste—very much like today's trendsetters. They have always been so up-to-date with the latest in fashion. I guess that counts as my very first fashion encounter."
If his vision for fashion had been stirred at home—beginning to sketch at the tender age of ten—outside that nurturing and inspiring environment, it would be encouraged even more by other kindred souls. "My fondest memories all started in high school, with my circle of friends having exactly the same interest in fashion," he relates. He likewise recalls them saving their allowance just to buy back issues of "our fashion bible, Vogue."
"Surprisingly, my friends and I ended up working in the world of fashion." Looking back, perhaps it wasn't a surprise more than it was an answer to a calling.
Taking up fine arts with a major in advertising—as well as some courses in New York later—Furne's biggest break in fashion was his 1994 Mega Magazine Young Designer of the Philippines Award victory. "My career was jumpstarted," he concurs. "As part of my prize, I got to apprentice with Josie Natori, one of the judges at the time, in New York. From there, a lot of doors opened for me." That same year, Furne would bag the first prize at Japan's Women's Wear Awards; just three years later, he went on to become a finalist at Manila's Fashion Designer Awards.
Dubai Calling From Cebu to Dubai by way of Manila, Furne has traveled far, and not just in terms of his achievements. "It may sound weird but years ago, I had a dream," he shares. "I'm talking about an actual dream, not just a figurative one. In the dream, I traveled to a far away place that looked a lot like a Middle Eastern country. The place had an air of magic and mystery, and something inside me told me this is where I should be."
According to him, it was just less than a year later when he "heard about this place that people were starting to call the new melting pot in the Middle East. It didn't take a lot of convincing for me to move to Dubai." But while he has been re-establishing his roots in an emirate located southeast of the Persian Gulf on the Arabian Peninsula, Furne has never forgotten his humble beginnings. "Coming from a small island, I was given the chance to dress up A-list celebrities," he muses now, recalling the "unexpected standing ovations and awards" he'd received with wonderment.
Still, even a courageous creator such as Furne isn't immune to some missteps, if critics can be believed. One of them is Agenda Online magazine writer Kaylene Peoples, who declared Furne as "just a self-proclaimed artisan" and that his Spring 2012 collection shown at Vibiana during LA Fashion Week last January was "more of a costume line than anything realistically wearable in the real world." She goes on to talk about "the parade of D-list models" on the catwalk—some of which sported face-constricting headgear—and the "less than worthy stitching of these garments." Nevertheless, she conceded that must have gone wrong for the collection was its "presentation, or lack thereof," where the clothes were showcased in a less-than-theatrical setting than they called for.
Just the same, mixed reviews and negative criticism are not uncommon, especially in fashion where views can often be subjective and murmurs are not always constructive. Even the greatest minds can use some room to learn—it is, after all, the only way to get better. Self-assured, Furne notes almost defiantly, "Good and bad reviews are my memorable achievements."
The Path to Greatness A brief overview of his feat would reveal the opening of his first boutique Amato, which means beloved, in Dubai in 2002. From here, he supplies his elite clientele of Eastern World royalty with an array of hand-stitched designs and intricately detailed creations. Amato's success would land Furne a commissioned project from Swarovski in 2007, for which he created a staggeringly glittered bridal dress to grace the limited edition book "Unbridaled." His collaboration with Swarovski continued to be celebrated with show-stopping collections for the Crystallized Swarovski Elements events.
By 2008, Furne's work would the toast of European fashion elite, thanks to his exposure on "Germany's Next Top Model," where he was invited as a special guest designer for the show's season finale. The tremendous response to the work showcased there would have him featured for three more years thereafter, rocketing Furne One and Amato Couture into the international fashion spotlight that would soon win him his celebrity clientele.
Furne has been described as "unstoppable," praised for articulating a mix of edginess and glamour in his aesthetics that he showed at the Perth Fashion Week earlier this year. Blogger Ushi Sato of www.theshadesandscarf.com would also note Furne's strong desire to stand out as an original and to "create thunder in silence."
His show in Perth was made up of stunning pieces with slender silhouettes and incredible beading, with models who had big platinum blonde wigs adorned with dazzling headpieces or spiked crowns, and sparkling shoes. Donna Ferreri of Perth's www.stylehunter.com would gush, "Furne One has produced the most exquisite show I have possibly ever seen. My eyes are still blinded from the mere sight of the thousands upon thousands of crystals and jewels that adorned the fabulous garments that shimmied and shone down the catwalk as part of the 'Mata-Hari' collection."
Indeed, if this is Furne speaking in silence, he is managing to do so in a voice that can no longer be ignored.
The Future Demands "Like any other designer, I started to work for other fashion houses to experience the tricks and trade of the business," he points out, underscoring the fact that things can't just be left to chance. "It's a tough battle, but patience, hard work, determination and a little bit of luck kept me going—so I could earn my way to where I am now."
He forgets to list sheer guts and inborn talent to his formula for success, but that much is evident, whether it is articulated or not. Undeniably, Furne's name will only grow bigger in the global fashion arena as his collections expand and his creations take their unstoppable flight. This year, Furne marks a new milestone in his illustrious career, following the monumental opening of Furne One and Amato Couture boutiques in Los Angeles, with plans to further expand.
Being described as a "Global Pinoy" only makes Furne proud. But while many would agree that local fashion could actually become a voice in global design, homegrown designers with talent and creativity face certain challenges that could hamper that growth. For his part, Furne notes that "government support to send young and talented Filipino designers abroad" is what's needed. He adds, "We can also open more fashion schools to help broaden and educate young design aspirants," and wishes them financial support as well. "I believe the Filipino is very talented. We have so much to offer."
We asked him what his clothes would say if they could speak and Furne quips, "Look at me!"
Indeed, here's looking at you, Furne. We celebrate your very bright future, and the trail you have blazed for other Cebuanos and the Filipinos in general. If there's anything his success can teach us, it's the fact that if you are bold enough, you can dream it; and if you can dream it, you can make it true.
by Annie S. Alejo
photography Tina Patni
hair and make up Gene Ginno Alducente
couture Seduction of Mata-Hari Collection by Furne One
These Four Women Show Us How They Empower Themselves Through Pole Fitness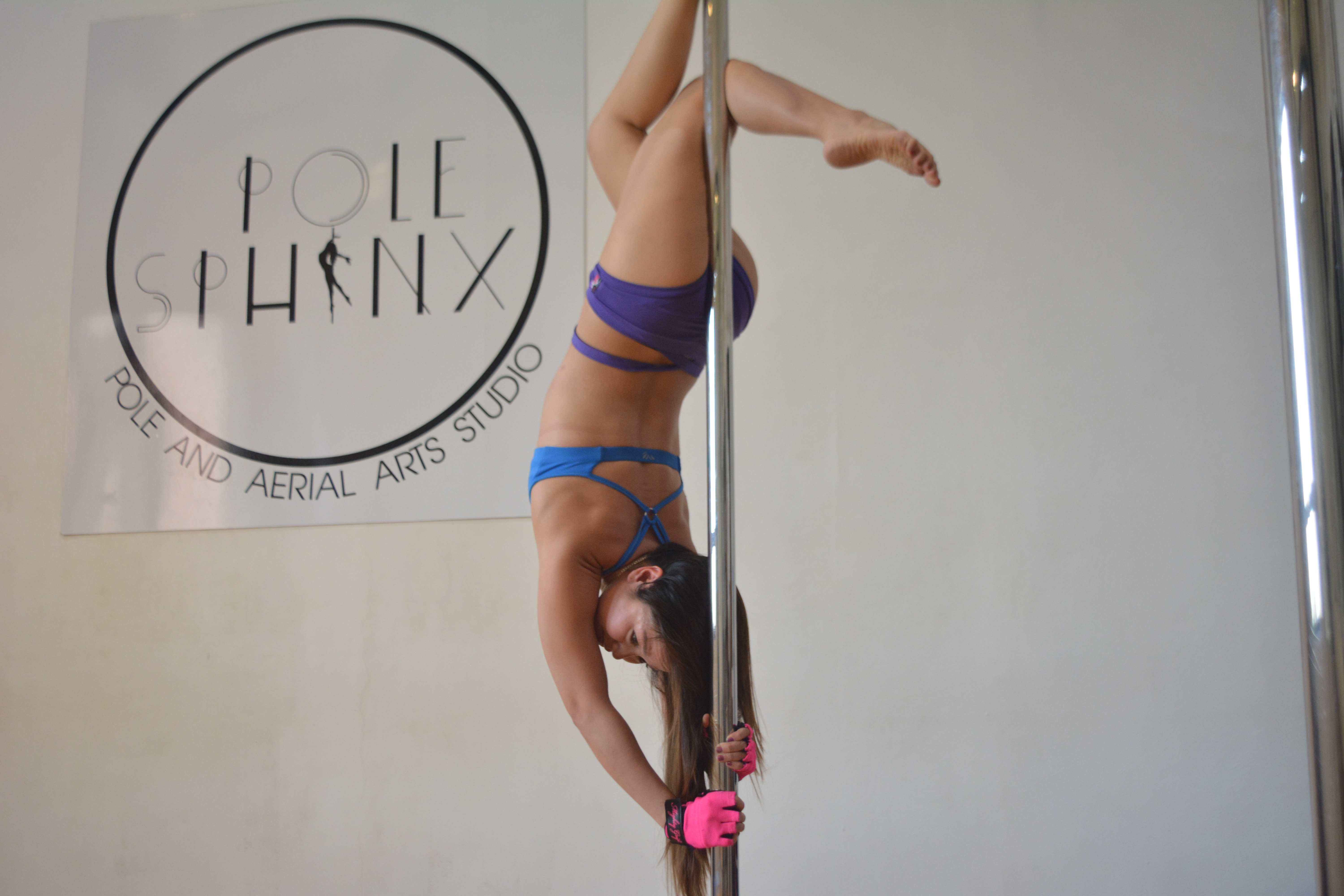 Charmaine, Jane, Ginie, and Ant are four women who take women empowerment on another level. With their daily morning routine of working their day jobs and attending to other matters, they all meet up in the afternoon to do one thing – Pole Fitness. Inside their studio, Pole Sphinx, they practice and teach other men and women about the beauty and grace of Pole Fitness and how it has helped them achieve much of what they are today.
Zee takes you inside their studio to fully know how these women empower others through Pole Fitness.
<iframe width="560″ height="315″ src="https://www.youtube.com/embed/LH-zKLUulHE" frameborder="0″ allow="accelerometer; autoplay; encrypted-media; gyroscope; picture-in-picture" allowfullscreen></iframe>
Rajo Laurel, Amina Aranaz-Alunan, and Bianca King Share Tips on How to Take Better Care of Your Clothes
To help keep your clothes in the best shape, check out these tips from Electrolux FashionCare Ambassador Rajo Laurel, along with the FashionCare Council members Amina Aranaz-Alunan and Bianca King.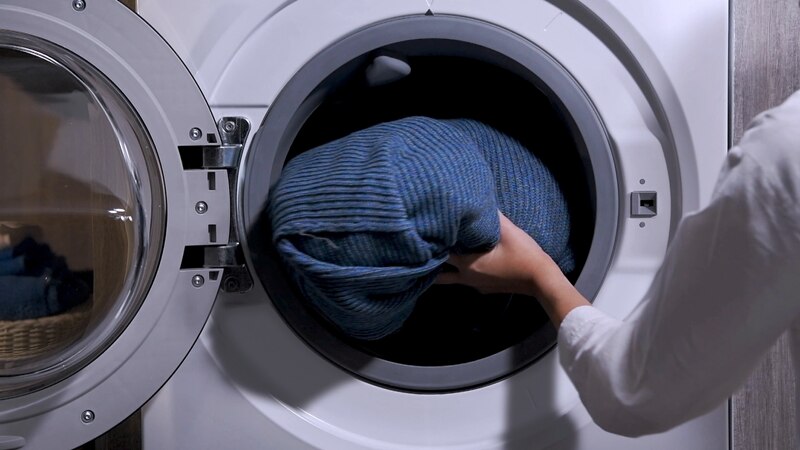 Wear it well without wearing it out! That is the fashion philosophy shared by Electrolux, a
leading global appliance company from Sweden, when it comes to clothes. You don't
need a lot of clothes to look stylish – just give them some TLC, especially when doing
your laundry.
To help keep your clothes in the best shape, check out these tips from Electrolux
FashionCare Ambassador Rajo Laurel, along with the FashionCare Council members
Amina Aranaz-Alunan and Bianca King. From washing to storing, these practical hacks
will help keep your clothes looking new for longer.
Check the Label
Acclaimed fashion designer Rajo Laurel shared that his number one rule when it comes
to caring for clothes is to check the care label, which teaches you everything from the
temperature, the kind of cycle and even instructions on drying, bleaching and ironing.
And if those laundry symbols look like hieroglyphics to you? Executive director and
teacher of SoFA Design Institute, and Creative Director of fashion accessories and bag
label ARANÁZ Amina Aranaz-Alunan's practical tip: print out a guide that explains the
symbols for laundry instructions.
Caring for White Shirts and Tops
A staple in anyone's wardrobe, the classic white tee is a great piece to build your
wardrobe around. It's easy to dress up and down, going from casual to business-chic.
To keep your white shirt looking new, before washing, unbutton your shirt including its
cuffs and collar. Check the label recommendations for care guidelines. Use a laundry
detergent that contains bleach to really make your whites, white.
And if your white shirt or polo gets wrinkled easily, check if your washing machine has a
Steam or Vapour Care setting – this relaxes the fibres and removes odours to bring back
that soft, fresh feel to your white top.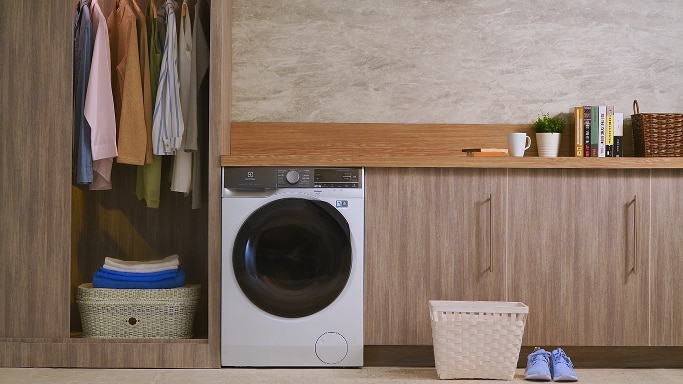 Caring for Colours
Having coloured pieces is a great way to make a look pop but they are also prone to
fading faster than dark or white clothing. To help make sure your coloured garments
don't lose their vibrance, sort your garments by colour before doing the laundry. Bright
clothes such as purples, reds and oranges can be washed together, so can bright blues
and greens. If a colour stands out on its own, consider washing it alone. Then check the
garment for stains and apply a small amount of liquid detergent to the stain and shake
gently in water. Turn your garments inside out to minimize rubbing of fibres. Choose a
low temperature and avoid hot settings that can cause fading. You can also use a gentle
wash cycle.
Caring for Jeans
Denim is durable but to make them last longer, especially the coloured and printed
denims or anything with a deep indigo wash, you need to give them extra special care.
The key to a long life is to wash at a low temperature and avoid over washing. First off,
be sure to wear your jeans for as long as possible before they are first washed to give
them a comfortable shape and a natural fade. Separate your jeans from white or other
brightly coloured clothes because they might bleed colour. Turn them inside out before
washing as well.
Dealing with Stains
The FashionCare Council members all share that it's best to deal with stains
immediately. Soak or try to wash them off right away. For food and wine stains, Laurel
shares that he uses salt and soda water on the stains before washing as these help to
lift the stains.
Here are some other helpful tips to remove common stains: For ink stains, blot the
stained area with alcohol using a clean cloth and rinse thoroughly. For coffee stains,
first try using cold water through the back of the stain for 10-15 minutes. If the stain is
not fully removed, use liquid laundry detergent and a little cold water, or try using dish
washing liquid. Gently rub the liquid detergent or dish washing liquid with your thumb to
loosen the stain for about five minutes.
Proper Storage
The FashionCare Council members also shared that storage can play a role in keeping
clothes looking their best. Model and actress, Bianca King advised people to keep their
closets neat so you have a full account of everything you own and to know which items
should be hung or folded (if it's a knit or weave). And speaking of hanging, Laurel and
Aranz-Alunan both mentioned the importance of using proper hangers – Laurel
mentioned avoiding those without foam defense as they could ruin the shape of clothes.
Another advantage of keeping a closet organized is it could help you plan your wardrobe
– you can rotate your pieces, as shared by Laurel, to help prolong their life.
This French Couple's Home Showcases Their Creativity
After a few years of wandering around Asia, French artist Delphine de Lorme and her husband, Henri de Lorme, a French film director, finally decided to settle in Cebu.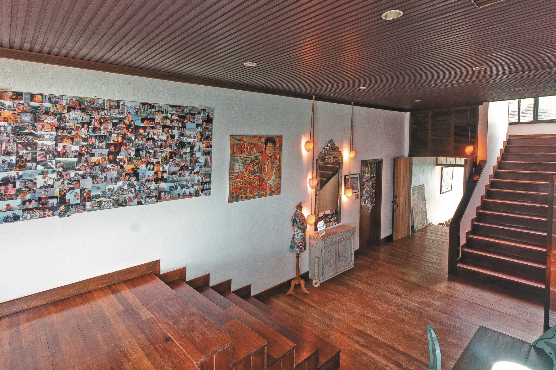 This story is taken from our archives. Originally published in the coffee table book, Inside Cebu.
After a few years of wandering around Asia, French artist Delphine de Lorme and her husband, Henri de Lorme, a French film director, finally decided to settle in Cebu. They looked for a house that could accommodate their large and growing art collection, provide studio space for her creative work, and, most importantly, serve as a refuge for their active family life.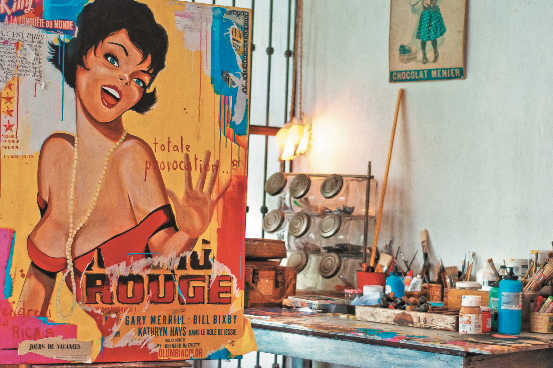 Delphine paints and produces artworks that are sold in major galleries all over the world. She also dabbles in furniture design, envisioning cutting-edge products for a design firm based in Cebu. Henri, on the other hand, has a rock band. Between them and their busy careers, they have three wonderful children. 
Thus, they chose a house that is modernist in design, built along clean horizontal lines, and with abundant flexible space. With lofty ceilings and amazing airiness, the interiors now harbor an eclectic collection of paintings, sculptures, and artifacts that would do any gallery proud, including Delphine's own paintings and collages of iconic images from Italian and French cinema.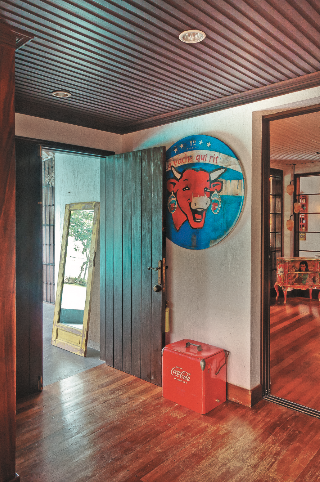 Walking through the hallways and the rooms of this very tactile home, one is instantly struck by a feeling of wonder and vitality. This is carefully achieved through a casual arrangement of the interesting pieces inside—welcoming, inviting you to come closer, to take a better look, and then to touch! And that is where the art gallery morphs into a comfortable and livable home. 
When her husband works out of town during the week, Delphine starts her day with breakfast with the kids on the terrace, which opens to the swimming pool. Then she moves to the light and airy studio in the mezzanine to work on her arts and crafts. She ends her day the same way she started it: dinner with the children, al fresco whenever possible. 
DETAILS
The openness of the spaces, the warmth of the lighting, and the welcoming atmosphere of the entire home, all combine to reflect the personality of the owners—adventurous, creative and energetic. The effect is altogether visually engaging.