Furne One: Dreaming the Drama
From a simple but nurturing home to making bold strokes in global fashion, Furne One is Cebu's gift to the world—a symbol of Filipino pride that comes in a halo of gorgeous fabrics, shimmering beadwork and bold designs.
From a simple but nurturing home to making bold strokes in global fashion, Furne One is Cebu's gift to the world—a symbol of Filipino pride that comes in a halo of gorgeous fabrics, shimmering beadwork and bold designs.
There is a dream-like quality to the work of Furne One (pronounced "Oh-ney"), but in this dream, there are no fairy princesses with flowers in their hair or dashing princes to sweep them off their feet. In the visions in his head, he conjures up a different kind of fantasy—of majestic women tough but beautiful, magnificent in their structured, almost architectural yet ultra feminine haute couture, burdened by fashion yet somehow liberated by it.
Fashion designer is a term that does not even begin to describe him. A craftsman and an artist both, Furne's work shocks and awes—from his "It's Alive" show and his collaborations with Swarovski, to the various collections showcased from Los Angeles to Dubai. Criticized as a costumer on one hand and hailed as a visionary on another, Furne's instinct and flair for drama has nevertheless made him one of the most exciting designers to have risen in the last decade, audacious enough to throw in everything—extravagant headdresses, ostentatious appliqués and stiletto platform boots into a mix featuring winged sleeves, décolleté necklines, sharp cuts and sexy sheer fabrics.
"Furne One is known for his intricate and handcrafted gowns that are literally hard to describe in words," wrote the LA Fashion Magazine in an article about the Furne One by Amato Couture 2012 show at LA Fashion Week, which was published online in March. "The finale was absolutely stunning," it would also say of his pièce de résistance, a nude crystal-decorated bodysuit with arms made from tulle fabric that were meant to look like wings. "It was a masterpiece—a work of art, and much more than fashion, which is what Furne One's show was all about. His collection was not just full of beautiful and ornate pieces—it symbolized nature, its beauty and what he felt represented this best," the article would end.
"Growing up, I knew that I was inclined to the arts," says Furne. "If I weren't a fashion designer, I guess I would be a theatrical director." This is unsurprising given his unyielding vision, as had been noted in Splash Magazine's website how he himself is "in charge of each detail, from aesthetic of hair and makeup, to lights and music."
"I draw inspiration from a variety of unlikely sources," he says of his creations that are the glorious centerpieces to his overall presentations. "They range from music, cinema, gothic art, disturbing images, vintage pieces, cosmic mysticism, architecture, myths and legends, science and religion." But even the simplest things are just as important inspirations to him, like "people, nature, my travels, old villages and even intelligent conversations."
Anyone would fear that Furne's broad list of influences may result in a mish-mash of one-off art pieces, but Furne always manages to deliver collections that are thematically consistent. Although his clothes seem to be out-of-this-world modern art pieces at best, it should also be noted that pop stars Shakira, Katy Perry, Jennifer Lopez, Heidi Klum, Nicole Scherzinger and, to a more flamboyant extent, Nicki Minaj have all worn Furne's creations on the red carpet. Come to think of it, even local pop princess Sarah Geronimo has been "Furne-d."
Deeply-Rooted Born and raised in Cebu, Furne recalls, "My childhood was fascinating and colorful. I remember I used to marvel at my mother and grandmother's fashionable clothes, and I would always be blown away every time I saw them wearing something new. They inspired me a lot in a sense that they both have great taste—very much like today's trendsetters. They have always been so up-to-date with the latest in fashion. I guess that counts as my very first fashion encounter."
If his vision for fashion had been stirred at home—beginning to sketch at the tender age of ten—outside that nurturing and inspiring environment, it would be encouraged even more by other kindred souls. "My fondest memories all started in high school, with my circle of friends having exactly the same interest in fashion," he relates. He likewise recalls them saving their allowance just to buy back issues of "our fashion bible, Vogue."
"Surprisingly, my friends and I ended up working in the world of fashion." Looking back, perhaps it wasn't a surprise more than it was an answer to a calling.
Taking up fine arts with a major in advertising—as well as some courses in New York later—Furne's biggest break in fashion was his 1994 Mega Magazine Young Designer of the Philippines Award victory. "My career was jumpstarted," he concurs. "As part of my prize, I got to apprentice with Josie Natori, one of the judges at the time, in New York. From there, a lot of doors opened for me." That same year, Furne would bag the first prize at Japan's Women's Wear Awards; just three years later, he went on to become a finalist at Manila's Fashion Designer Awards.
Dubai Calling From Cebu to Dubai by way of Manila, Furne has traveled far, and not just in terms of his achievements. "It may sound weird but years ago, I had a dream," he shares. "I'm talking about an actual dream, not just a figurative one. In the dream, I traveled to a far away place that looked a lot like a Middle Eastern country. The place had an air of magic and mystery, and something inside me told me this is where I should be."
According to him, it was just less than a year later when he "heard about this place that people were starting to call the new melting pot in the Middle East. It didn't take a lot of convincing for me to move to Dubai." But while he has been re-establishing his roots in an emirate located southeast of the Persian Gulf on the Arabian Peninsula, Furne has never forgotten his humble beginnings. "Coming from a small island, I was given the chance to dress up A-list celebrities," he muses now, recalling the "unexpected standing ovations and awards" he'd received with wonderment.
Still, even a courageous creator such as Furne isn't immune to some missteps, if critics can be believed. One of them is Agenda Online magazine writer Kaylene Peoples, who declared Furne as "just a self-proclaimed artisan" and that his Spring 2012 collection shown at Vibiana during LA Fashion Week last January was "more of a costume line than anything realistically wearable in the real world." She goes on to talk about "the parade of D-list models" on the catwalk—some of which sported face-constricting headgear—and the "less than worthy stitching of these garments." Nevertheless, she conceded that must have gone wrong for the collection was its "presentation, or lack thereof," where the clothes were showcased in a less-than-theatrical setting than they called for.
Just the same, mixed reviews and negative criticism are not uncommon, especially in fashion where views can often be subjective and murmurs are not always constructive. Even the greatest minds can use some room to learn—it is, after all, the only way to get better. Self-assured, Furne notes almost defiantly, "Good and bad reviews are my memorable achievements."
The Path to Greatness A brief overview of his feat would reveal the opening of his first boutique Amato, which means beloved, in Dubai in 2002. From here, he supplies his elite clientele of Eastern World royalty with an array of hand-stitched designs and intricately detailed creations. Amato's success would land Furne a commissioned project from Swarovski in 2007, for which he created a staggeringly glittered bridal dress to grace the limited edition book "Unbridaled." His collaboration with Swarovski continued to be celebrated with show-stopping collections for the Crystallized Swarovski Elements events.
By 2008, Furne's work would the toast of European fashion elite, thanks to his exposure on "Germany's Next Top Model," where he was invited as a special guest designer for the show's season finale. The tremendous response to the work showcased there would have him featured for three more years thereafter, rocketing Furne One and Amato Couture into the international fashion spotlight that would soon win him his celebrity clientele.
Furne has been described as "unstoppable," praised for articulating a mix of edginess and glamour in his aesthetics that he showed at the Perth Fashion Week earlier this year. Blogger Ushi Sato of www.theshadesandscarf.com would also note Furne's strong desire to stand out as an original and to "create thunder in silence."
His show in Perth was made up of stunning pieces with slender silhouettes and incredible beading, with models who had big platinum blonde wigs adorned with dazzling headpieces or spiked crowns, and sparkling shoes. Donna Ferreri of Perth's www.stylehunter.com would gush, "Furne One has produced the most exquisite show I have possibly ever seen. My eyes are still blinded from the mere sight of the thousands upon thousands of crystals and jewels that adorned the fabulous garments that shimmied and shone down the catwalk as part of the 'Mata-Hari' collection."
Indeed, if this is Furne speaking in silence, he is managing to do so in a voice that can no longer be ignored.
The Future Demands "Like any other designer, I started to work for other fashion houses to experience the tricks and trade of the business," he points out, underscoring the fact that things can't just be left to chance. "It's a tough battle, but patience, hard work, determination and a little bit of luck kept me going—so I could earn my way to where I am now."
He forgets to list sheer guts and inborn talent to his formula for success, but that much is evident, whether it is articulated or not. Undeniably, Furne's name will only grow bigger in the global fashion arena as his collections expand and his creations take their unstoppable flight. This year, Furne marks a new milestone in his illustrious career, following the monumental opening of Furne One and Amato Couture boutiques in Los Angeles, with plans to further expand.
Being described as a "Global Pinoy" only makes Furne proud. But while many would agree that local fashion could actually become a voice in global design, homegrown designers with talent and creativity face certain challenges that could hamper that growth. For his part, Furne notes that "government support to send young and talented Filipino designers abroad" is what's needed. He adds, "We can also open more fashion schools to help broaden and educate young design aspirants," and wishes them financial support as well. "I believe the Filipino is very talented. We have so much to offer."
We asked him what his clothes would say if they could speak and Furne quips, "Look at me!"
Indeed, here's looking at you, Furne. We celebrate your very bright future, and the trail you have blazed for other Cebuanos and the Filipinos in general. If there's anything his success can teach us, it's the fact that if you are bold enough, you can dream it; and if you can dream it, you can make it true.
by Annie S. Alejo
photography Tina Patni
hair and make up Gene Ginno Alducente
couture Seduction of Mata-Hari Collection by Furne One
Art Curator Maris Holopainen Recommends Top 5 Young Cebuano Artists You Should Know About Now
Having worked with many artists through Qube Gallery and an avid art collector herself, Maris Holopainen has been advocating young and local talent.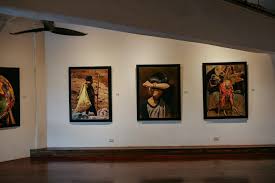 Originally published in Zee Digital Vol. 1.
Photography by Kyla Estoya
Having worked with many artists through Qube Gallery and an avid art collector herself, Maris Holopainen has been advocating young and local talent. Besides representing Cebuano artists at shows around the world, the gallery is also a platform of sorts for creatives who are hoping to make a name for themselves in the industry. Maris shares five up-and-coming artists she believes will soon become buzzed about in the local art scene.
GI Pongasi, Painter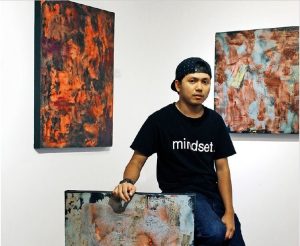 Describe your art.
Mixed media, non-figurative.
How did you break into the industry?
I joined different group exhibitions, and eventually had a chance to mount my own solo exhibit.
Plans for 2018?
After a successful one man show this January, I will continue to create a new series of work, and will be joining group exhibitions. Also, I'm planning to join major art competitions.
Borj Padron, Sculptor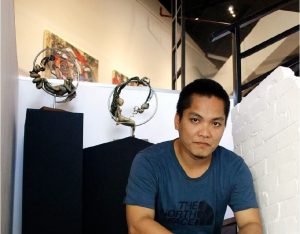 Describe your art.
I am into metal. Even when I was doing my thesis, I was working with metal cables, and stuff like that. Now, I like working with stainless steel.
How did you get into art?
Even when I was a kid, I was into arts. My parents didn't send me to art school; they made me take engineering. when I got to my senior year, I shifted from
engineering and pursued art.
Plans for 2018?
I want to do collaborations with my coartists. I also plan on studying more on metal and wood.
Almun Rey Logronio, Sculptor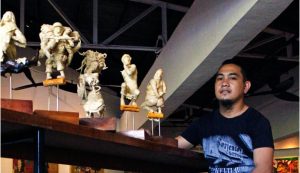 Describe your art.
My art is about comedy. I wanted to avoid the problems, so I converted them into something happy. At least for a moment, I can relieve your stress through my artwork. I experimented with 3D
painting and other materials, and some challenging techniques. For materials, I use polymer resin. My subjects are usually normal people that you'd see everyday.
How did you get into art?
I studied painting in college, but when I went to Dubai, I saw and discovered that I could do sculptures. I practiced and experimented with the materials.
Plans for 2018?
I have plans on doing another exhibit, and continuing making comedy as a statement. I want everyone to be happy. I hope I can make better pieces, and that people will like it more. And I'm planning
to add painting to my sculptures soon.
Mark Belicario, Painter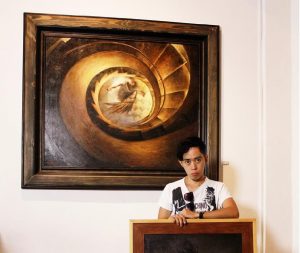 Describe your art.
My art is realism with a bit of surreal, it has some imagination. My medium is oil on canvas.
How did you break into the industry?
I started painting in 2008, together with my co-artists. They have influenced me to do the same. I was inspired by their work. From there, I attended exhibits, competitions, that's where it all started.
Plans for 2018?
To conduct more exhibitions here and abroad, and create another painting. Maybe try a different style of my art.
Francisca Ricablanca, Painter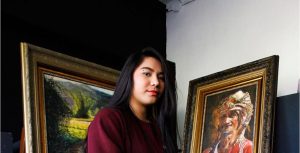 Describe your art.
I describe my art as realism, because in realism I can express my feelings and appreciate the beauty of nature. I feel like I have been enlightened by the Lord, because of what I've seen and what I put
in my art.
How did you get into art?
I started painting when I was 16 years old, and encouraged by a co-artist to join a trip to Samboan. I had no idea
what we were going to do there, I thought it was just another trip. It turned out they were going to do paintings on the spot. One day, they gave me a small canvas, and I finished my painting right away. The next day, they gave me a bigger canvas, and I started painting the guava tree; they were surprised that I was so quiet. I was actually drawing each leaf individually. That's when I started.
Plans for 2018?
I want to continue, and strive harder so that I can make artwork that's even better than what I did last year. I want to continue my career as an artist.
Jinah Oh Tells Us What It's Like to Be a K-Beauty Expert in Cebu
As the woman behind Time For Myself Beauty Salon, Jinah Oh shares how K-Beauty has made it into the lives of Cebuanos.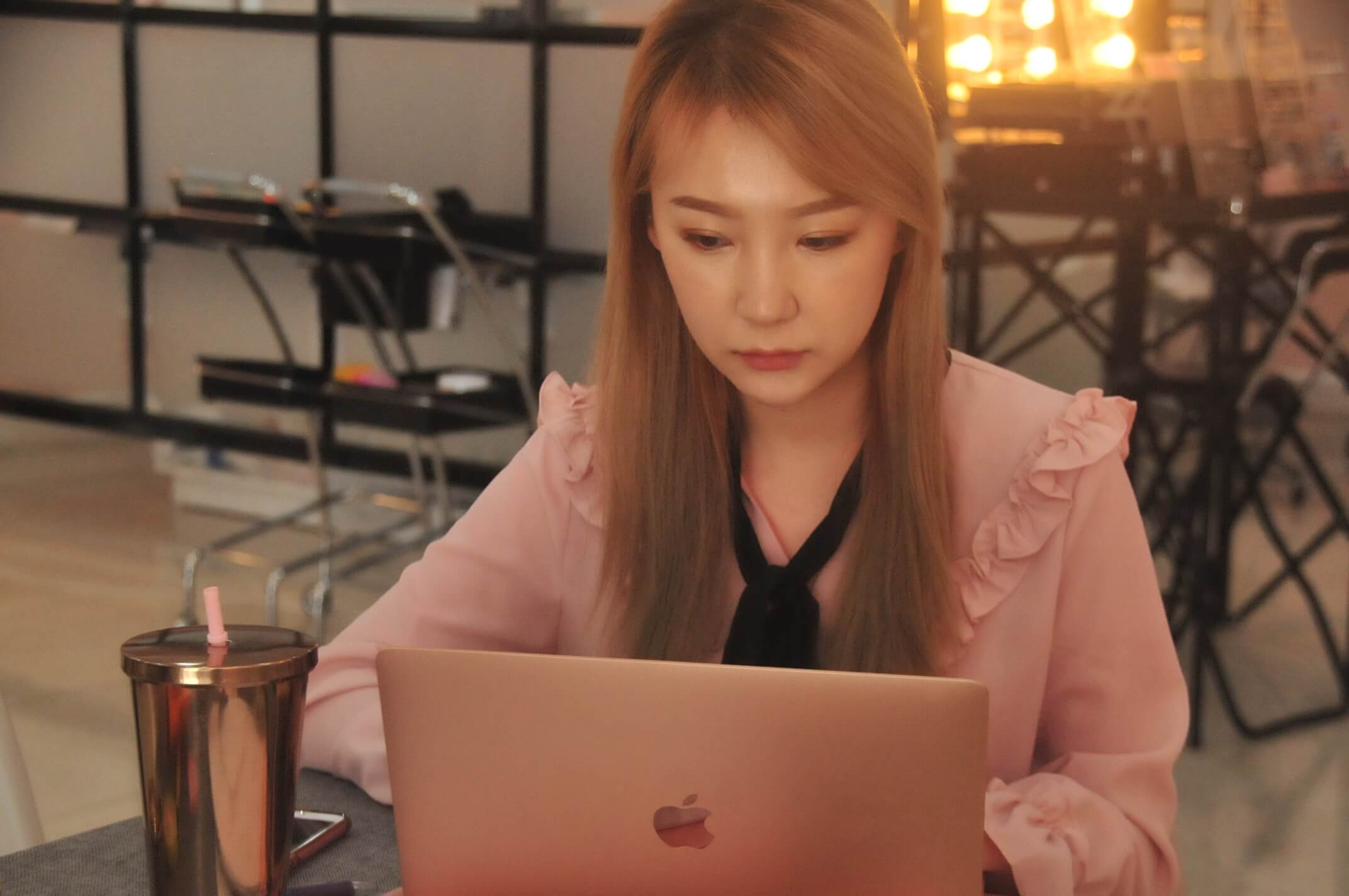 Beauty has always been an important part of Korean culture. Beginning from the early dynasties of the country, Koreans have always been very particular on how they take care and present themselves. Today, Korea's beauty industry is as big as ever, and the rest of the world are now venturing into experience pampering in the hands of Korean beauty experts.
Just last year, Time For Myself Beauty Salon opened in Banilad. The woman behind it is Jinah Oh, a Korean beauty expert. Time For Myself is a beauty salon where you can get a total beauty service. They offer a variety of services from your head down to your toes—including hair, makeup, eyebrow microblading, piercing, and nails.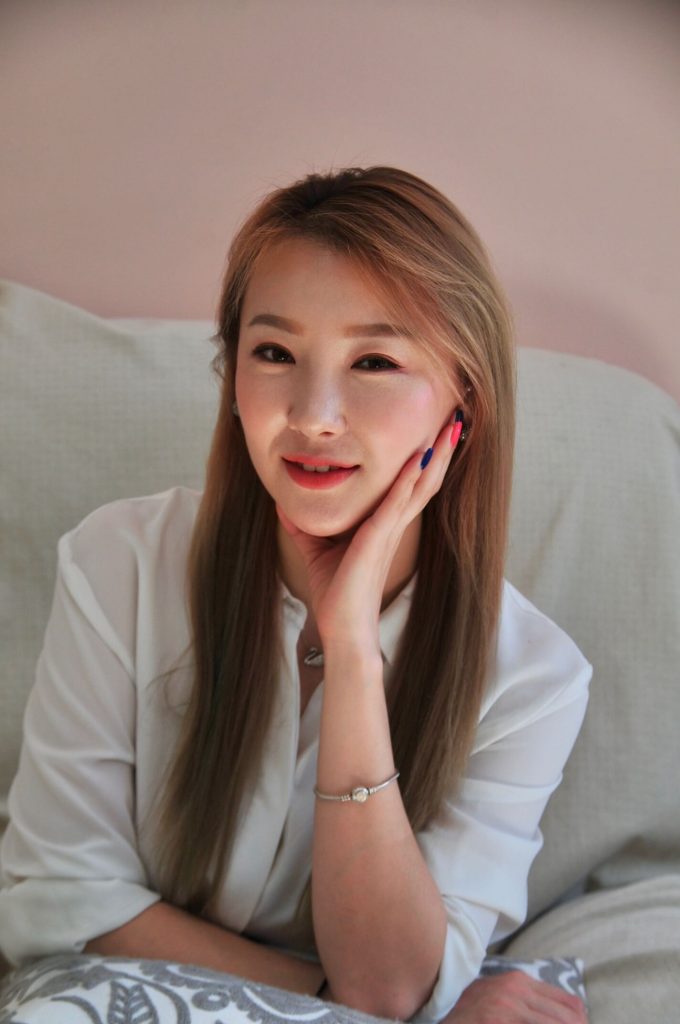 While living in Korea, Jinah worked as a makeup artist for K-dramas. Although her salon here in Cebu is fairly new, she has been in the industry for 8 years now, and she's happy to share her expertise in Cebu.
"I want my customers to experience more about the Korean beauty skills and techniques and be satisfied," says Jinah. She spent most of her education—high school and university, in particular—in Cebu, so it's not hard to see why she wants to share a part of her culture to the Cebuanos.
Unlike many beauty shops in the city, Jinah is hands-on when it comes to working at Time For Myself. Particular with providing good service for her customers' satisfaction, she goes to work regularly to tend to her customers as much as she can.
"I come to the salon at around 9 in the morning. I usually prepare myself first, arrange the schedules for the customers and then wear my apron and work," says Jinah when asked what a typical work day is like for her. "Since I handle the salon's social media, I reply to all the messages and comments one by one in between my breaks. Sometimes, I would do my nails," she adds.
During her days off, she's still running errands for the salon. "I have to go to many places to buy what we need in the salon and I do the groceries as well," Jinah says. "I also reply to the salon's social media messages but sometimes, I hangout with my friends and grab some beer."
A perfect day for her is when she can do what she wants to do, and eat what she wants to eat. "Just spending a simple life without any worries would make a perfect day," she adds. Although salon work really keeps her occupied, she is quite happy with what she is doing now. "This is what I have always wanted for in my life. I've worked in different beauty events in Korea under other people's names but now, I can do what I love most in a place that is my own," she explains.
Jinah recounts her experience as a makeup artist in Korea, and shares that she barely got sleep or rest days, which put a lot of stress on her body. "Having worked as a staff in a Korean drama, I wouldn't say that my job right now is challenging," she says, and goes to describe what she finds challenging in her current job. "When you work so much, you don't really get stressed," she adds.
With everything that she has achieved for her dream, Jinah also wishes that she can share her knowledge on beauty to Filipinos.
"I've been wishing for beauty to become one of the university courses so that they can have the basic knowledge about the beauty industry since the beauty market in the Philippines is growing fast. In Korea, it's standard for us to learn about it," she divulges.
This begs the question: is beauty not that big of a thing in the Philippines yet? Considering the many brands and products popping up in the market, it does make you think if this holds any truth. Nevertheless, whatever the beauty industry's status is here, it seems to be leagues away from Korea's beauty industry, and it's evidenced in how many Filipinos follow their skincare routines and makeup styles.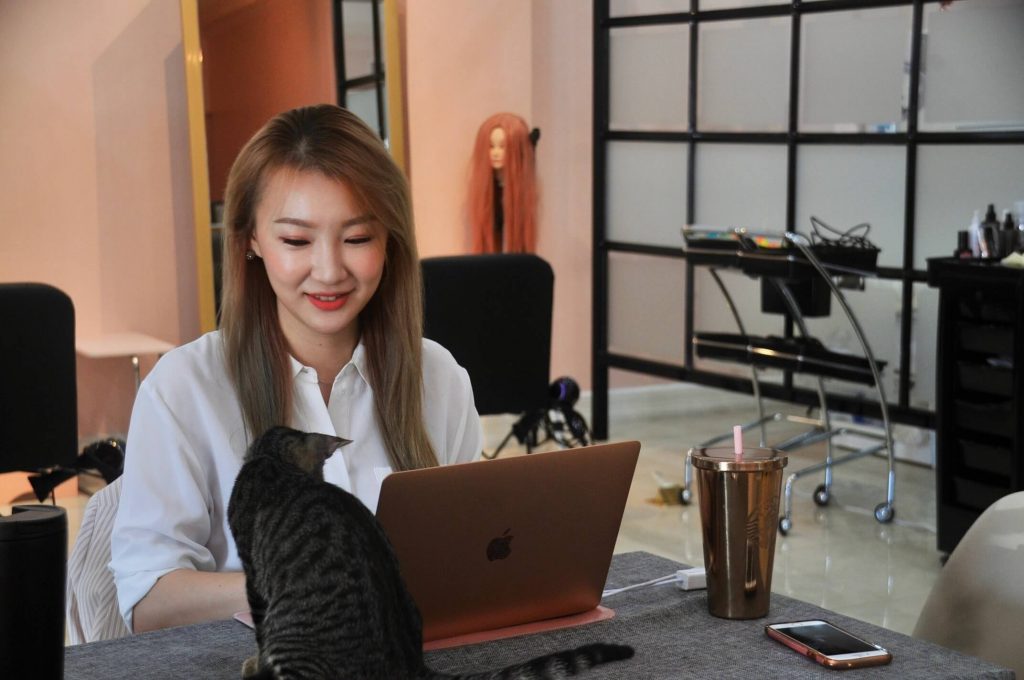 This beauty expert's life is quite interesting, but just like any other person, she dreams of doing the little things that every one of us might have thought about at some point of our lives. Like most people, Jinah also loves pets. She even has a cat that she brings with her when working in the salon.
"If there was one thing I could do for the rest of my life, I would build a huge house where all the homeless dogs and cats live together," she shares. Her cat was a stray that she plucked off the streets, and is now living a life where she's well taken cared of.
Of course, getting a makeup or skincare tip from Jinah would be a must and that's exactly what we asked from her. "I always moisturize my skin right after I take a bath so that I do not give time for my skin to dry. I do not use too much products for skin care because it might block my pore and irritate my skin," she replies. "As for makeup, I wear anything but remember, proper cleansing is more important than wearing makeup."
Check out Time For Myself Beauty Salon at Banilad, Cebu City. While you're there, get a chance to meet Jinah. Who knows, you might get a chance to ask her more tips on skincare and makeup. With the quality services she provides, your time there would really be worth it.
You Can't Miss the Benefit Performance of The Vagina Monologues for V-Day Cebu's 17th Year Anniversary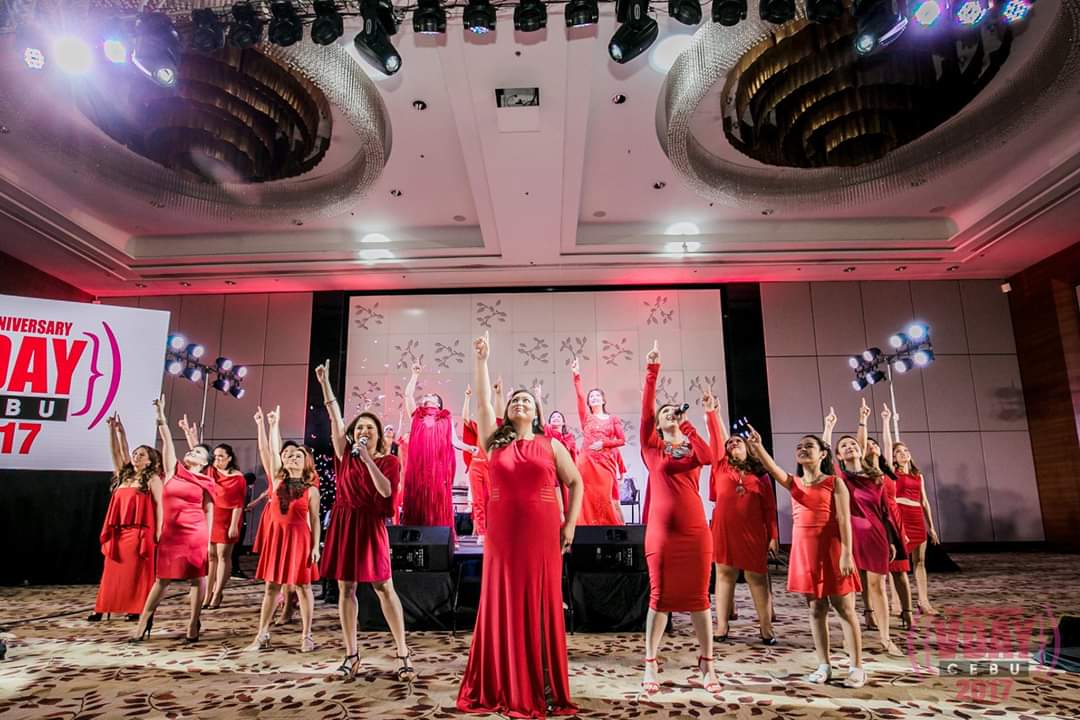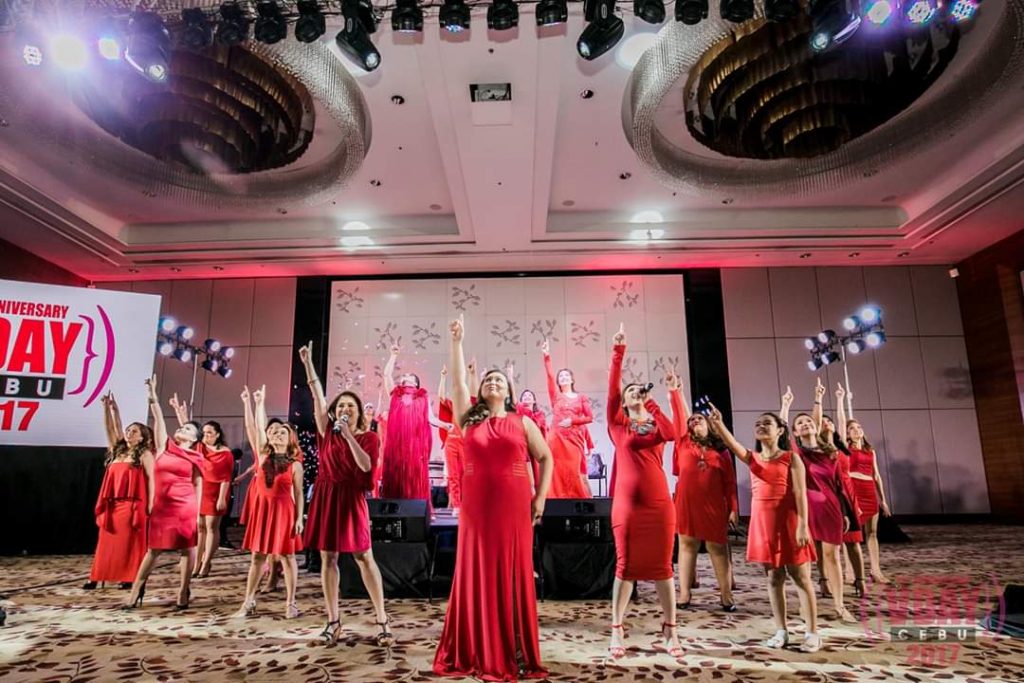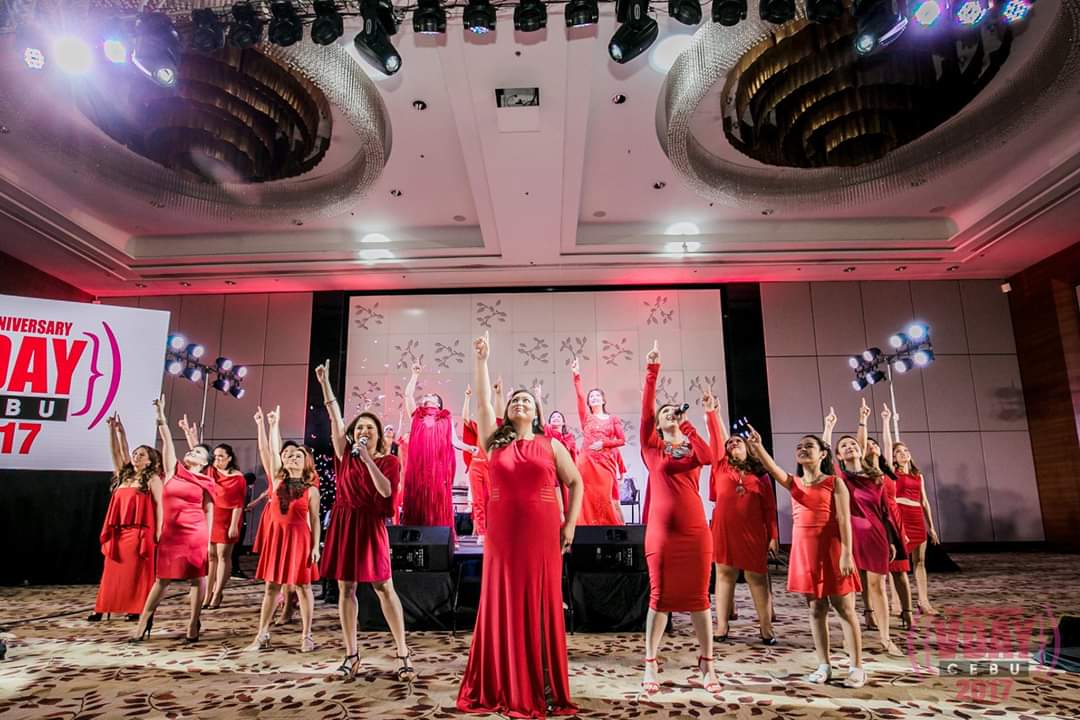 This year, join the Vagina Warriors as they celebrate V-Day yet again with a benefit performance of Eve Ensler's award-winning play, The Vagina Monologues on March 7 & 8, 2019 at 8PM at Asmara Urban Resort & Lifestyle Village.
V-Day Cebu and its current campaign ONE BILLION RISING: REVOLUTION is just one of the thousands of benefits held around the globe to raise funds and awareness toward the empowerment of women. Through the performances of The Vagina Monologues , these events help spread the message of equality, dignity, and freedom for all.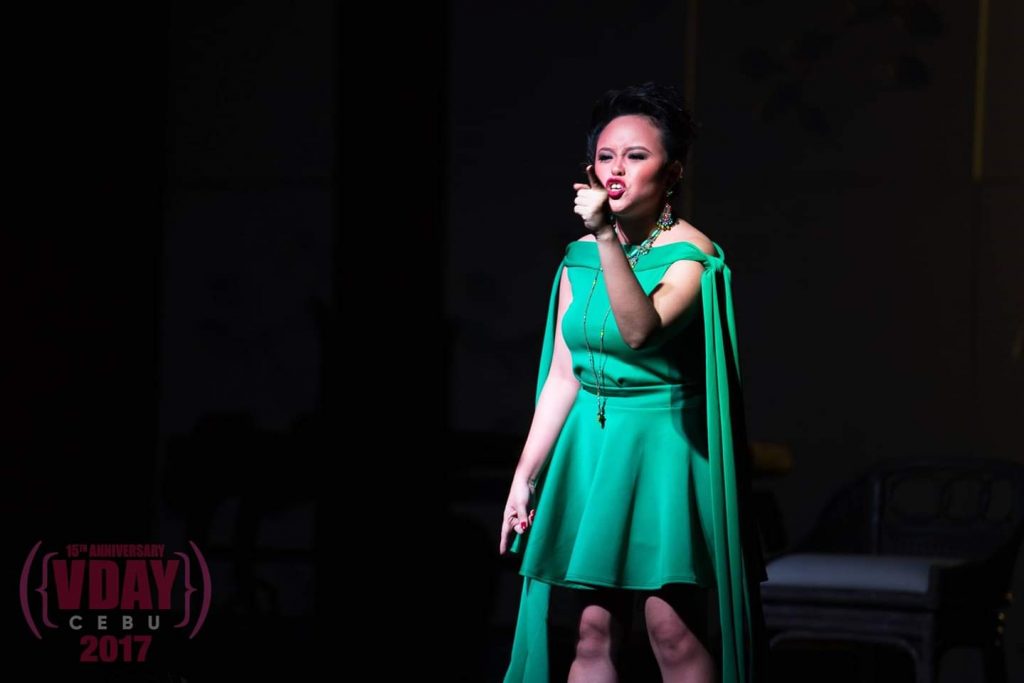 Marking the seventeenth year of V-Day Cebu, this special benefit of The Vagina Monologues will be performed by influential and affluent ladies. Featuring Alem Garcia, Andrea Pateña-Matheu, Anya Lim, Bea Algar Evardone, Brazzy Valdez, Charlene Virlouvet, Christine Tan, Gembelyne Icamen, Jo-ann Abesames Zalumbide, Kim Covert, Liana San Diego, Lourdes May Maglinte, Shiella Pestaño-Gemperoa, Shifrah Bouchikhi-Enclona, Stephanie Sitoy, and Tiffany Neri, and directed by Sarah Mae Enclona-Henderson, this two-night performance will surely touch the hearts of those privileged to see them on stage.
The Vagina Monologues will be performed at the Asmara Urban Resort & Lifestyle Village on March 7 & 8, 2019. Tickets are at priced at ₱500, which also offers all ticket buyers 50% off on all hair-related services at Mira Beauty by Design, located at Basement 1, Robinson's Galleria Cebu. For tickets and reservations, please call 2TinCans at +63 917 896 2181. You can also email plays@2tincans.ph or visit V-Day Cebu and 2TinCans Philippines Inc. on Facebook.
This event is produced by 2TinCans Philippines Inc. and co-presented by Asmara Urban Resort and Lifestyle Village, Atelier-a, Mira Beauty by Design, and Your House Doctors.