The World of Tory Burch
Tory Burch and trusted interior designer Daniel Romualdez talk about how style and inspiration created a flagship store that properly represented the woman behind the name
Tory Burch and trusted interior designer Daniel Romualdez talk about how style and inspiration created a flagship store that properly represented the woman behind the name
Filipino women can't get enough of Tory Burch. The American designer's kaftans and ballerina flats are staples in the closets of every chic and well-travelled Pinay. She has a soft spot for the Philippines, having visited the country as a student, and now finding a trusted and ardent Filipino collaborator in Daniel Romualdez, the interior designer of her Manhattan home and stores all over the world.
I had the privilege of meeting Tory and Daniel at the opening of the Tory Burch flagship store in Madison Avenue in Manhattan, New York. In a recent interview with the dynamic design tandem, Tory tells me about her inspirations, the future plans for her eponymous label and her commitment in empowering women beyond charity, while Daniel shares some of the secrets behind the chic and stylish look of Tory's home and store interiors.
MELO ESGUERRA: The Philippines loves Tory Burch. I see so many Filipino women who are comfortably walking in your signature flats and tunics. But who is really the Tory Burch woman and how is she similar (or different) to the lady behind the brand?
TORY BURCH: Our customers are women of all ages and personal styles who live busy, multi-faceted lives. We want to make getting dressed in the morning effortless, so we focus on designing pieces that will help our customer feel pulled together — a trench, a cashmere t-shirt, a cigarette pant — but that also have unexpected elements. My design team and I also think about what we're missing in our closets and hope that other women are looking for some of the same things too.
ME: When we learned about your creative partnership with Filipino interior designer Daniel Romualdez, we loved you even more. How did your collaboration with Daniel begin?
DANIEL ROMUALDEZ: We met while Tory and I were working on her apartment in the city and she showed me the work she was beginning to do on her brand. Initially we agreed it made sense for her to work with an interiors person who specialized in boutiques. But as she got deeper into the process of attempting to translate her brand into an actual retail space, Tory asked me to get involved; she felt that I understood her aesthetic. Since then I have worked with the company on all 73 stores.
ME: I thought your Spring/Summer 2012 collection was so beautiful. What are the inspirations behind your collections? What inspired your latest Fall/Winter line?
TB: Thank you! We draw inspiration from many places each season, whether it's photographs of my parents from the '70s, a painting by Gerhard Richter or a great song. For fall, one of our inspirations was Wong Kar-wai's In the Mood for Love. The looks are polished but with subversive undertones — nipped waists, slim cuts and a lot of leather.
ME: I fell in love with the old townhouse that is now your Madison flagship store in New York, which has a fantasy and heritage element that ignites nostalgia and imagination, and you mentioned that you were eyeing it before it was even on the market. Tell us about the history of the house, and how relevant and significant is the house it is to Tory Burch.
TB: It's a townhouse that was built in the 19th-century. The space has had special significance for me for many years; I used to go to the diner that was on the ground floor with my boys when they were little, and there was a hairdresser above it. When Daniel and I saw the gutted space years later, we were drawn to it instantly. We thought of it as a restoration rather than a renovation, keeping many of the special details from the 1800s and adding references that spoke to the aesthetic of our brand. We also embraced new inspirations, like the work of the (late) renowned French interior designer Madeleine Castaing — we share a love of bold colors with her — and ideas from our feng shui master to bring great energy to the space.
DR: We saw the space together for the first time after it had been gutted; only the perimeter walls and the raw space were left. We reconstructed it to largely resemble what the building most likely looked like when it was originally built, but it was more our fantasy of that than an academically correct restoration. We took some liberties to make it very Tory.

ME: You both did a fantastic job in mixing different elements of design to the interiors to make it look like a collection of a world traveller and adventurer. I saw Asian touches amidst a European grandeur in the forms of the wooden boxes with mother of pearl details and some Chinese antique ceramics. What was the design philosophy behind it?
TB: I collect Imari and Ming china, vintage books and artisanal finds from antique stores and markets as I travel. I love the idea of mixing pieces that don't seemingly go together and making them work, like the green velvet walls with gypsum accents in the Madison Avenue living room.
DR: Tory loves to travel and has toured extensively in Asia. She had even spent some time in the Philippines as a student. When she comes home from a trip she always brings back a few treasures, like the Chinese and Japan porcelain she collects. Since the stores are a reflection of Tory's homes, we make it a point to include such objects in them as well.
ME: Please share with us the future plans of the brand. Will there be expansion of the brand? Will there be Tory Burch Home one day?
TB: We recently signed a partnership with Estee Lauder and are thrilled to be launching our first fragrance in 2013. We are developing the scent and bottle design now. Creating a home collection is on my wish list, but we're taking our time. In terms of our stores, we are expanding in Brazil, China, Southeast Asia and the U.S. in the next few months.
ME: What are the causes and advocacies closest to your heart, and the contributions and efforts you've done to advance these causes?
TB: We launched the Tory Burch Foundation three years ago. As a working mother and someone who firmly believes in empowering women, I wanted to start a foundation to help women and their families. We are currently focused on microfinance and mentoring for female entrepreneurs in the U.S., and we hope to eventually diversify our programs and expand internationally. We have given over 50 loans of $8,000 each on average, and we have hosted mentorship events in New York, Chicago, Los Angeles and Hawaii where entrepreneurs can get the advice they need to grow their businesses. It's important to me that the Foundation is not a charity; it's helping women help themselves. That's incredibly exciting.
ME: Allow us to understand your thoughts on style. As one of the world's most stylish women, how do you define style? For those who aspire to emulate your style, any specific advice for them?
TB: Great style comes from trusting your instincts about what's right for you. It's about finding pieces that look great and help you feel like the best and chicest version of yourself. When women ask for style advice, something I always go back to is, "Try not to follow trends too literally." Look for timeless pieces you not only love but that work for your life, and feel free to put your own spin on them.
ME: You love to travel and you mentioned that you've been to the Philippines before. What was your experience like?
TB: I went for the first time during Semester at Sea, a college program that allowed a group of us to travel the world for six months, experiencing new cultures. I was a life-altering trip; the program truly gave me a global sensibility and awareness of issues facing people in other countries. I would love to visit again with family.
by Melo Esguerra photography Noa Griffel
Claudia Bezza-Yeung's Santorini Cruise Collection Seaside Debut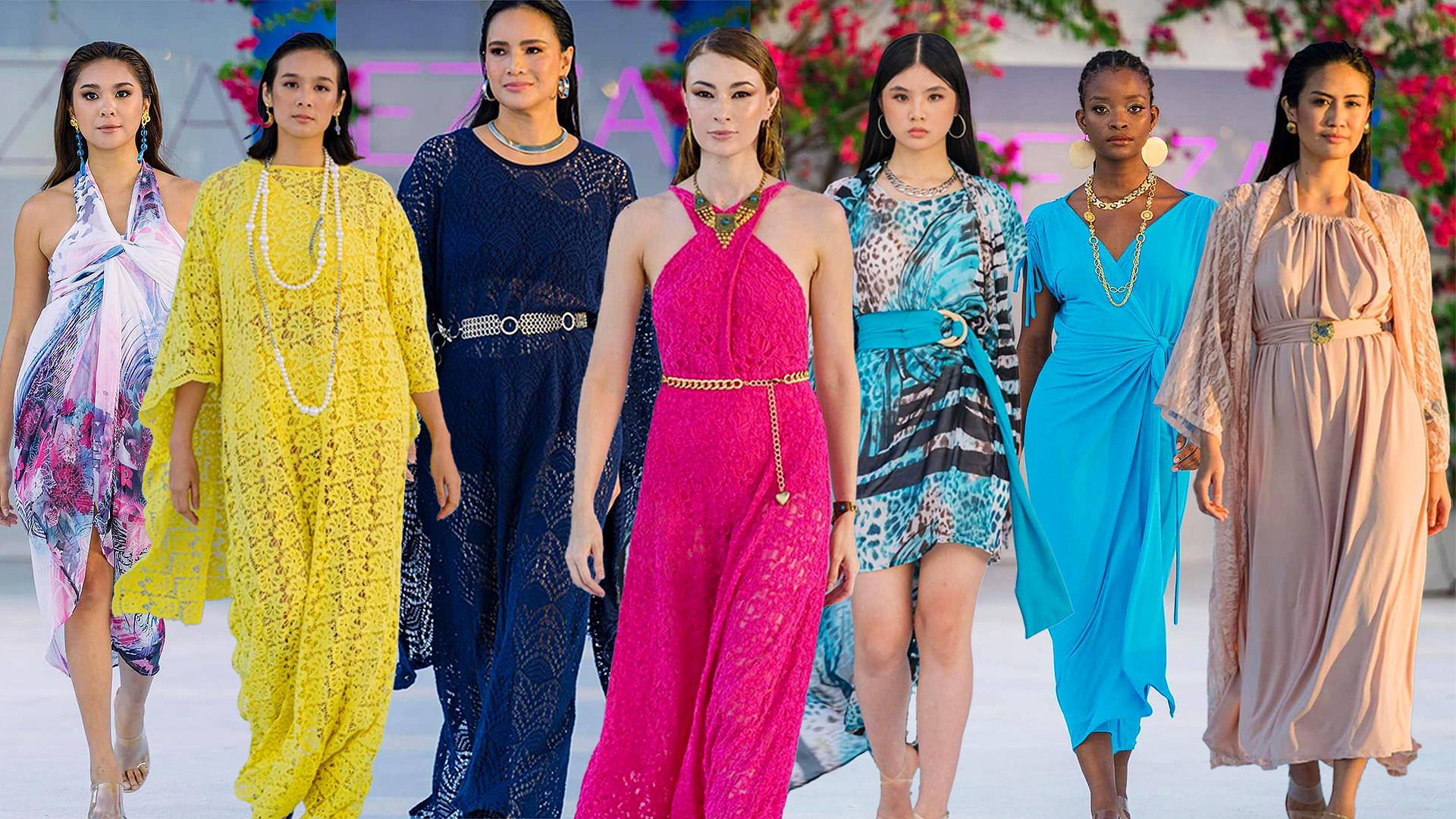 By Kingsley Medalla
The Santorini Cruise Collection launch, Claudia Bezza-Yeung's fifth, held last May in Kandaya Resort in Daanbantayan, was inspired by the Greek island of Santorini. Claudia's designs exude sophistication, and a touch of Mediterranean charm. The collection features flowing maxi dresses in vibrant colors that mirror the azure waters of the Aegean Sea, lightweight fabrics that effortlessly sway with the ocean breeze, and intricate design that adds a touch of opulence to each piece.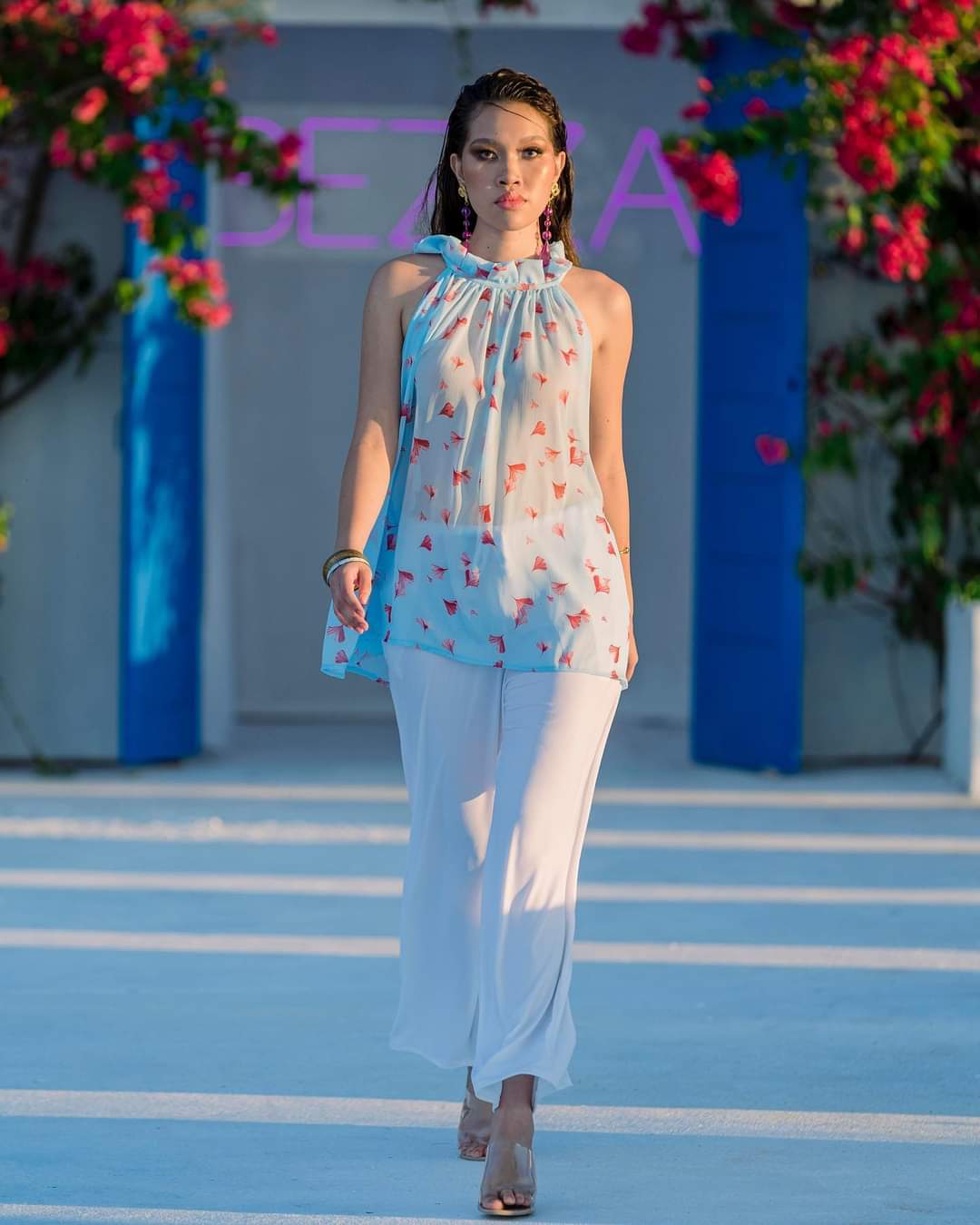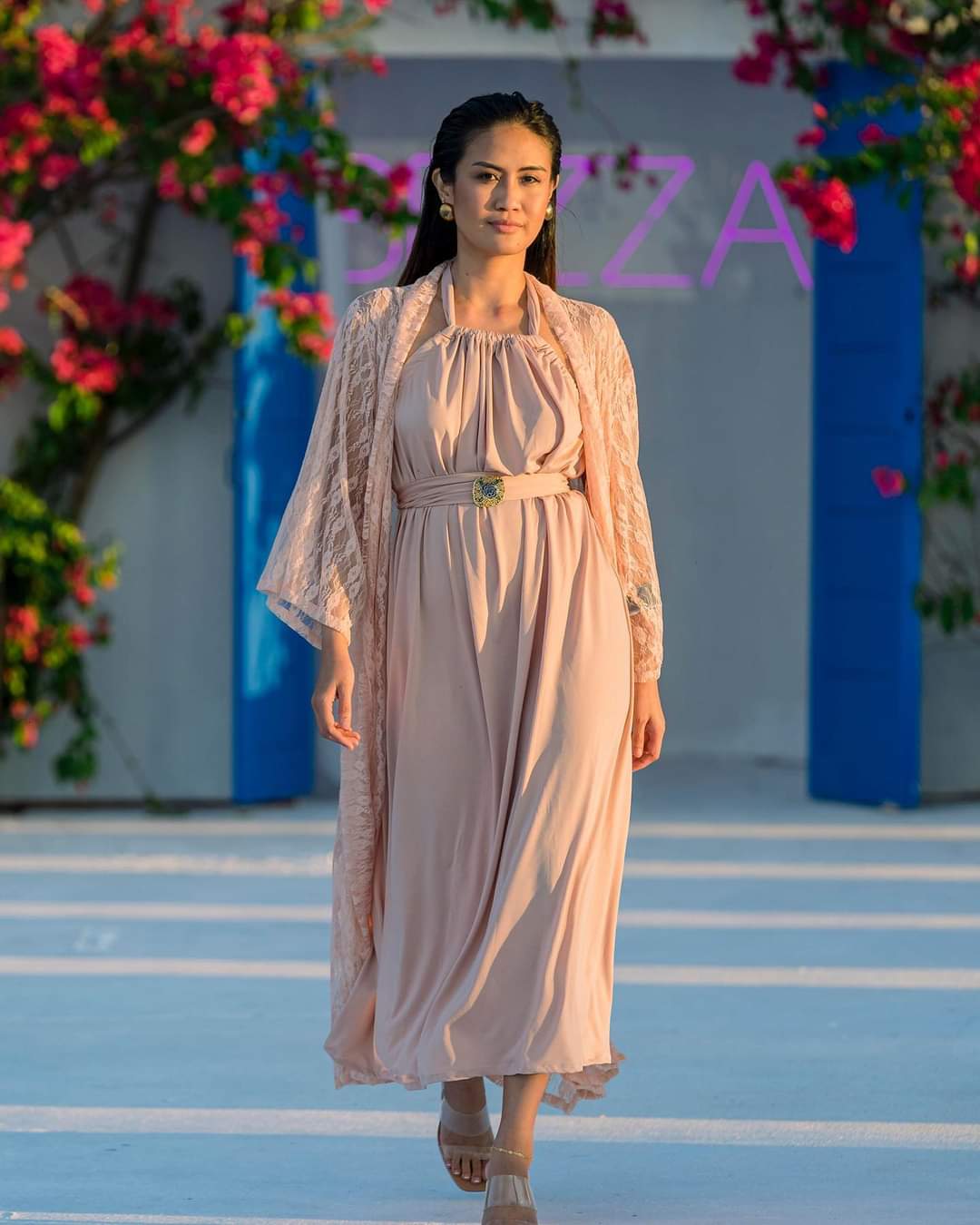 The collection itself is a celebration of summer: mini dresses with headbands and tote bags evoke images of strolls along whitewashed streets. Each piece is carefully crafted to capture the essence of Santorini's charm.
The color palette of soft pastels like pale blues and pinks, are juxtaposed with bold pops of color, like romantic pinks and vibrant yellows. This combination creates a visually striking contrast that adds depth and interest to each look.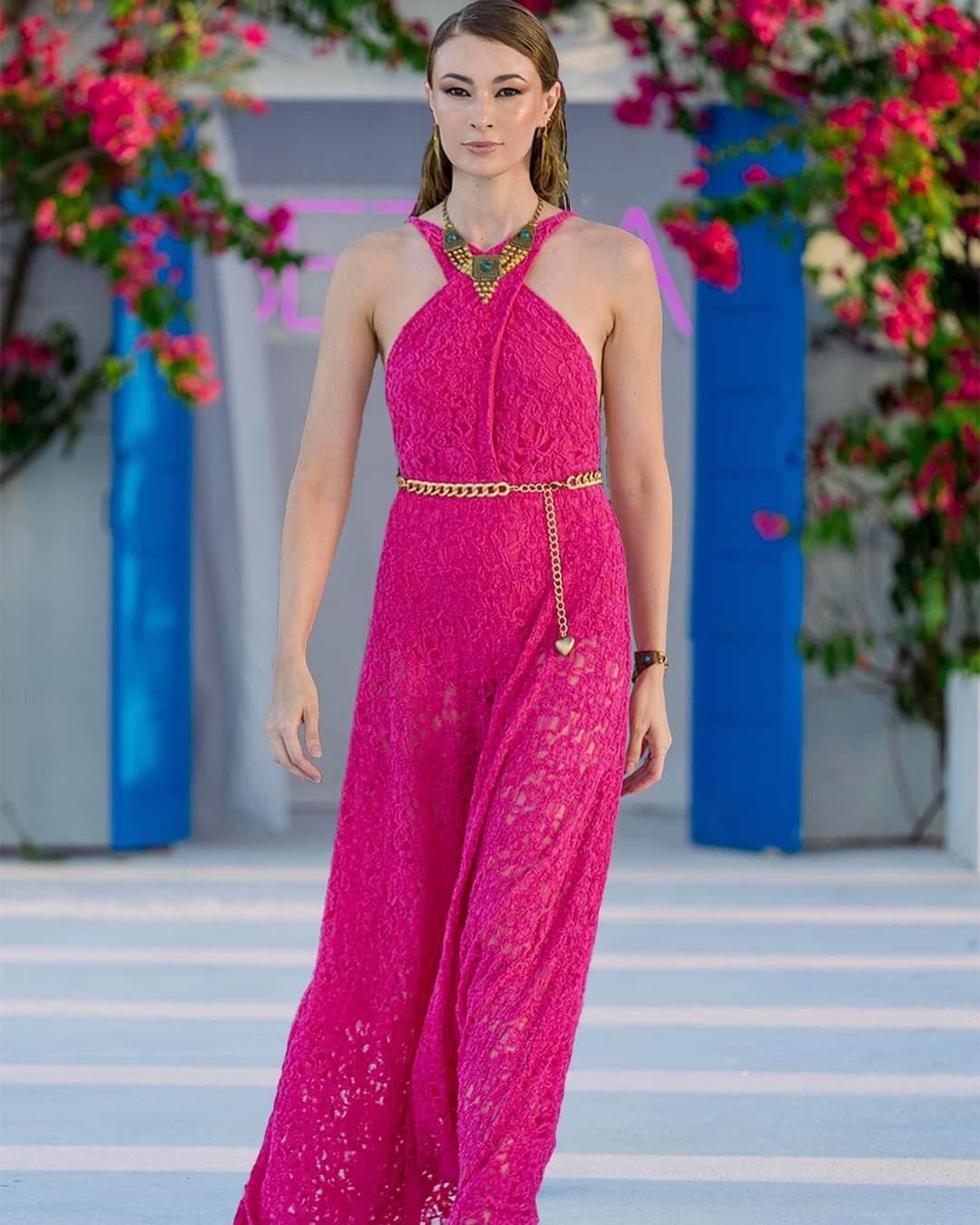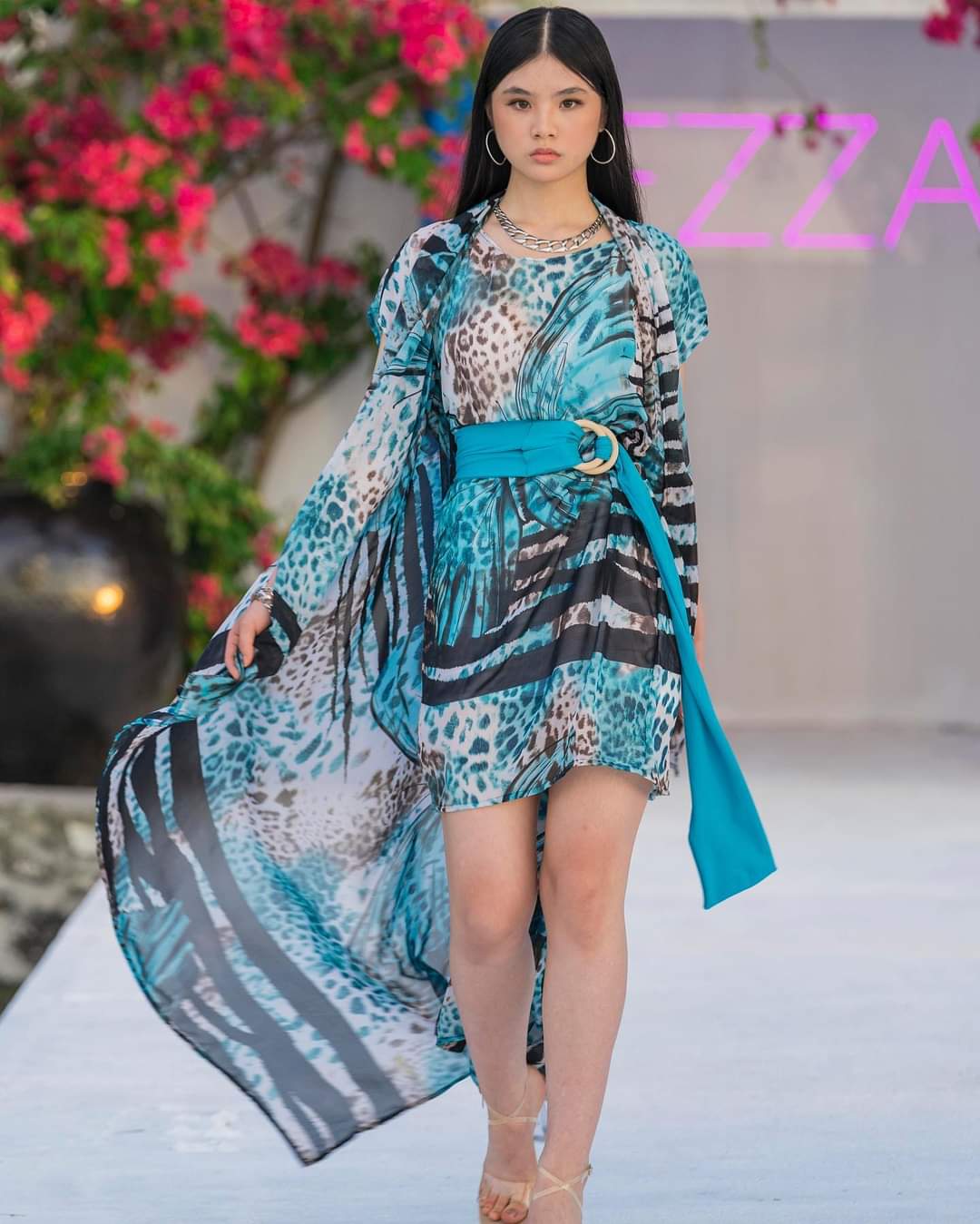 Kandaya Resort, with its breathtaking sunsets and white sand beaches, provides the perfect backdrop for the 55-pieces of beach wear.
"The collection, as with all our pieces, is made from discarded fabric that we source from China and Dubai," shares designer Claudia Bezza Yeung. "The fabrics for this collection were acquired at different times and were kept in storage since the pandemic, and it was only recently that they all came together with this vision: Santorini! "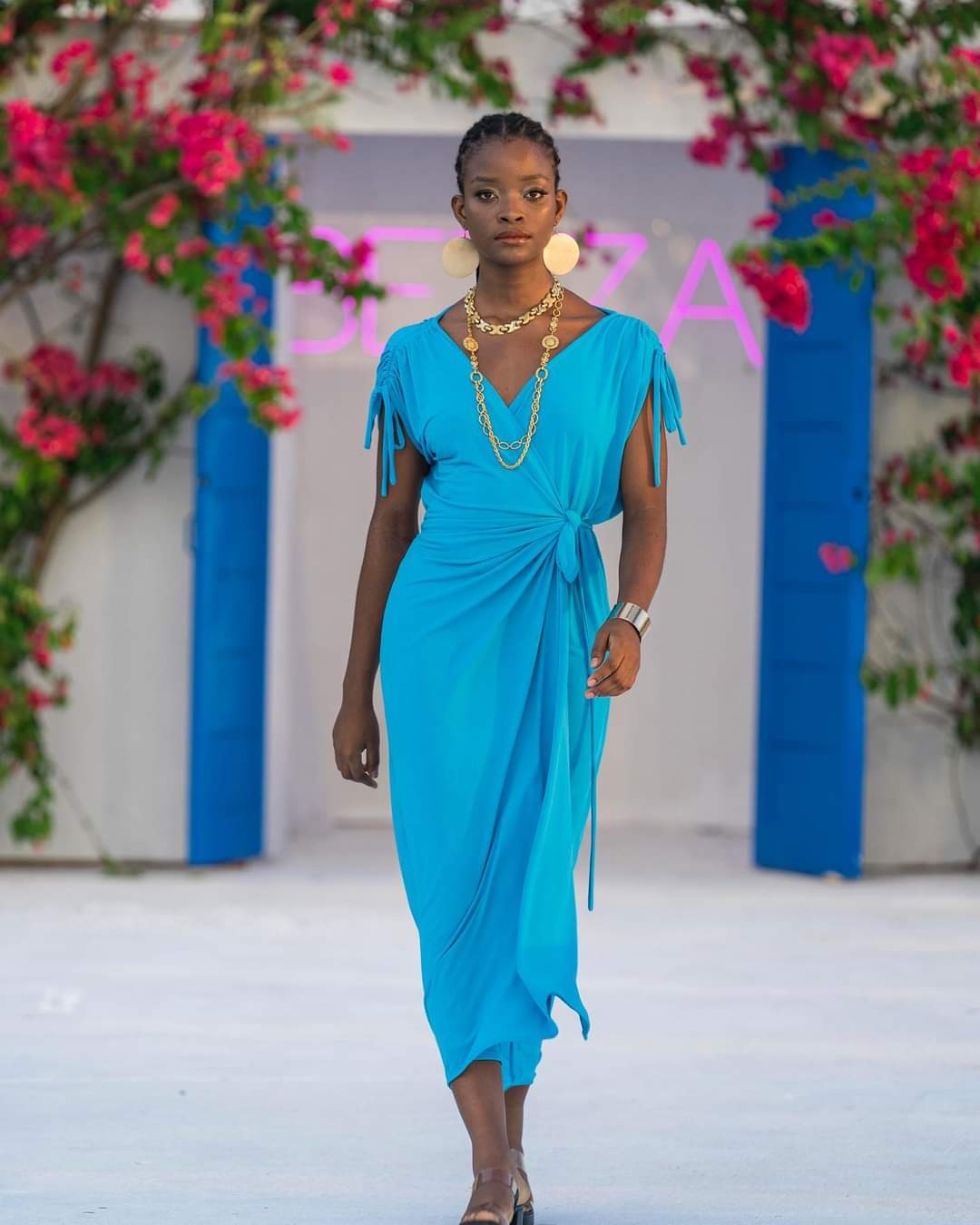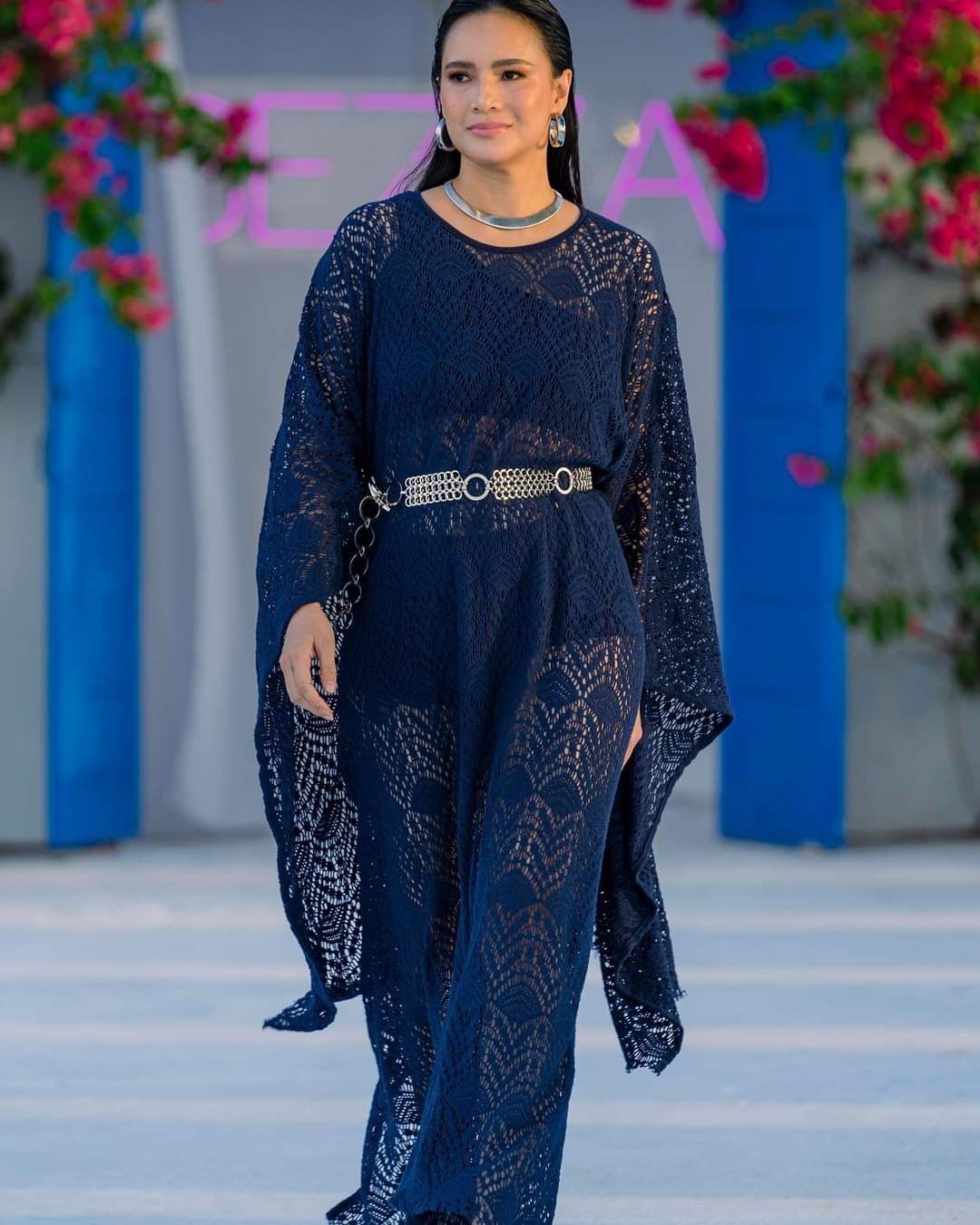 Beyond its aesthetic appeal, this fashion show also serves as an opportunity to showcase Bezza's talent on an international stage. By collaborating with local artisans and incorporating traditional techniques into her designs, this former model-turned-designer pays homage to Santorini's rich cultural heritage.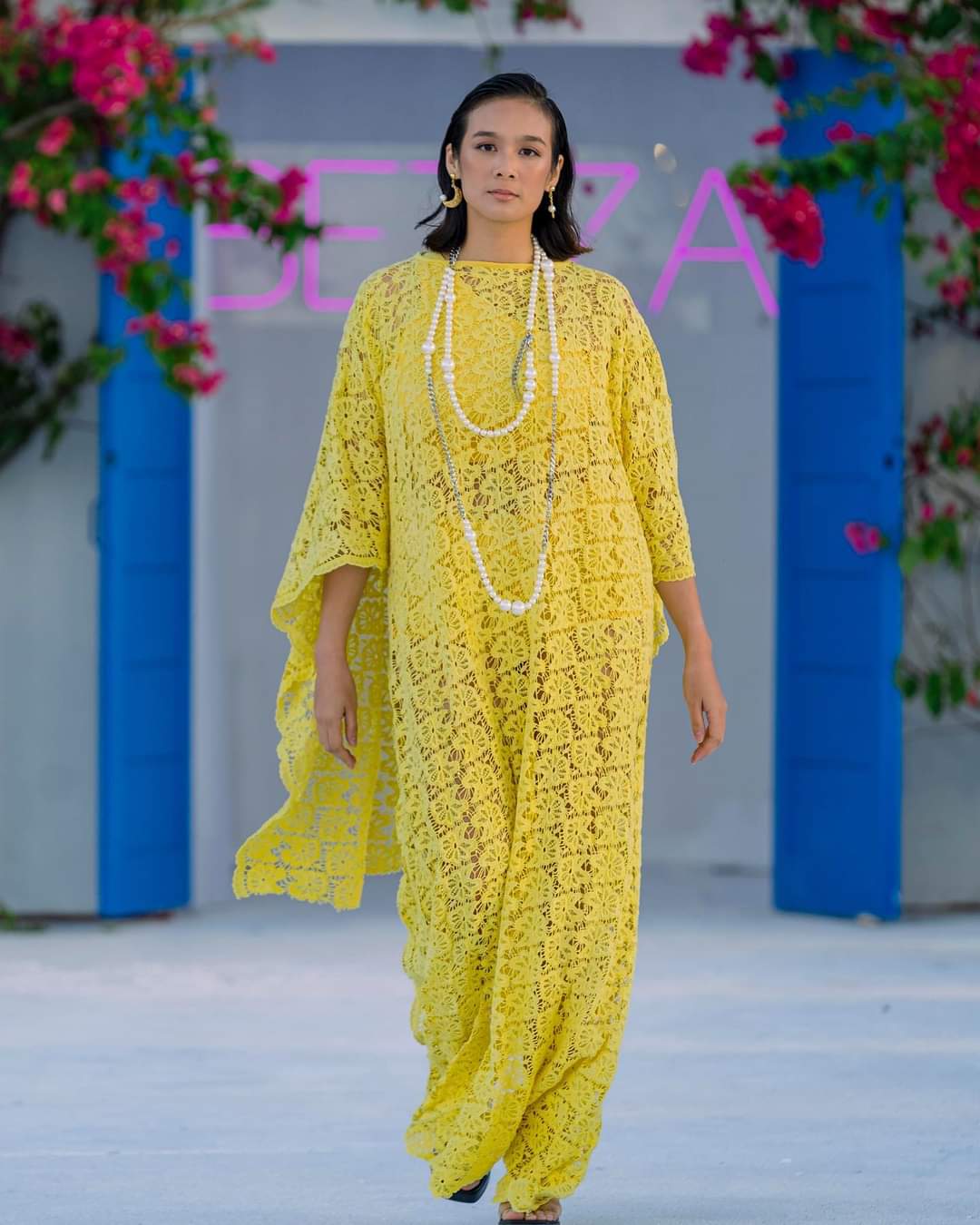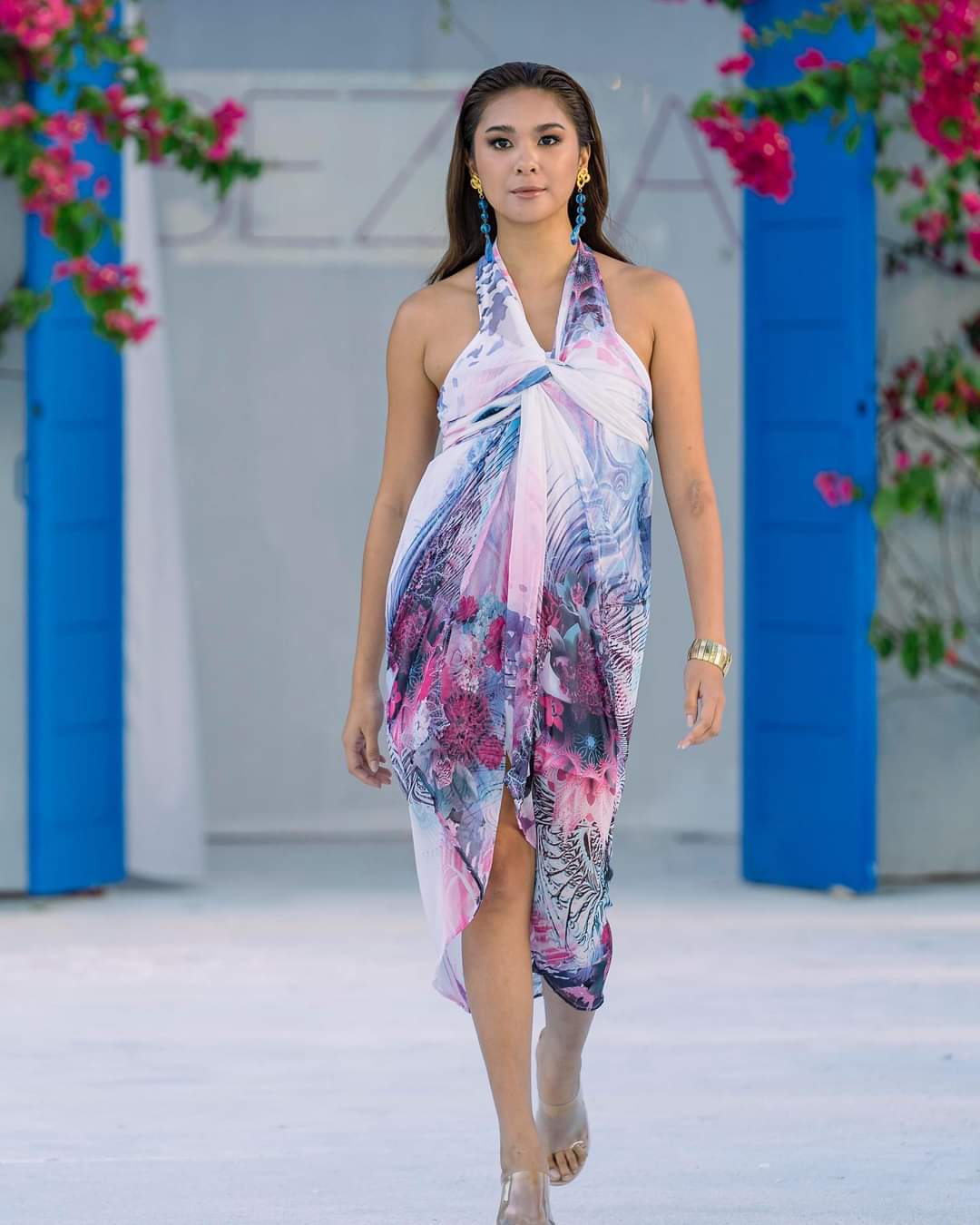 Claudia learned sewing skills from her mother, starting early by dressing up her dolls with fabric scraps. "When I was working and traveling all over the world, I had to decide to carry fewer clothes in my luggage, so I would recycle clothes and customize the ones I already had so they would look different every time." Soon, she began selling her creations to fellow models.
"I do not sketch. I find it better to manipulate fabrics directly on the body," Claudia shares. "I sew and drape directly on my body most of the time, and that's when I get ideas on transforming the dress.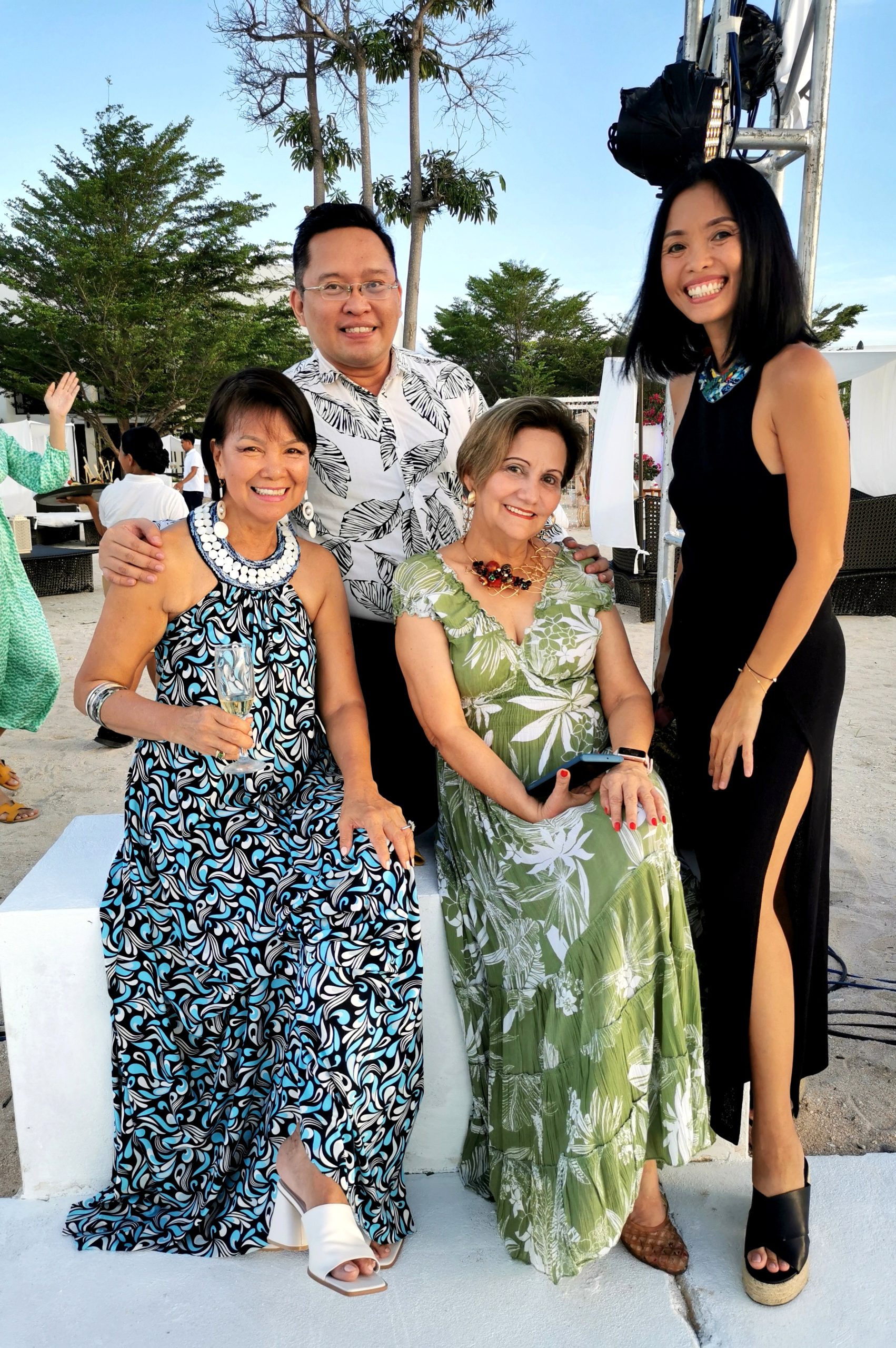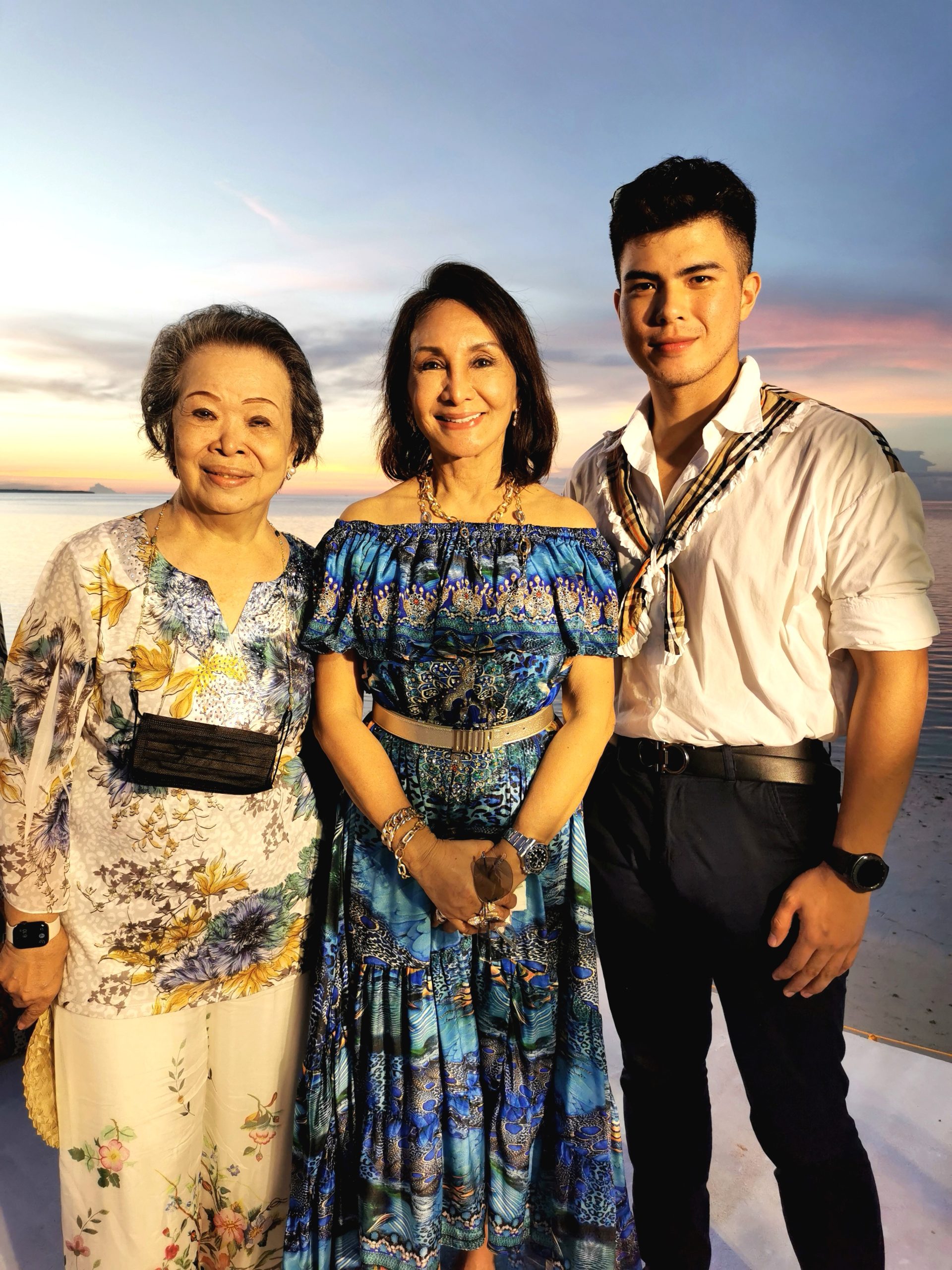 The Santorini Cruise Collection Launch, a Fashion Show on the Beach is not just another runway event but an immersive experience that celebrates both style and culture. Its idyllic setting and stunning designs leave an indelible mark on all fortunate enough to witness it firsthand.
The First Philippine Terno Gala at the Waterfront
On March 10, 2023, important guests and personalities entered the halls of Waterfront Cebu City Hotel & Casino to attend the first Philippine Terno Gala in Cebu brought to you by Cary Santiago.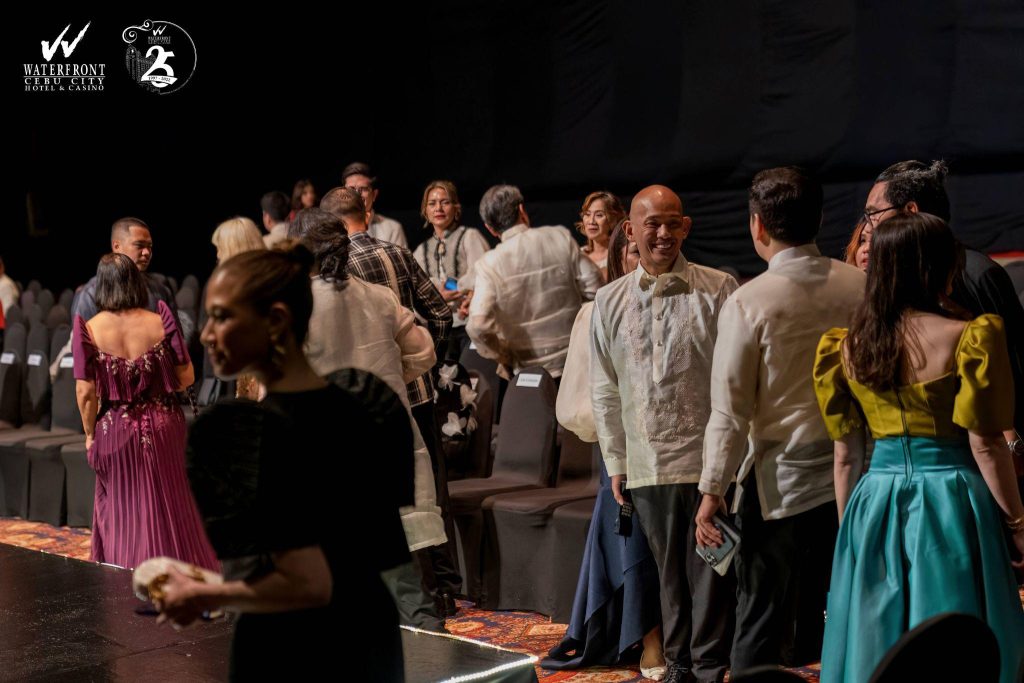 The Philippine Terno Gala's fashion show showcased couture pieces by world class Filipino designers: Rajo Laurel, Mark Bumgarner, Philip Rodriguez, and Cary Santiago.
The event started with Philip Rodriguez' daring designs that left the crowd with the need to see more.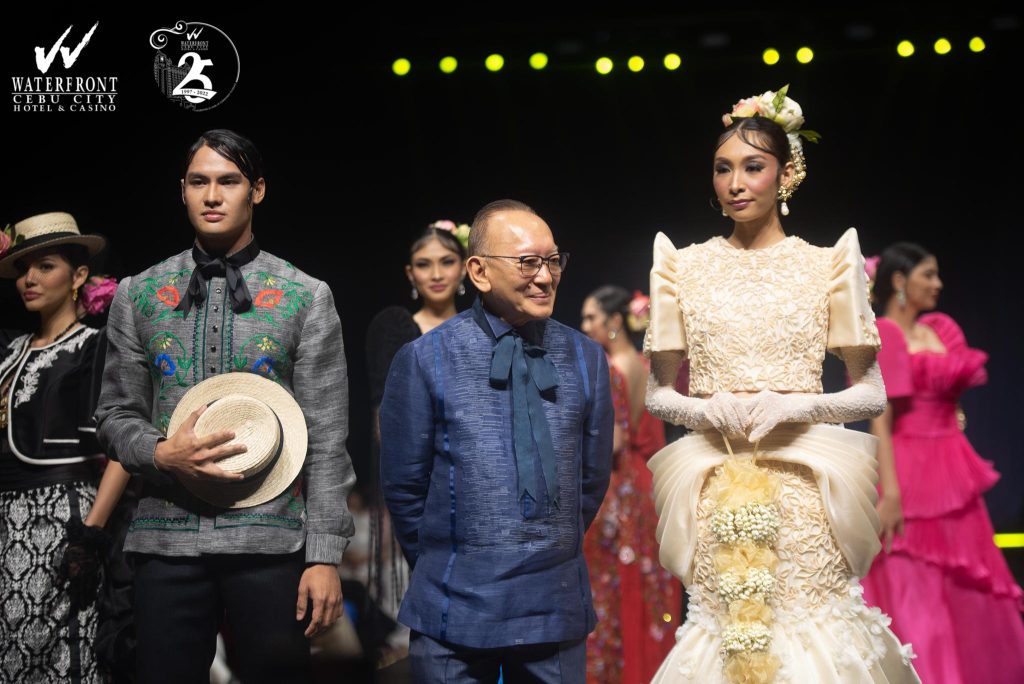 Followed by Rajo Laurel's contemporary pieces, keeping the ongoing gasps and cheers by the crowd alive to fill the ballroom's ambiance.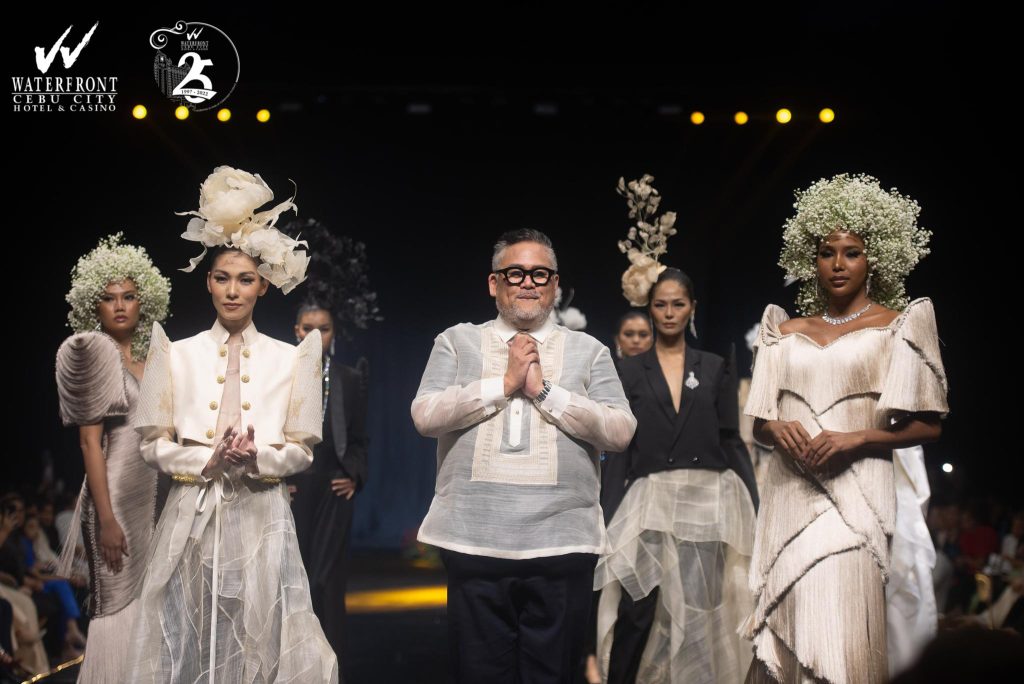 Next to grace the crowd is Mark Bumgarner's elegant designs had everyone raising their cameras to capture the admirable pieces.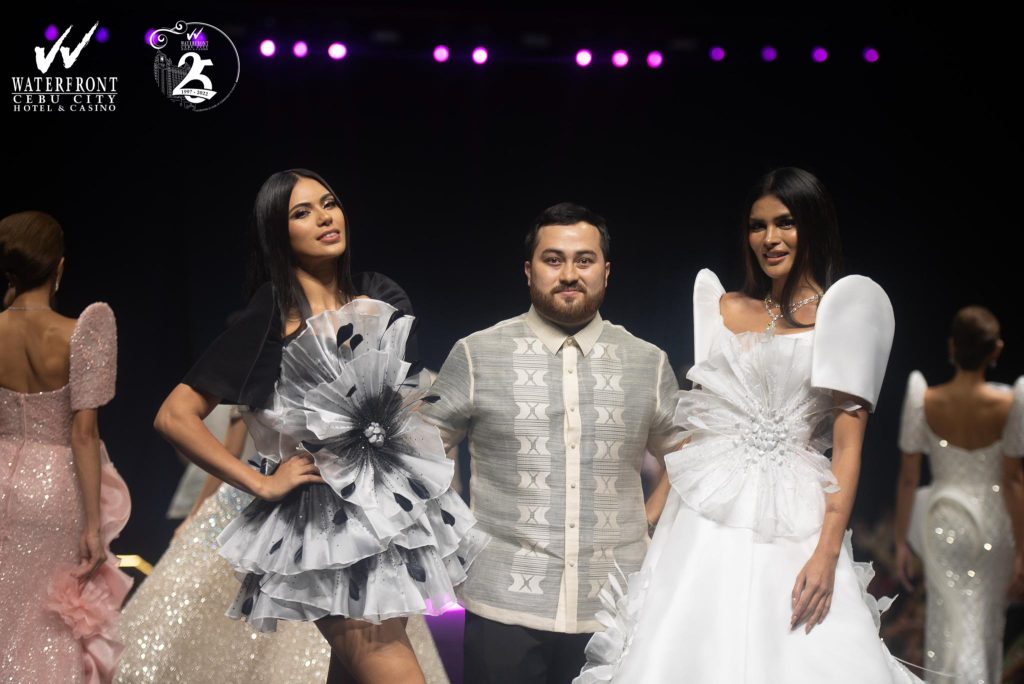 To end the fashion show, Cary Santiago left a statement as the runway welcomed stunning designs leaving the crowd in awe.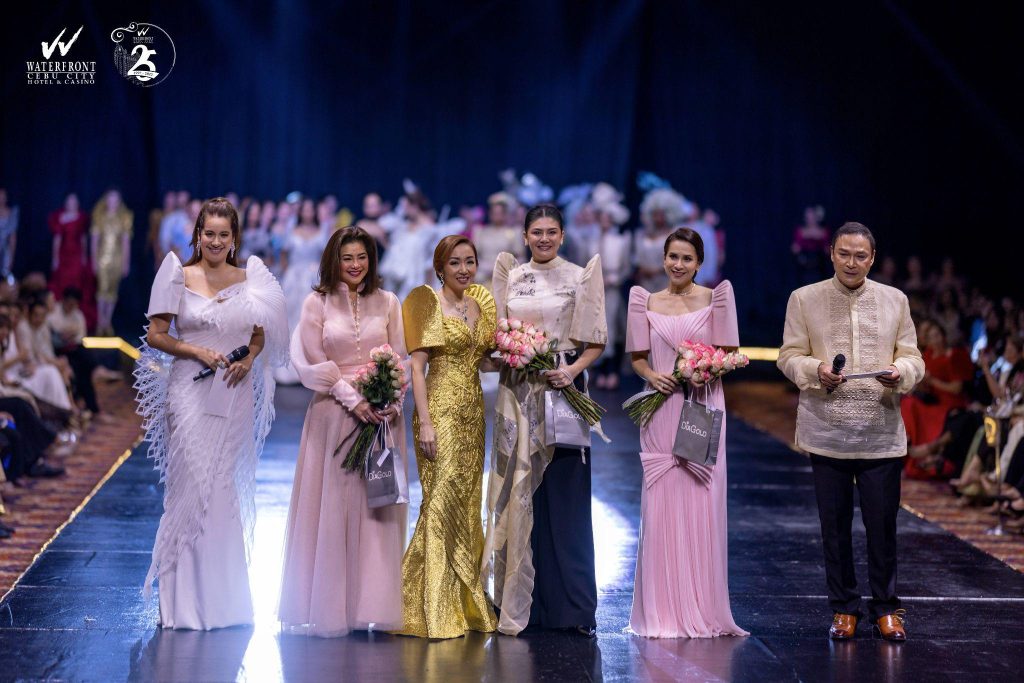 As a surprise to the guests, special rewards were given to the crowd stoppers of the night with special thanks to Dia Gold and Jun Villanel.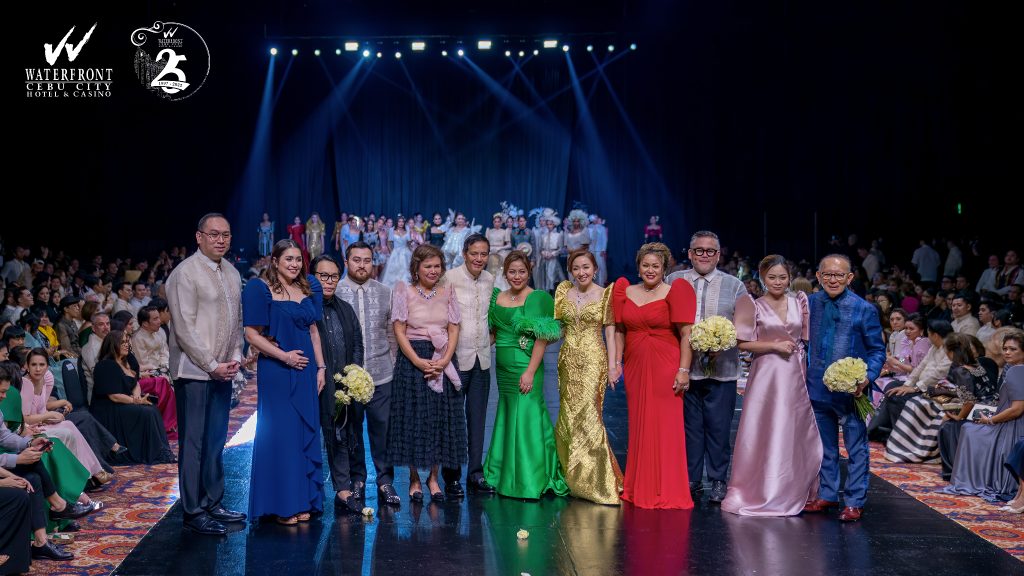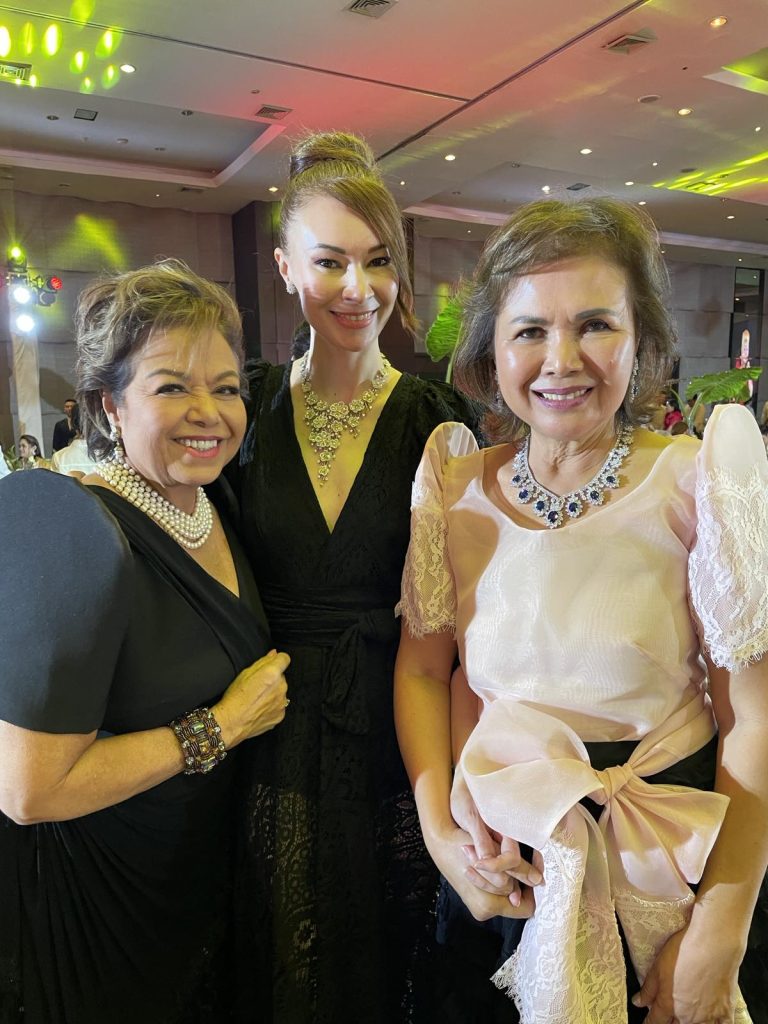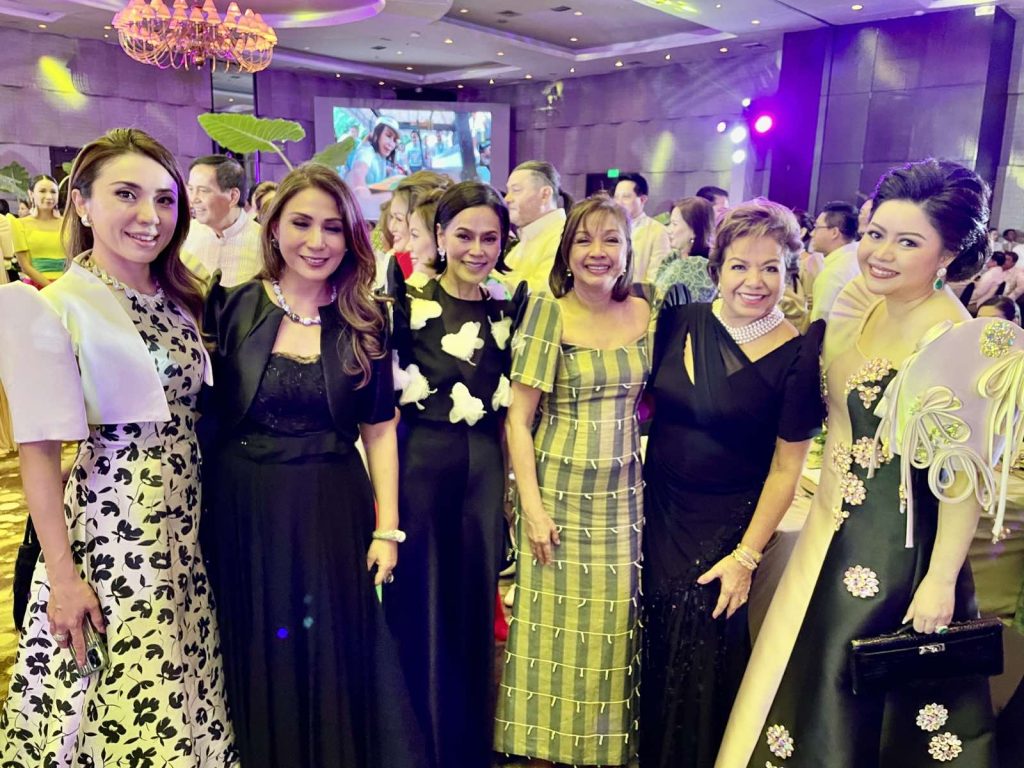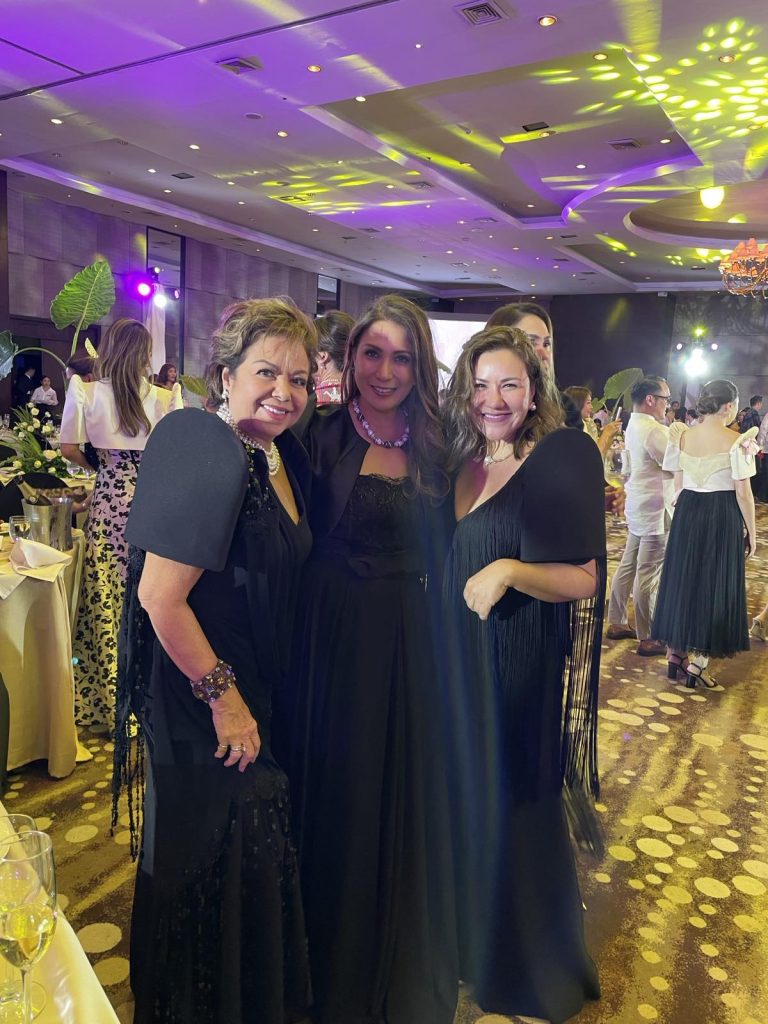 Waterfront Cebu City Hotel & Casino proved once more that they are the premier venue choice for grand events. Waterfront Cebu City Hotel & Casino will see you all in their upcoming events as a part of their year-long celebration of its 25th anniversary.
CEBU KALEIDO: A Night of Fashion and Celebration at Crimson Mactan Resort and Spa
Miranda Konstatinidou's beautiful beach wear and jewellery worn by her guests at an intimate beach party at Crimson Resort in Mactan. Konplott is Miranda's luxury fashion accessory brand sold in Europe, worn by fashion icons and celebrities (no, it's not sold locally) while her exclusive beach wear in silk are fabric designed by her, are also sold in high end resorts around the world. Meanwhile, Crimson Resort in Mactan will officially close temporarily for a makeover as most of their beachfront villas were damaged heavily by last December.s super typhoon Odette. Here's to a great reopening of Crimson in a few months. (photography by Steffen Billhardt)