Amanda Booth & Izzara Ugarte: Pair Play
Young and ready to take on the world, Amanda Booth and Izzara Ugarte fly off to separate cities yet remain rooted in a bond that is close to home. Zee Lifestyle catches up with them at Bluewater Maribago, where they're stylish and sophisticated in designer dresses and SM Accessories' latest collection.
On the day I'm seeing Amanda Booth and Izzara Ugarte for a casual production meeting before the Fashion Issue's cover shoot, the traffic on A.S. Fortuna is particularly vicious and I'm running late. "No worries, I just got here," Amanda texts me. I find her a few minutes later sipping coffee and looking incredibly chic in her sleek ponytail, white button-down and black jeans.
Even though she has been studying marketing for just a year at The American University of Paris, the classic Parisian style has clearly seeped into Amanda's persona. She had always been well dressed and now that she's back for the summer, her style is a little bit more polished than the average 19-year old.
It's a study in contrasts, then, when her cousin Izza walks into the coffee shop, the epitome of laid-back style with her long hair, peasant blouse and white shorts. "I had to take my brother to the airport, and the traffic is just horrible," she explains, sitting down next to Amanda. For her part, Izza is in town after her year at the University of San Francisco, before flying to Spain to continue her hospitality management course at Les Roches Marbella.
In between discussing the looks and location ("We'd like to have the shoot at Bluewater Maribago, because we really grew up there," Izza says), the two exchange anecdotes on how they were preparing for the fashion shoot. "We were looking through old issues of Zee, trying to do the poses all the models were doing," Amanda laughs, and they both strike a common model pose—one hand on the hip, shoulder popped and sultry gaze—before bursting into a fit of laughter.
"We can't do that!" Izza exclaims. "It's just not us."
---
In some ways, Amanda and Izza do look like opposites—Amanda's fair complexion and light dusting of freckles are a striking complement to Izza's tanned skin and sun-kissed glow. But when they're together and cracking jokes, it's hard to tell where one girl ends and the other begins.
"Amanda is my partner in crime," Izza declares. "I've known her since we were in diapers so it's very difficult to pinpoint the earliest memory. When we were toddlers, our yayas were sisters. During family events and birthday parties, we would always sit beside each other, with one hand on a barbecue stick and the other spaghetti. We had the same taste and love for food—I always knew she was a keeper."
Growing up together meant years of shared anecdotes, and both girls have a number of funny stories to tell. "Once Izza, both our younger brothers and I watched Goosebumps together, and they couldn't sleep that night," Amanda recalls with a laugh. "Izza's mom called my mom the next morning because Izza and her brother said that I had coerced them into watching it since I was the oldest in the group. I ended up getting grounded while the three others got away scot-free!"
It was especially important for both girls to have the cover shoot at Bluewater Maribago because they say, in many instances, it was the scene of the crime. "Some of my earliest memories of Izza are running around soaking wet from the pool and then sneaking into the kitchen barefoot in our bikinis," Amanda shares. "All we wanted was to be little elves to the pastry chefs and we would get kicked out of the kitchen! But we always managed to sneak out a few treats."
Their escapades at the resort included selling buko juice to guests, hunting down Easter eggs the night before the egg hunt and even a few recent injuries. "We used to ride salbabidas (floaters) all day," Izza says. "A few years ago, we were on the salbabida drifting on the water. Amanda toppled me and kicked me in the face! My nose bled for 20 minutes and my upper lip bruised so badly."
These days, the girls are a bit more subdued than they were ten years ago, and it clearly shows in how Izza makes sure everything in the resort goes smoothly for the photo shoot. The daughter of David Ugarte and June Alegrado, whose family owns the resort, Izza and her siblings have been helping out in Bluewater's operations for years. It's part of the reason why she decided to take up hospitality management in her further studies. "I believe that tourism plays a huge role in any country," she says. "Hospitality management is tourism. It's the plane you fly, the boat you take, the food you eat and the place you stay. It's a diverse course."
Amanda, a scion of the family behind Mehitabel Furniture, is the daughter of Robert Aboitiz Booth and Tamsin Jackson Booth. "It's on the creative side, which I think I would be good at. My parents have always thought I've had a good eye for things," she says about deciding to take up marketing in Paris. "I've always been interested in media, communications, PR. Besides that, marketing is vital to all industries, so you know you can always get a job with a marketing degree."
Although they grew up in Cebu, the duo has been living out of the country for years now since leaving to finish high school at boarding schools in the US—Izza in Connecticut and Amanda in California. It's made them more independent than most people their age, and ready to take on the challenges of their new cities of residence.
"Before I went away, I didn't even know how to do laundry! That's one of the first things my mom had to teach me," Amanda admits. "I am so much more independent now than I was three years ago. It's funny because now grocery shopping is one of my favorite things to do. I love living on my own and doing everything at my own pace."
"I've matured a lot," Izza agrees. "I've come to realize that being shy and not trying to truly express how I feel was a waste of time. We only get one life—say how you feel. No one grows up and becomes an adult, not even our parents. Time just flies by as we strive to be and do our best. All of a sudden, we're older and adults." She pauses for a bit and laughs. "I am veering away from the subject, but yes, I have definitely grown personally."
These little glimpses prove that, through their independent endeavors, the 19-year-olds in them is still very much present—particularly in their eagerness to explore their respective cities. "In San Francisco, when I wasn't in school, I would be going to different districts with my friends. The city was our playground, and I don't doubt that Spain will be different," Izza enthuses. "I will continuously expand my knowledge even outside of school. Spain is so rich in historical events and traditions. Aside from the history, Marbella is right next to the coast so I'll have the beach 15 minutes away, which is awesome!"
The City of Lights is Amanda's own playground, and she's found it very much like her hometown. "There's a laid-back lifestyle. It's a big city and people do rush around, of course, but people have such a calm way of going about their lives," she says. "But people in Paris don't smile like they do in Cebu." In the past year, her days have been exploring the city in between her classes and homework. "When it's warm out, we'd go to a park and have a picnic, but in the winter, my friends and I would go to a café and just sit, talk and people-watch for hours."
With Marbella and Paris just a short distance away, the cousins are already thinking of weekend trips to each other's cities. "It's all we've been talking about," Amanda admits. "We'll finally be able to be together for each others' birthday! We haven't planned any trip yet, but we'll visit each other, and then we'll get to other places. This is a whole new adventure for us."
"We've been separated for way too long. For three years, we've lived on different coasts, then different countries," Izza adds. "It's awesome that we will soon be so close to each other. I've never been to Paris, and I am excited to finally go."
"WhatsApp used to be our best friend," Amanda says of the time they were living away from each other. "Skype, not so much. Whenever we get a bad connection—which is all the time—we hang up, get back on WhatsApp and blame each other for the bad internet connection."
"We're too lazy," Izza laughs. "Instead, we'll send voicemails to each other. I remember I was waiting for a pizza outside my USF dorm and I was freezing cold—and I was in shorts, don't ask why—and I was sending Amanda voicemails and pictures. Technology just makes everything so simple."
Both girls agree that being away from family is one of the hardest things about living abroad, so it's comforting to know that someone you're close to is just a few hours away. "There's a certain comfort you get from being home that you don't realize exists until you're away for a long time," Amanda says. "For me, that comfort is in my family. They always know how to make me happy."
That's why, Amanda goes on to explain, that summers of the past few years have been completely dedicated to spending time in Cebu. "I can travel when I leave here," she says. "For now, it's great to be able to catch up with everyone, go out around the city or head for the beach."
That's not to say they don't wish for the little luxuries they'd already gotten used to while being away from Cebu. While Amanda yearns for Paris' food and street markets, Izza misses something a bit simpler. "Being able to watch Netflix in bed," she admits. "They need to set up servers in the Philippines."
---
The day of the shoot finds the beds of one of Bluewater Maribago's villas completely covered in designer clothes and SM Accessories collated especially for the cover shoot. With the variety of items laid out, the girls—hair pinned up and munching on Tostitos and chocolate truffles—look through the collection as they discuss with the stylists the different looks.
"I love full skirts, pantsuits and minimalist dresses—the classics," Amanda says, admiring the floral prints of a backless halter gown by Barbie Alvez. "My family likes to joke that I'm an old soul."
Izza shrugs. "My mom says I dress too rugged. Is that what you'd call my personal style?"
That wasn't always the case, though. "Izza and I have pretty much switched roles," Amanda laughs. "She was the extremely girly one and I was the little tomboy when we were younger. She always had her hair done up in nice braids and always wore cutesy clothes, while I had a short boy cut because I couldn't keep my hair from being a mess; and I strutted my stuff in bikini bottoms and no top!"
"She was the most bugoy person I knew," Izza agrees. "Nowadays, I don't even brush my hair and I just throw on the first thing I see, while it takes Amanda forever to get ready. Seriously, you have to tell her plans a day before."
"Now, Amanda's very classy. She knows what she's doing," Izza continues. "But if you really get to know her, she has a super kiat personality. She is not that reserved."
"She's definitely very boho," Amanda says about her cousin. "She's always in loose, printed dresses. She always wears sandals. Her style is very laid-back—perfect for Cebu!"
As they go through the accessories, they help mix and match the items that would suit their outfits and their own personal style. With a wide collection that includes jewelry, bags, home decor, and others, SM Accessories is a growing repository for fashionable accents at reasonable price points. As the fashion accessories authority, SM Accessories features a wide range of jewelry, eyewear, belts, bags and a lot more that are carefully selected by a team of fashion experts to complete any fashion statement.
"During the day, my favorite accessory is my pair of pearl earrings," Amanda shares, which made the multi-strand pearl necklace a perfect match for her Jun Escario lace dress. Its sophisticated and ladylike look was a fit to Amanda's classic style. "Sometimes I'll wear diamond studs at night. When I'm back in Paris, my favorite thing to wear is a brooch. I always have my gold medallion around my neck, a gift to me from my parents."
That sentimentality is something Izza also shares in her choice of trinkets. "I wear four accessories all day, everyday—a gold ring from my brother's girlfriend, Nikki; my grandmother Marle's favorite ring and earrings; and my medallion. Those are my favorites." From delicate thin rings to a pair of thick gold ones connected together with a light chain, the collection of rings were elegantly playful on Izza's manicured fingers. "Nail Play!" she laughs, showing off her nude manicure and referring to the nail salon her and Amanda's mom owned together with a group of friends.
It seems, though, that the similarities in dressing up end there. Asked if they borrow each other's clothes, and both girls burst out in laughter. "No!" Amanda says. "We look at what the other is wearing and we go, 'oh wow, I could never pull that off.'"
"She left a pair of shorts in my house, and I have claimed them as my own. Does that count?" Izza jokes. Amanda adds, "She's had them for five years and counting."
When it's time to dress up, the two are supportive of local designers, with Izza naming Mia Arcenas, Jun Escario and Oj Hofer as her favorites and Amanda acknowledging Hanz Coquilla as her go-to. "Internationally, my favorite designer is Raf Simons," Amanda adds. "Every piece he creates for Dior is breathtaking."
Decidedly very different in terms of personal style—best exemplified by the favorite things in their closet, Amanda names a red wool Prada dress that "looks like it's straight out of the 1950s" while Izza's answer is a T-shirt and Nike shorts—the two have a connection that transcends the cousin bond. Despite being apart for long stretches, every time the two are in the same city, they pick up right where they left off.
"We'll just watch TV shows or do a movie marathon together while eating santol and green mango. It's one of the first things we do when we're both back in Cebu," Amanda says. "We love going on adventures. We once drove to Carcar in the middle of the night, and just stopped to eat at different places on the way. I guess you could say our favorite thing to do together is eat."
"Yeah, I don't think I can say anything else," Izza agrees. "I'll text her and we would be craving the same cuisines. I found this Buzzfeed quiz online called, What Famous Disney Duo Represents You and Your BFF. I sent it to Amanda while she was in Paris—we both got Timon and Pumba."
The easy relationship these two have is backed by years of shared experiences and a genuine appreciation for being in each other's lives. Amanda admits that Izza is the one who got her to come out of her shell. "She's always said it isn't worth hiding in the background and letting everything pass you by. It's something I've always struggled with but I've come a long way with her help, and I love her for it," she says. "Izza's just so lighthearted, so unbothered by everything. I love laughing with her—she has the most genuine and contagious laugh."
"No one can tolerate my mood swings better than Amanda," Izza shares on her end. "And I admire her effortless grace. No matter what is going on in her life, she manages to look flawless. She is a great support system and is always there for anyone who needs it, so she's the mother of the group."
As the pair bounce off to the bathroom to help each other change into their shoot's first look, it's clear that Amanda and Izza will find their shared stories only growing exponentially in the next years. In spite of the different directions their lives take them on, they remain rooted in their friendship—though friendship may seem to be too light a word. "I know that no matter what life throws at us, we will always have each other," Izza says with a smile. "Always. We are sisters."
by Shari Quimbo photography Dan Douglas Ong stylists Blaq Mafia makeup Arnauld hair Carlos Conde locale Bluewater Maribago all accessories by SM Accessories
Originally published in Zee Lifestyle, August-September 2015
For back issues, download the Magzter app on your mobile device and search for 'Zee Lifestyle'. Like Zee Lifestyle on Facebook and follow us on Twitter and Instagram.
#CebuPride:  Cebuanos in Multi-awarded Pride-Themed Films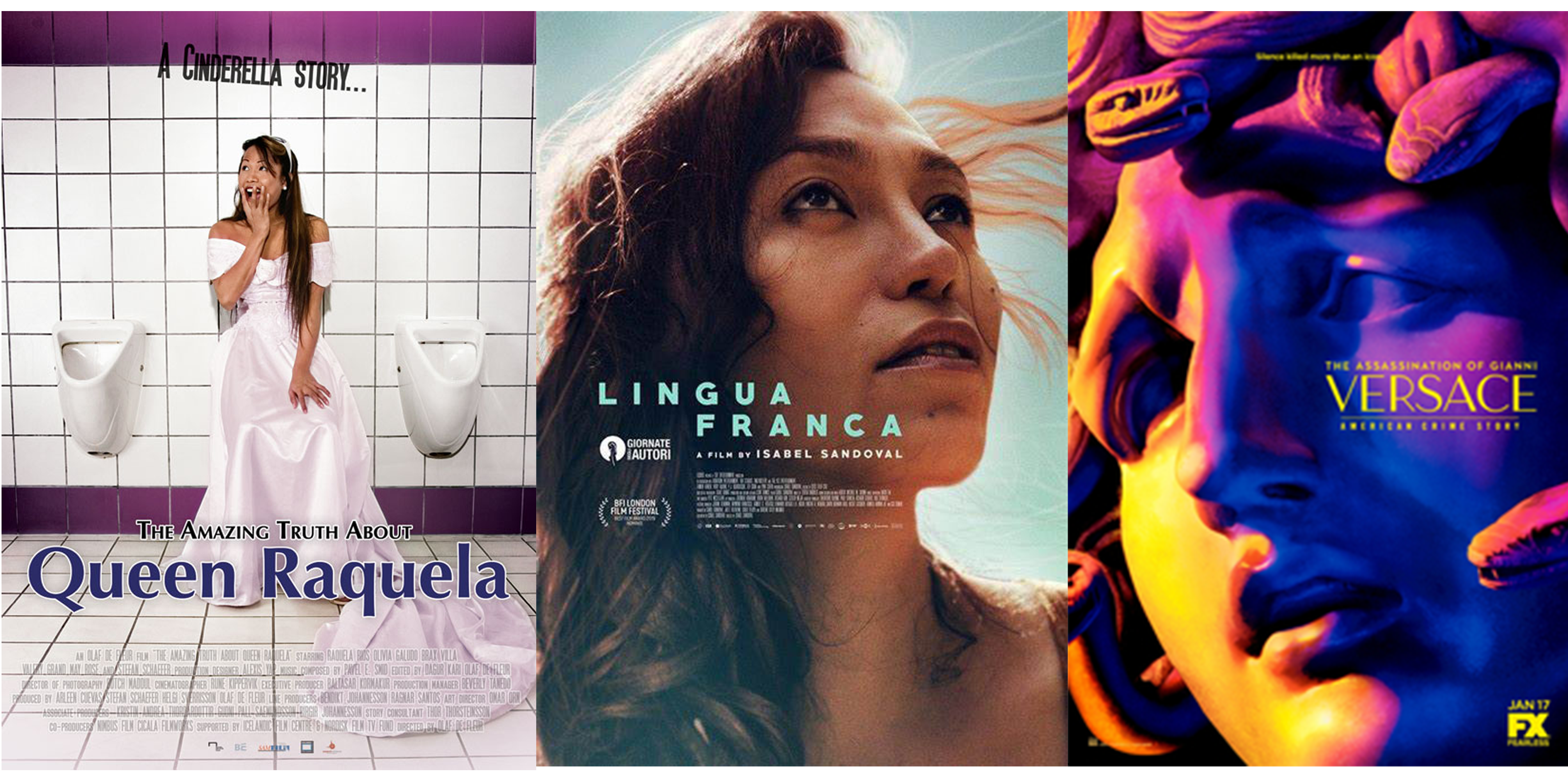 Multi-awarded International Gay Movies with Cebuano Lead Casts
By:  Allain Dumon Fonte
Pride-themed movies are starting to invade the film industry as people become more accepting and are more intrigued on the stories about LGBTIQ.  Many have shared the intensity of emotions and laughed with the craziest jokes on gay-themed movies.  In the Philippines, these kinds of movies were questioned as to their morality and their message to the society.  The strong influence of the country's religious standards had branded gay-themed movies as sex-oriented and nothing more.  Yet, with Thailand's more tolerant culture, Thai BL (Boy's Love) movies and television series have created a new perception to the viewers; and that is gay-themed movies are remarkably alike to all other movies – there is romance, comedy, drama, and the continuing struggle of living like normal people.  Hence, Thai BL TV series have a massive following all over Asia.  At the end of 2019, they became available in Netflix and are being watched by millions of viewers all over the world.
The Philippine film industry is not that far from Thailand's.  Some of the LGBTIQ-themed movies and television series are slowly getting a following in Asia and are now accessible to viewers worldwide.  A few of these pride-themed movies that casted or directed by a Filipino have already been receiving nominations and awards from Golden Globe, The Berlin Film Festival, the Venezia Film Awards, and even the Emmy's…and the Filipinos in these films hail their roots from Cebu!
1. Lingua Franca
Lingua Franca is a film directed by a Cebuana, Isabel Sandoval.  Sandoval also plays the main character of the movie, and she even wrote the screenplay.  Lingua Franca tells the story of Olivia, an undocumented transgender woman in New York who works as a caregiver to a senile old-lady of Russian-decent.  When Olivia is challenged to attain legal status in the US, she is left with a "marriage-based green card".  While in search for her groom-to-be, she becomes romantically involved with Alex, Olga's grandson.
The film is now available on Netflix and has received positive reviews from the media.  Stephen Dalton of the Hollywood Reporter wrote Lingua Franca is a "heartfelt personal statement rooted in timely, gripping issues that obviously resonate deeply with its author, notably trans rights and Trump-era immigration anxieties".
Isabel Sandoval graduated summa cum laude with the degree in psychology from the University of San Carlos in Cebu, Philippines.  In New York, she pursued graduate studies in Film at NYU.  She is now currently residing in NYC, and already has award-winning films under her belt like Apparition, Lingua Franca, Senorita, Ritwal, The Unstoppable, and Judgement.
2. The Assassination of Gianni Versace: American Crime Story
This television series was aired in Netflix and has gained so much popularity because it showed the murder of world-renowned fashion designer, Gianni Versace, by a serial killer, Andrew Cunanan.  Based on Maureen Orth's book Vulgar Favors: Andrew Cunanan, Gianni Versace, and the Largest Failed Manhunt in U.S. History, this television series has 9 episodes of suspenseful scenes, and is star-studded with casts like Ricky Martin and Penelope Cruz.  However, the main actor who played Andrew Cunanan is Darren Criss who gained his popularity after being a regular on the top rating TV show, Glee.  Darren Criss hails his roots from Cebu, Philippines.
The Assassination of Gianni Versace: American Crime Story received positive reviews from critics. At the 70th Primetime Emmy Awards, it received 9 nominations, and won 3 awards, including Outstanding Limited Series and Outstanding Lead Actor in a Limited Series or Movie for Darren Criss.
Criss was born and raised in San Francisco, California, USA.  Criss was raised as a Roman Catholic and attended roman catholic schools.  He later moved to Michigan where he studied Bachelor of Fine Arts major in Theatre Performance and minor in music at the University of Michigan.  Criss's father, Charles William Criss, is a banker and served as CEO of the East West bank in Honolulu, Hawaii.  Criss's mom, Cerina, is a native of Talisay, Cebu, Philippines.  When he was younger, he visited Cebu a couple of times with his mother.  Darren Criss is very proud of his Cebuano roots and wants to portray Filipino characters in films and in theatres to promote visibility of the Filipinos in the American films.
3. The Amazing Truth About Queen Raquela
     The Amazing Truth About Queen Raquela premiered at the 2008 Berlin International Film Festival where it grabbed the Teddy Award for Best Feature Film.  It was also awarded the Grand Jury Prize in the 10th 2008 Cinemanila International Film Festival at Malacañang Palace's Kalayaan Hall.  It starred Raquela Rios also known as Minerva to her Cebuano friends.  Raquela  is a local of Mandaue City, Cebu, Philippines.  The film is directed by Icelandic film director, scriptwriter, and producer, Olaf de Fleur Johannesson.
Raquella Rios is a native of Mandaue City, Cebu, Philippines, and she went to the University of San Carlos in Cebu, studying sociology and anthropology.  Before finishing her studies, Raquella left the Cebu and went to Iceland after being casted by Icelandic film director, scriptwriter, and producer, Olaf de Fleur Johannesson for the movie The Amazing Truth About Queen Raquela.  She is now based in Bangkok, Thailand as a fashion stylist and wardrobe assistant to some local Thai movies.  Raquella is also an activist for sex workers rights and trans rights in Southeast Asia; pushing for the recognition on the choice of their gender and the right to change their birth names.
There are still plenty of pride-themed films in the Philippines that gained recognition all over the world; yet these movies mentioned are special because of the talented Cebuanos that have  brought Cebu to world.  They truly are #CebuPride.
37 Years of High Fashion; Arcy Gayatin leaves a Legacy of Edginess and Elegance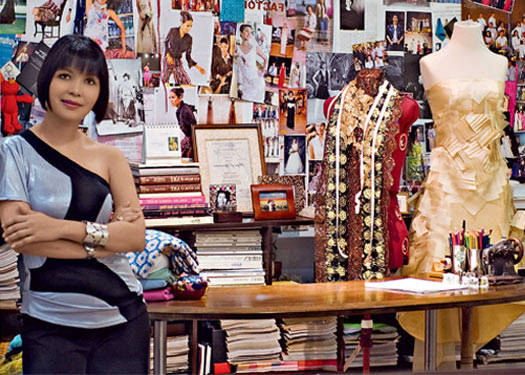 Arcy Gayatin: A Legacy of Luxury in Fabrication
By:  Allain Dumon Fonte 
The brand Arcy Gayatin gave the Queen City of the South a distinct reputation in the fashion industry.  The fashion line of Arcy Gayatin sets the bar higher each year for clothing luxury and fabrication techniques.
Araceli "Arcy" Ancajas Gayatin is the daughter Galileo Ancajas and Remedios Zanoria Ancajas who founded Cebu's home brand, Gal's Bakery.  Arcy went to the University of San Carlos and studied Political Science.  And just like Dr. Muccia Prada, who completed her Ph.D. in Political Science and established the luxury line of Prada, Arcy also got in touch with her artistic side and started her own fashion line.  However, it was not Prada that influenced Arcy.  Arcy was introduced to fashion and tailoring at a very young age by her mother, Madame Remedios Anacajas whom they dearly call Mama Eme.  Mama Eme was running a tailoring business back then.  It was called Arabel; named after Arcy and her sister Belma.  Ara from Araceli and Bel from Belma.  In those years, Arcy was fascinated by fabrics and was intrigued by how to manipulate the fabrics to come up with fashion-forward designs without compromising comfort and taste.
After 37 years of creating haute couture pieces for the most fashionable personalities in the Philippines, Arcy Gayatin is now laying down her sketchpads and pens to rest.  As she enjoys her retirement, may be on a cruise to the Bahamas or a holiday to the Swiss Alps, Arcy Gayatin has left the fashion industry a legacy of elegant and edgy clothing ensembles that understand and define the shape of women; without compromising comfort and good taste.
To salute the lady who brought Cebu fashion to the world, a retrospective exhibition of Arcy's incomparable masterpieces can be seen today at Ayala Center Cebu's The Gallery; curated by fashion editor and writer, Clint Holton Potestas, and interior and fashion designer, Jul Oliva.
BALANCE.  Arcy Gayatin is known for her perfect symmetrical lines when fabricating.  She knows how to balance edginess and class; understanding well the strength and the finesse of a woman.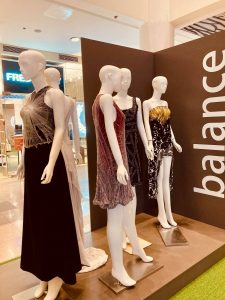 RHYTHM.  Arcy's expertise in draping and fabric manipulation can be seen in how she achieves rhythm between architectural lines and soft fabrics like silk and cashmere.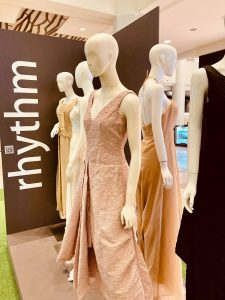 TEXTURE.  With her thorough knowledge on fabrics, Arcy Gayatin has achieved the perfection of fabrication by working on different types of fabrics and creating a single piece of art out of them.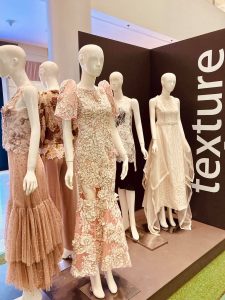 HARMONY.  The simplicity of the silhouette plus the intricacy of the details create a wonderful harmony, making Arcy Gayatin's design a one-of-a-kind masterpiece.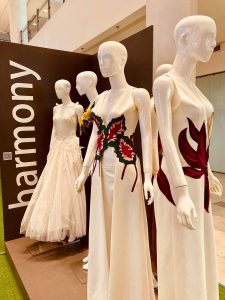 The photos below show an up-close look at the intricacy and the exquisite craftsmanship of Arcy Gayatin's fabrication techniques: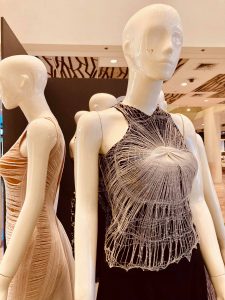 THE SPIDER WEB:  one of Arcy's genius fabrication techniques.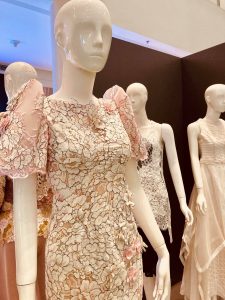 MATCH and PATCH:  Arcy's unique fabrication craft by patching layers of different types of lace and lace patterns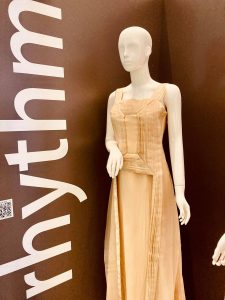 PLEATS: The perfection of symmetry in pleats on silk.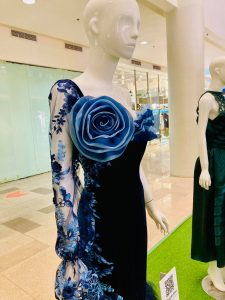 LA ROSE BLEUE:  U.P. student, Danielle Alessandra Deutsch, inspired by the artistry of Arcy Gayatin, designed this midnight blue dress.   The cabbage rose made from layers of silk organdy gave this evening ensemble a romantic appeal.
Cebu's Young Professionals Share Fond Memories with Their Dads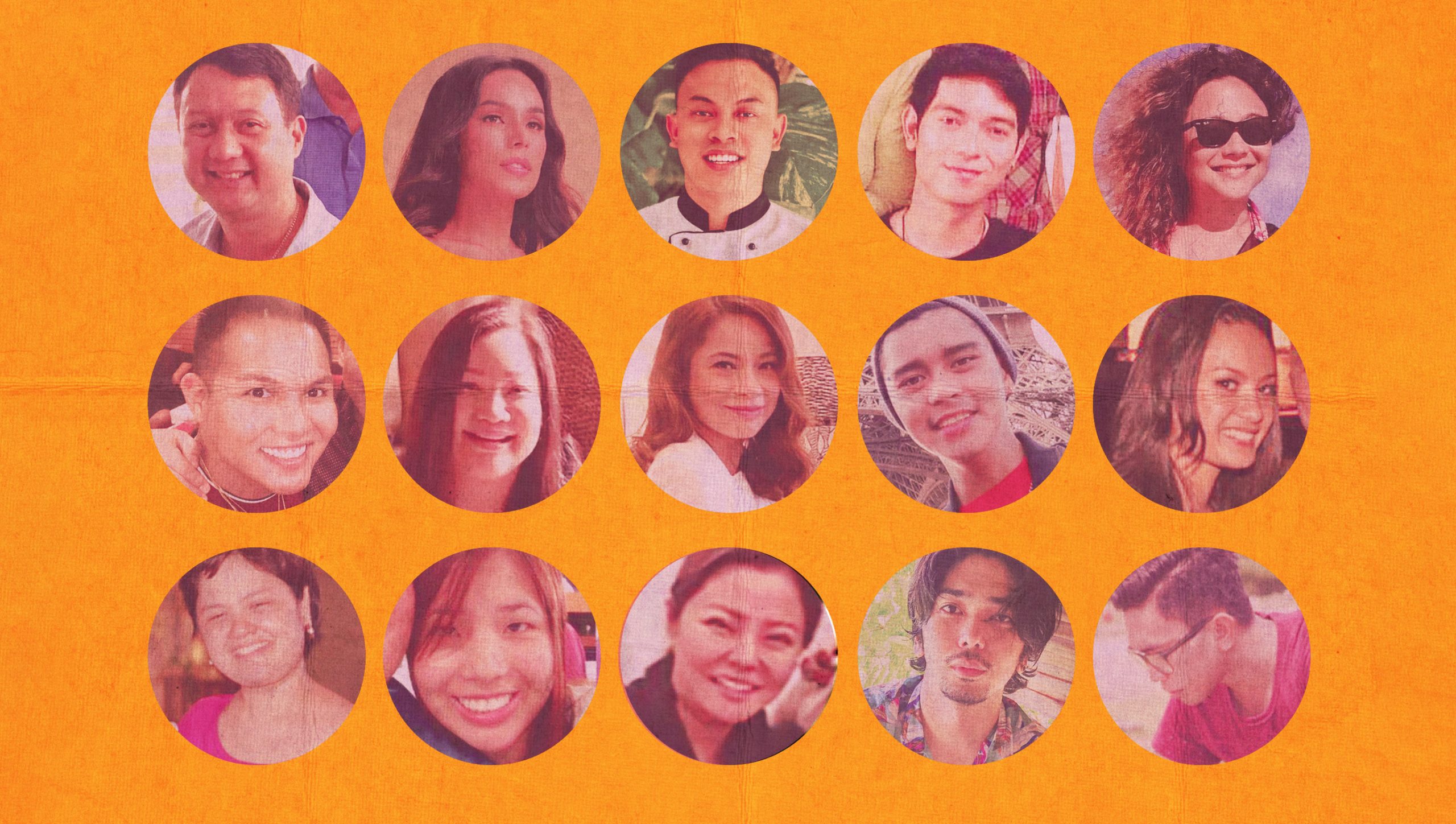 WANTED: WORLD'S GREATEST 'FRIENEMY'
by Allain Dumon Fonte
Each person has a unique relationship with their father.  Fathers become the world's greatest 'frienemy' because they are usually strict and uptight while we are growing up; and as we mature, they become our coach, our drinking buddy, our conspirator against mom, and sometimes, our dads become our wingman.  For many of the generation XYZ and early millennials, bonding a strong relationship with their fathers can be challenging because their dads are the typical breadwinners who are always away for work, business trips, and office meetings.  However, these young professionals appreciate very much the tireless and selfless efforts of their fathers to provide more than what the family needs.  
In 2006, Jeffrey Rosenberg and Bradford Wilcox of the United States Health and Human Services for Children published a research about the importance of direct father-involvement in the mental health of children.  According to Rosenberg and Wilcox, "children who grow up with involved fathers are: 39% more likely to earn mostly A's in school, 45% less likely to repeat a grade, 60% less likely to be suspended or expelled from school, twice as likely to go to college and find stable employment after high school, 75% less likely to have a teen birth, and 80% less likely to spend time in jail."  
Yet, these group of Cebuano millennials and young professionals will prove this research otherwise as their share their fond memories and unforgettable moments with their dads.  Some of them lost their fathers at a young age while others developed closed relationships with their fathers after their dads retire from work.  But no matter how short or how rare they spend their time with their dads, these young leaders attribute their success and are incredibly grateful to their fathers for molding them who and what they are now.
Atty. Elaine Mae Bathan (Professor of International Human Rights Law and Assistant Dean, School of Law, University of San Jose-Recoletos)
Q: What is your most unforgettable moment with your dad?
A: I am the youngest of 5 siblings with significant age gaps. I grew up with daddy being away for work, but he gave up his promising career in broadcast media in Davao to bring our family safely back to Cebu during the martial law. He also gave up his position in Manila to spend time with us. His greatest gift to us was his devotion to our family and always putting us first before himself. He strived to provide for our family, and we continue to enjoy the fruits of what he labored. To this day, we value family above all things and continue to live the legacy he left behind. 
I have been fortunate that even when Daddy was sick, he lived long enough to see me become a lawyer and continue his passion in broadcast media through my radio program. To this day, I feel a part of him in me every time I go on board or when I am asked to speak in front of an audience. Each time I take the stage, I make sure I give my best knowing that Daddy is comfortably watching over me in heaven. All that I do and all that I will be will always be in memory and honor of the man worth my tears but has never made me cry, my dad.
Drew Weigel Sarmiento (International Disc Jockey, Fitness and Wellness Blogger, Entrepreneur)
Q: What is your most unforgettable moment with your dad?
A: The most recent unforgettable moment with my dad is when he was first elected and formally proclaimed as the Representative of the First District of Samar. I remember how before his hand was raised, he approached the image of Our Lady of Fatima, prayed first silently and alone in the Provincial Comelec office which brought the entire room to silence. That to me was unforgettable because it showed his deep faith and character. That moment showed how important his faith is and that his public service is centered of being God fearing and sincere service to others.
Q: What will you give your dad on Father's Day?
A: My siblings and I got him his favourite libation. I personally got him sportswear since he is a fitness fanatic.
Lianne Sala (Musician, Artist, and Founder of Sistemang Filipino Incorporated)
Q: What is your most unforgettable moment with your dad?
A: Hiking up a mountain with him and some educators when I was about 11. But also, the few moments we get to discuss faith or culture. 
Q: What will you give your dad on Father's Day?
A: We shall celebrate Father's Day with his favorite dishes, and gift him with a mix of printed literature.
Jeric Anjo Aznar Cervantes (Singer, Musician, and Jet Ski Racer)
Q: What is your most unforgettable moment with your dad?
A: my most unforgettable moment with my dad was when we went camping in Kalanggaman Island in Leyte.  We traveled by boat and jet skis and camped there.  It was one of the best experiences.  We did not need cellphones or other distractions, just some good old-fashioned camping with the family.  My father has always taught us to be nature lovers, and indeed he has influenced us to be explorers of nature!
Q: What will you give your dad on Father's Day?
A: My dad is not really into receiving gifts since he is mostly the one giving gifts to people.  But, if there is one thing that I can give to my dad on Father's Day, it would not be anything material.  I am giving my dad a letter to thank him for being the best dad in the world, and for teaching me and my siblings to value and love nature and this world we are living in.  I believe that it is the best gift.
Dr. Vida Redulla-Manapsal (Medical Doctor)
Q: What is your most unforgettable moment with your dad?
A: My dad, having 4 daughters, used to let us play "beauty parlor" while he took a nap. We would color his nails with crayons, put clips in his hair, etc. One time, in the middle of his nap, he got called to the hospital for an emergency. He took out the clips and went out. He could not understand why the resident doctors with him kept snickering. Turns out he had forgotten that each of his nails was a different Crayola shade. He did not get upset at all but rather he just laughed his head off. He still talks about it now.
Q: What will you give your dad on Father's Day?
A: I unfortunately was not able to buy a gift for my dad, so I am giving him the gift of time by paying him a visit. I am so glad it is now safer to do so since I and my parents are fully vaccinated already.
Atty. Wilbert Dumon (Senior Partner for Dumon, Dumon-Fernandez, and Associates Law Firm)
Q: What is your most unforgettable moment with your dad?
A: When he rushed me to the hospital when I was 6 years old after I had an accident at my grandfather's ancestral home. I can still remember him carrying me in his arms.
Q: What will you give your dad on Father's Day?
A: I will give him all my love and attention as he is getting older together with my mom.
Bee Urgello (Supermodel, Fashion Blogger, and Financial Advisor)
Q: What is your most unforgettable moment with your dad?
A: My most unforgettable moment with my dad was when he finally accepted me as a trans woman. I will always be thankful for that gift of love. No gift or moment can ever surpass that for me. 
Q: What will you give your dad on Father's Day?
A: It is always a struggle to find gifts for my dad every occasion. What can you get someone who can buy anything he wants? I cannot afford to buy vintage cars or aircrafts (hahaha).  The best gift I can probably give him aside from lunch or dinner are quality time and being an obedient and loving daughter.
Rowell Ucat a.k.a. Medyo Maldito (Social Media Influencer, Songwriter)
Q: What is your most unforgettable moment with your dad?
A: I remember the day when my Papa taught me how to ride a bicycle; at that time, he was my hero. He also taught me to appreciate the adventures in life. 
Q: What will you give your dad on Father's Day?
A: Father's Day this year is also my Papa's 16th death anniversary.  I am thinking a lot about him and reflecting on some of the memories we shared while I was growing up.  Since he is no longer with us, I will celebrate Father's Day with my mama (who also stood as my papa) and by giving mama an iPad so she can watch more of our videos in a bigger screen. Happy Father's Day in heaven, Papa!
Mary Ann Rose "Meme" Dakay (Jewelry Designer, and Vice President-Operations and Creative Director at Shemberg, and Chief operating officer and New business Development at Shemberg marketing corporation)
Q: What is your most unforgettable moment with your dad?
A: My most unforgettable moment with my dad would be when we flew to Paris together and explored the city! It was my first time there; I was 14 years old. He made me try a lot of his favorite food in the city.  It was definitely a father-daughter bonding trip!
Q: What will you give your dad on Father's Day?
A: A tribute about him on what an amazing father he is!
Rayland Duarte (Proprietor and Managing Director of Sushi Mashita Co.)
Q: What is your most unforgettable moment with your dad?
A: Most memorable moment was probably the phone call that I had with him. I was dead frustrated about my work, and I felt that I was not in the right place.  He told me to quit my job and its okay. You belong wherever you are happy and where you can utilize the talents you have. Money will always be money. Time is more precious my son.
Q: What will you give your dad on Father's Day?
A: Since he is staying in Manila, and I am in Cebu. I asked my friend to arrange a food delivery service to give him a Father's Day surprise.
Atty.  Georgia May Herrera-Klepp (Television NEWS Anchor, Notary Public, and Partner at BOHR-SC attorneys at law)
Q: What is your most unforgettable moment with your dad?
A: My dad used to travel a lot and he would make it a point to travel with just a hand carried bag. He hated waiting for his luggage at the airport. When I was pregnant with my first child and the first grandchild child in the family, Aidan, my dad was still in the U.S. for a long vacation trip.  He came home surprising Andy and I with boxes of gifts for Aidan. He hand-carried a sheep rocking chair because he already exceeded weight allowance from all the stuff he got for his first 'Apo'. He even brought home a highchair that he said should be left in his house for Aidan to use when he comes to visit.   My dad is not big on words or display of affection, So I think that was the sweetest my dad has ever done.
Q: What will you give your dad on Father's Day?
A: There is nothing materially I can give that he does not have already.  He knows how loved and grateful I am for everything he has done for the family. The best gift that I give him every day and forever is my service to him.  Sounds weird but YES to always be sure to help him and to do what he asked of me. To take care of him and my mom just like they did when I was growing up.
Doyzkie Buenaviaje (Blogger at Tasty Cebu PH, Marketing Communications Manager at Clover Creatives PR & Events and Owner/Blogger at Doyzkie Buenaviaje)
Q: What is your most unforgettable moment with your dad?
A: When we were kids, my dad brings us everywhere! And when we were growing and studying, we were not able to travel as much. Just a few years back, my dad and I started a tradition to travel somewhere for his birthday, which falls really close on Father's Day. The trip on 2019 before the pandemic happened to be the most unforgettable because we did a tri-country backpacking for 15 days, and I love how he enjoyed the experience. My dad is friendly, and he easily got along with my local friends on my favorite cities I have been. When we got back from the trip, he had so many stories to tell his grandchildren.
Q: What will you give your dad on Father's Day?
A: I got my dad a comfy sneakers to use for the upcoming adventures we shall be going when it's safe to travel again.
Lakambini Chiu (Managing Director at Julie's Bakeshop and Managing Director at Potato Corner US)
Q: What is your most unforgettable moment with your dad?
A: Unforgettable moment is when he give us the opportunity to live in this beautiful World that God has created. 
Q: What will you give your dad on Father's Day?
A: I will give Him back the opportunity to be grateful and thankful for what we have, and what we are now. And that is what you call TIME…
Chef Gerard Apurado (Pastry Chef at Plantation Bay's Bakeshop by the Beach)
Q: What is your most unforgettable moment with your dad?
A: My father would always invite me to spend time with him over a bottle of beer—It is safe to say that  most of my wisdom came from my father, he has always been a streetwise (I'm sorry mom!) and probably the most unforgettable moment I had with him is our conversation right after graduation, and I can still remember his words, "as you embark in this new phase in your life, and when you found a job, I would appreciate if you don't give me money, spend your money for yourself and your experiences for I am still well and able to finance myself, it's never your responsibility to raise me". Those words struck me.
Q: What will you give your dad on Father's Day?
A: I would not give any material things, when travel eases, I will visit home and spend more time with him over a bottle of beer again. I have always missed having those conversations with him. Time well spent and substantial conversations with an important person in our lives is something all of us long for.
Kris Tiffany Janson (Former Financial Analyst for San Miguel Yamamura Packaging Corp., Beauty Queen, Ramp and Print Model)
Q: What is your most unforgettable moment with your dad?
A: I have so many fond memories of my Papa and I cannot easily pick but what comes to mind was when I joined my first pageant because he went all out in supporting me. Back then social media was not the top priority when you would think about promoting or advertising a product or the candidate you support. He printed out photos of me to show to his workmates and to ask for support.
Q: What will you give your dad on Father's Day?
A: I will send him prayers like I do every night. I know he is in a better place, and I hope that he is proud of me and the woman that I have become.