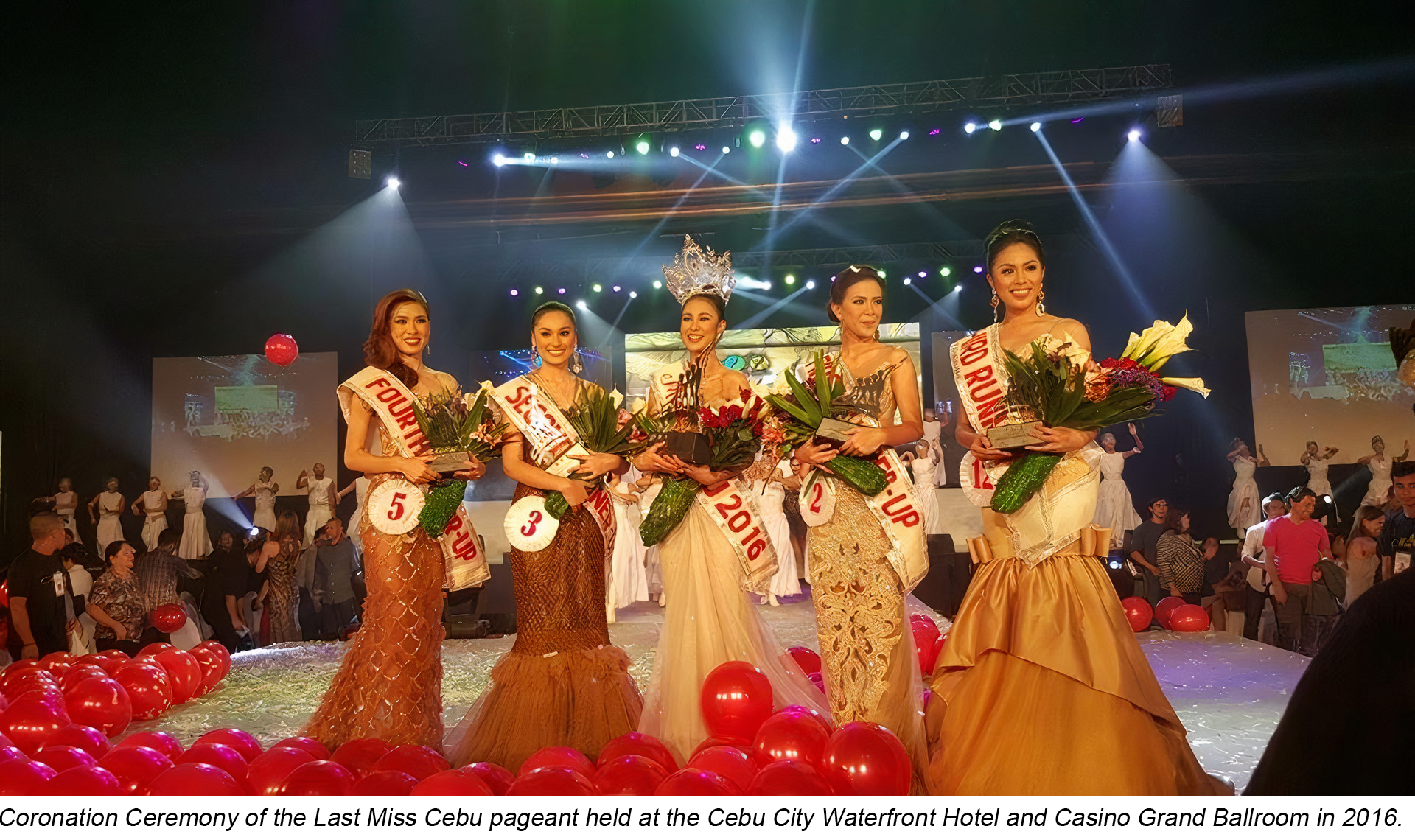 Cebu City Tourism Commission Relaunches Miss Cebu
By Allain Dumon Fonte
Like a phoenix that resurrects from the ashes, so shall Miss Cebu 2022 blooms to a new dawn in the Queen City of the South.  After 5 years of hiatus and whispered controversies that surround it, the Cebu City Tourism Commission is relaunching the search for Miss Cebu.   Now is truly the high time that Cebu City must crown her new queen to bring back the spirit of pride amongst Cebuanos; and to have a queen to lead us in rekindling our passion to make Cebu City number one, again.
Miss Cebu was officially relaunched on the 16th of September 2021 at IL CORSO Mall at the South Road Properties; headed by Cebu City Tourism Commissioners, Hon. Philip Rodriguez and Hon. Cinbeth Orellano, and pageant director, Engr. Junget Primor.  The launching was attended by Miss Cebu past winners, Cebu's celebrated couturiers: Dexter Alazas, Edwin Ao, Jun Escario, and Jun Protacio; and celebrating with them are the ladies and gentlemen of the media and of the Cebu City Tourism Commission Office.
Miss Cebu…Then!
In the age of industrialization, the countries in the Asia Pacific region were coping with globalization and international trade.  The Philippines is on a strategical advantage being the gateway to the East; and made Cebu as the Queen City of the South for her central location.  Gifted with pristine beaches, abundant highlands, developing urban lifestyle, rich heritage, and friendly and skilled people, Cebu became an incomparable jewel for many investors.  So in1983, some leaders and a few stakeholders from the Hotels, Resorts, and Restaurants Association of Cebu blessed with foresight, took advantage of the opportunities, and promoted Cebu as a travel and holiday destination; rebranding Cebu as an "Island in the Pacific".  Hence, the birth of Miss Cebu Tourism in 1984.
The Miss Cebu Tourism became an avenue to search for a Cebuana who shall embody the characteristics of Cebuanos and promote the tourism landmarks of the region.  The Miss Cebu Tourism ran from 1984 to 1999 and has produced beauty queens that effectively promoted Cebu to the world. Because of this, Cebu was featured countless times in international travel magazines like "The Voyager", "Adventure Travels", "The Traveller", "Explore", and "Getaway".  The pageant has also helped in establishing strong international relations with Japan.  This is the period when Japanese employees were reinforced with travel incentives.  Through the promotions of Miss Cebu Tourism, Cebu became one of the destinations for the Japanese' travel incentives; and this paved way for direct flights to Cebu from Narita and from Osaka.
Miss Cebu Tourism also paved way for direct flights from Hong Kong; and also from Singapore.  Miss Cebu Tourism winners promoted Cebu's landmarks, culture, arts, and crafts through a series of fashion shows and cultural trade and events in Singapore that stirred the interest of the tourists and investors alike.  Hence, Cebu City also became a venue of trade and commerce with Singapore in the mid-1980's.
In 2001, Miss Cebu Tourism evolved to Miss Cebu with the aim of promoting not only our tourism but also the city's economic strengths, making Cebu as the new business hub in Asia.  From the years 2001 to 2016, Miss Cebu queens have successfully put Cebu on the globe as an industrial, trade, and tourism leader in the Southeast Asian region.  The pageant showcased the best of Cebu that intrigued numerous tourists, investors, and even global leaders to visit this small but bustling metropolis.
Miss Cebu… Now!
In the past decade, Miss Cebu also became a platform for the candidates to be the voice for the voiceless.  Candidates do not only promote Cebu; the pageant also became a stage to discuss current events and promote advocacies in uplifting the lives of Cebuanos; to ensure their welfare, to promote equality, and to implement social policies.  Through the years, Miss Cebu has elevated the standards of beauty pageants in the country and is even admired by international pageant enthusiasts.  It has gathered a pool of ladies with intellect, integrity, and with substance to lead the Cebuanos to a new era of empowered women and with a more inclusive society.  Miss Cebu has redefined the essence of femininity with the sense of style and leadership.  Because of this, Miss Cebu has produced women who are leaders in their fields; from lawyers, doctors, public servants, tourism directors, industry managers, entrepreneurs, and even business leaders.
In 2019 up to the present, the corona virus pandemic has impacted all the economic sectors in Cebu, from the tourism industry to real estate, arts, fashion, manufacturing, business process outsourcing, food, travel, and retail industries.  It is high time that Cebu must stand again on its feet and bring back its glory.  Thus, the intense clamor to bring back Miss Cebu.  Miss Cebu is no longer a mere beauty pageant; it is a wheel of development and a catalyst of economic advancement through its promotions of what the Queen City of the South can offer to the world.  In the past, Miss Cebu winners and candidates worked tirelessly as our ambassadors and brought us to a dawn of progress, and they shall do the same in this most challenging time.
Who really is Miss Cebu?         
          The year 2022 is the rebirth of Miss Cebu.  Miss Cebu's candidates shall represent not only the tourism and the economy of the city; but they shall bring to the world our pride from the city's crystal coastlines, lush hills, world-class urban living, deep history and rich heritage, exquisite delicacies, ecstatic festivals, thriving industries, skilled craftsmen, and esthetic arts; making Cebu as a UNESCO City of Designs.  Our candidates shall be forward-thinking and strong-willed leaders who are empathic to the needs of her fellow Cebuanos, motivating the younger generation.  And our Miss Cebu candidates will instill pride amongst Cebuanos with our roots and our identity as descendants of Rajah Daya, Datu Humabon, and Hari Lapu-Lapu; making us proud as people with unparalleled civilization enriched by colorful cultures and unequalled artistry.  This shall be a quest not only for the most beautiful Cebuana, but a search for Cebuanas who can support and promote sustainable livelihood and lifestyle; and finally, to raise the bar higher for pageantry by producing women that can shape a society, that can bring the world to Cebu, and that can redefine the meaning of women empowerment.
So, who is really Miss Cebu?  It can be you.  The search for Miss Cebu 2022 is now on-going.  If you believe that you are the woman that Cebu City needs, then please, present yourself and take the Cebuanos with you to a future of certainties, progress, and peace.
CEBU KALEIDO: A Night of Fashion and Celebration at Crimson Mactan Resort and Spa
Miranda Konstatinidou's beautiful beach wear and jewellery worn by her guests at an intimate beach party at Crimson Resort in Mactan. Konplott is Miranda's luxury fashion accessory brand sold in Europe, worn by fashion icons and celebrities (no, it's not sold locally) while her exclusive beach wear in silk are fabric designed by her, are also sold in high end resorts around the world. Meanwhile, Crimson Resort in Mactan will officially close temporarily for a makeover as most of their beachfront villas were damaged heavily by last December.s super typhoon Odette. Here's to a great reopening of Crimson in a few months. (photography by Steffen Billhardt)
Largest Skechers Store in the Philippines 
Opens at Ayala Center Cebu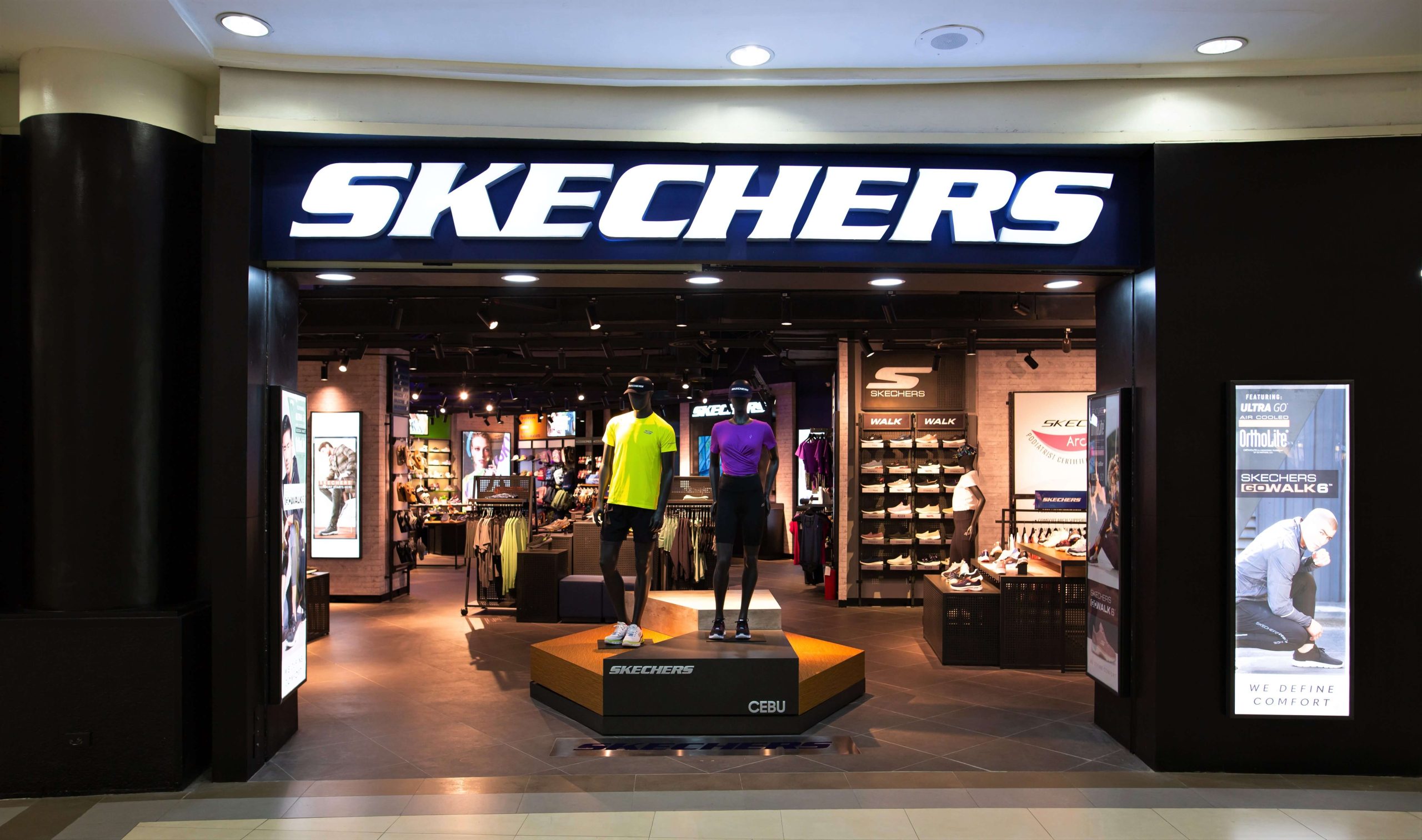 Skechers, The Comfort Technology Company™, is continuing its expansion in the Philippines with the opening of its largest store in the country at Ayala Center Cebu.
Following the recent opening of five (5) locations in Metro Manila and one (1) in North Luzon, the new Skechers store in the queen city of the south, Cebu City, is in the heart of the region's premier shopping, dining and entertainment destination, and sets the global lifestyle brand up to deliver stylish and innovative footwear and apparel to more Filipinos in the Visayas.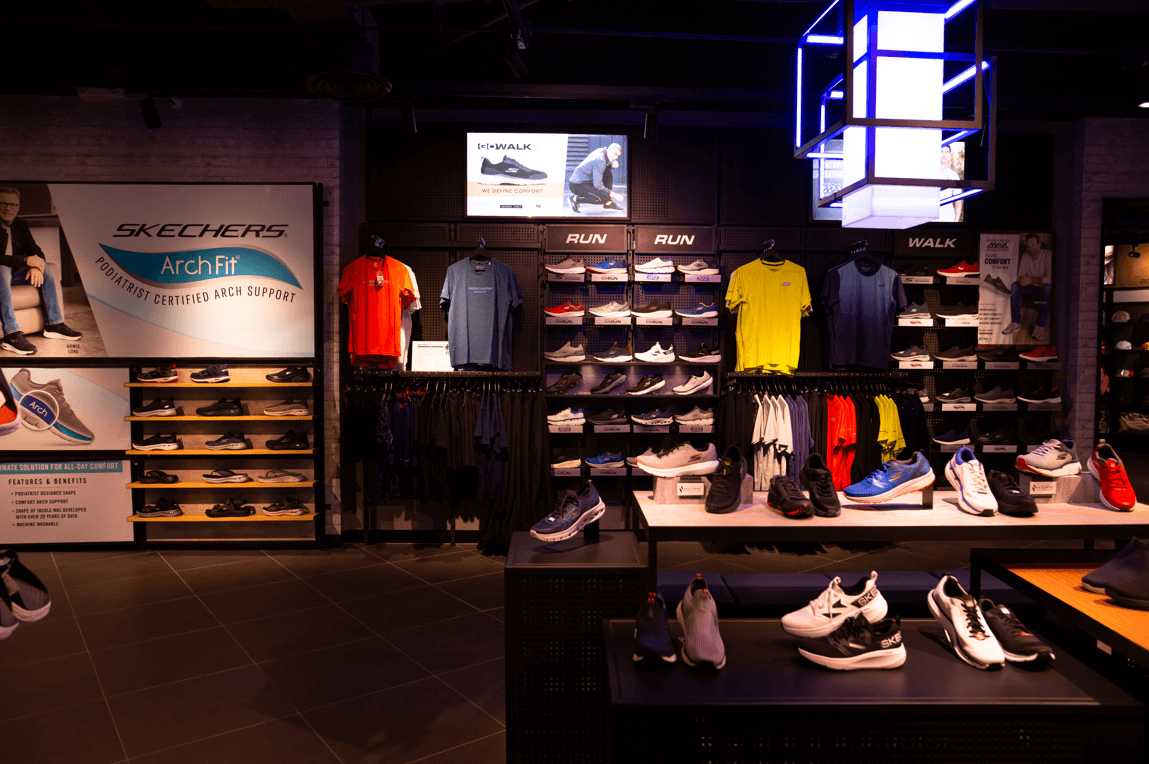 "We are delighted to continue our expansion in the country with the opening of our largest store in the Philippines here at Ayala Center Cebu in Cebu City," shared Skechers Philippines country manager Sue Pasustento. "With its prime location and an extensive offering of Skechers footwear, apparel and accessories, this store will be a showpiece for the brand and allow more Cebuanos to directly experience the comfort, style and innovation that defines Skechers around the world."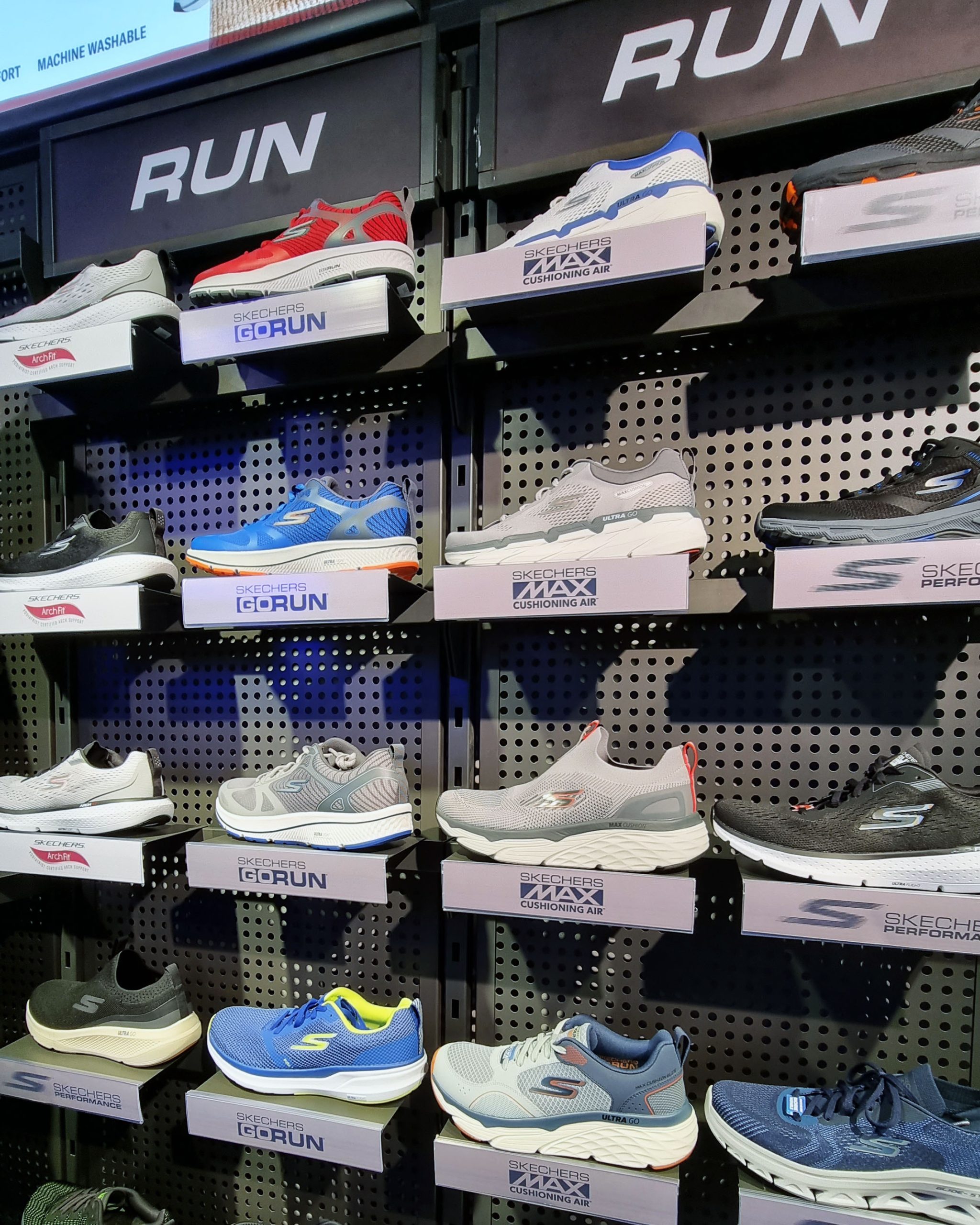 Located on the 1st Floor of Ayala Center Cebu in Cebu City, the latest Skechers store in the Philippines features a mid-century modern style inspired design, opening the interior space to bring in the outdoors. The 3,400-square-foot store will offer a wide range of Skechers footwear, apparel and accessories including fashion product, lifestyle looks and Skechers Performance shoes for sport enthusiasts, including Skechers GO WALK, one of the brand's best-selling categories.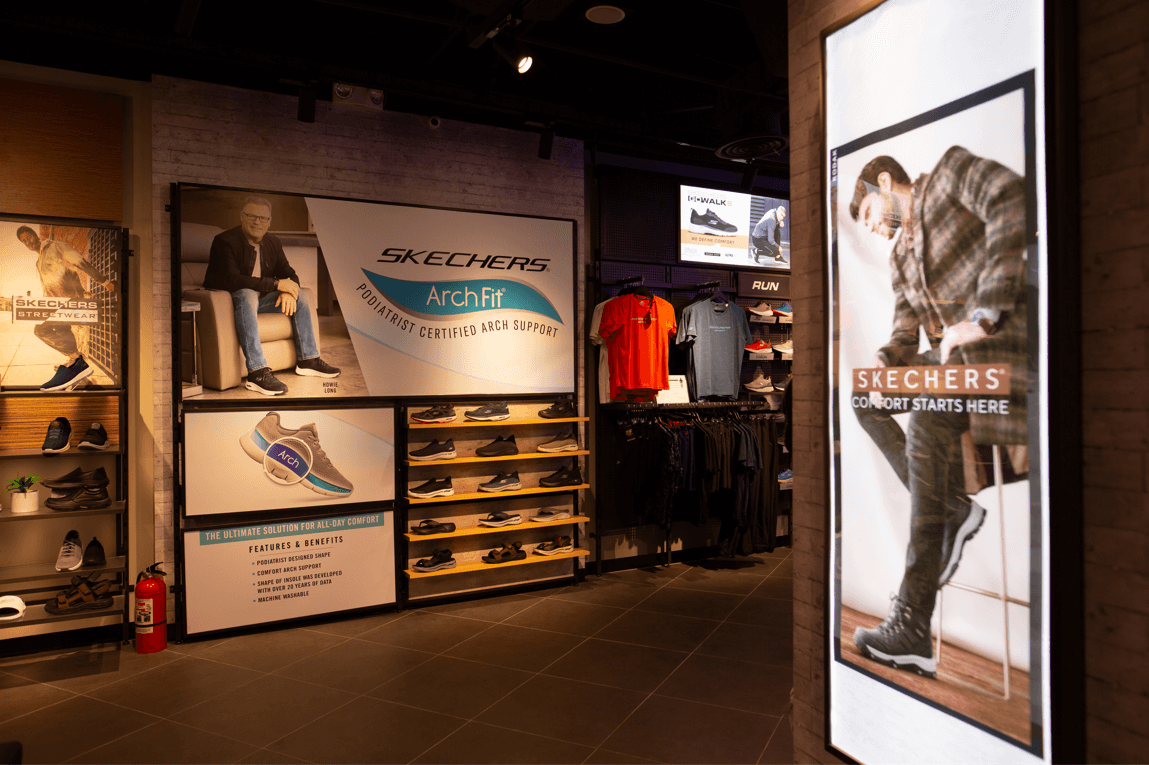 Skechers' offering is enhanced with the company's signature comfort innovations—including its patented Skechers Arch Fit Technology™, Skechers Max Cushioning Technology™, Skechers Hyper Burst Technology™, Skechers Air-Cooled Memory Foam®, Skechers Relaxed Fit Technology™ and Skechers Stretch Fit Technology™.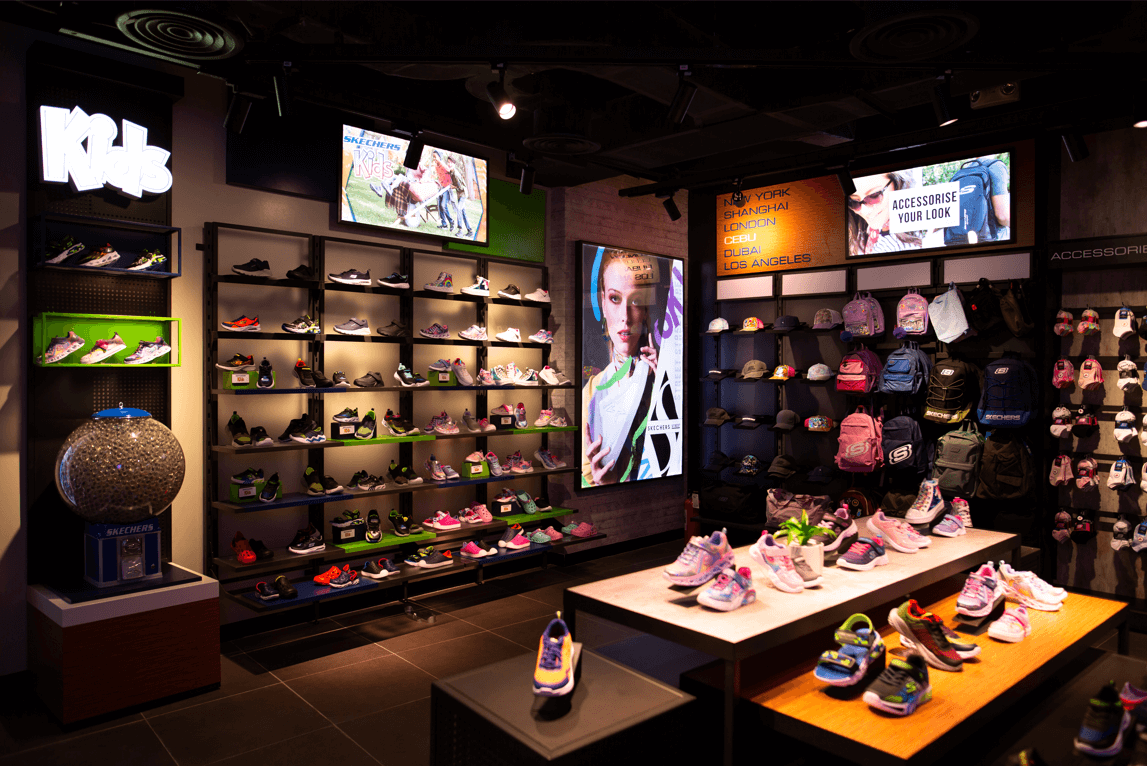 Skechers' wide selection of versatile and functional apparel, which include hoodies, jackets, sportswear and shirts, as well as socks, backpacks and hats, allows consumers to dress head-to-toe in active lifestyle looks. 
Established in 1992, Skechers' reputation for style, innovation, quality, and comfort have helped the brand expand worldwide. In 2021, the company transitioned its operations in the Philippines, becoming a directly owned operations and expanding its capital investment in the country. Skechers now has five stores in Metro Manila and seven total retail destinations across the Philippines.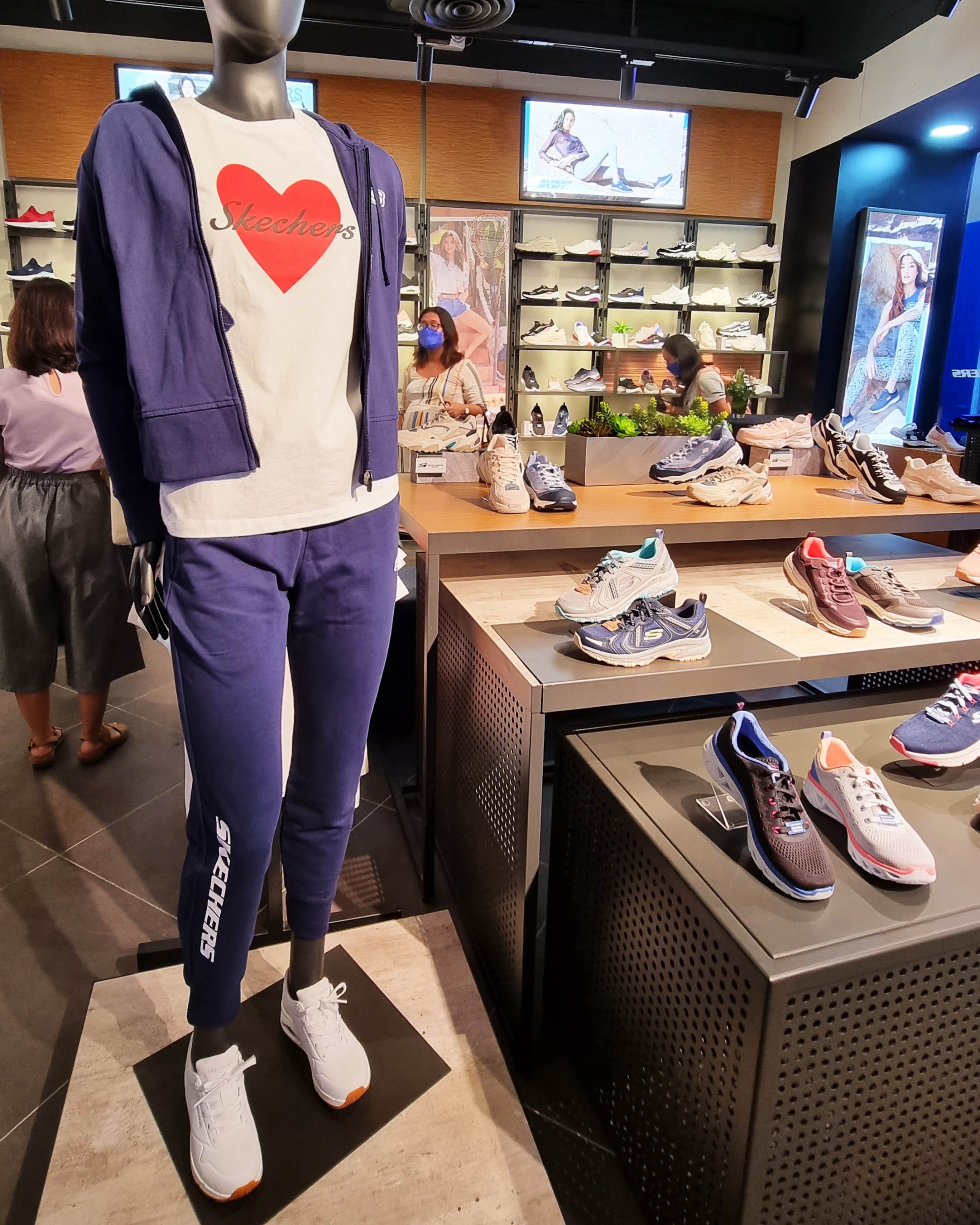 About Skechers USA Philippines, Inc. and Skechers USA, Inc.
Skechers USA Philippines, Inc. is operated by Skechers USA, Inc. (NYSE:SKX), The Comfort Technology Company based in Southern California. Skechers designs, develops and markets a diverse range of lifestyle and performance footwear, apparel and accessories for men, women and children. The Company's collections are available in over 180 countries and territories through department and specialty stores, and direct to consumers through digital stores and 4,308 Company- and third-party-owned physical retail stores. The Company manages its international business through a network of wholly-owned subsidiaries, joint venture partners, and distributors. For more information, please visit about.skechers.com and follow them on Facebook and Instagram.
Citizens of the World: CAMPAIGN 2KRAINE
Citizens of the World: CAMPAIGN 2KRAINE
By Eva Gullas
"We are all citizens of the world. What's good for you, must be good for all. If you are lost, share a plate with a stranger… you will find who you are."

-Jose Andres, renowned Spanish Chef and founder of World Central Kitchen
Where there are humanitarian disasters, you will find the volunteers of World Central Kitchen.  In their midst will be local chefs, most of them inspired by its iconic founder, celebrity chef José Andrés. Founded in the aftermath of the Haiti earthquake in  2010, World Central Kitchen established its "chef network," of global professional chefs. The vision was for a kind of "chefs without borders" program where volunteers would enact positive change by cooking using local knowledge and resources. Last year, they even came to the island of Siargao in response to an Instagram plea for help after typhoon Odette almost levelled this idyllic paradise. WCK sponsored 2 community kitchens for 2 months serving 250 to 500 meals per day in Siargao.
Chef José Andrés was born in Spain where he honed his culinary skills at the eponymous El Bulli under Ferran Adria. By the time he moved to the US in 1991, he was well on his way to being part of the celebrity chefs, with his Bazaar restaurant at the then SLS Hotel in Beverly Hills a favorite hang-out for Hollywood stars. Michelin stars and James Beard awards followed closely. These days though, Jose Andres spends his time in kitchens all over the world while his top rated chain of restaurants in the US continue to thrive. There's a Bazaar restaurant at Las Vegas and Miami, and if you happen to be in the area, check out their amazing servings – it's worth the splurge especially since it is owned by this great humanitarian!
With the Ukraine invasion delivered to us in sharp details tru social media and TV, it's hard to ignore. And so, it was a natural conversation to be able to do something about it even in a small way. On a full-moon evening a few days ago, joining us at a beachside home for dinner was Matthew Wood, the German singer guest of Miranda Konstantiniduo who is here for a few days to shoot his latest music video. Sated with a good meal by the sea, we idly discussed a fund raising event with Matthew. We have been so engrossed with local politics and a looming election in just 2 months, that it was refreshing to talk about something bigger than our small world. Butch Carungay, seated in front of me, took the idea to heart and by the following day, he had the graphics for the event, and a ready rolodex of possible donors for the silent auction. Getting on board the following night was Carlo Cordaro, who happily lent us the second level of Asmara Resort. To complement Matthew, Cebuana singer Doods Osmena also will belt out a few songs. An impressive list of items for the silent auction is being compiled by Butch, composed of overnight stays at top resorts, artworks and furniture pieces from named artists.  We will post a list on the day of event. 
It is sponsored by Zee Publications Inc., in our first foray after having been dormant during the pandemic and typhoon Odette. Zee will soon be launching a new artsy printed magazine called Eatz Cebu!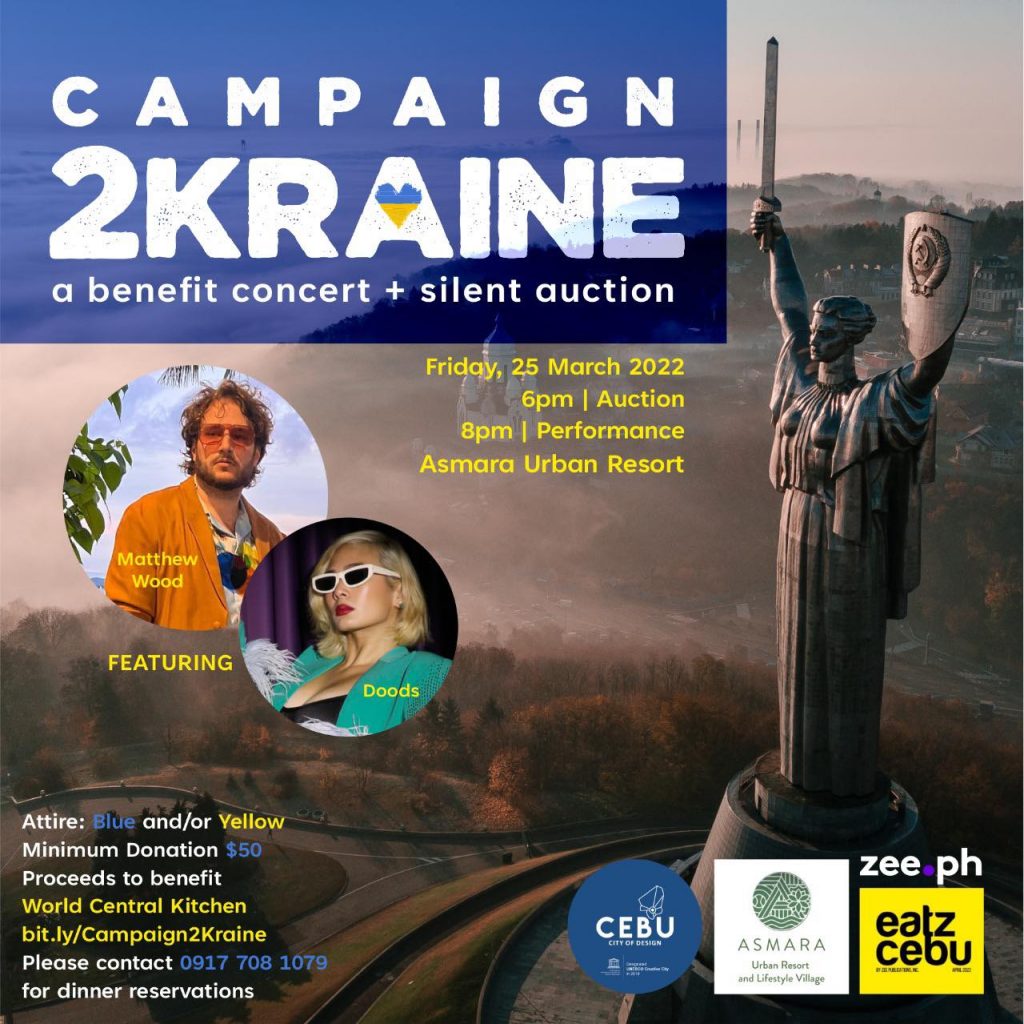 This Friday, March 25, at 6pm, we open the doors of Asmara Urban Resort (see map) for this fundraising where we hope you can join us by donating a minimum of $50 to the World Central Kitchen directly at https://wck.org/donate. It will be an evening of fun and fundraising, and entry is tru an email or digital receipt of your donation.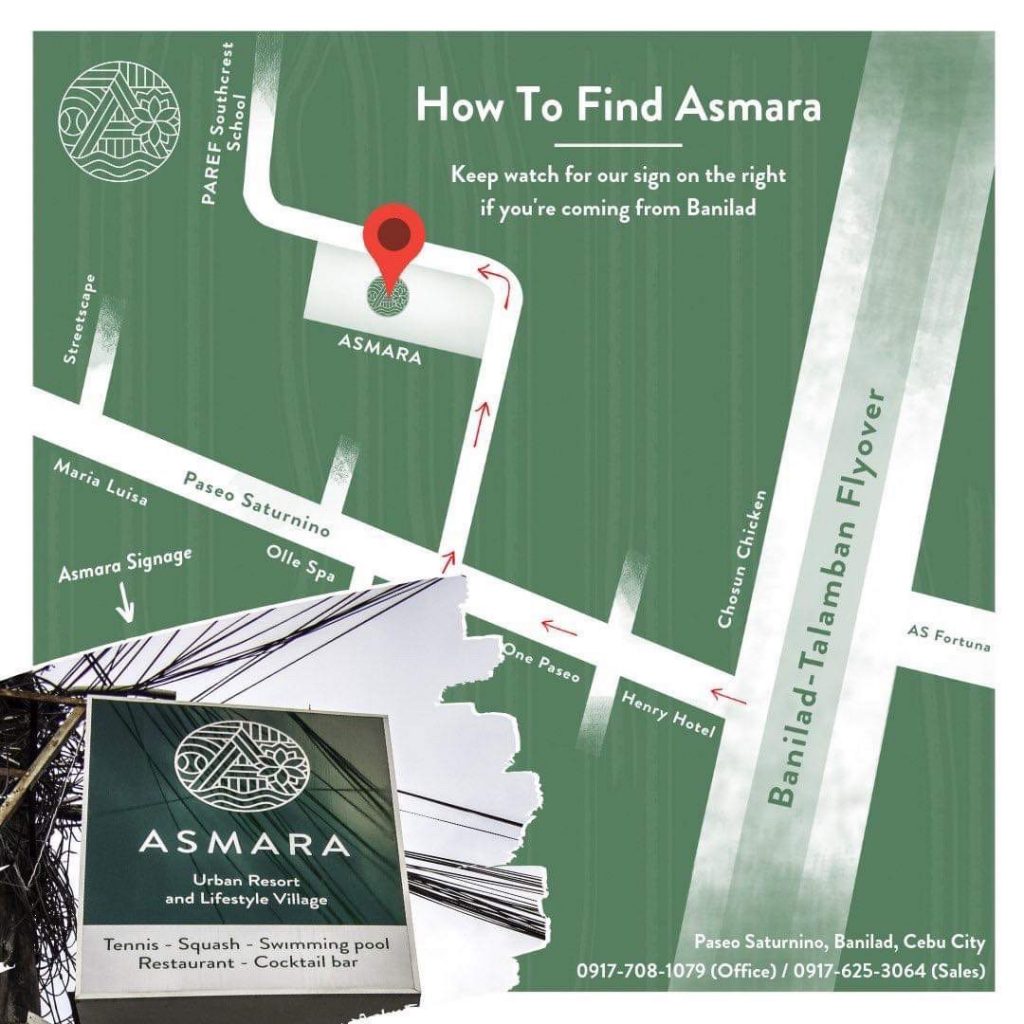 ***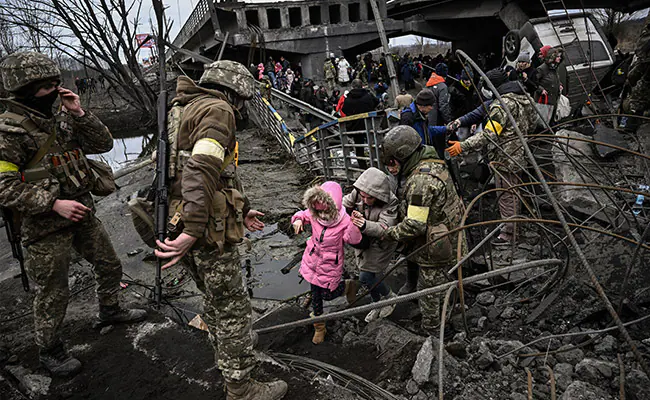 On February 24, 2022, Russia invaded Ukraine. By February 25, 2022, Chef José Andrés' World Central Kitchen (WCK) was on the ground serving free wholesome meals to those fleeing the violence. Chef Andrés and his volunteers have already served more than one million meals to Ukrainian refugees, from basements, train stations, and shelters. Still, cooking and distributing food in a war zone comes with unique challenges. "We began operations…over two weeks ago inside Lviv," says Andrés. "The last two days we saw some missiles falling down. So, the western side of Ukraine, that actually was a safe haven for many Ukrainians leaving war, is already kind of feeling like the war is getting closer." For Andrés, it's a humanitarian necessity and a call he answers. "The least we can do at World Central Kitchen is be next to them – making sure they will be fed every day."
SOURCE: MSNBC