Sibling Revelry
Literally and figuratively made from the same mold, French-Filipino siblings Lani and Dean Taylor Pasquet share how family and adaptability have become the recipe for success of international design sensation, La Galuche Inc.
Literally and figuratively made from the same mold, French-Filipino siblings Lani and Dean Taylor Pasquet share how family and adaptability have become the recipe for success of international design sensation, La Galuche Inc.
Stingray leather or shagreen is a coveted commodity these days. Once a rawhide esteemed by samurai masters and European aristocrats for its exceptional mix of beauty and durability, shagreen has made a comeback in recent years as one of the most sought-after leathers for furniture, clothing accessories, and even fashion.
That makes it a veritable gold mine for La Galuche, one of the few furniture manufacturers in the world that produce their own stingray leather, among other exotic skins. At the heart of La Galuche's steady rise is the synergy between General Manager Lani Taylor Pasquet and her brother Dean, La Galuche's web and production manager. But what's ironic is that the company is older than either one of them. It was their father, Frenchman Jean-Marc Pasquet, who started working with the stingray in 1982.
"He studied gemology so his background is really in jewelry," Dean said. "He would travel to almost every country to buy precious stones, go back to France, and sell to Cartier and Place Vendôme—the best place in Paris to buy jewelry." According to Dean, their father eventually started sourcing out exotic skins to make jewelry, a venture that he ultimately expanded to furniture.
"Sometimes he'd stay two weeks in France then leave for another two weeks to be in the Philippines [to oversee the factory in Cebu]," Dean recalled.
Perhaps due to the nature of their father's profession or his hobby of sailing, their family set-up was not what most would call conventional.
"Every summer we'd live in a boat for three months," Lani fondly shared. "We'd go to the Philippines, Phuket, Malaysia, and other places in Asia. In fact, my dad wanted us to live in the boat for real but my mom said, 'No way, I'm a city girl!'" Their Manileña mother, Candy, an English teacher who had met Jean-Marc at a party in Paris, insisted on her preference for the urban lifestyle.
Their father's laidback vibe seems have rubbed off on the two who drove together to Crimson Beach Resort and Spa on the morning of the photo shoot. Dean was dressed casually in a T-shirt and a pair of shorts whereas Lani greeted us in a flowing maxi dress, her face devoid of any makeup. Not that she needed any; the twenty-five-year-old is a deadringer for Isabella Rosellini and is no novice to photo shoots, having been featured in a few glossies and in the recent ad campaign of Cebu brand Islands Souvenirs.
"I was born in Paris," Lani said,"but for my first three years, we lived in Cebu. I was even baptized in Liloan [in northern Cebu]. My dad still had the company there at the time.
"When Dean was born, we moved to Paris for ten years. We lived on top of our French grandparents' arts supplies shop. From school, I'd go to the shop and play with pens. We were always exposed to design and art especially because architects went to buy supplies in the shop."

Lani looks up to her grandmother whom she said she got her character and taste from: "She is really the one who has an eye for beauty. My grandparents have a beautiful house in Cannes that is so detailed; every room has a theme. She influenced me a lot."
In fact, Lani wanted to be an architect at first but chose to take up marketing management for more practical reasons.
"France is not like the Philippines where there is a new construction site around every corner," she said. "In Paris, there is barely any space for new buildings. [Besides,] I really love marketing. My mother used to work in one of the top advertising agencies in France and I would visit her there. I liked the ambience. I would even get paid to see what I thought of a paper and I found that so cool that it stuck with me."
"When I was 11 [and Dean was 8], our parents decided to get out of city life and move to the south of France in Aix-en-Provence," Lani said. She eventually moved back to Paris by herself to pursue her college degree at 18. During this time, their father had left for Cebu and reopened the business.
"Her college, Université Paris Dauphine, was really tough," Dean said. "But it is the best public school in France for business."
Lani disclosed how having to bounce back early turned out to be a blessing in disguise: "Living alone and adjusting to a new city, I was really lucky the first year because I almost failed. In the summer, I was able to make up for two subjects and because I got better grades than those who did well the first time. My average was better." This was an advantage for her school's bidding system, which allowed students to continue semesters abroad.
Out of a thousand applicants, Lani was selected to continue her studies in Singapore and Hongkong, as well as to finish the second year of her master's degree at Fundação Getulio Vargas in Brazil. However, not long after Lani's first job as packaging manager in a branding agency, then in a cosmetic company, her father asked her to join him in reviving La Galuche in Cebu.
Only three years apart, it is clear that Lani has the stronger personality between the two siblings. Dean exudes a quiet, easygoing charm.
"We were both spoiled as kids but he was treated like a prince!" Lani chided. "We both had a 'yaya'—which is uncommon in France— we were very spoiled and lucky to have home cooked Filipino food too."
Dean admitted that he is very close to their mother. "When Lani left for college and dad went to Cebu, it was just me and my mom in our house in Aix-en-Provence for three years," he said.
Both siblings spoke highly of the small city near Marseilles where the famous Montagne Saint-Victoire towers in its east. Lani even referred to it as "the most beautiful city in France." Dean, who played American football in high school, especially likes the Aix's weather and terrain: "Growing up in the south was nice. It's always sunny and the lifestyle is relaxed. It's also ideal for extreme sports. It's close to the sea. The Alps are accessible and you can ski. There's even a lake if you want to go wakeboarding.
"I studied business/advertising in Ecole de Management Léonard De Vinci in Paris," Dean continued. "Lani and I shared a flat for a year when I was a freshman and she was in her fourth year, but she traveled a lot because of her studies." In his third year, Dean chose to complete his six-month internship abroad at La Galuche in Cebu where he was reunited with his father and sister.
Working for their father's business for the first time garnered mixed reactions from Lani and Dean. Said Lani, "My father is not the type to delegate or teach [since he is used to being a one-man trader] so I had a lot to figure out at first, including creating my own position. I worked on a company policy and started handing out a memo whenever someone was late. It was a challenge because some of the factory workers who came back from before have known me since I was in diapers!"
Culture was also an initial obstacle for her: "Before then, I had never worked in the Philippines and had to adjust to the local work practices. Looking back, I'm proud of how I gradually broke in but at the time, I was a young girl who didn't know anything about furniture or stingray but at the same time had to tell everyone what to do. I'm stronger now." Recognizing Lani and Dean's creative talents and drive to grow the company, their father felt confident entrusting La Galuche to them, which allowed him to fulfill his desire of sailing and traveling the world.
When Dean entered the company in 2009, he said that La Galuche already had a good system in place and was doing very well in the market as a high-end furniture player. Much credit is due to their father who has built valuable and long-term relationships with suppliers and clients over the years.
Today, Lani and Dean complement each other in managing La Galuche. "We have a common trust," Dean said. "If she goes on a trip, I cover for her and vice versa." Of the 22-year-old, Lani said: "I may be more organized but he has the swag, the people skills. The employees love him. He gets along well with everyone."
Lani recalled what Dean had texted her only two months after he started working for the company: "I'm with Chris Burch [Tory Burch's husband.] He just bought the showroom."
"I swear I was ready to retire at that point!" she joked.
"Eighty percent of our production is custom-made or exclusive for clients," Dean explained. "The rest is our own line, which is influenced by the styles of 1920's art deco French designers, like Jean Michel Frank and Clement Rosseau. As much as we would love to make new collections, with the demand from clients who outsource from us at the moment, we can't squeeze in those items." La Galuche only has a total of 50 employees including the Pasquets but has been catering exclusively to major international design labels like Ralph Lauren, Asprey, and Tory Burch, to name a few.
"The main key of our business is the raw materials," said Dean. "Shagreen is our number one product and is also the most expensive because it is rare. Shagreen comes from a specific ray with a scaly, hard skin in the Indian Ocean. A piece inlayed in stingray will last forever. I can say that we produce best-quality skins in the world."
La Galuche also uses other raw materials such as the skins of python, crocodile, shark, ostrich and goat, combined with shells, cow bone, ebony, cedar and other exotic woods. There are almost no limits to what their skilled workers can handcraft from the combination of these materials and from the dyeing process that produces every color imaginable. One client wanted a bedside table to match his curtains so he sent a swatch of cloth from the drapes for La Galuche to recreate the exact same color.
"Only a few designers carry our pieces," Lani said. "Most of the people who order from us want something special and every piece is different. For instance, we once customized a cabinet for Brooke Shields with a special color and with skull heads as handles.
Their biggest project to date was for the The Ritz Carlton in Pudong, Shanghai. The hotel property, which was named as 2011's Best Hotel in the World by an international travel magazine, has walls of shagreen in the elevators and presidential suites.
La Galuche's continuous string of achievements has resulted in the siblings' settling in Cebu for some time now. Lani has been in a relationship with Cebuano businessman Jay Chiongbian for the past two years and the two even collaborated together on a new lifestyle lounge GILT, of which her boyfriend is the owner.
Dean has also blended well with the local scene, having made a lot of friends himself. As for the business, whether they decide to expand the factory to accommodate more orders or to seek new materials to diversify their product line, it is only a matter of time and choice. Between these two young go-getters, who knows what else they are capable of accomplishing?
by Pia Echevarria
sittings editor Katsy Borromeo
production manager David Jones Cua
production assistant Danica Ronquillo
photography Anne Lorraine Uy
creative director Mikey Sanchez
grooming Ramil Solis and Hyatt Laurel
locale Crimson Resort & Spa
LADY CYCLISTS HIT THE ROADS AND SLOPES OF CEBU.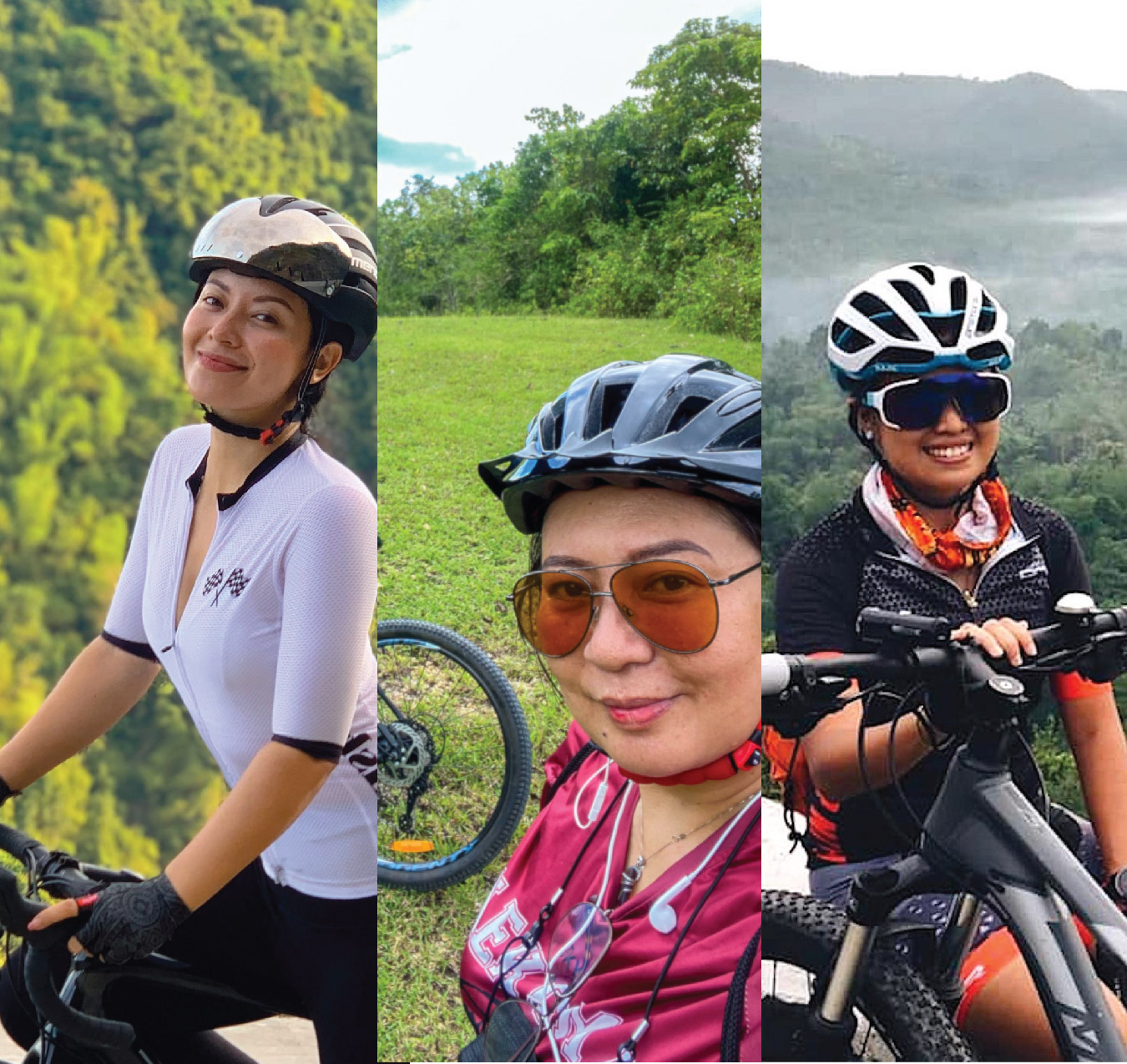 Cycling has been a growing sport and hobby for many years but it's popularity has erupted since the Covid pandemic.  People biking to work and for recreation is an everyday sight in Cebu.  More and more are joining the ride.  Many are quite serious about cycling.  I know three ladies who are among those who've gone long distances across Cebu.
How did you get into serious cycling?  What was your motivation?
Blinky de Leon.  Event Host, Product Endorser & Influencer
" I've been into cycling since I was a kid. A little backstory, I was around 10 years old when my dad surprised me with my first custom-made mountain bike. I still keep it until now, in fact I had it refurbished. It's the most sentimental thing I ever received since it was his way/gesture to catch up with me after not seeing each other for almost 6 yrs. My dad is based in Germany and he also loves cycling and makes his own bamboo bike."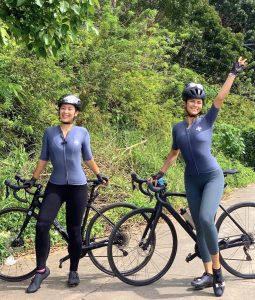 "Just a year ago though, my friend Gazini randomly, out of nowhere, picked me up from home to bike with her to the South of Cebu. I felt really excited and motivated to get back on track because it's very nostalgic and brings back so many great memories. And since then, the rest was history. We've been joining different groups, tried different routes and conquered different heights. I've met so many cyclists with very inspiring stories in the bike community who kept me feeling motivated too. I also look forward to the sights and the adventure that comes along with it."
Yumz Mariot. Branding & Marketing Consultant
"I used to bike along with rock and wall climbing. I am lousy with ballgames which is why. Our usual route were Talamban and Mactan but one time, managed to ship gears all the way to Dumaguete for a quick ride to Valencia, the next town located at a higher elevation. Those were days when I did it for fun and what bike I was using did not matter."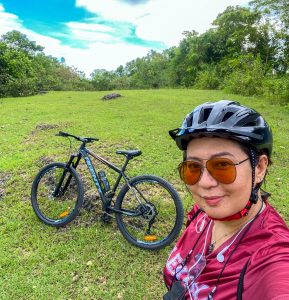 "Fast forward to 2021, a year after the pandemic lockdown began, I realized I have been lazy to do any fitness routine. Too caught up on juggling between house chores and Work from Home deliverables (I work as a Branding and Marketing Consultant), I started to feel my body needs to move as much as my brain does. A hysical fitness routine is as important as what I eat, or what I read or watch. So I decided to invest on a decent MTB, just very recently and got myself a much necessary restart. What motivates me even more is the area where I currently reside at. It is vast, fresh, green and safe for solo bikers like me."
Prime Sarino. Digital Media Creative
"I started biking as a young teenager and I got the idea to start it as an adult hobby 3 years ago. I was already into running and I thought it would be great to venture into another outdoor activity to keep me occupied after work hours and weekends. I was set to travel for a year so I had to put aside the idea first but came pandemic. We were all forced to stay put and everything was put on hold. Cycling became my diversion. My cyclists friends invited me to quick and short rides. I enjoyed my first 50km ride and the sceneries and routes most of all. It also helped channel a positive mindset during the hard hit season of the pandemic. Not to mention it's also another way to stay fit when we were forced into inactivity during the quarantine."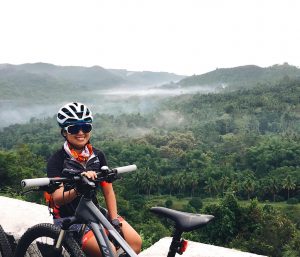 Next in Part 2, we ask the ladies about their cycling experiences and memorable moments…
by: Zen
#CebuPride:  Cebuanos in Multi-awarded Pride-Themed Films
Multi-awarded International Gay Movies with Cebuano Lead Casts
By:  Allain Dumon Fonte
Pride-themed movies are starting to invade the film industry as people become more accepting and are more intrigued on the stories about LGBTIQ.  Many have shared the intensity of emotions and laughed with the craziest jokes on gay-themed movies.  In the Philippines, these kinds of movies were questioned as to their morality and their message to the society.  The strong influence of the country's religious standards had branded gay-themed movies as sex-oriented and nothing more.  Yet, with Thailand's more tolerant culture, Thai BL (Boy's Love) movies and television series have created a new perception to the viewers; and that is gay-themed movies are remarkably alike to all other movies – there is romance, comedy, drama, and the continuing struggle of living like normal people.  Hence, Thai BL TV series have a massive following all over Asia.  At the end of 2019, they became available in Netflix and are being watched by millions of viewers all over the world.
The Philippine film industry is not that far from Thailand's.  Some of the LGBTIQ-themed movies and television series are slowly getting a following in Asia and are now accessible to viewers worldwide.  A few of these pride-themed movies that casted or directed by a Filipino have already been receiving nominations and awards from Golden Globe, The Berlin Film Festival, the Venezia Film Awards, and even the Emmy's…and the Filipinos in these films hail their roots from Cebu!
1. Lingua Franca
Lingua Franca is a film directed by a Cebuana, Isabel Sandoval.  Sandoval also plays the main character of the movie, and she even wrote the screenplay.  Lingua Franca tells the story of Olivia, an undocumented transgender woman in New York who works as a caregiver to a senile old-lady of Russian-decent.  When Olivia is challenged to attain legal status in the US, she is left with a "marriage-based green card".  While in search for her groom-to-be, she becomes romantically involved with Alex, Olga's grandson.
The film is now available on Netflix and has received positive reviews from the media.  Stephen Dalton of the Hollywood Reporter wrote Lingua Franca is a "heartfelt personal statement rooted in timely, gripping issues that obviously resonate deeply with its author, notably trans rights and Trump-era immigration anxieties".
Isabel Sandoval graduated summa cum laude with the degree in psychology from the University of San Carlos in Cebu, Philippines.  In New York, she pursued graduate studies in Film at NYU.  She is now currently residing in NYC, and already has award-winning films under her belt like Apparition, Lingua Franca, Senorita, Ritwal, The Unstoppable, and Judgement.
2. The Assassination of Gianni Versace: American Crime Story
This television series was aired in Netflix and has gained so much popularity because it showed the murder of world-renowned fashion designer, Gianni Versace, by a serial killer, Andrew Cunanan.  Based on Maureen Orth's book Vulgar Favors: Andrew Cunanan, Gianni Versace, and the Largest Failed Manhunt in U.S. History, this television series has 9 episodes of suspenseful scenes, and is star-studded with casts like Ricky Martin and Penelope Cruz.  However, the main actor who played Andrew Cunanan is Darren Criss who gained his popularity after being a regular on the top rating TV show, Glee.  Darren Criss hails his roots from Cebu, Philippines.
The Assassination of Gianni Versace: American Crime Story received positive reviews from critics. At the 70th Primetime Emmy Awards, it received 9 nominations, and won 3 awards, including Outstanding Limited Series and Outstanding Lead Actor in a Limited Series or Movie for Darren Criss.
Criss was born and raised in San Francisco, California, USA.  Criss was raised as a Roman Catholic and attended roman catholic schools.  He later moved to Michigan where he studied Bachelor of Fine Arts major in Theatre Performance and minor in music at the University of Michigan.  Criss's father, Charles William Criss, is a banker and served as CEO of the East West bank in Honolulu, Hawaii.  Criss's mom, Cerina, is a native of Talisay, Cebu, Philippines.  When he was younger, he visited Cebu a couple of times with his mother.  Darren Criss is very proud of his Cebuano roots and wants to portray Filipino characters in films and in theatres to promote visibility of the Filipinos in the American films.
3. The Amazing Truth About Queen Raquela
     The Amazing Truth About Queen Raquela premiered at the 2008 Berlin International Film Festival where it grabbed the Teddy Award for Best Feature Film.  It was also awarded the Grand Jury Prize in the 10th 2008 Cinemanila International Film Festival at Malacañang Palace's Kalayaan Hall.  It starred Raquela Rios also known as Minerva to her Cebuano friends.  Raquela  is a local of Mandaue City, Cebu, Philippines.  The film is directed by Icelandic film director, scriptwriter, and producer, Olaf de Fleur Johannesson.
Raquella Rios is a native of Mandaue City, Cebu, Philippines, and she went to the University of San Carlos in Cebu, studying sociology and anthropology.  Before finishing her studies, Raquella left the Cebu and went to Iceland after being casted by Icelandic film director, scriptwriter, and producer, Olaf de Fleur Johannesson for the movie The Amazing Truth About Queen Raquela.  She is now based in Bangkok, Thailand as a fashion stylist and wardrobe assistant to some local Thai movies.  Raquella is also an activist for sex workers rights and trans rights in Southeast Asia; pushing for the recognition on the choice of their gender and the right to change their birth names.
There are still plenty of pride-themed films in the Philippines that gained recognition all over the world; yet these movies mentioned are special because of the talented Cebuanos that have  brought Cebu to world.  They truly are #CebuPride.
37 Years of High Fashion; Arcy Gayatin leaves a Legacy of Edginess and Elegance
Arcy Gayatin: A Legacy of Luxury in Fabrication
By:  Allain Dumon Fonte 
The brand Arcy Gayatin gave the Queen City of the South a distinct reputation in the fashion industry.  The fashion line of Arcy Gayatin sets the bar higher each year for clothing luxury and fabrication techniques.
Araceli "Arcy" Ancajas Gayatin is the daughter Galileo Ancajas and Remedios Zanoria Ancajas who founded Cebu's home brand, Gal's Bakery.  Arcy went to the University of San Carlos and studied Political Science.  And just like Dr. Muccia Prada, who completed her Ph.D. in Political Science and established the luxury line of Prada, Arcy also got in touch with her artistic side and started her own fashion line.  However, it was not Prada that influenced Arcy.  Arcy was introduced to fashion and tailoring at a very young age by her mother, Madame Remedios Anacajas whom they dearly call Mama Eme.  Mama Eme was running a tailoring business back then.  It was called Arabel; named after Arcy and her sister Belma.  Ara from Araceli and Bel from Belma.  In those years, Arcy was fascinated by fabrics and was intrigued by how to manipulate the fabrics to come up with fashion-forward designs without compromising comfort and taste.
After 37 years of creating haute couture pieces for the most fashionable personalities in the Philippines, Arcy Gayatin is now laying down her sketchpads and pens to rest.  As she enjoys her retirement, may be on a cruise to the Bahamas or a holiday to the Swiss Alps, Arcy Gayatin has left the fashion industry a legacy of elegant and edgy clothing ensembles that understand and define the shape of women; without compromising comfort and good taste.
To salute the lady who brought Cebu fashion to the world, a retrospective exhibition of Arcy's incomparable masterpieces can be seen today at Ayala Center Cebu's The Gallery; curated by fashion editor and writer, Clint Holton Potestas, and interior and fashion designer, Jul Oliva.
BALANCE.  Arcy Gayatin is known for her perfect symmetrical lines when fabricating.  She knows how to balance edginess and class; understanding well the strength and the finesse of a woman.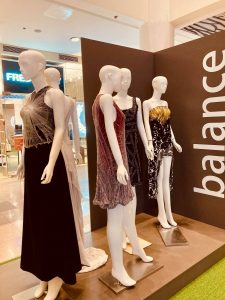 RHYTHM.  Arcy's expertise in draping and fabric manipulation can be seen in how she achieves rhythm between architectural lines and soft fabrics like silk and cashmere.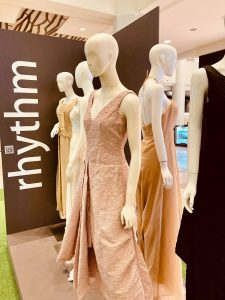 TEXTURE.  With her thorough knowledge on fabrics, Arcy Gayatin has achieved the perfection of fabrication by working on different types of fabrics and creating a single piece of art out of them.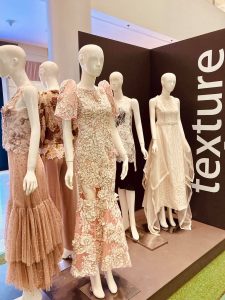 HARMONY.  The simplicity of the silhouette plus the intricacy of the details create a wonderful harmony, making Arcy Gayatin's design a one-of-a-kind masterpiece.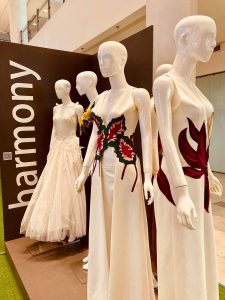 The photos below show an up-close look at the intricacy and the exquisite craftsmanship of Arcy Gayatin's fabrication techniques: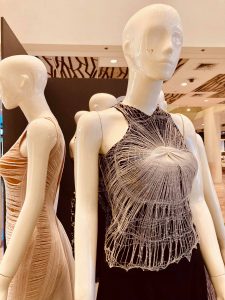 THE SPIDER WEB:  one of Arcy's genius fabrication techniques.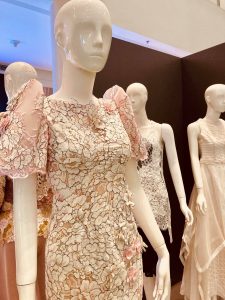 MATCH and PATCH:  Arcy's unique fabrication craft by patching layers of different types of lace and lace patterns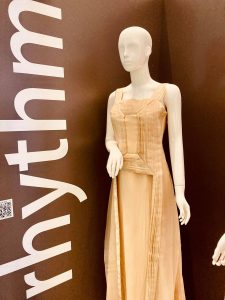 PLEATS: The perfection of symmetry in pleats on silk.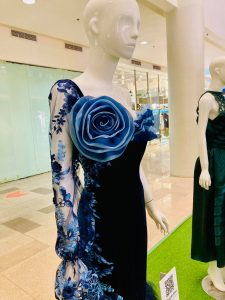 LA ROSE BLEUE:  U.P. student, Danielle Alessandra Deutsch, inspired by the artistry of Arcy Gayatin, designed this midnight blue dress.   The cabbage rose made from layers of silk organdy gave this evening ensemble a romantic appeal.