Bringing Life to Cebu's Heritage
At present, Cebu is an interesting study of contrasts. The rapid development of the city—especially in terms of the business process outsourcing and real estate industries—have led to it to becoming one of the most modern cities in the country, yet fascinatingly enough it remains embedded in its history and culture, the heritage of which has shaped its identity.
"The concept of heritage is anything of value that we treasure because it holds meaning for us," says heritage architect Melva Rodriguez-Java. "Because it holds meaning for us, we want to take care of it to transmit it to the next generation."
While there have been notable continuous efforts to preserve Cebu's rich heritage, it remains an ongoing struggle, especially with certain factors in play. Following the devastation in the aftermath of the natural disasters that struck last year, Java realized just how unprepared the country is in taking care of its heritage. "The government was unable to respond immediately and correctly to the damages brought by Yolanda and the earthquake," she explains, citing the fragmentary restoration labors for the Fort San Pedro and the belfry of the Basilica Minore del Sto. Niño, the restoration of which she is currently involved in. She adds that in the case of the Sto. Niño, international experts came in and volunteered to teach them how it's done.
Beyond the shortcomings of the government, the rapid globalization, while having its positive repercussions, considerably affects the identities of the citizens. "Globalization is there. It's a fact," she states. "But we cannot just go on floating and being carried here and there. We need grounding, and that grounding is appreciating our roots. Part of being able to do that is awareness of heritage."
Java acknowledges some people think heritage appreciation is an elitist thing only for the educated, yet shoots the misconception down, saying that it's very grassroots. "Maybe it's not innate in everybody," she admits. "It has to be developed. It has to be learned. Like a taste for food, it has to be acquired."
It starts with awareness of heritage, as awareness develops appreciation. "When you appreciate things, you begin to value them. You begin to protect and care for them. That's what we want to happen with heritage," Java says.
Thanks to the development of technology, efforts to be aware and appreciative are one notch more interesting. With museums and tours taking a more interactive approach, gone are the days of going around and visiting Cebu's historical sites being boring.
"History must be taught in a fun way. That's how you get people's attention," Ka Bino Guerrero shares in a profile written about him for Zee Lifestyle's June 2013 Arts & Culture issue. Ka Bino started the Old Cebu Walks, which takes people from Magellan's Cross through nearby churches before ending up at the ancestral homes in Parian. He interjects his personality into his tours, along with interesting anecdotes that may not be in history books.
Max and Marlen Limpag, who were featured on Zee Lifestyle's July 2014 Men's & Technology issue, began a digital tourism campaign through their startup company InnoPub Media. One of their projects is data-tagging tourism and heritage sites with QR codes. When people scan these codes using their mobile gadgets, they are provided with little tour guides right in their hands.
"Heritage work is hard work," Ka Bino says, admitting that the benefits are more like just a pat on the back. "More than the monetary aspect, there is the respect. It's very rewarding. There's no recognition, but it's more like having the satisfaction of being a part of something bigger."
Historical and heritage sites may mostly be tourist attractions, and with good reason: they paint a cultural picture and offer something we have that they don't. Yet more than anything, these places are a story of humanity—a story about us. "We understand ourselves better when we know where we come from," Java concludes. The refreshing and innovative approaches to heritage breathe new life and renew our pride in it.
In June 2013, Ka Bino invited Zee Lifestyle to join him on one of his Old Cebu Walks. Here's a sneak peek into his itinerary.
MAGELLAN'S CROSS
Planted by Ferdinand Magellan's men upon arriving in Cebu in April 21, 1521, the Magellan's Cross is the symbol of the Cebuano's acceptance of the Christian faith—although Ka Bino explains there might be more shrewd reasoning behind Rajah Humabon's acceptance of the foreigners. "He saw it as a business opportunity to be able to trade with more places," he says, explaining that before the Spanish arrived in Cebu, it was already a community that traded with various other Asian countries.
As various vendors approach with candles and an offering to say prayers, Ka Bino explains the practice that he usually encourages his guests to take. "I tell them to buy the candles, let the ladies say their prayers, then bring the candles home instead of leaving them here," he says. "You can no longer light candles inside this monument because it's a fire hazard, so you might as well bring them along and light them when you are badly in need of spiritual guidance."
BASILICA MINORE DEL STO. NIÑO
Built in 1725, the Sto. Niño Church is probably Cebu's most iconic for being the center of the popular Sinulog Festival. "When it was built, they didn't have cement so they would use egg whites," Ka Bino explains. "So if you wanted to get married or have your baptism in the church, you would have to donate a hen. The hen lays the eggs, and the egg whites are used to build the church. That's why we have a lot of delicacies that use just the egg yolks."
Approaching the façade of the church, Ka Bino points out the cement statues by the entrance. "The church itself is very Hispanic, but what's this thing over here? It's a Chinese foo dog. That's how crazy we are when it comes to decorating, we just put everything in it." The large doors themselves are carved with images of saints, including St. Peter. "In the early days, we were made to believe that you could only get to salvation through the church. That's why church doors are so ornately done—they represent the gates of heaven."
STREET VENDORS
"It's Filipino tradition that after attending mass, you have to buy flowers to offer to your altar at home," Ka Bino explains while walking through the alley across the church, filled with baskets of fresh and colorful flowers brought in from Cebu's upland barangays.
Right next to one vendor is a food cart, filled to the brim with familiar local treats, like rosquillos, pinasgbo, masareal, tagaktak and chicharon. "Flowers for God, and food for the children," he says. "Food is part of our heritage. Sometimes we take it for granted, but it's another way of learning about our culture."
CEBU METROPOLITAN CATHEDRAL
"It's time for the sad stories," says Ka Bino as we enter the Cathedral's compound. Besides the bomb that fell on the church during World War II and destroyed a substantial part of the structure, another sad story lay in the image that stands in the courtyard. "Miguel Lopez de Legaspi arrived in Cebu, it was the feast day of San Vidal, who was the patron saint of Cebu for the longest time. Every feast day, the image of the Sto. Niño would be brought to the Cathedral. But Pope Innocent ordered that all feasts of the child Jesus should be moved to January, so the feast of the Sto. Niño got moved and this guy was relegated to the courtyard. Today, if you ask a regular Cebuano about San Vidal, they will tell you he's not a saint but the former bishop of Cebu."
The Spanish king's coat of arms is carved above the entrance of the church, commemorating the fact that the King of Spain had financed its construction. "Once upon a time, this was the seat of the biggest diocese in the Philippine ecclesiastical map," Ka Bino says. "Guam was a part of the diocese, which is why we sent Pedro Calungsod there. Dumaguete, Tagbilaran, Leyte—they are just daughter dioceses that were once part of Cebu's."
THE RAJAH HUMABON MONUMENT
Sitting on a monument in the middle of a fork in the road, the image of Rajah Humabon sits proudly on his pedestal. "He is the king of Cebu and he is pintados," Ka Bino introduces, pointing out the tattoos that cover almost all surfaces of his body. "In the early days, tattoos were medals of valor. It's a merit. You can't just get a tattoo because you want it; you have to earn it. The first battle you win can earn you a tattoo on your feet. Humabon has tattoos on his face, so you can imagine just how powerful he must have been."
With several tidbits on daily life back then, Ka Bino gives a fitting explanation about why Cebuanos often find themselves in need of a nightcap. "In the early days, Cebuanos could drink like there was no tomorrow. Drinking and eating were like one activity," he explains. "In town hall meetings, drinking was always welcome because when they get tipsy, the discussion becomes more animated." Sounds like a great party to us.
JESUIT HOUSE
A colonial house in Cebu that dates back to 1730, the Jesuit House sits inside the Hotong Hardware bodega, a juxtaposition that Ka Bino finds interesting for tours. "I love the faces of my guests when they enter. They're always like 'why is my guide bringing me into a warehouse?'" The winding hallways of the bodega chronicle the history of Chinese presence in the Philippines and Cebu, which is in homage to its original occupants, the Jesuit priests. "The Jesuits were actually assigned to Christianize China, and the Philippines was a jumping point. They were assigned to the Chinese communities here as part of their training."
The house is the only one in Cebu that is bahay na bato from floor to ceiling, and has an erratic history that's included religious groups, old Cebuano families, and even a stint as Club X back when Serging Osmeña rented out the house for his exclusive gentlemen's club.
YAP-SANDIEGO HOUSE
"It's an old house, but most of the furniture had to be brought in," Ka Bino explains. "It belonged to the ancestors of Val Sandiego, but he'd only gotten a portion because it was shared with the other members of the family. When his house in Capitol burned down, one of his relatives offered to give him their share and he slowly started getting everyone's shares of the house. He even bought some of them out, then he had it restored."
It's an individual effort that's very admirable, considering that restoring the house completely would take at least P15 million. The cost is staggering, which makes Ka Bino hope for some help from the government regarding preservation matters. "The government should encourage or give incentives to people doing this," he says.
"It's a collective memory. Heritage isn't owned by some—it belongs to the people."
– Ka Bino Guerrero
THE CEBU HERITAGE MONUMENT
"If you just had one hour in Cebu and want to see something historical, you should visit the Cebu Heritage Monument," says Ka Bino. "It's a city tour in one stop—the Magellan's cross, the churches, the historical battles." Sculpted by local artist Eduardo Castrillo, with the help of the late senator Marcelo Fernan, the monument was finished in 2000 and depicts several places and scenes that are integral to Cebu's history. These include the Basilica del Sto. Niño, a Spanish galleon, the battle of Mactan between Lapu-Lapu and Magellan, the late president Sergio Osmeña Sr., and the recently canonized Pedro Calungsod.
by Patty Taboada
This story is an addendum to 'Memory Lane' written by Shari Quimbo, originally published on Zee Lifestyle's June 2013 issue.
Club Serena: A 'Serene Luxury' Experience in the Heart of Cebu's Diving Mecca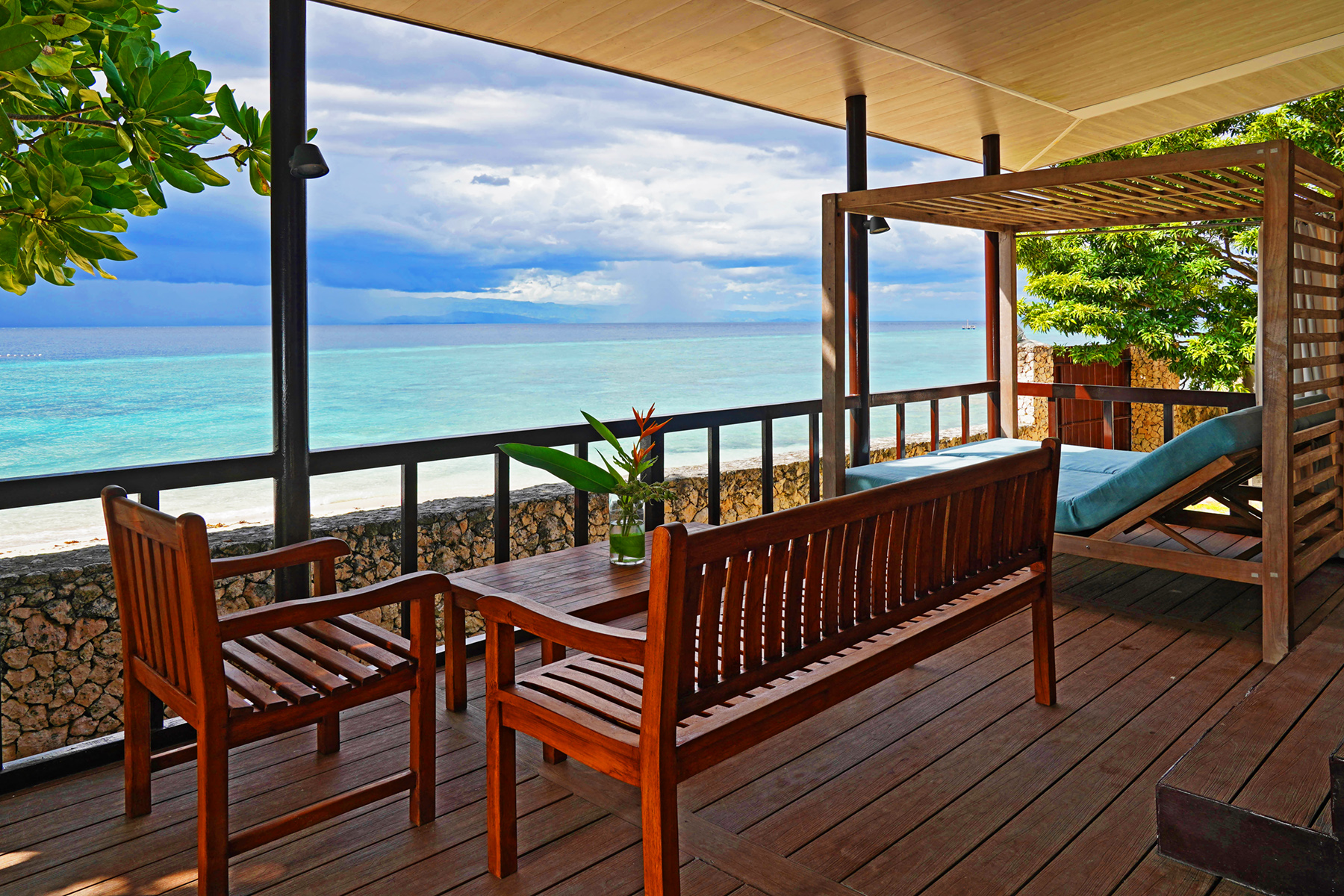 photography by GPA Art and Photography
A three-hour drive, or more, depending on traffic, the fishing town of Moalboal in the southwest of Cebu Island is an extremely popular destination for divers and weekenders who love the white sand and pink sunsets. It is also a favorite place to stay for expats looking for a laid-back life of endless coffees or cocktails.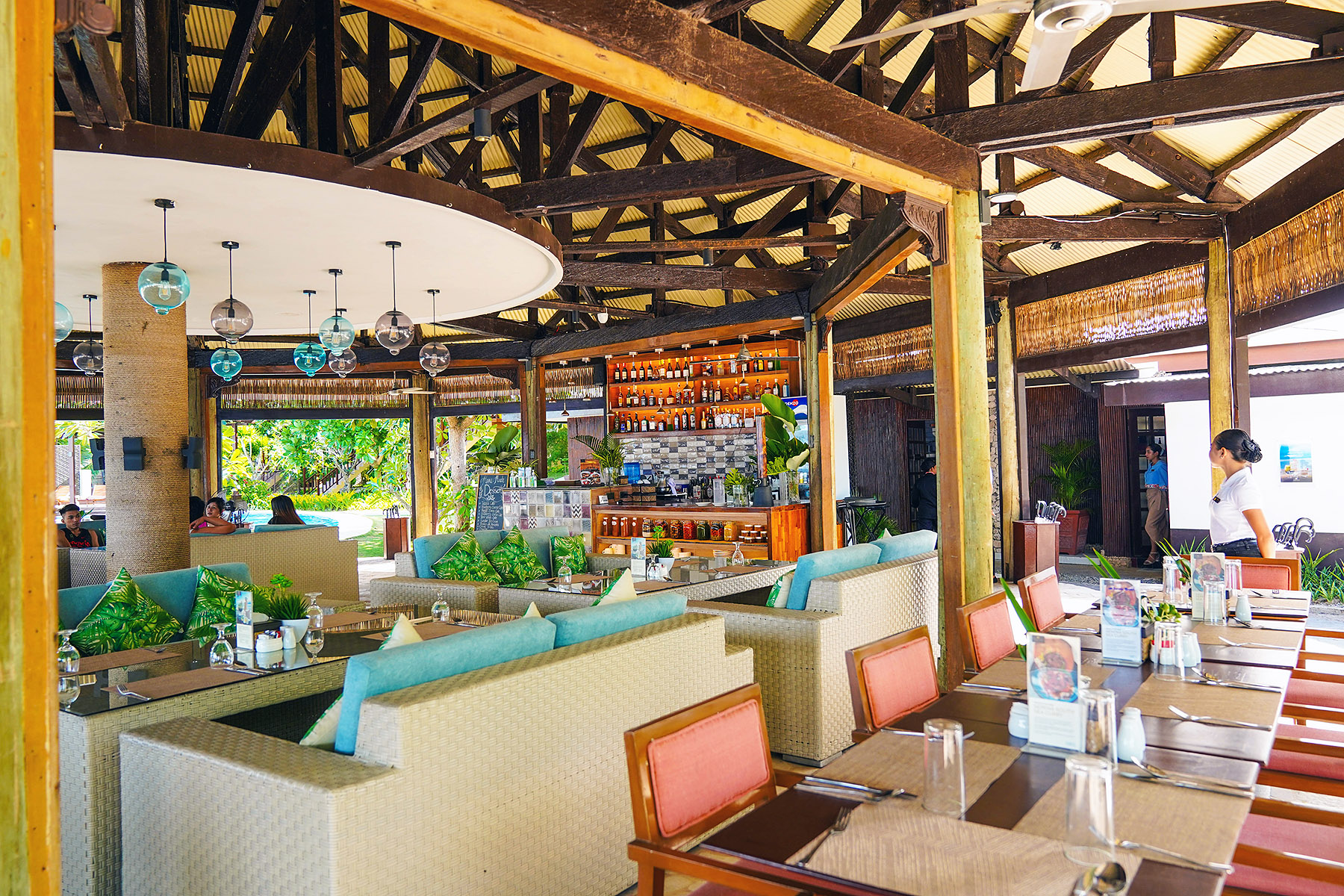 Thankfully, the big chain resorts haven't discovered it and places to stay are mostly small family-run resorts. But if pampering is what you are looking for, there is only one hotel to book in Moalboal. Club Serena Resort is a 1.7-hectare beachfront property perched above coral rocks, presenting a unique union of luxurious accommodations and a host of activities to be enjoyed. This hidden gem is reached through a dirt road away from the main highway. Fronting a wide swath of white sand beach, it is an easy walk past several smaller resorts to reach the main town.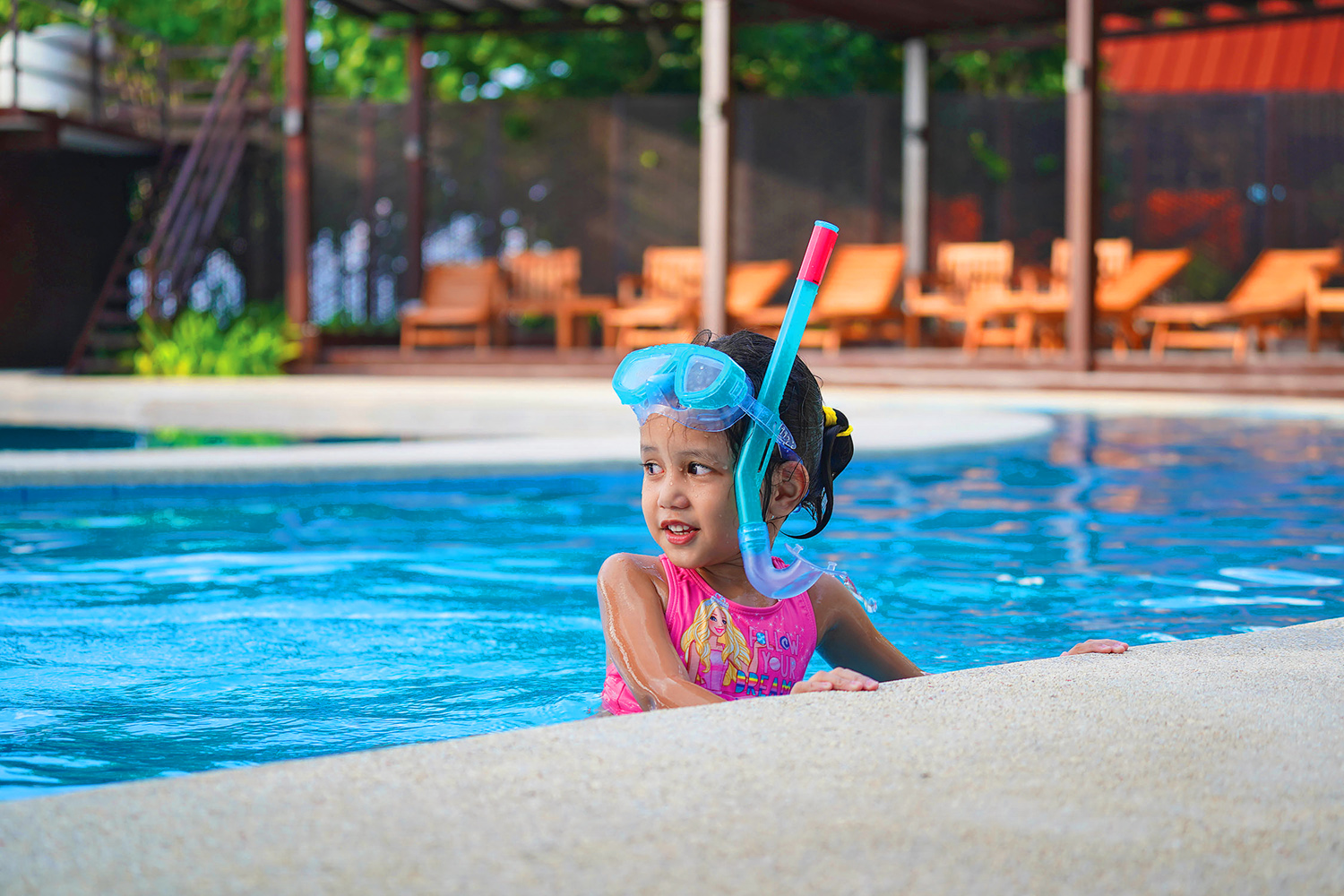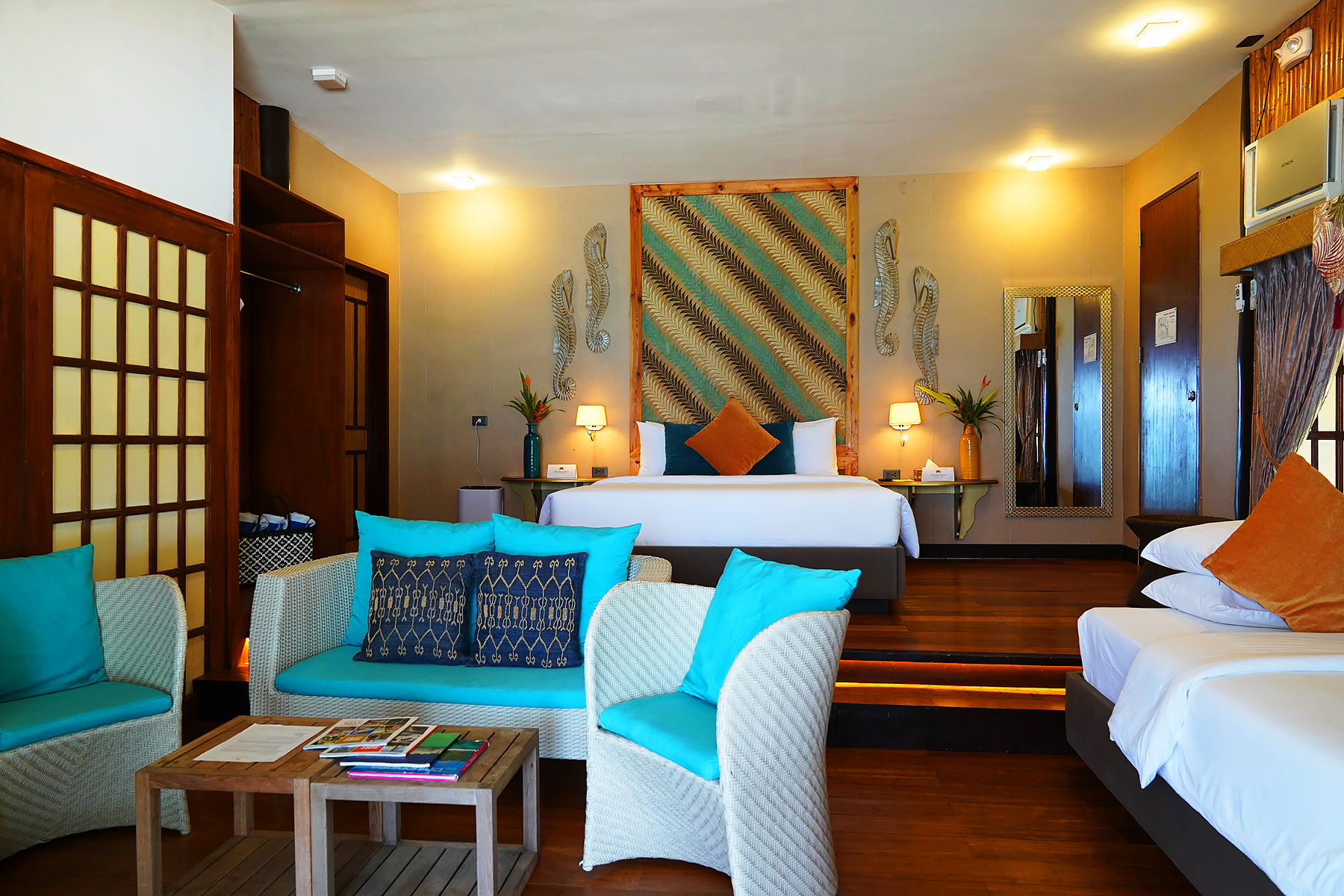 Recently renovated by noted architect James Jao, the new Club Serena has 17 rooms, three swimming pools, a restaurant, and a beachfront event space, all designed with modern Filipino aesthetic. On the drawing board are more rooms to be added, an expansion of their modern dive shop, and their popular Kids' Club program. Their food outlet, Mira, offers all-day dining, favorite among visitors and locals, as well as the growing expat community that has settled in Moalboal.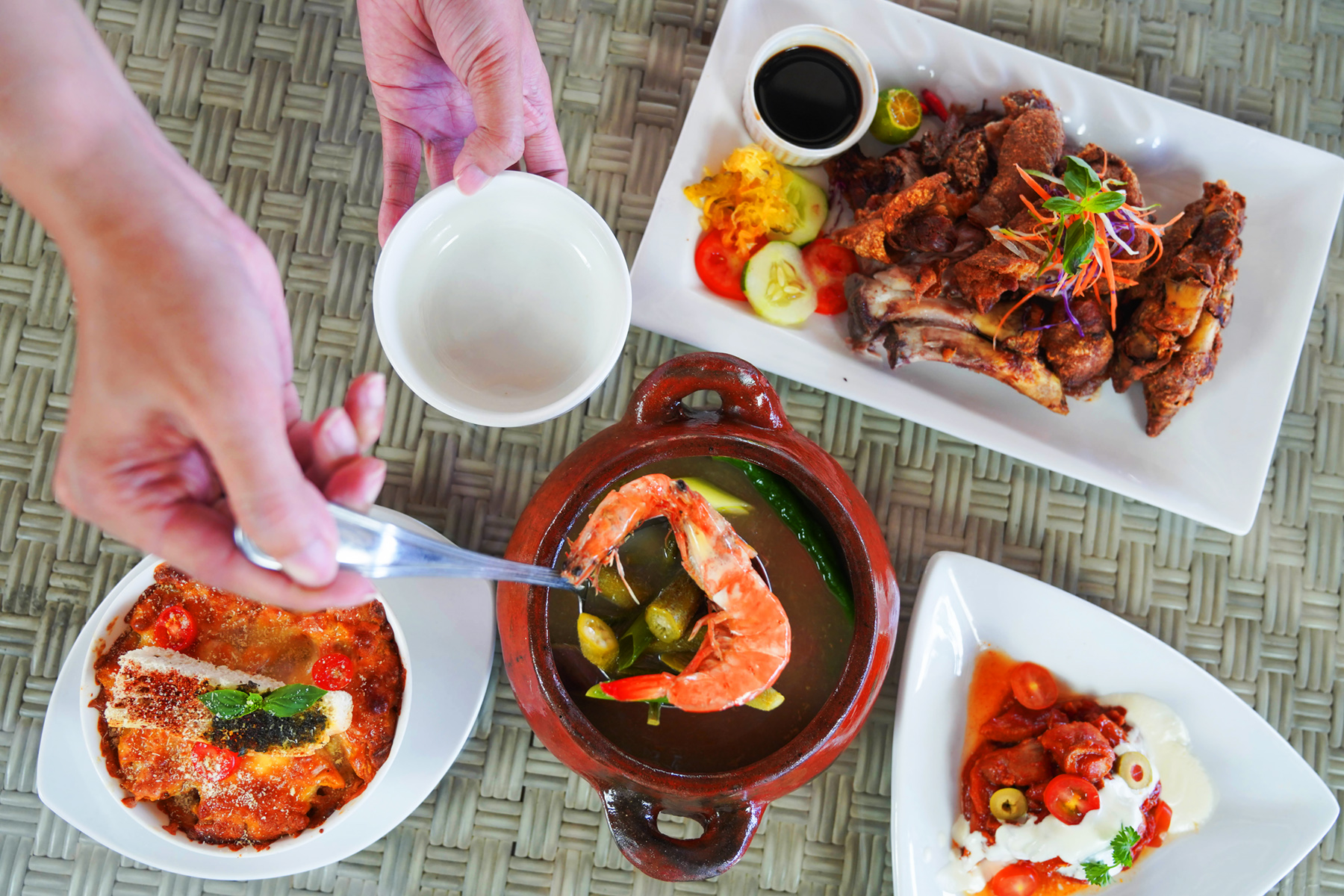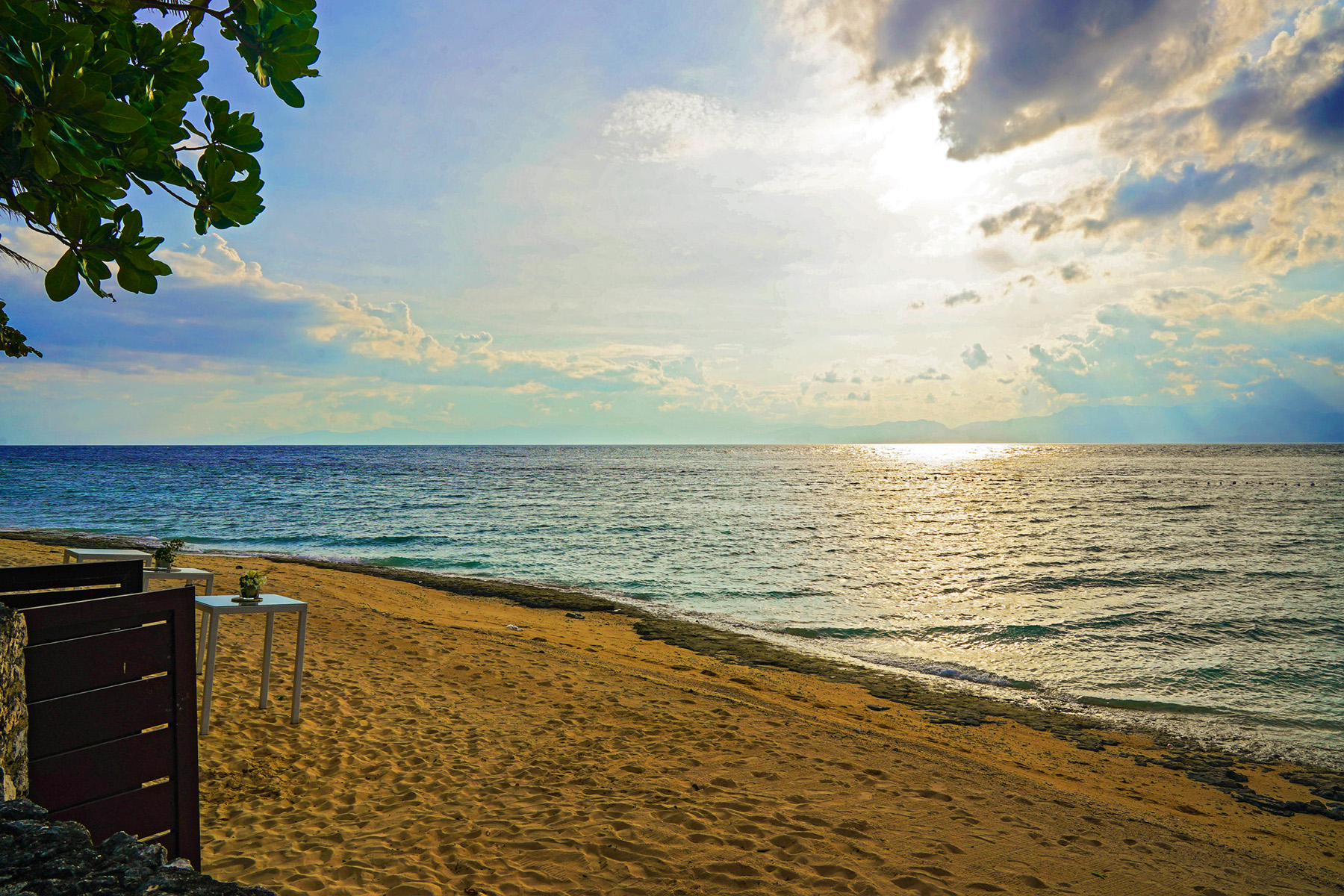 Club Serena offers diving courses for adults and kids by their resident operator, Seven Seas Aquanauts Phil. Corp, a PADI 5 accredited diving facility operating since 1988. For a complete list of the courses and their rates, please call (+63) 917.872.6367 or (+63) 905.459.5307.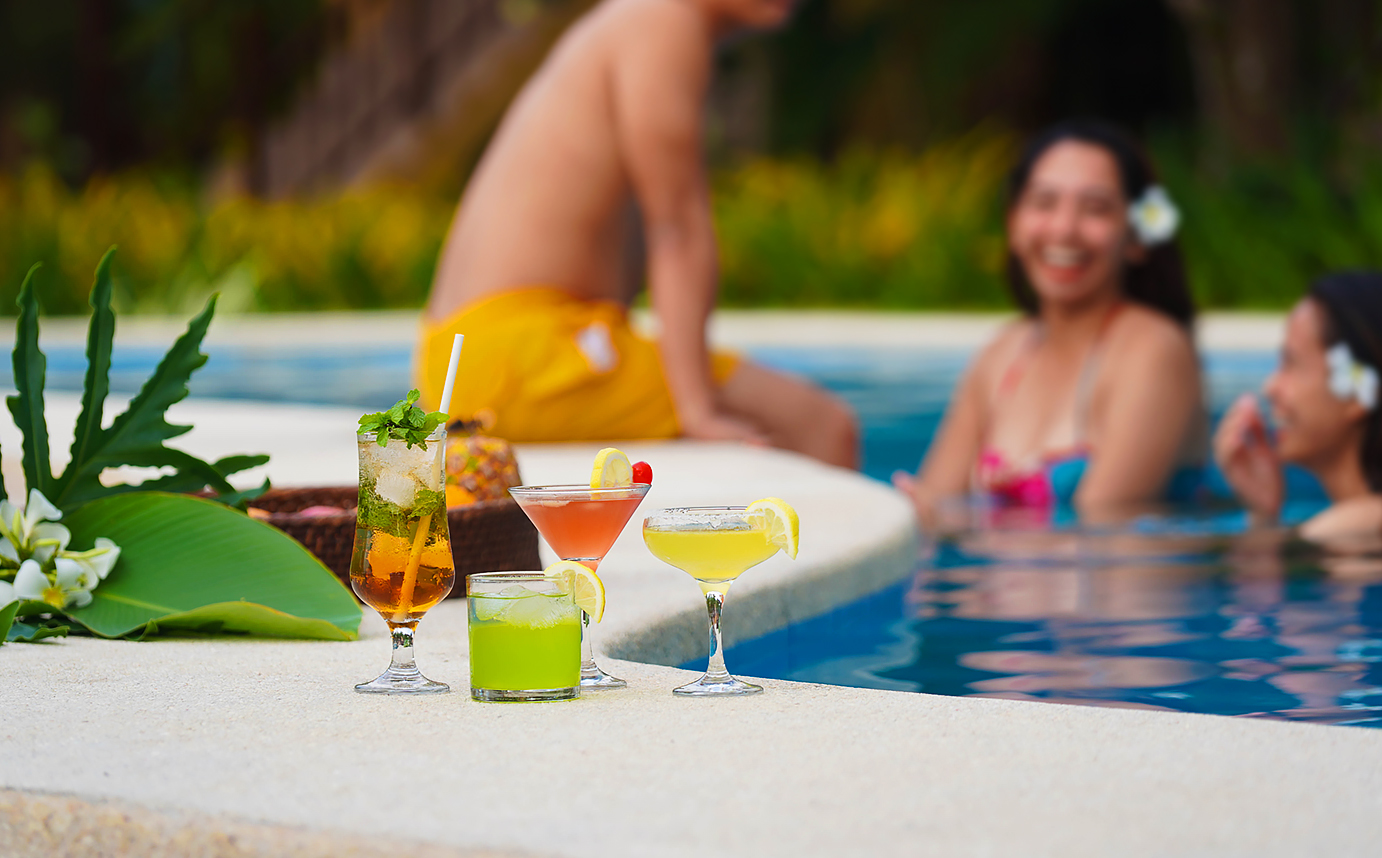 The resort encourages above-water activities as well, and they have several paddle boards and kayaks available for guests to use.
For rates and more information, visit www.clubserenaresort.com or email sayhello@clubserenaresort.com or (+63) 917.872.6367 or (+63) 905.459.5307. You can also visit their Facebook page for updates.
This is How the M.I.C.E. Alliance Initiative will Lift Boracay to New Heights
Leveling up Boracay in more ways than one
by Ryan Daniel R. Dablo
Saying the name "Boracay" instantly casts a spell, taking the listener to a daydream of immaculate, pale beaches, swaying palm trees, the music of breaking waves, and the vacation of a lifetime. The tropical island Eden is storied and renowned – a difficult enchantment to lift from any wayward tourist's mind. But what if we were to tell you that Boracay is so much more? Can you build upon perfection? Yes, and this, ladies and gentlemen, is how. 
After the difficulties of the past few years, the stage is finally set for a massive Boracay reboot. The creative gears turn once more, and this time they will catapult our favorite beach capital to new heights. The cornerstone of this renaissance is the M.I.C.E. Alliance initiative, short for meetings, incentives, conferences and conventions, and events and exhibitions. The establishment of the Boracay M.I.C.E. Alliance will allow focused efforts in creating sustainable and eco-sensitive tourism development projects while synergizing with stakeholders to create long-term solutions and opportunities for all partners. The alliance is set to drive awareness, readiness, and expansion of product offerings that will be crucial in making the island competitive with other M.I.C.E. destinations. Working closely with the Department of Tourism Region VI and the Tourism Promotions Board, the alliance is primed to provide support to the areas that are involved in this major undertaking.
No one is more emphatic than M.I.C.E. Alliance chairperson Cleofe Albiso in describing how the different sectors of Boracay are pivoting from tourism to tourism plus. In brief, Boracay is challenging its own boundaries to become not just the pre-eminent tourist destination but also a corporate and business mecca. Turns out, if a venue is grand enough to host a wedding, wouldn't it be just as grand to host a white-collar conference? Sky's the limit for possibilities like this. At this moment, the island is abuzz with networking and making connections, training and empowering the hospitality services, polishing the infrastructure, revving up the transportation facilities, and all-around gearing up to go toe-to-toe with other M.I.C.E. hubs and be worthy of the tagline, "the best place for M.I.C.E. in a tropical paradise." All hands are on deck and – after the extended global hiatus thanks to the pandemic – everyone is ready, nay, eager to meet and greet the guests. And, of course, we would be remiss not to point out that Boracay is more than halfway through completing such a tall order. The island is as well-oiled a machine as it could be, boasting 294 DOT-accredited hotels and resort, a staggering 4,500 seating capacity for meetings and conventions, and 12,400 room keys available in the island. Talk about volume! Plus, Boracay is already postcard-perfect, the very stuff that vacation dreams are made of. Why not turn the dial up to eleven and let it become a compass point for more than a summer getaway? This is the logical next step in realizing its vision of being not just a place to be, but the place to be.
So, yes, by all means think of the idyllic strolls on the beach, the luxurious caress of the ocean as you free-dive, the sheer delight of sand and surf while island-hopping, the adrenaline rush of aquasports, parasailing, cycling, or driving an ATV up Boracay's foothills, the psychedelic glow of fire-dancing and party lights at night, the breathtaking sunsets, the larger-than-life adventures, or the hundred other ways it can lavish or reinvigorate your soul. Think of all of that, and then some. Because Boracay has its eyes on something greater: it is poised to become the premier starting point and last stop for tourism, entertainment, corporate gatherings, exhibits, and any other event the imagination can dream of. 
Think of your company meeting. Now, think of your company meeting and the fun that'll ensue right after. Picture that in the most scenic of vacation spots. Tempted already? Who wouldn't be? You're already in paradise. With business here and leisure literally just a stone's throw away – heaven on earth, wouldn't you say? 
For Our Next Travel Destination, We Dream About Koh Samui in Thailand
Silent Sanctuaries
Mayenne Carmona discovers the Four Seasons Resort in Koh Samui is a quiet oasis to recharge and rejuvenate…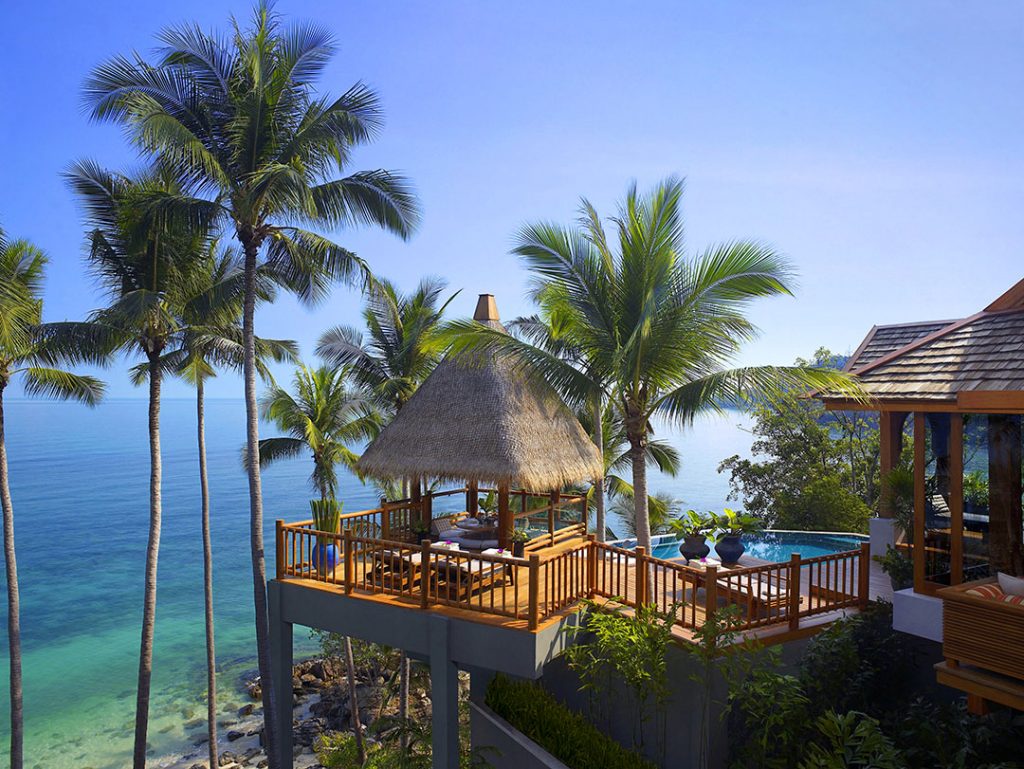 What does one expect from a Four Seasons Resort? Everything! Firstly, it will definitely be ranked no less than a five-star hotel or resort. Most importantly, it would not fall short of all your expectations: excellent cuisine, topnotch comfort at your fingertips in a well-appointed villa, courteous staff who offer impeccable service, and every other detail you could possibly need—down to the last cotton bud. After all, a Four Seasons Resort is always designed by a top-rated architectural team and interior designers.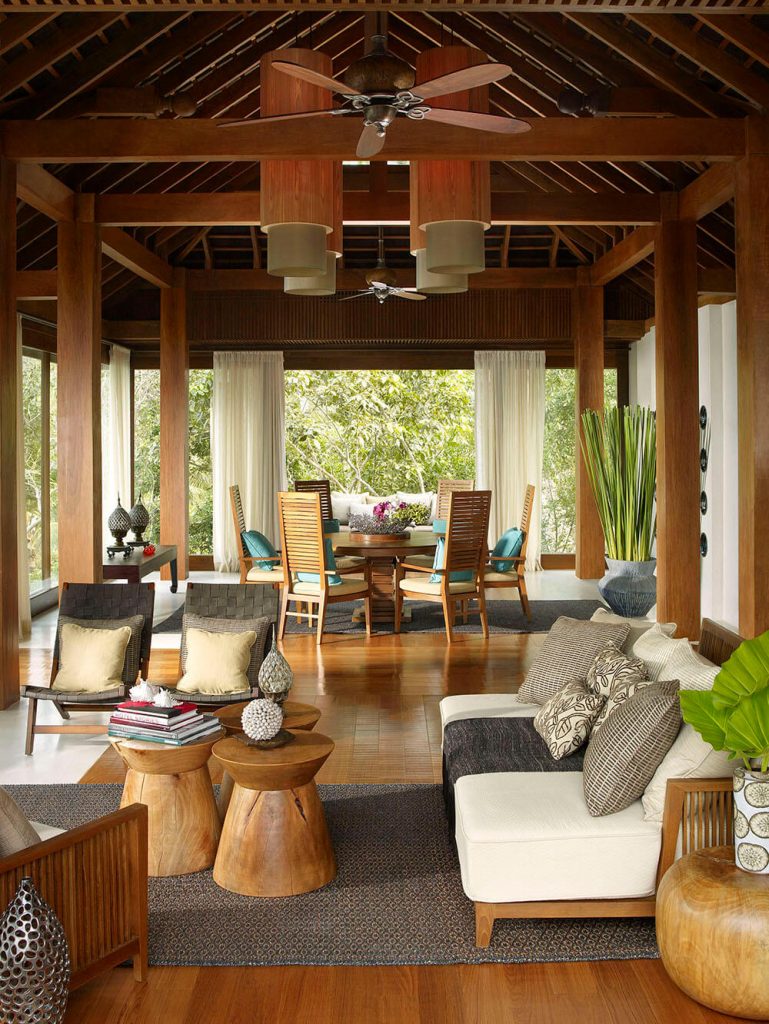 The moment I stepped into the Four Seasons Resort at Koh Samui, I felt all my cares washed away by the soft waves of the bluest sea. The fresh air cleared my sinuses in no time, and the gentle breeze was a much needed caress to a tired mind and body. It was truly paradise regained for me and my friends. We were a motley group of career-oriented people who needed a much-awaited break from work, and this was the perfect choice for us.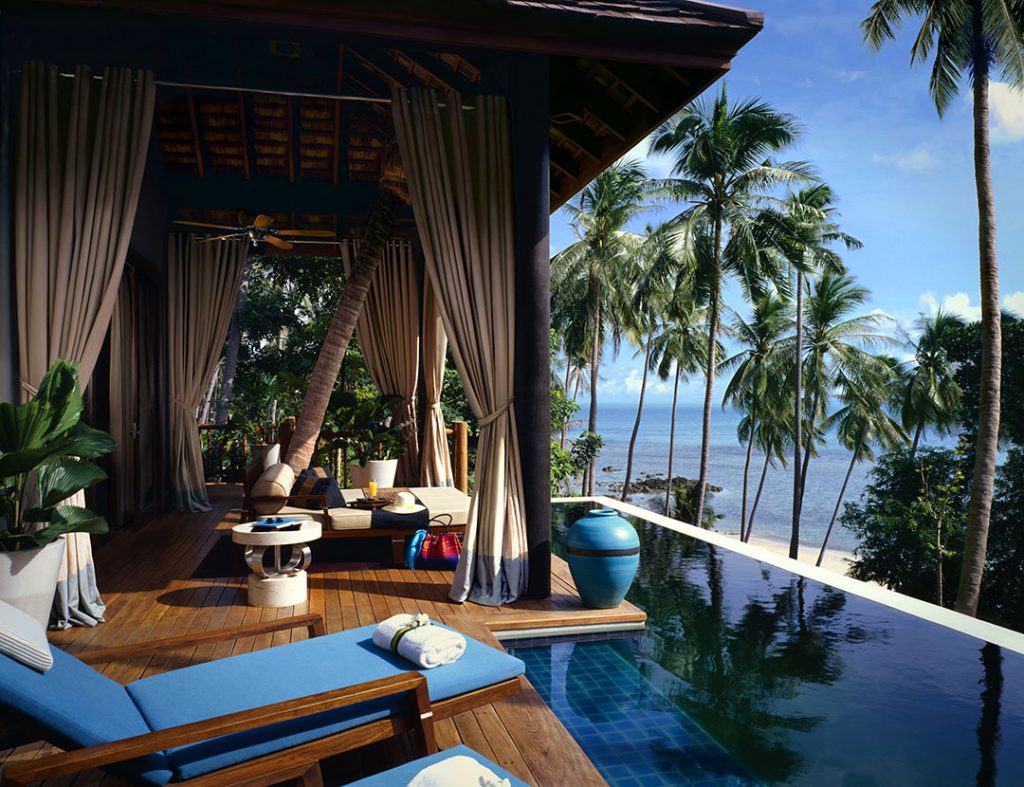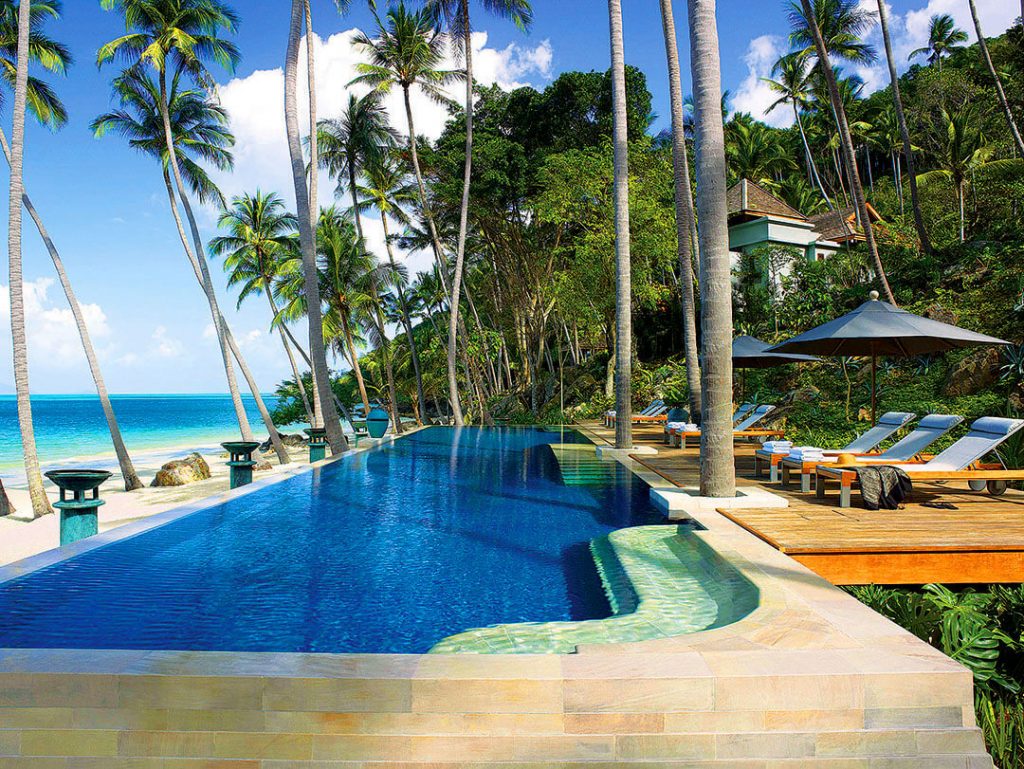 Each Villa has a butler to cater to the guests' every whim. The afternoon we arrived, we requested a sunset dinner by the beach, and much like a genie, our butler whipped up a romantically set candlelit dinner for six. A five-course delicious Thai dinner was prepared by their well-trained chef.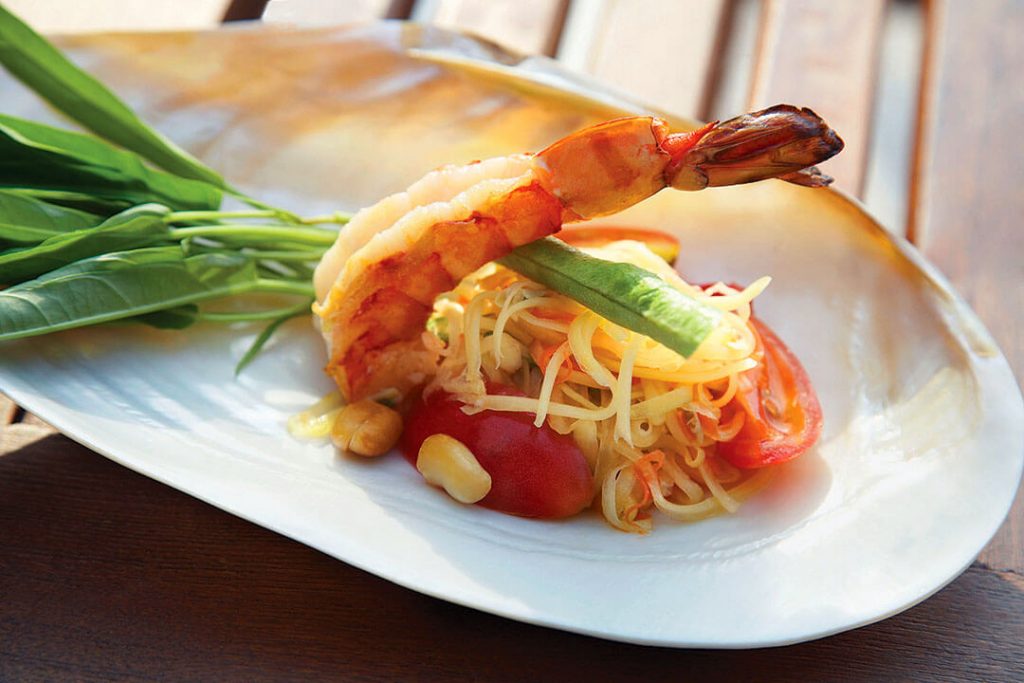 Our days were spent languishing by the beach, having daily massages, attending yoga classes, doing water sports and enjoying every bite of Thai cuisine. Golf carts transported us wherever we wanted to go within the resort. This vacation brought all my senses to another realm, and restored a weary soul to perfection. 
Four Seasons Koh Samui, I look forward to seeing you again!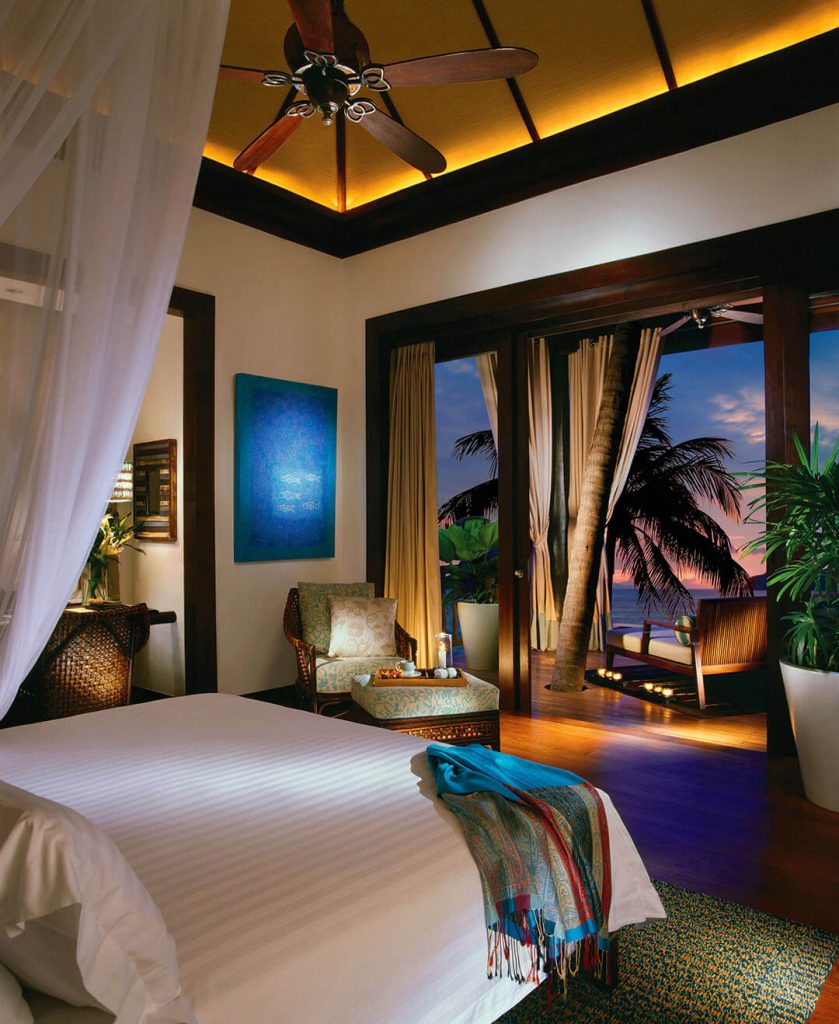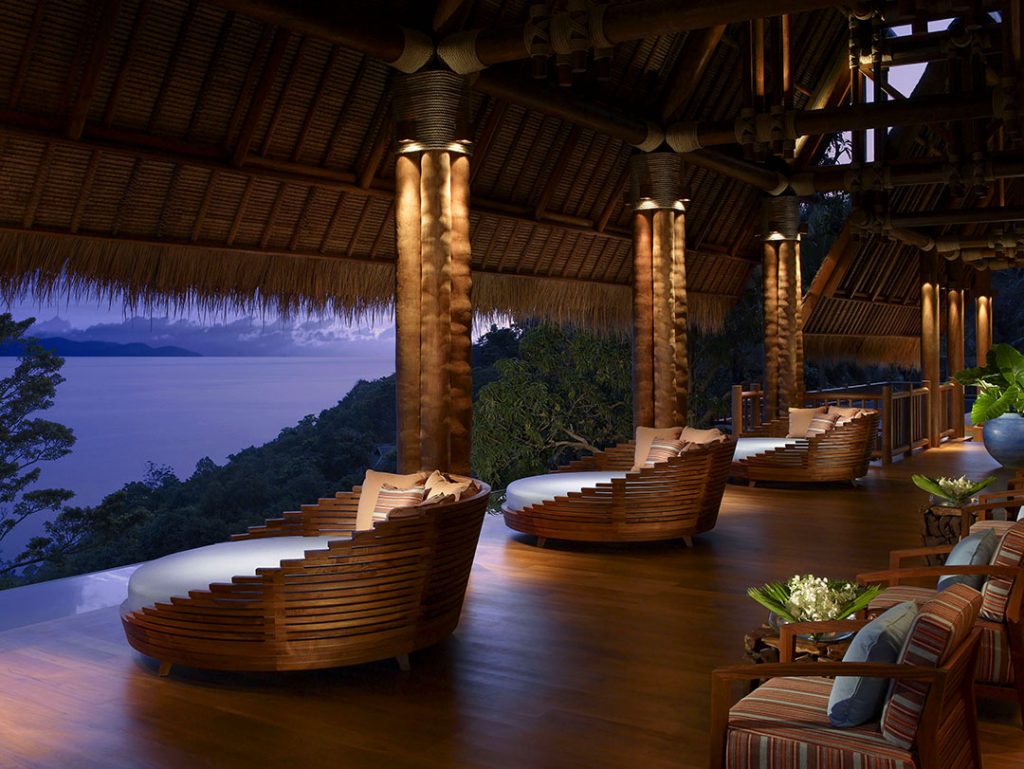 Koh Samui is the third largest island of Thailand in the scenic Gulf of Siam. It is a 45 minute flight from Bangkok. Sandy beaches, coral reefs, coconut trees and abundant tourist resources make it a popular holiday destination.
For more information on Four Seasons Resort, visit their website at https://www.fourseasons.com/kohsamui/
(This article has already been published in Zee Lifestyle's March 2016 Travel Issue, "Silent Sanctuaries" written by our columnist Mayenne Carmona for La Vie En Rose on pages 32-33.)