Here's Where You Can Have Your Pre-Nuptial Photoshoot
Pre-nuptial shoots are the trend for soon-to-be-newlyweds. Here are some of our top picks for the perfect shoot location.
Weddings are a momentous occasion. Couples would love to have something to look back on later on in their marriage, and pre-nuptial photos are a great way to remember the past. In this post, we list some of the many beautiful locations where you can have your pre-nuptial photoshoot.
Temple of Leah
Transcentral Highway, Cebu City, Cebu
This Roman-inspired location was built as a symbol of Teodorico Adarna's undying love for and ceaseless devotion to Leah Villa Albino-Adarna, his wife of 53 years. The regal statues and structures can stun you with their grandeur. The Temple of Leah is perfect for the soon-to-be-wed couple who wants a royal-themed pre-nuptial photo shoot — and what better place to have it where the whole place itself was built because of love?
Chateau de Busay
Transcentral Highway, Cebu City, Cebu
Nestled on a hill with a breathtaking view of lush green mountains and the cityscape beyond, Chateau de Busay Inn and Restaurant offers a rejuvenating break from the humdrum of urban living. With its lush green gardens and amazing view of the Queen City of the South, couples can have their tea party-themed or fairytale-themed photo shoot here.
La Vie Parisienne
371 Gorordo Ave, Cebu City, 6000 Cebu
What started out as a French cafe is now one of the most popular photoshoot locations in Cebu — whether it be for a pre-debut, a pre-nuptial and whatnot, La Vie Parisienne's interiors are a recreation of a European wine cellar cum old hotel in France that narrowly treads the fine line between classic and gothic with his clever use of elements.
Cebu Yacht Club
Lapu-Lapu, F. Martir St, Lapu-Lapu City, 6015 Cebu
The Cebu Yacht Club has a charming marina with restaurants, shops and a stunning view of the water. As the sun sets and bathes the marina in soft changing hues, it's ideal as a backdrop for a couple in love.
Circa 1900
Sanjercasvil Road, Gorordo Avenue, Lahug, Cebu City 6000 Philippines
The old-house-turned-restaurant is reminiscent of the Spanish era in the Philippines. Its charm lies in its colonial-style architecture and interiors. Emulate a Don or Doña as you schedule your photo shoot at this location. They even have a pool, too.
Plantation Bay
Marigondon, Mactan Island, Lapu-Lapu City, 6015 Cebu
One of the most popular resorts in Cebu, Plantation Bay is known for its saltwater lagoons that take up most of the resort's 11-hectare area. Couples can have their photoshoot on the wooden walkway right in the middle of the lagoon.
Terrazas De Flores Botanical Garden
Budlaan – Busay Rd, Cebu City
Cebu's first flower terraces are a superb location for couples who wish to capture their romance with an enchanting backdrop. Bits of inspiring quotes and beautiful pieces of literature are scattered all over the area, adding romance and drama to the garden. Meanwhile, the fresh mountain breeze, exquisitely arranged flowers, and cozy cabanas will surely relieve the pre-wedding jitters.
Tieza Botanical Garden
Budlaan – Busay Rd, Cebu City
A scenic garden of celosia flowers by the lake, Tieza Botanical Garden offers an exquisite view for couples who want to have outdoor pre-nuptial photoshoots. Located at the foot of Sirao Peak, this hidden paradise in Busay is home to some of the gorgeous flowers perfect for that authentic romantic setting.
Azienda Milan
Talisay City, Cebu
With an alluring pool and a garden sitting on the top of the hill that overlooks Talisay City, Azienda Milan truly is a picturesque venue for couples. The intimate vibe partnered with the well-tended garden creates an enthralling moment sure to be remembered.
Big Q Farm
Sitio Cantipla, Barangay Tabunan, Cebu City
An escapade in the forest on a foggy afternoon, with tall trees hiding a cute little wooden cabin sounds a little dreamy — but we assure you, it's real! For outdoor and fantasy-loving couples, Big Q farm is the spot for you. Achieve that enchanted pre-nuptial set-up in the center of wilderness and with a white horse just like in fairytales.
The Uncommon Traditions that Mexicans and Filipinos share when celebrating the Day of the Dead.
Dia de los Muertos
By Allain Dumon Fonte
The 2nd of November is All Soul's Day, a holiday that is very important to many Filipinos to remember our loved ones who passed on. This is also widely celebrated in Mexico as "Dia De los Muertos" or in English, "The Day of the Dead". And Mexicans celebrate the 2nd of November grander than they celebrate Christmas. Well, you can witness it from the Disney movie, "Coco".
As All Soul's Day or Dia de los Muertos is about to end, here are some interesting traditions and superstitions that Filipinos and Mexicans share:
1. IT IS NOT ON THE 31st OF OCTOBER
Dia de los Muertos or All Soul's Day is not practiced on October 31st or on the Hallow's Eve as many other western cultures practice; but we celebrate it on the 2nd of November. We celebrate November 1st as All Saint's Day or the Day of the Holy, while in Mexico they call it Dia de los Innocentes or Dia de los Angelitos to commemorate the children who died too early in life.
2. THE RITUAL
Both in Mexico and in the Philippines, we visit the grave of our loved ones and we clean it well. This is a ritual to honour their resting places and to let them know that they are never forgotten.
3. FLOWERS INVITE SPIRITS
In Mexico, they believe that the scent of flowers attract spirits. So the flower offerings are invitation to their dead loved ones to visit the living families. While in the Philippines, we believe that flowers offered to the dead exalt the souls and somehow fill in the sadness that we feel when missing our dead loved ones.
Most of the time, Filipinos choose all-white flowers to offer because white is the absence of colour, which means the absence of Joy and happiness. White also symbolises purity of soul which we hope our dead loved ones will attain as they journey to heaven. While in Mexico, they have the yellow Mexican marigolds as the official flowers of the dead that will guide them in their journey to the afterlife.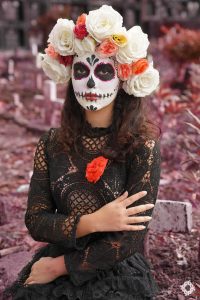 4. THE LEGEND OF THE MONARCH BUTTERFLIES
Both cultures believe that monarch butterflies are dead loved ones who visit us and show their appreciation that we have not forgotten them. A presence of monarch butterflies also means that our dead loved ones are always there guiding us and looking after us.
5. A PICNIC IN THE GRAVEYARD
Spending a night at the graveyard and picnicking with the rest of the family may sound very creepy to many; but to both Filipino and Mexican cultures, picnicking and spending a night at the cemetery is a must to show our love to our dearly departed. It is the only time in the year that families gather and tell stories of the dead loved ones and how colourful or how great their lives were.
6. FOOD FOR THE DEAD
In Mexico, they have what they call "ofrendas" or an altar where the pictures of their dead loved ones are displayed and offered with flowers, candles, and their favourite food. Very similar to the Filipino culture of cooking the favourite food of our dead loved ones and everyone in the family enjoys the food for dinner.
My family tradition involves me driving all the way to Colon street and buy that famous Snow Sheen's "pancit canton". This is my granddad's favourite snack. Sadly, the old Visayan Restaurant is no longer there. My late uncle and my late grandpa love their sweet ad and sour fish. We also set up an "ofrenda" on their graveyard and eat their favourite food while picnicking in the cemetery. We do not spend a night in the cemetery; but while we are picnicking there, we usually play the songs of Pilita Corrales and Susan Fuentes that my late grandpa used to listen every afternoon while enjoying his coffee, pan de sal, and pancit canton.
What about your family traditions? Share your thoughts by commenting to this article.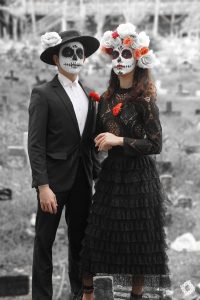 MODEL: Michael Joseph Mortola Enriquez & Alexis Wingfield
PHOTOGRAPHER: Gianne Paolo Anciano
HMUA/DESIGNER: Hazel Ocaba
STYLING: GPA Lifestyle + Clothing
Catch Ted Lasso the Emmy Award Winning Comedy Series on Apple TV+
Rating: *****/ *****
The multi award–winning comedy series airing on Apple TV+ is one of my favorite shows.  Ted Lasso starring Jason Sudeikis is about a fun good-natured American football coached hired by a British soccer club (AFC Richmond in London) to become their new coach.  In spite of the fact that Ted has no experience or knowledge about British football/soccer, his positive demeanor and charm helps him overcome the animosity of the team's players, staff and fans.  Eventually Ted wins over the team and the locals as they fight for position in the English Premier League.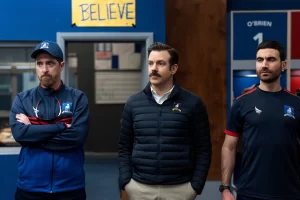 The show won the 2021 Primetime Emmy Award for Outstanding Comedy Series and 7 Emmy Awards in its 2 seasons and Season 3 is just around the corner.  You can catch Seasons 1 & 2 of Ted Lasso on Apple TV+
PANDEMIC DIARIES: Twelve Months Later
Photos taken by Pablo Quiza around Cebu City during the months of March, April and May 202
AS WE APPROACH ONE YEAR under pandemic times, we look back at March 2020 with fascination. And awe. We had 12 months of lockdown and survived the so called new normal. We lived with masks and alcohol even today. Carless roads and dark malls. Those were the early days of March, April and May.
It stretched to October and past Christmas. No Sinulog. Virtual parties on Zoom and virtual mass on You Tube and FB Live. We debated on the best meds to take if we get sick and whether to wear masks (please do!). We scampered for face shields and anti-viral sprays. Vitamins C and D and zinc. Later, we survived being swabbed and we learned the difference between a PCR and an anti-gene test. The latter cost less.
We dreaded the declarations of IATF mandated from Manila. And we got mad at the police chief who had a birthday party while his people were busy locking up everyone violating the lockdown. Most horrifying of all, we needed to produce IDs! Are you a resident of Barangay Lahug or Banilad? Are you employed and why are you still working? Everyone suffered thru endless checkpoints. Most sad of all are those using motorbikes, they seem to get the raw end of the deal since those with cars are not as scrutinized. We managed to trick the system by putting a big handwritten note in front of the car: COMPANY CAR, and zipped tru the police desks in the middle of the road. Don't even think of travelling, by plane, boat or bus. The collection of the required documents is enough for one to get exposed to Covid.
We learned to shop online, order groceries and necessities thru delivery. We slowly moved towards cashless payments. Gcash and banks like Union Bank and China Bank with friendly apps are heroes for making life easy for most of us to spend what little cash we have to spend on Lazada or pay the VECO bill. Oh and we binged on K dramas on Netflix and You Tube, kamsaminada.
As 2021 enters, there are some good news. For those obsessed with news, you already know that 7,000 vaccines arrived last March 2 in Cebu, with more expected in the next few weeks. The death rate is not as high among those who caught this pesky virus, which tells us that doctors in the hospitals have some proven expertise in dealing with Covid. More cures should be in the horizon.
Meanwhile, lets continue dreaming of the day when we can cross borders again, even if its just Bohol or Boracay, Bangkok or Hong Kong. Ready those luggages and bags bought during the 3/3 sale in Shopee in preparation for the day when we can take the ferry or the plane for new adventures.